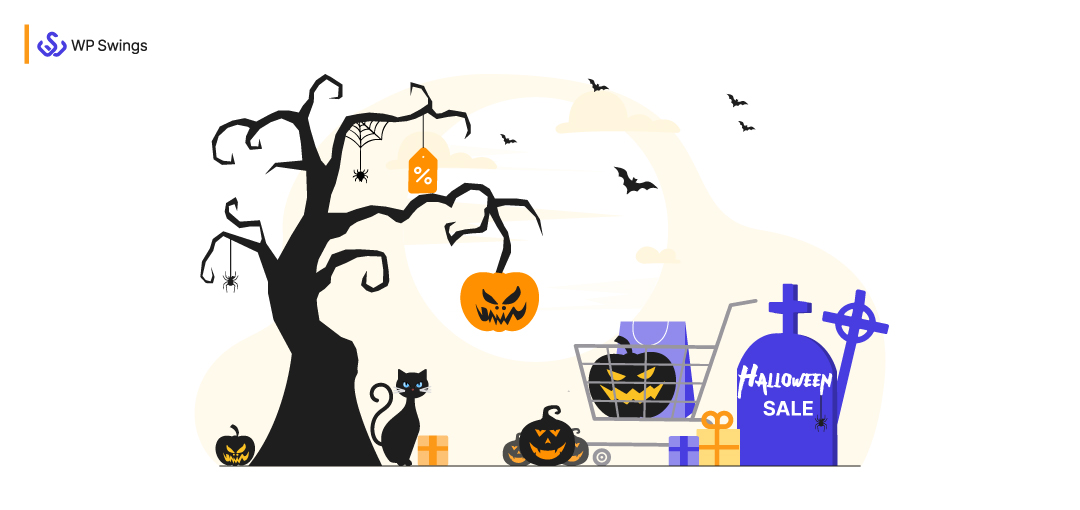 As the eerie excitement of Halloween approaches on October 31st, eCommerce business owners are in for a treat – and perhaps a few tricks. This is the kickoff to the peak sales season of the year, making it a crucial time for those with online stores.
Contrary to common belief, even smaller celebrations like Halloween can conjure up significant boosts in eCommerce sales. People of all ages partake in the festivities, driving a surge in online spending.
For those who thrive under pressure, there's good news – it's not too late to optimize your online store and capitalize on Halloween sales. Leveraging the power of WooCommerce, you can transform your store into a Halloween shopping haven.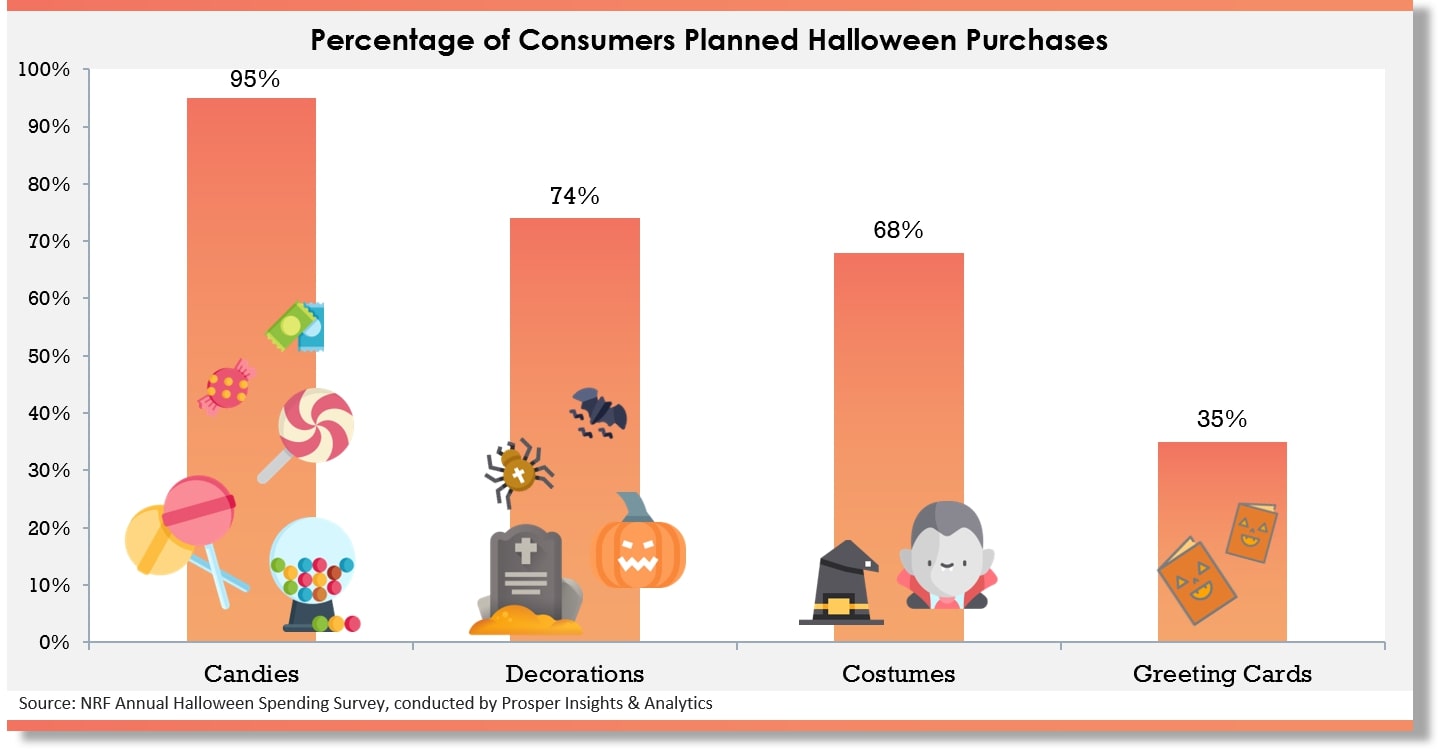 Embrace the spooky spirit and tap into the increased online traffic with these last-minute tips. Get ready to witness the magic of Halloween sales unfold, all thanks to your Halloween-ready WooCommerce store.
Table of Contents
Some Spooky Tricks to Increase Your Halloween Sales
The last-minute Halloween-ready ideas listed below will help you enhance conversions and increase sales for your eCommerce store this Halloween season.
1. Give Your Business a Halloween Mood
Give your website a Halloween-ready look to let everyone know you're all set for Halloween. It's the ideal technique to engage your target market and make them feel connected to your business plans.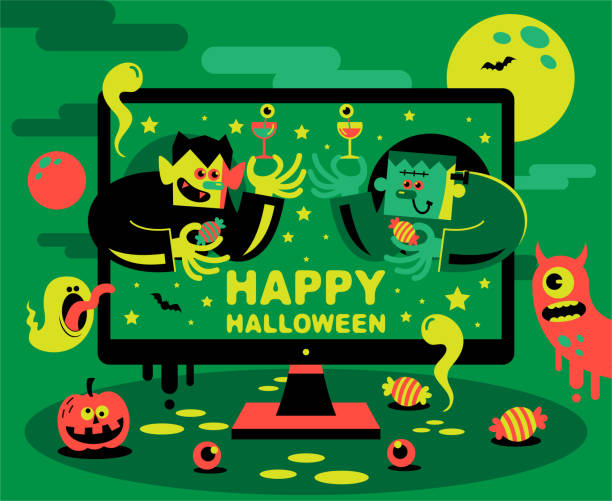 Without fiddling with the coding, try adding some basic festive components to your website or altering them. Change your content to reflect the new theme.
Quick Tips
Make your logo Halloween scary.
Change your website's font to a frightening style (the writing should be readable).
Scary pop-up ads that direct users to a campaign or request their email addresses.
Frightening calls to action (CTAs) buttons and texts urge website visitors to take certain actions.
2. Send Halloween Gift Cards To Your Customers
As the spooky excitement of Halloween approaches, infuse your online store with festive energy. Stand out by incorporating Halloween-themed elements that resonate with shoppers.
Introducing Gift Cards for WooCommerce Pro, the ultimate solution for successful Halloween eCommerce. With a diverse range of over 20 templates tailored explicitly for occasions like Halloween, seamlessly integrate the holiday spirit into your offerings. From eerie designs to customizable options, these templates align with your brand identity and the enchantment of the season.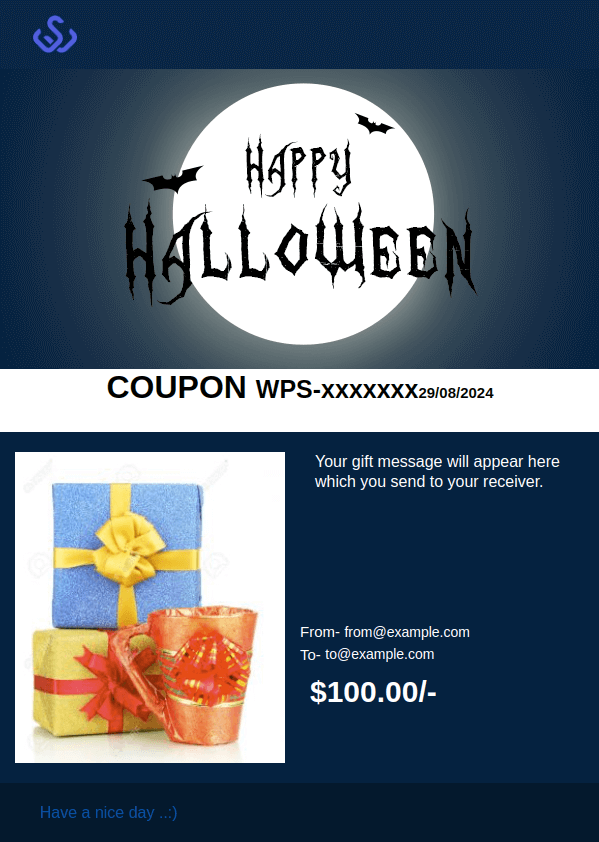 Incorporate Halloween-themed gift cards into your strategy to tap into the holiday enthusiasm. Amplify Halloween sales 2023 while nurturing a stronger bond with your customer base. The personalized touch of Gift Cards for WooCommerce Pro allows you to create unique experiences, immersing your customers in the Halloween magic.
This Halloween, let your brand become synonymous with the excitement of the season. Stand out with the allure of gift cards and treat your customers to the joy of choice wrapped in spooky aesthetics.
3. Run Irresistible Halloween Discount/ Freebies with Social Media Engagements

Halloween Discount Sale
Elevate sales, boost average order values, and clear out Halloween stock with the best Halloween sale strategy. Deliver enticing Halloween discounts by strategically utilizing coupon codes. Enhance the allure by "gating" offers, and encouraging email subscriptions or social network followers.
As the holiday draws near, amplify the effect by further reducing prices, and motivating last-minute purchases.
Quick Tips:
Generate coupon codes.
Craft attention-grabbing promotion banners/pop-ups.
Spread the word about Halloween sales ideas through email lists and social media campaigns.
Tap into the magic of Halloween's spirit with irresistible offers. Drive engagement, entice buying, and create a shopping frenzy that customers won't resist. The right combination of coupons and discounts can transform your Halloween sales into a spellbinding success.
Here is an example of a Halloween discount sale.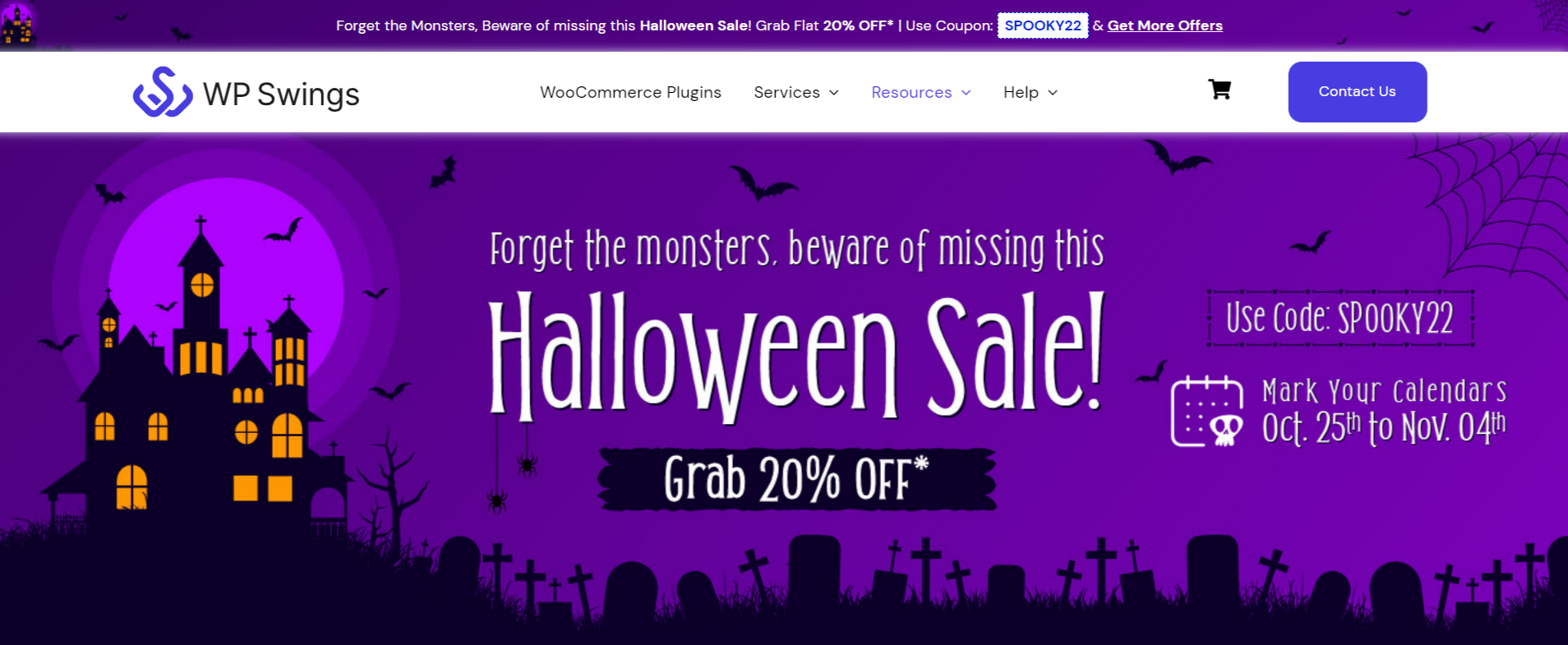 Freebies
Did someone say "free stuff sales"? If you have the available funds, promote spending by providing a BOGO bargain or a free, frightening gift with purchase. Make the free gift only available for online purchases if you want to encourage online orders.
Free giveaways are the best Halloween sales ideas as they generate substantial engagement. How to do this? Set up a contest, invite potential customers to enter, and then spread the word about it among organizations with similar interests.
To be eligible to enter the free giveaway competition, you can specify rules requiring you to share the message with [x] number of WhatsApp groups or tag [x] number of users on Facebook or Instagram.
Social Media Engagement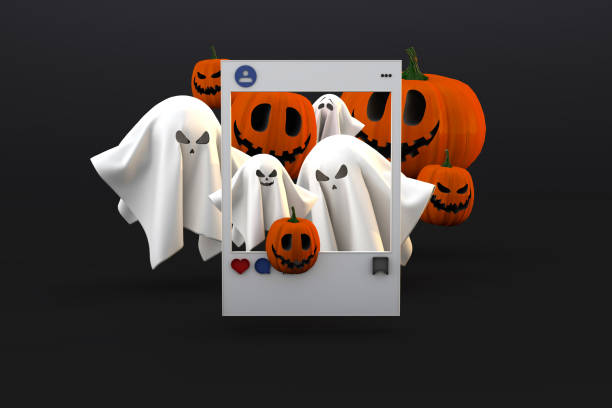 To be Halloween-ready, social media engagement is a significant deal. Social media enables you to give your marketing campaigns a more compassionate and personal touch. It works best to engage your target audience and give them a sense of belonging to the group. Use social media to your advantage to make your free giveaway efforts more successful.
Additionally, you can display your products in creative ways. You can also ask your consumers to do that and provide them with a discount if their concept is the best. You can combine your products with Halloween-based elements.
4. Halloween Ready Blogs
Talking about Halloween at this time of year is hot off the press. The best practice to be Halloween-ready is to start creating your blogs Halloween-oriented. Add some fun content to your e-commerce blog section to increase site traffic. To increase Halloween e-commerce sales, you can select topics that go along with the products you are offering.
Choose Halloween wardrobe suggestions, seasonal costume accessory advice, etc. if you offer clothing. DIY enterprises can concentrate on a variety of blog subjects, such as popular craft projects to evoke a spooky atmosphere, suggestions for decorating your home for Halloween, etc.
A lot of people search for "Halloween Gift Ideas" and related terms right before Halloween. The best way to increase Halloween e-commerce sales this year is to write a blog about them and optimize your e-commerce site.
5. Unleash the Halloween eCommerce Magic with Upsell and Cross-Sell Strategies
Maximize your Halloween eCommerce sales potential by embracing the power of upselling and cross-selling. Picture this: a customer excitedly adding Halloween treats to their cart. Now, imagine offering them an enticing upgrade or a complementary item they hadn't considered. That's where the magic of upselling and cross-selling comes in.
Cross-selling takes the enchantment further by proposing related items. Imagine a customer buying a costume – why not suggest matching accessories? These plugins make it a breeze to create compelling post-purchase offers, enhancing your average order value while delighting customers.
Harnessing upsell and cross-sell strategies for your Halloween eCommerce venture is like adding a touch of magic to your sales approach. Elevate the shopping experience, increase sales, and offer your customers a Halloween treat they won't forget.
With the WooCommerce One Click Upsell Pro and the One Click Upsell Free plugin, you can seamlessly integrate post-purchase offers into your checkout process. Once customers have committed to their Halloween goodies, surprise them with tempting upsell offers. Upgrade their experience by suggesting higher-value products that align with their purchases.
6. Give Your Email Template a Terrifying Look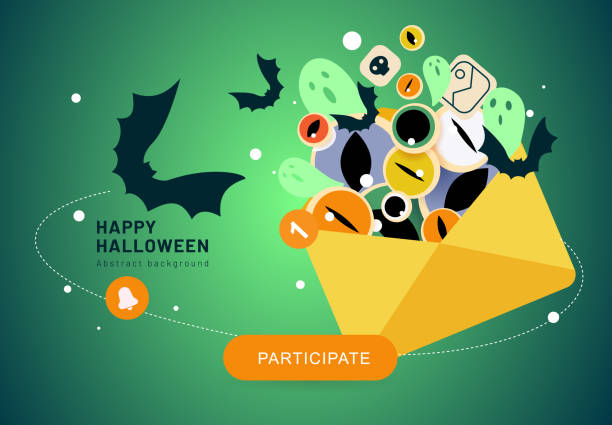 In the realm of Halloween eCommerce, the stage is set for enchanting sales. Capitalize on Halloween sales 2023 with a touch of mystery. Unveil the most potent Halloween sales strategy by incorporating clever tricks that bewitch your audience.
Among these tactics, email marketing emerges as the sorcerer's stone of conversions. Seize the opportunity to craft an email campaign that resonates with the Halloween spirit.
Let your emails don a spine-chilling guise, or invoke nostalgia with characters from the 1970s and 1980s for your mature audiences. The secret potion lies in crafting subject lines that beckon readers while maintaining a consistent tone throughout the content.
When it comes to Halloween-ready emails, consider two potent spells:
Time-Limited Offers: Infuse urgency by presenting discounts that expire by a specific time, say, 9:00 in the evening, or within 36 hours. The ticking clock intensifies the urge to purchase.
Cart Abandonment Enchantment: Reclaim lost sales by incorporating discounts into emails tailored for cart abandoners. Draw them back into the haunted aisles with compelling offers.
For those without a predefined sales strategy, multichannel marketing unveils another potent spell. Connect with your target customers through platforms that align with their needs. By listing your offerings on platforms with existing tailored audiences, you tap into a ready-made potion for success.
Get the Top Strategies to Boost Your eCommerce Sales!
Email marketing, email pop-ups, strategies..all that you need to know is covered here.
6. Bundle Your Products
Like any other holiday purchase, customers frequently choose to buy in bulk. So, this could be a useful Halloween-ready trick.
Selling products in groups, i.e. product bundles, is a terrific strategy to ease up the buying process for your users and thereby raise the order value.
Bundles remain one of the most successful sales strategies even when there is no holiday. So, you need to act immediately to prepare bundles for your consumers so they may celebrate Halloween.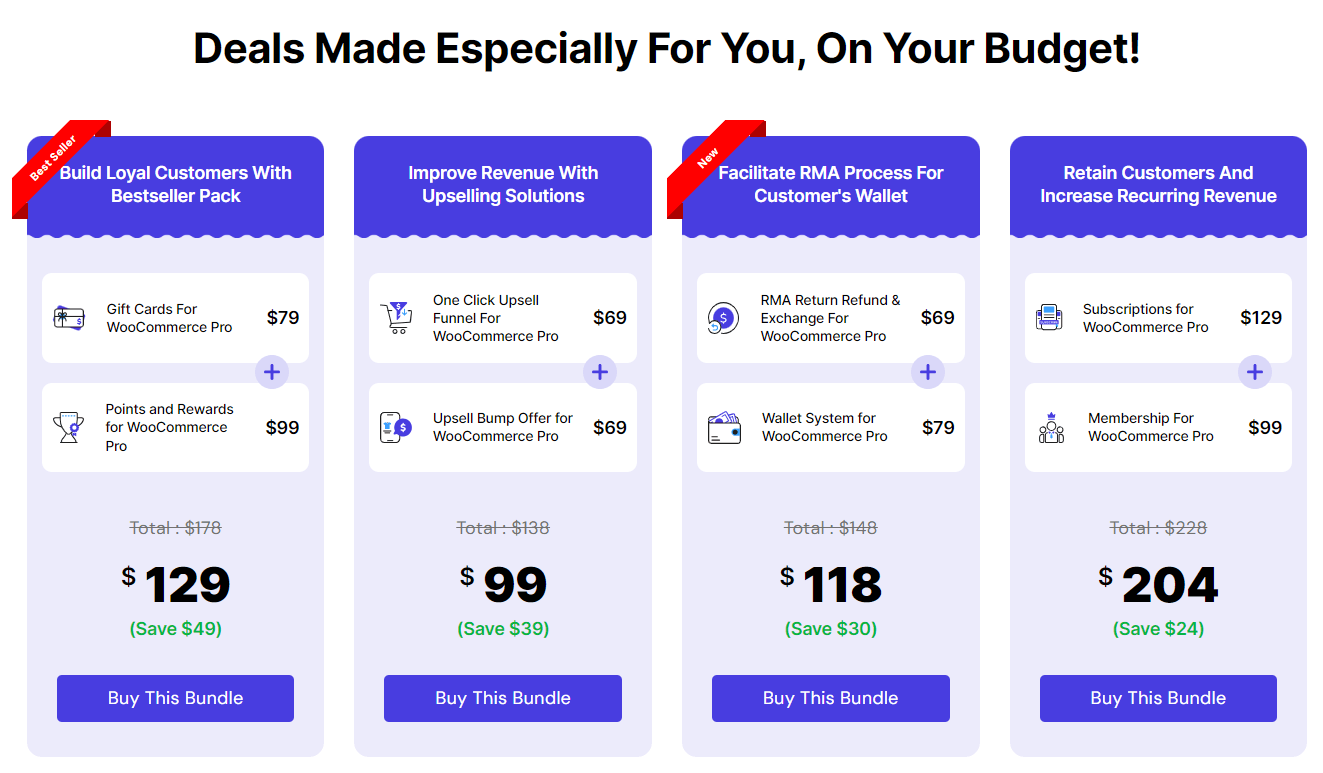 Additionally, you can increase the attraction of these by offering special discounts or incentives to entice clients to complete their orders.
Quick Tips
Put benefits over features and saving deals.
Carefully seed the anchoring price.
Set the bundle pricing.
Learn market needs and turn them into solutions.
Try to brand your bundle under user-generated content
Elevate Your Store with Exclusive WooCommerce Plugins!
Supercharge your WooCommerce store with premium plugins! Boost conversions, enhance checkout, and amplify marketing efforts with our handpicked selection.
7. Make Your eCommerce Store Mobile-friendly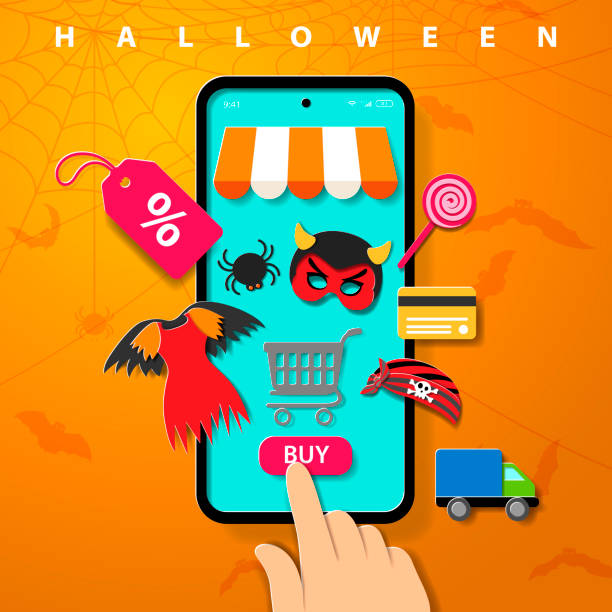 You should optimize your online store for mobile purchasing in addition to SEO-optimized content and Halloween-related merchandise.
No matter how great your products and services are, a terrible mobile browsing and purchase experience will drive away clients. Take all required steps to make your website mobile-responsive to streamline the purchasing process for your customers.
Keep the same energy with your Halloween-ready campaign. Make sure everything is mobile-responsive.
Begin by prioritizing mobile display design and then adapting for larger screens. While a fluid grid is valuable, simplicity matters now.
Our aim: Crafting a Halloween promotion package featuring:
Aesthetically pleasing design
User-friendly navigation
Seamless functionality across screens
Quick Tips
For any Halloween marketing product, start with a mobile version.
Try out the items' interactive features.
CTA is always advised and ought to be in the middle.
Check out and make the loading time faster.
Perfect Wicked Halloween Marketing Ideas!
Raise your sales with some nasty Halloween marketing ideas and plan up your holiday material for 2022 this Holiday season.
8. Create a Special Offer Page for Halloween Sales 2023
One of the proven Halloween sales strategies is to conjure up a dedicated Halloween page on your WooCommerce store. Just like the industry giants, this practice can work wonders for your online store.
Sculpting this special page is your chance to mesmerize visitors. Arrange your offers strategically, ensuring that the most captivating deals are showcased first. You can take it a step further by segmenting the page into three enchanting sections:
Halloween Offers: A treasure trove of deals that will set the mood for festive spending.
Special Halloween Bundles: A cauldron of irresistible combinations that spark excitement.
All Halloween Products: A virtual haunted house where every eerie offering resides.
Harness the power of this meticulously designed Halloween hub to captivate your audience and guide them toward the best Halloween sales 2023.
Hurry Up! The Clock is Ticking
It is crucial to focus on your store and get it Halloween-ready a few days prior to Halloween as it boosts eCommerce sales and accounts for almost a quarter of all-year sales.
Even today, a lot of online business owners value Halloween as a holiday. If you don't take it seriously, you will miss the opportunity to boost your revenue swiftly. It's important to have a strategy for your online store's Halloween sales in order to grow your consumer base and improve their shopping experience.
There are many Halloween marketing ideas that can help you draw clients and increase your sales this Halloween, but choosing the right Halloween sales ideas is essential, especially if you're pressed for time. In order to help you reach strong sales statistics this Halloween season, we have supplied the 6 last-minute techniques in this blog post.
Please get in contact with us right away if you need strong Halloween sales ideas and want us to help you increase your sales during this event. We will help you out as soon as possible. Do comment below your views on the same.