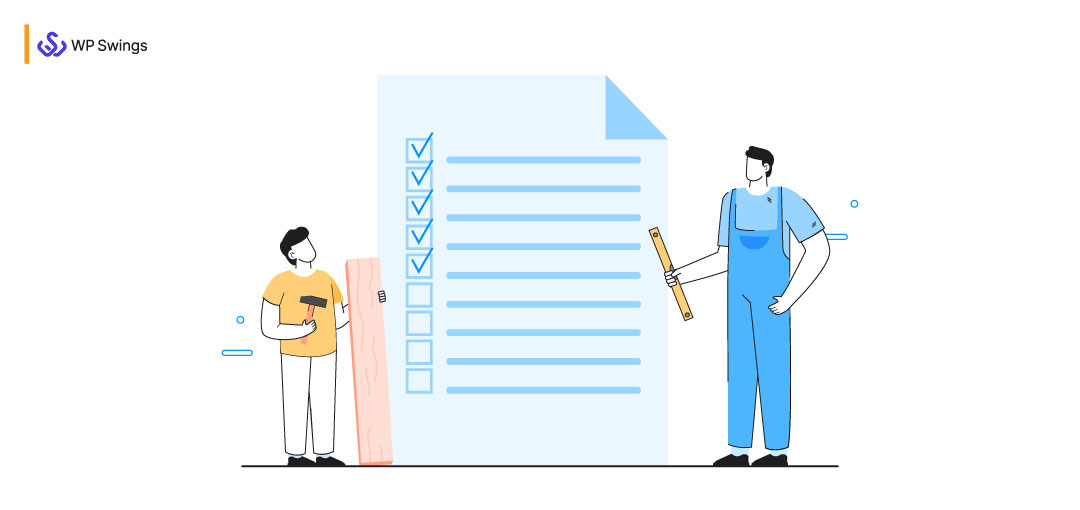 If you're a budding entrepreneur, you are likely to be advised to pen down your idea in something called a business plan.
I believe you have already searched the internet for templates and examples but, got bewildered and don't know where to start. Therefore, I have brought you a comprehensive guide that is well-researched and has all the steps you need for mapping detailed business plans.
Also, in this article, I'll be sharing an effective strategy that is quick, efficient yet, highly detailed.
Without further ado let's skip to the topic and learn how to map effective business plans in 2022 & ahead.
In This Article, You'll Learn:
What Is A Business Plan?
Business plans are formal documents in which the goals of businesses are stated. The documents contain a detailed description of how these goals will be achieved in a decided timeframe.
Apart from defining the goals, business plans play a key role in handling the financial part, such as:
Getting loans from banks
Receive funds from investors to fuel your business
And much more…
A good business plan should contain the core activities for operating a business and outline all the projected costs that will be incurred. As a result, it paints a clear portrait of your startup model in front of investors, stakeholders, and your team of professionals.
In short, a business plan is a decision-making tool that has content determined by the core goals of your business and the audience you're going to target.
Here's what exactly a wholesome business plans should include:
Executive Summary:

This is a complete overview of what your business model is. Executive summary builds the first impression of your business and, plays a vital role in front of the readers (investors and stakeholders).

Product & services:

The ultimate goal of any business is to either offer a product or a service to its customers or target audience. A business plan should clearly mention the offering of your business and what value it will add to your customers' lives.

Market Analysis:

As we say and believe a business is bound to fail if it's not backed by a strong market analysis. Therefore, it's important to do a thorough market analysis to know the potential of the products and services you're going to sell.

Marketing Strategy:

In this area, you have to define a planned strategy for attracting the target audience. Basically, you have to share a detailed description of how you're going to reach the target audience and retain them to grow your business.

Financial Planning:

Under financial planning elements like balance sheets, financial statements, and other financial information.
So, these are the elements of a perfect business plan which I'll be discussing in the coming parts of the article. But, before that let's see why mapping your business in a document is foundationally important.
Why Developing A Business Plan Is Important For Entrepreneurs?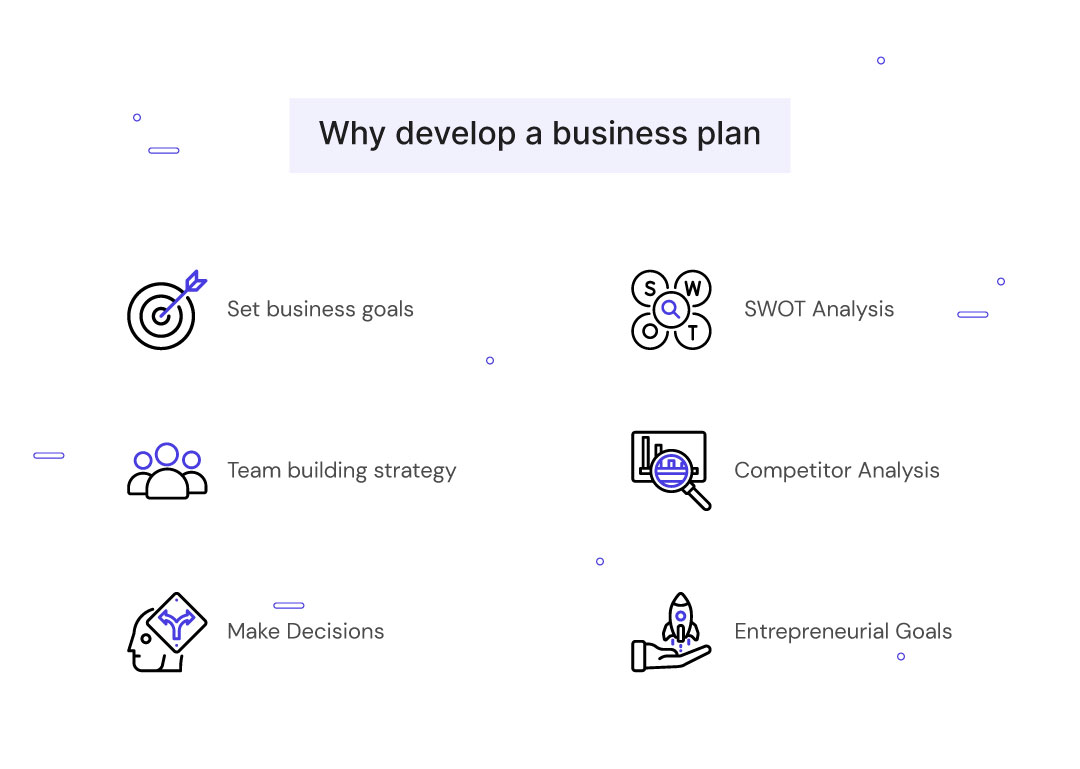 I hope you might have already got a fair idea of how important writing a business plan is. Still, I would like to bring out some crucial points that are often overlooked by budding entrepreneurs:
1. Important For Setting Goals
Being an entrepreneur isn't easy, you need measurable goals that you want to achieve in a decided time frame. With a business plan, you can easily write down these goals in a structured format and define your daily responsibilities.
2. Decide Team Building Strategies
Starting a new business is a tough nut that needs a team to crack it open. A well-documented business plan lets you forecast the resources needed to run your business.
Also, with a business plan, you can decide the right time to introduce a new member to the team. Consequently, you can align duties and responsibilities to new members in the form of measurable objectives.
3. Assists In Making Important Business Decisions
The success of a business depends on the decisions taken by its members. And, let me break the suspense that every decision wouldn't be easy to make. However, with a business plan, it becomes somewhat easier to make choices that might make or break your organization.
4. Predict Strengths, Weaknesses, Opportunities, And Threats
A business plan plays a potential role in predicting the strengths, weaknesses, opportunities, and threats of your startup idea. This will help you identify all the internal and external factors that will affect the growth and the downfall of your business.
5. Perform Competitor Analysis
A very important secret of a business plan is that it gives the route to excel in your industry. In a business plan, entrepreneurs do market research to identify their competitors as a result, they discover channels to reach the customers.
6. Finally, Sets Goals For You As An Entrepreneur
The best way to use business plans is to mention the goals you want to achieve and, define a target time.
It will help you in dividing your goals into daily responsibilities consequently, bringing you a step closer to your goals.
So these are some crucial reasons why you should always lay the foundation of your ideas in business plans. It lets you preset a path to map the journey to your business success.
Step-By-Step Guide For Creating A Business Plan For Startups
Now let me take you through the step-by-step guide of creating a business plan. I'll be sharing two ways of developing a business plan:
First, is the Traditional Approach of documenting a business idea.
Second, is the Lean Approach for 2022 and ahead.
The Traditional Approach
If you are very detailed oriented and want a comprehensive plan for explaining your business model then, you should go with the traditional approach.
A traditional business includes the following sections:
1. Executive Summary
The executive summary shares a brief overview of what your business is and why it's going to be successful. In a business plan, the executive summary defines the following attributes:
The mission statement
Basic information of the company's leaders, co-founders, founders, executive staff, and other members.
Some financial information.
Lastly, how do you plan to grow your business with all the resources you have or get in the future.
In short, you give a high-level overview of your business idea and share how your idea is going to add value to your customers' lives.
Let's understand the executive summary with an example.
In the above image, as you can see Kajavic Industries starts by describing their business and sharing what the company offers to the customers. Next, the executive summary clearly describes their new project and the benefits investors will get. Last, Kajavic Industries has stated the amount of investment they'll be needing to accomplish their goal.
2. Company Description
In the executive summary, we shared a high-level overview of a company's products and services. Under the company description, you have to provide a detailed description of your company.
Here you'll be covering the following attributes of your traditional business plan:
A specific description of your target audience
Share the competitive advantage that you have over your industry competitors.
The number of experts working with you to serve the target audience.
To simplify even more, I would like to share Patriot's scheme of 5 W's and 1 H for writing the perfect company description.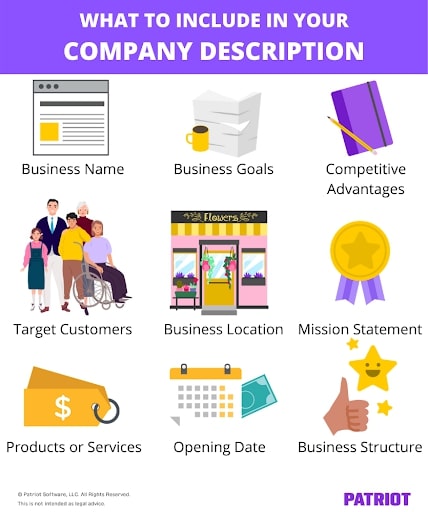 So for drafting your copy the 5 Ws you need to consider are:
Who: Who is your target customer? Who are you selling to?
What: It can be either "What is your product or service?" or "What are your goals for your business?"
Where: If you're operating a business from a geographic location then where means, "Where is your business located?"
When: When do you plan on achieving your goals?
Why: Now for Why you have to cover 2 points – "Why would customers buy from you?", and "Why are you in business?"
How: The how includes the following questions:

Firstly, how are you going to structure your business?
Secondly, how are you going to achieve the goals you set for your business?
Lastly, how do you picture your company in the future?
Read the complete guide for writing the perfect company description here.
3. Market Analysis
Market analysis or sometimes referred to as competitor analysis is research conducted to:
Understand the supply and demand of your target market.
The best way to perform the market analysis is by conducting a SWOT analysis. Here's is an example of Amazon's SWOT analysis for its target audience: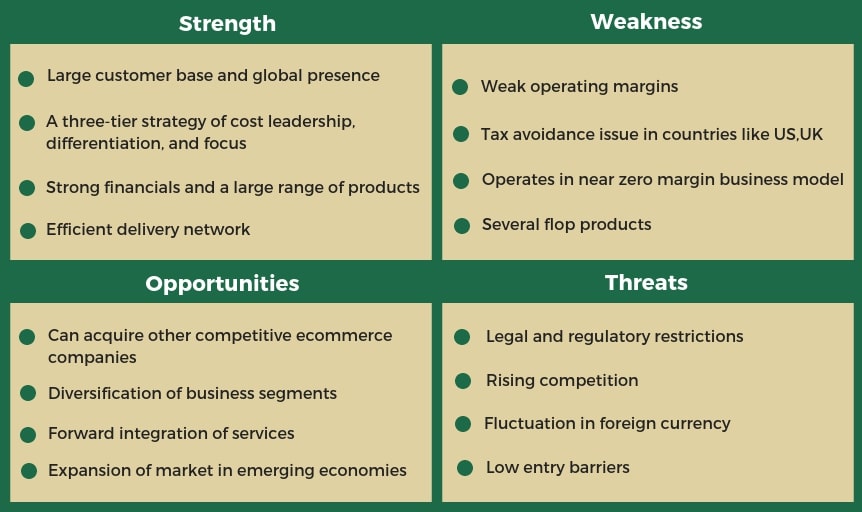 Doing a thorough market analysis paints a clear picture of the competition that you'll be facing in your market. During competitive analysis, you get to know the industry leaders and the places they lack in serving their target market.
Therefore, you can easily fill in the gap between the gap and use the opportunities to survive a cutthroat competition.
4. Organisation & Management
Organisation & Management is the legal breakdown of your business. It states whether you:
Intend to incorporate your business as a C or an S corporation
Planning to form a general or limited partnership
Or, if you're the sole proprietor or Limited Liability Company (LLC).
If you opt for an LLC business structure for your business, you must know how much does an LLC cost, as the cost of forming an LLC differs from state to state.
Here you basically, define the business structure you're going to choose for your organization. The structure will decide how much you'll pay in taxes and the amount you got to raise. Apart from this, you have to plan the paperwork you need to plan.
Here's a perfect comparison of all the business structures by the U.S. Small Business Administration (SBA):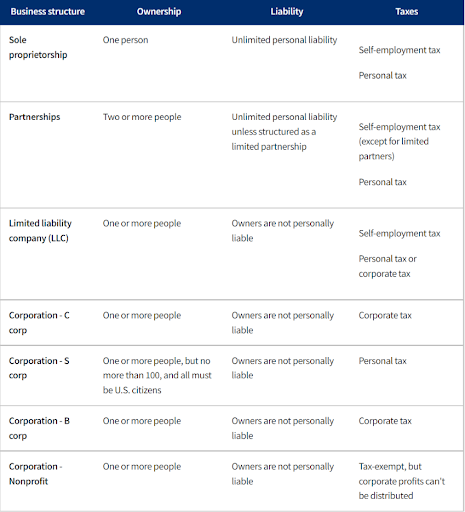 5. Product & Service
Simple as it says.
The Product & Service section simply lists out all itineraries that you're going to sell to your customers. Your products and services will be featuring a major portion of your business plan, but to define them separately under a section outlines the key details.
Ensure that you've completely defined all the items with their detailed descriptions.
6. Marketing Strategy
If you've built it, they won't come, not without marketing!
Marketing is a very important and integral part of running a business especially when it's new. The marketing strategy section of a business plan shares a detailed blueprint of how you plan to grab the attention of your target audience.
Your goal in this section should be to clearly describe:
A marketing strategy focussing your target market.
How do you plan to generate leads and convert them?
Lastly, how do you plan to retain your customers?
Do You Know How To Build A Successful Customer Loyalty Program?
7. Financial Plans
A business doesn't run without money and before bringing in all the cash flow you need a financial plan.
When we talk of the financial section of a business plan there are a lot of calculations that have to be taken into account. As Linda Pinson has said:
This is what will tell you whether the business will be viable or whether you are wasting your time and/or money.
Here are some tips that will help you in writing an appropriate financial section for your business plan:
1. Start with sales forecast
You can use a spreadsheet where you can set up your sales for each month. Here's what you can do is create different blocks for pricing, unit sales, unit costs, and one for calculating the cost of goods.
2. Define expenses budget
This will help you understand how much funds you'll need to make the sales that you've forecasted. You can divide the section into two categories
Fixed Costs: This includes expenses such as payrolls and rents. Basically, these are expenses that are inevitable.
Variable Costs: It includes expenses that are dynamic in nature and might vary on your choices. For example, tools you are using for marketing and advertising.
3. Cash flow Statements
The cash flow statement defines the money that is physically coming in and out of your business. The cash flow statements are created on the basis of sales forecasts, balance sheet items, and other assumptions.
4. Income projections
This is your pro forma profit and loss statement. Here you can use the numbers used in your sales forecast, expense projections, and cash flow statement.
5. Breakeven analysis
The breakeven point is basically when your business's expenses match your sales or service volume. This is an important metric for investors to understand if they are rightly investing their money in a fast-growing business.
So this is how we document a business idea using the traditional approach.
The traditional business plan is very detailed and consumes a lot of time. But, it is highly demanded among investors and money lending institutions. However, this is 2022 and everything is about being fast and efficient.
Therefore, I've brought you a new approach for writing your business plan that is short yet describes your business appropriately. The best part, you can document a business plan literally on a single page.
I'm talking about the lean approach for writing a business plan.
The Lean Approach For 2022 & Ahead
The lean approach is great for a business plan that can succeed with bootstrapping and, doesn't require the involvement of any investors.
Now let's cut to the chase and see how you should draft a business plan in 2022 and ahead.
1. Partnerships
Under the partnerships section, you have to mention the key services that help you in running your business. For example, suppliers, manufacturers, and similar strategic partners.
2. Activities
The key activities section mentions all the actions that you'll perform for gaining a competitive advantage. This includes highlighting plans like selling directly to consumers, or any technology that you plan to use to tap the sharing economy.
3. Resources
As the name suggests, in the resources section you have to mention all itineraries that you plan to leverage for creating a valuable product for the customers. For example, important assets like staff, capital, or any intellectual property.
4. Value Proposition
Whether you are going with the traditional approach or the lean approach, making a clear compelling statement is very important.
The statement should portray the unique value your business will bring to the market.
5. Customer Segments
Customer segmentation helps you in identifying the target market. Understand the fact that your business isn't for everyone therefore, it's important to have a clear sense of whom you're going to reach and serve.
6. Channels
Here you've to mention the mediums you'll be using to reach your target audience. You can use a combination of one or two more channels and keep optimizing them over time.
7. Revenue Streams
Everything boils down to how much revenue you'll be generating from your business idea. The revenue stream section of the business plan shares how your company will actually make money.
For example, direct sales, membership signups, offering advertising space, etc.
Difference & Templates
So we discussed both the approaches for writing a business plan but as you can see both the approaches have some major differences. I hope you might have noticed the distinctions and if not so here are the key points:
| | |
| --- | --- |
| Traditional Approach | Lean Startup Approach |
| More detailed and comprehensive. | Has a high-level focus |
| Needs more time to write. | Can be written in a few hours. |
| More popular among lenders and investors. | Popular among bootstrap companies. |
Checkout The Templates For Documenting Your Business Idea
Are You Ready To Map Your Business Plan???
Building a business plan is like mapping a route to your success and you can use it to accomplish each of your goals.
A business plan creates accountability for entrepreneurs and helps them to introduce a new synergy among their team members.
But there's a common question among the budding entrepreneurs which is:
Does a business plans make startup success inevitable?
The answer is absolutely no but as they say – A goal without a plan is just a wish.
Learn How WooCommerce Is The Perfect Option For Small Businesses: