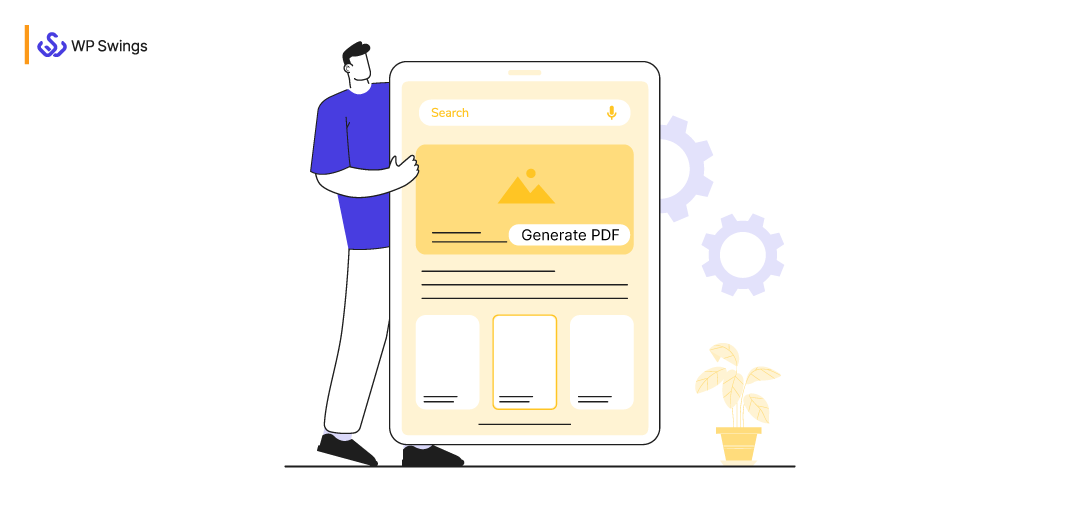 The pursuit of transforming your posts into sleek and professional PDF documents with just a few clicks ends only when you choose WordPress PDF generator tool.
Portable Document Format is the 3rd most popular file format on the web. From support to marketing, PDFs are flexible & handy enough to be utilized for practically all business documents.
Nowadays, People want to share their experiences with others & explore their options at their leisure. So, converting your WordPress pages into PDFs enhances their shareability and improves user experience.
You can see the example from Backlinko, how they have provided you with the option to download blogs in PDF format.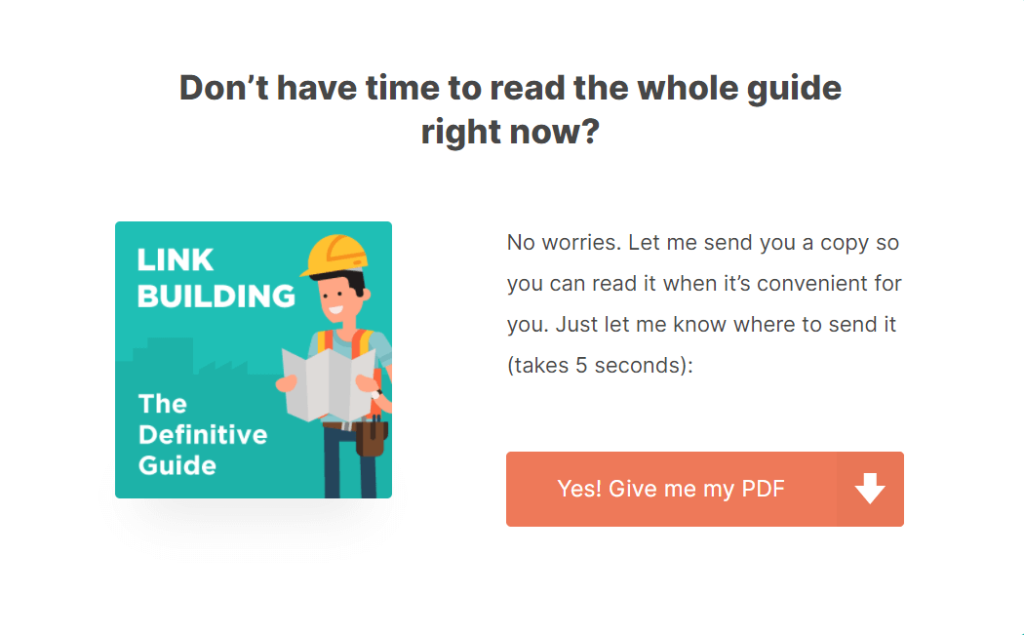 Whether you want to offer downloadable resources or enhance the readability of your blog, utilize our 'post to PDF' tool.
So, let me help you choose WordPress PDF generator plugins and skyrocket your online growth.
Table of Contents
What Is a PDF Generator Plugin?
Offering visitors PDF generation for blog posts and product descriptions entices more customers to your website. This online WordPress to PDF converter boosts traffic, brand awareness, and customer trust.
Moreover, offline access allows readers to absorb valuable information, leading to increased conversions.
PDF Generator for WP streamlines converting WordPress content like blog posts, products, and pages into PDFs on your WordPress website.
Both visitors and admins can effortlessly create PDFs, improving engagement and conversions.
Personalized cover page templates enable branding, reinforcing your business's presence.
By using your brand name, logo, and watermark, you leave a lasting impression on visitors.
Our WordPress PDF Generator ensures you can effortlessly generate PDFs for free.
Enable Effortless Offline Distribution of All Your Webpages
Let users convert your posts, blogs, docs, etc., into PDF files!
Features of PDF WordPress Generator That Make It Unique
Now it's time to go through the amazing features of the plugin to understand why you need to have it.
1. Compatibility With Other Plugins
Adding a utility to your WordPress site can sometimes become troublesome due to compatibility issues. So, finding a plugin compatible with most of the key WooCommerce plugins is therefore a boon. PDF WordPress plugin is one such plugin as it is compatible with all page builder plugins, custom posts, meta fields creators, etc., allowing you to convert any WordPress post to PDFs.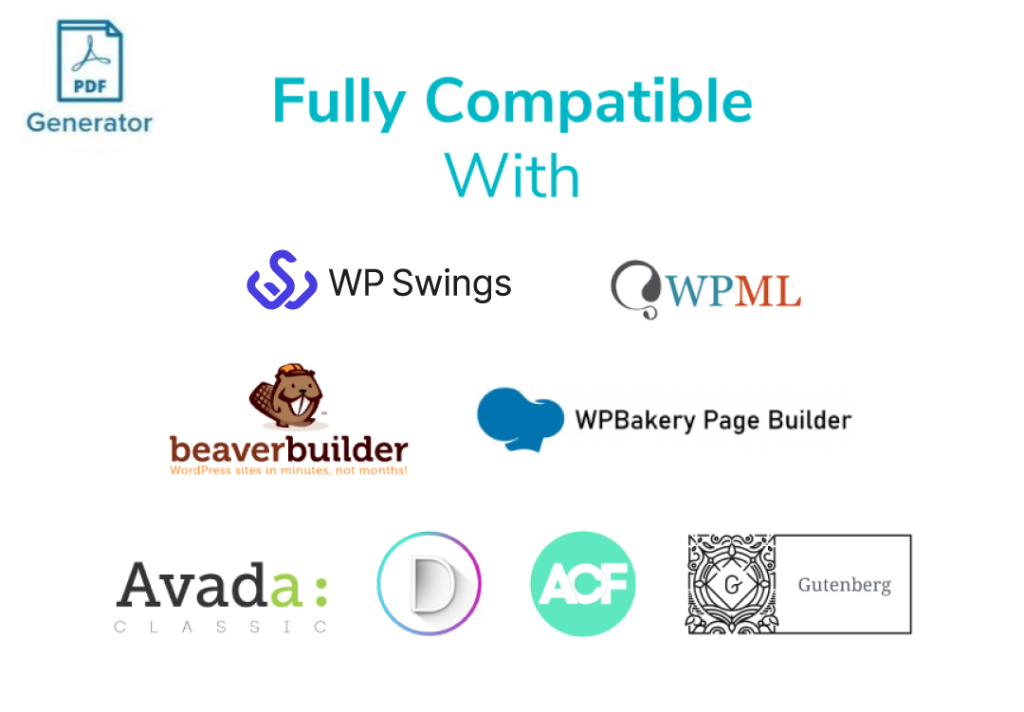 2. Add Woo Attributes in Custom Templates
Enhance your product display by using WooCommerce attributes in your custom designs for WordPress PDFs.
The PDF Generator WordPress plugin allows you to add more details to your generated PDF files for live product pages.
Let Us Simplify the Complicated Customization for Your Store
3. Add QR Code To Generated PDF Files
With the PDF Generator's QR Code generation feature, you can effortlessly create QR Codes for existing WordPress to PDF converted files. By utilizing the provided shortcode within the Layout Settings tab for the Internal Page, you can easily incorporate a QR Code into your PDF, streamlining access to information.
It allows you to add the QR Code shortcode seamlessly to custom templates' header, footer, or body. With this PDF Generator for WP, you can create scannable QR Codes without any hassle, enhancing the accessibility and usability of your PDF files.
PDF generation with QR codes provides users with a user-friendly and efficient way to interact with your content. Ultimately, your PDF documents will be a game-changer for your business.
4. Generate PDF Invoices and Payslips [Pro]
Invoices and payslips are crucial documents for businesses and customers. The WordPress to PDF Converter allows users to access & download invoices.
It prepares invoices for WordPress PDF export when the order status is Processing or Completed. Additionally, it automates the process of attaching invoice files to customer emails. Furthermore, as the admin, you can download the invoices and payslips as well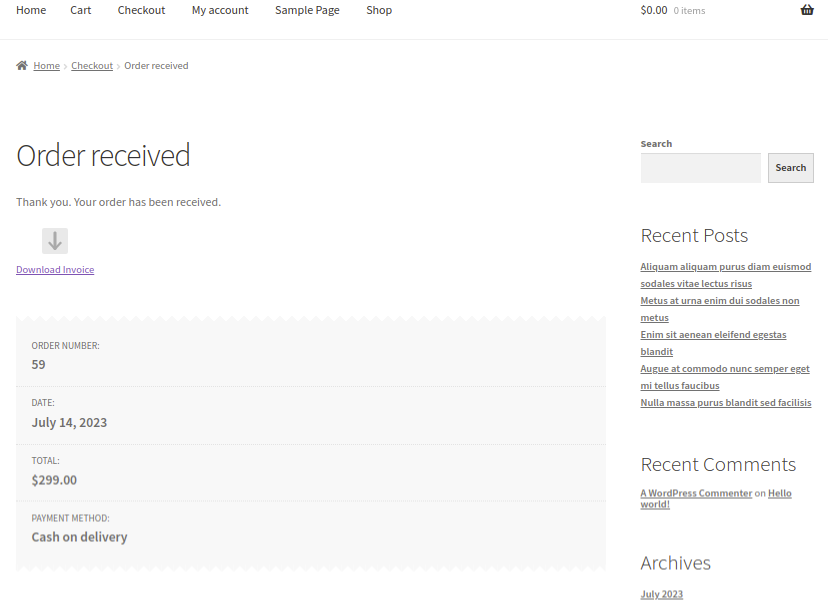 You can customize the product invoice PDF according to your business needs. Tailor details like company contact information, invoice number, renewal date, invoice color & logo. You can also choose between two different view types for payslips and invoices:
Thank You page: The invoice download button will appear on the Thank You page after the product purchase.
Open in a new tab: The invoice will open in a new tab after the product purchase.
Want to Know the Effective Benefits of How to Convert WordPress to PDF?
Share Your PDF File Across Various Channels With Just One Click
5. Use Enticing Templates for the 'Post To PDF' Plugin
If you choose WordPress PDF Generator, you can easily add the template to your PDF documents according to your requirements. This PDF plugin comes with four new different styles of custom templates for your blog posts and products.
Admin can use these templates to customize and change the layout of the cover page. He can use his brand image or other images according to his convenience.
Users also have the opportunity to choose the template that best suits their requirements.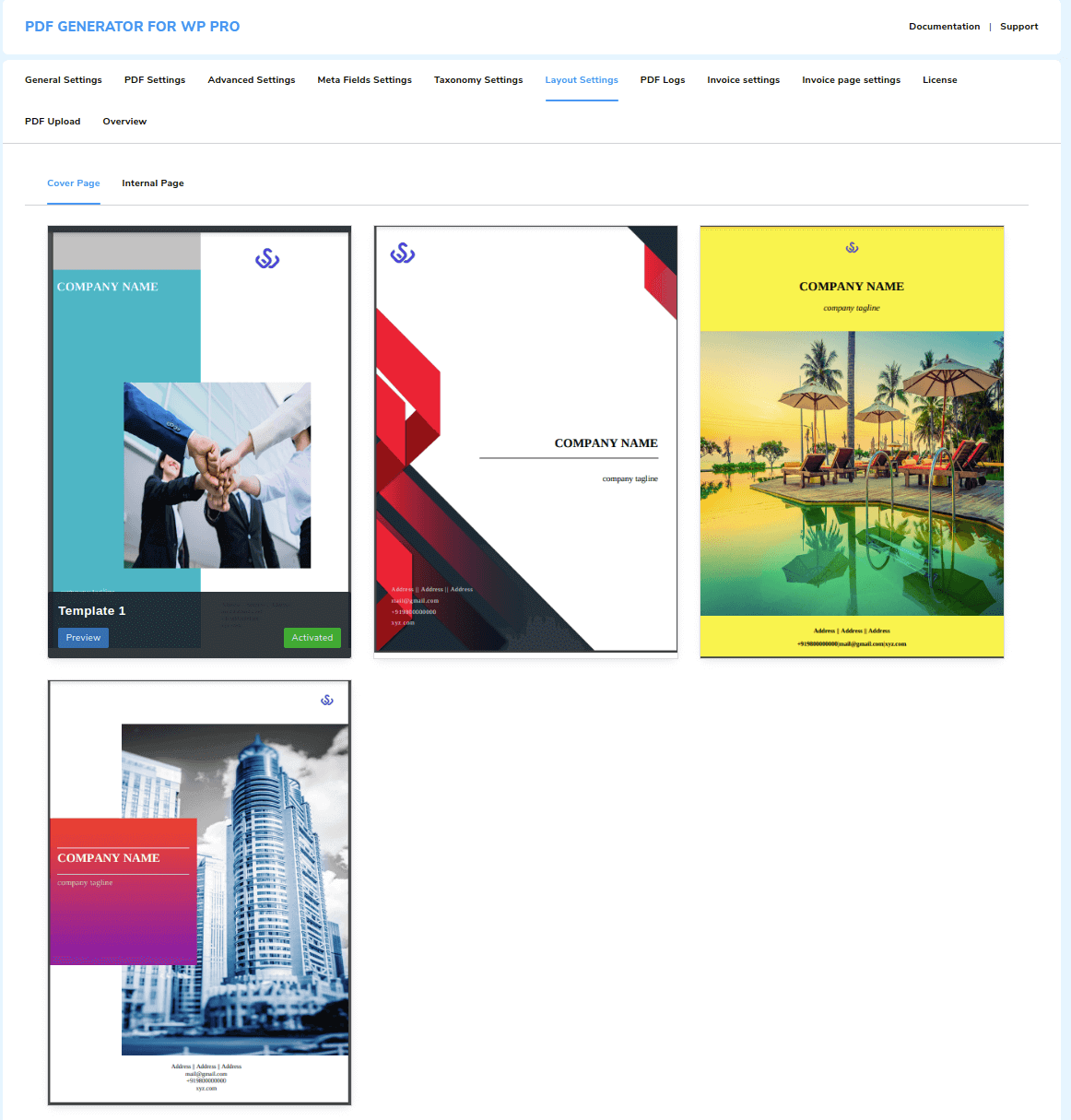 6. Select User Roles for Accessing Download Icon [Pro]
The PDF WordPress plugin allows you to choose which user roles can use the PDF download button feature for your live pages, products, or articles.
This feature allows you to create distinct user roles that have access to the PDF icon on the frontend of your website, allowing you to provide a personalized and regulated experience for your visitors.
7. Ability to Add Watermarks
The desire to add a watermark on text and images wouldn't remain just a desire anymore if you have a PDF WordPress plugin. A watermark makes your document look more fascinating and eye-catching. It increases your authority over documents and also helps in dispersing your brand name. Thus, the PDF Generator for WP Pro plugin allows you to add text watermarks and image watermarks.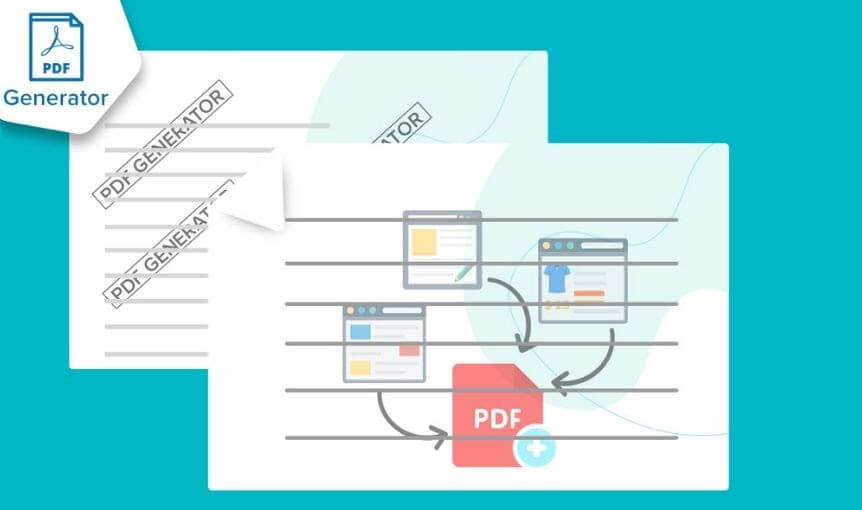 8. Easy Customization of Header & Footer
Yes, you heard it right.
With PDF Generator For WP, you can add a custom header and footer to your PDFs. Whether it's a blog post, product, or page, you can add a custom header and footer according to your specifications. Admins can detach the site URL, name, description, and images, and can modify the font type and size displayed in the header.
We upgraded our plugin to let you add the author name, post name, and publish date in the WordPress-generated PDF files. We are consistently upgrading this PDF WordPress plugin to cater to your needs.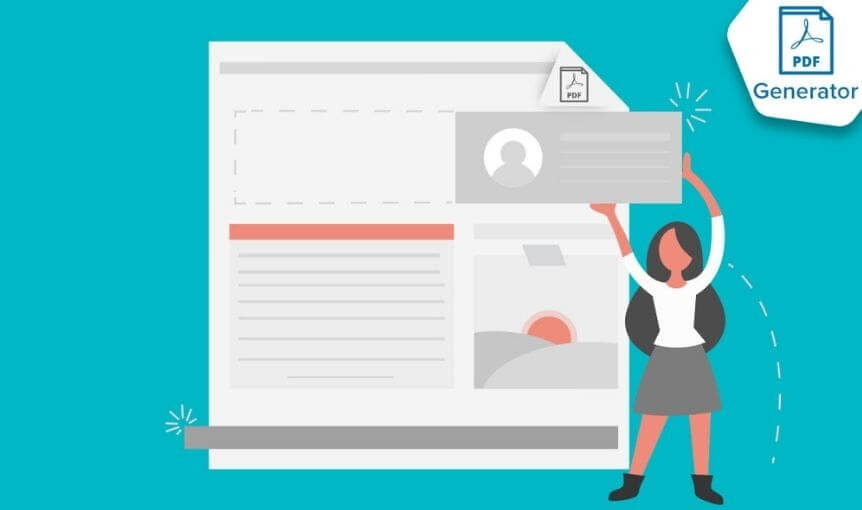 9. Generates WordPress PDF for All Custom Posts & Meta Fields
You can add the author name, post name, and publish date in the WordPress-generated PDF files. So, you should choose our WordPress PDF generator plugin to ensure proper branding and a uniform experience.
This PDF Generator WordPress plugin brings you the facility to add more than one meta field or even images in a single row. However, it is recommended that you do not add more than 3 images in a row for a better design of your generated PDF file.
10. WordPress PDF Export Icon Placement Using Shortcodes
One of the standout features of our WordPress to PDF Converter is its online accessibility. You can now generate PDFs on the go, without the need for additional software installations.
Additionally, to streamline your workflow, we provide a handy shortcode to easily add a WordPress PDF export icon anywhere on your page. Your visitors will appreciate the convenience of accessing downloadable PDFs with just a click.
You can place the 'generate PDF' in the front end of your WordPress site anywhere as per your convenience using the provided shortcode. The WP Post to PDF plugin also lets you upload your custom icon in case you want to change the default PDF generator icon.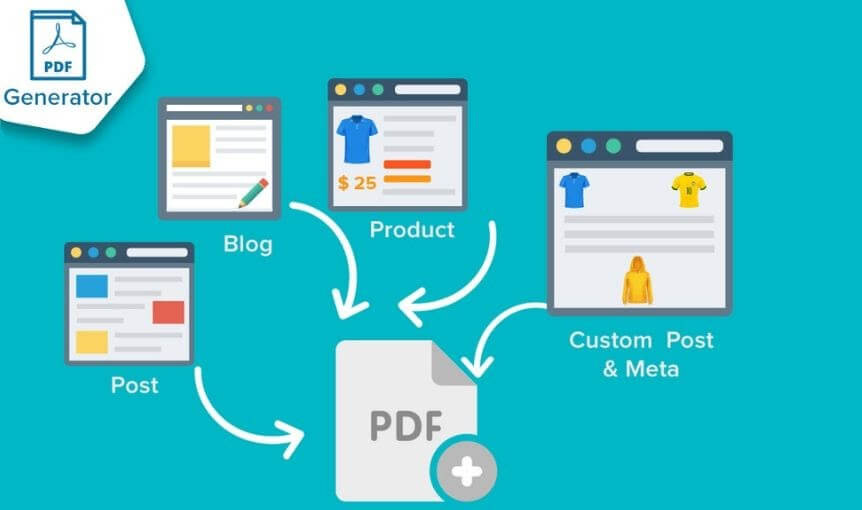 12. PDF WordPress WhatsApp Sharing [Pro]
Enhance user engagement and content exposure on your WordPress site by enabling seamless PDF sharing via WhatsApp. By incorporating a specialized WhatsApp sharing button in the WordPress post-to-PDF feature, you simplify the sharing process of your valuable content among users. This innovative addition facilitates effortless sharing of WordPress to PDFs with their contacts on the popular messaging platform.
By providing this convenient sharing option, you empower users to effortlessly amplify the reach and impact of your WordPress content, fostering increased engagement and interaction within your online community.
This user-friendly functionality not only enhances the WordPress post-to-PDF experience but also promotes wider content distribution and exposure for your WordPress website.
12. Export the PDF Files From the Backend Itself
Again, using the latest updated WP PDF Generator plugin, you can export PDF files from live pages, products, and posts from the backend itself. All you need to do is click on the Exportpdf button. There you have your one-click PDF ready!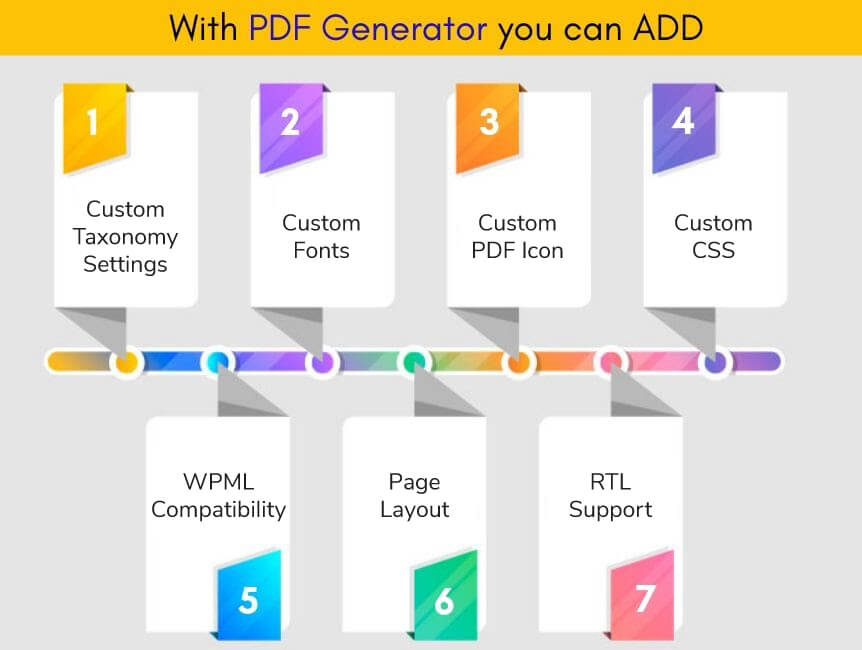 Top Reasons for Choosing PDF Generator for WP Pro
There are many benefits to having a PDF Generator plugin. So, let's start exploring the benefits that make you aware of why to own the PDF Generator for WP Pro.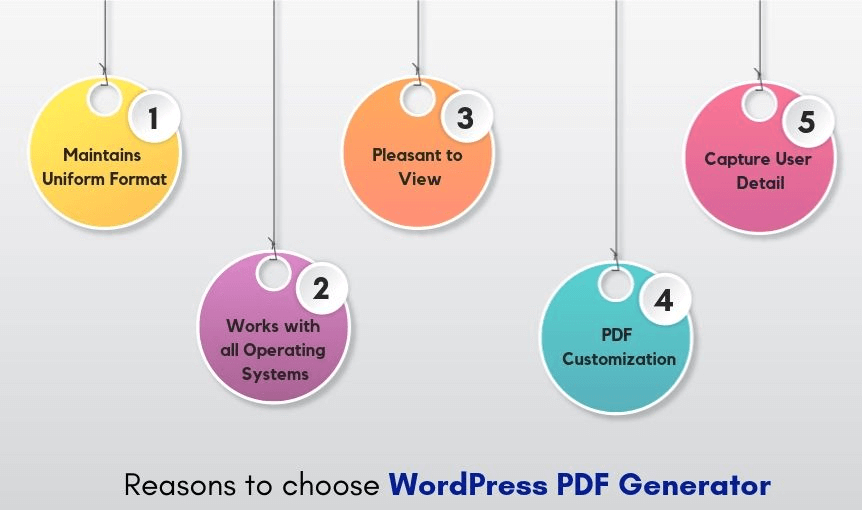 1. Maintain Uniformity in Format
While generating WordPress to PDF files, you must be thinking about which format you should choose to give your documents a uniform look.
If you choose the PDF Generator for the WP plugin, it would make your job easier as it supports the most popular WordPress themes and extensions like CPT UI, ACF, and WPbakery. Hence, this is how you solve the problem of selecting the format for your Google Docs.
2. Works With All Operating Systems
One of the main supremacy of WordPress to PDF converter free is that it works with almost all the operating systems that are currently in use. It doesn't matter whether your users work on Windows, Linux, UNIX, iOS, or Android. They will be able to view and read the document without any difficulty.
3. Pleasant View
Designing and customizing your themes and templates are the main sources to catch the user's attention. Through designing, you can easily gain user engagement on your websites. Human brains respond more to images than normal text and try to follow them. You will be very amazed to know that on average, 94% of the traffic on your site follows you just because of the attractive images you have used on your website.
Therefore if you include images in your PDF and make it more user-friendly, you will be able to draw more attention from users.
Using custom images will assist your audience to visit our website again without any inconvenience. And if they share that PDF with anyone, it will act as a brand promoting your business.
It has a long-lasting effect on your users. So, choose WordPress PDF Generator to draw your potential users' attention toward your eCommerce business.
4. Customization of WordPress PDF Is Possible
If you use this PDF generator plugin then you can easily customize the header and footer of your site according to your requirements.
A custom header and footer means you have the competence to change the outlook of the header and footer as per your requirements, which means you can customize your templates that fit your brand accordingly.
5. Capture User Detail
We all know that email marketing is an effective way to generate leads. And we all always try to capture emails in every possible way. Now you don't have to exert more effort to capture your user's email address.
If you choose WordPress PDF Generator then it can be a great way of capturing email addresses because PDF provides you the opportunity to ask for your user's email address.
For example, You can see the example. How smartly they have asked for the email address to send the PDF.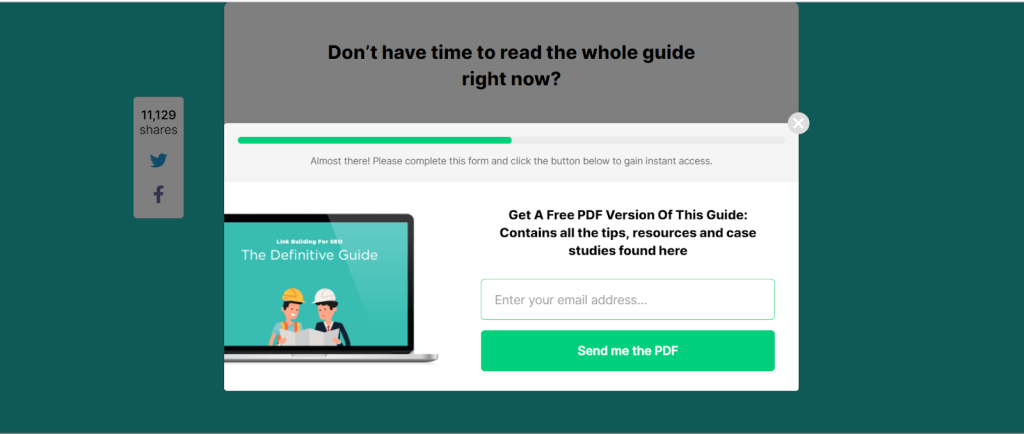 How?
If you provide a PDF on your product page, you can easily entice new leads for your business by asking for their email address. And if the customer finds the topic interesting and valuable for their field of work, they will surely give their email address which will benefit your eCommerce business to get more potential customers.
Prepare Your WordPress Blogs for Offline Download.
Learn how to add downloadable PDFs effortlessly.
Coming to an End!
After reading this, you must know how beneficial it would be if you choose WordPress PDF Generator to use to convert blogs, products, and pages into PDFs, and how it can help you in gaining traffic on your site.
It also helps you in dispersing awareness about your business. So, what now?
After going through this blog post, if you are interested in our product or have any queries regarding the WordPress plugin contact us whenever you want.
We are 24*7 available to help our customers, schedule a meeting with our experts, and clear all your doubts. If you find this information about the PDF Generator For WP plugin useful and informative, do comment and share!