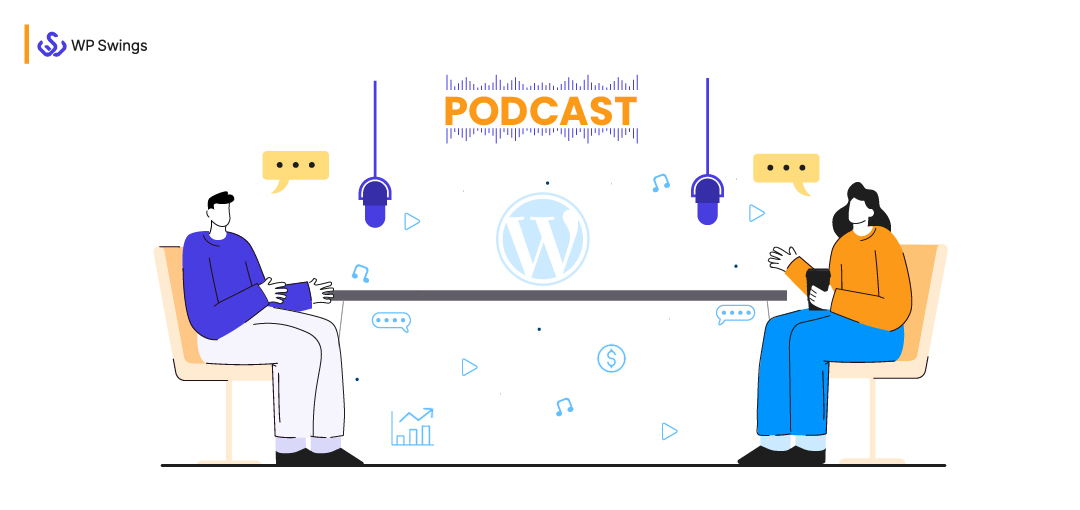 Whatever role you play in the WordPress community, you must be aware of the current news, tools, and more. Best WordPress Podcasts assist individuals in acquiring new knowledge, staying current on news and trends, and joining a community of like-minded people. A podcast is a tool that every designer, developer, and user can learn and follow.
Listening to podcasts is a terrific way to stay up to date on what's going on in the WordPress world. Use them to find out about new goods or WordPress updates. Learn how to utilize the Best WordPress Podcasts and associated technologies more effectively. Alternatively, hear from others in the community. Audio may be used while exercising or driving, making it highly useful for those of us with little time to read.
What Are Podcasts?
A podcast is the streaming age's equivalent of radio. A podcast is a digital audio file that you may download or listen to through the Internet, according to the dictionary. Its fascinating history explains why it is termed a podcast in the first place.
Podcasts are a type of media material that was created in 2004 by former MTV video jockey Adam Curry and software engineer Dave Winer when they designed the "iPodder." The iPodder was a software application that allowed users to download internet radio broadcasts on their Apple iPod. This is where the phrase and definition of the podcast were developed, with the name derived from a combination of 'iPod' and 'broadcasts.'
Podcasts are becoming a hugely popular form of audio entertainment that has evolved beyond simply downloaded radio episodes. Each podcast is a series prepared by a host and then broadcast episode by episode online, where subscribers may download and listen to each episode as it becomes available. Podcasts, as opposed to traditional means of content generation such as TV and radio broadcasts, provide an easy approach for content providers to communicate with their audience.
Here Is Some Data You Must Look At:
According to the report, by 2022, 62% of Americans will have listened to a podcast at some point in their life. This equates to an expected 177 million Americans, a 57 percent raise over the same amount in 2021.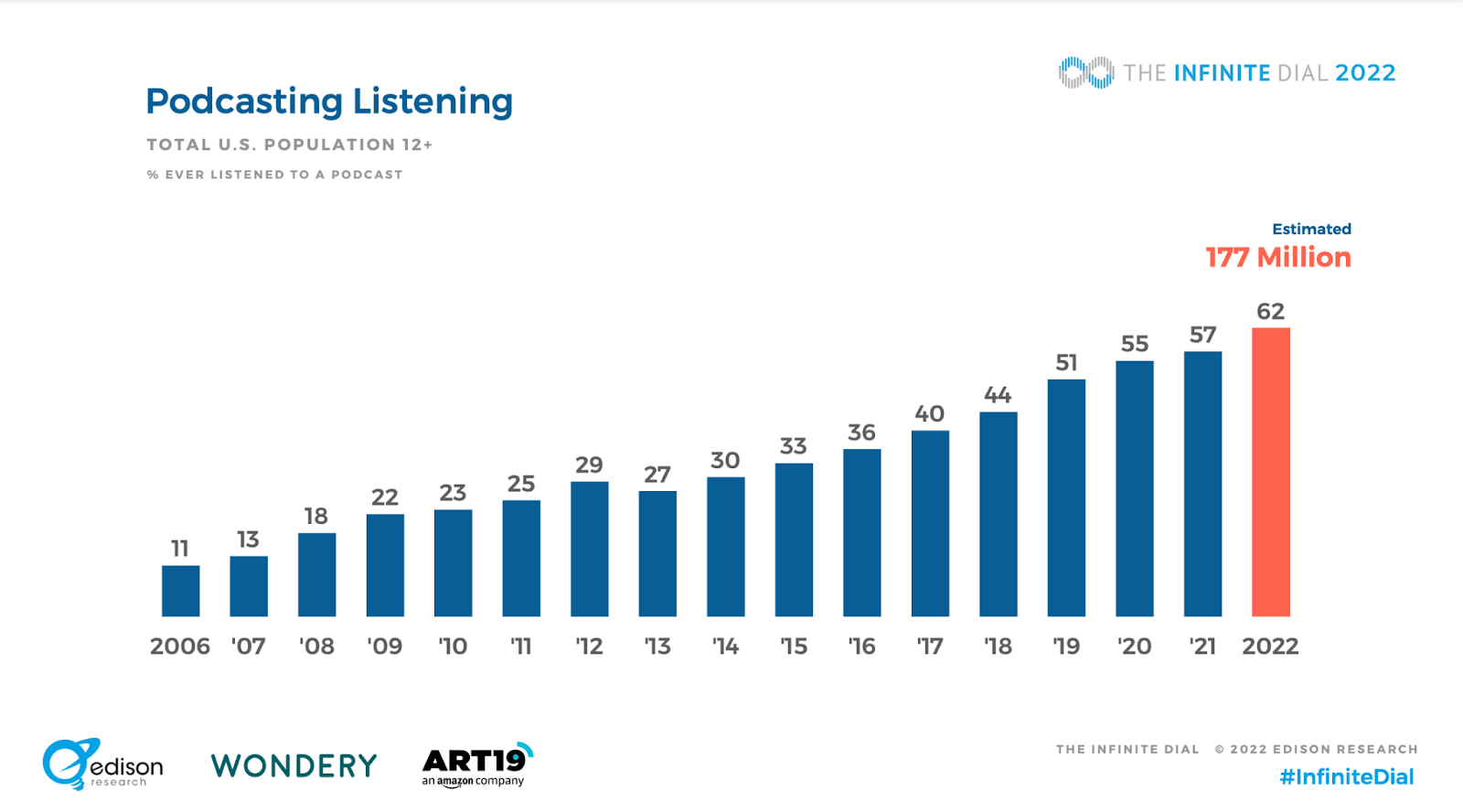 In the other report given below, you will find the data between the years 2019 to the year 2024.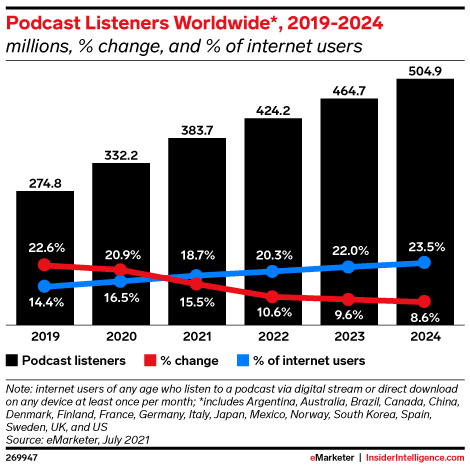 And, this graph will keep on rising as per the data by Insider Intelligence. By 2028, the podcasting business will be worth $94.88 billion.
They are currently unregulated, which means you do not require a broadcasting license to produce podcast material. Anyone with minimal podcasting equipment, such as a microphone, recording software, and a subscription to a hosting platform, may start their own program.
Because of corporate sponsorships, affiliate marketing, subscriptions, and premium content, monetizing a podcast is also becoming a solid method to create a side or full-time income.
How Is WordPress a Better Platform to Launch Your Podcast?
If you're looking for methods to market your podcast, investing in a website is a terrific option. WordPress is a powerful platform for building a functioning and professional website.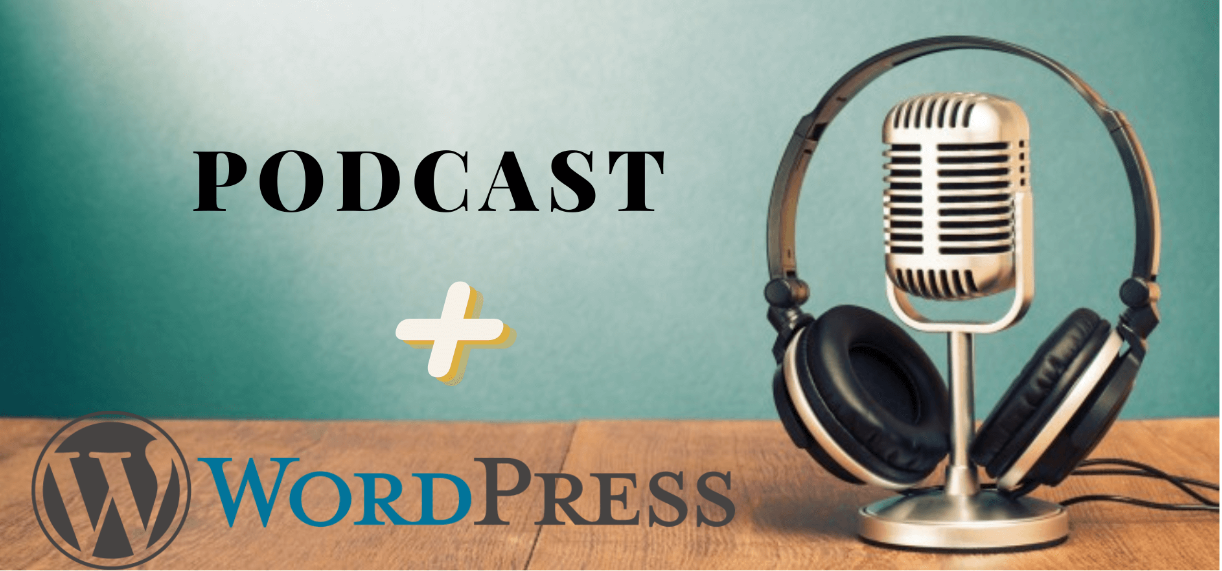 There are various WordPress podcast plugins that are particularly created for podcast websites. Each one has its own distinct features and design, making it difficult to pick the best WordPress podcast plugins.
To find podcasts to recommend, we looked at a few things. First, the type of material had to be predominantly WordPress-focused. Second, consider the presentation's content quality. Finally, frequent and easy-to-access episodes are simply more enjoyable.
You may share access to your podcast website with a co-host if you create it on WordPress.com. This will allow you to submit new episodes, show notes, and any other materials you may require, such as running a merch store to help monetize your podcast.
Why Do You Need a WordPress Website for Your Podcast?
A podcast is an episodic series of audio files that subscribers may download and listen to.
To make a podcast function, you must have an audio file and an RSS Feed to which users can subscribe to keep updated and download new episodes as they become available.
RSS Feed: An RSS (Really Simple Syndication) feed is an internet file that provides information on all of the material that a website has published. When a site publishes new material, it includes information about that content, such as the full text or a summary, publication date, author, link, and so on.
Because WordPress has an RSS feed mechanism for blogs, many podcasters utilize it as their podcast website platform.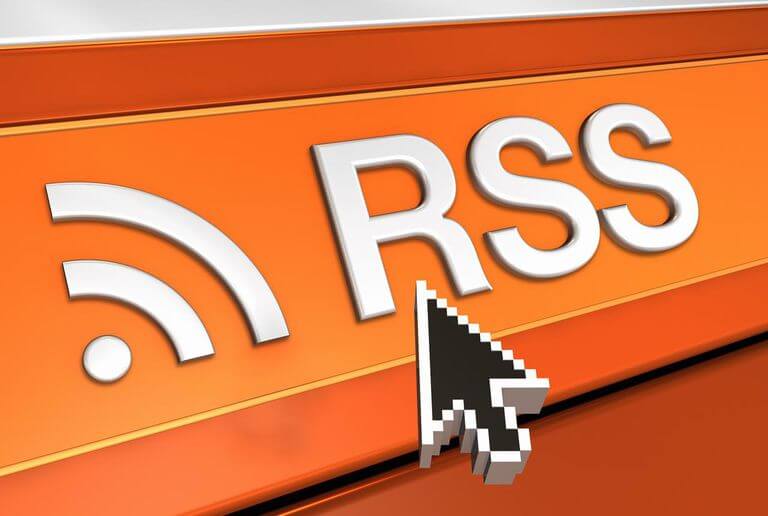 You may integrate your podcast website with podcasting programs such as iTunes to make it easy for millions of consumers to listen to and subscribe to your podcast.
Creating a WordPress site is not difficult, and if you are serious about your podcast, you should give it a try. WordPress is sometimes stereotyped as a blog-only platform, although it is capable of much more. Getting to know the platform is also a breeze. Anyone can master the fundamentals in a day or two and then go on developing their own projects.
Do You Need Assistance in Setting up Your WordPress or WooCommerce Store?
Read along to establish and get running your full-fledged website by building it from scratch…
Let's look at how to use plugins to create a podcast website in WordPress…
Here are some Best free podcast plugins for WordPress listed, kindly look and select the best you find effective for your business.
Best WordPress Podcast Plugins
Your podcast's home base is your WordPress website. However, you will want a podcast plugin to allow listeners to get the most recent content and administer your show!
Each of our recommendations offers a few important features that we believe are essential for hosting a podcast on WordPress. The most critical aspect is responsiveness, which implies that the player is functional and visually appealing on both desktop and mobile platforms.
Therefore, when building a website, it's easy to overlook the mobile experience, yet according to Edison Research, podcast listeners spend 42 percent of their time tuning in to new episodes on their smartphones.
If your WordPress podcast plugin does not support mobile devices, you are passing on significant growth potential.
To get you started on your search for the best WordPress podcast plugins, we've compiled a list of our top three recommendations for your website. And you can be confident that each is configured to perform correctly across all devices.
1. PowerPress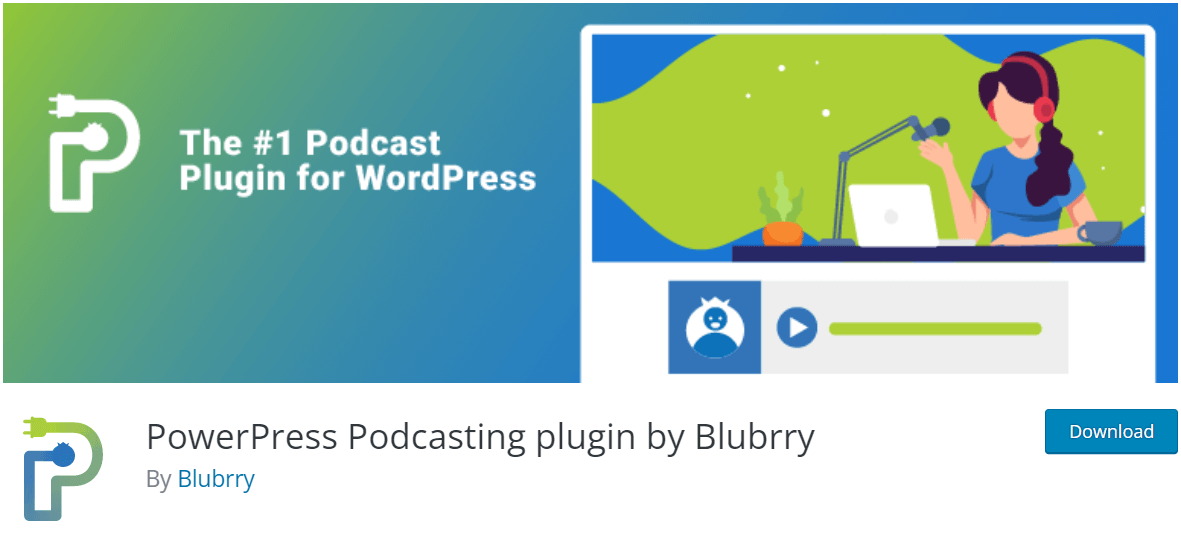 PowerPress by Blubrry has simple and powerful options to meet the demands of every podcaster. It, like many other podcast plugins, offers distribution to major podcast directories like Apple Podcasts, Google Play, Stitcher, and TuneIn, making it simple to submit and manage your program from a single location.
Podcasting is an advanced feature. SEO options allow users to specify various episode titles to boost podcast discovery on search engines such as Google and the Apple Podcasts directory.
PowerPress has basic analytics capabilities with the opportunity to upgrade for more features. Standard Plan at just $10 per month and Advanced Plan for $17 per month.
2. Seriously Simple Podcasting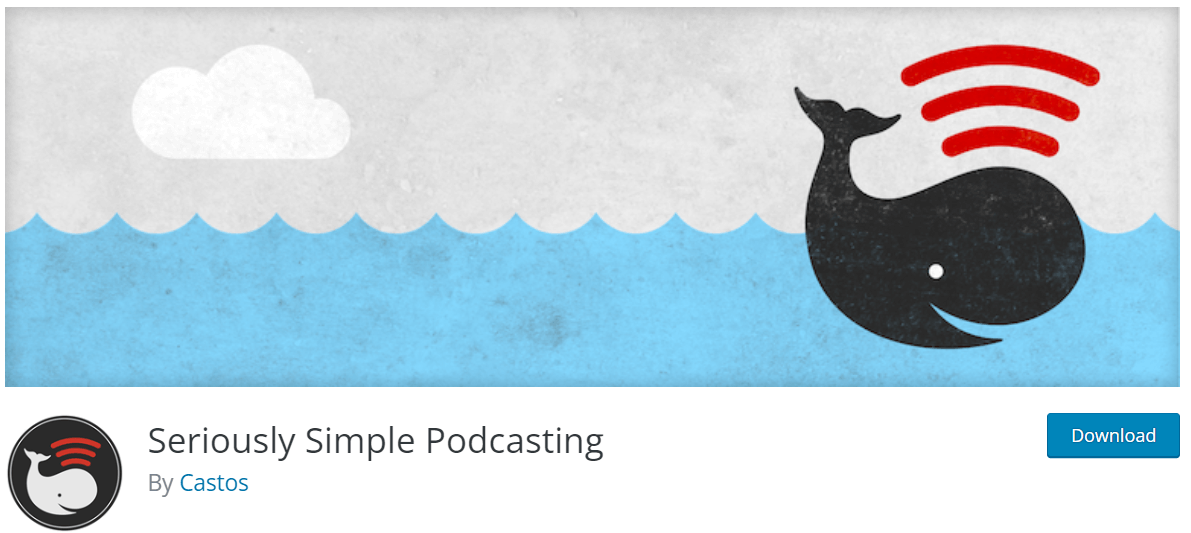 Seriously Simple Podcasting by Castos is a simple and adaptable podcast plugin. This plugin's user-friendly interface allows beginners to produce podcasts in minutes without leaving the WordPress dashboard.
Seriously Simple Podcasting handles both audio and video files, and users may broadcast many podcasts from the same site, each with its own RSS feed.
The plugin includes a number of useful features such as customized music players, playlist widgets, and detailed listener metrics.
3. Podlove Podcast Publisher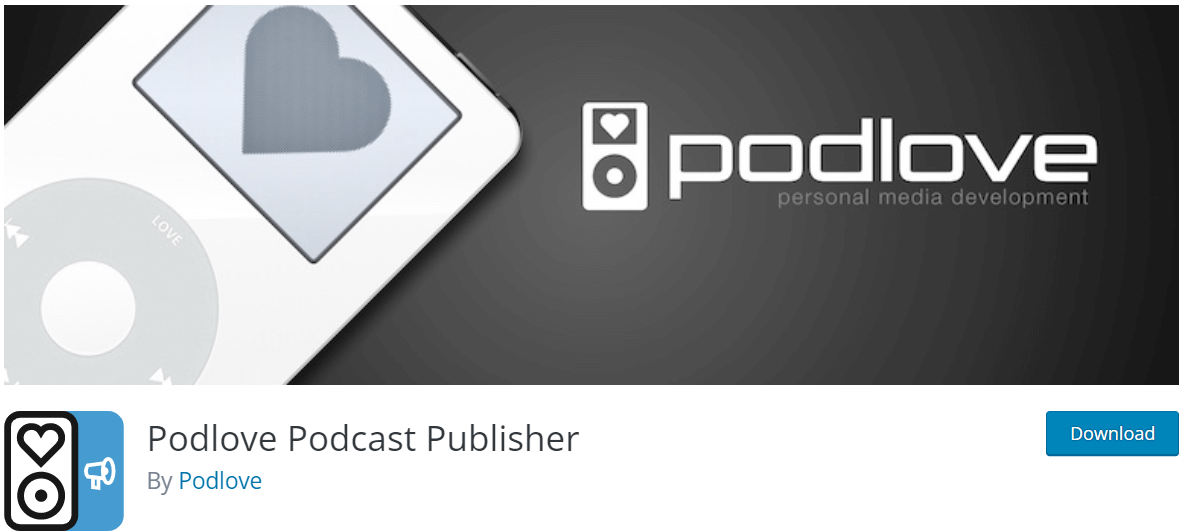 Podlove Podcast Publisher by Podlove is a podcast plugin that includes strong data to assist hosts in determining which episodes garner the most engagement and on which platforms listeners tune in.
The plugin also has a customizable template structure that gives users complete freedom over how episodes are shown, allowing you to organize your material precisely as you want it.
Podlove Podcast Publisher has an integrated web player as well as separate subscription buttons, allowing listeners to follow your podcast across several platforms.
After knowing about the plugins, let's move on to some best WordPress podcast themes you must know…
Best WordPress Podcast Themes
WordPress provides a number of common theme designs for changing the look of the site. While these solutions are completely OK, we do not suggest them because they were not created with podcasters in mind.
Consider a theme designed to showcase audio and video material, where your podcast may be the star of the show.
The themes we like most allow hosts to showcase unique playlists, create posts for specific episodes, and support numerous media types. Each is responsive, allowing your listeners to tune in from their favorite device, and you can modify the colors and arrange the widgets any way you see fit.
The top podcast WordPress themes can set your website apart from the competition and help you expand your following!
1. Podcaster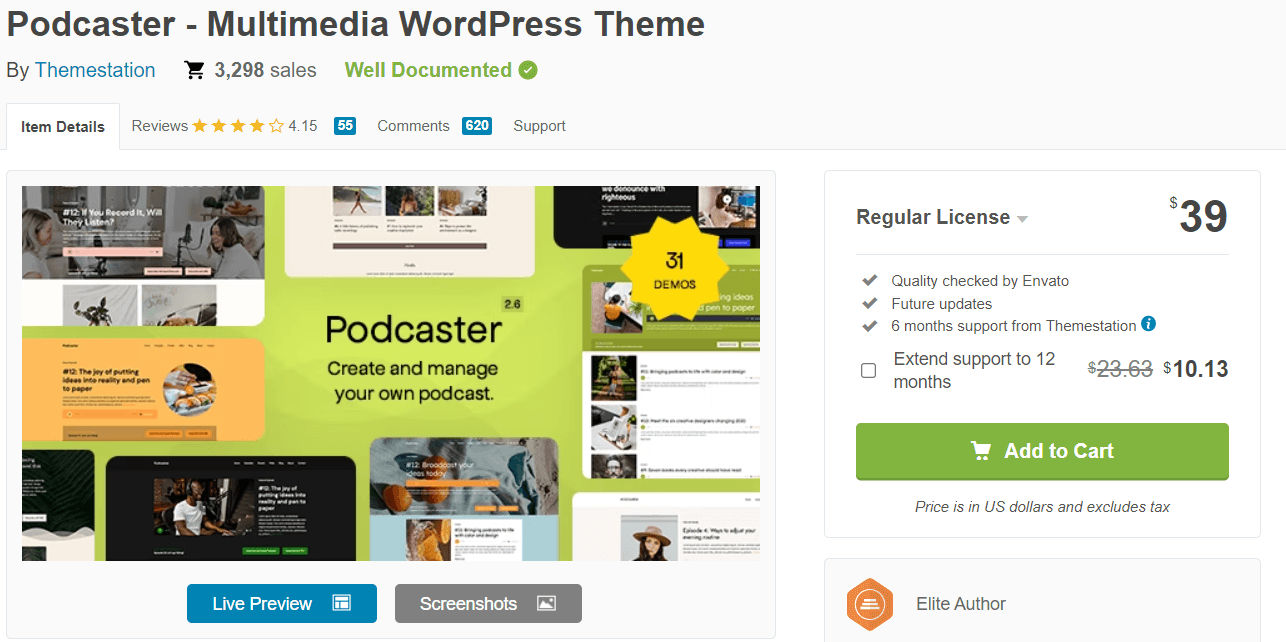 Themestation's Podcaster went all-in on creating a bespoke theme for podcasters. Customize the homepage to include embedded audio players and playlists so visitors can listen to your latest material right away.
Hosts may publish a limitless number of new articles and manage various podcasts from one site by providing unlimited episode archive pages and individual subscribe buttons. The theme is sleek, adaptable, and responsive, and it is designed to work best with the podcast plugins Seriously Simple Podcasting and BluBrry PowerPress as discussed above.
2. Tusant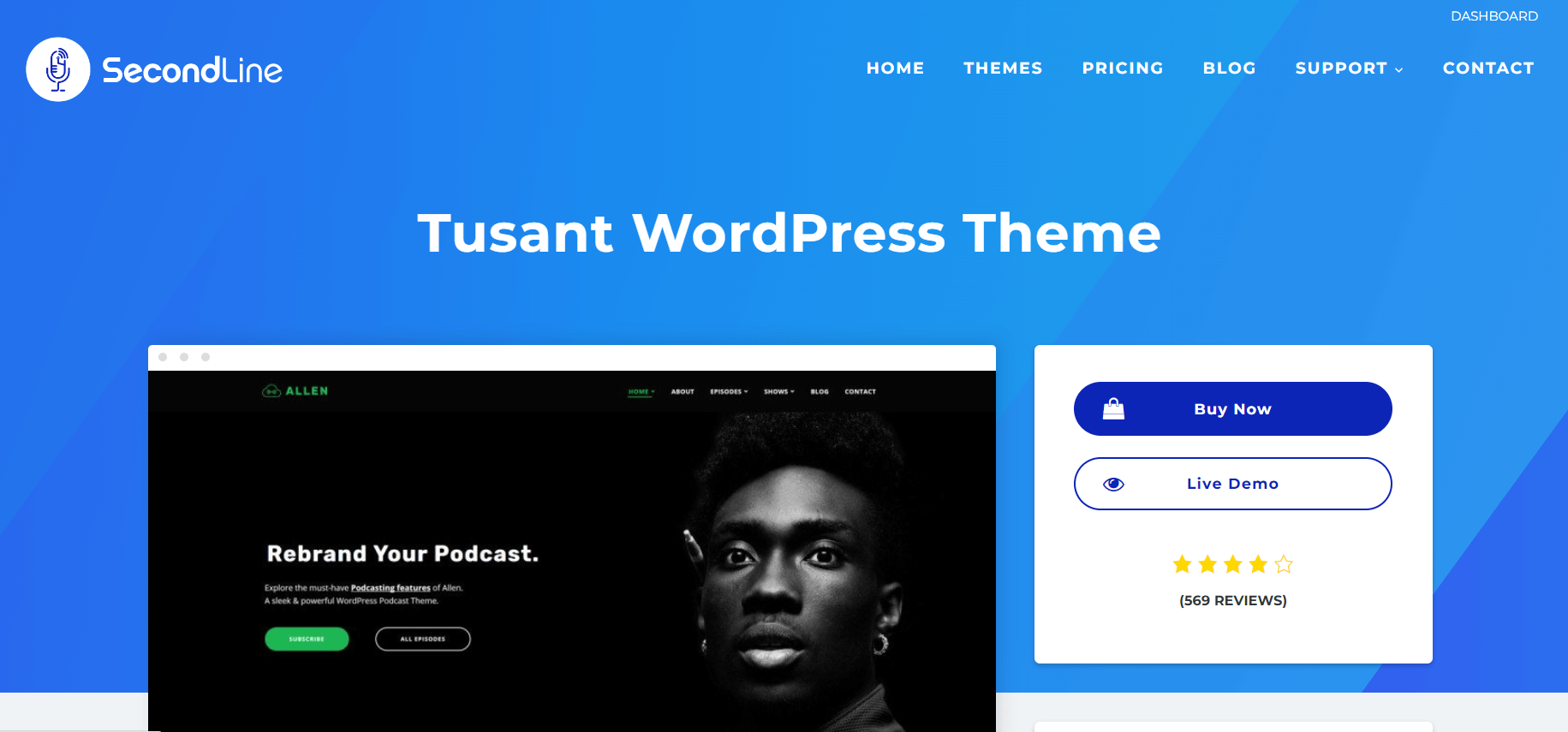 Tusant by Second Line is a modern theme designed primarily for podcasts, music, and video streaming. It supports numerous audio sources, making podcast episodes easy to integrate.
The theme supports an infinite amount of entries, allowing you to build new pages for each episode, series, or blog post without worrying about exceeding a restriction. It also allows you complete control over the content arrangement, allowing you to highlight your podcast precisely how you want it. Most significantly, Tusant is compatible with all major podcast WordPress plugins, such as Seriously Simple Podcasting and PodLove.
3. Nayma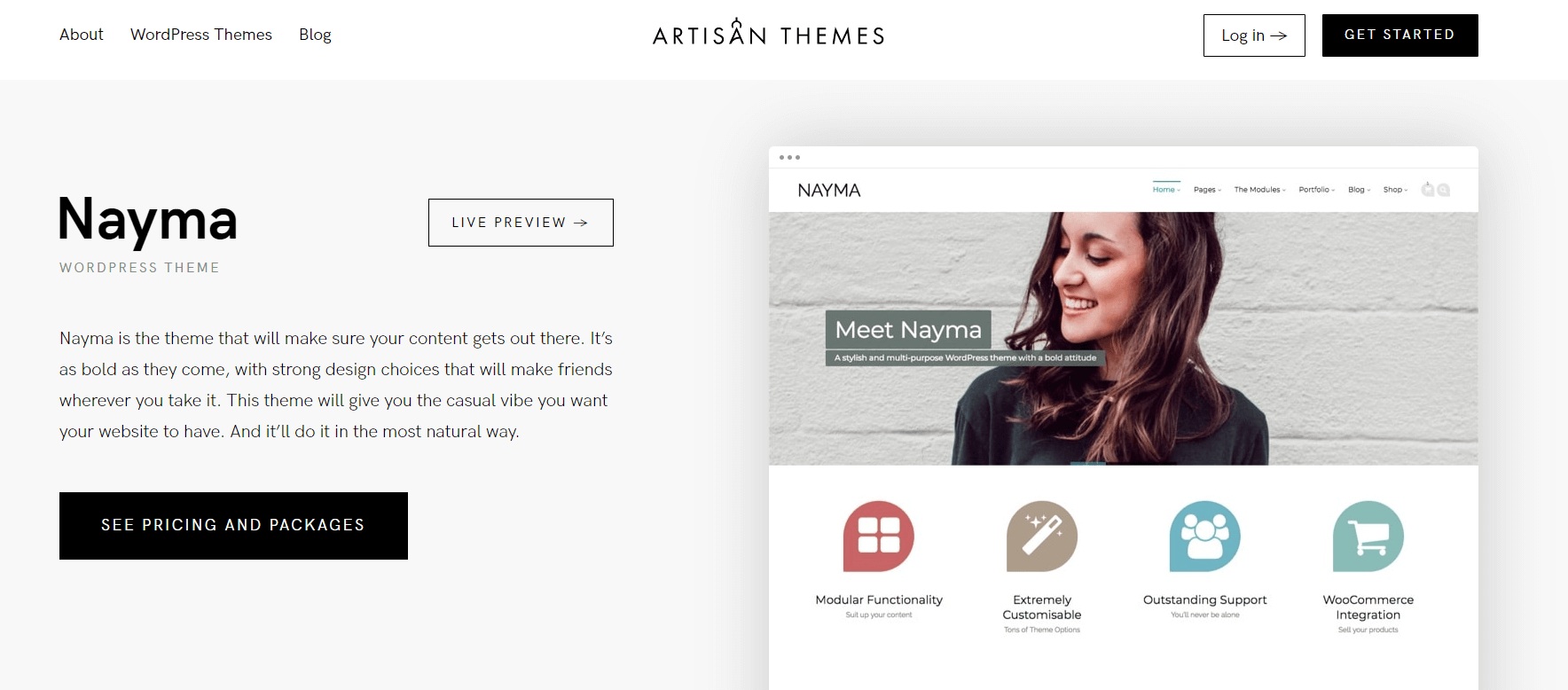 Artisan Themes' Nayma is a practical WordPress theme that uses drag-and-drop modules to customize each page. The ease of designing new layouts is ideal for someone new to making a website who does not have coding expertise.
The theme has several header variations and is eCommerce-ready, making it ideal for selling podcast merchandise or related things. Nayma is entirely compatible with a wide range of podcast plugins and provides a wide range of module kinds, such as galleries and video embeds.
However, podcast technology has transformed in only a few years, with new arrivals and some programs discontinued. This post will provide a selection of the Best WordPress podcasts to listen to in 2022.
Top 15 Best WordPress Podcasts for 2022
There is little doubt that selecting items for a list like this is somewhat subjective. We also needed to make the list small, so it's conceivable that you have some other good podcasts that you believe should have been included.
But enough chattering for now. In no particular order, here is our pick of the best WordPress podcasts.
1. Distributed, with Matt Mullenweg

The Distributed with Matt Mullenweg is a monthly study into the "future of work" with the co-founder and CEO of WordPress, Automattic. The emphasis is on how "distributed" work performs and how remote offices and global teams promote better business. Every couple of months or so, new episodes are released.
2. WP eCommerce Show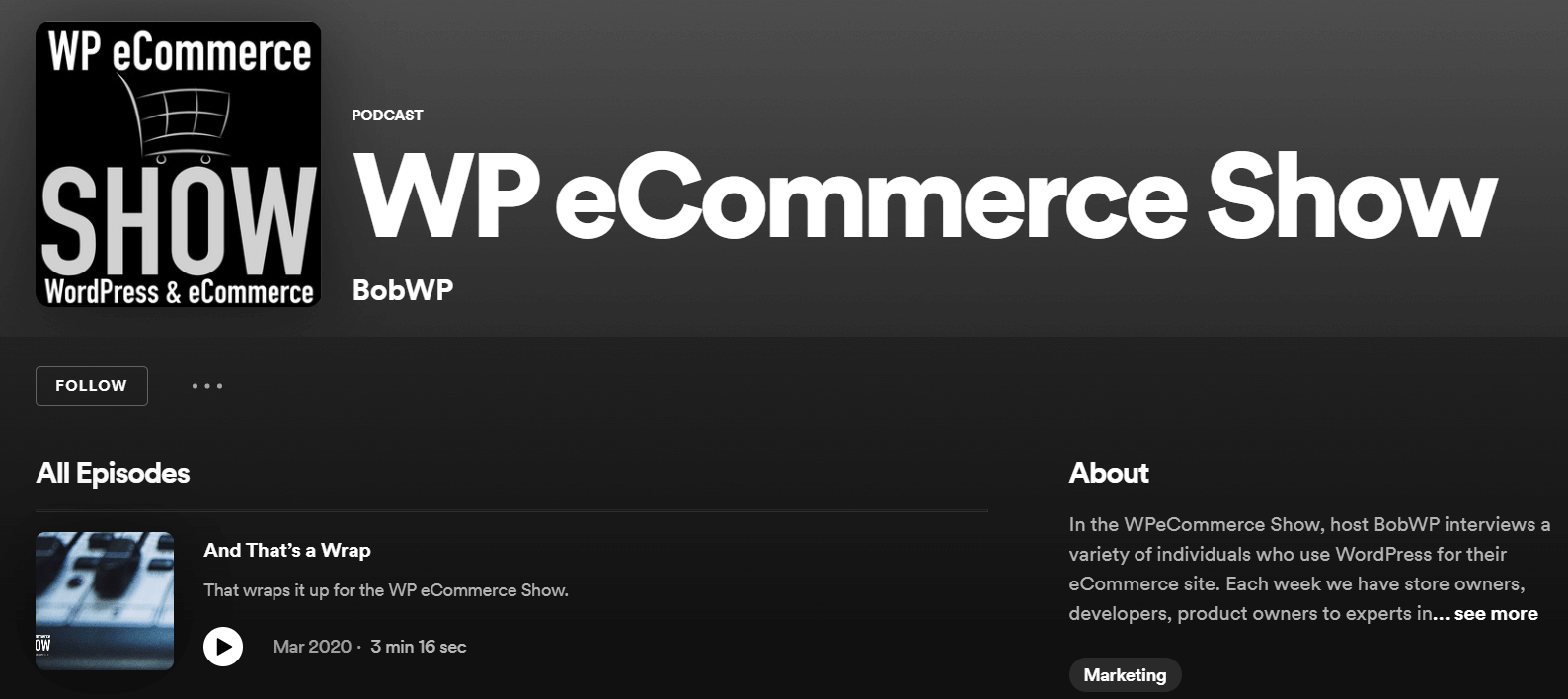 Another wonderful podcast worth listening to is The WP eCommerce Show. This podcast, as the name implies, focuses on eCommerce as it applies to WordPress, including information on favorite tools, tips & techniques, and more. Bob Dunn hosts it, and the interview style allows him to speak with online store owners that utilize WordPress to power their eCommerce system. Hearing from actual store owners about their experiences is helpful. Though the podcast is no longer active and Dunn has turned his concentration to his Do the Woo podcast, the archive is still worth listening to.
3. WP Builds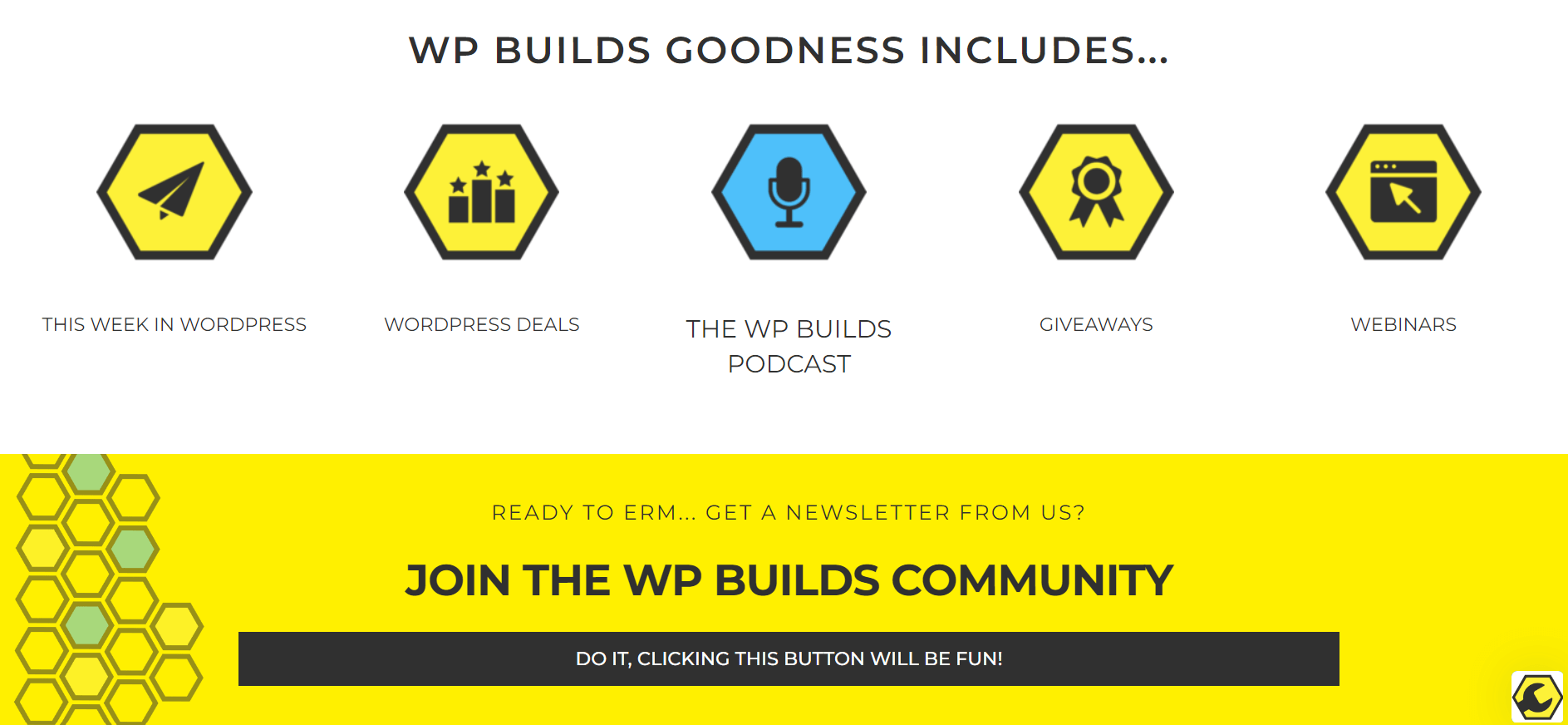 The WP Builds Podcast provides tips and tricks for everything and anything WordPress-related. This covers handy plugins, coding hints, writing assistance, and other resources. They've also recently launched a new series called the A-Z of WordPress, which takes an in-depth look at a different feature of WordPress for each letter of the alphabet. Nathan Wrigley and David Waumsley host this podcast.
4. WP the Podcast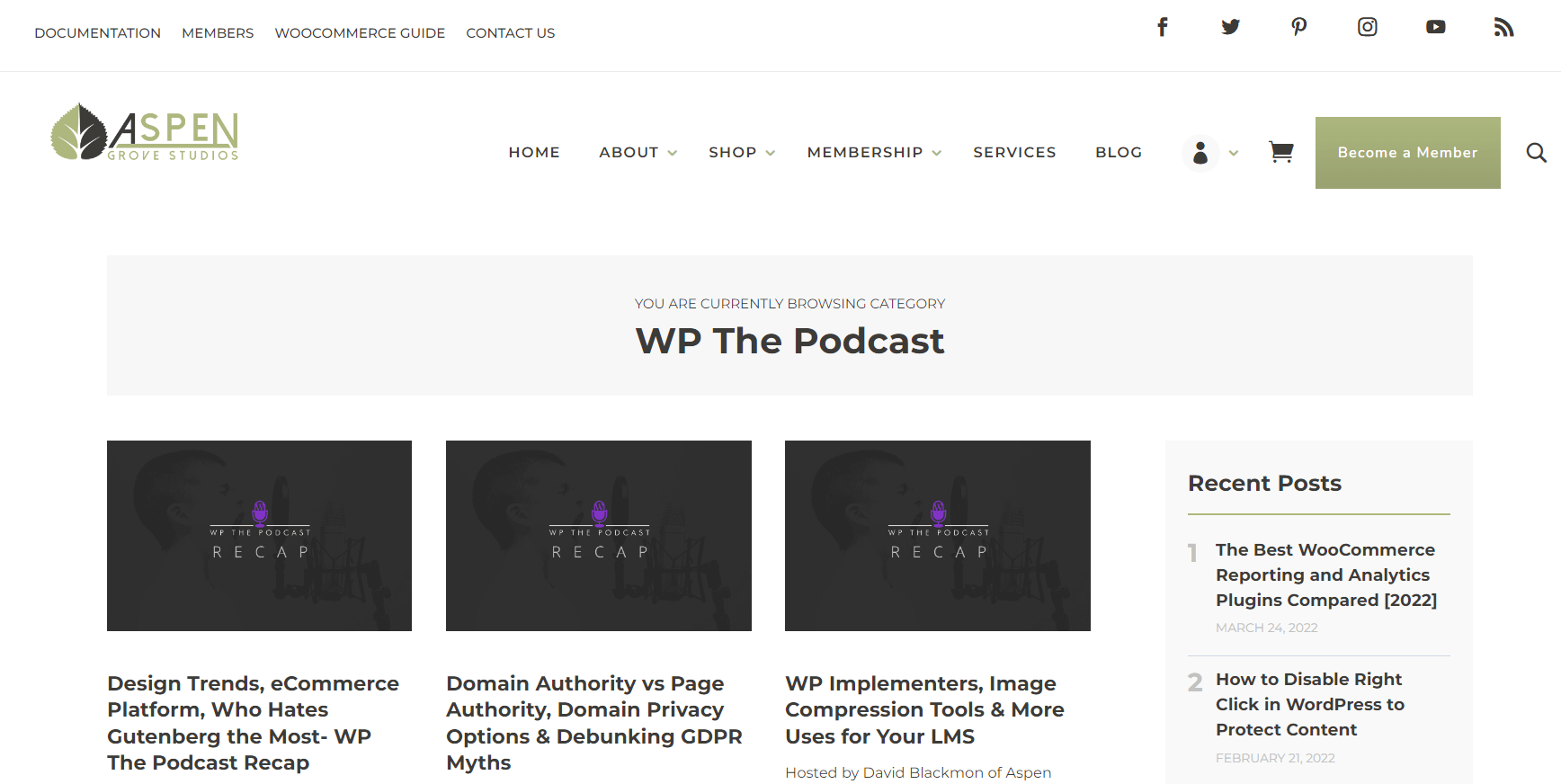 WP the Podcast is another excellent podcast to add to your listening collection. Each episode is 10 minutes or less long and provides to-the-point, actionable advice for your website that you can use right now. Each episode focuses on a different aspect of WordPress, such as marketing, web design, or business guidance. David Blackmon and Tim Strifler host WP the Podcast, which debuted in 2017.
5. WP Coffee Talk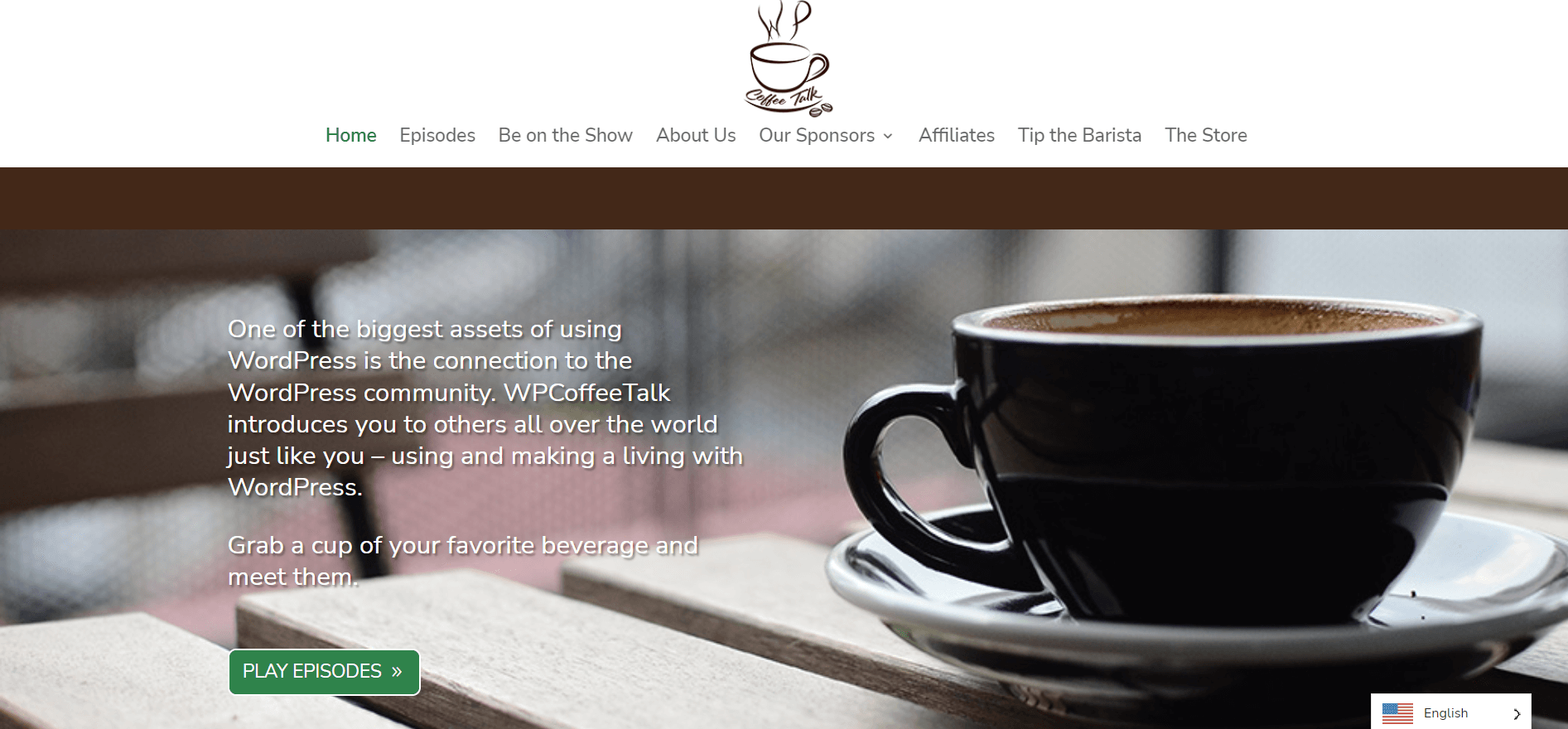 Michelle Frenchette hosts the WP Coffee Talk podcast, which produces a new episode each week about people in the WordPress community. Each episode of WP Coffe Talk is framed in an unorthodox manner, enabling the dialogue to flow spontaneously, as though two old friends catching up over a cup of coffee.
6. Women in WP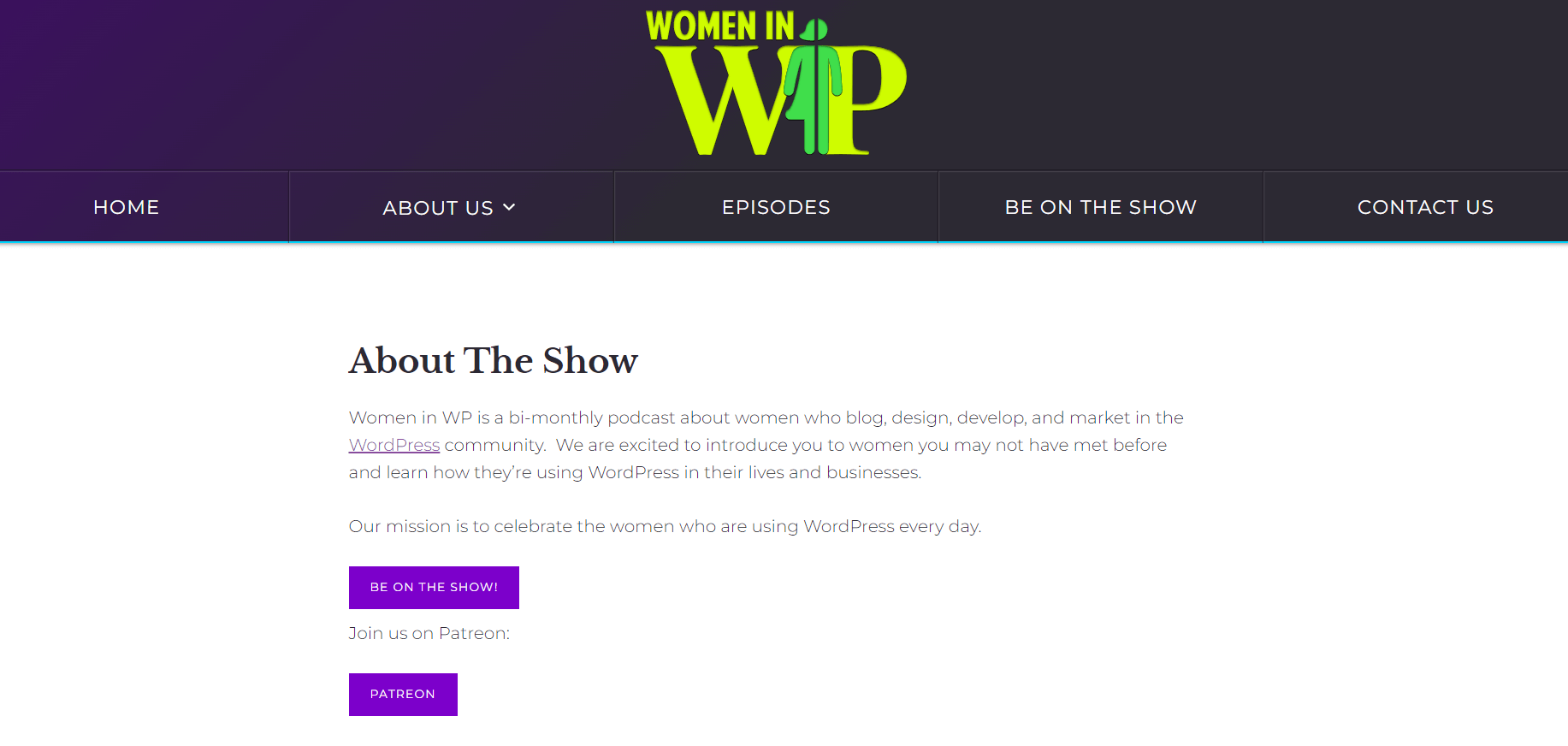 The Women in WP podcast is available twice a month. Amy Masson, Tracy Apps, and Angela Bowman, all specialists in various elements of WordPress, host the show. Each episode features a featured guest and covers subjects such as WordPress design, development, blogging, and marketing.
7. WP Plugins A To Z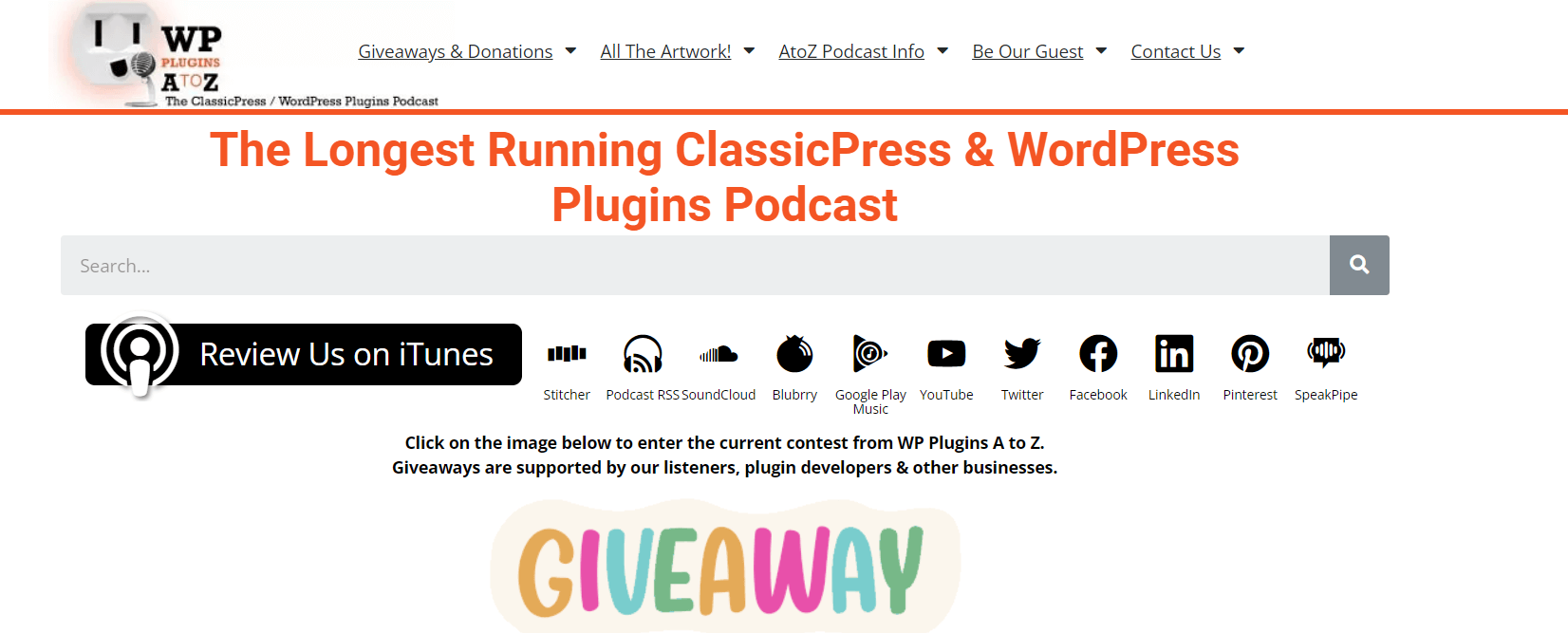 You're undoubtedly acquainted with plugins if you use WordPress. You may learn a lot more about WordPress plugins by listening to the WP Plugins A to Z podcast. This podcast interviews prominent plugin developers, discusses current plugin issues you should be aware of, new releases, and more.
8. WP-Tonic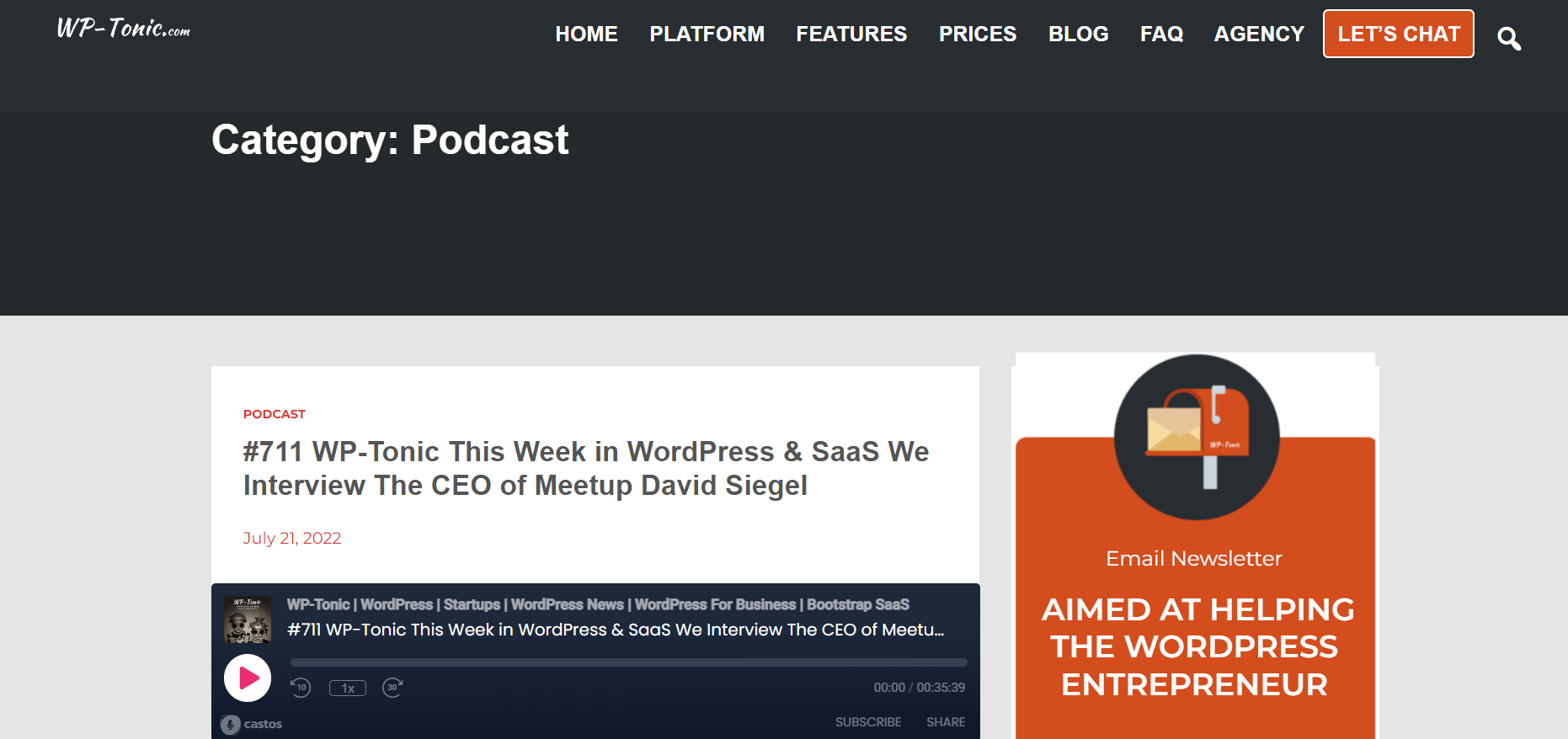 Do you want to use WordPress to host your own online courses? Or do you want to learn how? WP-Tonic is a weekly podcast that focuses on WordPress LMS (learning management systems). Drop in for interviews with notable guests, as well as advice on course development, marketing, and other topics.
9. Do the Woo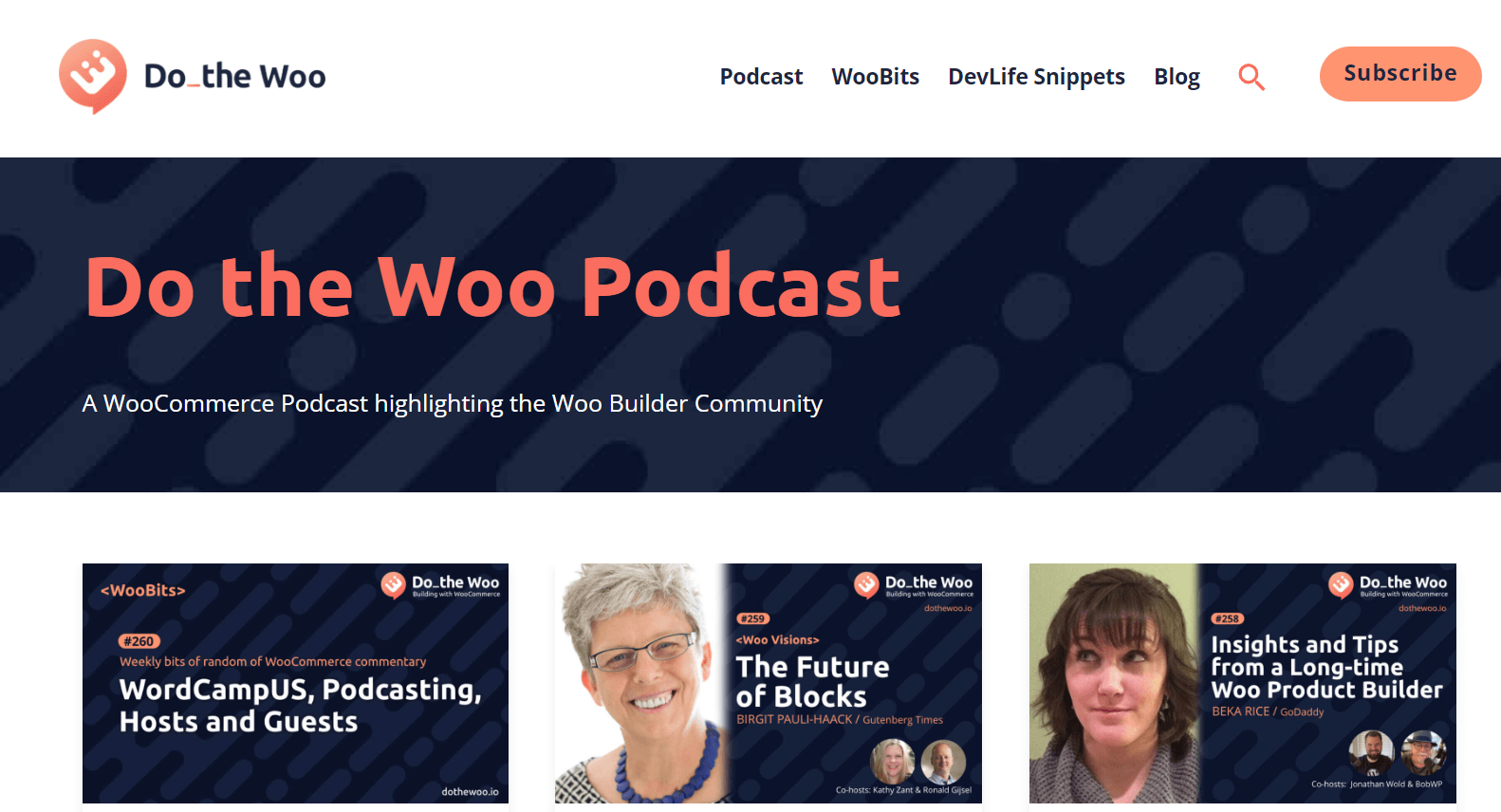 Do the Woo from Bob Dunn, the developer of BobWP and a committed WordPress trainer, is carving out its own position in the field. This podcast focuses on WooCommerce, the top WordPress e-commerce plugin, and aims to give useful information for WooCommerce business owners.
10.KitchenSinkWP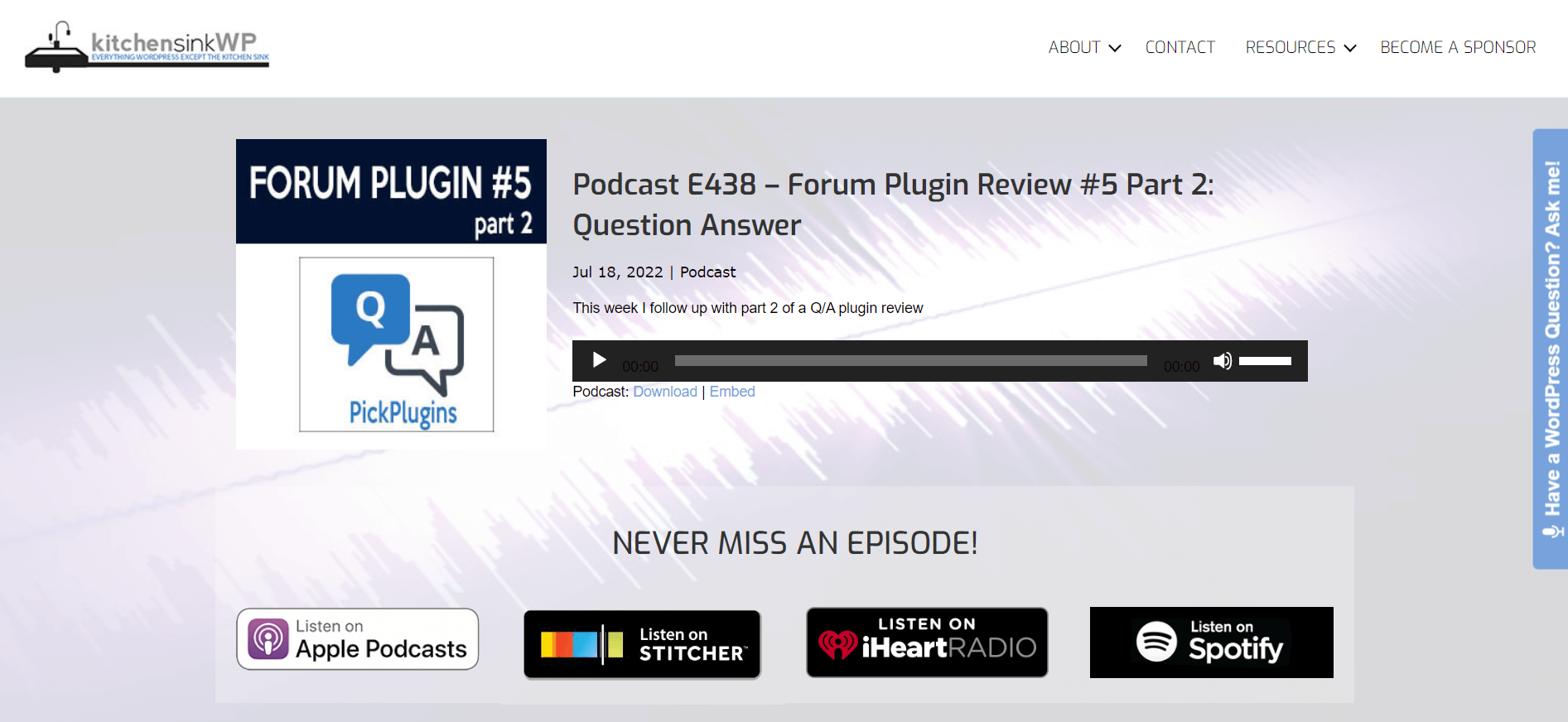 Adam Silver is a photographer turned WordPress professional who founded KitchenSinkWP to share what he's learned about the platform over the years. He discusses everything WordPress, including hosting and the newest WordPress news and events, and he interviews some intriguing WordPress community members.
11. Hello, WP!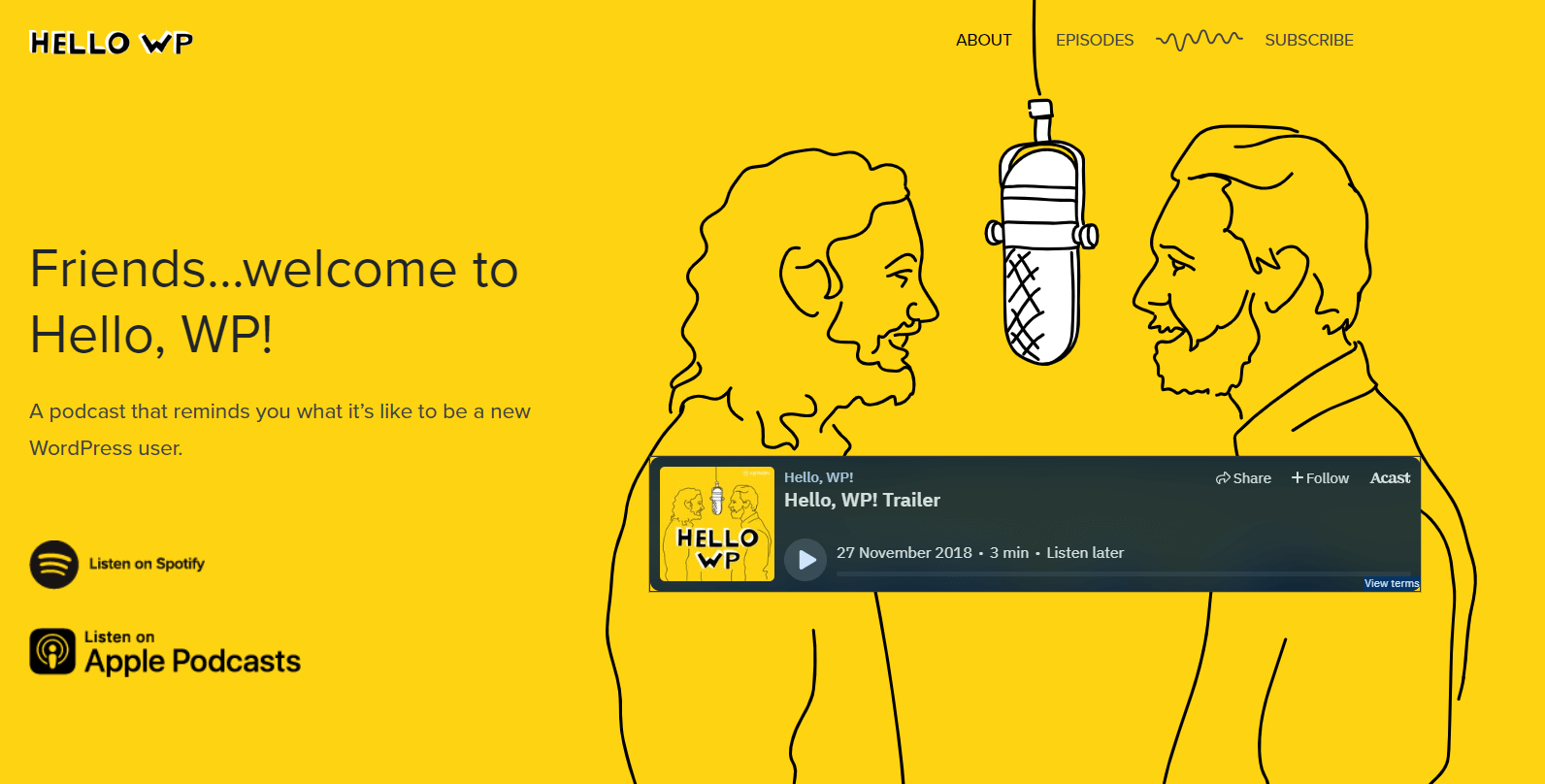 The Hello WP podcast bills itself as "reminding you what it's like to be a new WordPress user." That's all there is to it. Covering all of the fundamentals of themes, plugins, and WordPress in general, it's terrific listen, especially if you're new to the popular CMS. Though fresh episodes haven't been updated in a while, it takes you on a journey and is well worth a listen.
12. WPwatercooler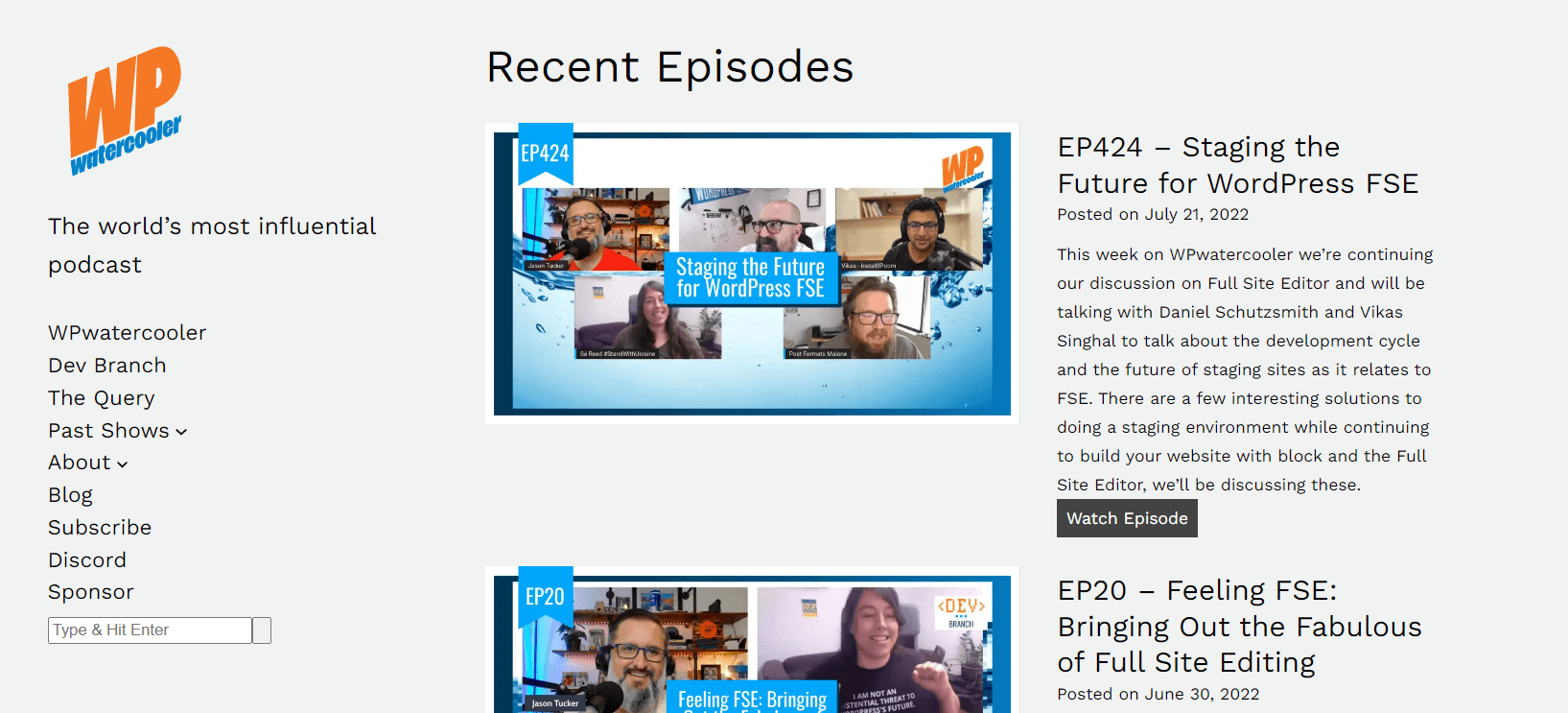 The WPwatercooler podcast, which debuted in 2012, is a fun 'edutainment' program in which Jason Tucker gathers diverse members of the WordPress community to discuss how WordPress is impacting companies and lives. Bridget Willard co-hosts Smart Marketing Show, a spinoff show that uses a Q and A approach to viewer queries. Another spinoff is Dev-Branch, which hosts developer-related chats once a month.
13. WPMRR Podcast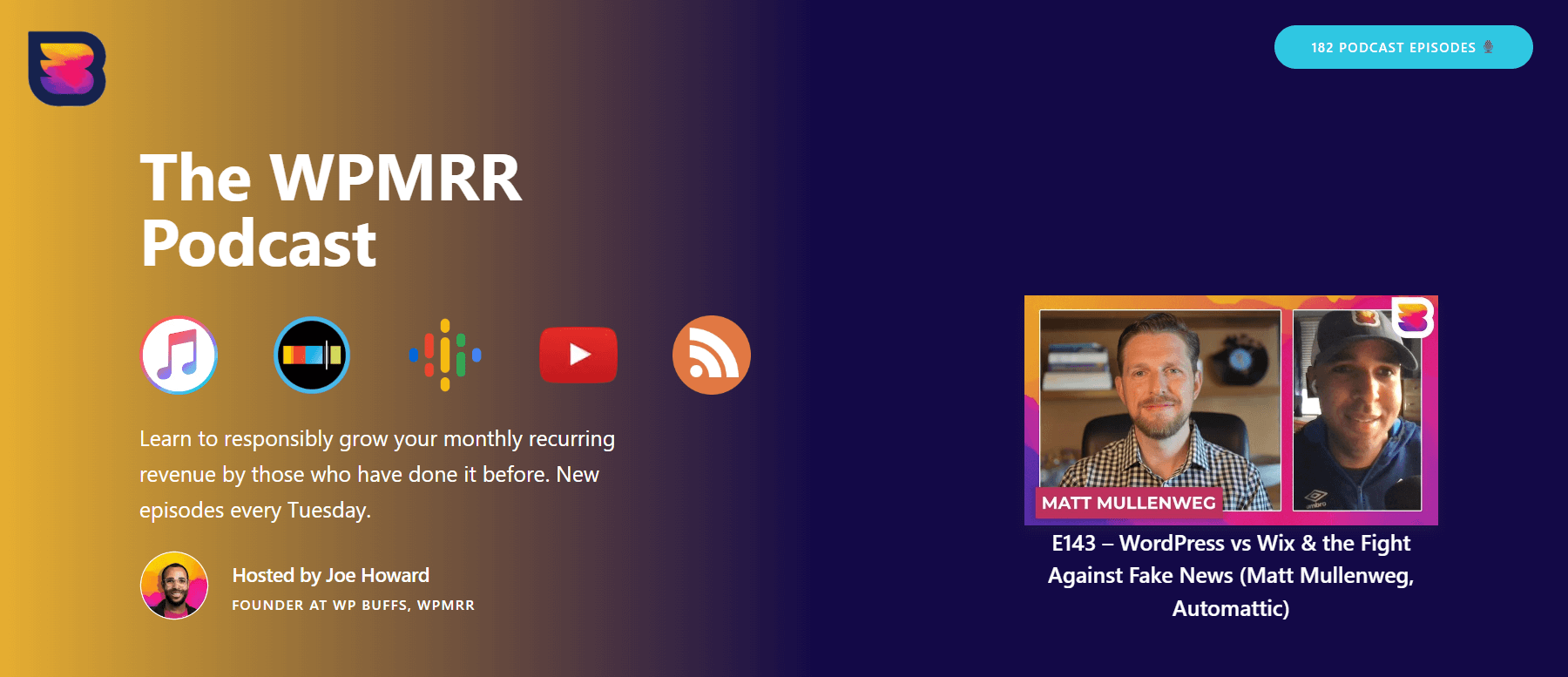 The WPMRR (WordPress Monthly Recurring Revenue) podcast, created by the people at WP Buffs, is geared specifically at helping you build and increase income from your WordPress business. They include episodes on time management, freelance consulting, sales, and marketing advice, the value of a solid portfolio, and other topics.
14. Imagely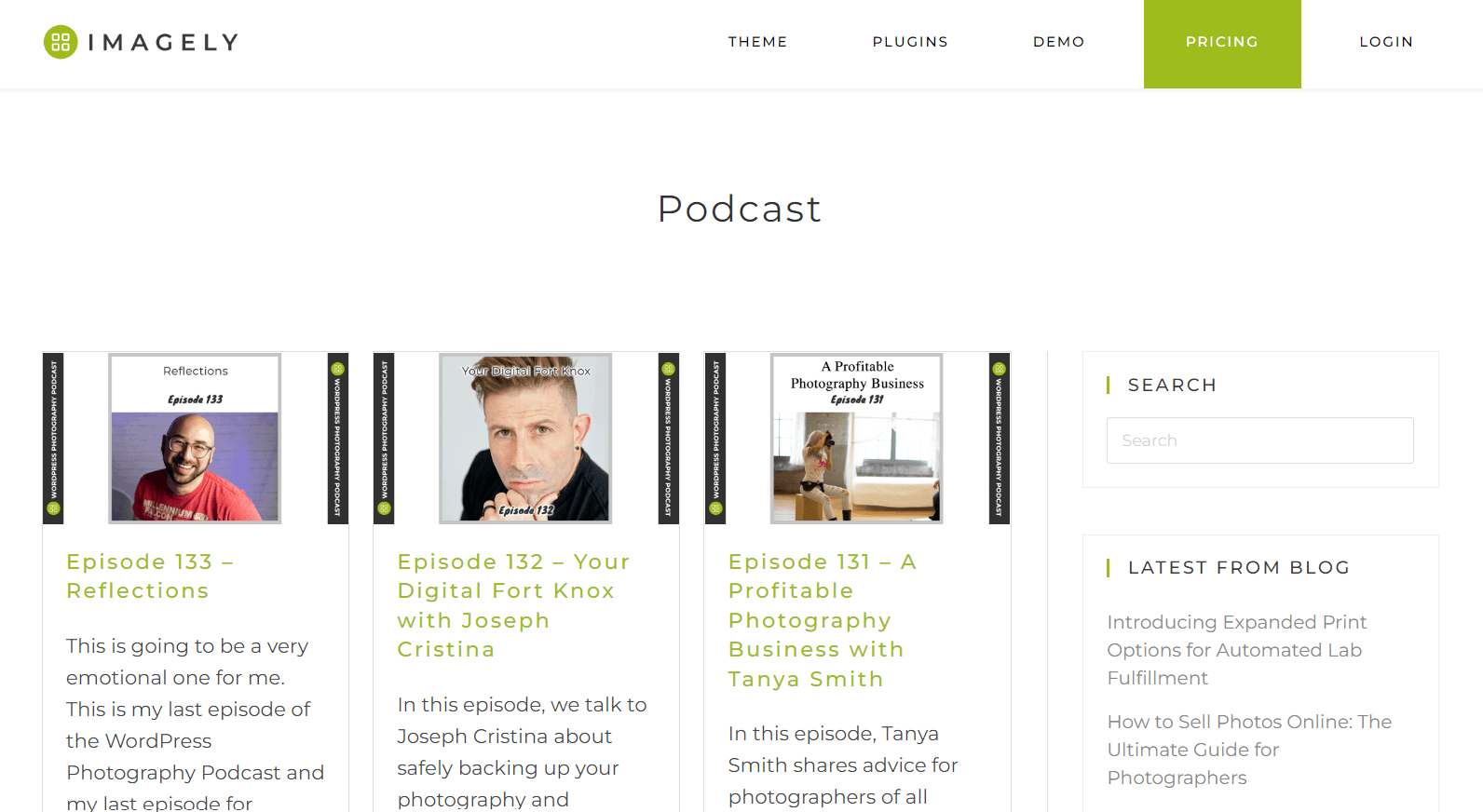 Imagely, for those who are unfamiliar, is a firm that specializes in developing photography-specific themes and plugins. You may have heard of their wildly successful NextGEN plugin. So it seems to be the reason that their podcast focuses on developing and managing your photography website using WordPress. They do, however, cover more basic photography advice and WordPress maintenance concerns.
15. Post Status Draft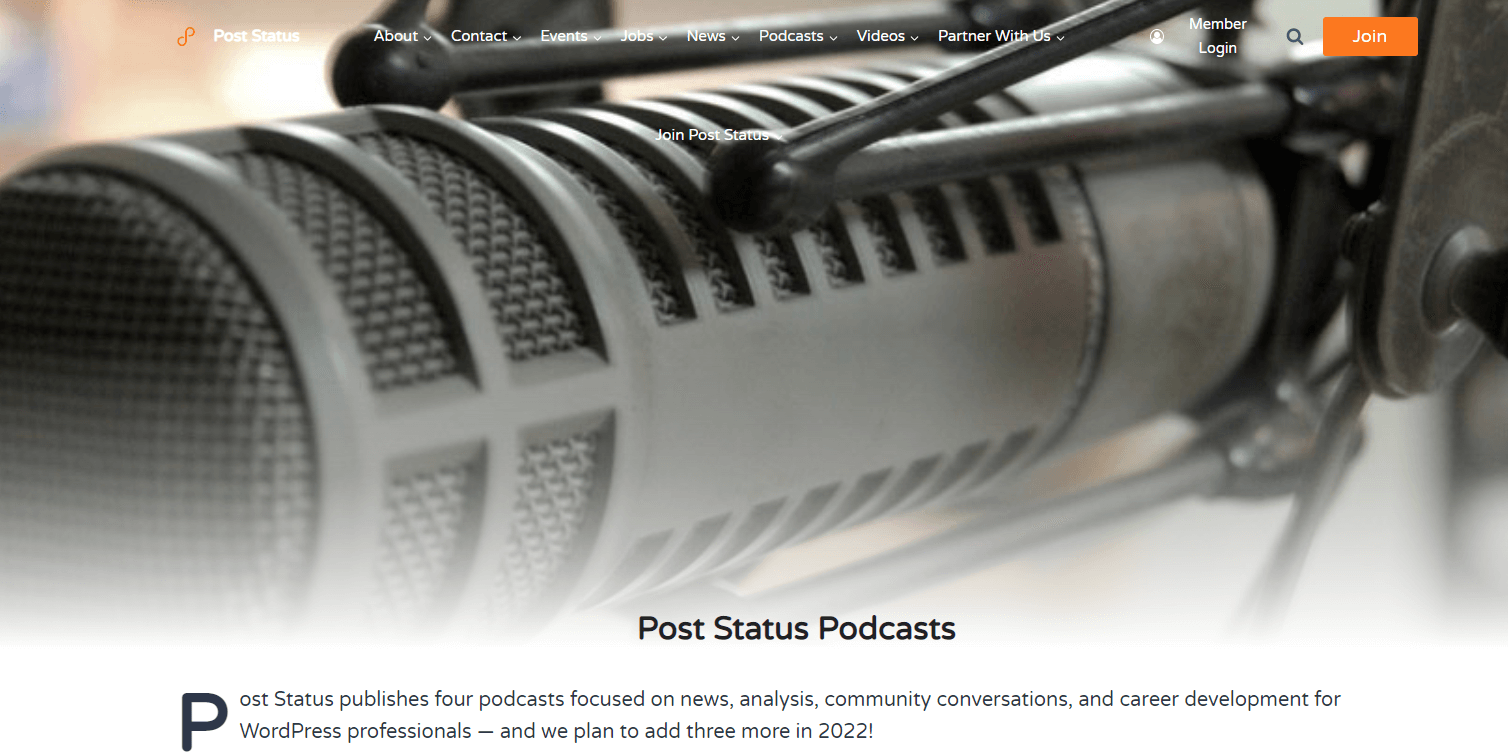 Brian Krogsgard, creator and editor of Post Status, and Joe Hoyle, co-founder, and CTO of Human Made, host the Post Status Draft podcast. The podcast provides WordPress news and information, especially interviews, talks, and editorials for the WordPress and online community.
How Best WordPress Podcasts Are Beneficial for Your eStore!
If you have a business blog or website, adding podcasts can help you gain awareness and attract more visitors. This is because podcasts are kept structured in particular podcast directories based on their topic matter. Potential clients can find you by searching through a podcast directory.
In addition, to find your site on Google or specialist blog rolls. If you regularly release new podcasts, you will give potential consumers a cause to come back. Even better, because many people absorb audio interaction more easily than written content, a podcast may assist your visitors to recall your pearls of wisdom. Podcasting helps your visitors to multitask as well.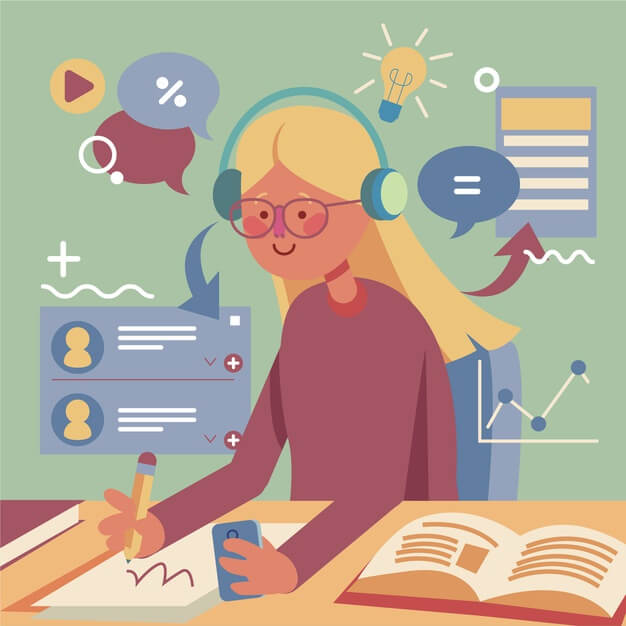 In other words, people may listen to your podcast while exercising, posting on Facebook, or browsing the internet. Even more, people will love listening to you if you have a really pleasant speaking voice.
Furthermore, podcasting can also help you to eliminate the uncertainty that is sometimes connected with printed online material. Many people lack the writing abilities necessary to assist readers to identify whether they are speaking in jest. As a result, they risk inadvertently upsetting individuals with their material. Thankfully, voice inflection can assist the listener in making this distinction.
Promote Your WooCommerce Business Using Podcast
Let's take a look at several alternative methods to use podcasts to promote your WooCommerce products to the target audience.
Marketing Collaborations
You might adopt a more broad approach instead of developing a podcast entirely targeted to your company. You may do a thorough study of your market and client needs, as well as learn particular areas in which people in your sector are interested. Basically, you may build your podcast around a topic that you know your clients would enjoy.
For example, if you offer a business that assists with social media marketing, you may create a podcast about it. As a result, if you address a wide variety of themes, you will have plenty of possibilities to promote your items as well as other connected products. You may also broaden your affiliate marketing horizons by recommending items from firms that are not in direct rivalry with yours. This way, in addition to increasing sales of your items, you will be able to receive affiliate money from your podcast.
Podcast Advertising
You may consider sponsoring the best WordPress podcasts in your field. In general, podcasts include a note about their sponsors in the audio. You may purchase a spot to insert your advertising features on appropriate podcasts. We have discussed two types of podcast adverts that are regularly seen. The first is the pre-roll (15 seconds at the start), and the second mid-roll (15 seconds in the middle) (60 seconds in the middle). Sponsorship commercials might range from $15 to $25, depending on the popularity of the podcast.
Podcasts by Your Brand
You may start your own podcast to assist you to build your authority in the field in which you operate. It's comparable to attracting and retaining visitors to your site. You frequently create podcasts on your subject and have a large listener base. Listeners will begin to engage with your blog after they recognize your brand and voice. This may not produce immediate results, but the benefits will be enormous once you have established yourself in the sector.
According to experts, podcasts have the ability to make a stronger impact on a potential buyer than even a television commercial. The closer connection that a podcast develops with its audience is a significant factor in a podcast's great marketing capabilities.
Another advantage of starting the best WordPress podcast for your company is that you may save money on advertising. Once podcasting begins to generate revenue for your shop, you may minimize your reliance on traditional advertising channels. Not only this, but you can also explore creative pastures in your area without being constrained by a third party.
Be a Guest on Popular Podcasts
Therefore, creating the best WordPress podcast on your own may be time-consuming and exhausting. In such cases, a less time-consuming and more efficient solution would be to appear as a guest on some best WordPress podcasts. You may conduct research on popular podcasts that your target audience enjoys. You may now contact the hosts of some of the best WordPress podcasts. Also, you can utilize their podcasting to advertise your WooCommerce business and services.
Are You Looking for Reliable WooCommerce Development Services?
All you need to do is click on the tab below… and find your solutions!
The iTunes podcast directory, Google podcast subject, or another online podcast directory will assist you in narrowing down some of the most popular podcasts. Once you've compiled a list of popular podcasts, you may approach their producers and express your readiness to appear as a guest. Just make sure you've done your homework on the subject and try not to be too forceful in your sales presentation.
Conclusion
Keeping up with what's happening in the WordPress world is essential for users, site owners, and developers alike. Following the latest industry and players, the news is an excellent way to understand what's going on and how it may affect you and your business.
In this article, we've covered all the major topics related to work, benefits, and lastly, the list of best WordPress podcasts. We have showcased the list to keep you updated, and you may begin following a handful right now. Furthermore, Podcasts include a wide range of topics, from development to business management, as mentioned above. You'll undoubtedly discover something that calls to you.
What features do you seek in a podcast? Will you include any of these in your playlist? Or have you started a podcast with WordPress that you'd want to share? Please share your thoughts in the comments box below!