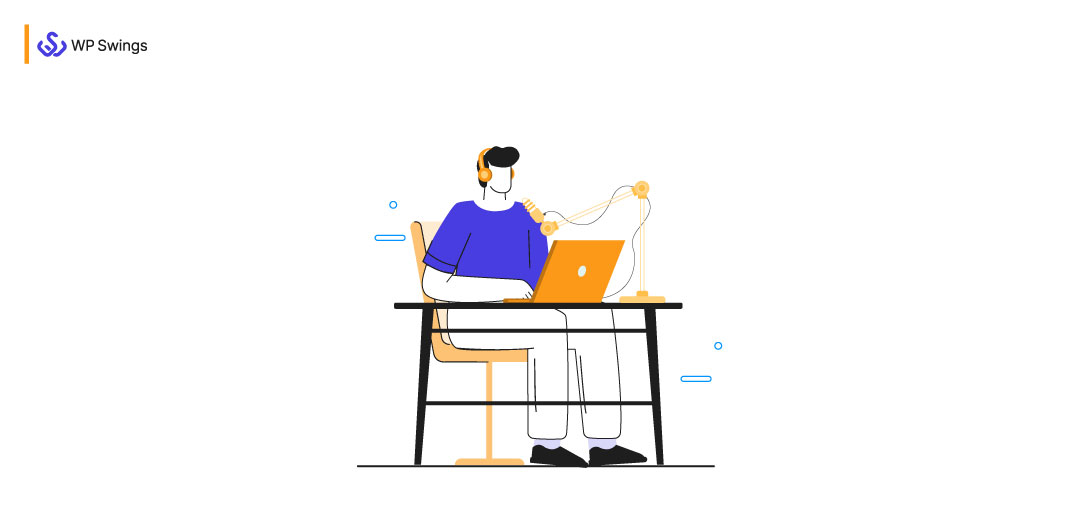 Podcasts have exploded in popularity from recent years. If you want to reach your audience with your voice, then WordPress Podcasting is the best option for you. It converts your blog content into podcasts with ease. To get started, all you need is some efficient equipment to record your podcasts and a simple setup to comprehend.
In order to initiate the WordPress Podcasting for blogs, you don't need to be much tech-savvy. Only you need to understand some basics which we are going to discuss in this blog.
Table of Contents
What Are Podcasts?
Podcasts– most people have come across this term in their routine life. However, not everyone is yet aware of what podcasts are and how they work?
78% of the US population Podcast Statistics & Industry Trends (Dec 2021 Update) is familiar with the term Podcasting.
In layman's terms, podcasts are audio episode series that listeners can subscribe to and download to their personal devices and listen to them from anywhere in the world anytime.
Many marketers today aim to revive the performance of their blogs by converting them into podcasts. However, podcasts are little different from the concept of blogs.
Blogs are more like a single elaborative piece of content covering multiple related topics in one piece. While, on the other hand, podcasts are a series of episodes and are often preferred to be short and crisp.
Every individual has its own definition when talking about podcasts. Some claim it to be a free audio platform while some refer to it as another entertainment source. The podcasts have occupied various industries from entertainment to education.
How Does Podcasting Work?
Podcasts or podcasting is not a rocket science. You just need to have an audio file (recorded script) and RSS feed for your listeners to subscribe, download and listen to your episode series whenever they want to.
Having a WordPress podcast website is easier to manage things considering the fact that WordPress comes with a built-in RSS feed system. To expand your podcast's reach, you even have an option to connect your WordPress podcasts with the podcasting apps like Spotify, Google Podcasts, etc.
WordPress Podcasts: What Market Trends Say?
Recent years have witnessed a remarkable shift in consumer behavior. The consumers, users, or audience are now more inclined towards listening to the audio versions than reading the long blogs or any other textual content.
In this wave of change, podcasts have especially gained noticeable stats:
The podcast industry has witnessed the highest growth rate in the year 2019 (also referred to as the breakthrough year) with a 26% increase from the previous year.
The podcast creation record states a high of 700k+ podcasts in the year 2019.
The Infinite Dial 2021 predicts the podcast's listeners count to increase by 55% in 2021 which is approximately 162 million listeners in the US region itself.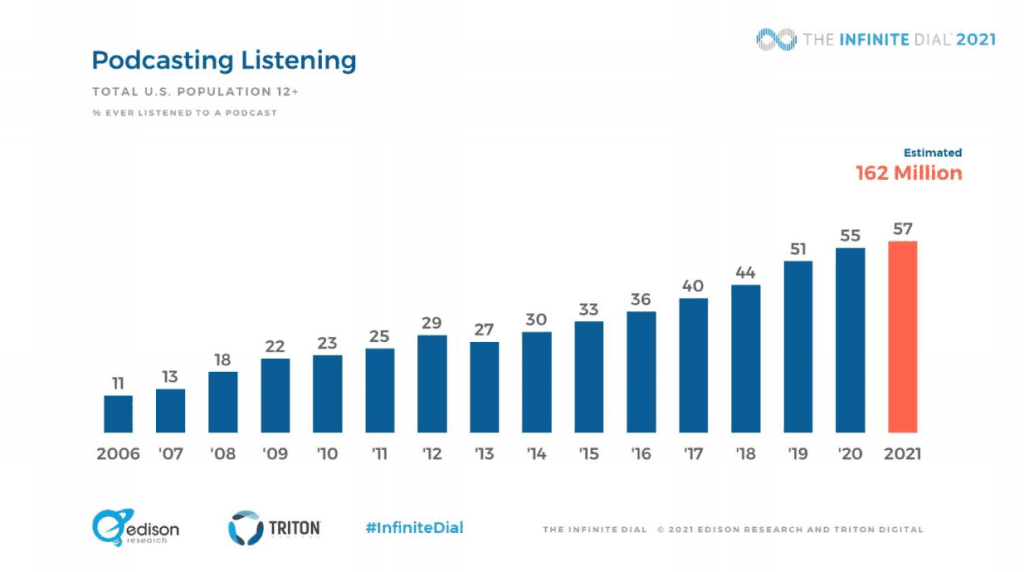 There are only 800k active podcasts available as compared to 500 million blogs. This symbolizes that podcasts are high on content quality and attract listeners who are college graduates, entrepreneurs, and professionals from various fields.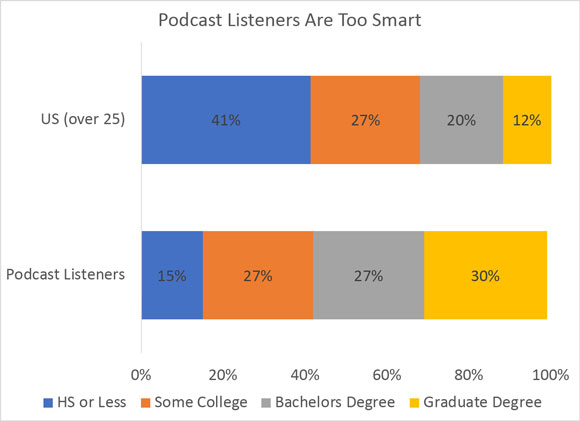 The increasing trend in voice searches and voice search optimization methods paves way for podcasts to search directly over search engines. Google further confirmed this in its announcement 2019, that they'll include podcasts in their search results sooner. Google Podcasts now transcribe their podcasts for easier and convenient episode searches via keywords. This eventually gave a rise to a new concept in the SEO industry– "Podcasts SEO".
So you may have understood that there are infinite possibilities with using podcasts for your new content strategy or transforming the outreach of existing content.
Now, you may be wondering how to set the WordPress Podcasting. So, let's understand it more deeply.
Looking For Promoting Your Online Business?
Setup Your WordPress Podcast: Requirements & Process
WordPress Podcast is much less crowded than WordPress blogs. Therefore, it gives you an upper hand to engage your customers more with this new uncommon approach.
However, there are multiple steps involved in creating WordPress podcasts. Initially, you must create a podcast and get it registered in the podcasts directories. Next, you can set up your own WordPress website to serve your customers with WordPress podcasts.
Sounds easy! Right?
I'm afraid it isn't as easy. But, with a perfect plan and the steps mentioned below, it's just next to an easy process.
Step 1. Plan Your WordPress Podcasts
Starting with podcasting, you need to first plan certain things like content, name, title, hosts, etc.
Before anything else, preparation is the key to success.

– Alexander Graham Bell
This step may take your major time. But it is worth because a well-planned and thoughtful strategy will grow your podcasting efforts towards better results. This step is further divided into the following segments –
a) Decide Your Niche & Topics
We've always been discussing the importance of having a targeted audience and niche to have a successful business. We do it for marketing, for blogging, and now we'll do the same for podcasting as well.
Since podcasting is another effort in your marketing strategy, you know how important it is to narrow down the podcasting content to a specific niche. After you're done with the niche, it will be easier for you to plan the content for the podcast episodes.
b) Choose Name For Your WordPress Podcasts
Of course, you'll not just name your podcast episodes as "Series 1 – Episode 1", "Series x – Episode y". You must give it a name that is more convenient for your listeners to remember their favorite podcasts. Also, make sure that your podcast name should give a glimpse of the context of your podcast through its name.
For example, let's assume that you're starting podcasting on content marketing and planning your episodes covering each aspect of content marketing. You can then name your podcast "Enterprise Content Management System" and every episode further can be named on the basis of their context.
c) Select Format For The WordPress Podcast
This segment of the planning step is very crucial because it will give you a blueprint for your podcast's structure. You must have read blogs or seen YouTube videos, all such media files have a pre-described structure like intro, followed by the main content, ending with a conclusion or outro.
Similarly, you need to decide upon the format of your podcasts to maintain consistency among each episode. For this, you need to plan out the length of your podcasts, intro/outro content, background music scores, etc.
Note: If you already have existing content to create WordPress podcasts, you may take this step a little lighter. Because you'll already be having an idea to break the content into episodes and what to name it.
Step 2. Gather Up Podcasting Gears To Start Podcasting
Podcasting gears or equipment are your basic requirements if you decide to create podcasts. Well, on the initial level, you don't need much equipment, just the computer system and a microphone are enough to give it a kick start.
However, if you're planning to do podcasting for a longer period of time, it's my suggestion to invest in good equipment and not compromise on quality. If you compromise on podcast quality today, you'll face the results later when your listeners will start compromising your podcasts for better alternatives.
Here is a brief list of podcasting equipment that we recommend for your WordPress podcasts:
1. Microphones or Mics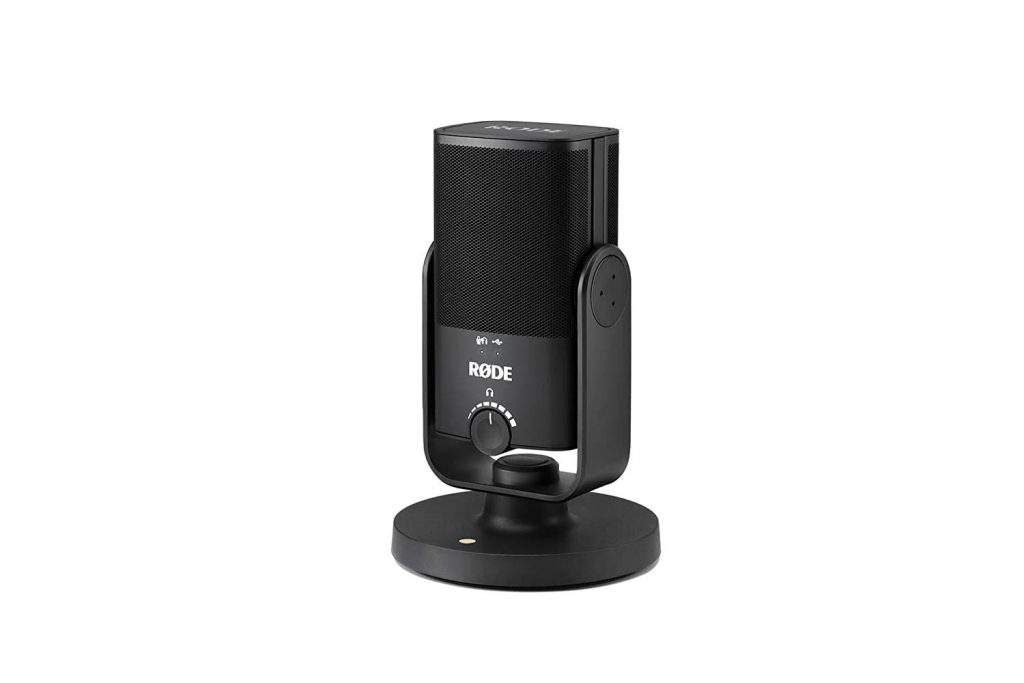 You can initially start with your regular earphone mics or laptop microphones as well. But it is not a recommended practice considering that the audio recording quality is easily compromised here.
Using USB microphones or XLR output microphones is a better choice. Being a single host, opting for USB microphones is a good choice. However, if you're planning a multi-hosts podcast, going with microphones having XLR output will give you a better quality recording since they provide more flexibility.
2. Pop Filter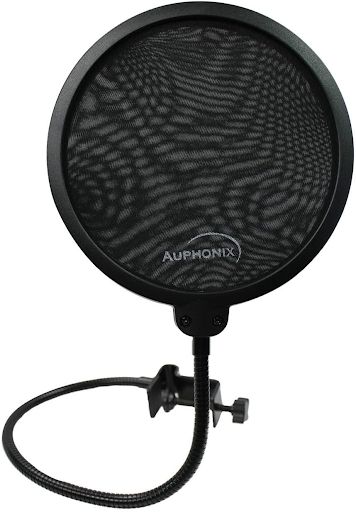 The pop filters are also often called windscreens. They are a very important element of your podcasting gear kit. Why?
Keep your hand in front of your mouth and say the word "pack". Did you feel the sudden release of air while saying the word? These sudden releases of air between the consonants are plosives. The pop filters restrict these plosives from ruining your audio recordings.
Some mic sets already include pop-filters and you don't need to buy them separately but if your mic doesn't have one, then you must get one.
3. Audio Mixer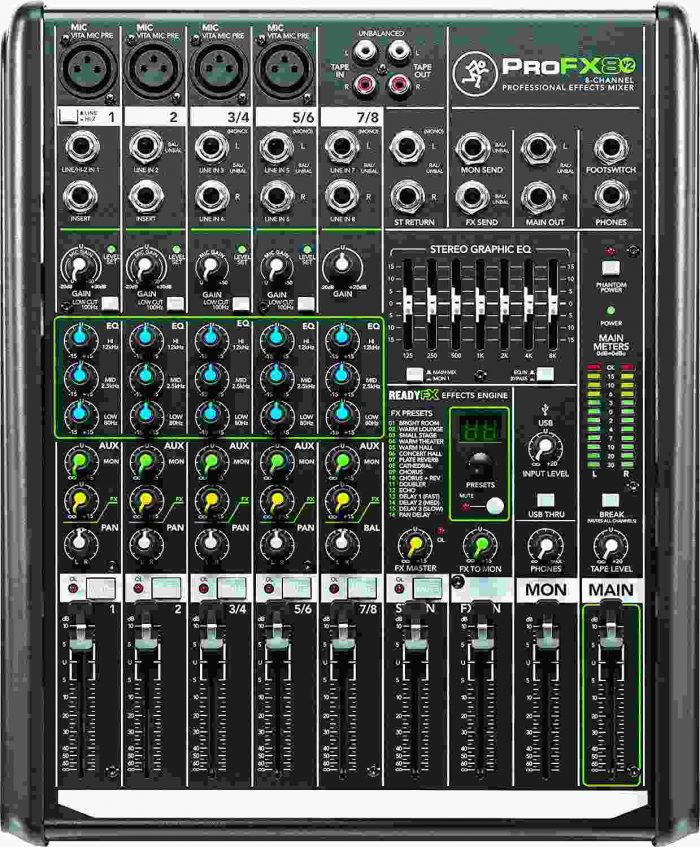 Audio interfaces or audio mixers play multiple roles altogether. Firstly, they bridge the gap between the microphones and computers by converting the analog signals from mic to digital signals that the computer understands. Secondly, they allow you to control the audio input/output quality, levels, equalizer effects, etc.
4. Headphones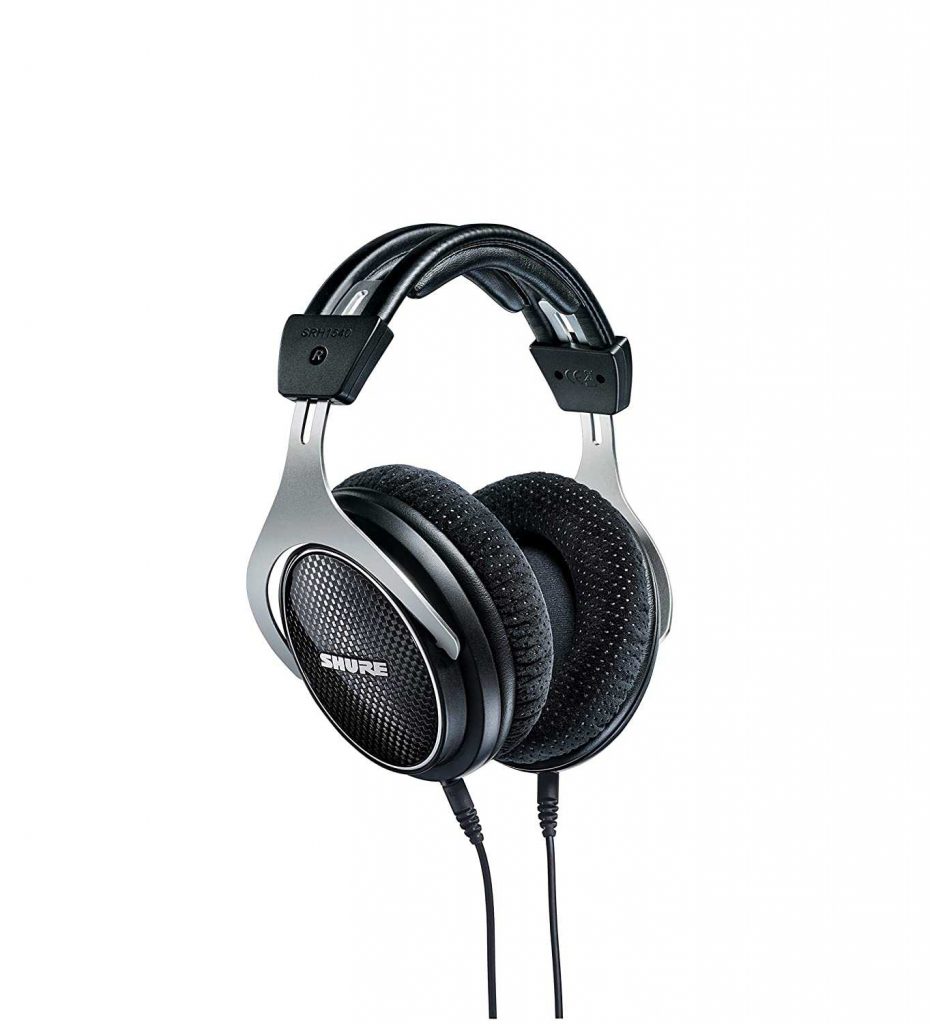 You might wonder why you need headphones for recording an audio file. It's a genuine concern. Moreover, you will hear yourself if you're wearing headphones while recording.
It is definitely weird to listen to yourself at the start but trust me it is helpful. Because when you listen to yourself, you'll be able to prevent several mistakes like a loud buzz or off-tone segments. It saves you time and prevents multiple retake sessions.
5. Shock Mounts & Mic Stands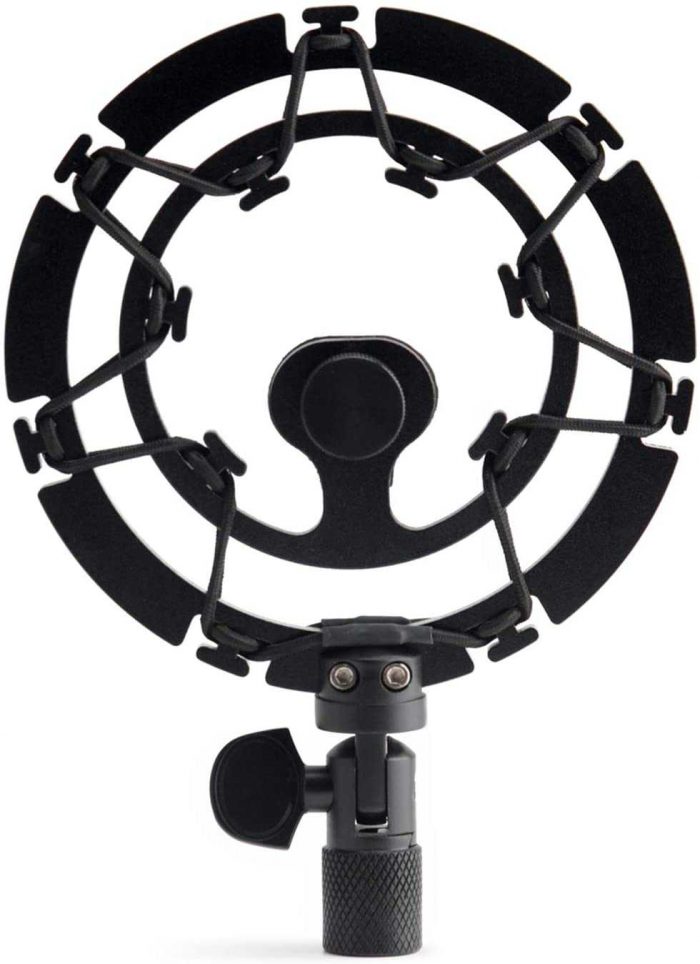 Microphones are very sensitive to sounds that you might even not notice. They capture even a small breath or a sound that you make while booming your hands around. Holding mics in hand while recording tends to capture many unwanted sounds and air movements as well.
Hence, using a shock mount prevents the mic from capturing such sounds. Also installing a mic stand along with the shock mounts gives you more flexibility and a hands-free environment to record the audio.
6. Miscellaneous Peripherals
You don't necessarily need them all but as said, investing once in good gear is an asset and not an expense. Miscellaneous peripherals category includes gears like microphone cables, headphone amplifiers, etc. that you might not give a considerable thought upon. But all such peripherals have their own set of advantages in creating an exceptional podcast.
7. Acoustic Treatment
This step can be considered optional. Acoustic treatments are done to reduce the echo vibrations in the room you're doing all your recording stuff at. You must have seen the professional singers, podcasters have their dedicated studio with a small cabin that is soundproof. Well, it helps them to prevent reverb or echo vibrations while recording.
Step 3. Record And Edit Your WordPress Podcasts
Done with the ideation process and gears set up, the next step is to record the audio. Once you're done with the recording, you can't simply just upload the raw audio file for your listeners. Editing the recorded audio file is a must. It's like polishing the surface smoothly and cutting out the unwanted segments too.
Audacity, GarageBand, Adobe Audition are some popular podcast editing tools available in the market.
Step 4. Choose Podcast Hosting
To make your podcasts available to your listeners, you need a dedicated podcast hosting platform. People often confuse podcast hosting platforms with podcast players and website hosting services. But they're not the same thing.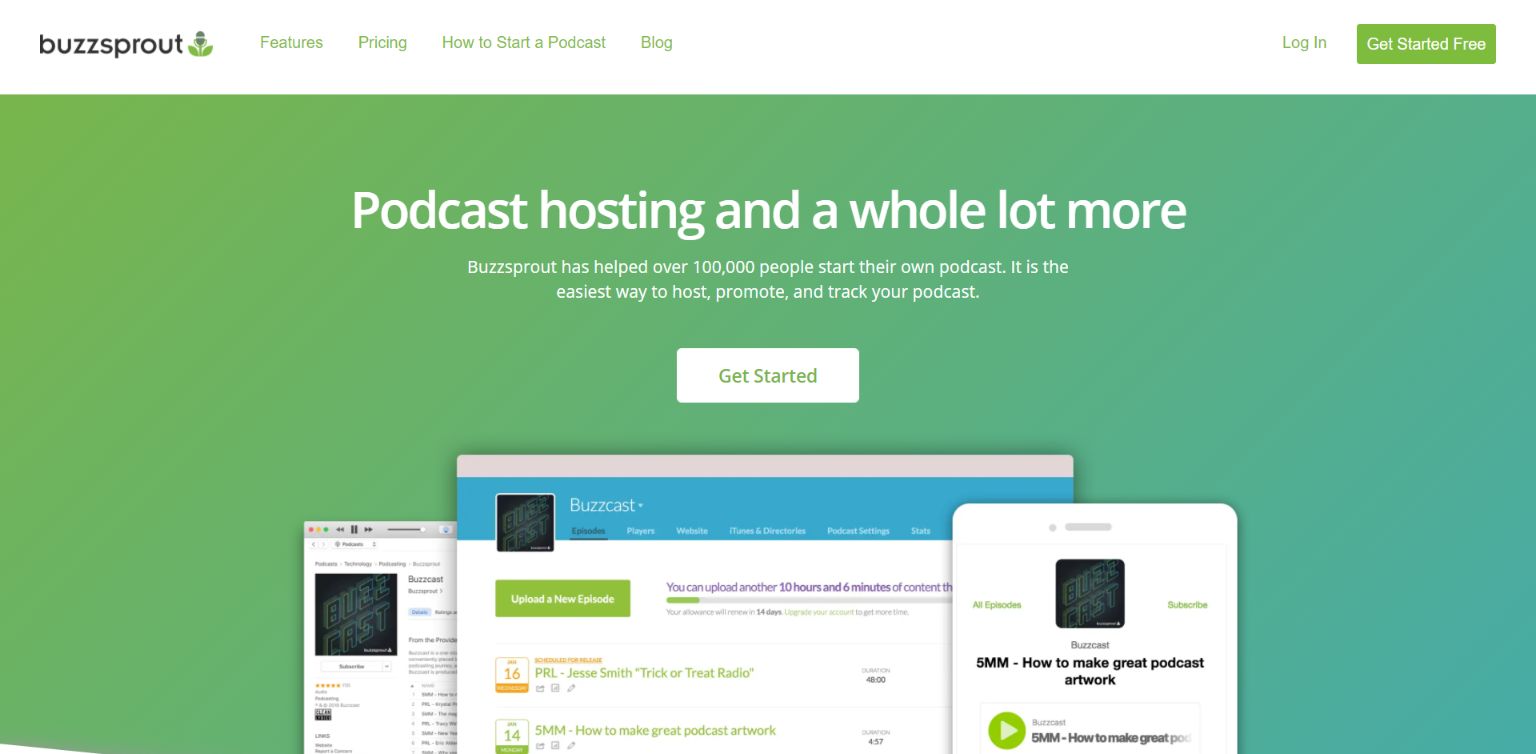 Using separate podcast hosting services will not burden your website host servers hence the speed of your website remains intact. Few major podcast hosting platforms are listed below:
Blubrry
Buzzsprout
Simplecast
Captivate
Resonate
Podbean
And many more…
You may choose any of the following podcast hosting sites that suit your requirements well.
Step 5. Setup & Start WordPress Podcasts: Website Hosting And Site Development
This step is crucial to fulfilling your aim of having your own very dedicated website to serve the listeners of your WordPress podcasts.
There are many reasons to use WordPress. One such reason that we already specified earlier is an in-built RSS feed feature which makes it a valuable choice to set up a podcast website.
The next step that follows is to choose the right platform for your podcasts, i.e., whether you should go for wordpress.org or wordpress.com.
Learn What Can Be More Better For You- WordPress.com Vs WordPress.org?
Building a WordPress website is an easy and cost-saving process with full control in the hands of the website owner. Although there are many stages involved from hosting a WordPress website to configuring the settings and designing the web pages, it is an easy and convenient approach.
Transform Your Existing Blogs Into WordPress Podcasts
Blogs are great informative content pieces. They also play a vital role in planning and strategizing your content marketing campaign.
But, do these blogs go obsolete after a certain duration of serving the readers?
Umm… the answer is Yes and No, both.
Blogs don't really go out of vision if they're constantly tracked and worked upon. But your readers may start preferring other media files too that are more graphical or convenient to gain information.
This is why marketing experts emphasize repurposing the existing content, i.e., re-using the content for creating different variants like infographics, video, audio scripts, etc.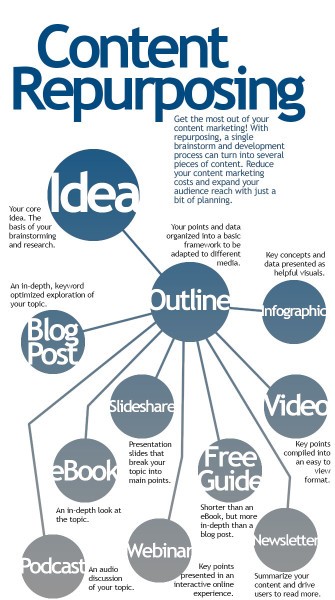 Podcasts are the most sought alternative content form preferred by today's generation. So here in this section, I will be discussing two alternatives to transform your existing blogs into WordPress podcasts.
Approach 1: Translate Your Blogs To WordPress Podcasts Using AI-Based Tools
You must be thinking about what I mean by using AI tools to convert blogs into podcasts. Well, I simply mean to make your blogs available in the downloadable MP3 format to your loyal visitors.
We use this approach to repurpose our blogs into audio files. It's quite a time now that we're using the Amazon Polly tool to convert our blogs into audio format for our readers-cum-listeners. We've placed this tool right along with our featured images, hence making it convenient for our blog visitors to locate the tool.
There are many AI tools available that you can use with your WordPress blogs. These tools use text-to-speech translation to convert the blog content into an audio file. Some of the tools that you can look into for translating your blogs into WordPress podcasts using this method are:
Amazon Polly
Trinity Audio
Blogcast
Play
Website Voice
SpeechKit, etc.
Approach 2: Go Human To Convert Your Blogs Into WordPress Podcasts
Ohh! This is what we've been talking about all along in the above section– Setup your WordPress Podcasts.
This approach gives you more flexibility to play with your existing blog content and come up with something new. Although the steps that follow in this approach are similar to those mentioned above. The catch here is how you'll create audio scripts from your blogs.
You may either consider a single blog for recording a single-episode podcast. Or you can break down the long blog content into smaller sections and take each subdivided section > Convert it into script > record podcast with multiple short episodes.
Pro Tip!
There are no defined criteria for podcast lengths, however, maximum podcasts are created within the range length of 10-20 minutes.
Going with this approach, the steps to follow are:
Create audio scripts from your blog content.
Record the scripts to audio using the podcasting gear.
Edit and polish the raw podcast recordings/audio files.
Upload the final audio file to the selected podcast host.
Copy the feed URL or the embedded scripts of the uploaded podcast and paste it on your WordPress web pages (wherever you wish to add the podcast).
The next step is all about marketing your WordPress podcast to attract listeners.
Well, that's all about converting the blogs into WordPress podcasts or creating podcasts using WordPress blogs.
Let's take a break (count till 10). Now moving ahead with the next section– Best plugins for setting up your WordPress podcast website.
Let Your Content Make Some Noise!
Best WordPress Podcast Plugins For Podcasters & Bloggers
Reading along through the steps here and above, I have mentioned that you need to have a dedicated plugin installed on your WordPress panel to get the podcasts extracted from the podcast hosting servers and make them visible on your website. In the next section, we'll go through some of the best WordPress podcast plugins that you can bring into your use.
i) Buzzsprout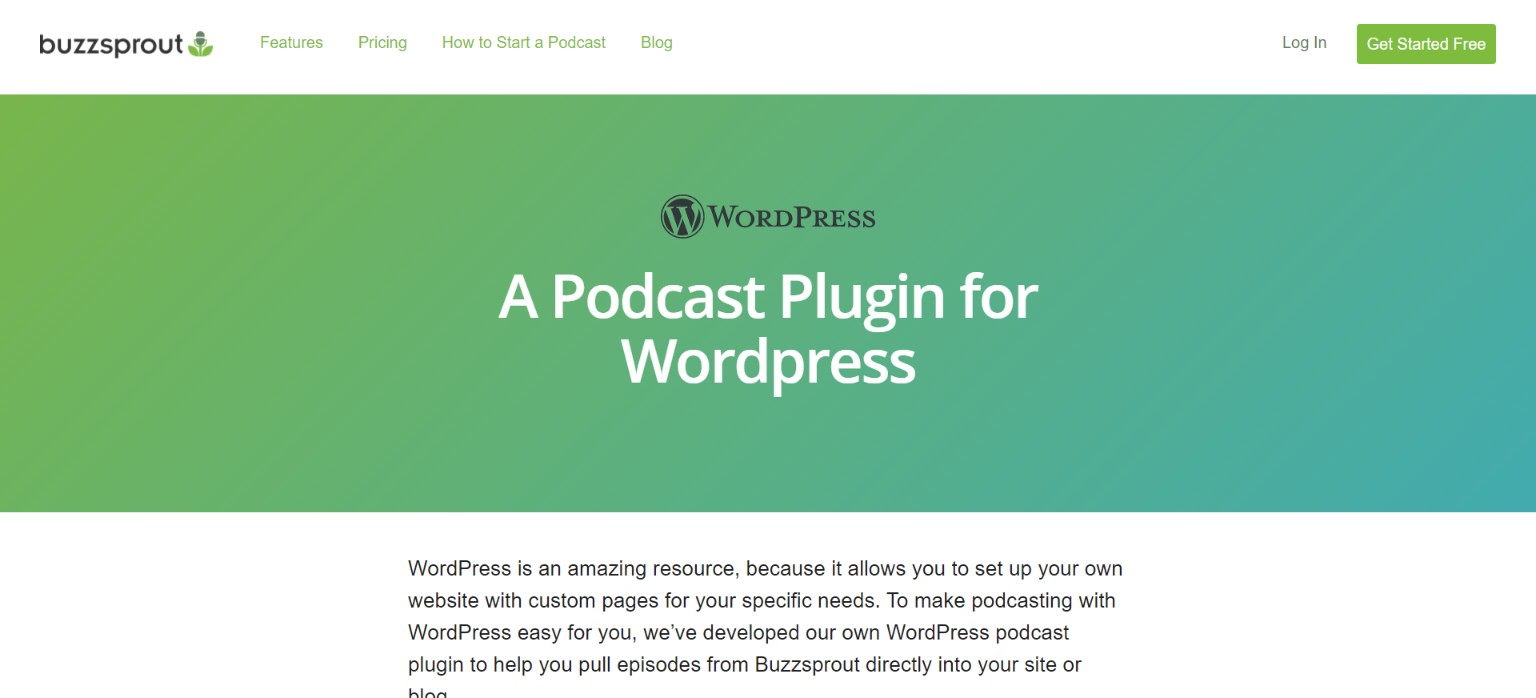 It is a simple-structured and easy-to-use WordPress plugin for adding your hosted podcasts to your website. Buzzsprout is a popular platform and offers media hosting services as well.
This means that you can host your podcast with them and then get it easily accessible to your WordPress website by using their free plugin.
ii) Podlove Podcast Publisher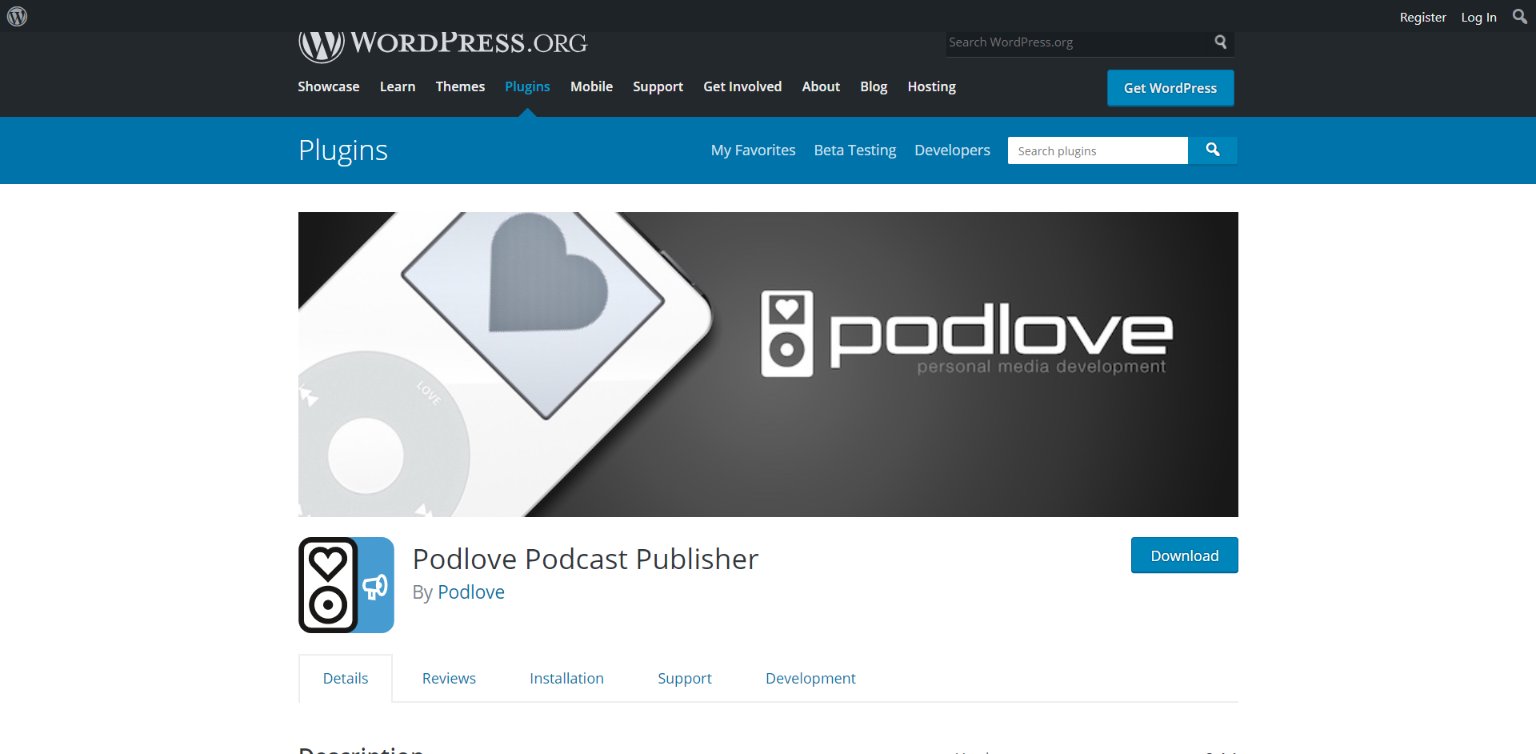 With some exceptionally high-end features in-built, this plugin is also a good choice to start WordPress podcasting.
Podlove Podcast Publisher allows you to replace faulty episodes using GUID control, or publish the podcast in multiple formats like MP4 AAC, MP3, Opus, etc. The flexible templates and chapter support are also a great attraction of this plugin.
iii) PowerPress
Powerpress podcasting plugin is offered by Blubrry and is the most dominating plugin in the market.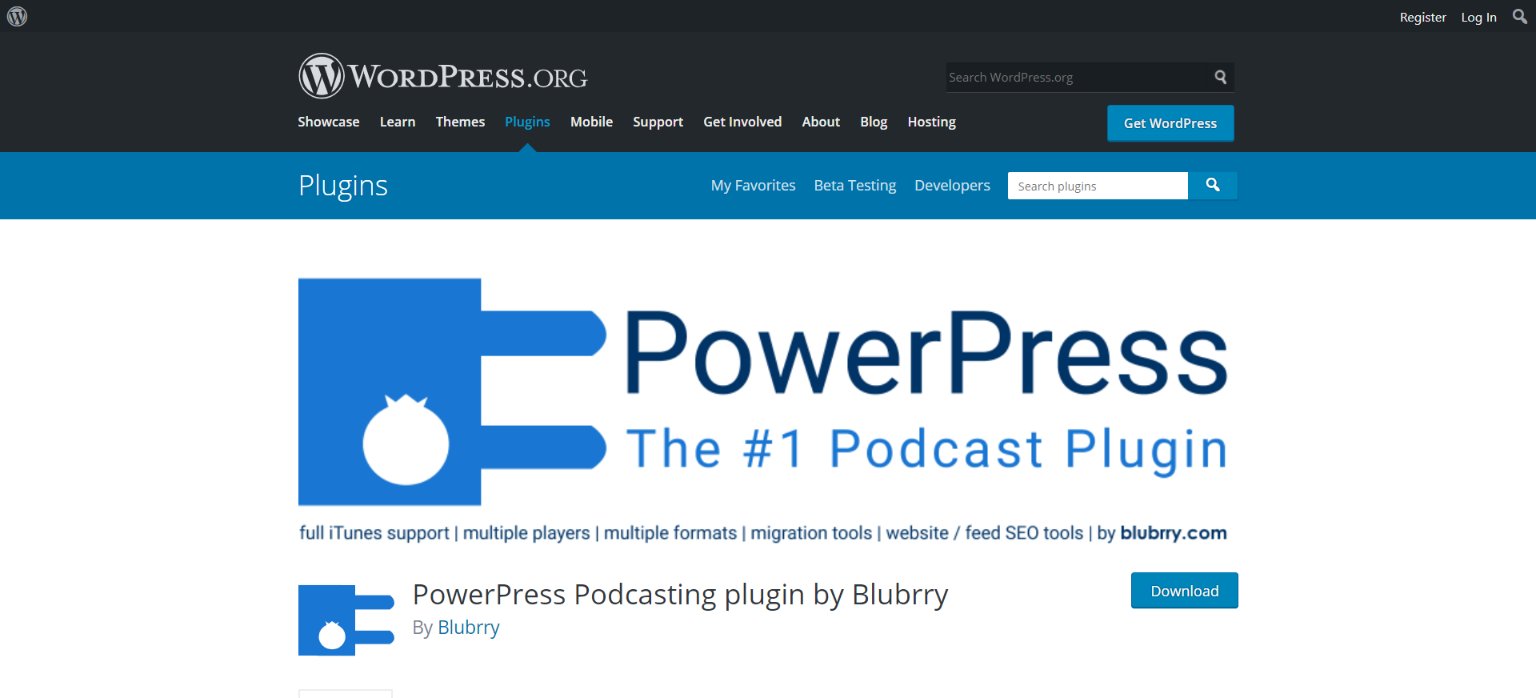 Of course, there is a reason for its dominance and popularity– the advanced features it has to offer.
Blubrry is also a media hosting provider platform similar to Buzzsprout. But it takes the lead considering its features like an integrated player, subscription tools, language support, skip to position in the player (time-stamping feature), etc.
Best Practices For Successful WordPress Podcasts
Starting creating WordPress podcasts is definitely easier than aiming to make them successful. Though it's not impossible, it still needs a lot of effort and consistency to popularize the podcast. Listed below are few best practices to make your WordPress podcasts successful:
1. Be Realistic
You need time to prepare content, record, edit and launch the podcast. Don't procrastinate things with urgency in mind. You'll end up ruining everything.
2. Maintain Consistency
Plan your podcast episode release schedule beforehand to publish the new episodes on a regular basis – can be daily, weekly, monthly, etc. whatever suits you best.
3. Choose A Topic You're Passionate About
Your content will anyway show your interest in the topic as a well-researched topic stands out from the copied or low-grade content. Also choosing a topic of your interest will keep you motivated to stay consistent because you'll always have something to talk about it.
4. Invest In Quality Podcasting Equipment
When you're doing it, do it in the best way. Negligence in the audio quality will impact the listeners' interest and it's obvious–who would like to listen to some audio with lots of distortion or noises in the background?
Use good-quality microphones, audio mixers, headphones, etc.
5. Switch To Better Editing Tools/Software For Your Audio Files
Although people go for free audio editing tools at the start, they don't guarantee the desired results. Switching to paid tools or quality products like Audacity, Adobe Auditions, etc will give you more features and empower you to edit the audio files by smoothing out the wrinkles and distortions. Hence giving a steady and good audio flow.
6. Provide Dedicated Space
Create WordPress podcast websites to offer a dedicated space for your listeners to subscribe, download, and listen to podcasts. Also, this will help your listeners to explore other podcasts as well along with additional resources you have in-store for them.
7. Market Your Podcasts With A Planned Promotion Strategy
Podcasts have yet not achieved that level where you can say, "let's publish it, they will listen to it". Podcasts are gradually entering into the marketing sphere and need a word of promotion to attract listeners. Social platforms can be a good platform to start with the promotion activities.
All Set To Start Your WordPress Podcasts?
Podcasts are the future of marketing gimmicks.
I hope that this blog has guided you through every major aspect of starting a WordPress podcast website. There are many more things in flow with the podcasts like podcast players and directories. But discussing them here might make you feel a little exhausted. We'll surely discuss it on some other fine day.
But you can definitely put your thoughts into words in the comments section below.