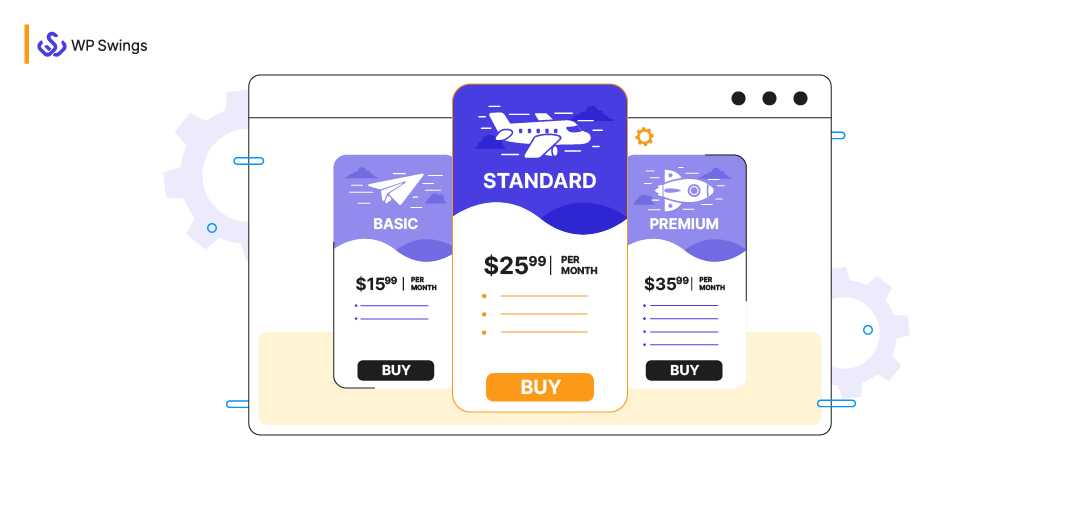 Retaining a customer is more profitable than acquiring a new one. Setup WooCommerce subscriptions for keeping your loyal customers engaged.
According to 70% of business leaders, subscription business models will be key to their prospects in the upcoming years.
Just think about it!
A system where you can earn from a customer on a weekly, monthly, or yearly basis. As a business owner, you need to only maintain the quality of your services.

Tein Tzou(Founder, Chairman, and CEO of Zuora), has mentioned in his book…
"Subscriptions are the only business model that is entirely based on the happiness of your customers. Think about it—when your customers are happy, then they're using more of your service, and telling their friends, and you're growing."
"According to a report by Zion Market Group, the global subscription and billing management market was valued at USD 3.8 billion in 2018. It is expected to reach USD 10.5 billion by 2025, at a rate of 15.5% between 2019 and 2025."
Most of the online businesses are adapting this model of success. If your online store is on WooCommerce, then you are at the right place.
With the help of Subscriptions for WooCommerce plugin, setup WooCommerce subscriptions on your store. We will talk more about it later. In this article, I will further discuss the importance of subscription products and services.
Easily Setup Your WooCommerce Store!
Table Of Contents
Let's get on with it.
Importance Of Subscription Products And Services
Subscription business models have been implemented by the sellers of tangible products and virtual goods alike.
But it is slightly difficult in the case of tangible products. Due to their dependency on physical distribution. It has been severely affected by the pandemic.
No such hurdle comes for the digital distribution of goods and services. You can provide a seamless experience to your customers easily.
By providing quality content and maintaining high level services, they have created such huge subscriber bases. These millions of loyal subscribers keep on paying monthly. This monthly recurring revenue keeps the business running.
The same goes for SaaS businesses. They too rely on subscription models for the sale of their software programs. The subscription model lowers customer acquisition costs and increases customer retention.
The subscription economy has grown more than 350% over the last 7.5 years.
Thinking- How to setup a subscription service?
For this, you need a plugin to setup WooCommerce subscriptions.
Subscriptions For WooCommerce Pro Plugin

Easily setup WooCommerce subscriptions on your store with the help of Subscriptions for WooCommerce plugin. It allows you to provide subscription-based products and services. You can sell simple as well as variable subscriptions for simple as well as variable products.
Here are some powerful features of our plugin:
Create WooCommerce Variable Subscription Product
WooCommerce Payment Gateway Compatible
Allow Customers To Select Subscriptions Expiry Date
Automatic Retrying For Failed Payments
Set Number Of Failed Attempts For WooCommerce Recurring Payments
Automated WooCommerce Subscriptions Cancellation
Exclusive Coupon Types With WooCommerce Subscriptions Pro
Handle WooCommerce Subscriptions Proration
WooCommerce Pause Subscription Plans
Notifications And Reminders Emails For Subscription Related Actions
API Of Course For Details On Mobile App
Active WooCommerce Subscription Export Function
Configure More WooCommerce Subscription Services
WooCommerce Upgrade Subscriptions/Downgrade Plans
Subscriptions Start Date And Expiration Date By User Or Admin
Subscription Plans Details
Change Button Text
Provide the most flexible subscription plans to your customers with this plugin.
I understand if you are skeptical because our plugin promises a lot. We have a free version called Subscriptions for WooCommerce plugin that you can use to take the test run.
Dear readers, now we are on the technical part of this article. Here, you will learn the ways to create subscription products and services for your store.
How To Set Up WooCommerce Subscriptions On Your Store?
You can setup WooCommerce subscriptions very easily with Subscriptions for WooCommerce Pro plugin. Make sure to follow each step carefully.
Note: Subscriptions for WooCommerce Pro plugin will only function, if you have installed the Subscription for WooCommerce plugin.
Get The Setup File Of Our Subscriptions For WooCommerce Pro Plugin
Installation
Automatic installation is the easiest option as WordPress handles the file transfers itself. To get your purchased plugin, follow these steps:
After completing your plugin purchase, go To My Account.
From My Account, go to the "Download" section. [Here, you can easily find all your purchased WP Swings plugins]
Click on the "Download" button present across your purchased plugin to download it.
Now, login to your WordPress Dashboard.
From the sidebar, click on Plugins.
Click on Add New.
Click the Choose File button. Choose your downloaded plugin's .zip file. Then, click on Install.
Now, click on the Activate button.
You're all set to use the Subscriptions for WooCommerce plugin.
Go to the General Settings and click on the Enable Subscriptions checkbox. In order to create simple and variable subscription products.
Now, you are ready to use the plugin. Let's explore and configure various settings.
1. Easily Create Simple Subscription Products
Thinking- How to create WooCommerce subscription product?
It doesn't matter which plugin you use. The process of creating a subscription product is manual. We can make it easier. Here's how:
Go to "Products" and click on "Add New".
Type the product name. Select "Simple Subscription" from the product data drop-down list.
Note: This option is only available after the activation of the Subscriptions for WooCommerce Pro plugin.
You can set the subscription price of your product and its payment cycle. For example, if my subscription product is green tea. Then, I can set a monthly subscription period for 10 dollars.
You can set the "Expiry Date" on your subscription and decide its signup fees.
Offer a free trial period for subscription products. Trial periods are common for virtual products like software programs, plugins, etc.
Add a product image by clicking on the "Set Product Image". After setting up the product image, click on "Publish" to post your subscription product.
2. Effective Management Of Subscription Plans
Simple product subscription creation is easier as compared to its management and marketing. Our subscription plugin takes care of the former. So, you can focus on the latter. Subscriptions for WooCommerce plugin provides a subscription tab to monitor the subscriptions plans.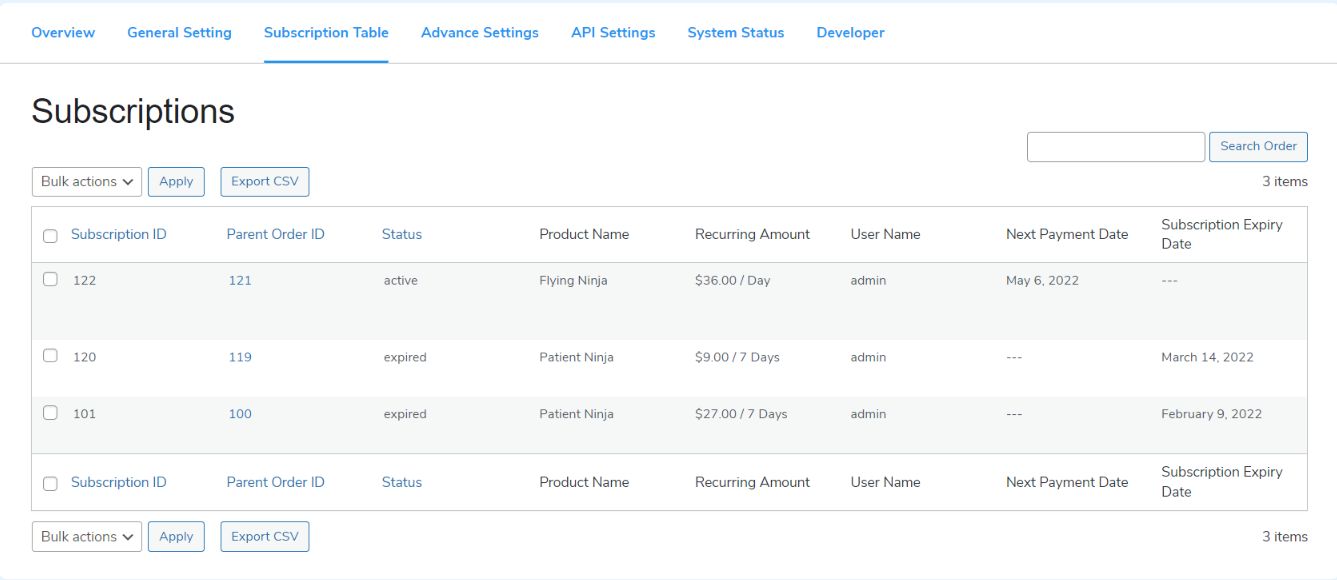 The table presents the following information:
Order
Subscription Status (active, canceled, or expired)
Subscription Product Name
Recurring Amount
User Name
Next Recurring Payment Date
Here, you can view and download active subscriptions plans. Delete or cancel subscriptions plans. View subscription renewal orders.
3. Allowing Effortless Subscription Cancellation
As a store owner, I'm sure you would love your customers keep renewing their subscriptions. But customers don't share the same sentiment.
They may come across cheaper subscription providers. They don't have the money to sustain their subscription plans. There may be several reasons for their cancellation.
Follow these steps to enable subscription cancellation:
Go to Dashboard > WP Swings > Subscriptions for WooCommerce > General Settings > Allow Customers to Cancel Subscription.
Select the checkbox- 'Allow Customers To Cancel Subscriptions'.
With this plugin, customers can easily cancel their subscription plans whenever they want.
4. Customize Add To Cart Button And Place Order Text
You can edit and update the "Add-to-Cart" button text according to your choice. Place Order text can also be customized.
5. Create Variable Subscription Products
Variable subscription products are bit complicated to create. There can be multiple variations of a product. Based on attributes such as color, height, weight, etc. So, let's see how to setup variable subscription products:
Go to Products > Add New.
Select Variable Product from the Product Data.
Go to Attributes and click "Add" to add new attributes.

After updating the Attributes, go to Variations.
Click on the "Add variation" drop-down. Select "create from all attributes" and click Add.
Click on the menu button to change subscriptions settings for variable products.
Tick the subscription checkbox for enabling subscriptions on variable products. The variable products will now be available for subscriptions.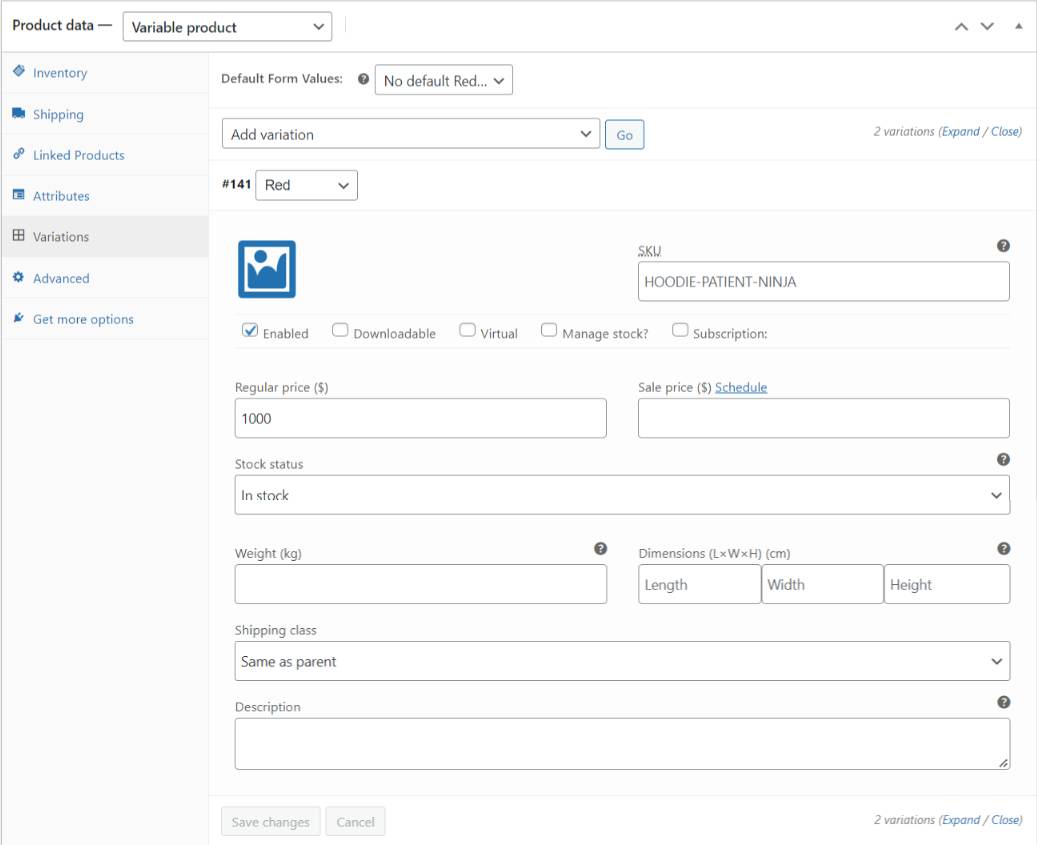 You can enter several important details about your variable product subscription. Such as sales price, subscription expiry interval, free trial interval, subscriptions per interval, and much more.
The best thing is that you can configure different subscriptions settings for different variations.
6. Flexible And Fair Subscription Pricing
The biggest concern your users have is not getting a fair subscription rate on subscribing to a product on an irregular billing period. Being fair to your customers will earn you their respect and loyalty.
Keeping this in mind, we have provided prorated billing for variable products subscriptions in our plugin.
There are three options for proration:
Charge Prorated Amount For Subscription
Do Not Charge Prorated Amount
Charge Prorated Amount For Subscription Even Free Trial
So, these are the ways to set up the Subscriptions for WooCommerce plugin. In order to expand your subscription business and provide value to your customers.
Secure And Protect Your WordPress Website
Advanced Features Of Subscriptions For WooCommerce Pro Plugin
We have cleared our basics till now. Now, it's time to scale up.
Easily setup WooCommerce subscriptions with Subscriptions for WooCommerce Pro plugin. It has 29+ features that offer several benefits over the average WooCommerce subscription plugins.
Advance settings introduce the features that will drive your subscription plan to the next level.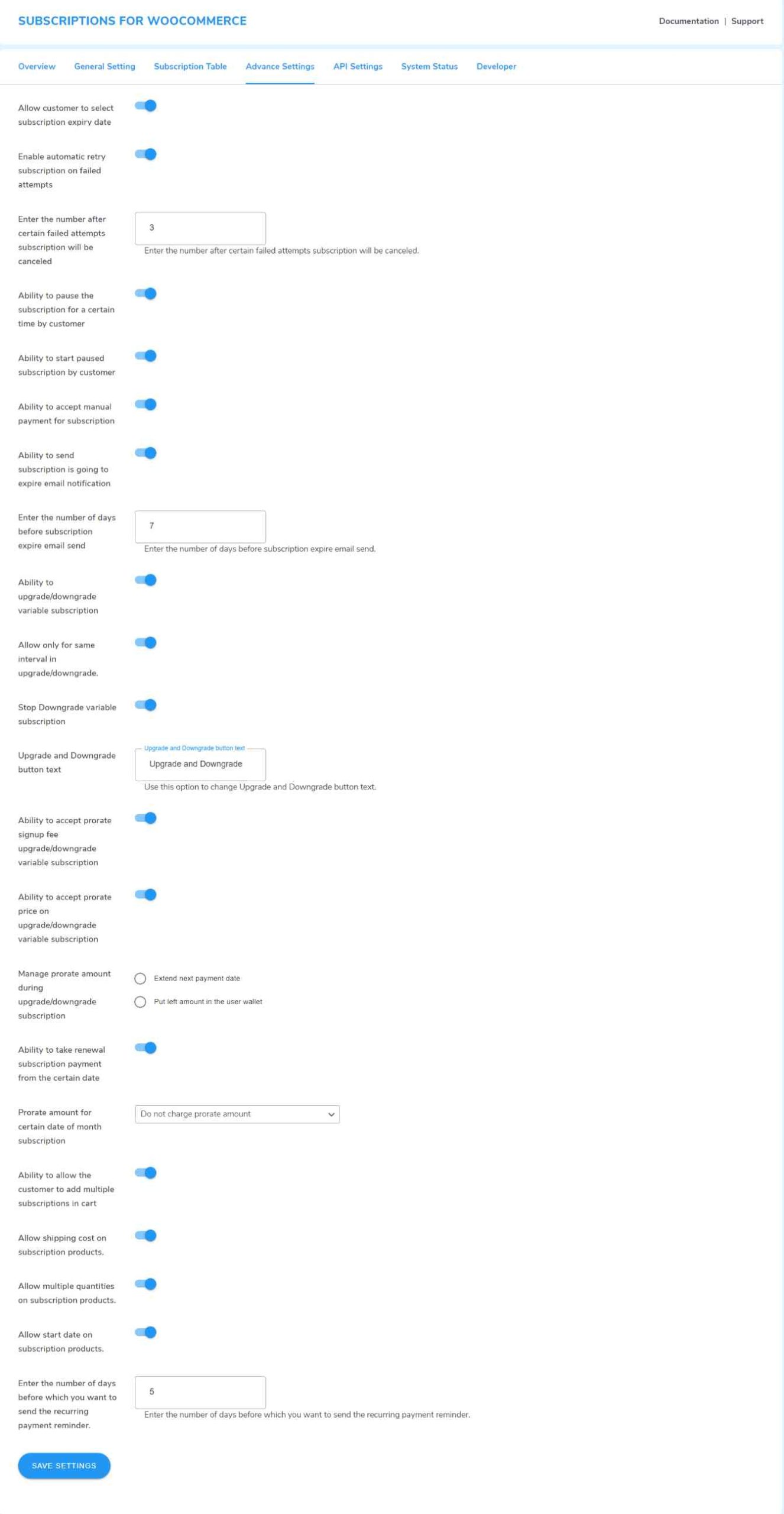 1. Allow Customers To Select Subscription Expiry Date
Our plugin provides customer-centric subscriptions. Using the advanced setting, you can allow your customers to select the expiry date of their selected subscriptions.
2. Enable Automatic Retry Subscription On Failed Attempts
If any subscription renewal order fails due to some error then it will automatically retry for a certain time.
3. Allow Number Of Failed Subscription Payment Attempts
You can decide how many failed subscription renewal attempts are allowed. After the attempts are exhausted, the subscription will be cancelled.
4. Allow Customers To Pause Subscriptions
As a merchant, you have to provide absolute flexibility to customers. Be empathic towards their issues.
Customers might not be able to always continue their subscriptions. For reasons, you might never know. In this situation, outright dismissing them is rude and harmful for your business.
With the Subscriptions for WooCommerce Pro plugin, you can allow your customers to pause their subscriptions for a certain period.
5. Let Customers Restart Their Subscriptions
You can also allow your customers/subscribers to restart their subscriptions whenever they want. This adds another level of convenience to your subscription model.
6. Manual Payment For Subscriptions
Additionally, you can provide customers manual payment option for subscriptions. Send the payment link via email to accept manual payment from customers.
7. Subscription Expiry Reminder Email
It's common to forget passwords, important dates, and subscription renewal. So, we rely on reminders to jog memory.
With WooCommerce subscriptions, you can send an email to remind your customers about their subscriptions expiration.
8. Schedule Subscription Expiry Email
As a WooCommerce store owner, you will have control over your subscription models. You can set the number of days after which the reminder email for subscription expiry will be sent to subscribers/customers.
9. Upgrade/Downgrade Variable Subscriptions
Subscriptions for WooCommerce Pro plugin offers the option of upgrading or downgrading subscriptions. So, that they can easily manage their subscriptions plans.
10. Upgrade/Downgrade Button Customization
Subscriptions for WooCommerce Pro plugin offers a small customization option for the upgrade/downgrade button. It allows you to customize the button text.
11. Accept Prorate Sign-up Fee On Upgrade/Downgrade Variable Subscription
Variable subscription signup on a non-standard billing period can create problems for fair pricing. But, Subscriptions for WooCommerce Pro plugin accepts prorate billing for variable products subscriptions. It charges on the fair billing amount.
12. Accept Prorate Price On upgrade/Downgrade Variable Subscription
Accept prorate price when your subscribers/customers upgrade or downgrade the variable subscription plans.
13. Start Subscription From The Certain Date Of The Month For Subscription
Flexible subscription settings are good for both you and your customers. Additionally, you can allow your customers to select the subscription plan start date.
14. Prorate Amount For Certain Date Of Month Subscription
The proration is applied to allow customers to pay for their subscriptions. Based on the period of use and duration of their subscription. Using our plugin, you can apply the following three types of proration to your subscription plans:
a) Charge Prorated Amount for Subscription
The purpose of this option is to prorate the initial payment. If the start of the subscription plan and payment submission day is separated by several days. Then, you can accept or reject payment for the remaining days.
b) Do Not Charge Prorated Amount
Customers will not be charged with prorated amount if this option is selected. You will not be allowed to accept payments for the subscription plan remaining days.
c) Charge Prorated Amount For Subscription Even Free Trial
The subscription plan will be charged at a prorated rate if you choose this option. It will also cover the cost of the free trial.
15. Allow Customers To Add Multiple Subscriptions To Cart
According to a report by Deloitte, the average US household has nine paid subscriptions spread across videos, music, and gaming. So, it's clear that people opt for more than one subscription.
From a business standpoint, allow your customers to add multiple subscriptions to their cart. In this manner, you can increase the recurring revenue even more. It will help you to maximize the profit.
16. Allow Shipping Cost On Subscription Products
You can impose a tax on physical products subscriptions and services. Such as subscriptions boxes for wines, soaps, tools, etc.
17. Sell Subscriptions Coupons
Using our plugin, generate unique WooCommerce subscription coupons for subscription-based items. They are valid on all WooCommerce subscription products. There are four types of discount coupons:
a) Initial Sign up Fee Discount
This type of coupon is only valid for those WooCommerce subscription products that include a signup fee.
b) Initial Sign up Fee Percent Discount
You can provide percentage discounts to customers on the WooCommerce subscription sign-up fees.
c) Recurring And Subscription Product Discount
This discount coupon provides a fixed discount for both the subscription products and renewal orders.
d) Recurring And Product Percent Discount
Customers can redeem this coupon to get a percentage discount for both the subscription products and renewal orders.
18. WooCommerce Subscriptions Table
Subscription products and services require effective monitoring. Our plugin maintains the record of all existing subscriptions plans details in a tabular format. You can oversee the following details:
Order
Status of the subscription (active, canceled, or expired)
Subscription-based product name
Recurring amount
User name
Next recurring payment date.
Now, it doesn't just simply monitor the details. It also allows you to make the following changes:
a) Delete Or Cancel Subscription Plans
Hover over the subscriptions plan and a cancel option will appear. Click on it to cancel the subscription plan.
b) Filter The Subscriptions Table
The long lists are usually hard to sort. We have put the feature to filter the subscriptions table by order id from the search bar.
c) Export Active Subscription Plans
Export all active subscription plan details in CSV file (Subscription ID, Parent Order ID, Status, Product Name, Recurring Amount, User Name, Next Payment Date, Subscription Expiry Date).
d) View Subscriptions Renewal Order
Order renewal ensures the recurring payment for your subscriptions. You can see all recurring orders for any subscription.
So, these are the amazing features of Subscriptions for WooCommerce plugin. There are several more that I didn't mention here. You can read the full feature list in the section below. Compare the freemium and premium versions of our WooCommerce subscription plugin.
Create WooCommerce Plugin From Scratch
WooCommerce Subscriptions Free Vs PRO
Let's compare both the plugins- Subscriptions for WooCommerce Pro and Subscription for WooCommerce. So that we can have better understanding. The latter is free and can be downloaded from WP Swings's WordPress.org profile.

Obviously, the paid version offers more features. But the usability gained from going pro will revolutionize your subscription business. It is worth spending every time.
Now, let's look at some examples of popular subscription products.
Examples Of Successful Subscription-Based Business
Birchbox: Birchbox sells beauty products. Such as makeup, skincare, hair products, etc. in subscription boxes. As you can see, they offer tangible products as a part of their subscription programs. They have monthly and yearly subscription plans.
Dollar Shave Club: This brand has been so successful. You will find tons of case studies on it. Dollar Shave Club made a mark in time through its subscription-based business model. Its customer-centric service resulted in high recurring revenue.
So, these are some of the most famous subscriptions products. Notice that both of these products are used daily. Similarly, you can also create and sell subscriptions for common products. In order to build your subscriptions business.
Final Words
A successful subscription model ensures recurring revenue and generates huge amounts of profit. The recurring revenue generation makes the financial growth predictable. It helps you scale your business.
I have explained how to apply a subscription model through the Subscriptions for WooCommerce Pro Plugin. Additionally, the free version is also available to download.
In this article, I have also shown you how to create a simple product and variable subscription product. Follow these steps and enhance your subscription business.
Check out our blogs if you want to learn more about the best eCommerce practices.