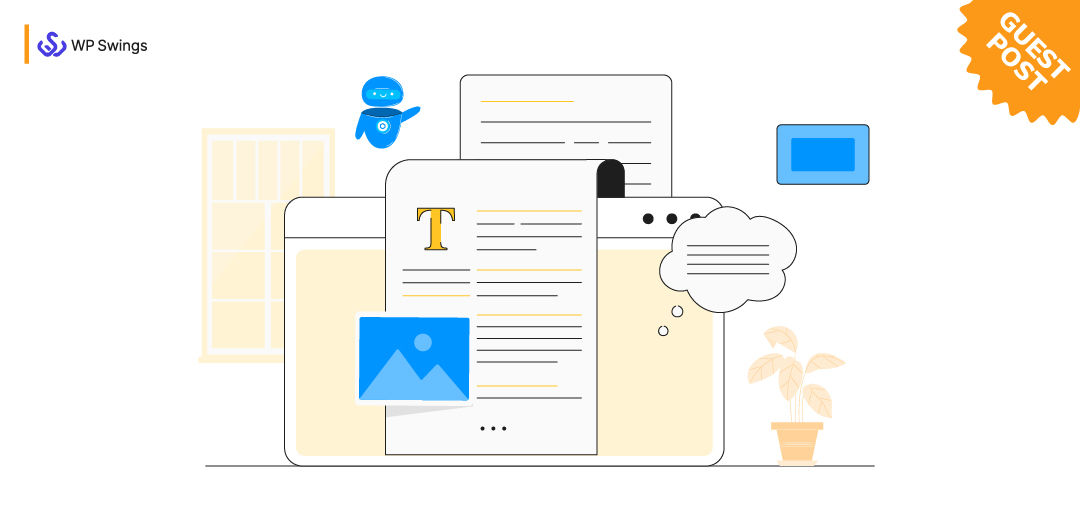 As a blogger, it can be challenging to come up with fresh and engaging content every time you sit down to write. Whether you're creating content for your blog or writing on behalf of a business, the pressure to produce high-quality content can be overwhelming.
Fortunately, there are many tools available to help make the writing process easier, and one of the most powerful is the paraphrasing tool.
If you're not familiar with paraphrasing tools, they are online tools that can take existing text and reword it in a way that is unique and original. These tools can be incredibly helpful for bloggers, as they allow you to take existing content and create something new and fresh that will engage your audience.
In this article, we'll explore some tips and tricks for using a paraphrasing tool to create high-quality content writing that keeps your readers engaged and coming back for more.
So, let's get started!
Table of Contents
Importance of Paraphrasing Tools for Bloggers
Paraphrasing tools can be invaluable for bloggers who want to produce high-quality, original content quickly and efficiently. Here are several reasons why bloggers must consider using a paraphrasing tool:
To produce a large amount of content regularly
To prevent plagiarism
To overcome writer's block
To assist non-native English speakers
To improve the overall quality of writing
Tips and Tricks for Using a Paraphrasing Tool to Create Engaging Content
Now you know that paraphrasing tools could be the right fit to create engaging content for your blog. However, simply using a paraphrasing tool is not enough to ensure the quality of your content.
To help you get the most out of these tools, we have put together some tips and tricks that you can use to create compelling content that your readers will love.
Choosing the Right Paraphrasing Tool
There are many paraphrasing tools available online, but not all of them are created equal. Some are more user-friendly than others, while some have more advanced features that allow for greater customization. When choosing a paraphrasing tool, it's important to consider factors such as ease of use, accuracy, and speed.
For instance, you can try Paraphrasingtool.ai. This AI-based paraphrasing tool not only generates high-quality content but also offers a range of advanced features.
For example, you can choose between different writing modes, writing tones, synonym-changing features, and more.
We'll walk you through the next steps of creating engaging content using this powerful paraphrase – Paraphrasingtool.ai.
Conduct In-Depth Research to Gather Data
Before you can start paraphrasing, you need to keenly understand the topic you're writing about. This means gathering all the necessary data and information through extensive research.
For gathering data, you can use sources like academic journals, books, online articles, and interviews. Avoid using unreliable sources that might provide inaccurate or outdated information.
Once you've gathered your sources, take the time to read and analyze them thoroughly,  and you'll be on your way to creating exceptional content!
Keep Your Input Simple and Understandable
To make the most out of the paraphrasing tool, you need to focus on the input quality of the text. The tool typically relies on the quality of the input text to generate accurate and engaging paraphrased content. If the input text is of poor quality, the resulting paraphrased content may not be accurate, coherent, or interesting.
Keeping your content straightforward can make the paraphrasing process easier and result in more true-to-life and engaging content for your audience.
Paraphrase the Material
Once you have conducted thorough research and gathered all the necessary data, the next step in using the paraphraser is to start writing your content.
Below, we'll show you how you can paraphrase content using one of the best online rephrases – paraphrasingtool.ai. The process involves the following steps to rephrase the material:
Open the paraphrasingtool.ai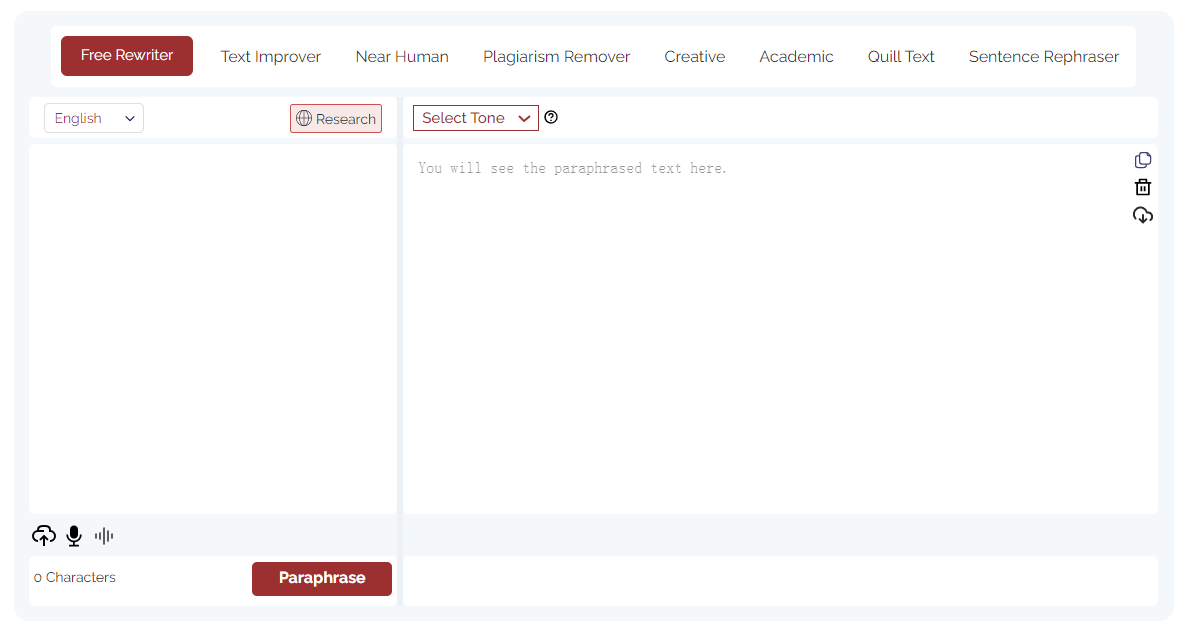 Enter the text you want to rephrase by copying and pasting or uploading a file from your computer.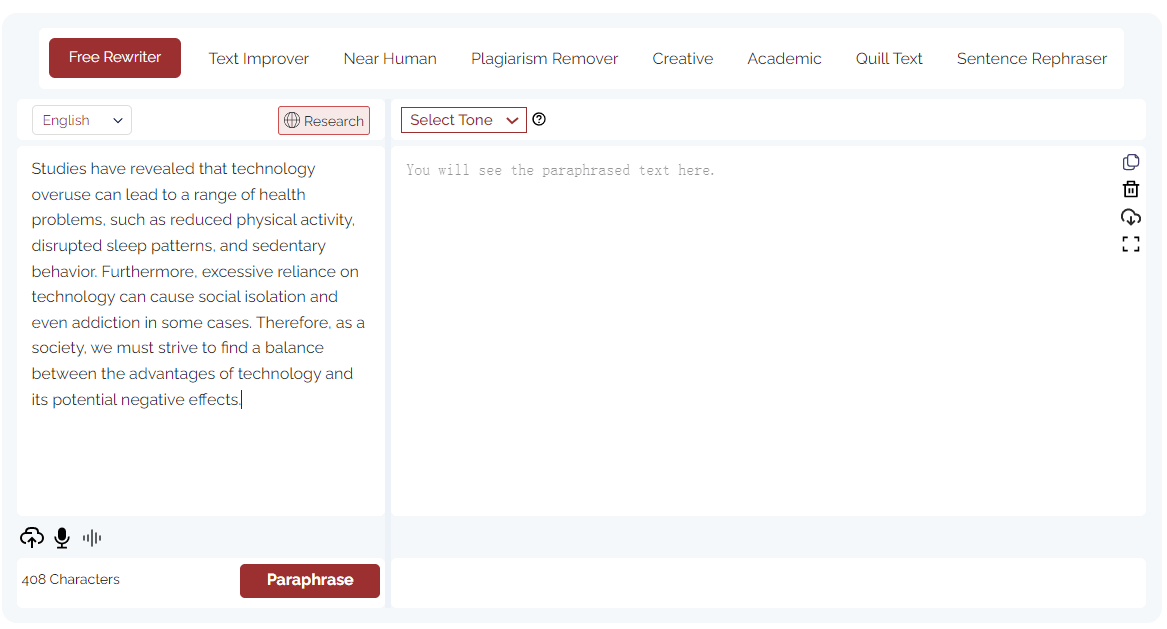 Select the paraphrasing mode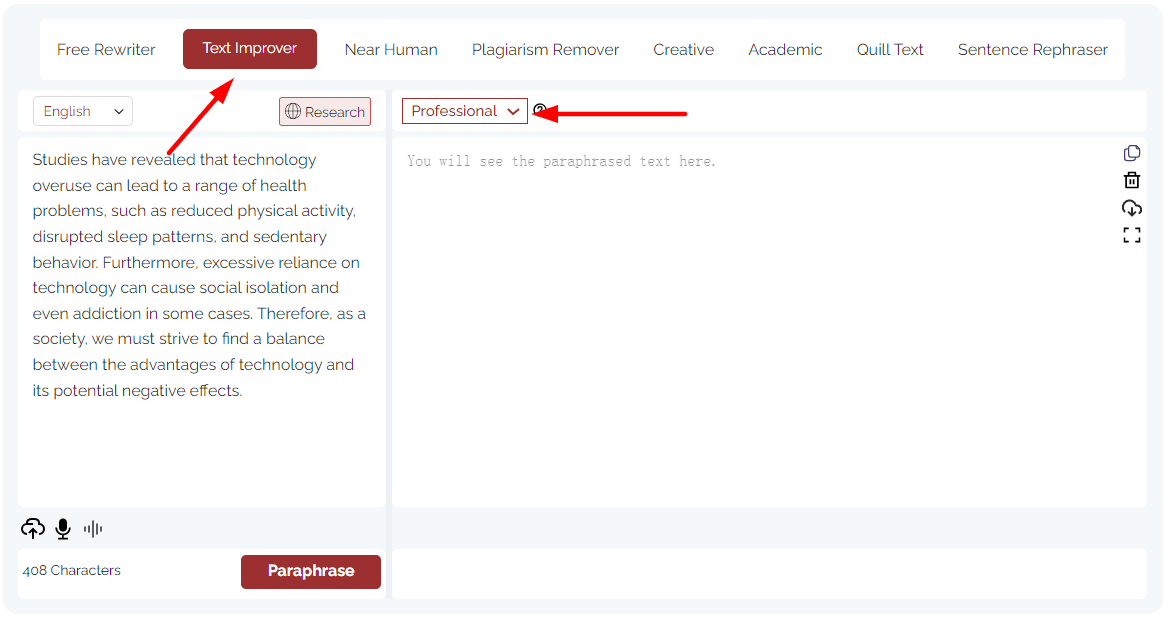 Select the writing tone
Click on the "Paraphrase" button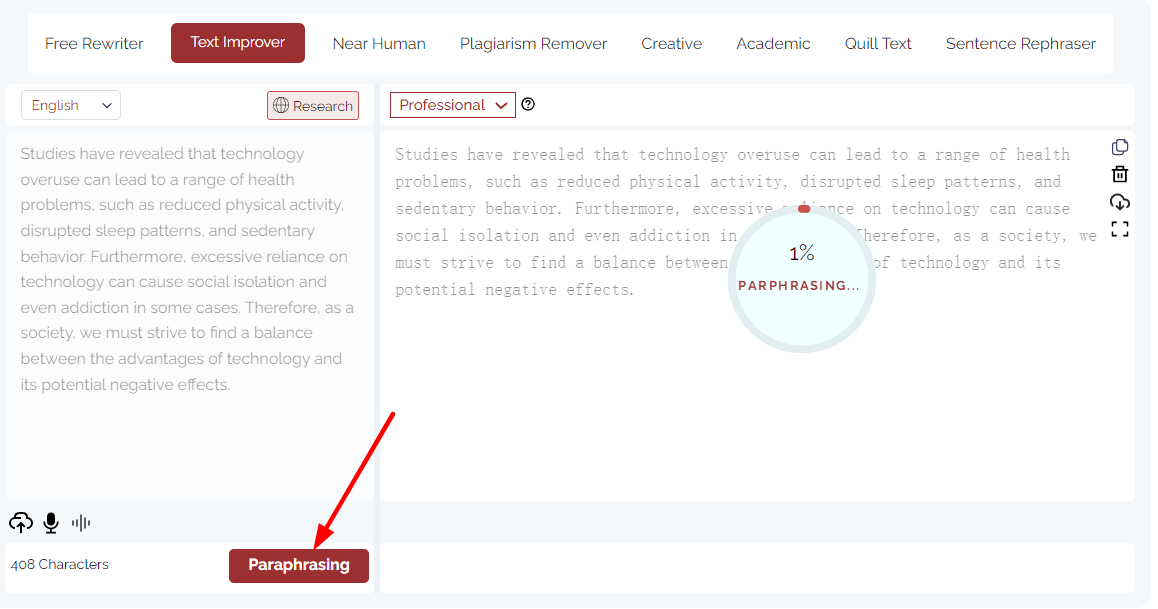 The paraphrasing tool starts rephrasing content and quickly generates an alternative version based on your selected mode and tone.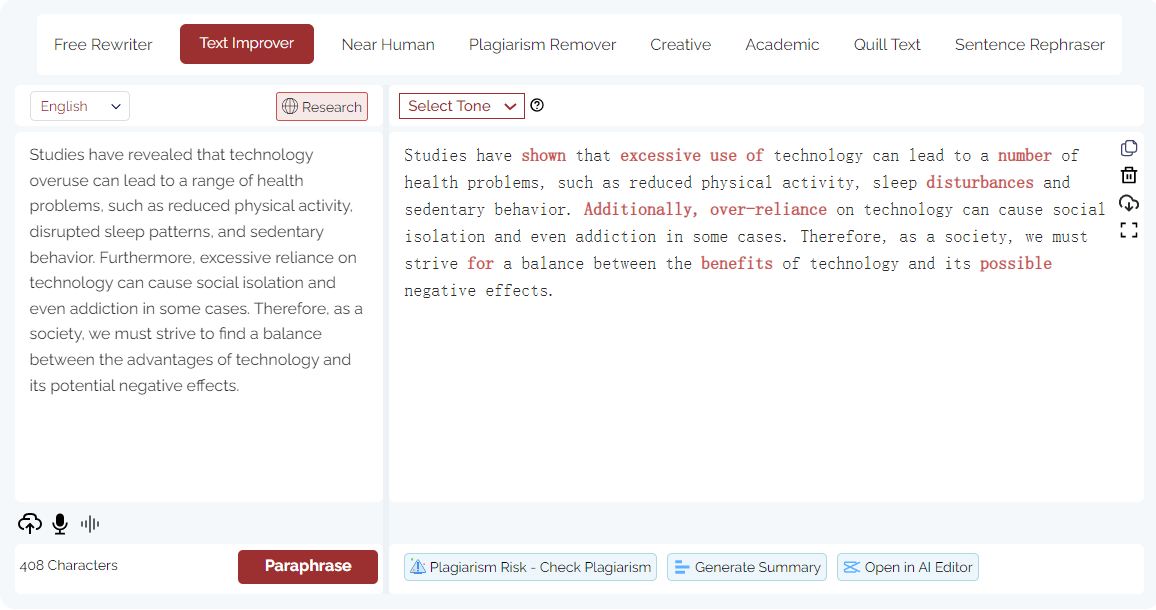 Proofread the Output
After paraphrasing, it's time to give it a thorough review to make sure it's polished and ready to be shared. After all, no one wants to read content that's full of errors or doesn't make sense!
Start by reading through your paraphrased content carefully, looking for any grammar or spelling mistakes. You can also use an online grammar checker offered by paraphraisngtool.ai to help catch any errors that may have slipped through the cracks.
By making these small but important modifications, you can ensure that not only your content is unique and engaging but also easy to read and understand. So before you hit that publish button, take a moment to give your content the attention it deserves and make sure it's the best it can be!
Use the Synonym-changing Feature
Sometimes even the best paraphrasing tools may fail to capture the essence of what you're trying to say. But don't worry – that's where the synonym changer feature of Paraphrasingtool.ai comes in!
By using this nifty tool, you can easily swap out words and phrases with their alternatives to better suit the text's context.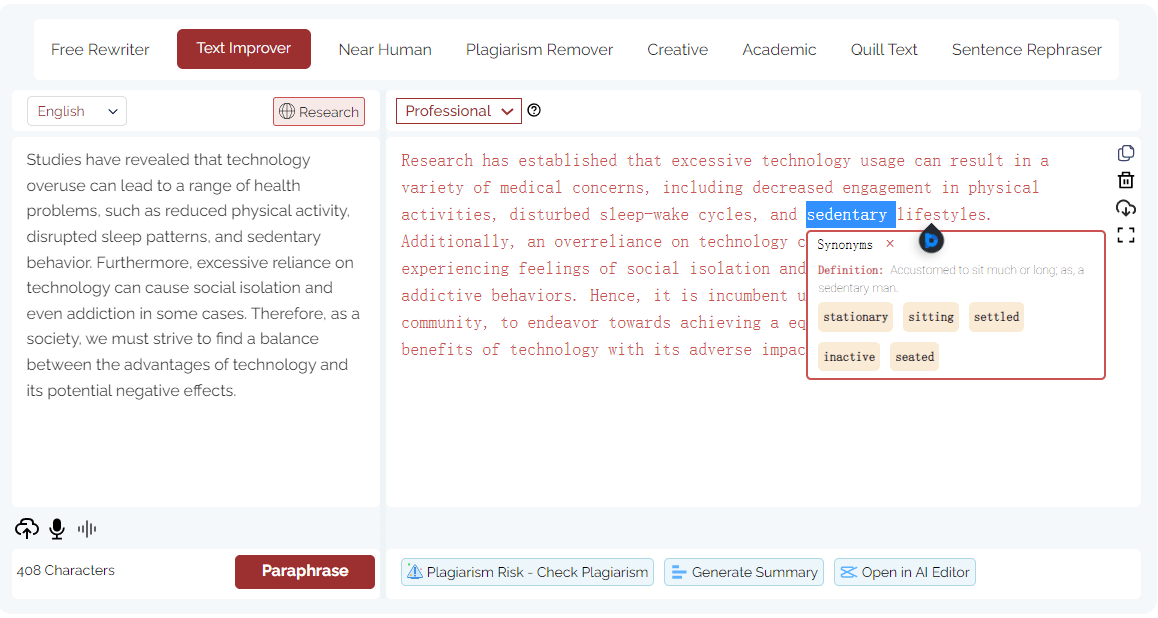 This can help add variety and depth to your content, making it even more engaging for your readers.
Check for Plagiarism 
Last but not least, one important step to take before publishing your content is to check for plagiarism. While paraphrasing tools can be incredibly helpful in creating unique content, it's still possible to unintentionally copy someone else's work.
Fortunately, paraphrasingtool.ai features an online plagiarism checker that can help you ensure that your content is entirely original. The tool scans your content and compares it to a vast database of previously published works. If any matches are found, the tool will highlight the passages that need to be reviewed and potentially reworked.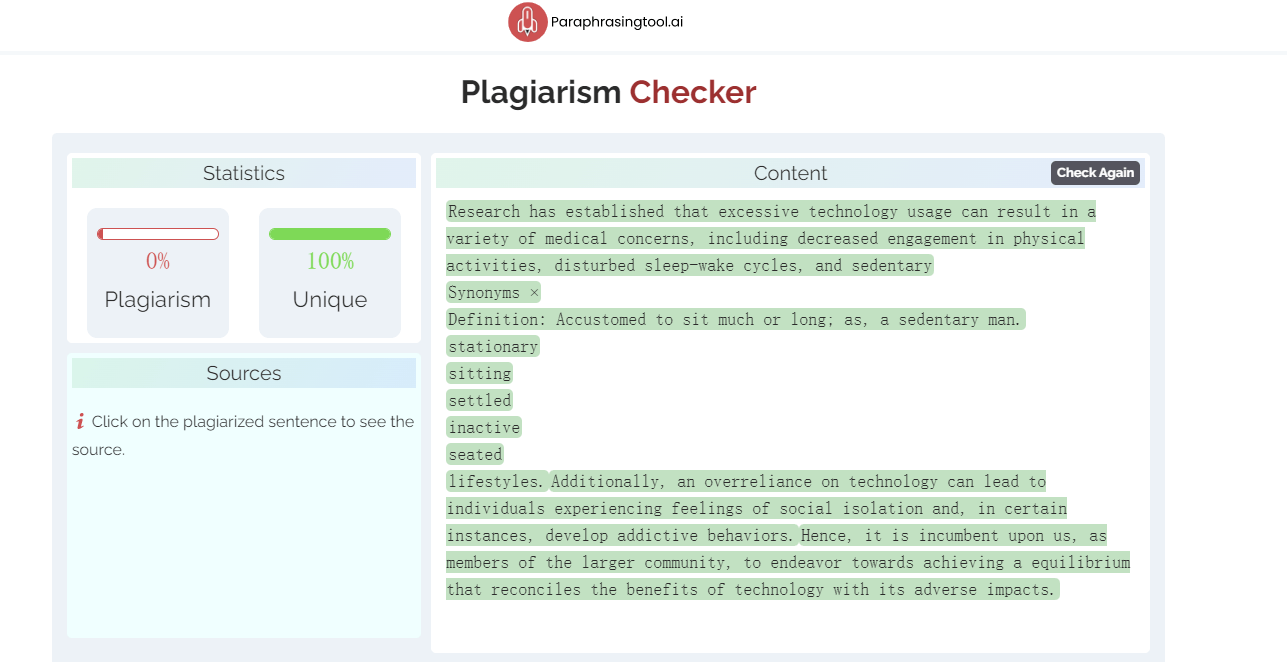 So, take the time to check your content for plagiarism before hitting that publish button. It's a simple step that can make a significant difference in the quality and reputation of your work.
Do Not Overuse the Tool
While a paraphrasing tool can be a helpful aid, it should not be relied on too heavily. Overusing the tool can result in content identical to the original and lead to accusations of plagiarism. Therefore, it's important to use the tool in moderation and always ensure the final product is original and unique.
Well, this is how you can use a paraphrasing tool for creating engaging content for your blog posts and articles. But there are some common practices you need to stick to before you expect thousands of visitors to your blog.
Guidelines for Creating Engaging Content
Here are some tips to help you create content that resonates with your audience and keeps them coming back for more.
Know Your Audience
Understanding your audience is the first step in creating engaging content. Who are they? What are their interests, needs, and pain points? Once you have a clear understanding of your audience, you can tailor your content to their preferences and make it more relatable.
Use Simple Language
Using complex language and industry jargon can be a turnoff for readers. Keep your language simple and easy to understand. Avoid long and complicated sentences, and break up your content into smaller paragraphs to make it easier to read.
Incorporate Relevant Keywords
Keywords are essential for SEO and help your content rank higher in search engine results. But don't stuff your content with keywords. Use them naturally and strategically throughout your content to make it more discoverable to your audience.
Use Active Voice
Using active voice makes your content more engaging and easier to read. It adds energy and clarity to your writing and helps you communicate your message more effectively. Instead of saying, "The blog post was written by me," say, "I wrote the blog post."
Keep It Concise and Clear
Your readers' time is valuable, so keep your content concise and to the point. Use subheadings, bullet points, and other formatting techniques to break up your content and make it more scannable. This way, readers can quickly find the information they need and stay engaged with your content.
By following these guidelines, you can create content that resonates with your audience and drives more traffic to your blog.
Best Online Paraphrasing Tools for Creating Engaging Content
Now you know that paraphrasing is one of the essential aspects of creating engaging content for blog posts, articles, and other written materials.
It helps you convey the same message uniquely and freshly, improving the readability and engagement of your content.
Here are some of the best online paraphrasing tools that can help you create engaging content:
1. Paraphrasingtool.ai
Paraphrasingtool.ai is an excellent resource for bloggers looking to create engaging content for their blog posts. By using this tool, bloggers can avoid plagiarism in their writing, improve text fluency, and enhance creativity with fresh ideas.
Additionally, the tool's eight different paraphrasing modes allow bloggers to find the perfect way to rephrase their text, ensuring that the content remains unique and interesting for their readers.
The Paraphrasing Tool also includes a research panel feature that enables bloggers to search and insert relevant text into their posts, helping them to create well-informed and well-researched articles.
The tool offers affordable pricing for bloggers. Its Solo Paraphrasing Tool is available for $7 per month, offering unlimited words with all its advanced features. The annual plan offers savings of up to 20% and costs only $5 when paid monthly for the Solo Paraphrasing Tool.
Overall, the Paraphrasing Tool is an essential tool for bloggers looking to create engaging, high-quality content for their blog posts.
2. Copysmith.ai
If you're looking to create engaging content for your blog posts, Copysmith is the perfect tool for you. Its AI-powered paraphrasing capabilities can help you generate high-quality content in a matter of seconds.
With its advanced AI technology and input from experienced writers, Copysmith offers a wide range of features, such as generating Google, Facebook, and Instagram ads, blog ideas, headlines, product descriptions, SEO metatags, and more.
Whether you're a business owner, a copywriter, a blogger, or a marketer, Copysmith can help you quickly and easily create professional writing that engages your audience. You can sign up for a free trial with no credit card required and cancel anytime.
With Copysmith as your ultimate creative super-weapon, you can cover creative ground faster than ever before and create engaging content that drives traffic to your blog.
3. Contentbot.ai
ContentBot is a powerful paraphrasing tool that can help content creators produce high-quality and engaging content for their blog posts.
With its built-in plagiarism checker and ability to rephrase whole paragraphs at once, it ensures the originality and accuracy of the content. Its free demo account with a 5000 credit limit that never expires is a great way to try out the tool before committing to a plan.
Pricing starts as low as $1 per 1000 words or $19 monthly, making it an affordable option for bloggers and content creators. Although it does not indicate changes made to the original text, its impressive array of features makes ContentBot an excellent choice for those seeking a reliable and versatile paraphrasing tool.
Conclusion
Creating engaging content for bloggers manually is extremely challenging. It requires effort and time from the bloggers, which they often lack.
A powerful paraphrasing tool could be the right fit here as it can quickly generate unique articles for your blogs in a short period.
The best thing about using paraphrasing is that it assures you will not generate plagiarized content.
Lastly, using the following tips and tricks, bloggers can create high-quality content that their readers will love coming back to read more.