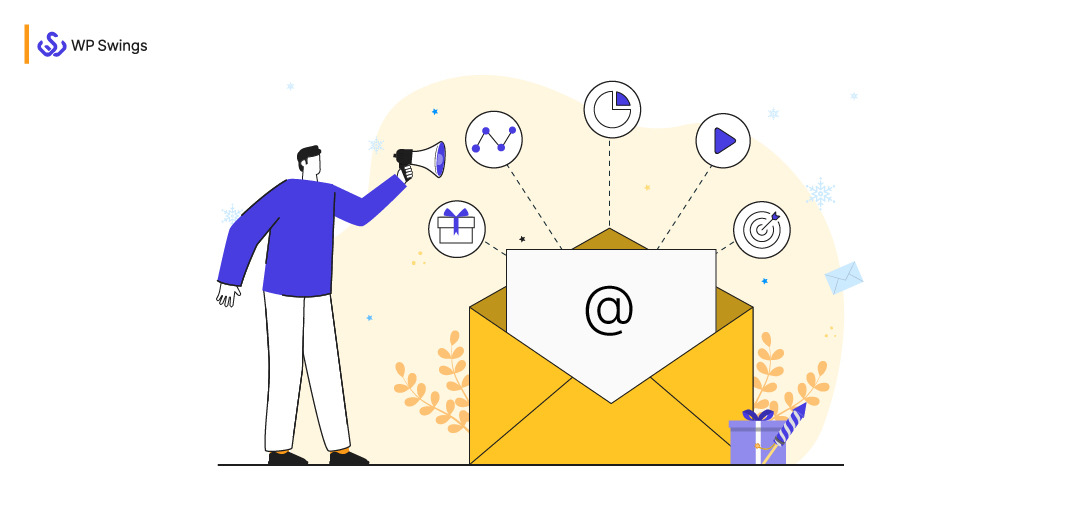 Cue the fireworks!
Because the holiday season is finally here!
The season of shopping, gift-wrapping, pumpkin pies, eating without any guilt, and so much fun. You see individuals decorating their houses and putting up lights around them for their loved ones.
But is it the perfect time to start holiday newsletter marketing? Yes, it is!
Quite recently, I was sitting with my mom, and she was reading the newspaper.  I asked her if she could lend me the comics section, and she instantly handed it over to me, saying " Yes take it! I don't read it anyway!"
And, this made me think, that our customers or email subscribers might also feel this way when they receive our holiday newsletter with the information that they never asked for? This is something that can hamper your marketing process and hinder your growth.
Don't you worry!  We have lined up some really informative content for you, that will help you connect with your audience and boost your sales.
Table of Contents
(Jump to the section that interests you the most!)
Before jumping into the topic, let us understand what exactly is an email newsletter?
What Is a Newsletter?
It is a periodical email that you send to all those customers that have subscribed to you, to inform them or update them about your brand. They are the most powerful tool for digital marketing because it lets you communicate and interact with your customers in a personalized way.
You can serve the users by providing them with valuable information like reports, for example, to make them aware and in sync with your brand and its working.
You might wonder, what is the main purpose of an email newsletter? Well, we have a perfect resource for you!
Types of Newsletters
Now, that we are well aware of email newsletters and their purpose. We can start discussing the types of newsletters that you send out as a brand to your subscribers and their examples.
Let's Dive Right Into It!
1. Practical Newsletters
Don't you like it when newsletters and individuals are straightforward with what they have to offer you? Well, practical newsletters are exactly that!
They are a compilation of value-based content that the brand offers to all its subscribers. For example: learn how to do X, reply to this newsletter to get more just tutorials.
Here's an example from The New York Times newsletter,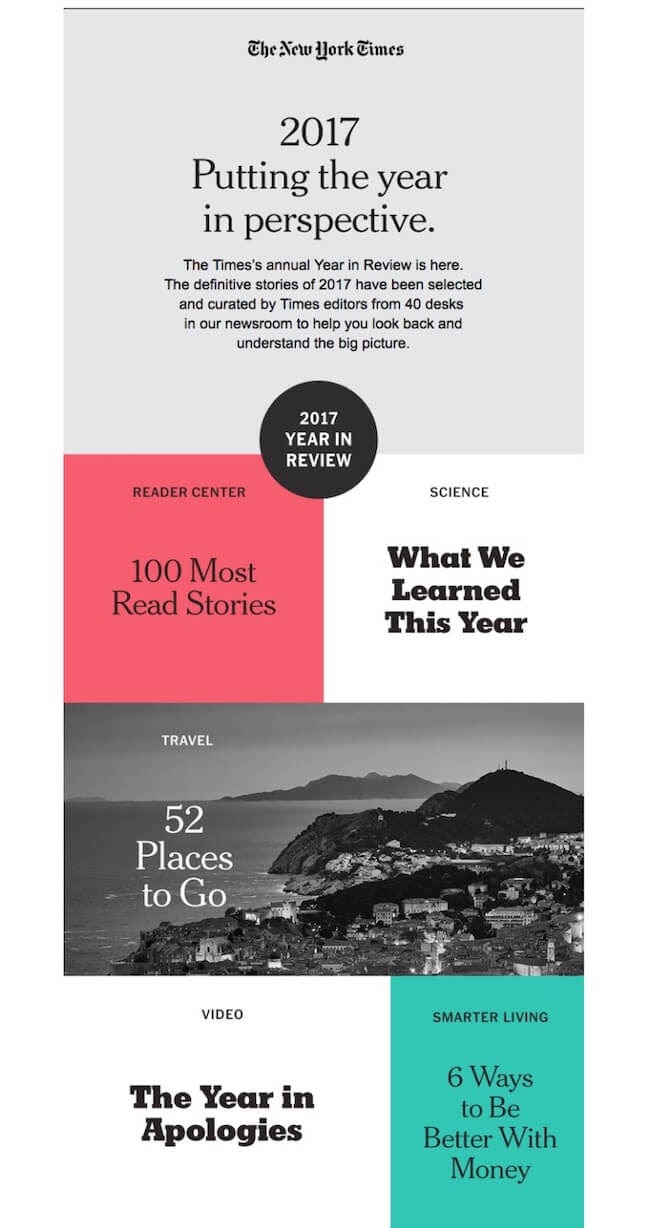 2. Promotional Newsletters
These are simple but powerful and effective ways to spread the word about your new or existing products and services, or just spread the news to keep the users aware of an ongoing sale.
A recent study revealed that 49% of subscribers like to receive promotional emails from their favorite brands. So, the brand can send promotional emails to introduce sales, discount offers, or new products.
The main objective behind sending out such emails is to increase awareness, generate more revenue, and increase brand loyalty amongst the users because if they are well aware of your brand they'll trust you more.
Here's an example for you,

3. Visually Focused Newsletters
Grabbing the user's attention is the key to successful newsletter marketing!
A survey says that we process visual information 60,000 times faster than text. Now that's a lot!
Some brands use this idea to their advantage and send out email newsletters that focus more on embedded images and videos to make the newsletter more interesting.
It's a great strategy to boost engagement in your email newsletters and keep your subscribers hooked to your newsletters.
4. Holiday Newsletter
Let's finally address the elephant in the room!
Holiday Newsletters. These are newsletters that encourage the customers to buy your products but also strengthen their appreciation for your brand. Thereby, increasing their loyalty.
The holiday season is every marketer's favorite season. Sales represent an estimated 20 percent of total annual retail sales. This makes the use of a holiday newsletter even more effective to boost sales.
Bring in Some Light & Cheers With These Holiday Newsletter Ideas
Now, that we have established a holiday newsletter is the most effective way to boost sales.
We'll now present different ideas for curating a perfect and sales-proof holiday newsletter.
Holiday Newsletter Idea 1: Provide Personalized Product Recommendations Based on Last Year's Holiday Sales
The best way to win your customer's trust is to show that you hear and know them personally. By providing personalized newsletters. You can include product recommendations based on last year's holiday sales. Try including your bestselling product information in your newsletter for a guaranteed sale.
There's another way of providing personalized content for the holiday newsletter. Put a "restock" or "re-stash" message. Here is Sephora's repurchase reminder newsletter. This will help you understand the concept better.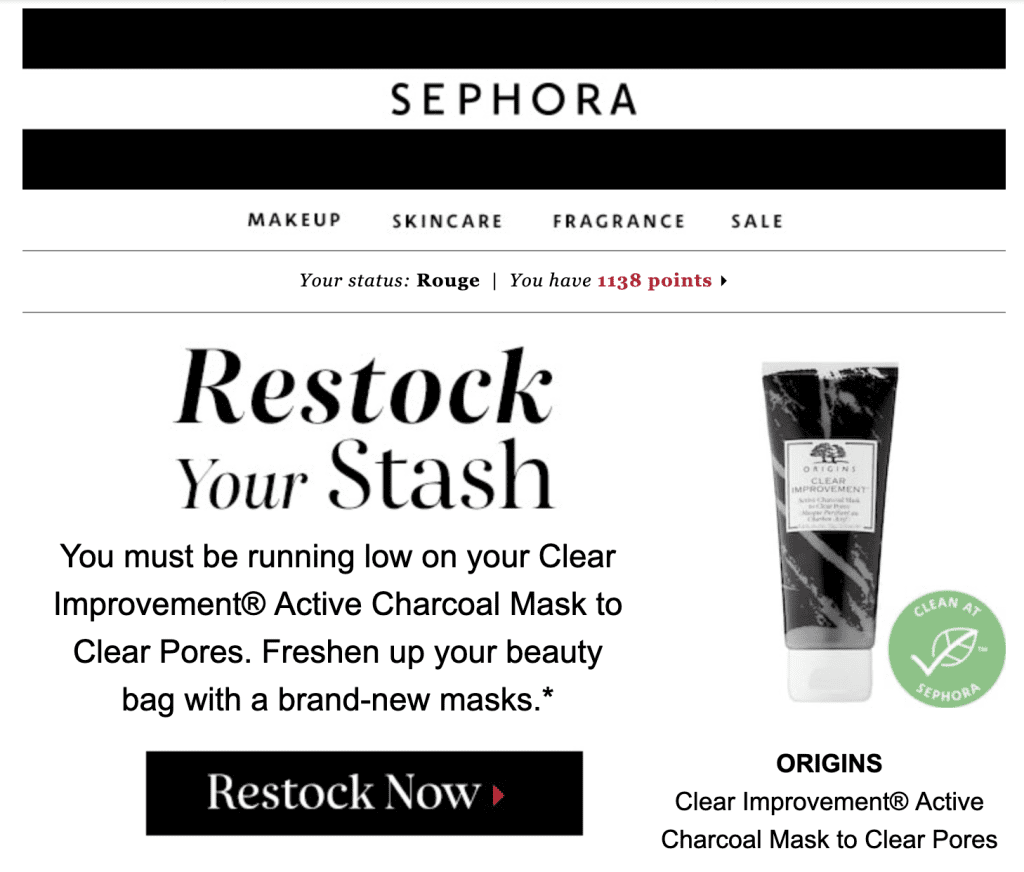 The merchants can harness the power of eCommerce automation tools to find out these recommendations without any struggle whatsoever.
You can also run a holiday-based product recommendation segment for your customers. Try making separate specialized categories for the users to choose products from your website.
The trick is to give the readers what they needed. Consider the user's inbox to be a sacred space. It's a direct line into the lives of your audience and potential customers—so whatever you send should be of the highest quality.
Holiday Newsletter Idea 2: Offer Your Clients Great Discounts.
Discounts act as a driving force for your customer. This is something that all marketers are well aware of.
The holiday season is the best time to use this marketing strategy. Offer discounts can be as little as "5%" or "Free Delivery". The customers will anyway purchase the product, but this makes them instantly grab the deal!
Remember, we have to grab the attention of the subscribers and this idea will get the job done!
Another way of grasping your user's attention is by hosting sales during a particular period and naming the sale. Let's take Myntra, an Indian eCommerce shopping website's example to explain this.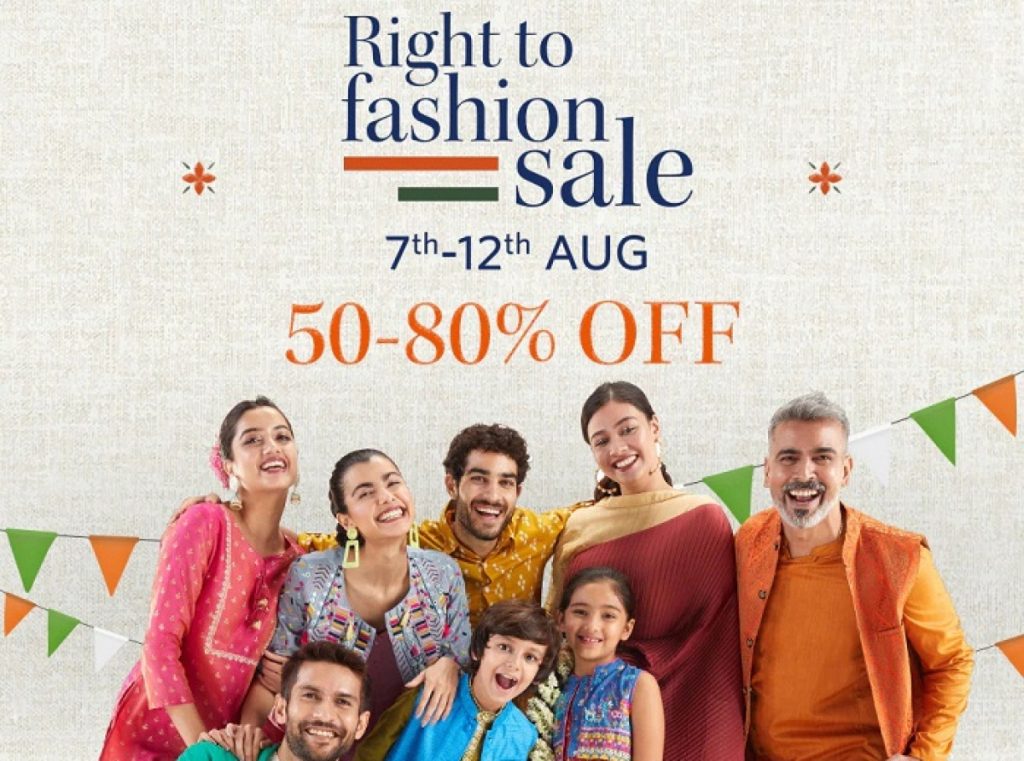 Myntra has an "Independence Day" Sale every year during the month of August. Users look forward to this sale and receiving the newsletter about it. This creates a sense of excitement. This helps to boost the sale and revenue. You can also use upsell marketing strategies to increase revenues.
All-In-One Solution to Boost Sales and Increase Average Order Value
Upsell Order Bump Offer For WooCommerce Pro
Holiday Newsletter Idea 3: Provide Coupons for Each Order
As we are on the subject of providing the subscribers with personalized services, we just can not leave this idea behind. You can add customized coupons that your users can use to avail discounts.
Each sale or holiday sale should have a specialized coupon for the users to differentiate one from another.
Here's an example,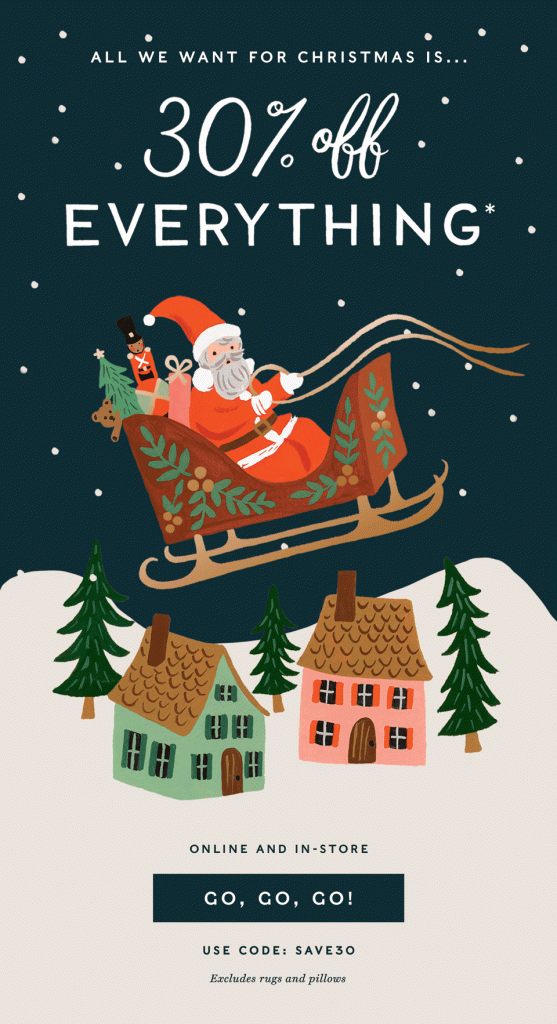 Holiday Newsletter Idea 4: Make Them Interactive to Enrich It
Holidays are the time when people are in a jolly and happy mood. There are pies and ferry lights and vacations. Adding interactive elements gives the users a chance to be actually interested in these newsletters.
We have just learned about Visually focused newsletters, it is now time to use these.  Nobody loves receiving a bland newsletter. There should be an element of surprise or something unexpected to it.
You can introduce festive catalogs or engaging interactive flipbooks, GIFs, videos, and gamification. This will help you drive your readers' attention during the peak email festive season. Don't forget about sliders, rotating banners, and countdown timers to enhance your emails.
Here's an example of an Engaging Christmas Flipbook…
Holiday Newsletter Idea 5: Reward VIP Customers With Personalized Offers
We are now wrapping up, and moving to the next section.
But, we just can not miss this point. This is one of the best holiday newsletter ideas. Engage with those who have supported and been there for your brand all along!
During the festive season, your main goal is not only to attract and convert new customers but to also take dedicated consumers to the next level. This can be accomplished with personalized deals provided in recognition of old and existing customers' loyalty to your brand.
Give Loyalty Rewards to Your Loyal Customers With Complete Ease!
Points And Rewards For WooCommerce Pro
These customized offers will not only make consumers feel special — but they just might also respond with additional purchases, boosting your sales.
Sephora, a well-known make-up brand, incorporated this idea and saw its revenues skyrocketing.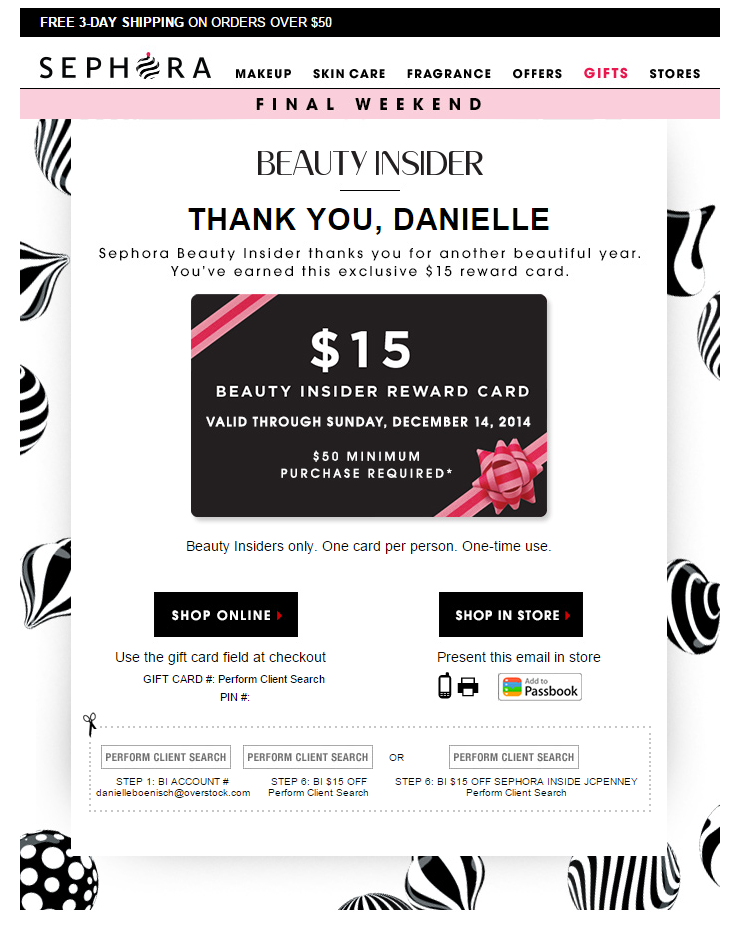 Tools for Designing a Newsletter
There are several eCommerce automated tools that help individuals and marketers. Choosing the right tool is like taking a step toward successful email marketing.
If you want to choose the right tools, you keep certain elements in mind. Some of the important ones are mentioned below:
The automation tool that you are choosing should have a simple and user-friendly interface. Marketers should be able to manage them and be in complete control of them.
The marketer has to worry about a lot of other expenses, and this should not be one of them. Always remember to check the pricing of any automation plan before blindly selecting it.
You also make sure that the tool you're going ahead with has proper email marketing automation features. Be aware that the price that you're paying should be in sync with the features you're getting from it.
This is the last and final element. The marketer must ensure that tool is delivering the email newsletters correctly.
Let's keep these elements in mind, and talk about the popular automation tools.
1. HubSpot Email Marketing Tool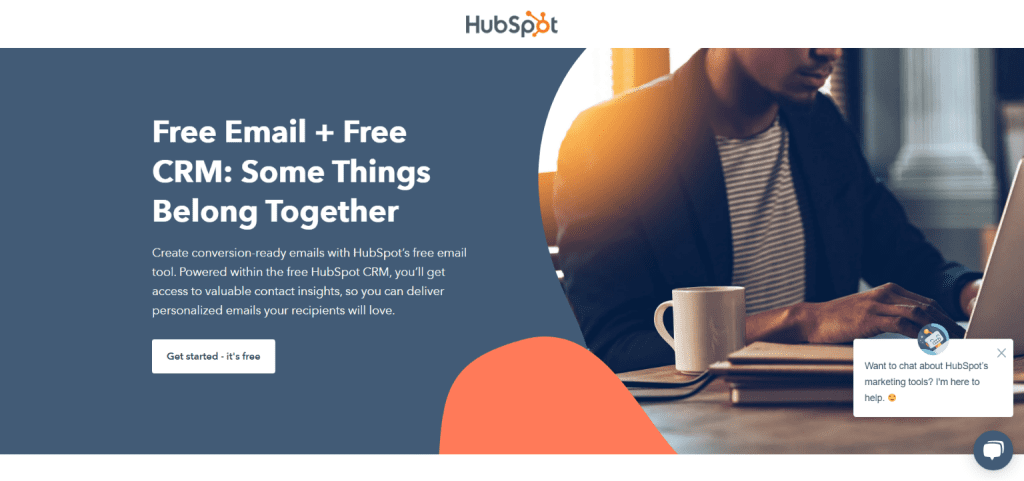 We just can not leave this name behind when we talk about marketing automation tools. All the marketers who know their game, are well aware of this automation tool.
It is popular for its customer relationship management (CRM) software. Hubspot also lets you create forms and pop-ups to increase your email lists. It is also integrated with other lead generation websites like Optinmonster and WPbeginner.
Paid plans start at $45 per month.
2. Moosend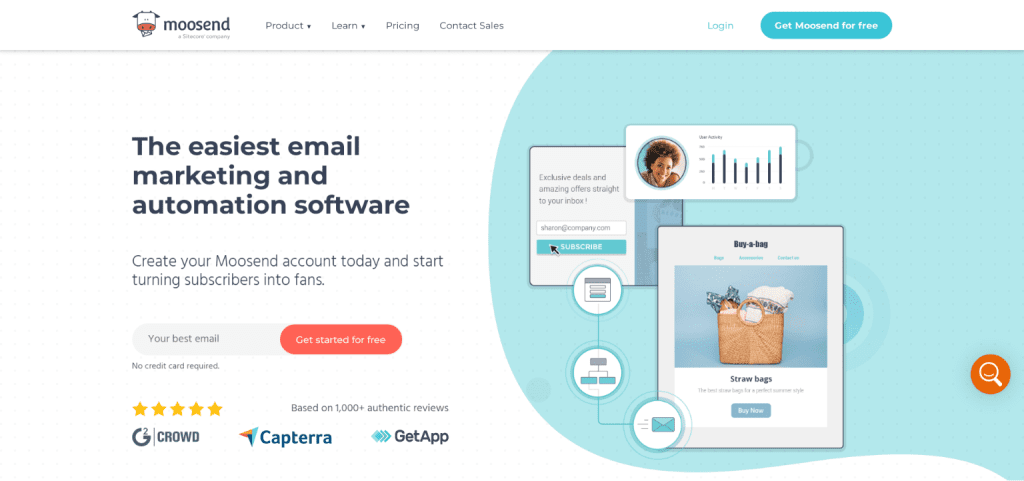 Moosend is a godsend help for all the small business owners, who are looking for an affordable automation solution for their business.
It is light on your pocket and user-friendly as well. It also offers powerful features in marketing automation, subscription forms, landing pages, and more.
From creating beautiful emails with the drag and drop editor to over 70 ready-made, responsive email templates. The users can very easily and quickly add additional elements like videos, countdown timers, custom fonts, and so much more.
Pricing: It starts at $8 per month for the Pro plan.
3. SendInBlue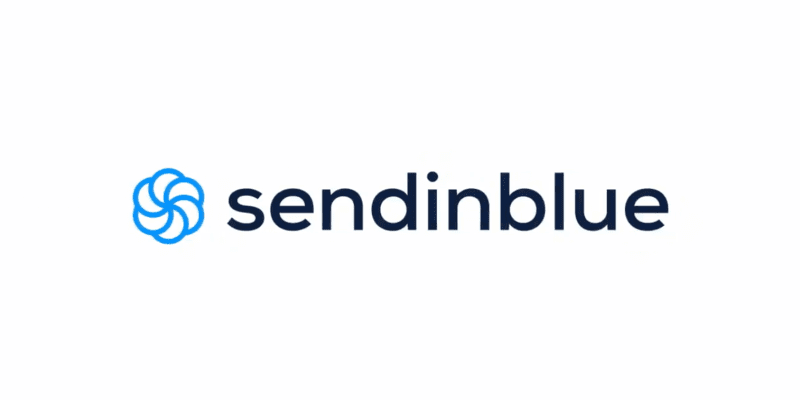 Don't want a traditional email newsletter automation tool? We have you covered!
SendInBlue is an email newsletter automation tool plus an SMS marketing tool. It comes with an excellent library of templates that you can use at your convenience and requirements.
4. MailChimp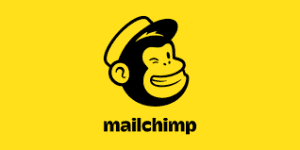 If we are talking about popular newsletter automation tools, we just can not leave the most popular one out.
MailChimp not only offers affordable solutions but also free plans for beginners. Now, create ads, landing pages, and more from one single place. You can also integrate your account with other tools and apps like WordPress, Shopify, and Zapier to name a few!
The Premium Plans start from $10 per month.
Tips & Components to Design a Bulletproof Holiday Newsletter
We are all set to wrap this blog up. But, how can we forget to cover the most important aspect of the blog? The tips to draft the perfect holiday newsletter that will guarantee sales and increased revenues.
1. Use A Strong Subject Line
Having a strong subject line is as important as your first job interview. It helps you create an influential first impression. This will be the thing that your subscribers will see when they receive your holiday newsletter. The key must be to make it worthwhile.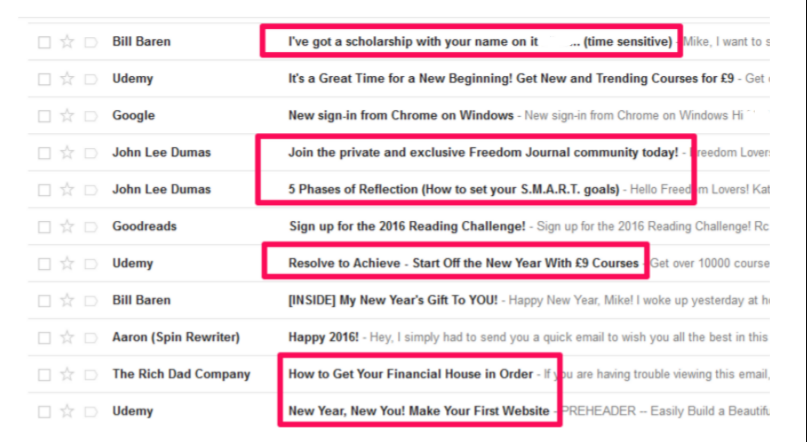 Subject lines like these will encourage the subscribers to check the newsletter.
2. Call To Action
It is said that choice is the worst enemy of conversions, and I stand by this statement. If you give your subscribers too many options, they will get confused. This phenomenon as per the psychologist Barry Schwartz is called "the paradox of choice".
Instead of giving them a lot of options, you can be very direct with your CTAs (Call to Actions). For example, if you want to direct them to your website for an ongoing sale. Just use one simple and large button directing them there.
3. Make It Personalized
We have discussed this before, and we will say it again. The marketers will have to make the holiday newsletter personalized, this will make the customers and subscribers heard.
Stop writing emails to faceless customers but instead write to individuals on your list. When you start addressing individual subscribers, your content will go from drab to engaging in no time.
The Crux
We have pretty much covered all the important elements of drafting a holiday newsletter.
Now, it's your turn to start drafting and sending out your holiday newsletter without wasting any more time. Before drafting it, you can also research the ongoing and upcoming holiday trends that you must follow. This will help you with the content of your newsletter.
You might now feel that after selecting the perfect email template what should you include in each section? Well, hold on for the last and final segment.
Title – [Your Brand/Company's Name] [Weekly | Monthly |Yearly, etc.], [Name of the Holiday] Newsletter.
1st Paragraph – This is an excellent place to summarize your company/brand and then explain why you're great at what you're doing. You must ensure that you are including important information in this particular section.
2nd Paragraph – In this section, you can leverage your template by selecting bold imagery that is not only in sync with the content of your email but also with your brand and the product that you're promoting.
3rd Paragraph – It is finally time to let your writing shine. The goal of your email will most likely determine the length of your copy, and it should be the purpose of your holiday newsletter.
Happy Drafting :)