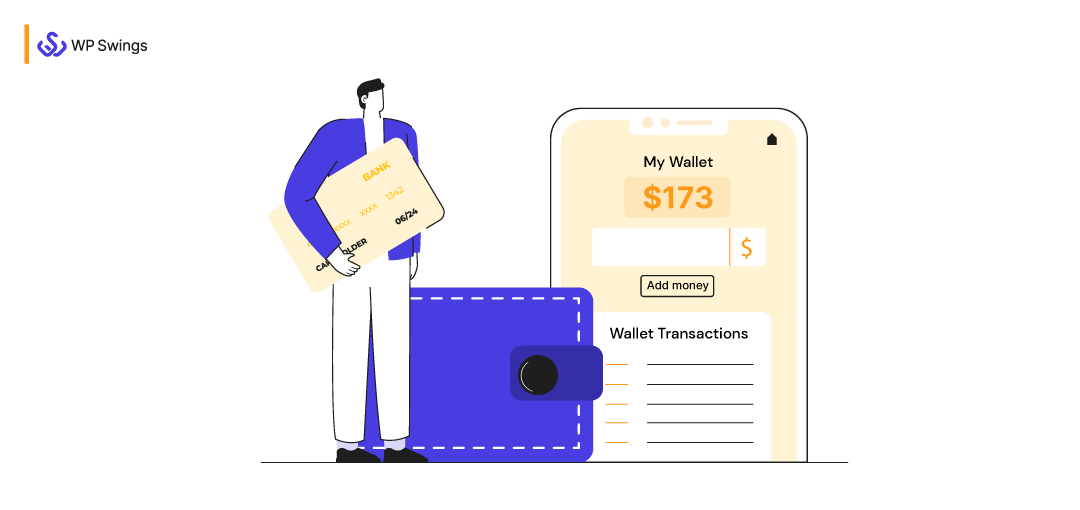 WooCommerce wallet is like the Swiss army knife of the WooCommerce payment plugins, allowing you to solve multiple transaction issues like slow payments, frauds, high customer attrition rates, and callous calculations of transaction fees.
In conclusion, it is a digital wallet exclusively made for WooCommerce.
I will give you what you are looking for, that is; a closed-loop payment system that your customers can use for buying goods & services and completing orders in the blink of an eye.
You will meet your needs for payment speed and security in this article. So, stick around dear reader.
What is WooCommerce Wallet System? What are its Major Features?
Wallet System for WooCommerce plugin helps you add a digital wallet system to your store and essentially introduces the best payment method on the best eCommerce platform. It allows registered customers to purchase products & services in a few simple clicks.

Also, they don't need to carry credit cards or use net banking services for online shopping. Your store becomes their wallet i.e reliable substitute for conventional payment methods.
The stats speak of digital Wallet supremacy. It is the most used eCommerce payment method according to WorldPay Global Payment Report 2021.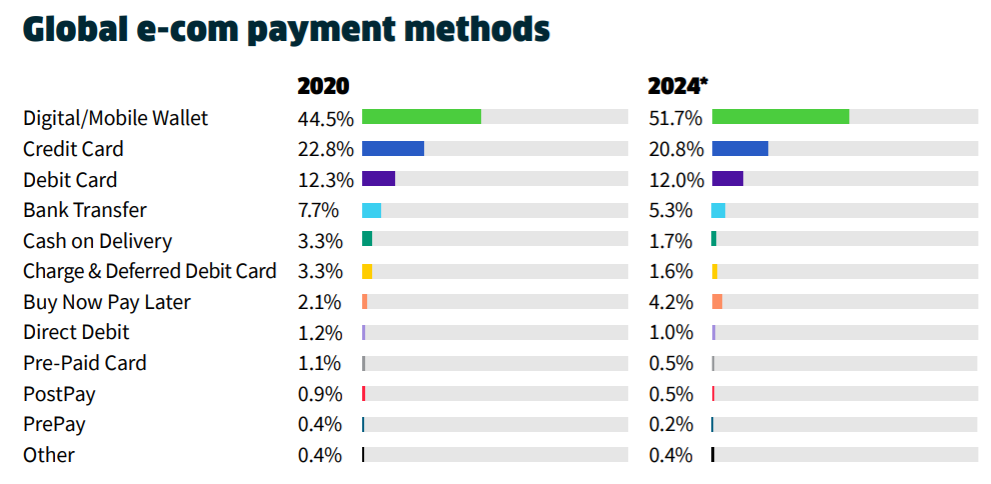 The pandemic has only furthered the use of digital wallets.
So, an in-store WooCommerce digital wallet is quite a practical payment solution, offering ultimate usability & user comfort to users.
Features of Wallet System for WooCommerce
Automatically complete orders placed using wallet amount. 

Both users & admins can

recharge wallets using WooCommerce payment methods

View wallet transaction history (credit/debit).

Transfer wallet amount to other users. 

Earn wallet cashback on purchases.

Show checkout fields to users during recharge order placement. 

Send notifications on wallet top-up and wallet credit & debit with your chosen email address. 

Restrict any payment method from earning cashback rewards

Let users make withdrawal requests.

It works as a complete and partial payment method.

Restrict wallet functionalities for users.
View the wallet balance and the transaction history of all the users.
Add or remove funds from all users in bulk or individually.
View all wallet recharge orders in a separate order list in the WooCommerce section.
Compatibility with

MultiVendorX – Multi-Vendor Marketplace Solution for WooCommerce
WPML
WordPress Multisite Network
As you can see, this plugin is beneficial for your WooCommerce store and its customers.
 It improves your payment process, security, and overall user experience. If you want more features, then you have to get the Wallet System for WooCommerce Pro.
The free version has a plethora of amazing features. But the pro version takes it up a notch —
Show wallet balance widget

Offer credits to users for favorable actions

Selective bulk recharge 

Selectively restrict any feature for wallet users

Create wallet recharge coupons

Invite users to join the wallet system
Admin can export transactions history in a .csv or Excel format
Set the maximum/minimum limit on wallet recharge by users
So, let's dive into the setup process.
Wallet System for WooCommerce Plugin
Implement a reliable payment method using the wallet system and put your payment processing in top gear.
How to Setup Wallet System for WooCommerce
The Wallet System for WooCommerce is a free plugin, but it's by far the best digital wallet for WooCommerce.
Installation
As the 'Wallet System for WooCommerce' plugin is free, you can go to WP Swings' WordPress.org page to download it.
Now, go to WordPress Dashboard > Plugins and click Add New.
Click the Browse button, upload the plugin, and click on Install.
Hit Activate and you're all set to use Wallet System For WooCommerce.
Unlock the Power of Digital Wallet for WooCommerce
To access every feature of this digital wallet plugin, click on the "Enable" button in the general settings. Afterward, you can proceed to configure the various payment settings in WooCommerce.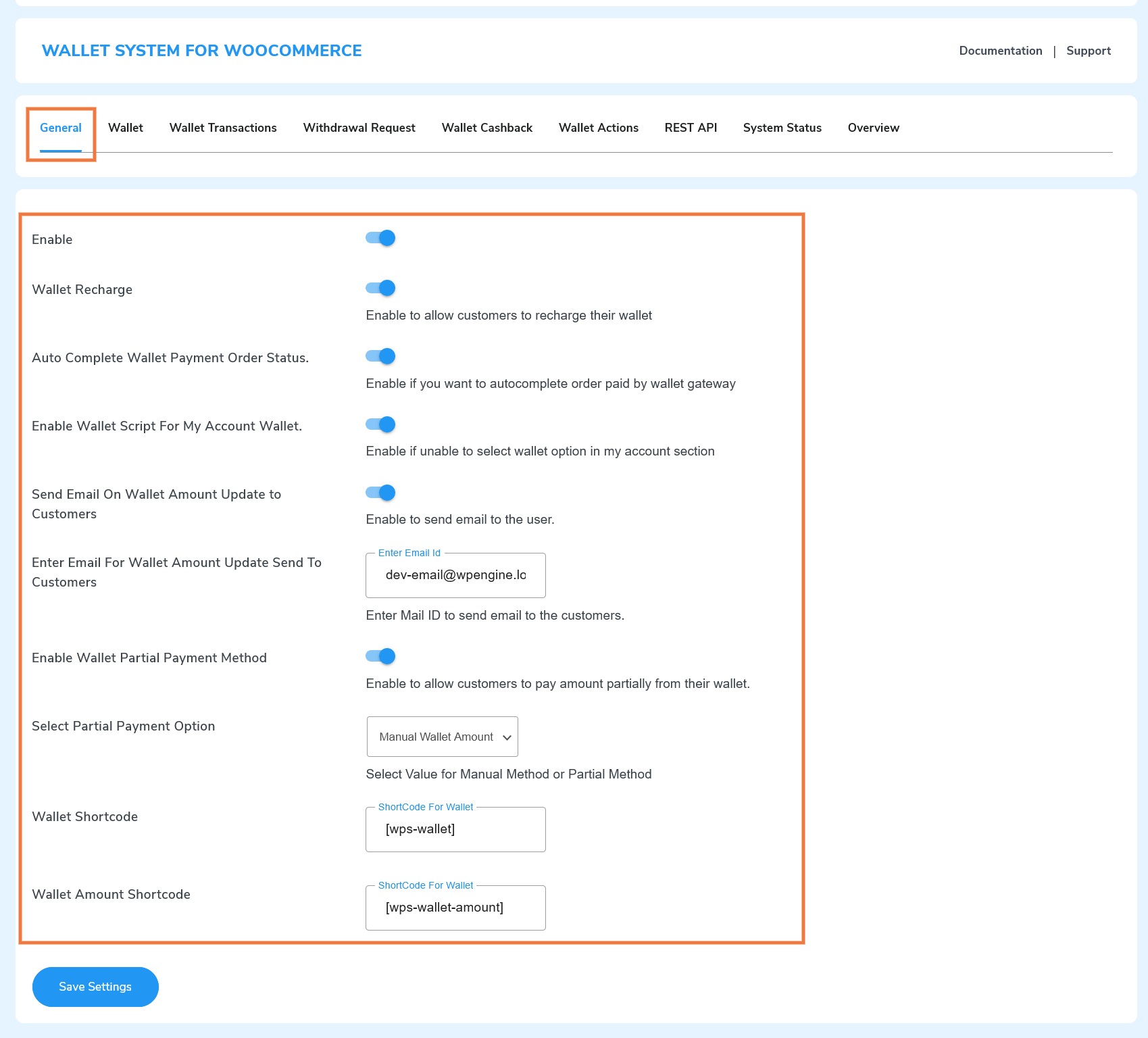 To further speed up your WooCommerce wallet, you can enable the Auto-Complete feature, which allows orders paid by the wallet to be automatically completed.
You may also use the shortcodes to display your wallet balance and the frontend panel to provide balance updates and easier access to customers.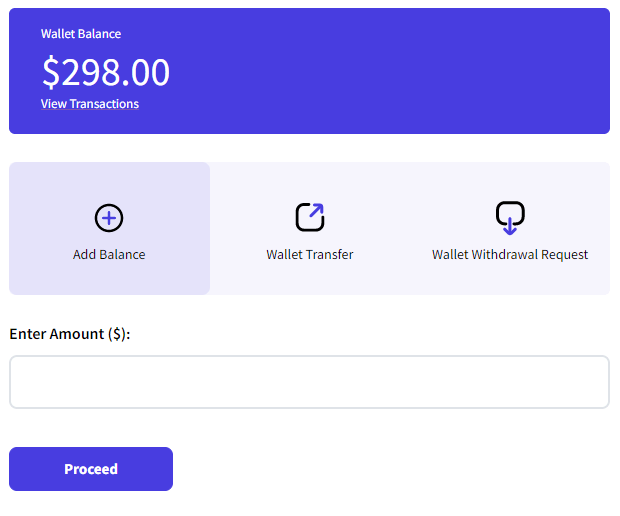 The frontend panel is available to your customers to recharge, transfer funds, send withdrawal requests, and view the records of their transactions.
1. Setup Topup Subscription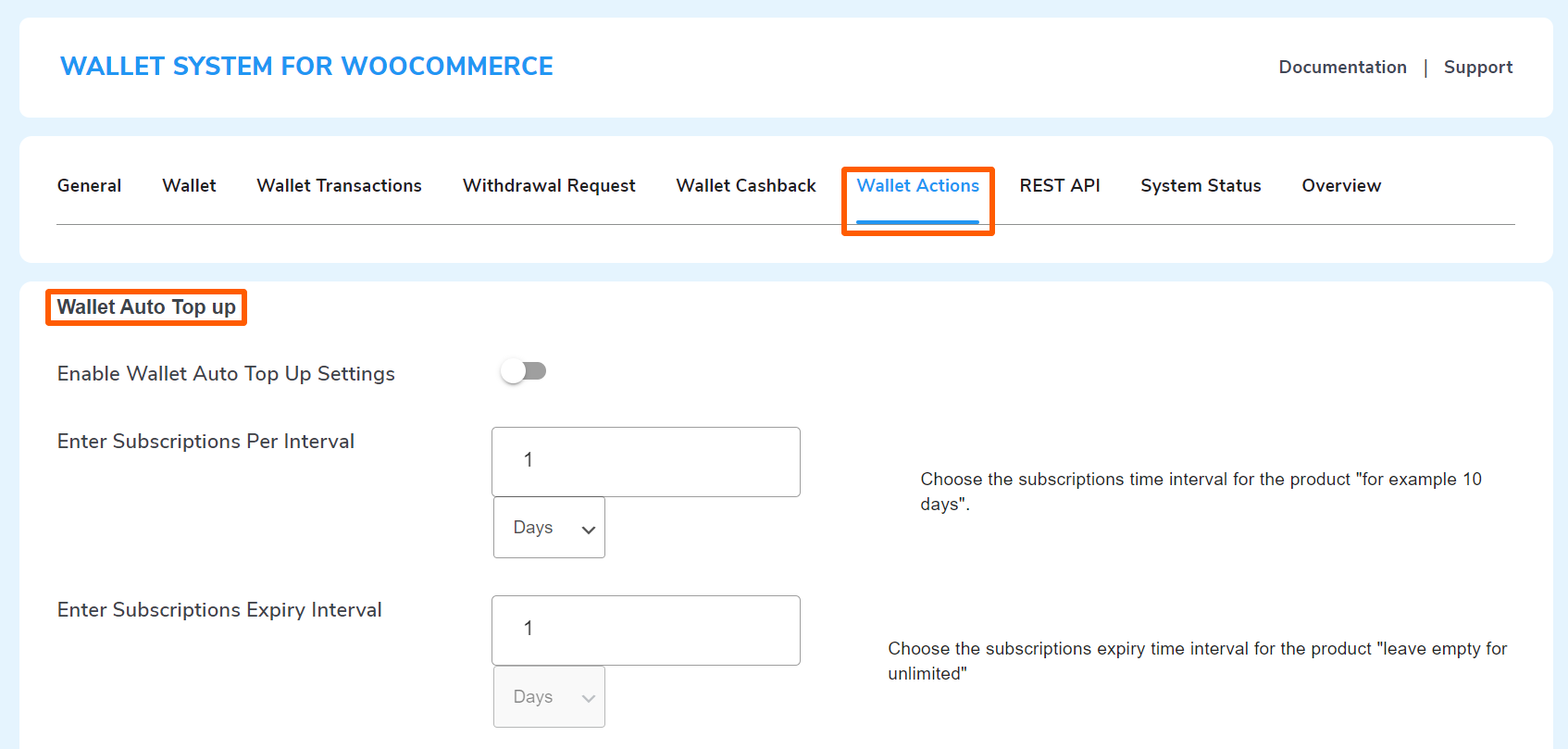 The wallet plugin offers users to opt for recharge subscriptions. You can set the subscription interval and its expiry date, and customers can choose the auto top-up amount.
It will maintain the spending capacity as users will always have money in their WooCommerce wallets to spend.
2. Partial Payment Options for Wallet Users
Select the partial WooCommerce payment to submit the partial deposit when the order value is larger than the wallet balance. To save your changes, click on the Save Settings button.
Case A: If the WooCommerce wallet balance exceeds the total order value, it will work as a payment option.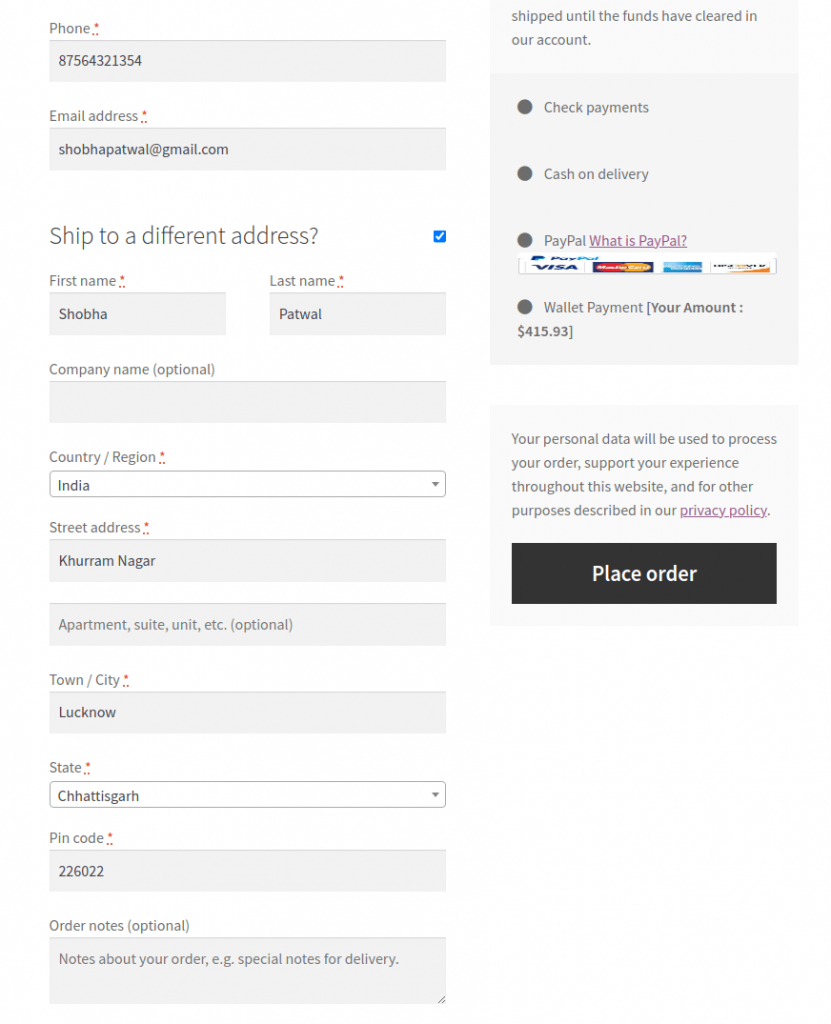 Case B: If the WooCommerce wallet balance is lower than the total order value, it works as a partial payment method.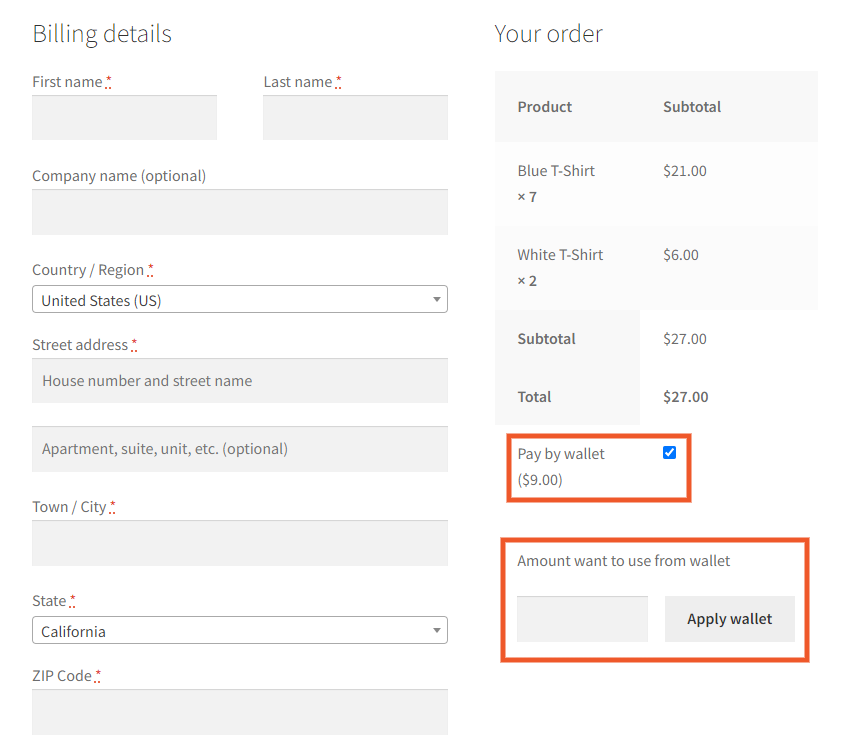 3. Edit Your Customers' Wallet Amount
Updating the user's wallet balance is a piece of cake. On top of that, you can specify the reason for both bulk and individual amount updates.
Let's learn the multiple ways to edit (debit and credit) the users' wallets: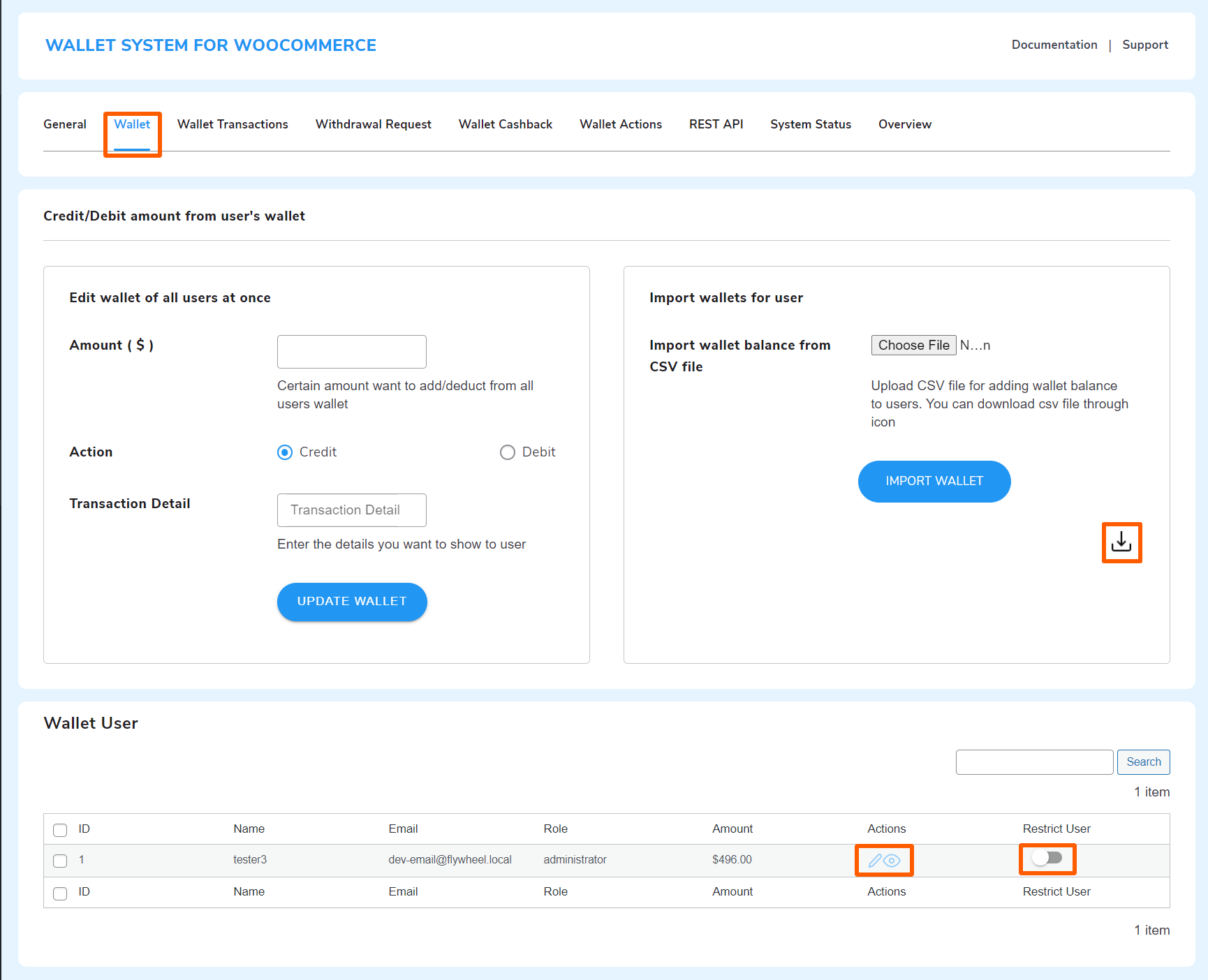 Follow these steps to edit the wallet balance of your customers:
a) Debit or Credit the wallet of all users in one go.
b) Import wallet balance from a CSV file. It allows you to selectively edit the wallet value.
C) Edit the wallet balance individually from the user table by clicking on the edit icon.
Moreover, you can use the View button to see the transaction history of any listed user.
4. Downloading the Transaction History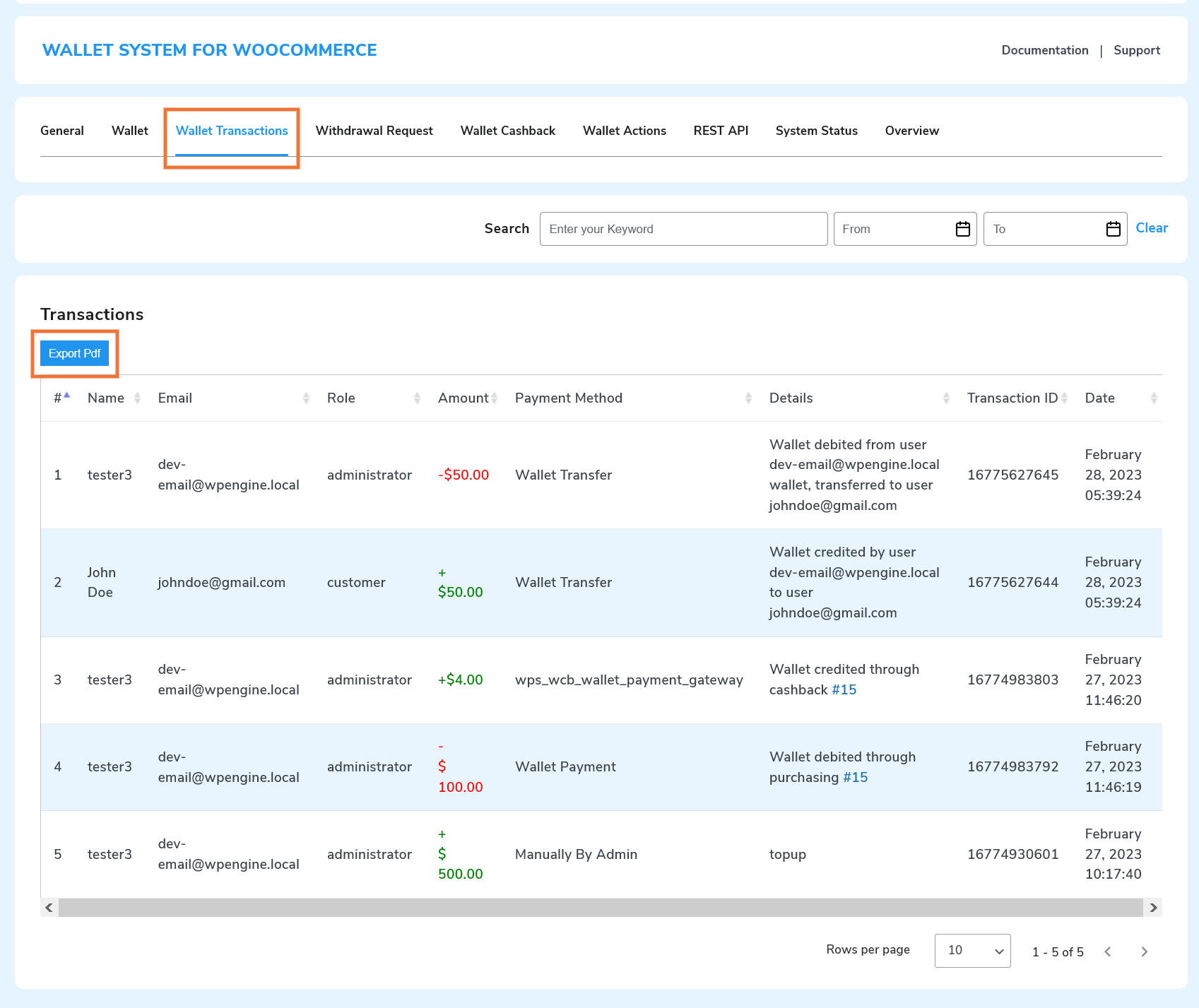 WooCommerce payment records help assess where the money is going. Also, transaction history can reveal a great deal about customers' shopping behavior and help you control it.
This digital wallet plugin not online records the transaction data of wallet users but also lets you export it in a PDF file.
4. Limit the Access of Users to WooCommerce Wallet Features
"Payment security is not a one-time effort; it's an ongoing commitment to staying ahead of threats and safeguarding customer data."
The wallet for WooCommerce secures your online payments against internal threats by allowing the admin to block any users from accessing its features.
The following features are inaccessible:
Add Balance
Wallet Transfer
Wallet Withdrawal Request
The restricted user can only view wallet transactions and use the remaining balance to make purchases.
5. Manage Withdrawal Requests of Your Customers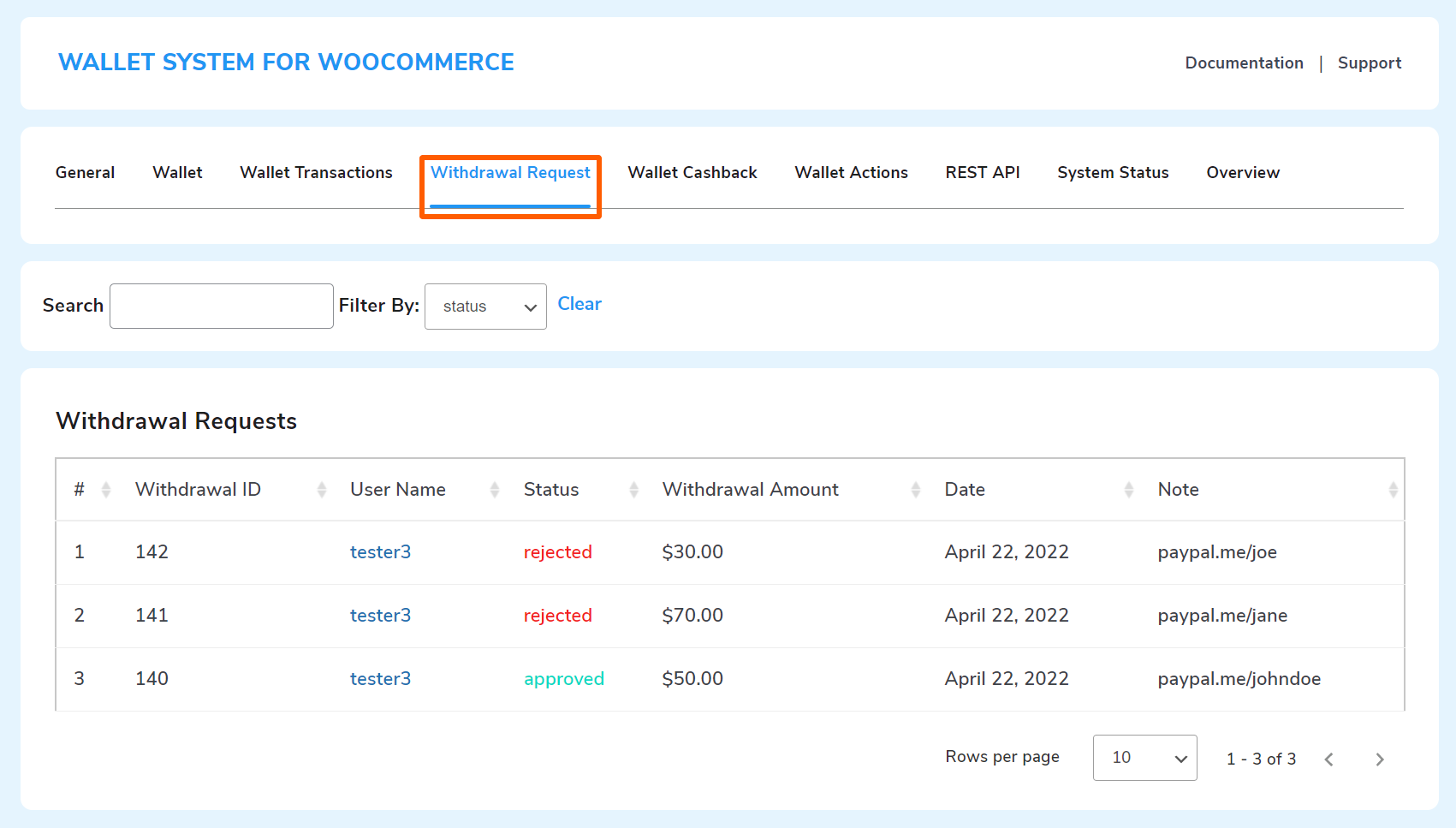 Customers will never put their money into a payment system if they can't take it out. And WordPress wallet plugin is no exception to this rule.
So, WooCommerce wallet also allows its users to withdraw money back into their bank accounts. It makes customers feel much safer putting their money in their wallet system, knowing they can easily extract it at any time.
Customers can file a withdrawal request to transfer money from their wallet accounts into their bank account or any other payment app.
In the Withdrawal Request tab, you can view and manage all withdrawal requests in a tabular format and filter them according to Keywords and Status.
Note: You have to manually Approve or Reject each withdrawal request
6. Improve Custome Loyalty With Wallet Cashbacks
The WooCommerce Wallet system is essentially a payment option that carries out the functions of a loyalty program. You can offer cashback rewards as a Percentage or Fixed value.
The cashback rewards are sent directly into the users' wallets irrespective of the payment method used.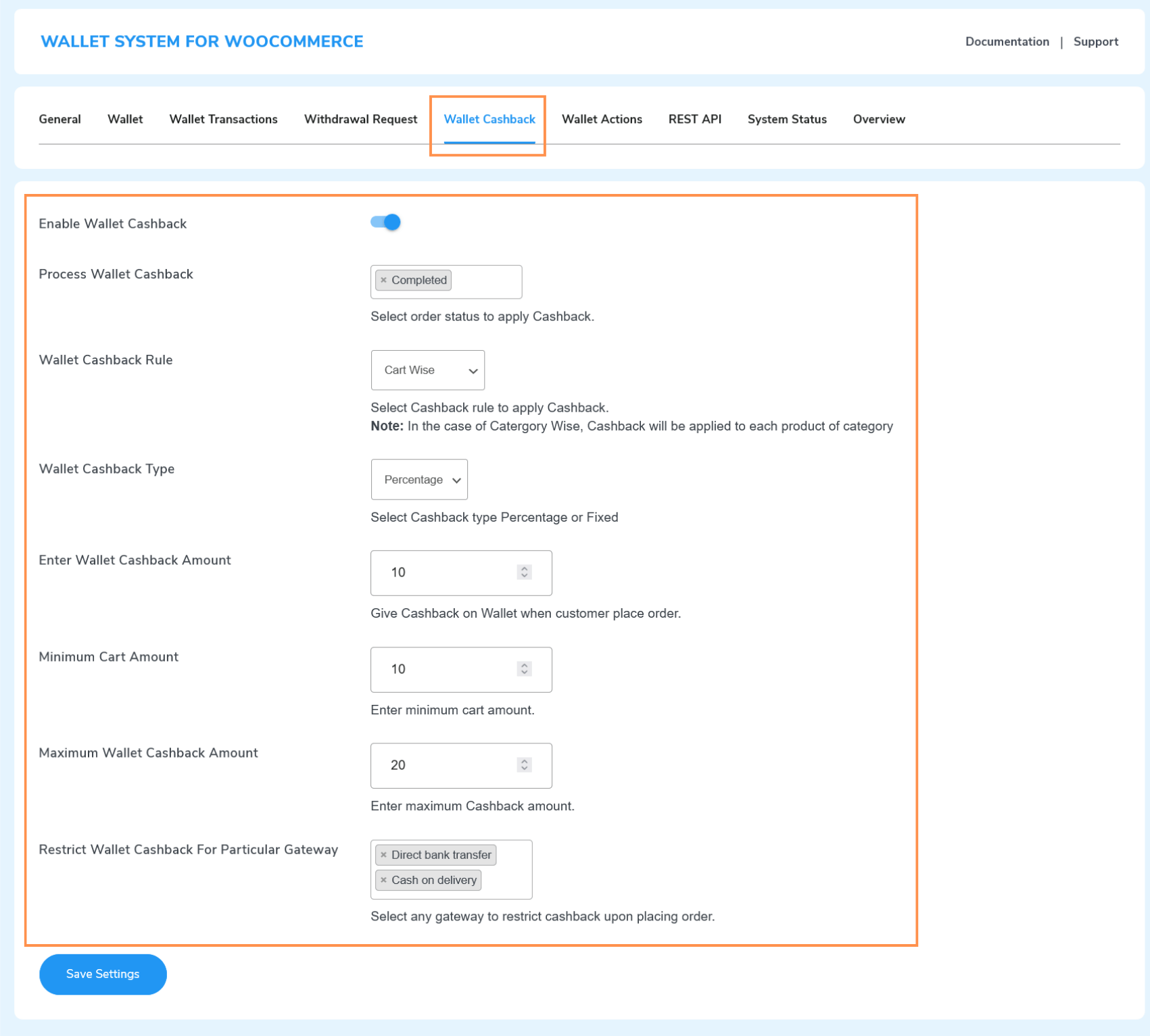 Moreover, there are two kinds of cashback rules:-
Cart-Wise Rule: This cashback rule applies to the first product of each product type added to the cart.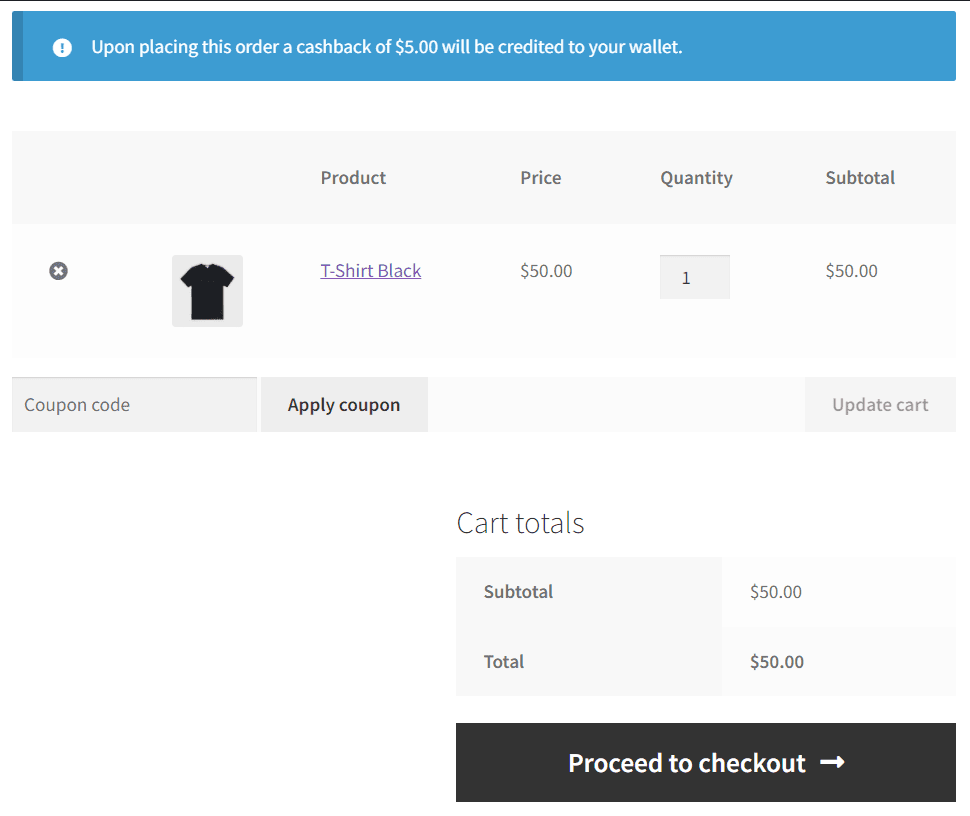 It shows a cashback reward notification to the users.
Category-Wise: This cashback rule applies to the product categories eligible for the wallet cashback offer.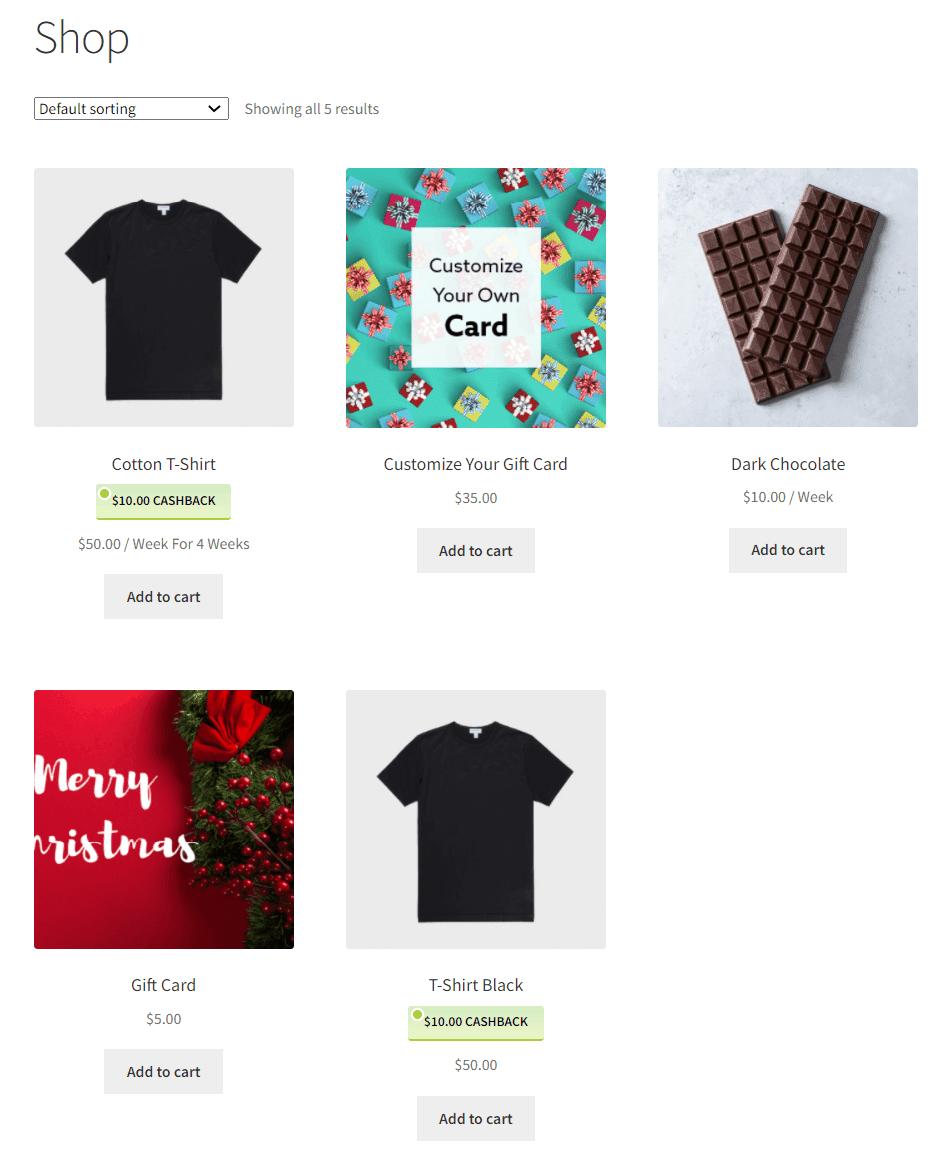 Per-Category Wise Cashback: With the pro version of Wallet System for WooCommerce, you can also set cashback for individual categories.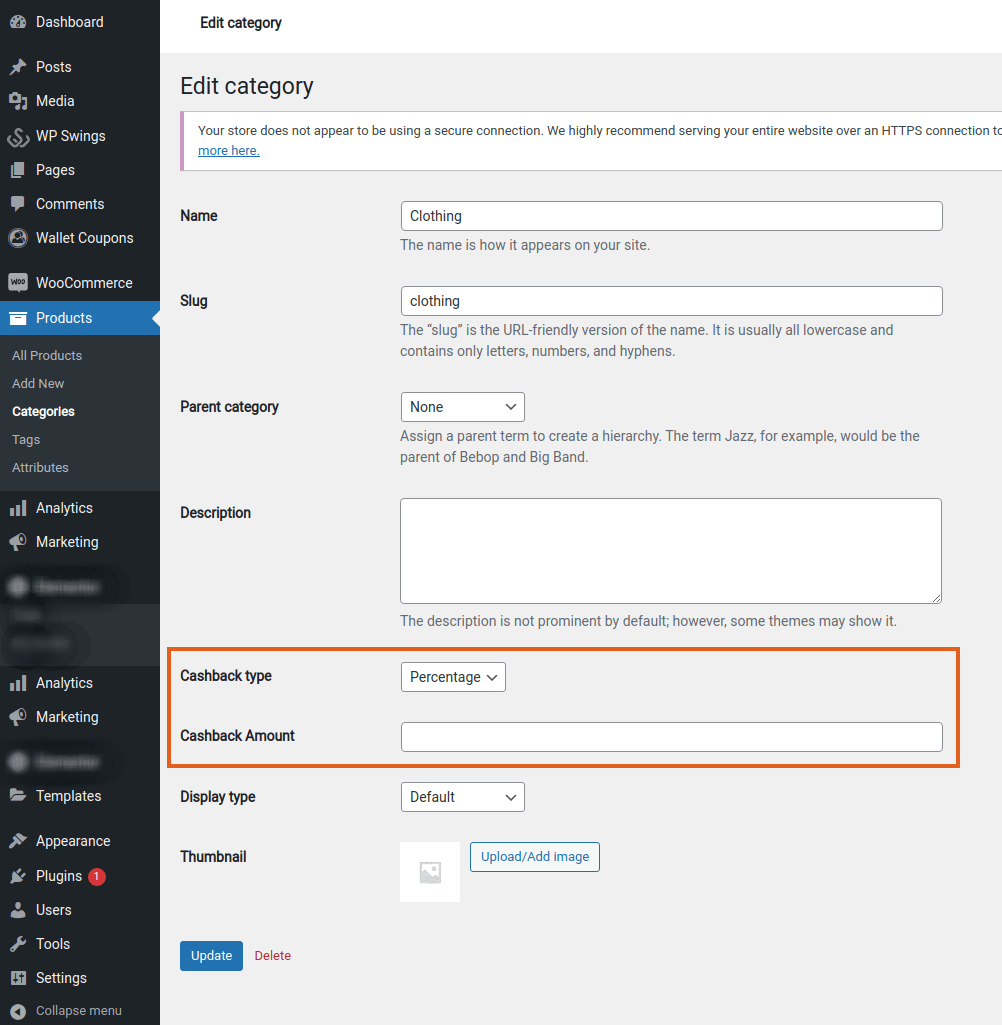 7. Improve Custome Loyalty With Wallet Credit Rewards
Positive reinforcement is widely applied in eCommerce to make desirable shopping behaviors reoccur. Using the same method in our wallet system, you can offer rewards to customers for the following actions: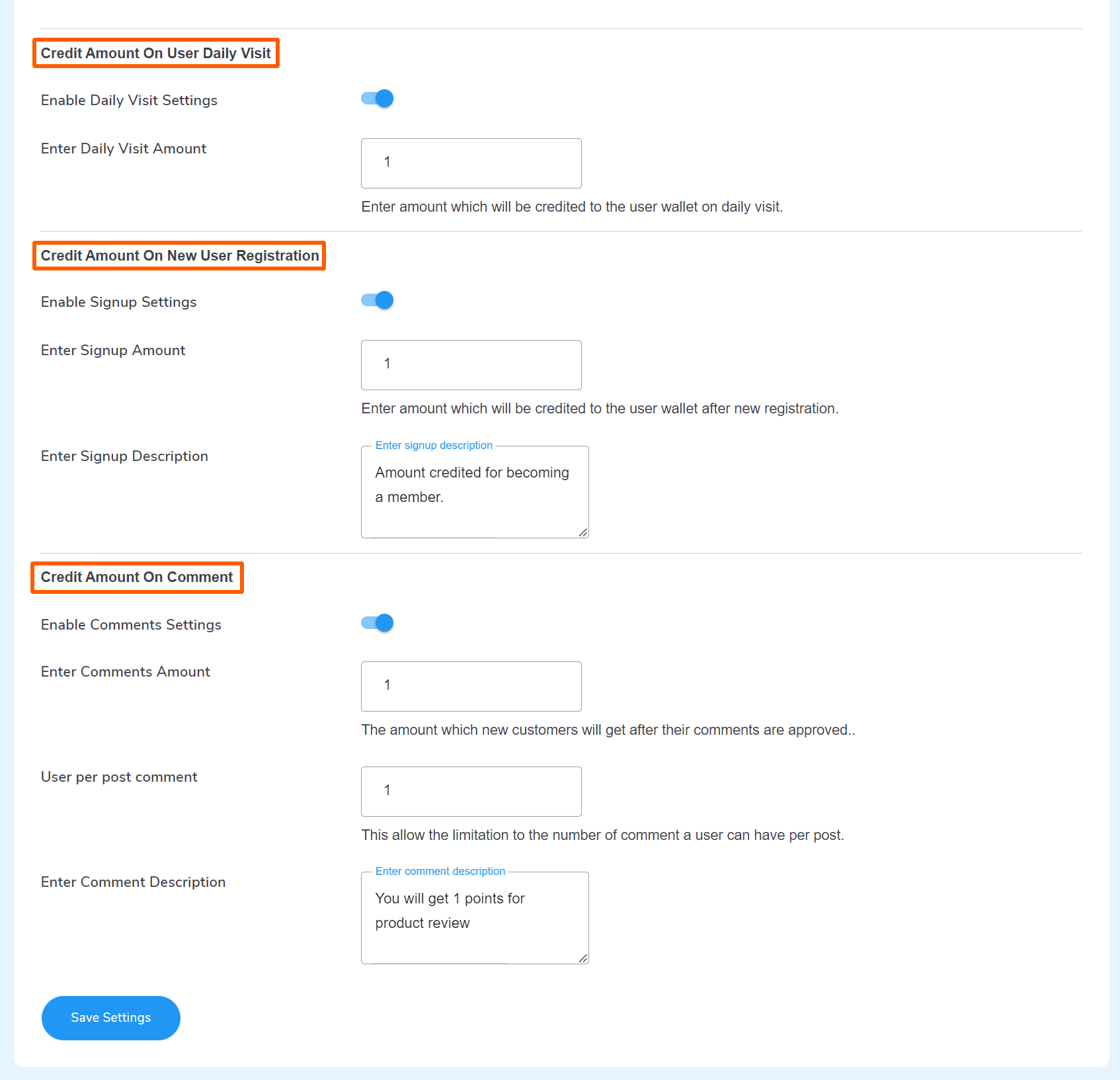 Credit Amount On User Daily Visit
Credit Amount On New User Registration
Credit Amount On Comment
It effectively creates a WooCommerce Wallet System to increase user engagement, userbase, and utilization of user-generated content.
8. Connect the Digital Wallet for WooCommerce With External Apps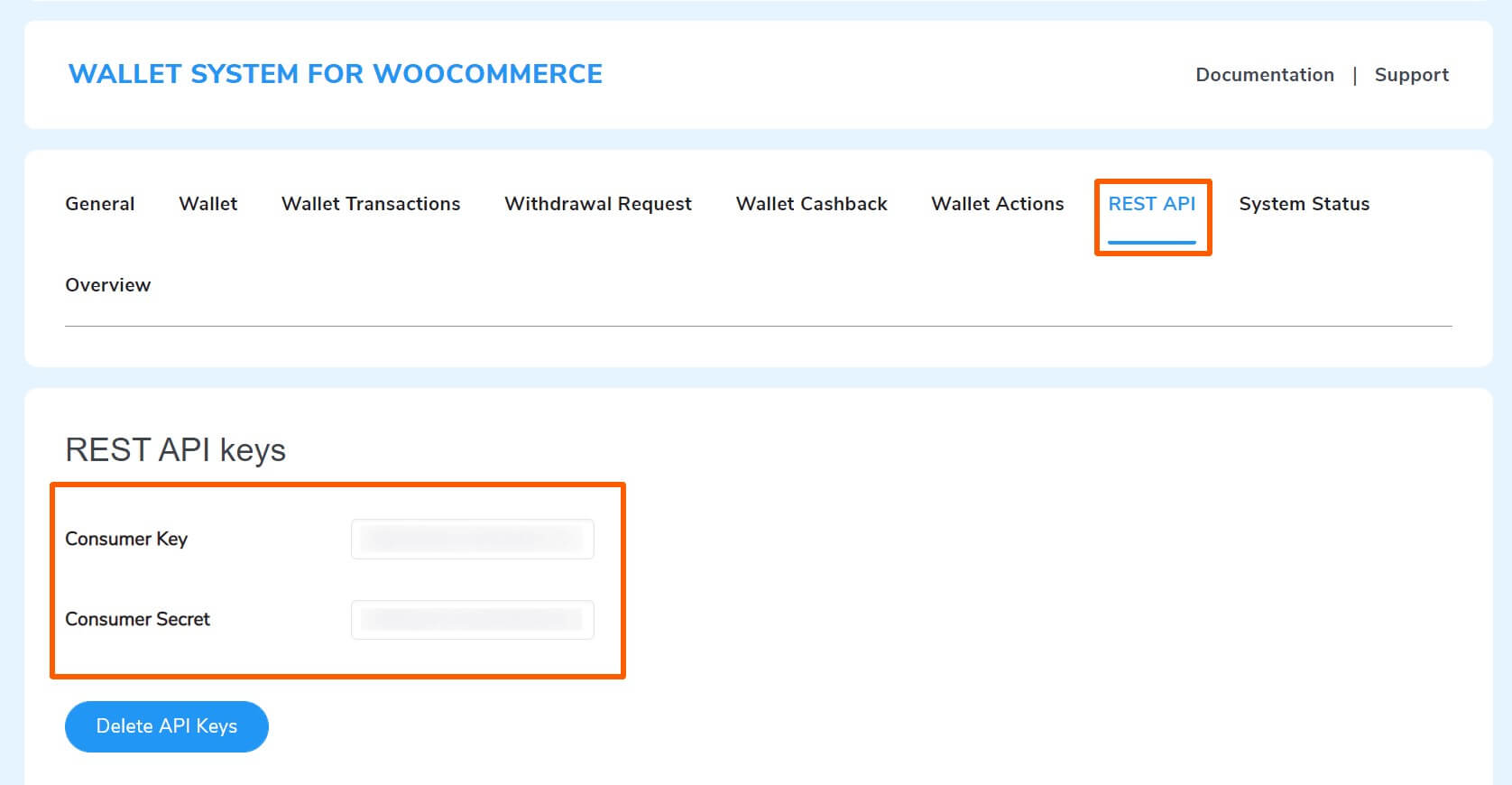 The REST API tab enables you to generate API keys for WooCommerce Wallet System. You can use those API keys to allow external apps to view and manage wallets.
The generated API Keys allow you to execute the following functions:
Authentication
Recover Users
Retrieve particular user wallet amount
Retrieve particular user wallet transactions
Update the wallet of users
9. Generate WooCommerce Wallet QR code
The users can generate and share QR codes for their wallets. An individual user can scan the wallet QR code of other users and recharge their WooCommerce wallets.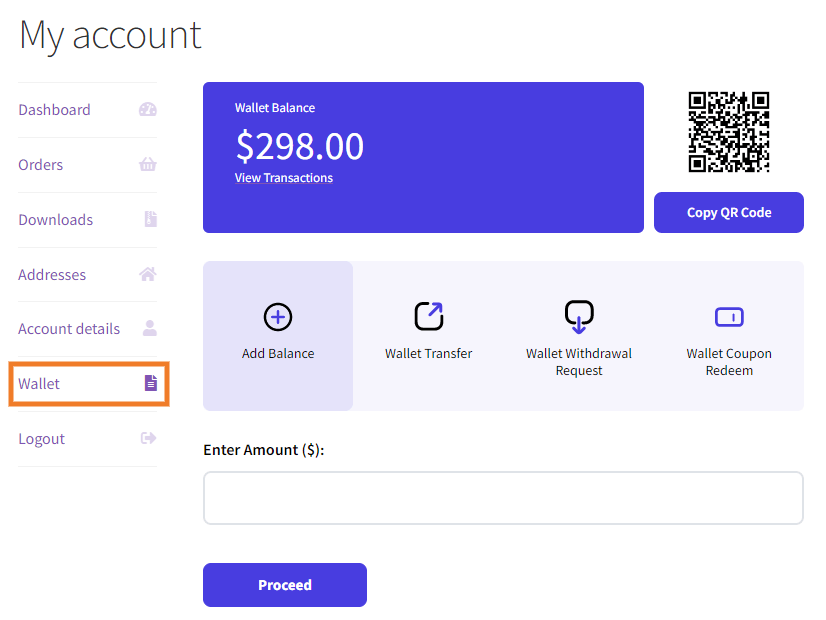 10. Invite Others to Join the WooCommerce Wallet System
The wallet users can send email invitations to individuals outside the wallet system to join it.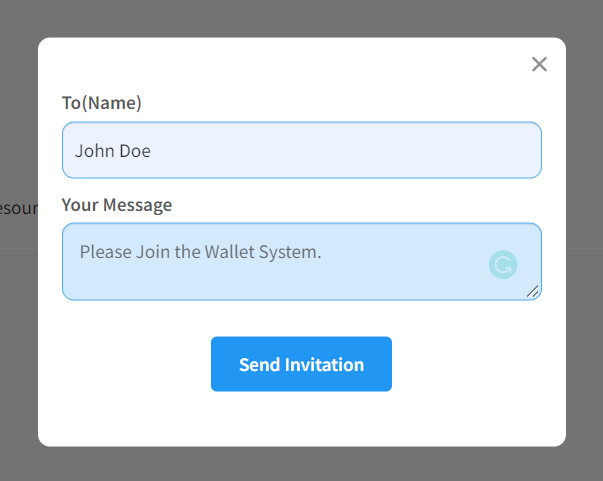 11. Create Coupons With Wallet Coupon Organizer
WooCommerce wallet system allows you to create wallet coupons that customers can redeem to add balance to their accounts.

Send these wallet coupons to your leads and customers through social media, live chat, email, SMS, etc.
To use these coupons, the user has to go to My Account > Wallet > Wallet Coupon Redeem, enter the coupon code, and click on Redeem Coupon.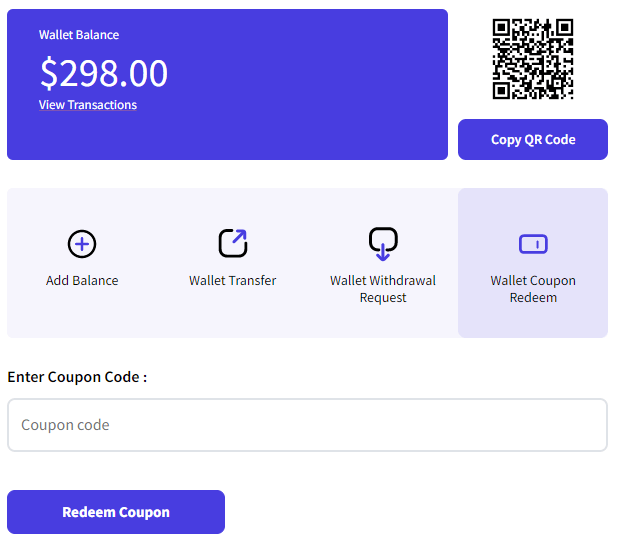 12. Extend the WooCommerce Wallet System With Added Functionalities
The Wallet System for WooCommerce is sufficient on its own. However, it is compatible with other plugins, allowing you to extend its features.
a) Gift Card for WooCommerce: Your customers can use the WooCommerce gift card value to recharge their wallets.
b) Currency Switcher for WooCommerce: The dollar is not a universal currency online. And people do prefer shopping in their local currency. That's why the wallet system is compatible with the Currency Switcher plugin.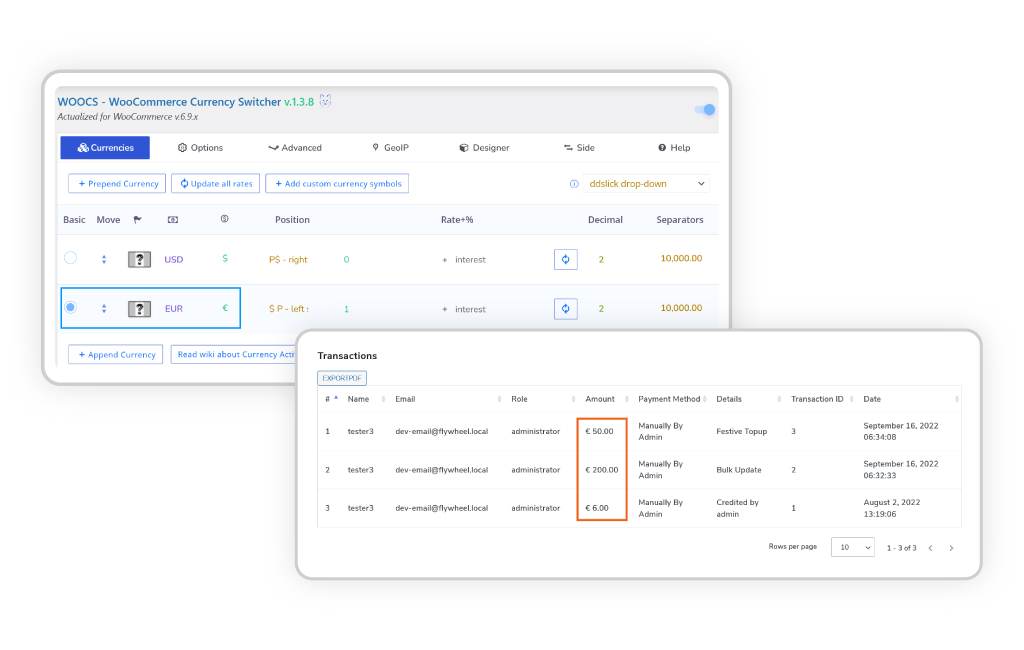 It enables you to switch the working currency of your wallet to any other currency you prefer. The currency conversion is limited in the free version to USD and EURO, but with the pro version, you can switch to any of the available currencies in the world.
c) Compatibility with Subscriptions For WooCommerce: The compatibility allows the customers to use the Wallet partial payment feature to pay for subscription products.

Subscriptions for WooCommerce
Effectively Sell and manage subscription products & services using the WooCommerce Subscription plugin.
d) Compatibility with RMA for WooCommerce: The Wallet System for WooCommerce is compatible with RMA Return Refund & Exchange For WooCommerce Pro. In this compatibility, the users can request the refund amount to be transferred directly to their wallets.

e) Compatible with the WPML: The Wallet System For WooCommerce is compatible with the WordPress Multilingual (WPML) plugin for language localization of the wallet system plugin's strings.
f) Multivendor Marketplace Solution for WooCommerce: Our WooCommerce wallet is compatible with the Multi-Vendor Marketplace Solution for the WooCommerce plugin.
These are the compatibility we offer with our WooCommerce wallet system. But we can establish compatibility and make customizations according to your business requirements. So, feel free to contact us.
There you have it, folks — the premium and freemium features of the WooCommerce wallet plugin.
The setup process is simple. Even if you're new, configuring the settings won't be much of a hassle as most of them are self-explanatory. For a more detailed explanation of the setup process, please refer to the documentation.
A Digital Wallet for WooCommerce Customers
This digital wallet plugin adds the wallet tab to the WooCommerce account of your customer. In this tab, your customers can see their current wallet balance. To use the wallet, customers have to create an account on your WooCommerce store and go to My Account > Wallet.
The wallet tab contains the following features:
Add Balance
Transfer
Wallet Withdrawal Request
Transaction History
1. Add Balance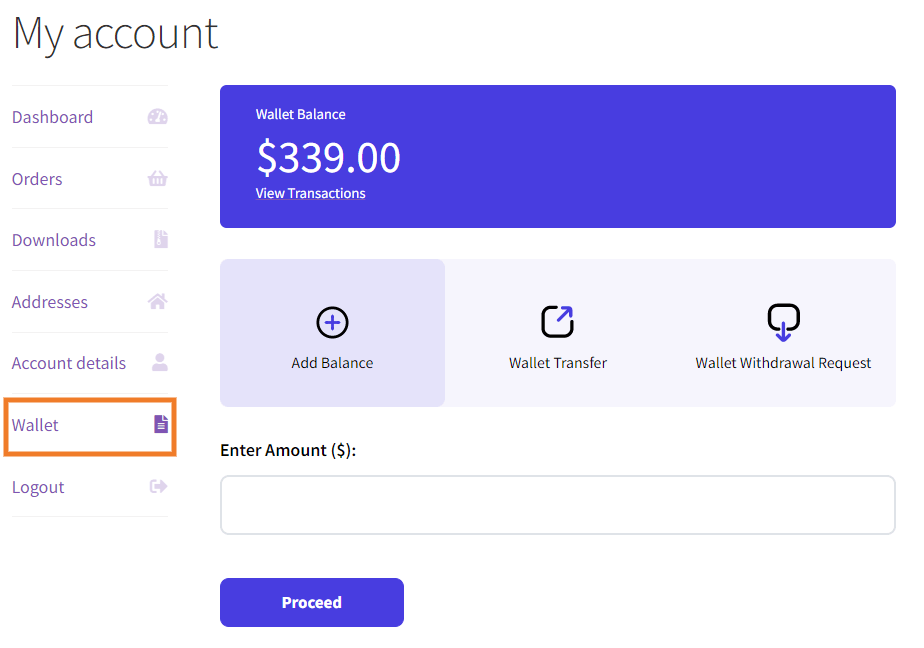 Customers can recharge their WooCommerce wallets with the available payment methods in your store.
2. WooCommerce Wallet Amount Transfer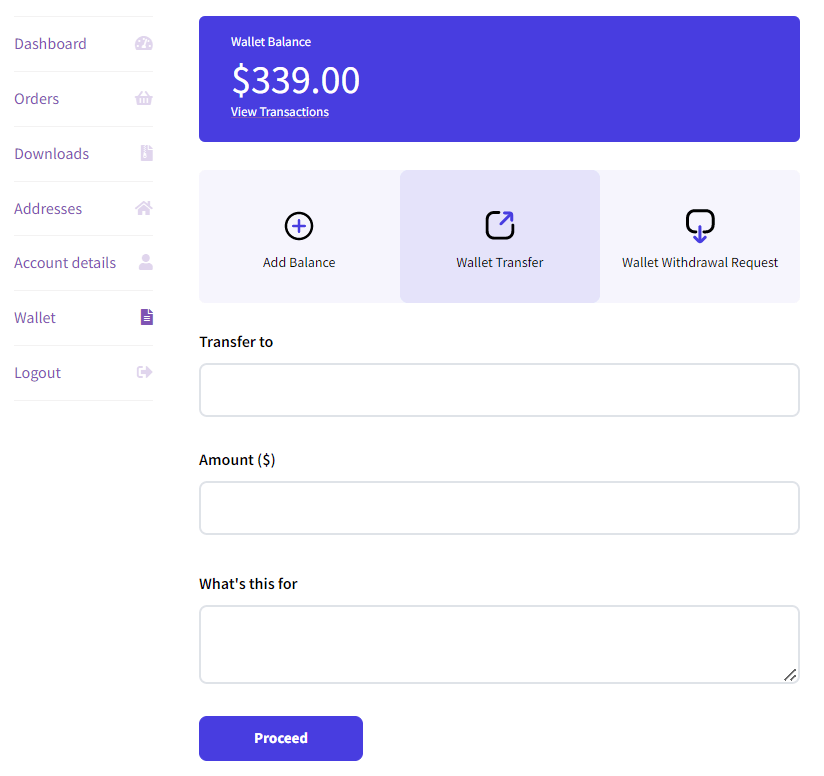 Customers can transfer their wallet amounts to other wallet users on your WooCommerce store. They have to enter the email address of the receiver, transfer amount, and state the reason for transferring the amount.
3. Wallet Withdrawal Request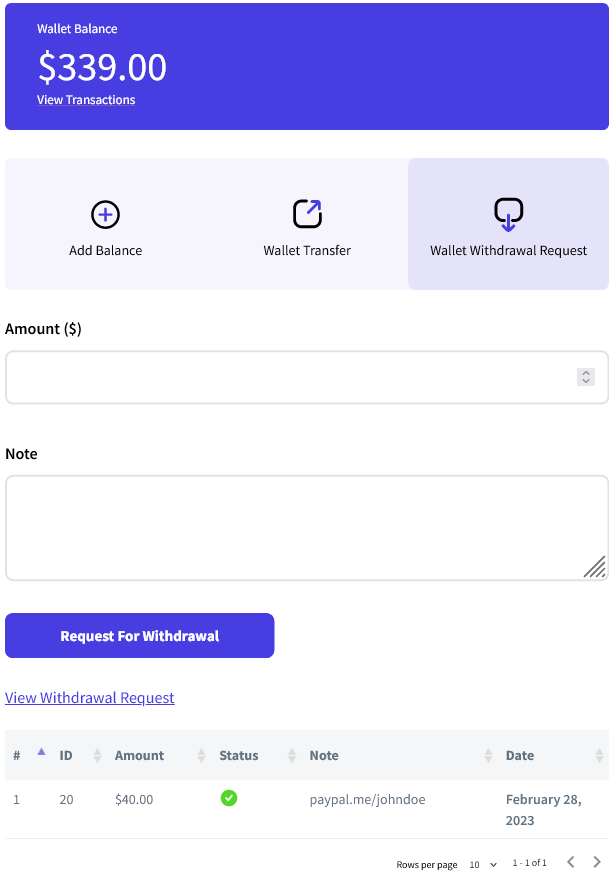 Customers can withdraw money from their wallets by filing withdrawal requests. They have to enter their withdrawal amount in the amount box and provide bank account or other payment details in the note field.
4. Transactions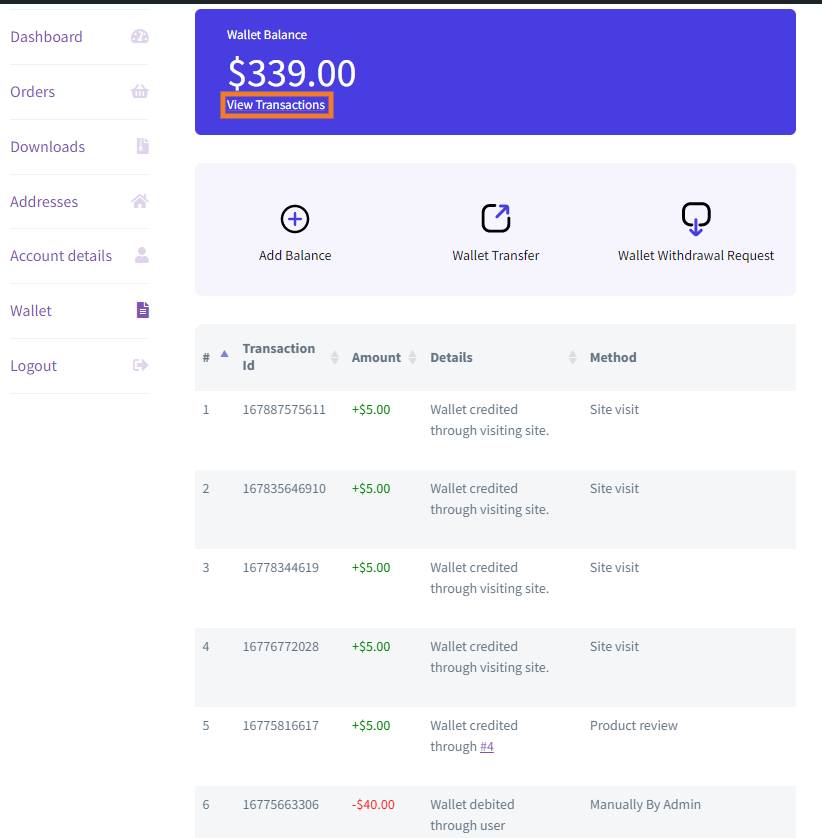 Here, the wallet users can view their wallet transaction history and monitor their spending. The transaction list contains entries for wallet recharge, debit, credit, transfer, and withdrawal, and the email addresses of the creditor and debtor.
As you can see, the design is simple, clean, and minimalist. This digital wallet for WooCommerce is easy to use and provides a flexible payment option to your customers.
The best part is that you can have all Wallet for WooCommerce plugin features and benefits for FREE.
Benefits of the Digital Wallet for WooCommerce
WooCommerce wallet is a much-needed addition to your store. It helps you avoid transaction fees, builds a fast checkout process, increased security, and more.

Above all, it is the perfect plugin for established businesses &  growing startups — a surefire way to provide a reliable alternative to traditional payment methods
1. Minimize Transaction Fees
To reduce transaction fees, merchants can rely on a closed-loop payment system using WooCommerce wallet.
By keeping a limited number of payment services and allowing customers to recharge their wallets, the additional cost of transaction fees can be minimized. Top-up subscriptions can automate the recharge process, ensuring a continuous wallet balance for shopping.
2. Streamlines the Checkout Process
A streamlined checkout process is crucial for successful purchases. Lengthy form fields and the need to enter payment information for each purchase contribute to cart abandonment.
Digital Wallet for WooCommerce eliminates these hindrances by allowing customers to pay using their wallet balance. This simplifies the checkout process, especially for mobile users, who often face difficulties entering personal information.
Create Pages that Convert Like Crazy
Learn the tips to design the best checkout pages
3. Wallet for WooCommerce Enhances Payment Security And Maintaining Chargeback Ratio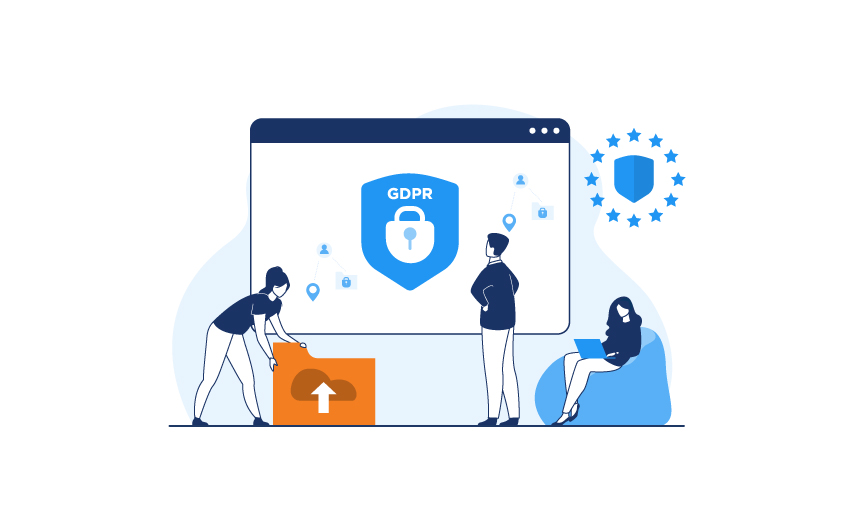 Wallet for WooCommerce establishes a closed-loop payment system, eliminating the need for external payment gateways and banks.
This enhances payment security by reducing the risks of glitches, compromised gateways, and credit card theft. Direct transfers of chargebacks, refunds, and cashback into customers' wallets further minimize risks.
I already have a detailed article on WooCommerce fraud prevention. So, please give it a read to learn the fraud prevention methods.
4. Improving User Experience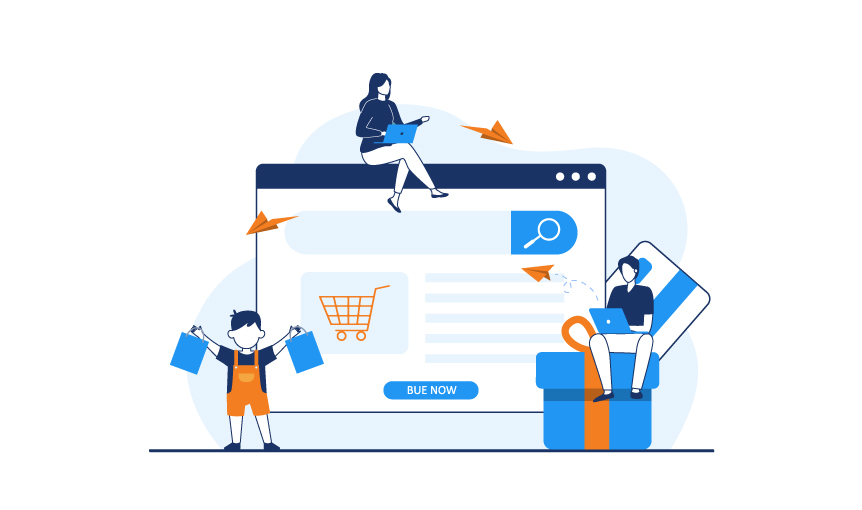 WooCommerce Wallet simplifies the payment process and improves user experience by allowing customers to use their wallet balance for purchases.
With a quick log-in to their WooCommerce account, customers can seamlessly complete transactions without the need for a credit card or mobile payment options. It enhances convenience and adds an extra layer of security to the online store.
Hopefully, you now understand the benefits of using a digital wallet for WooCommerce. It's time to give rest to the discussions and jump right into the implementation.
On a Final Note
Digital wallets are becoming increasingly popular because they are safer and easier to use for people of all ages.
Most importantly, it is an optimal payment solution for existing online businesses and budding startups as it improves security, speeds up the checkout process, and enhances the overall user experience.
In this article, I have explained the benefits of the digital wallet for WooCommerce stores. Also, I've shown you how to set up the wallet system.
The Wallet System for WooCommerce enables you to implement a digital wallet on your online store and provides the most reliable substitute payment method.
And hey, check out our blogs If you want to learn more about best eCommerce practices.