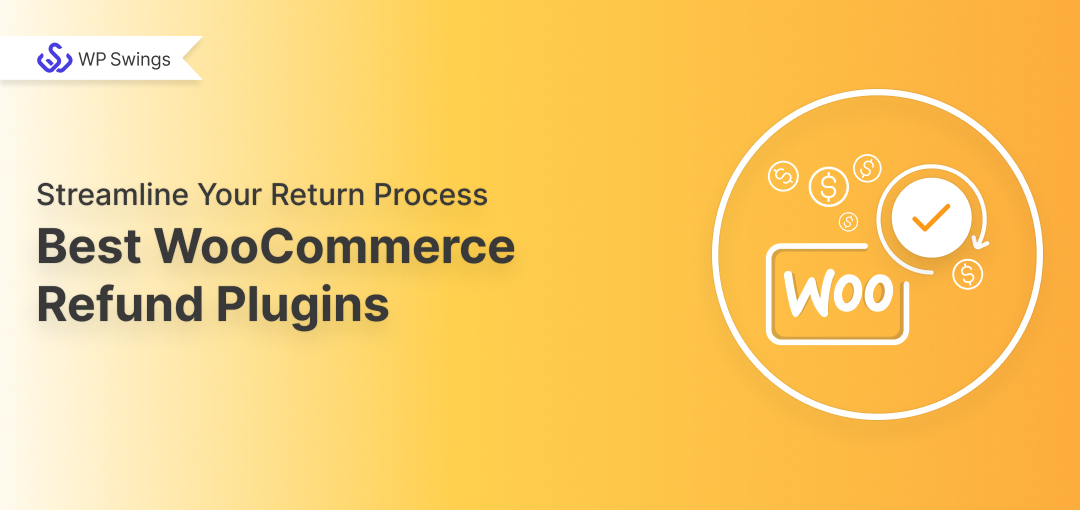 In the changing landscape of eCommerce, where customer experience reigns supreme, ensuring a seamless return, refund, and exchange process is no longer a choice but a necessity.
Imagine visiting a website that says – "We have a no return/exchange policy!" Unusual isn't. You will exit the website in no time. Did you know that around 80% of online shops?  This is why merchants look for the best WooCommerce refund plugins that would help them make this process seamless for their customers.
In this blog post, we'll unveil the curtain on the six most impactful best WooCommerce refund plugins, each armed with features designed to simplify the returns process. Before we dive into the specifics, let's take a moment to reflect on the numbers: approximately 30% of all products ordered online are returned, and a whopping 92% of customers will buy again if the return process is straightforward to comprehend.
Why Does Your Business Needs A Dedicated System For Seamless Returns?
A dedicated refund system and the best WooCommerce refund plugins help customers with security and protect them from losing money over a malfunctioning or defective product. But why is it important to have? It makes the customers feel reassured. So, when you remove the fear of them losing any money, they will not hesitate to purchase from your online store. This will also help you increase your eCommerce store's conversion rate.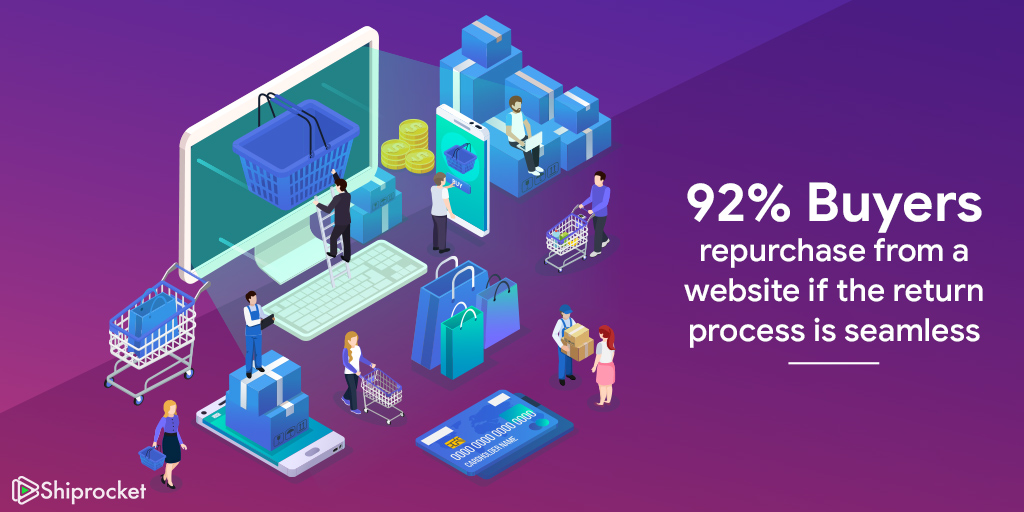 Moving on, the term "effortless WooCommerce returns" demonstrates the idea that returning a product should be a convenient, straightforward, and stress-free endeavor for customers. As businesses strive to meet and exceed customer expectations, the returns process plays a pivotal role in shaping the overall shopping experience. There are no downsides to having a systematic refund, return, and exchange system.
Let's Decode The Refund And Return Process Together…
Some companies still focus on aspects such as product quality, pricing, and customer support, while completely neglecting this area. A well-built, executed, and effective return system can save you time and money, enhance customer satisfaction, and boost your brand reputation. In the following section, we will talk about the benefits of having a dedicated return system.
A Dedicated WoocCommerce Return and Refund System Is Essential For Several Reasons: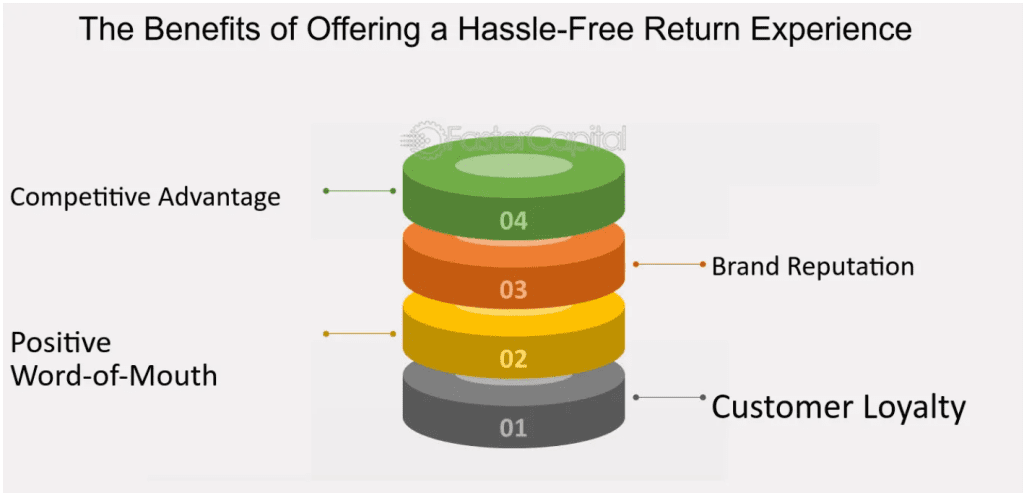 Customer Satisfaction: By providing a seamless returns experience you are directly contributing to customer satisfaction. Customers are more likely to view your business positively, fostering trust and loyalty as the return process is effortless.
Efficiency: Best WooCommerce refund plugins streamline the internal processes associated with handling returns. This not only saves time but also reduces the occurrence of errors, making sure that the returned items are processed accurately and promptly.
Data Insights: This is the one benefit that you will get if you incorporate a specialized WooCommerce returns system which usually comes equipped with analytics tools that provide valuable insights into customer behavior.
Reputation: How a business is managing returns can be one defining factor for its reputation in the market, because customers talk. Having a refund management system allows for consistent and professional handling of returns, reinforcing a positive brand image even in the face of product returns.
Documentation: Certain industries and regions have specific regulations governing returns. If you implement the best WooCommerce refund plugins, they can help ensure that your business remains compliant with these regulations while also providing the necessary documentation for accounting and inventory management.
Explore The Reasons For Refund & Exchange!
Top 6 Best WooCommerce Refund Plugins
In the dynamic realm of online retail, where customer satisfaction is paramount, the ability to seamlessly manage WooCommerce refund can make or break an eCommerce venture. This makes it even more crucial to select the right match for your online store. We have listed the popular ones, this will help you make an informed decision.
1. RMA Return Refund & Exchange For WooCommerce
With the RMA Return Refund & Exchange For WooCommerce Pro plugin, store managers gain full authority to effortlessly manage and restrict invalid orders. It is also amongst the best WooCommerce refund plugins, not only does it handle returns, refunds, exchanges, and cancellation requests but also empowers businesses to craft their personalized shipping engine.

By seamlessly integrating with ShipRocket, you can supercharge your shipping capabilities by simply submitting your API Key through the plugin configuration.
We can now go through the key features of this plugin, to understand the core efficiency of the plugin,
Key Features Of RMA Return Refund & Exchange For WooCommerce
In this section, we will cover all the "On-Demand Features" of the WooCommerce returns plugin. But before we jump into these features, it becomes important to understand the workings of this plugin. Go through this video to find out more about this…
This particular feature enables the admins, and the merchants to get an overall insight intoWooCommerce returns, refunds, cancellations, and exchanges across your website. They will have a holistic view which will include the Order ID, Request Type, Request Status, Order Status, and Request Date in the report section. The analytics section will cover the complete overview of return & exchange activities that take place on your website.
Initiate Return, Exchange & Cancellation For A Specific Period
The WooCommerce refund and exchange plugin enables merchants to establish a dynamic return, exchange, and cancellation policy for their eCommerce store. Wherein they can set a specific time frame for all refund, exchange, and cancellation requests. The admin is free to pick up any time slot. During this defined period, customers will have access to these respective request options on the website, while outside this timeframe, they will no longer be visible.
Partial Refund and Exchange or Cancel
Creating partial refunds and exchanges or cancellations is not a hassle anymore. The users can utilize the features of the WooCommerce returns plugin. This feature is so outstanding that if store managers set it up they can easily let their customer raise the request for a refund/exchange/cancellation of an order-based product partially, without affecting the whole order.
The WooCommerce RMA plugin enables the merchants to add global shipping amounts that can be charged on the order/categories against refund/exchange. The admin can conveniently create as much as a global shipping-based fee utilizing this feature.
Automated Email Notifications
WooCommerce Returns Plugin enables the customers to be updated at every stage with an automated email system. The WooCommerce Refund Plugin-based automated email notification feature would simplify the process of creating a sequence of emails with more efficient customer promotions. There is a separate set of mail for return, refund, and exchange.
This feature of the WooCommerce order refund plugin helps you save a tonne of time on time-consuming inventory management and restocking concerns. Everything would be managed by this functionality; all you would need to do is set up the WooCommerce RMA plugin. The admin can save effort by utilizing the feature to automatically restock the products.
Pricing:
Free On WordPress ORG: WordPress RMA Plugin
1 Site Plan: $69/ Year
5 Site Plan: $149/Year
10 Site Plan: $249/Year
Want To Know More About The RMA Plugin?
Check The Demo & Documentation…
2. WooCommerce Refund And Exchange with RMA – Warranty Management, Refund Policy, Manage User Wallet
The WooCommerce RMA Plugin is a complete solution for your WooCommerce store's Return Merchandise Authorization (RMA) policy is the WooCommerce Refund and Exchange with RMA plugin.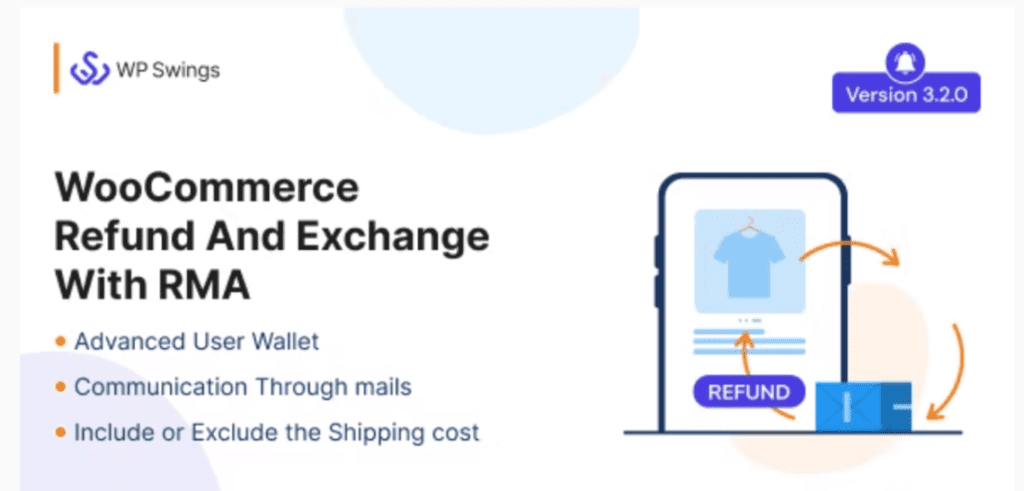 WooCommerce Refunds give retailers a simple setting in which to set up and manage Returns, Refunds, Exchanges, and other associated difficulties.
Key Features Of WooCommerce Refund And Exchange With RMA
Add Custom Status To Mark Your Progressing Refund and Exchange Process
Tax Handling
Auto Accept Refund Request
Refund/Exchange for Guest User
Email Notification
Multiple Request Handling
Custom CSS
Wallet Payments Available
Pricing: $59/Year
3. WooCommerce Smart Refunder
WooCommerce Smart Refunder is another one of the best WooCommerce refund plugins that streamline the refund procedure within your WooCommerce store, providing ease for customers and store owners. Whether you opt for instant refunds or prefer manual processing, this plugin ensures a hassle-free experience throughout the entire process.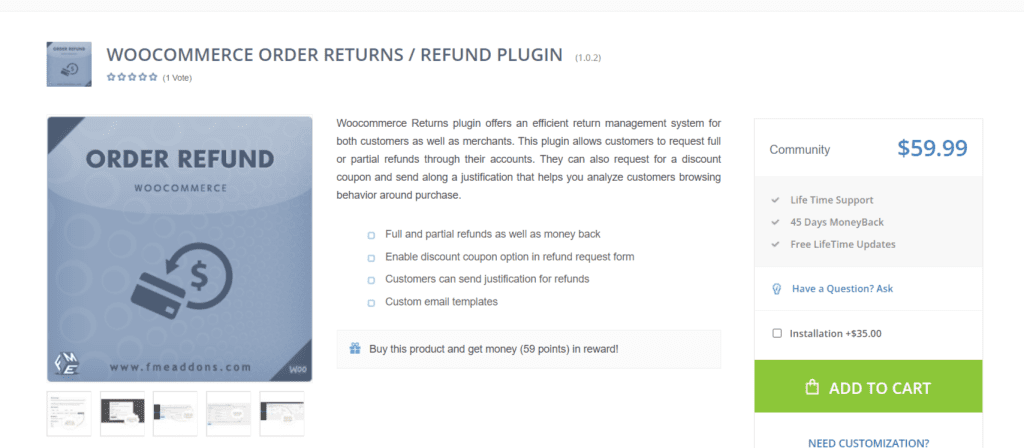 This plugin is developed by StoreApps to enhance the WooCommerce refund process for your online store, further helping the customers trust your website/store.
Key Features of WooCommerce Smart Refunder
Customer-Friendly Refunds
Issues Cash Refunds And Coupons
Detailed Reports Of Prices And Orders
Partial And Full Refunds
Instant And Painless Refunds
Simple & Automated Refund System
Pricing
4. WooCommerce Order Returns / Refund Plugin
Choose WooCommerce Order Returns/Refund plugin if you need a straightforward and efficient solution for handling returns, consider the WooCommerce Order Returns/Refund plugin, among the top choices for WooCommerce refund system plugins. Upon activation, this plugin empowers customers to initiate full or partial payment requests directly from their accounts.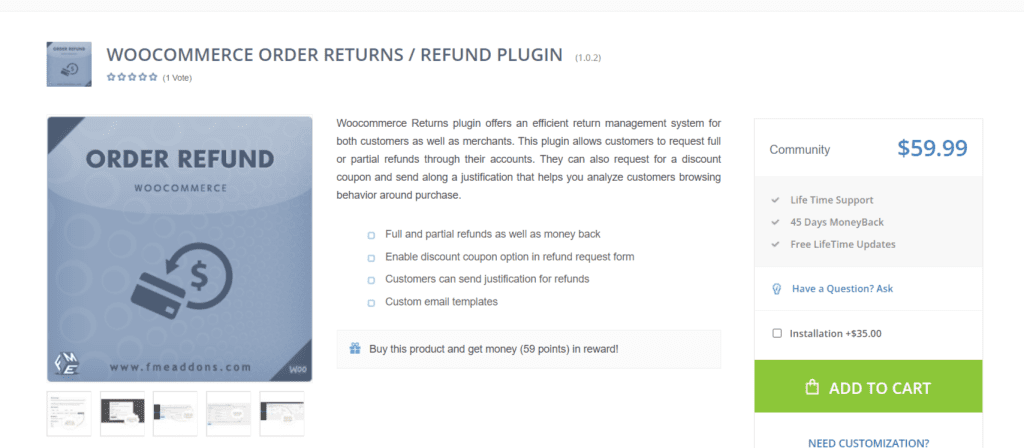 Whether seeking a refund for an entire purchase or a specific product, this plugin provides a user-friendly process for streamlined returns.
Key Features of WooCommerce Order Returns/Refund Plugin
Complete or Partial Cashback
Customers get a Chance to Justify Refunds
Better Overall Customer Experience
Custom Email Templates Available
Give Customers the Option to Send Refund Requests from their Account
Discount Coupon Option available for Refund Requests
Pricing: $59.99/ Year
5. Product Warnings & Disclaimers
Product Warnings & Disclaimers takes the fifth position in the listicle of the best WooCommerce refund plugins. It offers a proactive approach to informing potential buyers about your products before purchase. These disclaimers can be strategically placed below the product title and description or presented in a popup window upon clicking the 'Add to Cart' button.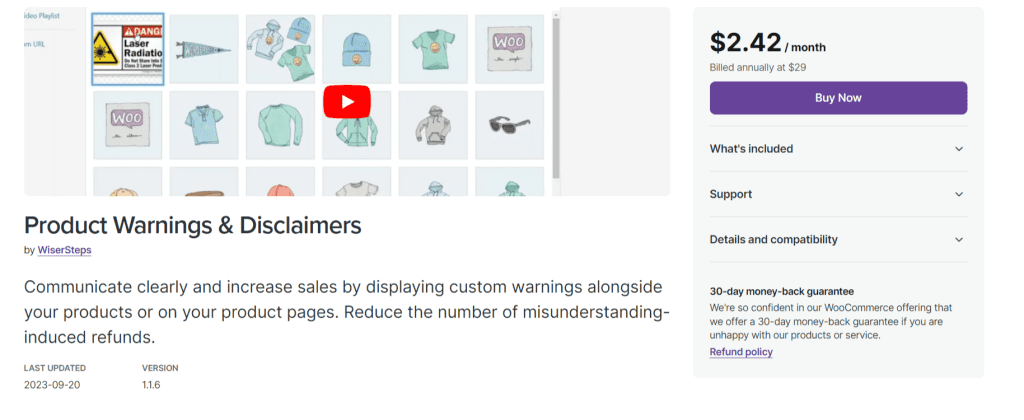 This functionality proves invaluable when conveying crucial information, such as potential hazards for children, specific storage requirements for product functionality, or details about offered warranties.
Key Features of Product Warnings & Disclaimers
Adds Warnings and Disclaimers as Pop-Ups
Customize the Design of these Warning Pop-Ups
Merchants can add Unlimited Warning Disclaimers
Show Warnings based on Product Categories and Tags
Admins can Select the placements of these Warnings as well.
Pricing
$2.49/Monthly
$29/ Annually
Navigating Through Festive Returns & WooCommerce Refund Plugin Essentials
There is an ongoing festive surge in the market currently. The returns, partial refunds, and exchanges are pretty high during this particular season.
According to the stats,
"Holiday gifts are returned at a higher rate than regular purchases — up to a 35% return rate for eCommerce shops, compared to a regular 16%."
This makes having a dedicated WooCommerce return plugin even more crucial.
The Festive Season Has Officially Started! Don't Believe Us?
Our recommendation would be " RMA Return Refund & Exchange For WooCommerce", why? You get to explore features like Automated Refund Acceptance, wherein the store managers can effortlessly automate the WooCommerce refund process and the transfer of refund payments by employing this functionality, and Stock Management wherein the retailers can manage their inventory after the WooCommerce refund or exchange request has been approved. The management of inventories in the case of cancellation is done automatically.
Still not convinced? Check this resource out!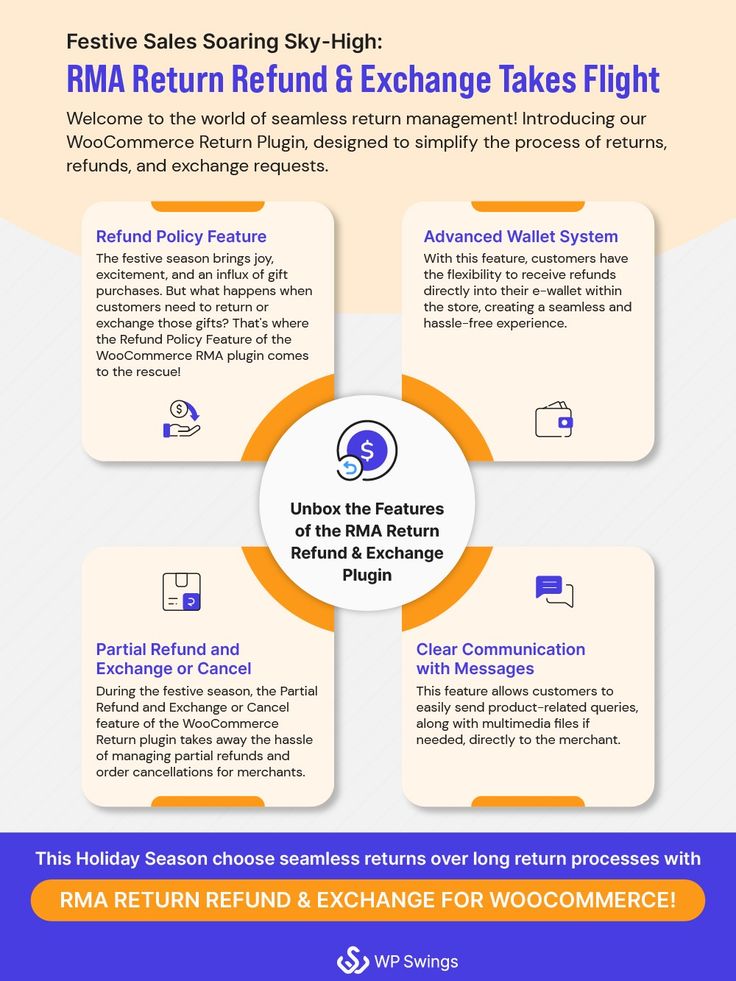 This festive season make the right choice! We have also covered a couple of real-life examples of companies incorporating the WooCommerce RMA plugin and saw great responses from their customers.
Continue reading to find out more about this…
Success Stories Of Customers
In this section, we will learn how people like you have leveraged our plugin to achieve their business goals.
Check out some of our client testimonials to gain insights into our business process,
1. MIA Boutique

Mia Boutique is a multi-brand store. Their goal is to offer a wide collection of garments, shortlisted from different firms, that bring originality and quality at reasonable prices. The mission is to provide constant updates and to always provide the latest trends. Online store we want to bring our fashion to more clients and inspire them through our looks.
Before incorporating the WooCommerce return and refund plugin they were facing issues in making a dedicated exchange and return policy for their brand. They implemented the features of WooCommerce Return and Refund, which enabled them to make a transparent refund and exchange policy for not only their registered customers but also for guest customers. The amazing features helped them see a great scope for growth. About a 20% increase in customer confidence, and a 20% rise in sales because of trusting and returning customers.
To Quote Them,
"Your plugin and support have always been fantastic!"

– Mia Boutique
2. NO 44 Store

No 44 is a new luxury label that takes inspiration from powerful women who defy trends. The brand aims to create sensual and feminine pieces from beautiful fabrics, with cuts that are inspired by menswear.
Before using the RMA exchange plugin, No 44 was facing some pain points related to the exchange process. Since implementing the plugin, the store witnessed a significant improvement in our website's performance. The user-friendly interface provided by the plugin has encouraged our customers to choose the website over email when requesting exchanges.
They saw an increase of 15%  in exchange requests via Website instead of Email. And, a decrease of 100% in time spent to solve exchange requests.
"Great product for Managing and Dealing with Exchange/Refund Requests."

-NO 44 Store
Over To You…
I hope this blog helped you understand the importance of having a WooCommerce return and refund system for your eCommerce store. Before selecting the plugin go through the functionality, the features, and the pricing thoroughly. Merchants can also compare the different RMA exchange plugins to incorporate a better-suited plugin for their online store.
By leveraging the features of these top WooCommerce return plugins, store owners can simplify the process of managing returns, and turn around the customer experience significantly.