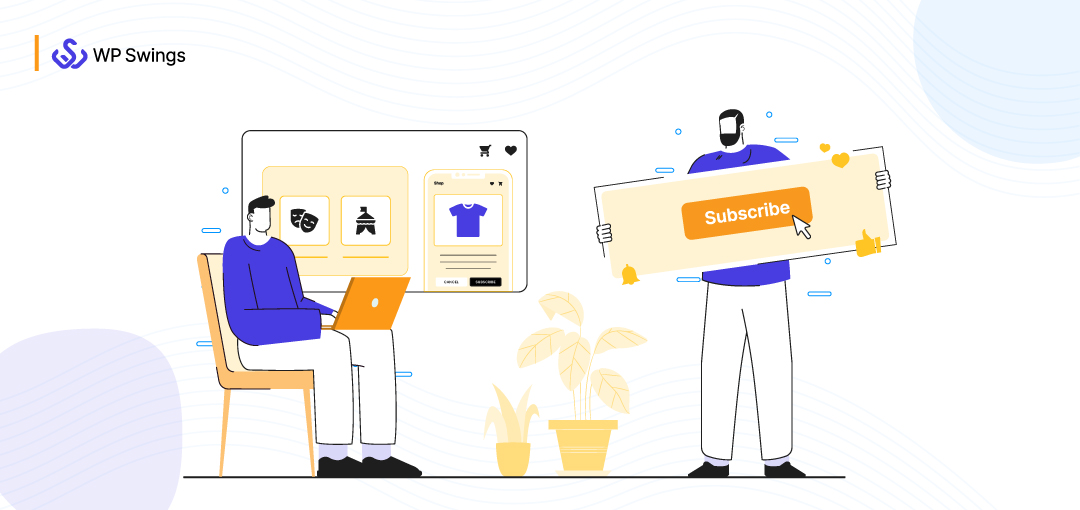 If you're an eCommerce enthusiast like me, you're likely no stranger to the potential of WooCommerce, launched in 2011 the renowned quickly took over the eCommerce market due to its simplicity to install and customize according to user's needs. But What if I tell you that you could take your WooCommerce store to the next level by offering subscription-based products or services? That's where subscription plugins come into play.
From the dark abyss of the internet, I have curated some of the best subscriptions plugin for your WooCommerce store. These plugins are easy to integrate with your store enabling you to manage subscription-based products and services like a piece of cake, each designed to help you boost customer loyalty, enhance your revenue stream, and provide an extraordinary shopping experience for your customers.
In this article, we'll explore the best subscription plugins for WooCommerce, whether you're a growing entrepreneur or an established online business owner, these plugins will show you the world of new possibilities for your eCommerce venture.
So, let's dive in and discover the best subscription plugin that can elevate your WooCommerce store to new heights.
What Is A WooCommerce Subscription?
WooCommerce Subscriptions Plugin allow you to add a subscription to your products. A Subscription model is a recurring revenue model in which users will pay recurring fees on a monthly or yearly basis in exchange for your products and services.
Users can renew or cancel their subscriptions after a certain period of time. This model allows you to build better customer relationships and leverage a steady stream of income.
The subscription model is beneficial for both merchants and customers. Customers benefit from the convenience of automatically purchasing a product or service they know they will need in the future and As a business owner, this allows you to retain customers for future sales, eliminating the need to constantly engage them with promotions and offers.
Additionally, You get a consistent stream of recurring revenue to ensure the financial stability of your business.
The subscription model is continuously growing. According to a report by Zion Market Group, the global subscription and billing management market was valued at USD 3.8 billion in 2018. It is expected to reach USD 10.5 billion by 2025, at a rate of 15.5% between 2019 and 2025.
Advantages Of The Subscription Model
As you can see from the previous statistics subscription models are on the rise.
Let's see some of the advantages of the subscription model.
Consistent Stream of Recurring Revenue: One of the biggest advantages of the subscription model is it ensures you a consistent stream of recurring revenue allowing your business to be financially stable.
Increase Loyalty: A subscription program builds a sense of community around your customers which allows them to feel like an important part of your brand thereby increasing customer loyalty.
Attract More Customers: Subscription-based pricing attracts more customers because charging a customer 20$ a month is more attractive than charging $400 in one shot. This is because higher prices act as a barrier for your product. Subscription-based payments decrease the barrier to entry for products and allow more potential customers to purchase your products.
Strong Customer Base: A subscription model lets you build a strong customer base because it's easier to build relationships with those customers who keep returning to your shop in comparison to every new customer that comes to your shop. With subscriptions, you can focus more on current subscribers and spend less time trying to acquire new customers.
Earn More Through Upsell and Cross-sell: Because You already have a customer base you can easily use upselling and cross-selling techniques to show them irresistible offers and earn more.
Maximize Your Sales With Our Upsell and Cross-Sell Plugins
Craft multiple sales funnels and Boost Your Average Order Value!
Top 7 Best Subscriptions Plugin
Let's see some of the best subscriptions plugin to get you started in the booming world of subscriptions.
1. Subscriptions For WooCommerce Pro
WooCommerce lacks the customization for recurring revenue which is why a fully customizable plugin is necessary. Subscription for WooCommerce Pro Offers Features that are not currently available in WooCommerce, it allows you to go beyond the WooCommerce limit. With Subscription for WooCommerce Pro, You can Easily integrate the Subscription model into your online store, and with a simple variable-based option you can offer subscription-based products and services.



You can sell physical subscription products, downloadable subscription products, and everything in between. Furthermore, you can create multiple subscriptions and offer manual payment methods for subscriptions like cash on delivery, direct bank transfer, etc
Additionally, you gain full control over your subscription model allowing you to upgrade or downgrade any user's subscription.
Key Features Of Subscriptions For WooCommerce Pro
Exclusive Coupon Types: With the Subscriptions WooCommerce plugin, you can create coupons specifically for subscriptions that will be valid exclusively on recurring services and products. Users can redeem these coupons for Initial Fees and total Recurring.
One-Time Subscriptions: With the Subscriptions for WooCommerce Pro, you can enable subscription prices for a one-time purchase of products. Customers can enter a fee according to their choice for a one-time purchase.
Allow Multiple Quantities on Subscription Products: The WooCommerce Subscriptions plugin allows your customer to add multiple quantities of any subscription product. So, If a customer wants five jars of peanut butter, they can directly increase the number while shopping.
Manually Subscriptions: Subscriptions for WooCommerce Pro offer a feature to Create Manual Subscription Orders. The admin can create subscription orders manually and assign them to any customer.
Various Payment Gateways: Subscription for WooCommerce Support Various Payment Gateways for your users' convenience including Stripe Payment Gateway, Paypal Gateway, WooCommerce Paypal Standard, etc
Email Reminders: You can set email reminders to remind your users about their recurring payments, subscription expiry, completion, pause, resume, and reactivation.
Pricing:
Try Before You Buy!
Explore the Features! Check out the Demo and Documentation
2. Sumo Subscriptions
Sumo subscriptions plugin is a WooCommerce subscription system for recurring payments. It's an easy-to-use subscription plugin that you can use to create and manage subscription products from your existing WooCommerce Shop.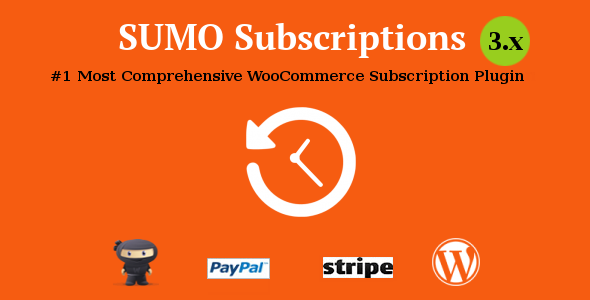 It offers various interesting features including sending multiple and overdue payment emails, subscribers can turn off their automatic payments, WPML compatibility allowing you to translate into multiple languages, options to include tax cost in subscription renewal, and many more.
Key Features Of Sumo Subscriptions
Subscription Payment Synchronization
Allow Subscribers to Update Subscription Quantity
Free Trial and Paid Trial supported
Site admin can manually create an order with Subscription and assign it to any User
Settings of Subscription Products can be bulk updated using Bulk Action
Option to Include/Exclude Shipping Cost in Subscription Renewal
Pricing: Regular Licence $49
3. Subscriptio – WooCommerce Subscriptions
Subscriptio is another great subscription plugin for your WooCommerce store.
It allows you to add recurring payments to your online store so you can sell products like magazine subscriptions, e-learning packages, and any other downloadable or intangible products.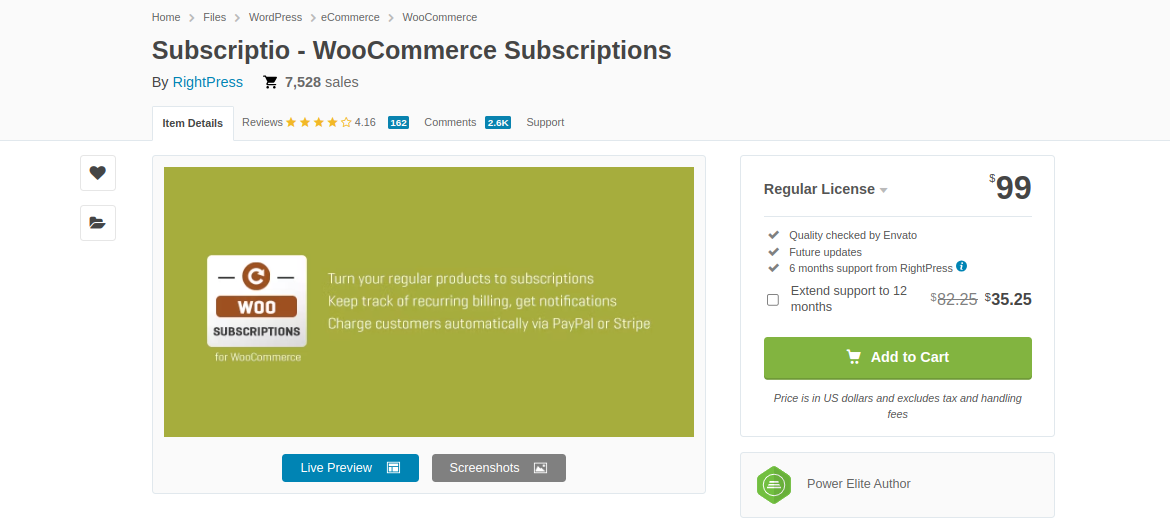 It supports payment methods like Stripe and PayPal for automatic payments, both simple and variable-based products can be added to subscriptions, and lots of filters and hooks for developers to customize according to their needs.
Key Features Of Subscriptio
Purchase subscription and non-subscription products during one checkout
Logs of all subscription transactions
Display related subscriptions for each order that contains subscriptions
Manually pause, resume, and cancel subscriptions
Easy to use and powerful admin subscription management area
Set any billing cycle length and max subscription length
Pricing: Regular Licence $99
4. YITH WooCommerce Subscription Plugin
Yith Subscription plugin enables you to add subscription on virtual and physical products. The plugin allows you to create multiple subscriptions for your products that your customers can easily purchase.


The plugin provides many configuration options allowing you to pause, resume, or cancel any user's subscription. Additionally, you can also decide what to do when a user fails to make the payment.
Furthermore, You can also set up email notifications to send your customers alerts on major actions including failed payments, suspended subscriptions, etc. Moreover, the plugin facilitates additional coupons which you can set to offer discounts on signup and recurring fees.
Key Features Of YITH Subscriptions
Product variation to create subscription products
Allow users to pause, resume, and cancel their subscription
Email notification for admin and customers
Gutenberg module to show subscription boxes
Export subscription details to CSV
Set Free trial period
Pricing: Free and $199/Year
5. WooCommerce Subscriptions
WooCommerce subscription is an official plugin by WooCommerce it streamlines the process of setting up and managing subscriptions and as it's developed by WooCommerce, you can easily integrate it with your online store without worrying about compatibility issues.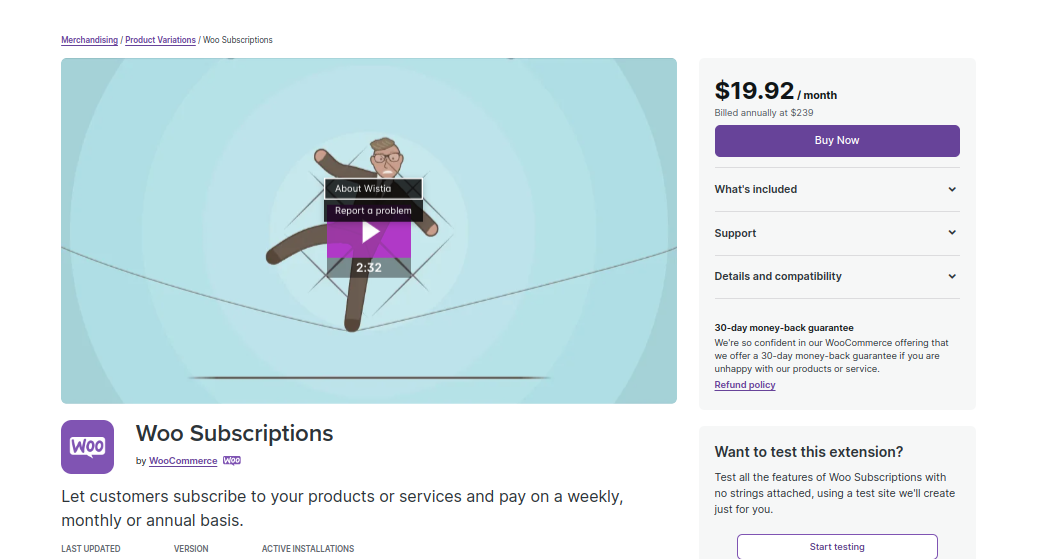 You can use this plugin to offer a trial period to customers, set up limited-time deals, and give subscribers the ability to manage their subscription plans.
It's a great plugin for those who want to introduce a subscription model in their WooCommerce store without delving into much more complex functionality, making it an ideal choice for beginners and small businesses alike.
Key Features Of WooCommerce Subscriptions
Variable Subscriptions
Free Trials & Sign-Up Fees
Subscriber Account Management
Upgrade and Downgrade Subscriptions
Multiple Subscriptions
Subscription Coupons
Pricing: $19.92/month
6. WP Simple Pay
WP Simple Pay is a Payment plugin but you can use this to create subscriptions on your WooCommerce store. It accepts payments via PayPal and Stripe and is very easy to install and use.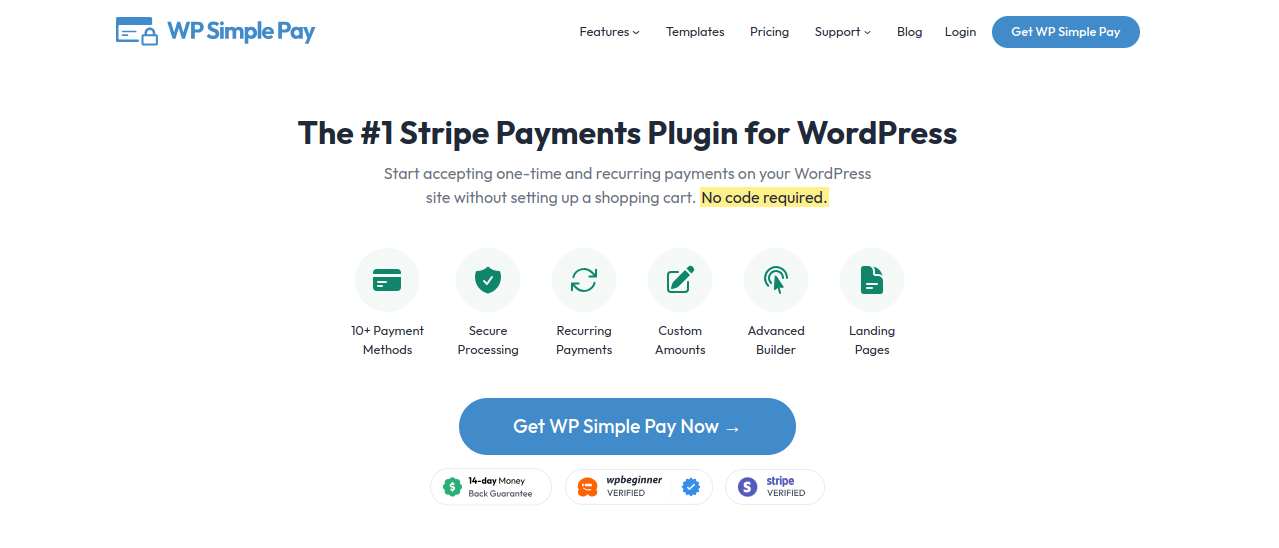 The premium version of the plugin offers various pricing options to choose from according to your requirements. The plugin makes it easy to buy subscription plans for your products and anything else you sell.
Additionally, The plugin offers easy-to-use drag-and-drop boxes to build forms, making it very beginner-friendly
Key Features Of WP Simple Pay
Create Recurring Payments
Buy Now Pay Later
Powerful Automation with WordPress CMS
10+ Payments Methods
Tax Collection Feature
Offer Free Trials Before Collecting Payment
Pricing:
$44.5/year – personal
$79.6/year – plus
$139.65/year – professional
$209.65/year – elite
7. Paid Members Subscriptions
Paid Member Subscription plugin allows you to create multiple hierarchical subscription plans that users can select from while choosing a subscription. You can accept payments, manage your members, restrict premium content, etc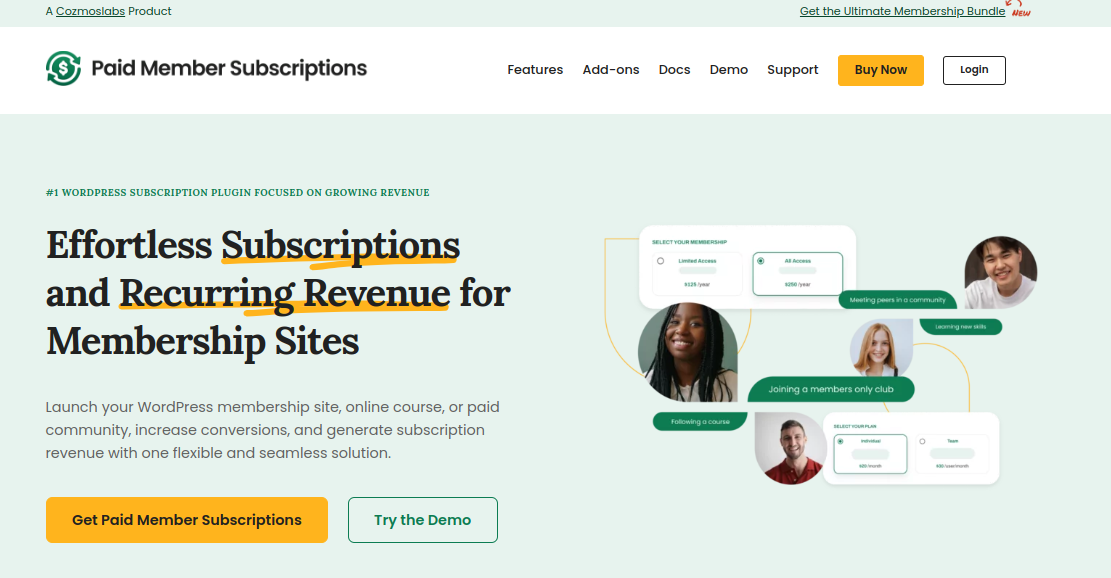 It lets you offer a free trial to your customers before they can choose any paid subscription. Additionally, You can delete and edit user's subscription details allowing you to gain full control over the subscription model.
Furthermore, you can accept users' payments through PayPal, track and manage their status, and purchase information with detailed payment logs.
Moreover, it also allows you to export members and Subscription details in a CSV file anytime you want.
Key Features Of Paid Members Subscriptions
Shortcode Support
Content Restriction
Hierarchical Subscription plans
Export member details to CSV
Offer discount on products only to subscribed users
Detailed Payment Logs
Pricing: Free and Paid $99/ Year
Which One To Choose?
It can be tough to choose an ideal plugin for your WooCommerce store depending on your unique requirements. The Subscription for WooCommerce plugin suits well for most businesses.
Furthermore, you can enhance your online store's performance using additional add-ons like Membership for WooCommerce Pro which allows you to create members-only sections, Gift Card for WooCommerce Pro which lets your customers enjoy the benefits of gift card coupons with group gifting, etc.
The only way to choose the ideal subscription plugin for your website is to look deep inside your requirements and needs for the plugin.
The best subscriptions plugin described above can help you to meet most of your requirements. You can customize them by yourself or with the help of an expert to tailor the plugin that perfectly meets your unique requirements.
Conclusion
In conclusion, keeping in mind that the subscription model is continuously growing it's essential to implement a subscription program on your online store. Subscription products allow you to create a flexible revenue stream for your business, making your WooCommerce store more financially stable plus the recurring revenue ensures a consistent stream of income every month.
In this article, we have reviewed 7 best subscriptions plugin for your WooCommerce store that you can use to enhance your store's functionality and user experience.
However, We highly recommend Subscription for WooCommerce Pro Plugin the plugin stands out for its unique features, including multiple subscription creation, upgrading and downgrading user subscriptions, button customization, and start and pause subscriptions.
So, what are you waiting for? Get into this booming industry by installing any of the above plugins. If you have any doubts or queries, then comment in the section below.