RMA Return Refund & Exchange For WooCommerce Pro
WOOCOMMERCE RETURN PLUGIN EASILY PROCESSES RETURNS, REFUNDS, AND EXCHANGE REQUESTS WITH OUTSTANDING AUTO RE-STOCKING, GLOBAL SHIPPING, WALLET INTEGRATION, AND EMAIL NOTIFICATIONS FEATURE.
Utilize the WooCommerce RMA plugin and enjoy an easy refund, exchange, and cancel request interface for the purchased product to customers/guest users that offers smart return ship labels integrated with ShipEngine and ShipStation.
RMA Return Refund & Exchange For WooCommerce Pro plugin offers full authority to restrict the entertainment of invalid order return, refund, exchange, and cancellation requests thereby to the store manager. RMA Plugin therefore intelligently utilizes the same payment gateway method used during the purchase or e-wallet system for placing an advanced refunding request. The best part is the notifications for each state that will be sent by customizing the email content accordingly.
Offers a dedicated and

smart notification system

via email.

Has a sophisticated

e-wallet with a return slip label

for RMA tracking.

Provide efficient and accurate

product inventory management

.

Return ship labels can be easily integrated with

ShipEngine

and

ShipStation

.
Top Features of WooCommerce RMA
1. Easy Refund/Exchange
With the help of WooCommerce RMA Plugin, customers can easily raise the Refund/Exchange requests for a single product as well as the whole order. Discourage unnecessary cancel order requests by setting the minimum order amount.
2. Automated Refund Acceptance
WooCommerce RMA plugin feature really stands out since it simplifies WooCommerce Returns i.e. the process for store managers to manage the approval of refund requests and the settlement of refund amounts. By employing this functionality, store managers can effortlessly automate the refund process and the transfer of refund payments. All that can be done after a minor required quick backend setup.
3. Auto Restock Products
Again, we're here with a fantastic feature that also helps you save a tonne of time on time-consuming inventory management and restocking concerns. Yes, everything would be managed by this functionality; all you would need to do is set up the RMA plugin. The admin can save time and effort by utilizing the feature to automatically restock the products for refunds that have been approved. The trouble of auto-restocking has been alleviated now.
4. Partial Refund/Exchange/Cancel
Want to have refunds or planning to place an exchange or cancellation request for your ordered products, chill have it here. But wait!!! Are those products part of your complete order that you want to continue with also. Ohho…???
Congratulations…. That's not an issue anymore, just you have to utilize our Partial Refund/Exchange/Cancel order feature of the plugin. This feature is so outstanding that if store managers set it up they can easily let their customer raise the request for refund/exchange/cancellation of an order based product partially, without affecting the whole order.

5. Advanced Wallet System
WooCommerce Refund And Exchange with RMA provide the flexibility to your customers to get the refunded amount in the customer's e-wallet of your store.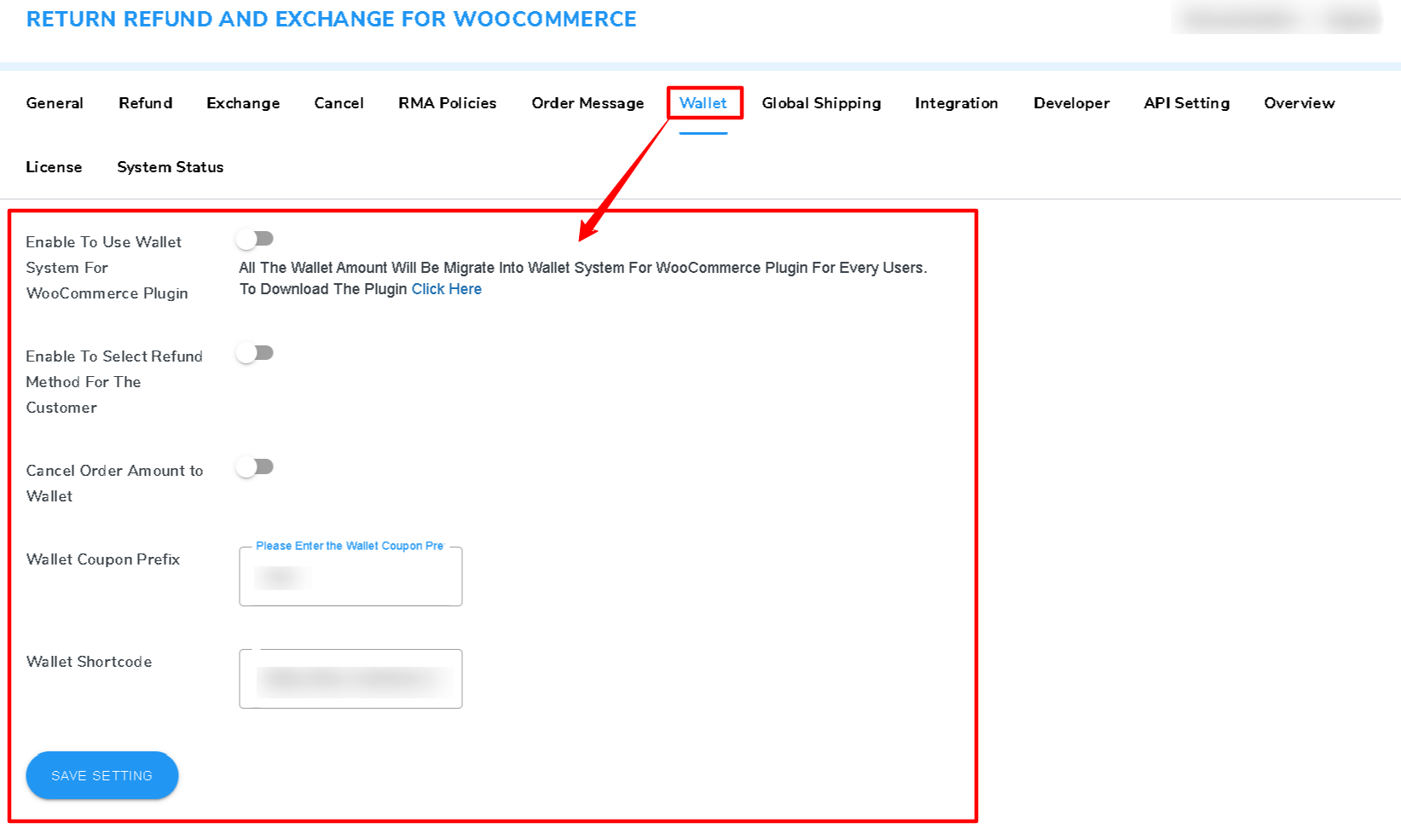 Note- The Wallet feature of the plugin is not available to guest users.
6. Automated Email Notifications
Customers would be updated at every stage with an automated email system. WooCommerce Refund Plugin based automated email notification feature would simplify the process of creating a sequence of emails with more efficient customer promotions.
7. Stock Management
Retailers can manage their inventory after the refund or exchange request has been approved. The management of inventories in the case of cancellation is done automatically.
Automated inventory management is carried out successfully with this WooCommerce RMA Plugin feature, saving time and precisely controlling stock without the need for further effort.
8. Global Shipping
The global shipping amount can be charged on the order/categories against refund/exchange.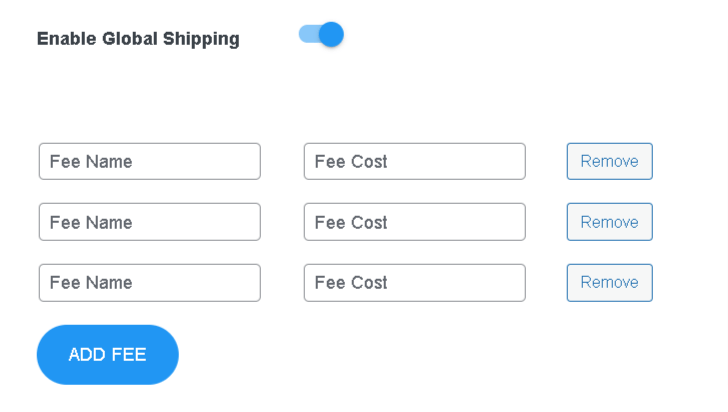 9. Increase Communication Chances Using Messages
WooCommerce Returns Plugin allows your customers to send their product-related queries along with multimedia files and approach you to take relevant action for the same.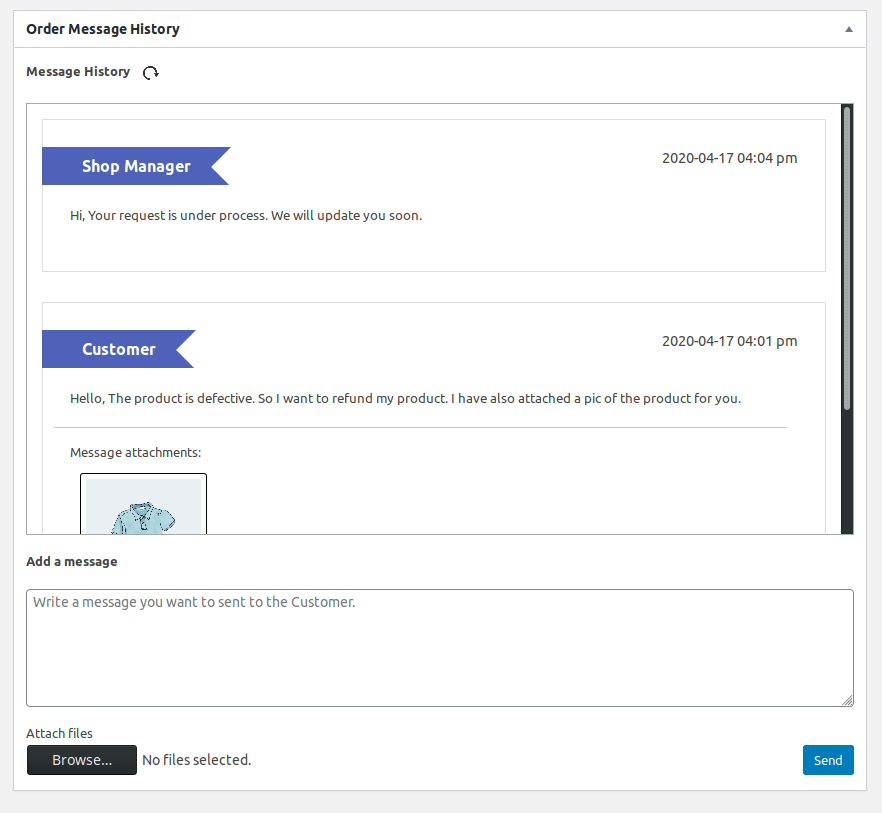 10. Deduct Coupon Amount
Admin can deduct coupon amount from the total refund/exchange amount at the time of refund/exchange request.
11. Customize Your Emails With Shortcodes
Provide a more detailed and structured representation of your email using the shortcodes product_table and refundable_amount. It can let you provide a more descriptive representation of all the refunded products with their amount to your customers to maintain their interest in your brand.
Multivendor Marketplace Extension Offered
We have an excellent add-on accessible in-house for WooCommerce store owners who want to advance in the multivendor marketplace on well-known marketplaces like WCFM etc.
WP Swing's RMA WCFM for WooCommerce is all capable of assisting you with all your multi-vendor store setup worries to nothing with the WCFM marketplace. This plugin makes the refund and exchange process as simple as possible for Multi Vendor Marketplace store owners. For a clearer understanding, review the documentation or request for a personalized live demo today.
Benefits of WooCommerce RMA Pro
WooCommerce RMA Return Refund and Exchange plugin makes the refund and exchange process as simple as possible for store owners as well as for the customers too with the help of the following features:
Quick & Easy Returns Make Your Consumers Happy: Businesses can use our plugin to emphasize productivity over returns. Return processes are automated in order to reduce additional labor costs. Customers are happier when returns are handled quickly. It displays your company's willingness to retain customers long after the sale.
Eliminate Fraudulent Returns: WooCommerce Returns Plugin continues to maintain the sustainability of your business by eliminating fraudulent returns or offering exemptions.
Refund, Return & Cancellation Request Through Email & Phone: Allow guests to utilize their phone number or email to request a refund, exchange, or cancellation of an order.
Offer Minimum Order Amount With Ease: By imposing a minimum order amount, you can discourage unnecessary cancellations requests.
Automated Auto-Stock: The Auto-restock functionality of this RMA Return, Refund, and Exchange plugin would enable you to save time and effort.
Smart Enough to Handle Multi Lingual Support: Our RMA plugin offers solutions to international buyers with WPML translated stores.
Outstanding Wallet Reimbursement: The Refund & Exchange Plugin plugin's amazing wallet compatibility feature allows customers to get their reimbursed funds directly in their wallets. They can then use it to purchase additional items.
Partial Order Cancellation Offered: Buyers can cancel selected products from an entire order using the partial order cancellation feature. This enables customers to save their time and effort.
Facility to Add a Note: Customers can add notes to their requests, explain why they want a refund or exchange, and attach images. This allows customers to successfully express themselves while also trying to give the impression that the sellers are paying attention to their concerns, fostering trust and confidence.

Note- When the Attachment limit on the frontend is reached, the Add More button for additional attachments disappears automatically.

Backend Processing for Refund Requests: Using the WooCommerce RMA plugin's functionality, admin can initiate refund and exchange requests from the backend.
RMA for WooCommerce Plugin Compatibilities
The WooCommerce Return, Refund, and Exchange plugin has the following compatibilities and integrations:
1. Compatibility With Gift Cards For WooCommerce
The WooCommerce Return and Refund plugin is compatible with the Ultimate Gift Cards for WooCommerce and Gift Cards for WooCommerce Pro. Admin can now provide refund functionality on gift cards to its users. But for the practical implementation users are required to fulfill two conditions i.e. the expiration period of the gift card shouldn't be achieved and its usability should be equal to zero. 
The refund request for gift cards can be successfully initiated only if these conditions are satisfied by the user's end.
2. Compatibility With Wallet System For WooCommerce
This RMA Management plugin is compatible with the Wallet System for WooCommerce and Wallet System for WooCommerce Pro to allow the admin to easily manage all the wallet functionality to one dedicated wallet system.
3. Integration For Return Ship Label With ShipEngine, ShipStation & ShipRocket
WooCommerce RMA lets you generate a return ship label after accepting the refund request using the shipping channel that can fulfill your requirements.
 
Now, you can also manage all your shipping of your orders set up for refund/return/exchange utilizing the outstanding capability and trust of ShipRocket, all you have to do is to integrate your ShipRocket account with your site and avail of the benefits.
4. Compatible With WPML
The RMA WooCommerce plugin is compatible with WordPress Multilingual (WPML), allowing the admin to translate the strings on the return, refund, and exchange pages of the front-end, and the backend into more than 40 languages.
5. Compatible with Sequential Order Numbers for WooCommerce
The RMA WooCommerce plugin is fully compatible with WooCommerce Sequential Order Numbers Pro by SkyVerse and Sequential Order Numbers for WooCommerce by WebToffee.
This compatibility lets you easily get your WooCommerce store's order numbers formatted. You can format your order numbers as WT-01000-UK, WT-01001-UK, etc., or in any other format you wish, rather than skipping values (such as 15, 37, etc).
Free vs Pro
| Features | Free Version | Pro Version |
| --- | --- | --- |
| Dedicated refund system | ✔️ | ✔️ |
| Efficient tax handling | ✔️ | ✔️ |
| Set predefined refund reason | ✔️ | ✔️ |
| Send an attachment with a refund request | ✔️ | ✔️ |
| Manage stock on each refund | ✔️ | ✔️ |
| Increase Communication through messages | ✔️ | ✔️ |
| Email notification for a message conversation | ✔️ | ✔️ |
| Partial Refund/Exchange/Cancel | ❌ | ✔️ |
| Order Product Selection for Refund/Exchange | ❌ | ✔️ |
| Automated Refund | ❌ | ✔️ |
| Cancel Order | ❌ | ✔️ |
| Advanced Wallet System | ❌ | ✔️ |
| Global Shipping | ❌ | ✔️ |
| Refund/exchange for guest users | ❌ | ✔️ |
| Numerous shortcodes available for the custom refund/exchange mails | ❌ | ✔️ |
| Admin can initiate refund and Exchange requests from the backend | ❌ | ✔️ |
| Refund and Exchange requests for sale items | ❌ | ✔️ |
FAQs
Can Admin Enable a Single Refund/Exchange Request per Order?
sanjeevmaurya
2022-04-15T08:53:15+00:00
Yes, the admin can provide only single refund/exchange features by going through WPSwings -> RMA Setting -> General Setting -> Enable Single Refund/Exchange Request per order through the checkbox.
Still in doubt? Refer to our Knowledge Base and learn more about the WooCommerce RMA plugin.