Event Tickets Manager for WooCommerce Pro
MERCHANTS CAN EASILY PERSONALIZE THEIR TICKETS, SEND TICKETS TO CUSTOMER VIA EMAIL, ADDS A NEW PRODUCT CATEGORY TO THE STORE, ALLOWS MERCHANTS TO QUICKLY ADD EVENTS, AND NOTIFY CUSTOMERS BEFORE EVENT.
Event Tickets Manager For WooCommerce Pro plugin lets the merchant add events as WooCommerce products and create an event and ticketing website with WordPress. Event Tickets Manager For WooCommerce is a very unique WooCommerce extension that allows you to create a complete event management website. This WooCommerce event plugin allows you to sell offline events using WordPress. Also, you can easily manage the number of seats (ticket quantity) using the robust WooCommerce inventory management system.
From the Tickets dashboard, the merchants can easily customize the content of their tickets and send it to their customers via email. The Events plugin creates a new product type that allows the merchants to add events in a single click.
Add

regular and sales prices

to your event.

Manage stock by enabling the

Manage stock

option from the inventory section of the product. Also, you can allow backorders on your event-based products.

The event plugin has been

integrated with Google Maps

for providing the accurate location of your offline events.

The event plugin allows you to

share your event on Facebook

.
Top Features of Events Tickets Manager Pro:
1. Check-In using QR Code
WooCommerce Event Tickets plugin allows customers for an easy check-in process by using QR Code. Scan the generated QR Code on the event ticket sent to you via email in pdf form and click the link generated from QR Code and you will be redirected to the check-in page of the Event.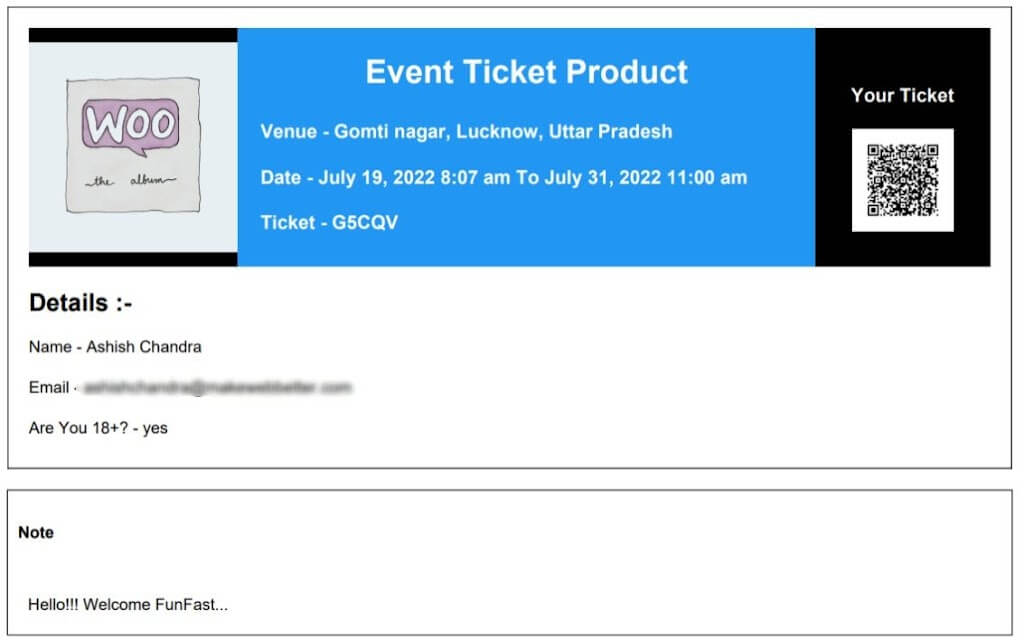 2. Send Tickets During Processing Order
In this feature of the event plugin you can now generate and send the tickets to your customer while your order is in process via mail in pdf form. This will also help to build the trust of customers.
3. Set Price for Specific User Type
Events Tickets Manager helps you set the price on the user type. In this feature, you can create user types like adult, child, teacher, and student. Also, you can set the price accordingly and update it. Now you are ready to use this feature.
4. Increase Price based on Stock
WooCommerce tickets helps you sell tickets more on the base of stock left. The event plugin allows you to generate more revenue and stock availability notification will be sent to your customer at the last hour.
5. Increase Price by Days
This WooCommerce events plugin feature allows you to sell tickets with WooCommerce more on the basis of days to the event. Because it increases your income and notify customers of the number of days left for an event.
6. Facebook Sharing of Event:
Event Tickets WooCommerce allows you to share your events on Facebook to get the traffic and audience for your event, this helps you to generate revenue.
7. Multiple Tickets:
In Event Tickets Manager WooCommerce, merchants can provide more than one ticket at a time for their customers. It helps in building customer loyalty.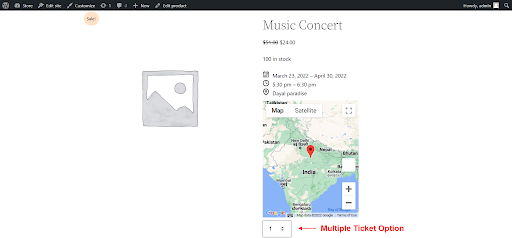 8. Track Via Emails & SMSs
Merchants can assure that the customers have received their products by tracking emails and SMSs. This also means your customers can receive their tickets through emails and SMSs too.
9. Display Location
The WooCommerce Event Tickets Manager allows the merchants to display the location of their offline events clearly on the product page.
10. Transfer Ticket:
We have added an on-demand feature to the Event Tickets Manager For WooCommerce Pro. The features allow your customers to transfer their tickets to a different attendee if they themselves cannot attend your event.
11. Email Reminder Before Event:
In Event Tickets WooCommerce, merchants are allowed to send an email reminder to their customers before an event to notify customers that the event will start or x no. of days left to the event.
Benefits Of Event Tickets Manager For WooCommerce Pro
WooCommerce Event Tickets Manager plugin makes easy to add and sell process as simple as possible for store owners as well as for customers.
Embed Link: Admin can embed the webinar link to the email sent to customers to make the process easier and customers can understand what the event is all about.
Email Reminders: Email reminders can be sent to customers before the event for reminding customers about the status of the event.
Tracking Accessibility: Admin can track their product or ticket status whether it reached the customer or not. And also for security purposes.
Attach Location: Admin can attach the location of their event on the product page. With the help of location, customers can easily reach to event's venue.
Event Sharing: Admin can share their events on Facebook for more attraction. And this will also help in raising the sale.
Recurring Revenue: Generate more revenue as the event comes closer. Last moment bookings bring more revenue.
Generate Tickets while Processing: Admin can generate the tickets while the order is in process. This will help you in building customer loyalty.
Transfer Ticket: Customer can transfer their event ticket to another if they are not able to attend the event. This shows that customers' money is been valued.
Multiple Tickets at a Time: Customers can get more than one ticket at the same time.
Select User Type: Customers can select user types according to their requirements. Sometimes at some events, child entries are prohibited due to age factors but with event tickets, customers can take their children to the event.
QR Code Check-in Process: Customers will get QR codes on their tickets for an easy Check-in process. A ticket scanner helps in hassle-free check-in.
Events Tickets Plugin Integrations
WP Swings has made the Event Tickets Manager For WooCommerce Pro plugin compatible with prestigious eCommerce services. This makes the event plugin feature-rich to provide better functionalities.
1. Google Map Integration
The plugin has been integrated with Google Map API for providing a high-level view of your offline events. As a result, you can show the live location of your events on the product page.
2. Twilio Integration
Event Tickets Manager For WooCommerce Pro has been compatible with Twilio. This allows the WooCommerce store owners to send ticket details and event notifications to their customers via SMS.
Free vs Pro
| Features | Free Version | Pro Version |
| --- | --- | --- |
| Stock Management | ✔️ | ✔️ |
| Display location for offline events | ✔️ | ✔️ |
| Accept gift cards from customers | ✔️ | ✔️ |
| Admin can manually add events | ✔️ | ✔️ |
| Download tickets as pdf | ✔️ | ✔️ |
| Customize ticket content to match your brand goals. | ✔️ | ✔️ |
| Export list of attendees | ✔️ | ✔️ |
| Attendees can transfer their ticket to another attendee. | ❌ | ✔️ |
| Send ticket details with SMS. | ❌ | ✔️ |
| Organize and sell online events | ❌ | ✔️ |
| View organizer, sponsors, speakers, and attendees on the event detail page. | ❌ | ✔️ |
| Multiple Tickets | ❌ | ✔️ |
| Facebook Sharing of Tickets | ❌ | ✔️ |
| Email Reminder before Event | ❌ | ✔️ |
| Increase Price based on Stock | ❌ | ✔️ |
| Increase Price by Days | ❌ | ✔️ |
| Send Tickets During Processing Order | ❌ | ✔️ |
| Set Price for Specific User Type | ❌ | ✔️ |
| Check-In using QR Code | ❌ | ✔️ |
FAQs
How do you display the interactive event calendar widget?
Sher Ali Khan
2022-07-22T06:57:18+00:00
You can search for a widget and there you will get the option of an Event Ticket Manager widget simply add it. And there you will get the settings also to list view for event calendar view you can choose it according to your need.
Still in doubt? Refer to our Knowledge Base and learn more about the Event Ticket Manager plugin.