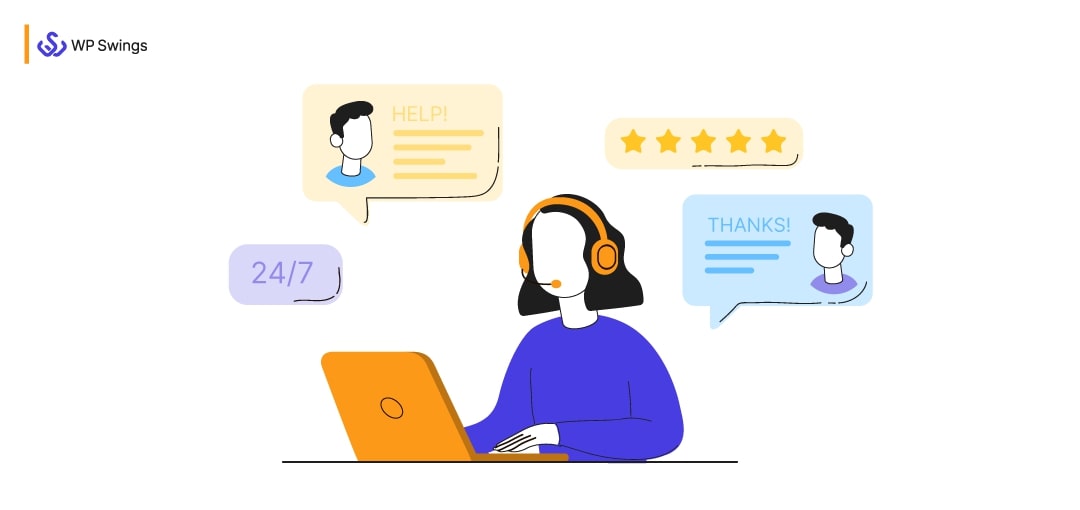 Planning to start an online store with WooCommerce? Or already have one but facing trouble handling it? Well, don't you worry! This article is going to provide you with the best WooCommerce support services one would ever need.
All About WooCommerce
WooCommerce, one of the best platforms for creating an online store, is available as a free WordPress plugin that can be expanded with a variety of plugins. Furthermore, WooCommerce enables newbies to profit from the platform in the same manner that it enables experts to improve it. Naturally, this contributes significantly to the platform's visibility.
It is the highly recommended open-source eCommerce plugin for WordPress. Most importantly, when you are going to launch your business or design sites for clients, this will help you to start quickly and build the store according to your requirements.
However, as more people are prepared to try new things, they will inevitably run across hurdles.
This article examines the WooCommerce support system's effectiveness and attempts to identify the best options. You now know where to search the next time you have a problem with your WooCommerce store or your specific business strategy.
WooCommerce is an open-source eCommerce platform that means no coding is required to create your online store, i.e. (code is easily available for everyone). One can easily view and modify their eCommerce store according to their needs. It focuses on helping to create your online store as easily as possible, with minimum cost.
You will be very amazed to know
WordPress is used by 43% of all websites.
WooCommerce is used by 8.8% of all websites.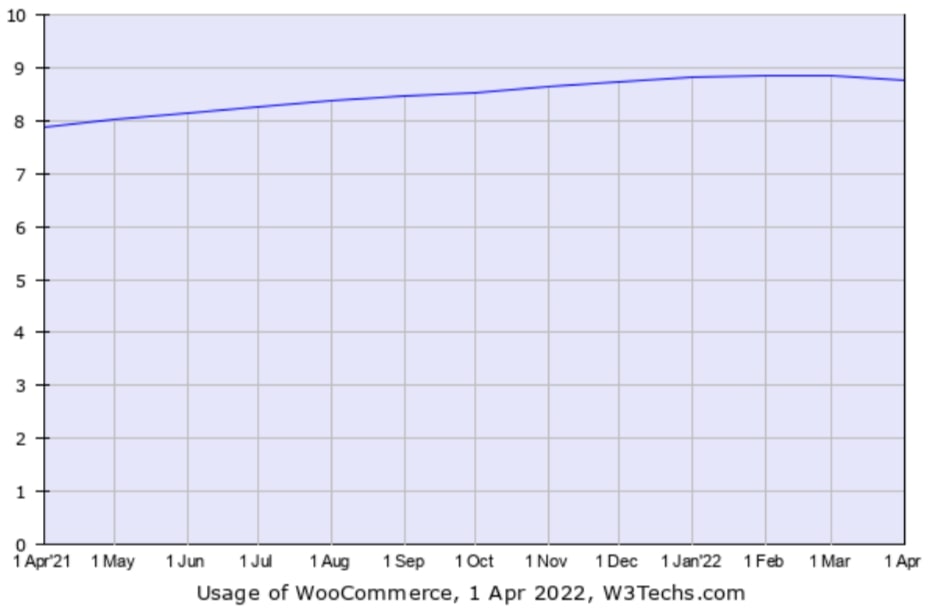 And if we talk about the market position of WooCommerce in terms of popularity, you can see the stats.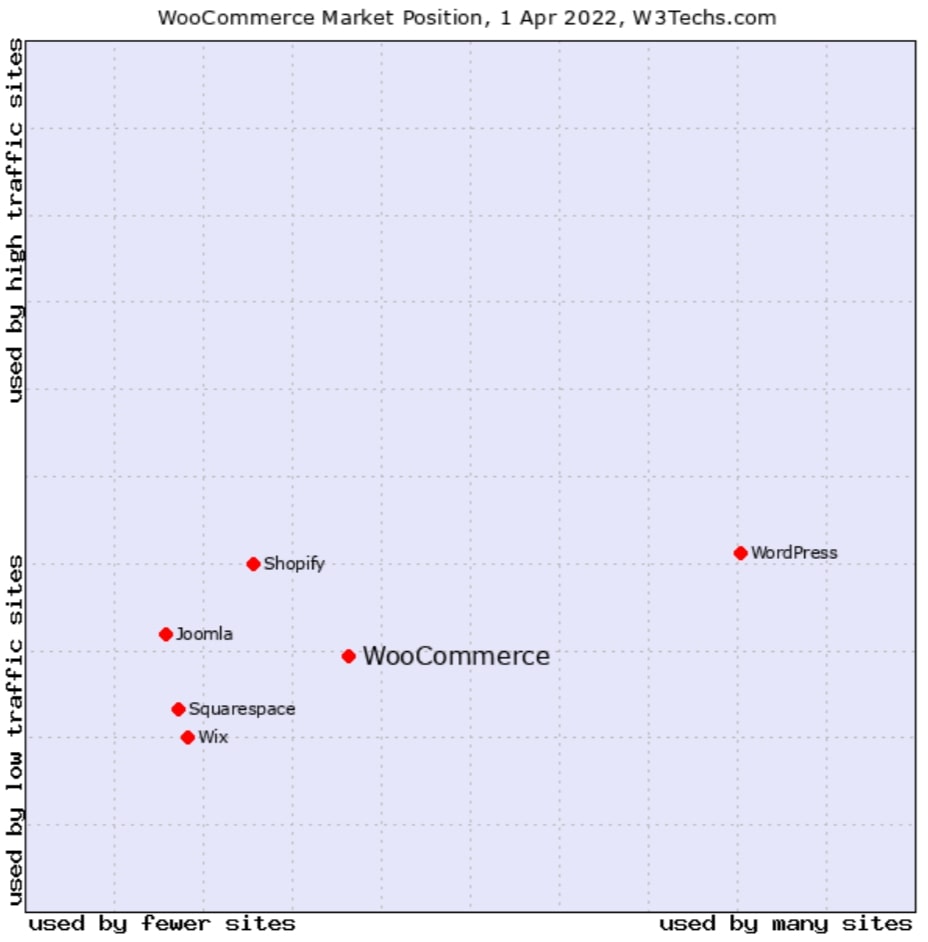 These stats are proof that WooCommerce is the best platform for all types of business.
But Ever Wondered Why?
Because besides the easy setup process, it offers the best WooCommerce support and service to its customers.
There are various options to get WooCommerce support for your online store as the WooCommerce community is huge and active for their followers 24*7.
But, again a question arises.
Why Do You Need A WooCommerce Support Service?
Just like it is said- Nothing is perfect.
This phrase applies to everything and everyone. As we know that WooCommerce is the easiest platform to work on, so why wouldn't people be interested in designing their own website under their terms? But, in the process of doing that, they often get stuck and need help.
Whether you are a startup, small business, or an agency, giving excellent service to your customers and managing all smoothly is what you need in the end for your brand's sake.
And suppose you hired freelancers for a WooCommerce project. As we know freelancers are only responsible for completing your project and after completion, they don't care about the additional hassles you face or the problems which occur after they leave.
Prefer An Agency Or A Freelancer Developer
In that case, what will you do?
You need a place where you can find the best WooCommerce support and service for all your WooCommerce issues.
And you will surely want the best platform with the cost-effectiveness that manages your website.
In this article, we will discuss the various places and sources that will provide you with the best support and WooCommmerce customer service in solving all your WooCommerce issues with the aid of WooCommerce experts.
1) WooCommerce Community
The official WooCommerce Group is a place for store owners/managers, WordPress developers, and WooCommerce enthusiasts to connect, share ideas and inspiration, provide each other with support, and empower members to build successful businesses on WooCommerce.
WooCommerce supports various communities to help their customers.
WordPress Community
Slack Community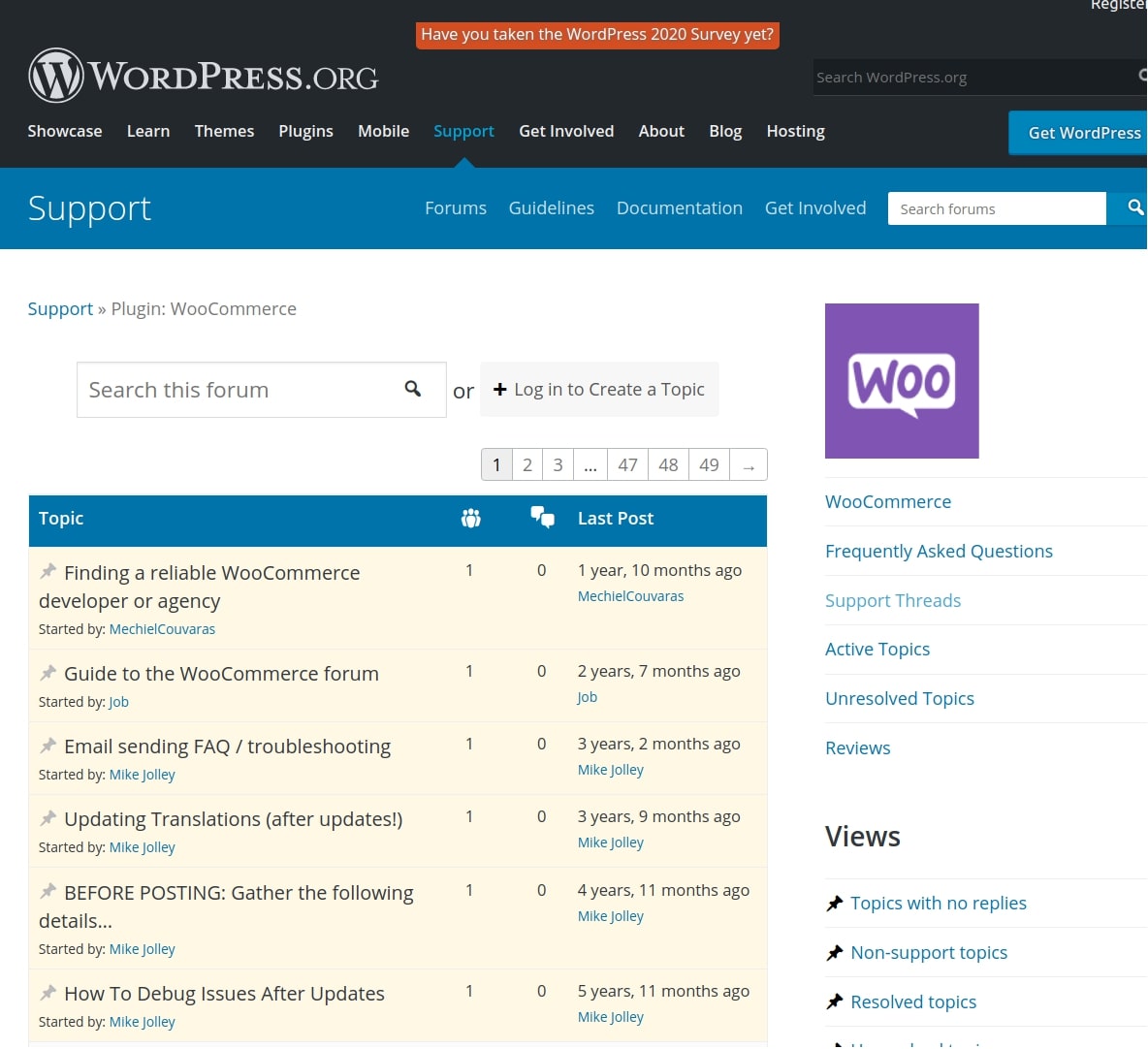 WordPress is the most popular content management system used by almost all websites and WordPress.org is a free open source content management system (CMS) that is paired with languages like PHP and MySQL database. The features include submission of plugins, template system, and themes from other business sites.
Note: But all the things related to submission should be compatible with WordPress.
WooCommerce WordPress community is basically the support by WordPress to their followers where they can put their queries related to plugins. Either WooCommerce experts or any normal user can answer that.
For this-
What you need to do is to:
Find what you want to ask and create your group. For instance, in the image below, the user has a problem in bundling the product. Therefore, she had created a group named customer 4 of 8 options. Now anyone can put the queries related to the same issue in this group.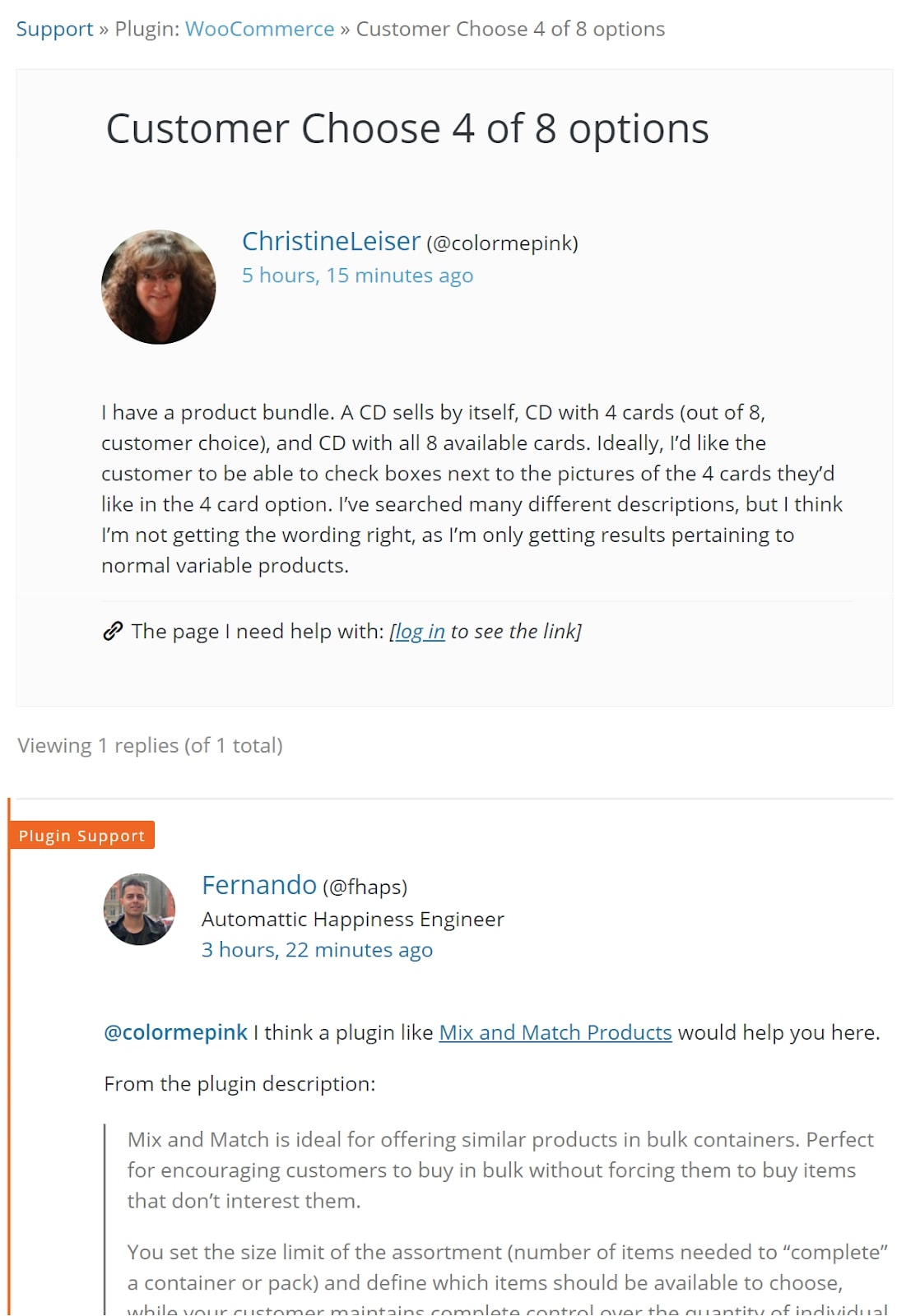 This is the simplest way to get WooCommerce support for all your product-related issues.
However, if there is no original thread, facing similar issues as you are facing, you should create your own thread and then wait for plugin support or a WooCommerce community member to respond to your problems.
You have the option to choose mails to be sent directly for your responses.
You must be aware of the term "Slack", but just in case not let me explain it to you.
Slack is the business committee platform that includes chat rooms where all the business community can ask their queries and get satisfactory answers for that.
It is basically built to make business life more simple and productive. Today almost all businesses use slack as the platform for their members to communicate nationally or internationally for their business development.
Various other features of the Slack platform:
You can message any business community directly if you have an account on Slack.
Can explore different channels and communities related to your business.
Easy to find your previous discussion by the search tool given there.
The WooCommerce Slack community is free to join and millions of people have joined the WooCommerce Slack channel.
Slack is a robust and fully secured WooCommerce support offered by the WooCommerce community to their customers.
For instance, check WooCommerce Slack channels chats: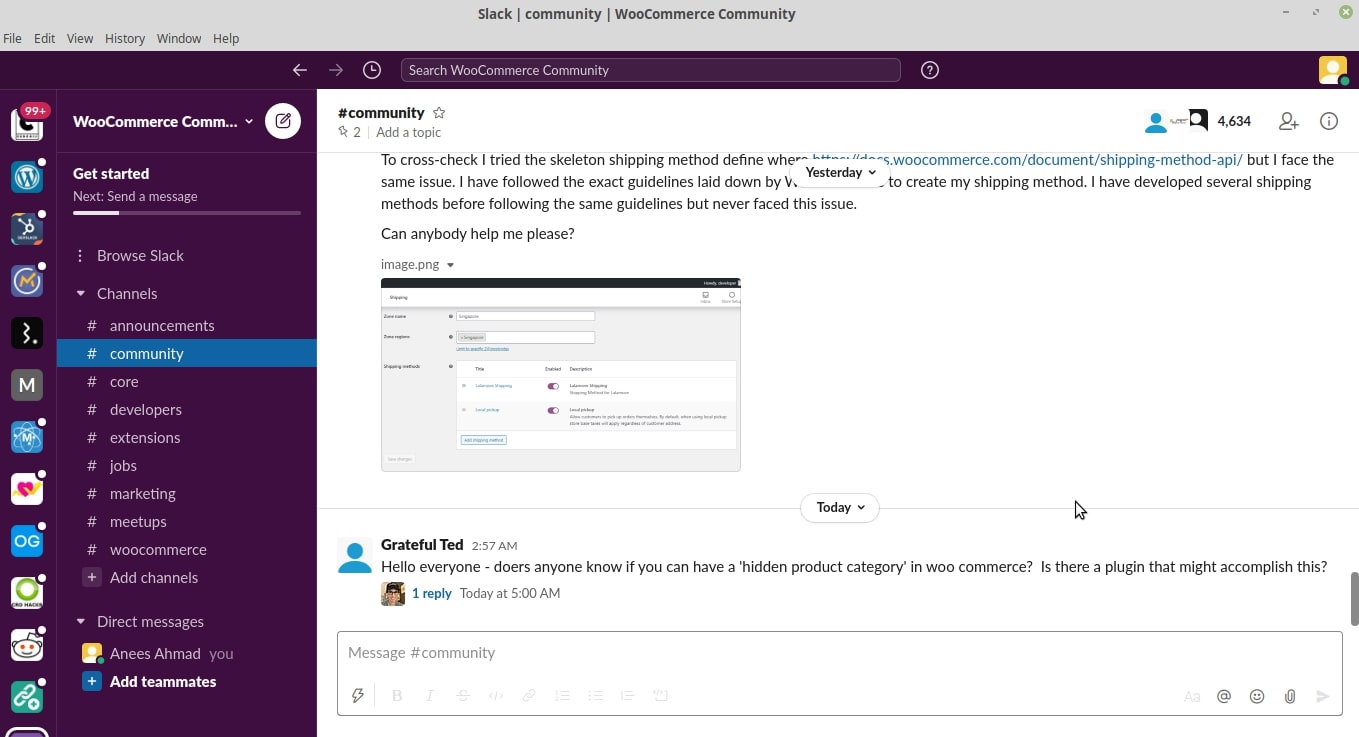 The WooCommerce official sites give you various resources of WooCommerce support. On these platforms, you will get all your website-related concerns. You have so many options for getting WooCommerce support like plugins related, add-ons and extensions, product guides, etc.
These supports are:
Docs – provide tutorial, reference material, step-by-step guide for setting up every plugin.
Support – If you are a WooCommerce customer then you can take help from the support members.
Blogs – Blogs are a great resource for all your problems. They give you blogs that will provide you with all the information you need.
Getting support from WooExperts will surely help you in either way. And also guarantees you the latest most up-to-date information about the product and resources.

Reddit is a platform based on a person's interest. Find your community in which you are interested and get your answers. It has a very wide range of audiences of about- millions of global users. It is open-source i.e. free for all. Everyone can think, and get into a deep discussion of topics that matter to them.
It is an active WooCommerce support community, and the best way to get technical advice from WooCommerce professionals.
You will not find basic-level solutions here. Most of the recommendations and conversations deal with towering skills and pro-level questions.
However, the discussion done on Reddit is so secure and reliable. You don't need to worry about promotional posts.
If you like a forum-type environment for support, then Reddit is a great place to ask for WooCommerce help.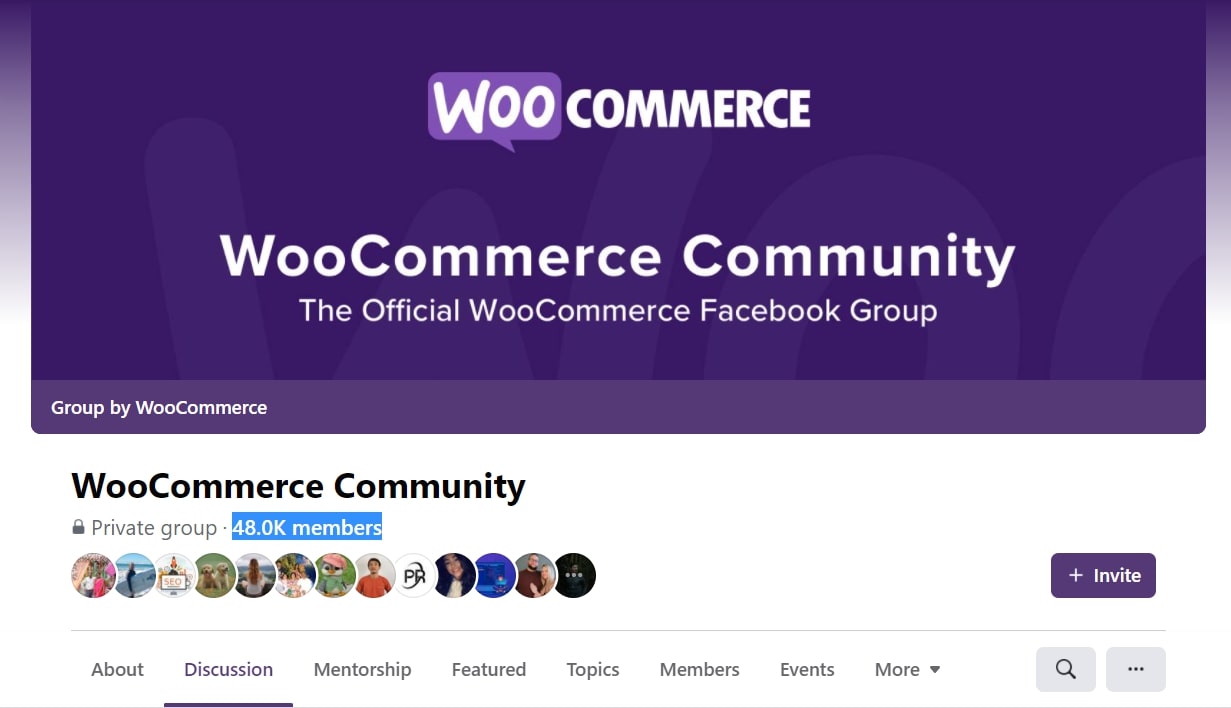 The official WooCommerce Facebook Group is an official page for online store owners, employees, WordPress developers, and WooCommerce enthusiasts on Facebook to connect, share ideas, provide or share each other valuable support information, and empower members to get more knowledge about WooCommerce.
It is a community for volunteers. You can do link sharing and other related opportunities regarding your field. It is basically another good source to have WooCommerce support regarding your WooCommerce project, plugin, store, etc.
There are more than 48,000 people who have joined the WooCommerce Facebook group. And it's one of the most active Facebook groups that is perturbed by the WooCommerce plugins and projects.
You can join the group anytime very easily as it's free. However, the WooCommerce Facebook group does not allow any promotion of your website or services.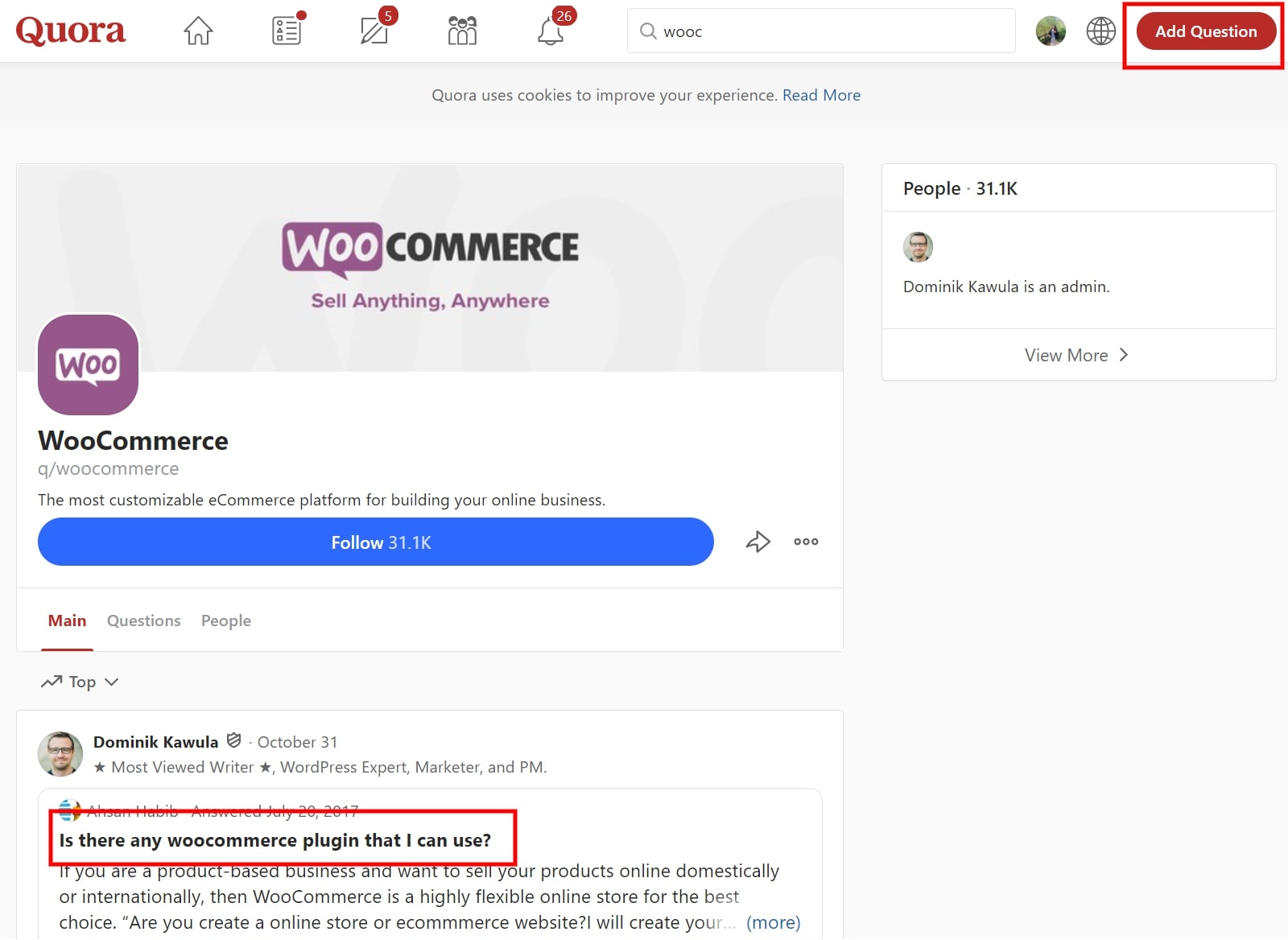 Quora is the world's largest question and answer platform where various peoples, communities, online developers, and all the people from all the platforms come together and share their insights, knowledge, and experiences.
Quora is free for everyone. You just have to register on the platform. Once you have signed in, use the search bar to know the answers to all your WooCommerce related queries.
Since it is an open-source platform, you will see lots of spammers, therefore it's important for you to always check the information and links you follow.
Other reasons why one should join Quora.
It encapsulates your expertise in almost every field.
You can directly answer the question related to your brand.
You can share the content of your website as well as any site you want.
For instance, you can directly search the space of WooCommerce and ask for the answer there only. Or you can add a question to get the answer.
Or you can directly search the query in the search bar in the form of a question, and get your answer.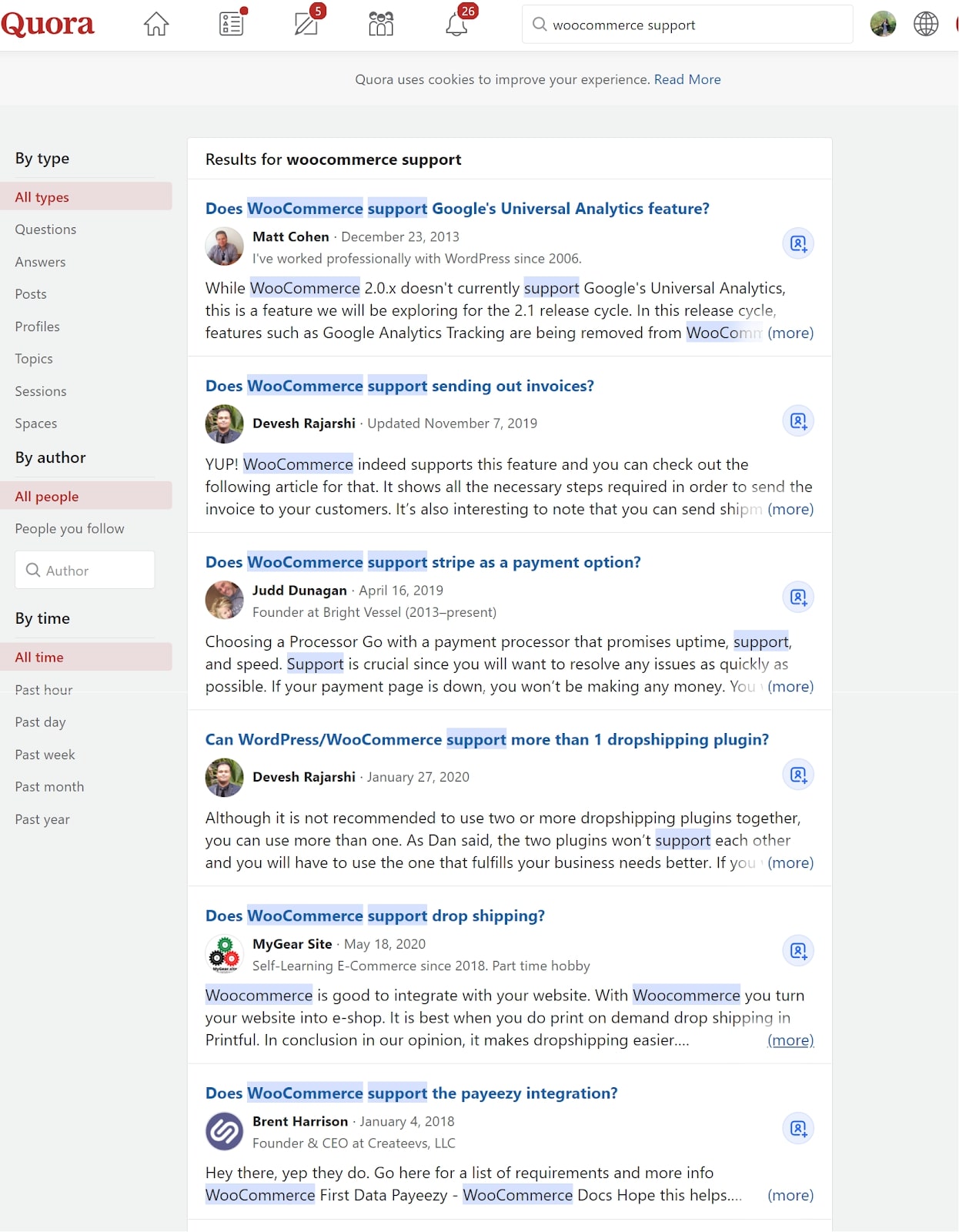 WooCommerce Github is a plugin repository. Here, we submit plugins, codes, and files to serve our customers.
It is the largest open-source development platform. Millions of developers and organizations maintain their presence on Github to share their ideas and increase their reach.
In WooCommerce Github, you will see the option Issues. Here you can put your issues regarding codes, files, plugins.
For instance, you have a problem in setting add_action always return.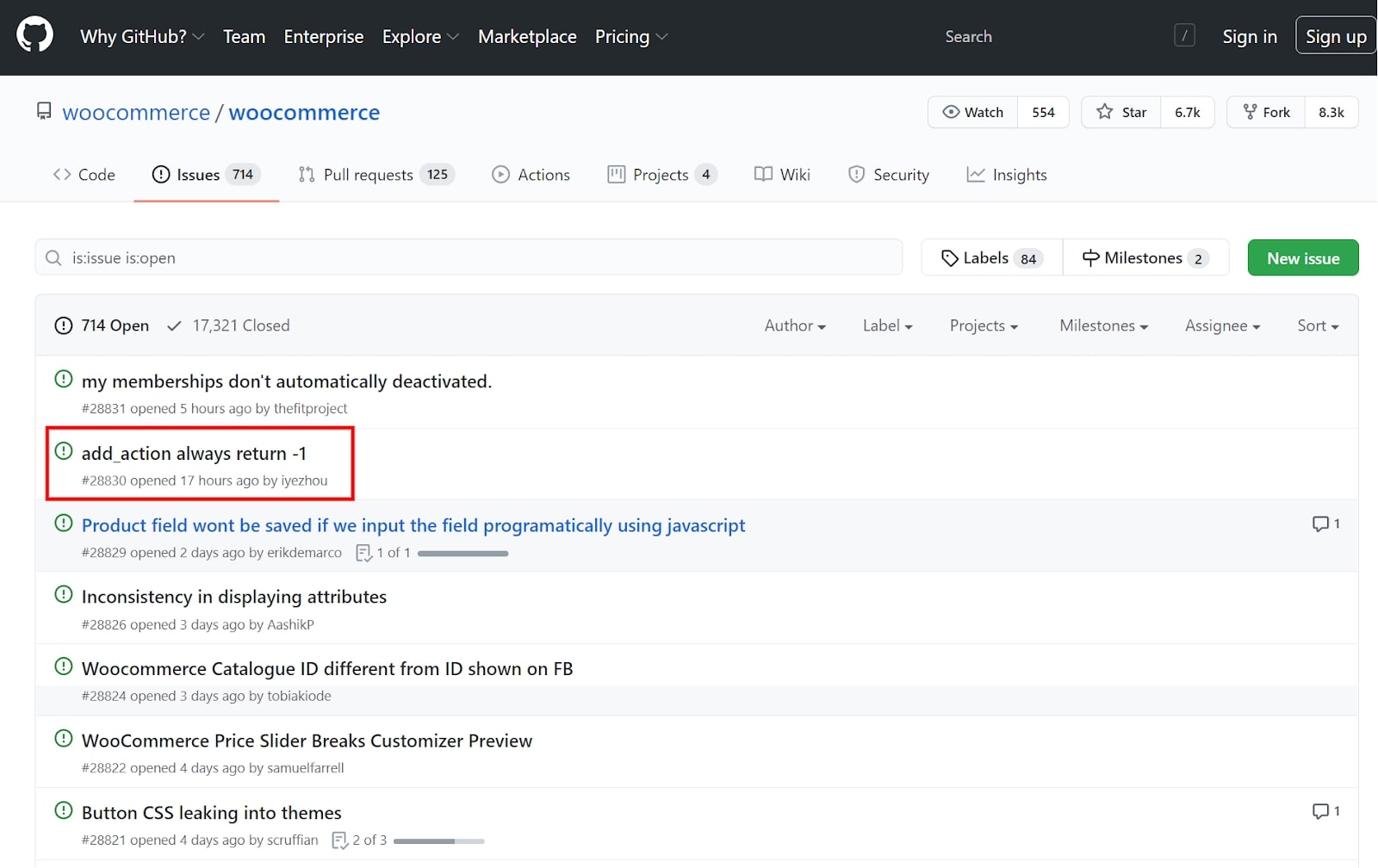 What you have to do is:
You can simply put your query in the issue folder and wait for support.
WP Swings has proven itself as a hub of WooCommerce experts with a very high customer satisfaction rate with the best WooCommerce extensions. WP Swings is the number one choice who has issues with the WooCommerce platform.
Along with developing top-notch products and plugins, we also provide WooCommerce service.
Build Or Rehabilitate Your Store With Excellent Support Service Of WordPress Or WooCommerce Problems!
Here is the list of WooCommerce services that we provide:
1. WooCommerce Store Setup And Development – We will guide you about the installation and settings of WooCommerce stores. Gives you all the necessary information needed to set up your store like:
Hosting software
Domain name
SSL certificate
After all this, we will configure our user with the setting part.
2. WooCommerce Theme Design And Development – According to your organization's model and need, our WooCommerce expert team will provide you with the best design themes and templates that are simple and time enchanting.
The WooCommerce themes and designs we offer are fully customized, SEO friendly, and mobile-friendly.
3. WooCommerce Security And Maintenance – We provide full security to our customer sites. Ensure site credibility by fixing all the bugs and threats.
Also, keep our customers updated about all the new WooCommerce extensions coming into the eCommerce market.
Want To Know More About WordPress Security And Protection Of Your Website?
4. Store Migration To WooCommerce – Your migration from any eCommerce platform will not affect your site integrity and functionality.
Shopify To WooCommerce Migration In a Few Steps!
Maintain your overall site functionality during migration.
5. WooCommerce Custom Plugin Development – You can add WooCommerce custom extensions and plugins according to your site requirements.
There are many extensions and plugins for WooCommerce Subscription, Booking Payment collection.
But if you want to reach out for more extensions and plugins, connect with WooCommerce service providers.
6. WooCommerce API Integration – WP Swings provides third-party integrations. To make your WordPress eCommerce site boundary-less, our Woo-experts recognize this.
Other than this we also provide:
24/7 full customer support
Weekly updates
Blogs on WooCommerce Support
Several guides on WooCommerce setup
Tutorial video of WooCommerce
We have a diverse team of WooCommerce and WordPress experts who are there to resolve all types of challenges.

It is an open online community for the developer. Here, people can get all the questions and answers related to coding.
You can get all the information about the latest technologies, which includes WooCommerce. Users can ask questions and upvote the answer if it is relevant to them.
If you want to write your own WooCommerce code snippets, then you can get help from Stack Overflow. It is an excellent resource for users if they want to write their own code.
Create an account and now search and ask your related queries. You can add tags to your questions so that is easy for the community members to answer quickly.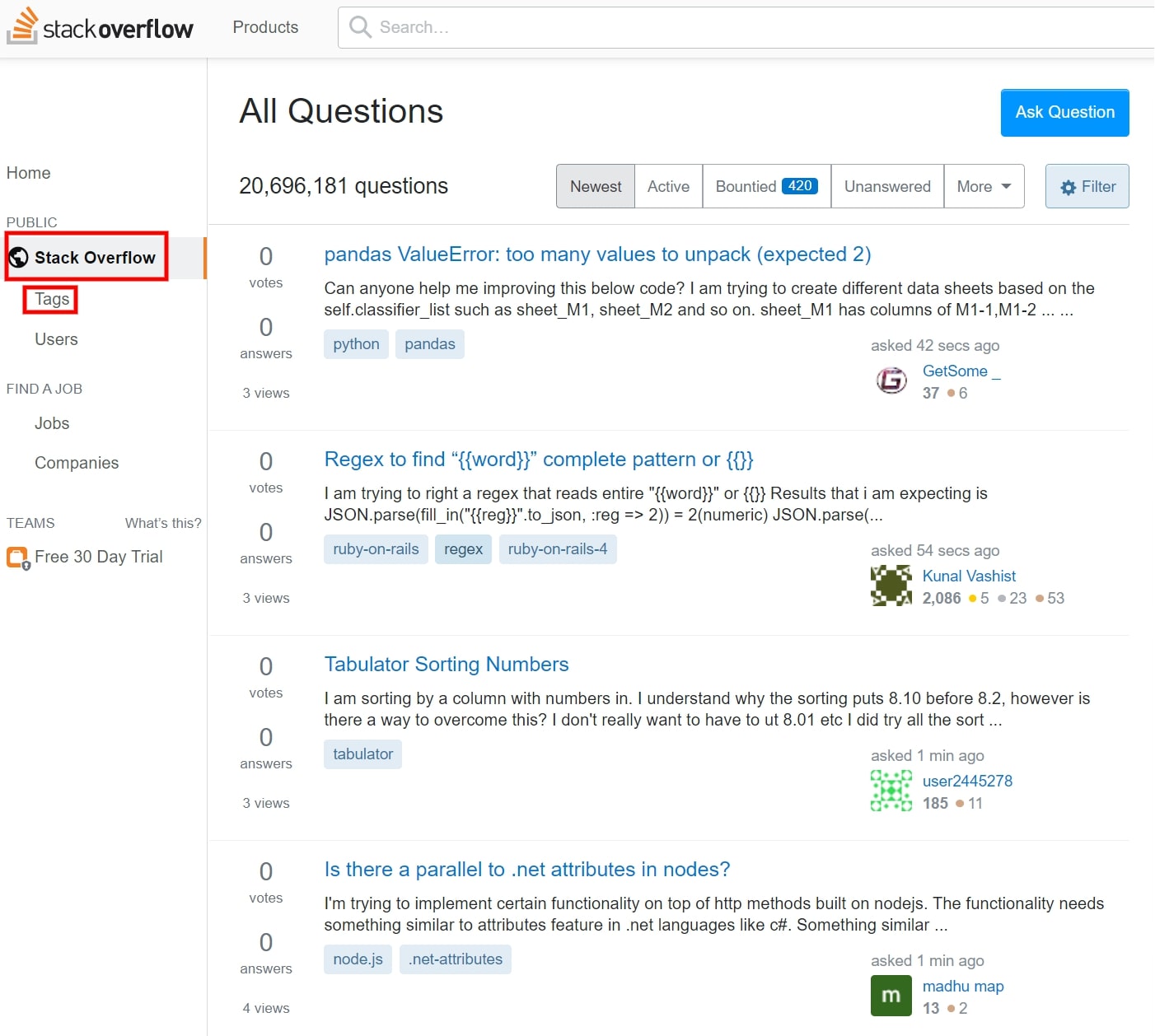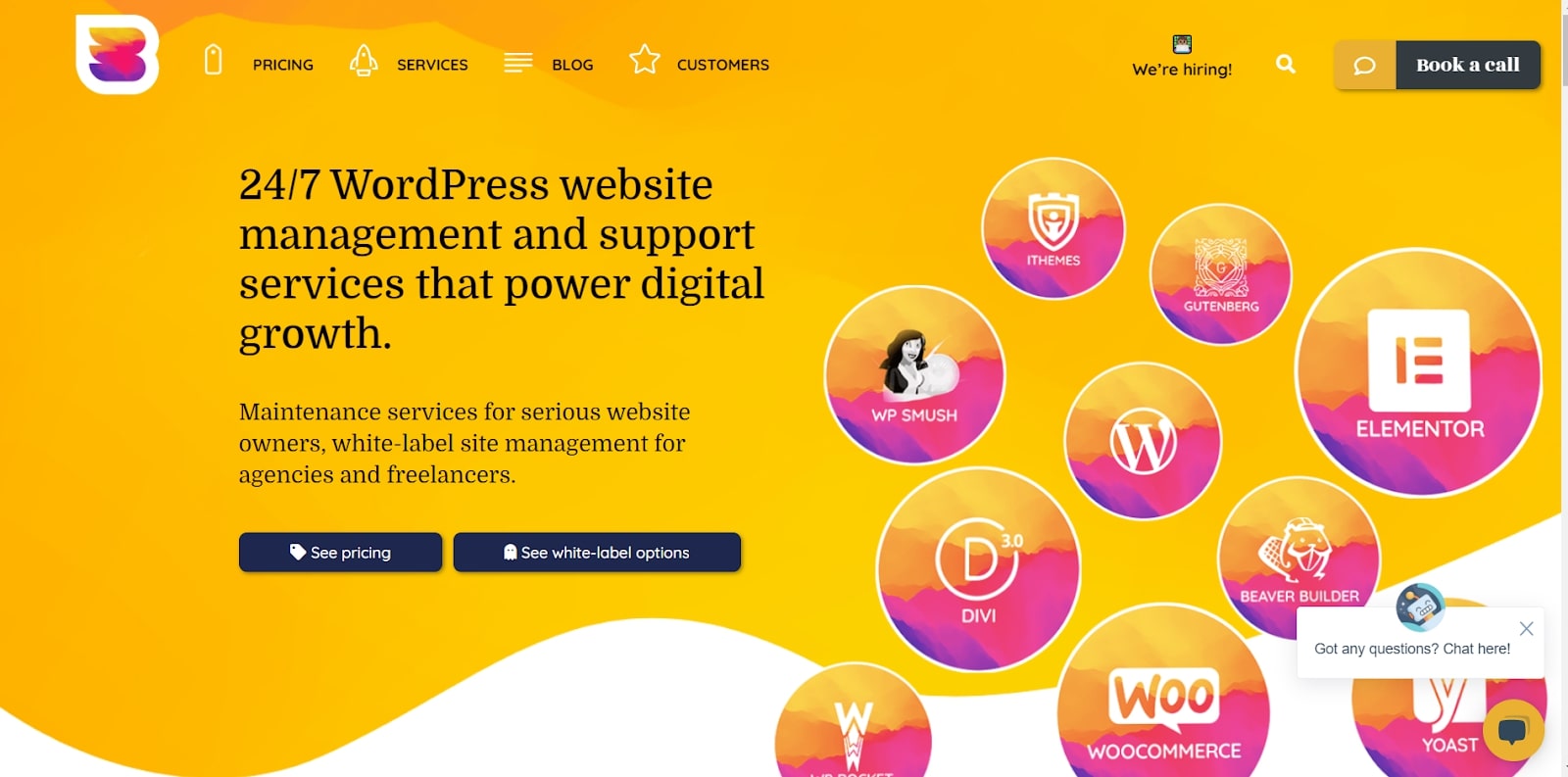 It is the largest WordPress website maintenance and support platform for agencies and freelancers.
You have to sign up for the best maintenance package for your WooCommerce store. WP Buff experts offer you the best WooCommerce support with tutorials, videos, blogs, etc.
It offers you all eCommerce functionalities like:
24/7 websites edits
Weekly updates about sites
24/7 customer support
Websites backups
Speed optimization
In addition to this, it also provides you a WooCommerce support solution for troubleshooting conflicts directly with plugins. The team of WPBuff is there to resolve all your issues.
For instance, if any of the WooCommerce extensions are not working properly, the WP Buff experts will get in touch with the expert developer to help you with that.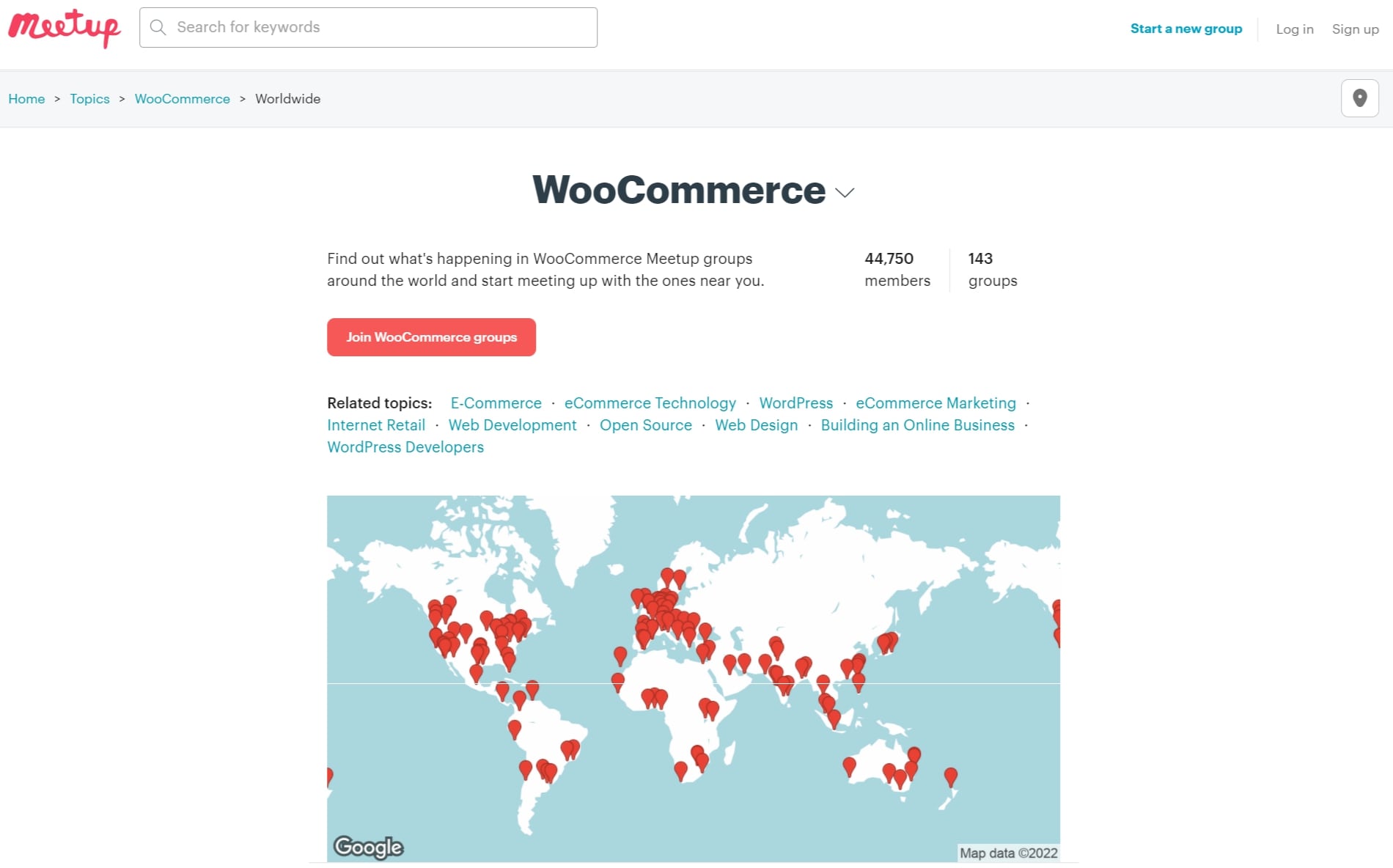 Local meetups are face-to-face interactions of people with each other.
"Local WooCommerce meetups" is a platform where face-to-face events are organized by the WooCommerce groups to accelerate the understanding of WordPress and WooCommerce.
You can join your nearest community to follow up on the meetup plans. Explore and improve your WooCommerce skills and get answers to your queries.
How to join?
Sign up to create an account
Search for your nearest community
Join the community and get the best you can.
You can also arrange your meetups. Join the group that meets your needs, interests, and find the best answers.
Conclusion
Whether you are running an eCommerce store or any site, you need some sort of help at one point to make your store or site run more smoothly.
Here in this article, there are many options available when it comes to finding WooCommerce customer support for your eCommerce store. Hope they will be of great help to you.
What's your top-choice to get support on your WooCommerce issues?
Renovate Or Create Your Store With Our Best WooCommerce Solutions And Services!