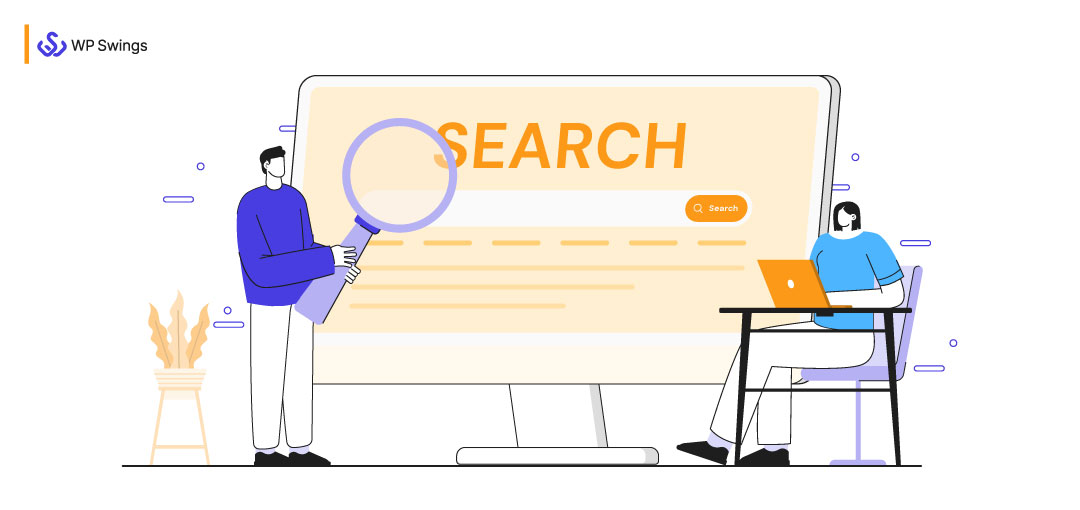 After the Covid pandemic, every individual now relies on digitalization. And this pandemic helped many WooCommerce sites and store owners. But, WooCommerce site is not only about selling and purchasing. It also needs to get attention from its audience to promote your product, entertain visitors, and bring sales revenue. In this, WooCommerce SEO will play a vital role.
Table Of Contents
What Is SEO?
SEO stands for "search engine optimization" and it's a strategy for improving your site's rankings and making it more efficient.
SEO brings traffic and there are many ways to drive traffic to your WooCommerce store, but Search Engine Optimization(SEO) is one of the most effective ways that will help you. It is the collection of strategies and techniques using which your store can be ranked better on Search Engine Result Pages (SERPs).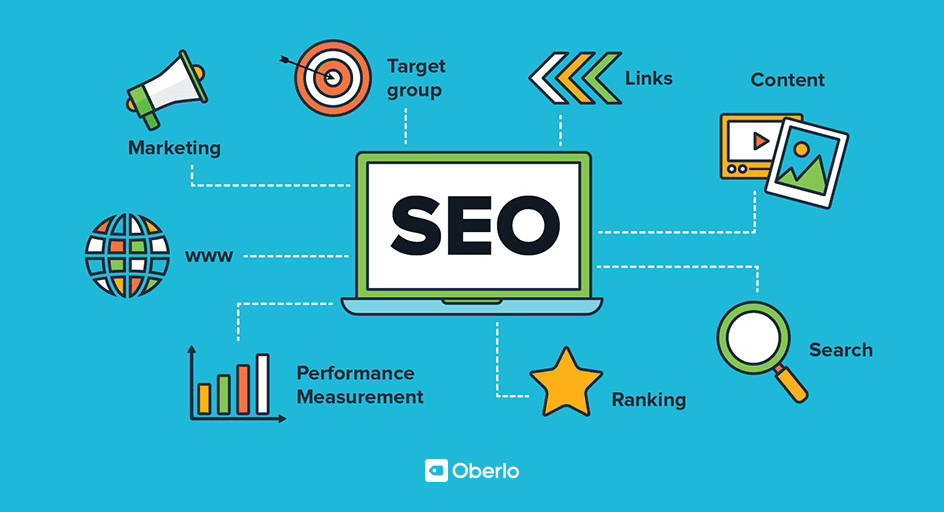 As we all know, SEO plays an enormous role in ranking websites or online stores. Therefore, it is very necessary for everyone, especially for the WooCommerce store owner who wants more traffic on their site and wants to make an SEO-friendly website.
Note: If you are new to SEO, please carry on reading all the sections of the article one by one else you can straightaway skip to the actionable SEO strategies for your WooCommerce store by clicking below.
Ways To Boost Your Online Store With WooCommerce SEO: 
Click Here
Why Is SEO Important?
SEO has one of the best features that it doesn't involve paying for ad space. SEO is a bridge between your site and your targeted audience. It enables a strong online presence to the audience which eventually contributes to attaining the marketing goals.
SEO surges the credibility and reliability of your site to the potential audience who actively search for online resources during their initial research phase. It behaves as a support to the site and ensures to keep you ahead of the present competitors.
Opting for SEO optimization helps steady and stable growth of your site by enhancing technical factors like mobile friendliness, site speed, and usability which play a major role in overall rankings.
Advantages of SEO:
SEO virtually evaluates every aspect of your results in order to accomplish your desired goals.
SEO helps you to increase the searchability and visibility of your website. It increases and refines the quality of products, as well as the vulnerability of the brand.
SEO targets increasing free traffic to your website. And also improves the user experience and usability of your site.
SEO is that it virtually evaluates every aspect of your results in order to accomplish your desired goals.
SEO is important to increase the searchability and visibility of your website. It increases and refines the quality of products, as well as the vulnerability of the brand.
Hence, if you have a WooCommerce store, then you must know how important is its optimization for improved search engine rankings.
No matter how attractive your website looks or how much energy you put into it until your website ranks in SERPs. Enhancement of your website is all possible due to good SEO guidance.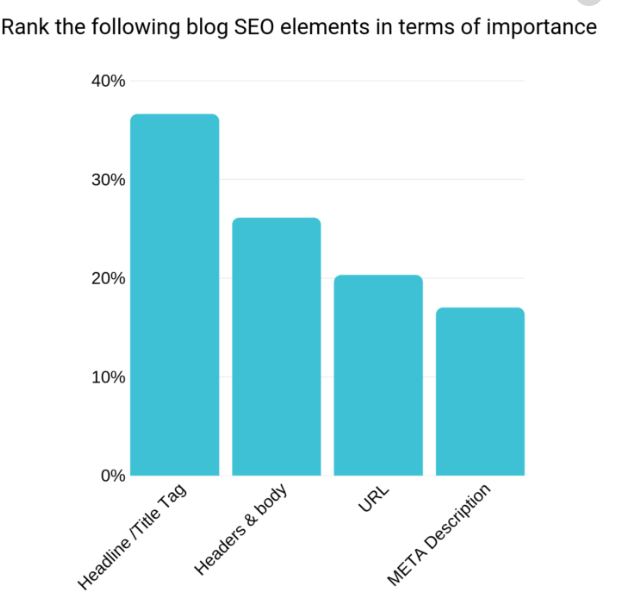 Some SEO Stats 2022
The uniqueness of your business is the only way to win the never-ending race of ranking on the primary page of search engines.
As we have discussed SEO and its importance. So now let's move forward on:
Why WooCommerce SEO Is Important?
If we talk about your eCommerce journey, you surely don't have thousands of dollars to invest in advertising and ranking your WooCommerce site.
Therefore, WooCommerce SEO is the best way to get traffic and popularity for your online store.
Do you know why?
Look at some stats from where the traffic comes from.
Over 42% of people start their purchase journey with a Google search
37.5% of traffic to eCommerce websites is from search engines.
The first result on average gets around 33% of the total traffic from search engines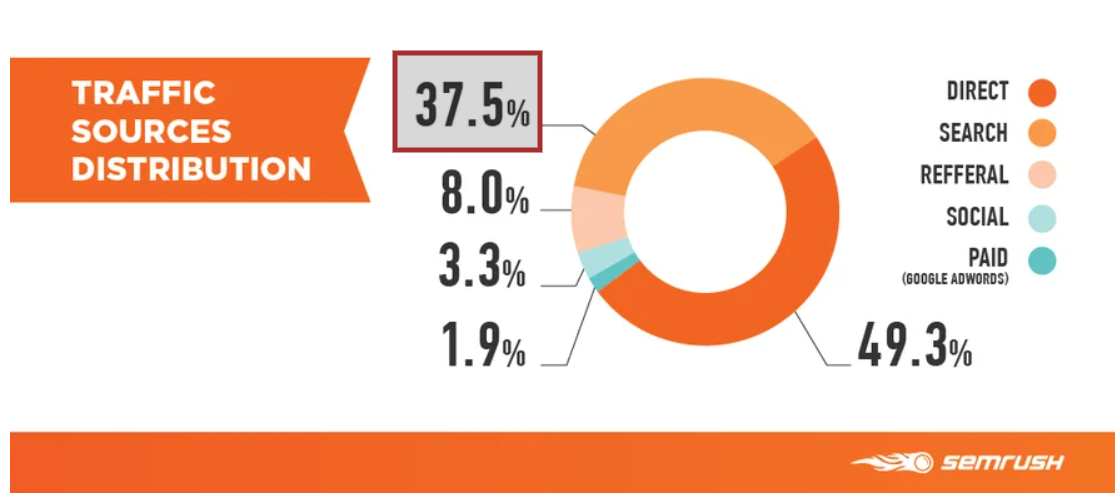 Here is an example of traffic distribution from Amazon.com

You can see all the traffic sources and also from where the maximum traffic is coming.
Is WooCommerce SEO Friendly?
Yes, WooCommerce is SEO friendly. As it screams on the top of WordPress which itself is standard compliant and excellent for SEO.
And when we talk about WooCommerce being SEO friendly, it simply means that it has some built-in SEO features that can be helpful for your online store.
However, you also have some add ons, plugins, and techniques to further improve your WooCommerce product SEO. When you start an online store with WooCommerce, you have various options to select themes, products, descriptions, images, and other content on your eCommerce store.
WooCommerce SEO is a continuous process, and you will need to focus on it steadily to see the growth of your online store on search engine traffic/sales.
Techniques Used To Improve The Position Of The Website In SERPs
On-Page SEO
On-page SEO can have a huge impact on ranking your website. It enables search engines to know your website and its content. Some on-page factors that affect search engine rankings are-
Meta Tags:
A meta tag is the snippet text that describes your website content i.e. (what is on your website) using primary keywords which should be a minimum of 55-60 characters.

The meta tag should contain the keywords that define what the page is all about.
Hence, this may be a better way to draw the attention of the audience to your page. Therefore, you have to be vigilant while selecting keywords for meta tags.
Meta Description:
Meta Description is descriptive content that will help the search engines to comprehend what the web page is about. It serves the role of advertising copy. It attracts users to go to the respective website page.

So, crafting readable descriptions using relevant keywords will improve your ranking in the search engine.
URL Structure:
As for reaching home, you need an address; in the same way, for reaching any website, you need an address. Uniform Resource Locator is defined as the address to reach any site on the internet.
Always keep in mind to make URL SEO-friendly by implementing the focus keyword in it. URL plays a vital role in attracting and retaining visitors' attention. Suppose someone needs green sandals, and they search for them online.
Therefore, the URL must contain the keyword 'Green sandal' which can help Google to fetch your site immediately.
Use Heading Tags:
This often plays a significant part to stimulate a striking effect when the audience visits the web page. Each page should have only one H1 tag and will contain your primary keyword in it.
Keyword Density:
Having more keywords on a page is a black-hat SEO practice because of which your website may be penalized.
So, maintain the ratio of at least 2-5% keywords per page.
The density of keywords must not increase than this ratio; you ought not to use the identical keyword again and again. Instead, you can use keyword phrases.
Internal Links:
It plays a prominent part in navigating between different pages, connecting your content, and even offers Google a concept about your website structure.
Anchor Text:
The anchor text, often known as link label or link title, ascertains the ranking that a webpage will obtain from search engines. It appears as a blue underlined text which provides contextual information to both the users as well as search engines about the landing page they are visiting when they click on it.
Mobile-Friendly:
Making your website mobile-friendly is the most significant step to extend your ranking because nowadays most users browse the internet using their mobiles. Stats say 55.7% of users open their website or do their shopping via mobile instead of a desktop, which means we are getting more traffic from mobile.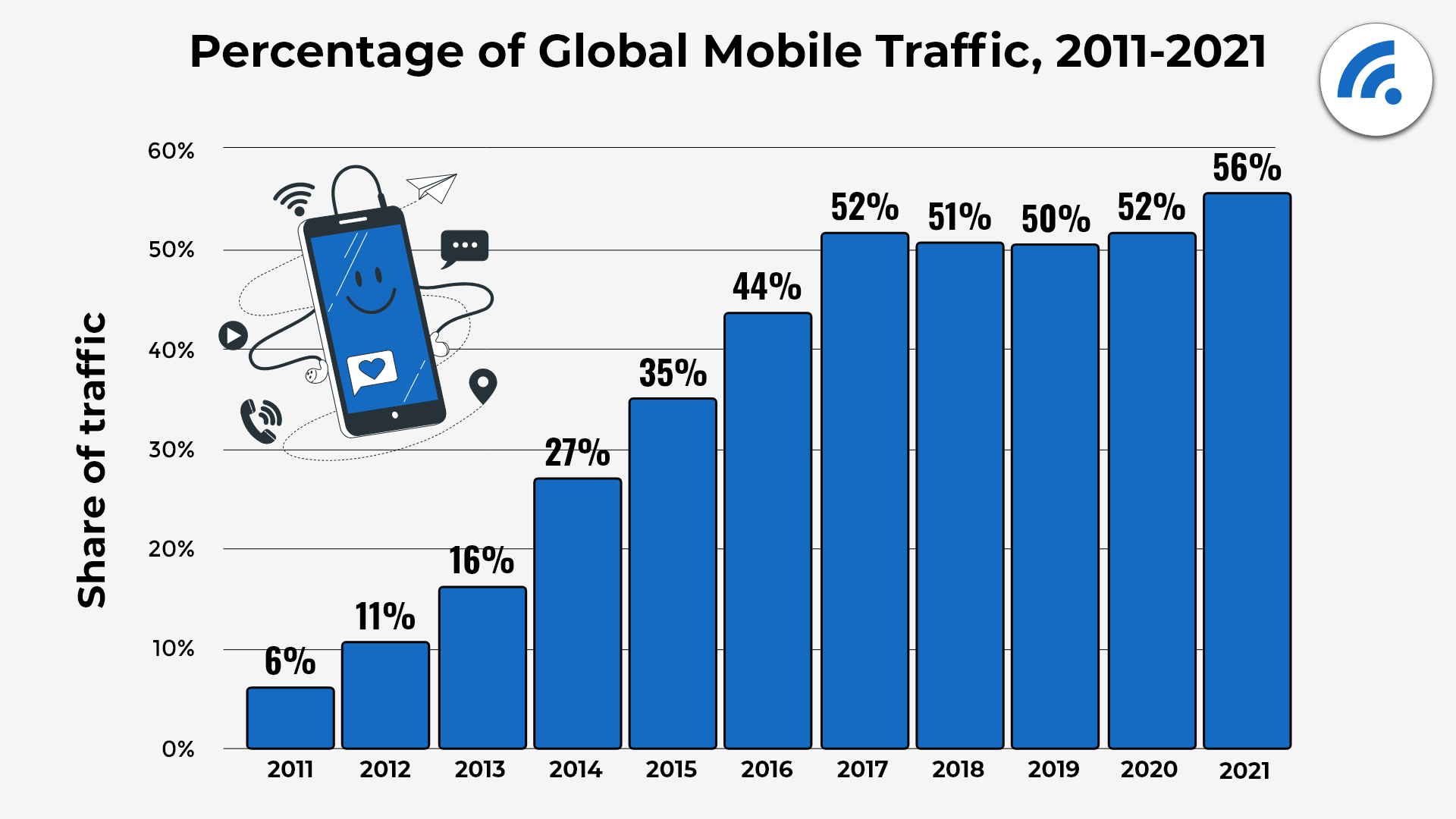 Hence, you should focus on creating mobile-friendly sites.
Website Speed:
More than anything website speed is another salient factor to boost the traffic on your website. Everyone seems so impatient today that they will not even wait for a second to let your website load.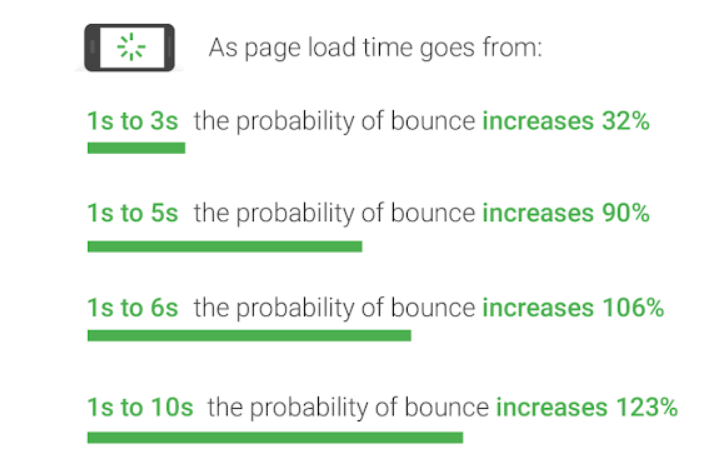 3 seconds is considered the best loading time for websites. There are many tools available by which you can improve the loading time of your website.
Off-Page SEO
Off-page SEO assists you to make your website popular on the internet so that you can get more traffic to your website.
On-page SEO helps you to get visibility, but only off-page techniques help you to rank on SERPs.
Creating Shareable Content:
Good content is considered the backbone for your website as well as for SEO. The website which has the simplest and most knowledgeable content will be ranked.
Creating amazing and shareable content may be an innovative way to generate more natural backlinks for our website which facilitates you in optimizing your website.
Sending WooCommerce custom emails:
Make customers recognize your brand. Use helpful content to keep your customers informed. Invite them back to your WooCommerce store using a WooCommerce email customizer.
Guest Posting:
There are often a number of products and quality blogs that are open for guest posts from various authors. Write a tremendous research piece and approach them with your content for guest posting.
You should not target the number of links, instead, just specialize in the standard of links. And also don't keep posting multiple times on the identical guest blog site.
Here are a couple of insightful guest posts from our founder on top marketing blogs which provide a lot of value to readers:
Social Media Posting:
A major SEO technique is social media engagement. If you wish to make your business a popular website, engage with people on different social media platforms like Facebook, Instagram, Linkedin, etc. Social media presence will help your business to grow faster.
Forum Submission:
Participating in search forums that are associated with your website and making connections there will promote your website. Reply to threads, answer people's questions, and provide your suggestions and advice; these types of engagement will show your interest in solving problems. Make use of Do-follow forums.
Video Submission:
If you want to make your videos more engaging, focus on the popular video submission sites. Submit your video with a proper title, description, tags, and reference links. Make your video short and knowledgeable. It is the most effective way by which you can easily get backlinks for your site.
12 Ways To Boost Your WooCommerce SEO
Dive-In Into The Content
1) Pick SEO Friendly Themes
Your theme is one of the most engaging fragments of your store which attracts people. Therefore, you should be very attentive while choosing themes for your WooCommerce store.
It determines your store's appearance, layout, and provides your eStore with various new functionalities that play vital roles in WooCommerce SEO. For example, your theme affects your site speed. And also benefits your store ranking.
Thus, whenever you are picking a theme for your online store, also keep SEO in mind.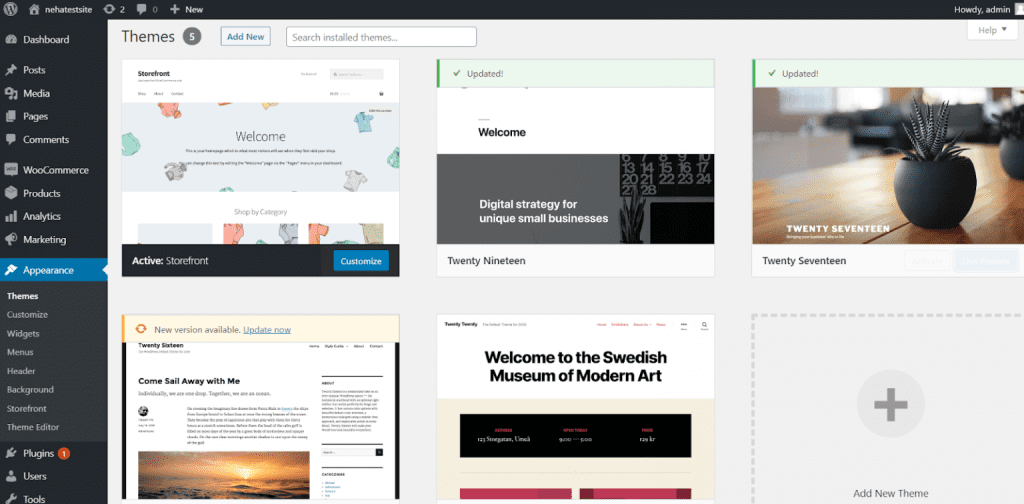 These are some WooCommerce SEO-friendly themes that you can select for your online store. You can also customize the theme according to your requirements.
You should look for a theme that offers you special features and is designed to improve your SEO. So, the question arises:
What is needed for an SEO-friendly theme?
Responsive Web Design– Google mentioned that mobile-friendly content will perform better for those who are searching on mobile.
Light Weight Theme– It offers the quick performance of web pages. Avoid inflated themes with third-party plugins as they will slow down your website.
There are various plugins available to test lightweight themes such as ASTRA, OceanWP, Zakra, etc.
Most of the themes show that they are mobile-friendly but before believing, check this via the Mobile-Friendly Test.
Here is the result of an online store Amazon.com: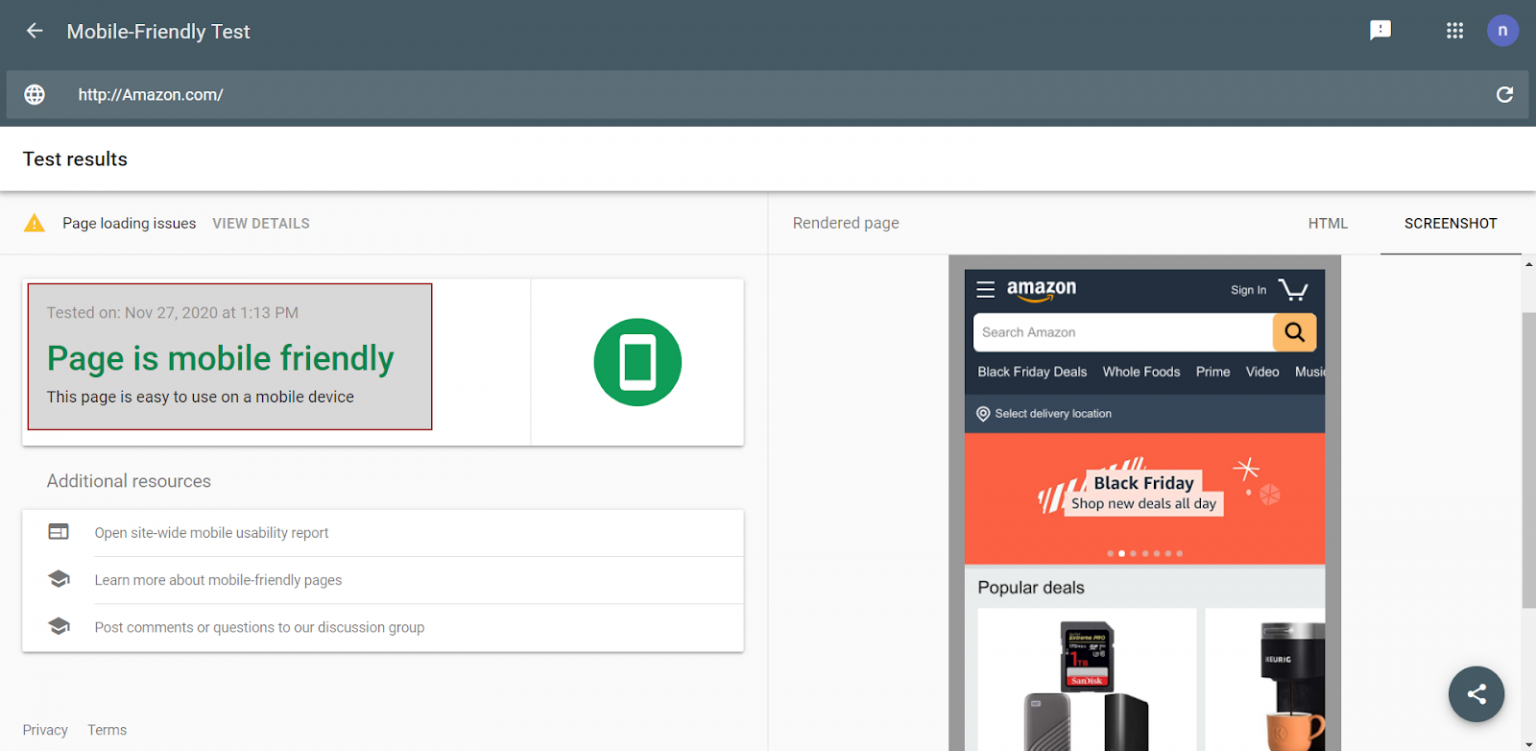 2) Use SEO Friendly Plugins
If you are a WordPress beginner, you may be unfamiliar with plugins. They are extensions or software components that will add some new functionality to your online sites and enhance your on-page SEO.
These plugins not only help you in optimizing your site but also help you to rank on search engines. Installing SEO plugins will help you in optimizing what Google sees on your eCommerce sites.
WordPress offers many SEO plugins but in terms of popularity, you can say the free Yoast plugin is the real winner. It is the most popular SEO plugin that you can use to make your site better.

Various other SEO plugins that will help you in optimizing your site are-
It also takes care of your WordPress website to add meta titles, meta descriptions, meta tags, keywords, and much more. These plugins offer a complete SEO solution for your WooCommerce site.
3) Optimize Your Product Page
Next, optimize your product page. Because the different components of your product page should be arranged in such a way to improve the online visibility of your product in search engines.
You can install the free version of the Yoast SEO plugin. This will add a section that will help you in optimizing your product URL, title, description, images, videos, reviews, and ratings.
Let's check the important sections of the product page:
A) Product SEO Title
One of the foremost important parts of your WooCommerce store is to write SEO-friendly product titles.
Because product titles are the first thing that crawlers use to search the product and are used by search engines as the titles of that product.
For example: If someone searches for "green sandal", then Google shows such results whose product and SEO title is "green sandal".
You can see the image below:

How to set product SEO title:
Go to your WooCommerce site.
Click on Edit product
Scroll down to the Yoast SEO section
Set the SEO title

SEO Friendly Title Should Contain:
An accurate description of your product and services
Uniqueness
Length of 55 to 60 characters
Never match with the title
Include focus keyword
Always use your domain name on the right
B) SEO Meta Description
Besides product SEO title, another important factor is the meta description. All the products should contain unique descriptions.
Plugins like Yoast SEO recommend that the meta description which is shown on SERPs should ideally contain 150 to 160 characters.

In the same way, your product description should also contain 300 words of meta description in which short details of your product are available.
Also, keep in mind that the product description should contain your focus and secondary keywords 2-3 times throughout the whole description.
You can see the image below to differentiate the meta description of your product.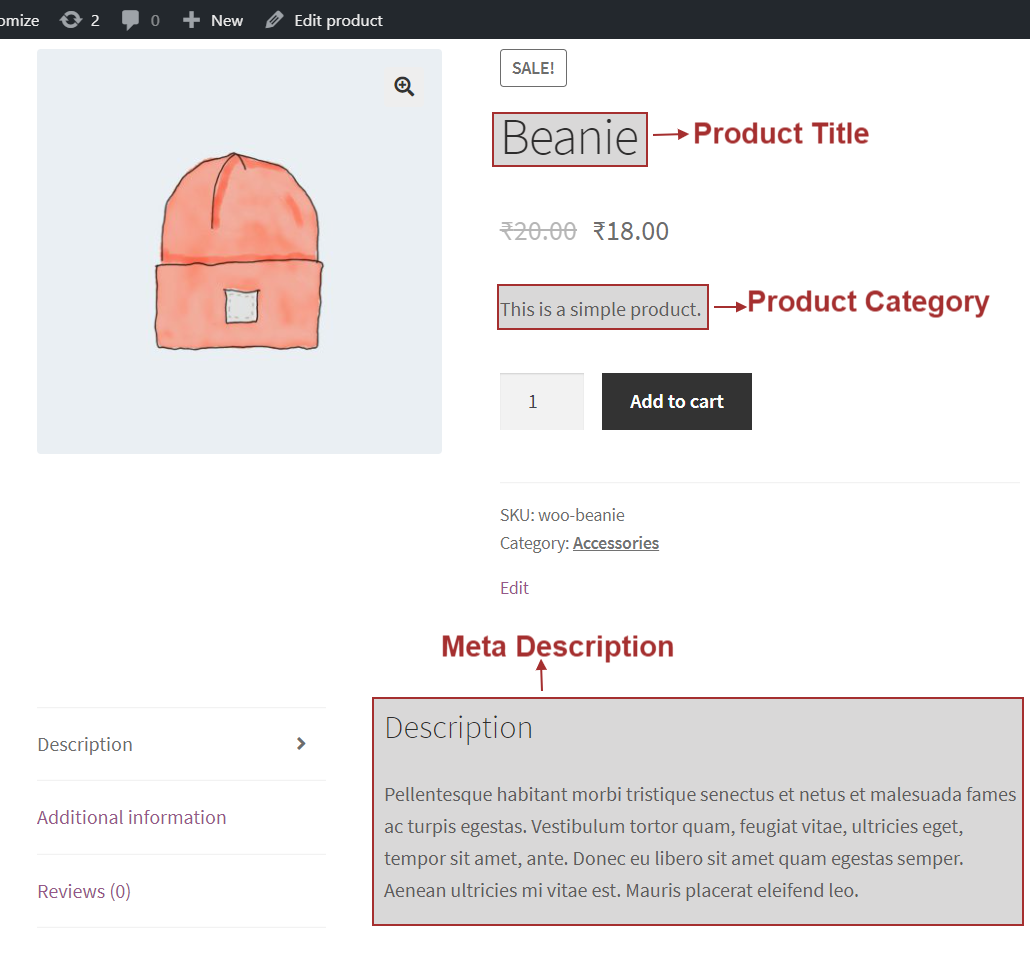 C) Product URL
URL plays a significant role in ranking algorithms. Another most common and required element for your online store is the product URL. Your product URL should contain your focus keyword.
You should enable the breadcrumbs of your WooCommerce store to make the product URL more readable.
D) Use Product Category And Tags
Product categories and tags will help people to easily find the specific product they are planning to buy.
Suppose you want to buy a medium red Allen Solly shirt but you have to find it amongst 2000 shirts.
What will you do?
You will abandon the site and go to a physical store instead.
But, if you are given an easy option to choose and select the categories of what you want, you will surely buy the product online.
See the image below of how several briefs beautifully Amazon.com has categorized their product for their customers.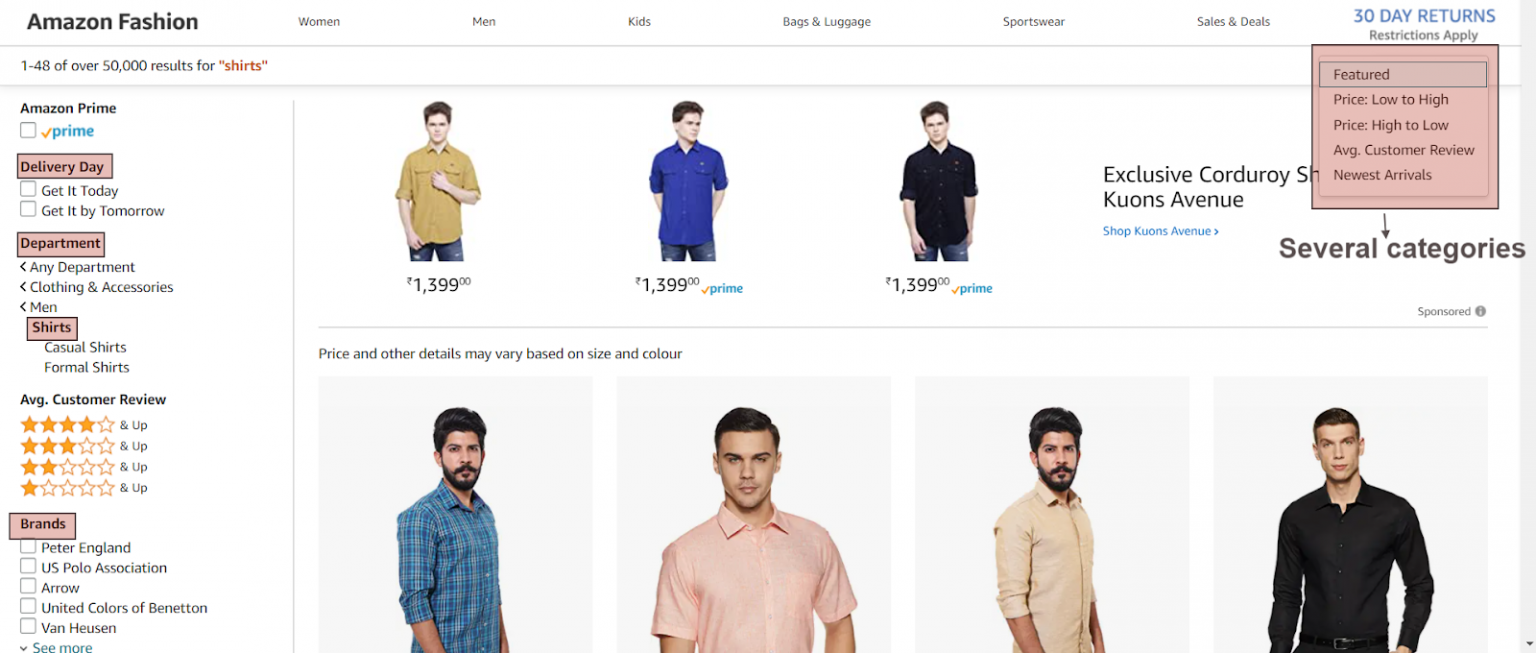 The same goes for the meta tags.
To add the category and tags:
Go to WordPress Backend
Product>Category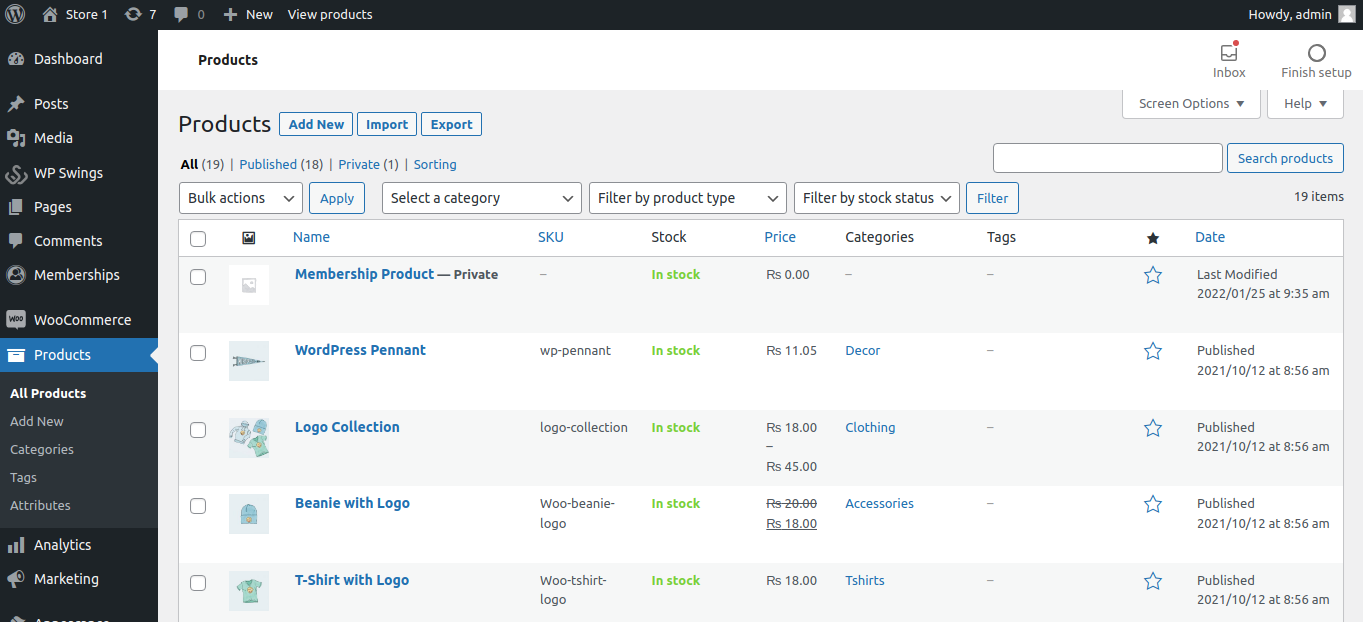 Here you can select the most suitable category for your products.
4) Use Image Alt Text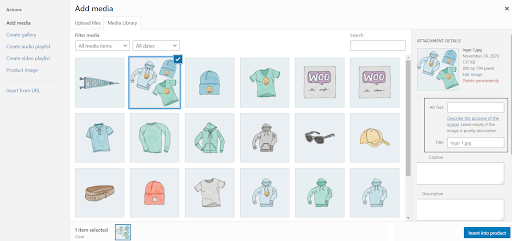 Image Alt text is a kind of human-readable description of images by search engines. They're a human-readable description you add to your website's images in case the file can't be loaded.
When you upload an image of your product on your WooCommerce store, you have to set a title and an alt attribute.
By default, it uses the image filename in the title attribute. And if you don't give an alt attribute to your image, it copies the same to the alt attribute.
We can say this is better than writing nothing in the alt attribute, but it is poor practice.
You should be focused while crafting a proper alt text for the product image you add to a product and it will give an excellent impact on your SEO.
5) WWW Vs Non-WWW
If you are new to WooCommerce, you may not have an idea about www and non-www sites. You must have noticed that some online sites are live at www.domain.com whereas others are live at domain.com.
For example- the URL for the site WP Swings is https://wpswings.com/
But the URL for search engines like YouTube is https://www.youtube.com/
From an SEO point of view, there is little difference between both of them. And most of the host servers automatically redirect the request for the wrong version, to the version you have selected. So, this counts in the primary branding consideration, which URL is best for your site.
Then choose the domain for WordPress address URL and Site Address URL in your WordPress backend.
You can find the option under Setting>General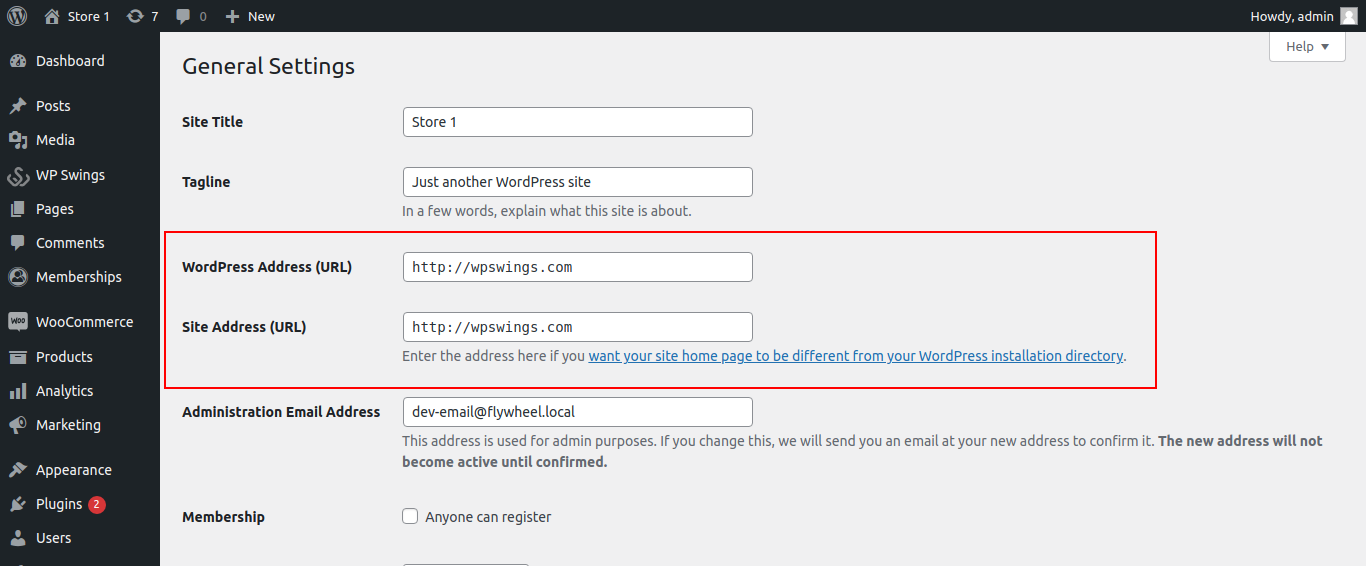 WordPress will automatically redirect to the preferred version.
You can also check this in Google-
You can see the difference between the www and non-www URLs.
Search for results with www.yourdomain.com and see the number of searches-

Then, do the same thing without www-

The version that has more search results can be regarded as the best version.
6) Clear Site Navigation
Complex and confusing navigation on your online store can have a great impact on the bounce rate.
Because today no one has the whole day to explore your online site.
So, using a clear and simple navigation system will help your customer to find what they are looking for very easily. And improves overall customer satisfaction.
But you must be wondering.
What are the best practices related to navigation?
Allow your visitors to explore your online store with ease by providing a simple and streamlined navigation flow. This avoids confusion and your visitors can seamlessly find what they are looking for.
Here is an example from Nowness.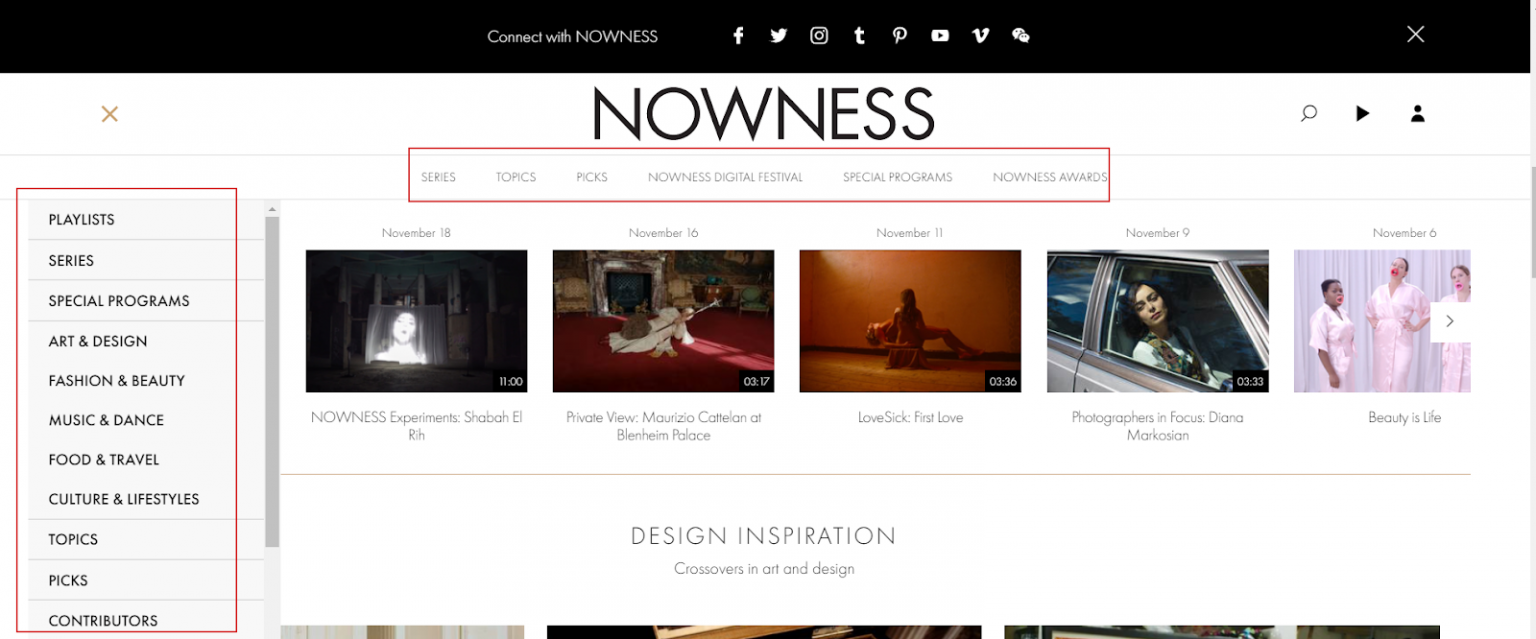 Clear and meaningful navigation labels, For example, BoseQuietComfort35 and BoseSoundSport these names clearly give the idea of the product you are clicking on.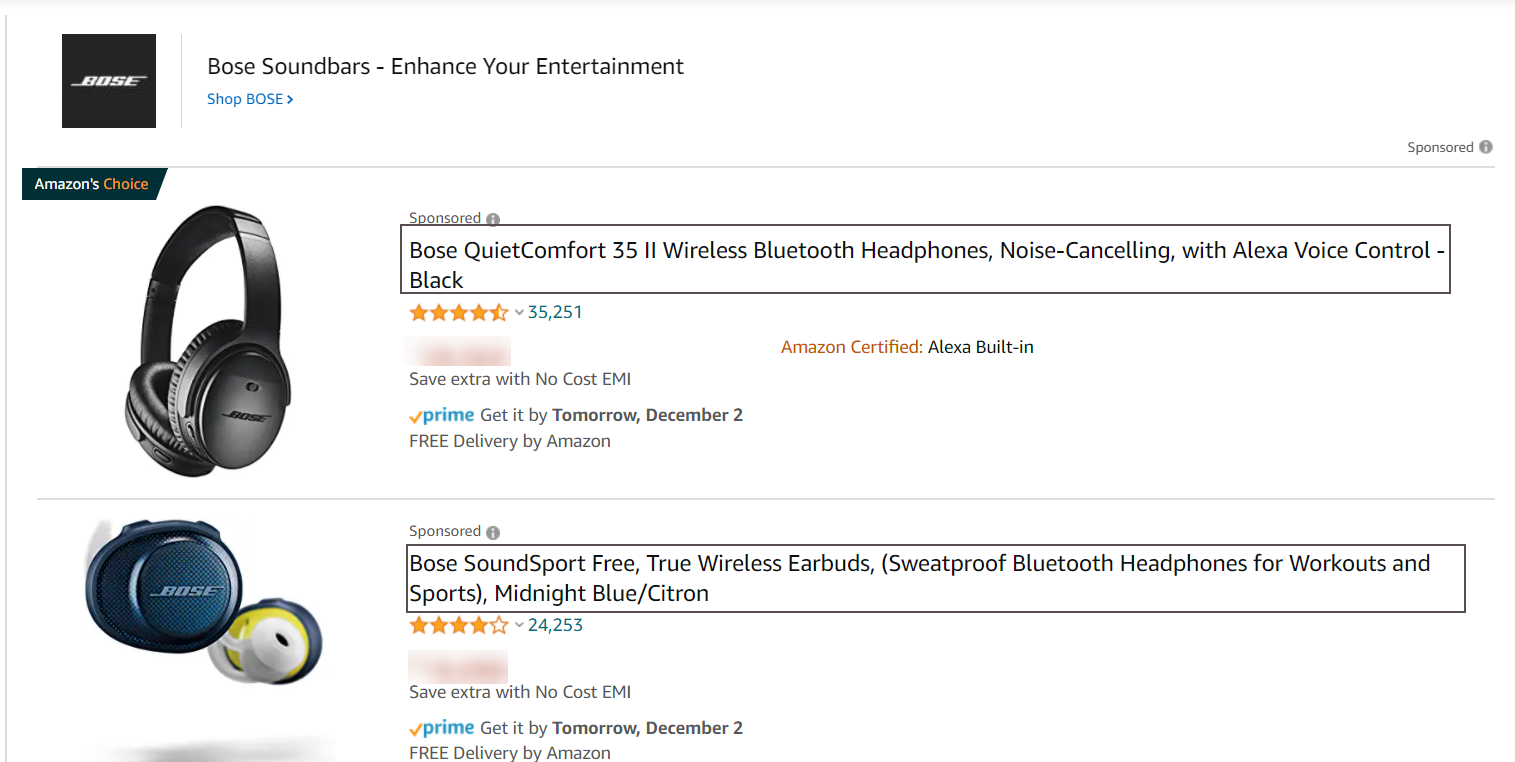 You can see the image below
Do not use several navigation menus
Use the classy design for your navigation
Use chatbox
Enable Breadcrumbs
Sitemaps
List subcategories
Always mention sales, discounts, and special offers at the top.
7) Look For Your Permalink Structure
These are web addresses that are used to link your content. The name permalink is given because the URL of each product is permanent and unchangeable. These URLs define the format of your page and product.
Permalinks are the URLs that are taken by default in the WooCommerce store, containing several special characters like a question mark and various numbers; said to be non-SEO friendly URLs.
For example- http://example.com/?=231
You should change the permalinks structure; WooCommerce offers you to set the custom URLs for your online store. You should set the SEO-friendly URLs for your product that will help you to rank on the first page of the search engine.
The permalinks that contain the product name are considered SEO-friendly URLs.
Changing its structure is very easy.
Settings>Permalinks and you will be on the permalink settings page.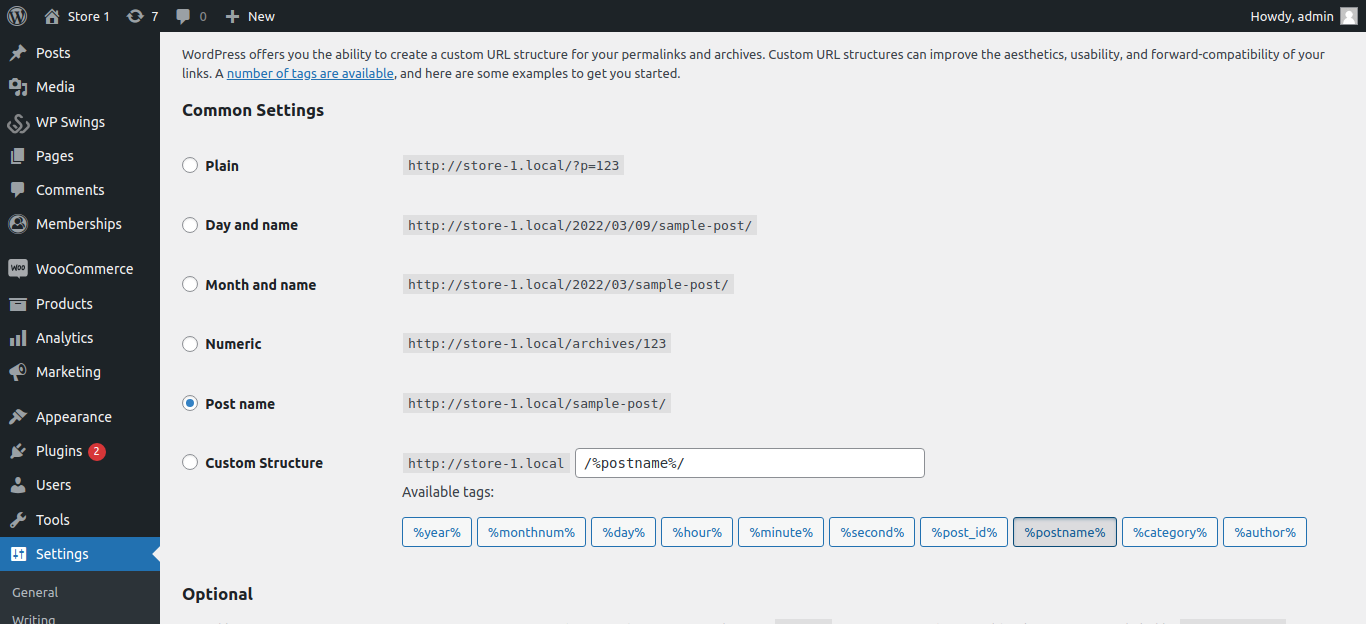 You should change the permalinks structure as shown above.
http://example.com/my-post-slug
8) Use .XML Sitemap Plugin
A good XML site map acts as a roadmap of your online site that directs Google Bots to all your important pages. XML sitemaps connect you with Google so that it quickly finds all your essential product pages.
An XML sitemap is the technical side of your site, and it encourages Google to index your online site in a certain way. If you don't submit an XML Sitemap, then your site might not be followed by Google because there are billions of sites running, so it is difficult for Google to find your eCommerce site.
Google crawls every important page of your site but sometimes it ends without pointing to interlinks. The site map lists all the important pages and links which help Google to find them.
It helps you in understanding your WooCommerce site structure.
We have various Sitemap Plugins available in WordPress-
There are also various online tools available to check the XML Sitemap. Here is the result of a website.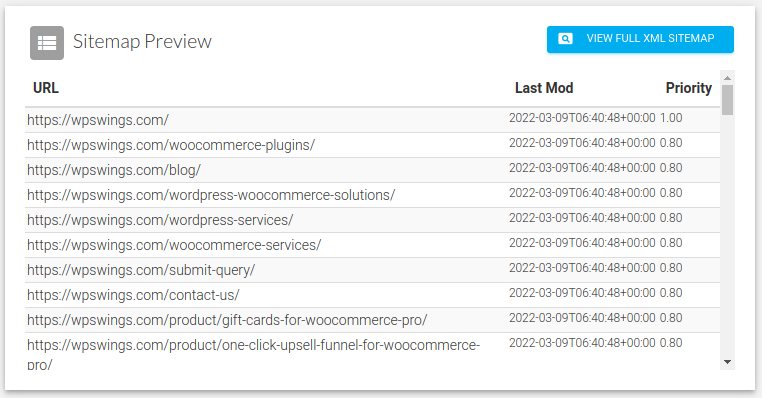 9) Number Of Outbound Links
If you are looking to improve your website, you should look towards all the components of your profile. Nofollow links inform the search engines to ignore that link and not count it towards the backlink profile of your website.
You should add rel= "no follow" to selected external links on your WordPress site.
Search engines consider links a ranking signal for a linked signal. When you are linked to an external site that means you are passing link juice (i.e kind of SEO card). If you are linking more external sites that means you are creating backlinks because of which you are starting to lose authority.
That's why SEO recommends you no-follow attribute.
For example- <ahref="http://example.com" rel="nofollow">Example Website</a>

This will add no follow to all your external links in WordPress posts and pages. For more, you can check what Google says about it.
10) Use Schema
Schema is a description or type of rich snippet that appears in search results to give more clear info to users.
It is a structured data testing tool from Google that affects the ranking of your store. It tells the search engines what the content is all about.
There are many schemas present but one of the most common schemas you can see people also ask.
To know more about schema and its different parts, you can visit schema.org. Here you can find every schema.
Benefits of using schema on your site:
Help search engines to know more about your online store.
Improve your ranking
Enhance the findability of your store
Increase page click-through rates
11) Start Using Canonical Links
A canonical link is an HTML element that helps Google to prevent duplicate content issues. It simply means finding the best version of web pages. Search engines only index canonical pages.
As your site starts to become famous, it's very hard to prevent pages from becoming duplicate or near-duplicate of each other. This causes duplicate content issues.
Suppose you have two versions of the same product; both have the same content. The only difference is that they belong to different sections of your online store because of which background color and menus are different. But both the content have their value and link to different pages.
So, here the question arises which version will search engines prefer?
For example-
https://example.com/black-shoes/black-and-red-shoes/
https://example.com/red-shoes/black-and-red-shoes/
How to set the canonical tags in Yoast SEO
Yoast SEO plugin will let you change the canonical URLs of several pages.
For most pages, you can edit the canonical tags by the advanced tab of SEO Metabox.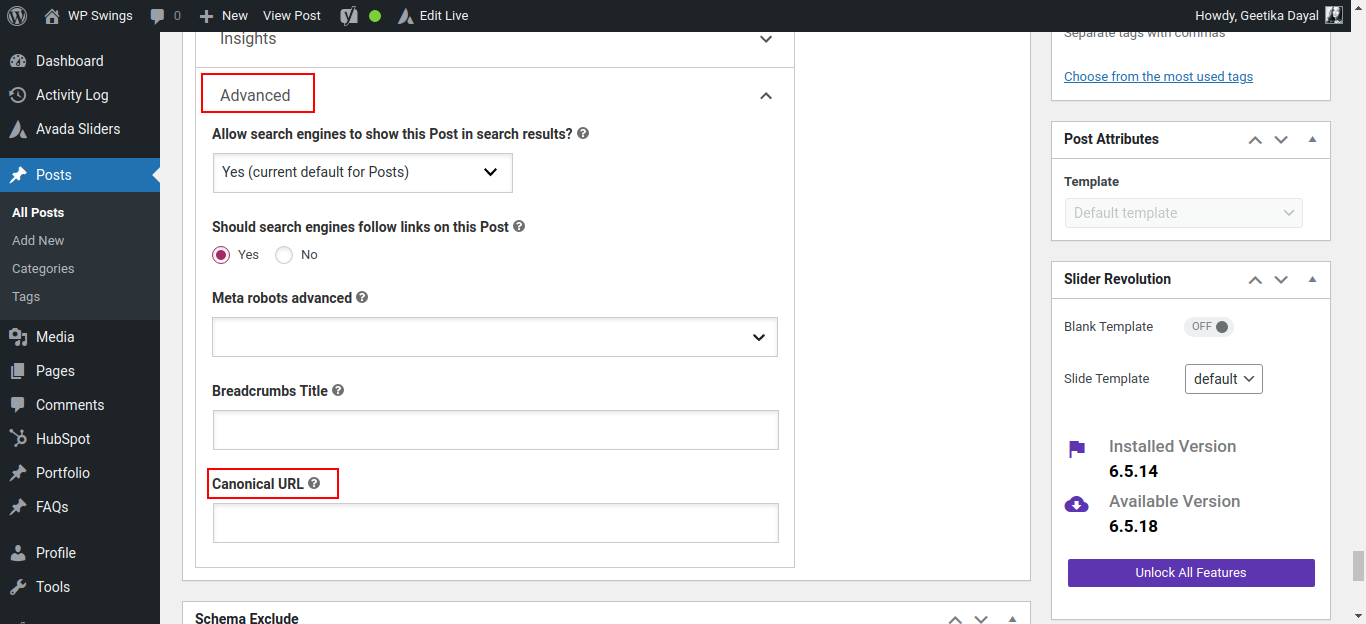 There are also other practices and plugins by which you can get rid of duplicate content problems-
Google Panda is developed to reduce low-quality content and reward unique content. It mainly focuses on the original content.
301 Redirect Plugins, will redirect the link which is duplicate.
12) Use Google Search Console
Google Search Console is a webmaster tool that helps you in checking indexing status and optimizing the visibility of your website. It gives the user a view of how their website looks through the eyes of a search engine.
It provides you with all the reports, data, and all other information that will help you to understand how your pages appear in search engines.
Hence, the main purpose of all these things is that they will help you to find out what is working on your site and what is not. According to this, you can plan your things.
Here are some steps by Google, you will come to know how to use it.
Want To Rank Your Website With Top SEO Trends!
More About Optimizing WooCommerce Store
SEO has a wide list of tools and techniques. Fortunately, you need not become an SEO expert to rank your eCommerce website in the SERPs. So, if you want to see the result, follow the above tips which will help you to optimize your WordPress site.
Obviously, choosing WooCommerce as a platform is the most important step in creating an optimized store. Then, you will need to pick the best hosting provider, SEO-friendly theme, and consider some of the most SEO-friendly plugins. After implementing these strategies, follow the above tips for the best-optimized WooCommerce store.
I hope this article will help you to learn how to SEO optimize your WooCommerce store. Implement a few of these points in your WooCommerce store and you will notice increased traffic and engagement.