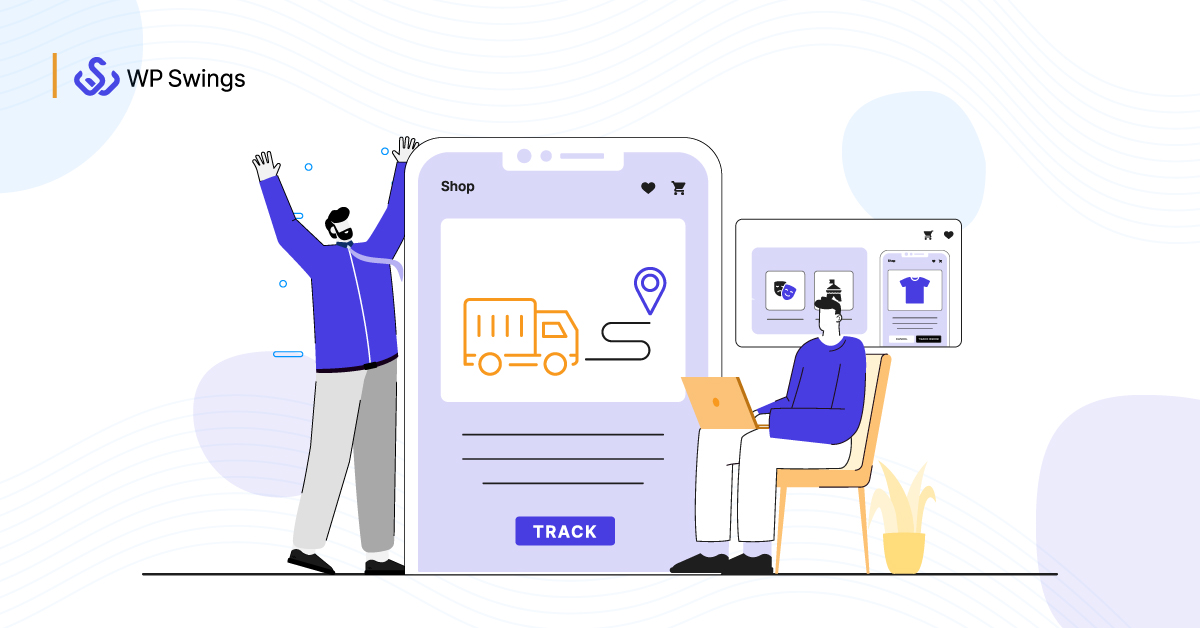 Whether you are a growing entrepreneur or a well-established business owner, integrating an order-tracking system into your online store can be a turning factor for your business. It helps you enhance customer experience, reduce queries, improve transparency, competitive advantage, and better market opportunities.
"According to a report by Retaildive, Nearly 70% of consumers said the ability to track orders was one of their top three considerations when buying a product online."
From the above statistics, you can see that for most consumers, tracking orders is their top priority.
Order Tracker has multiple benefits for your online store but you have to implement an order tracking system that is scalable and user-friendly to successfully improve your store's purchase frequency and provide a smooth post-purchasing experience.
In this blog, I will give you a complete solution on how to set up an order tracking system on your WooCommerce store. Furthermore, we will delve deep into its benefits and how to utilize its features.
Table of Contents
What Is Track Orders For WooCommerce
Track Orders for WooCommerce is the most versatile tool to implement order tracking in your online store. With this extension, you can accurately deliver info to your customers about their order status. They can track the entire journey from the moment they place order to the exciting doorstep delivery.

It's a Transformative tool allowing you to add multiple shipping services for your business as required, beyond tracking, it also allows you to tune the tracking process with custom order statuses to match your unique flow of shipping orders. Also, you can send email reminders with payment links to complete previous pending orders.
Features Of Track Orders For WooCommerce
4+ Pre-Built Interactive Order Tracking Templates
Create Custom Order Statuses
Real-Time Tracking With Google Maps
Third-Party Tracking With Multiple Shipping Providers (FedEx, USPS, and Canada Post)
Shortcodes To Create Order Tracking Pages and Forms
Allow Customers To Track Using Order ID
Show Additional Order Details
Send Emails To Notify Customers About Their Order Status
Export Order Details In a CSV File
Show Track Order Pop-up To Customers
Improve Tracking With More Extensive Shipping Options
Track Orders For WooCommerce Plugin
Implement a Reliable Order Tracking Process Using Order Tracker and Ensure a Smooth Post-purchasing Experience for Your Customers
How To Setup WooCommerce Order Tracking
First of all, proceed to the WP Swings website and download the Track Orders For WooCommerce Plugin.
Now, go to WordPress Dashboard > Plugins and click Add New.
Click the Browse button, upload the plugin, and click on Install.
Hit Activate and you're all set to use Order Tracker.
What Can You Do With Track Orders For WooCommerce
To enable the plugin functionality click on the "Enable" button in the general settings. Afterward, you should also "Enable the Track Orders Feature" from the Track Order Tab to allow your customers to start tracking orders.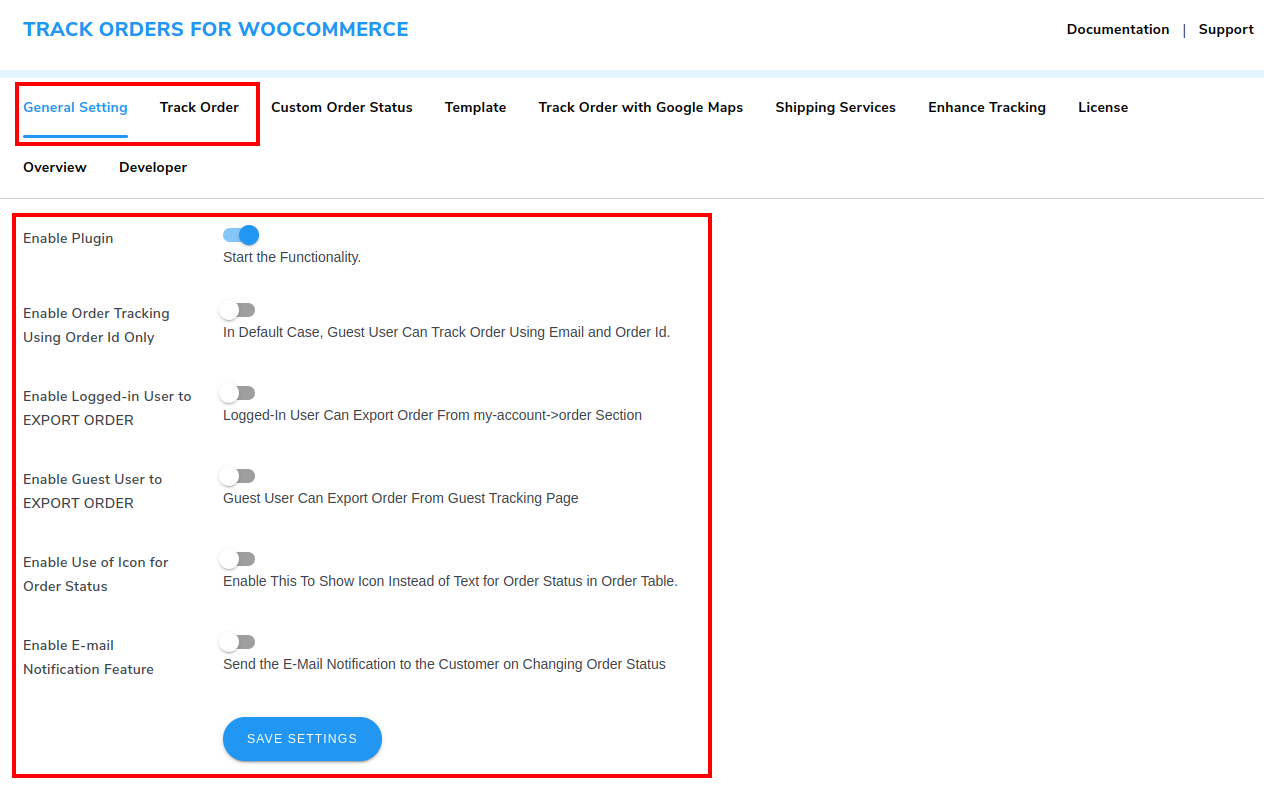 You can also enable additional features from the General Setting like Track order using order ID only, allowing guest and logged-in users to export their orders, an email notification feature, etc
After Enabling these settings users will see a Track Order Button on their Order Section to track their orders.
Let's explore some of the features in-depth.
1. Built-In Interactive Templates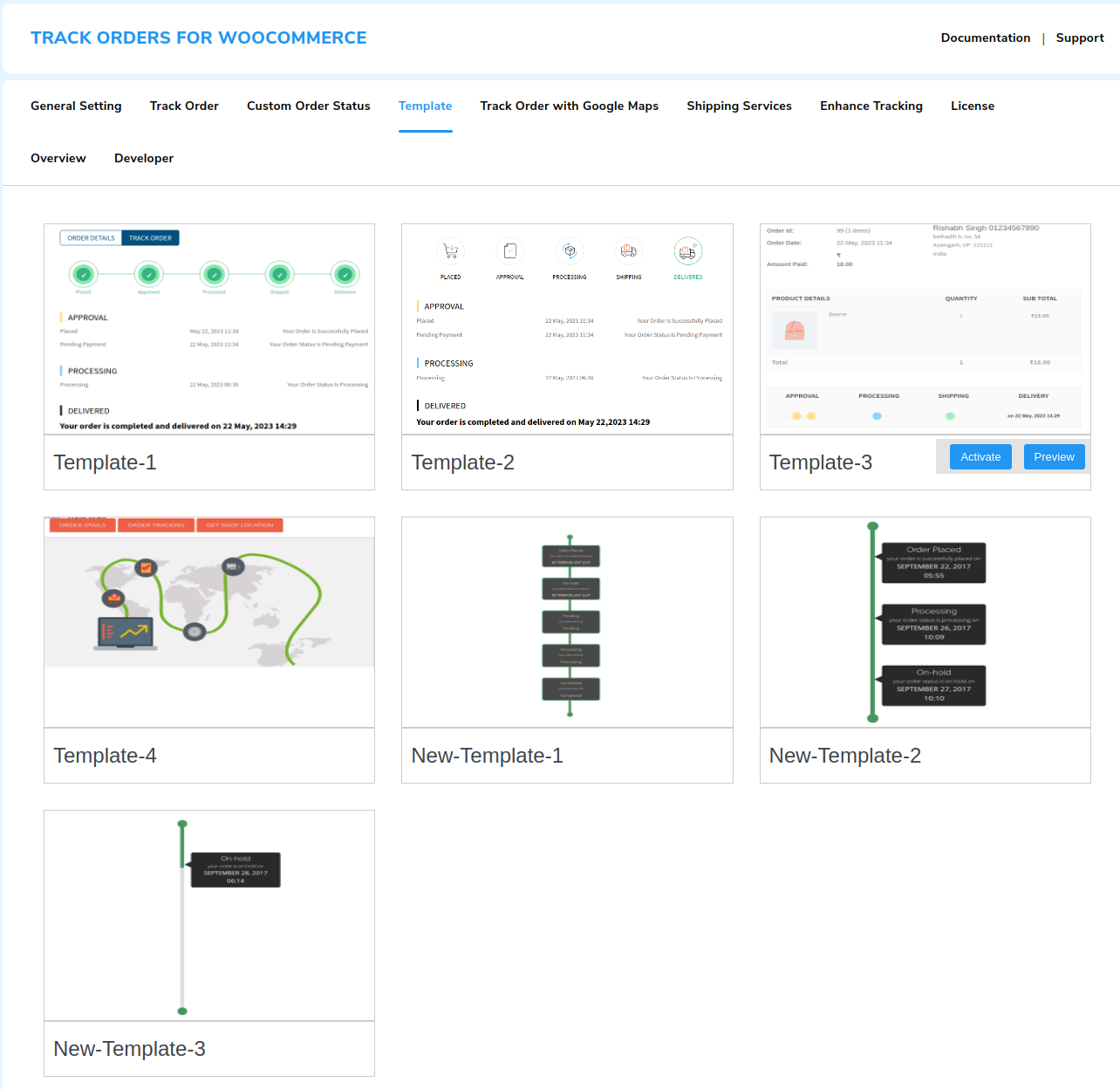 Track Orders For WooCommerce Offers 4+ Built-in Order Tracking Templates to Choose from. You can use these interactive templates to effectively engage and inform your customers. These templates are designed to enhance updates on important order statuses such as processing, on-hold, and delivery.
2. Create Custom Order Statuses
You Can Enable the Custom Order Status feature which allows you to design unique order statuses and upload their icons with Order Tracker for WooCommerce.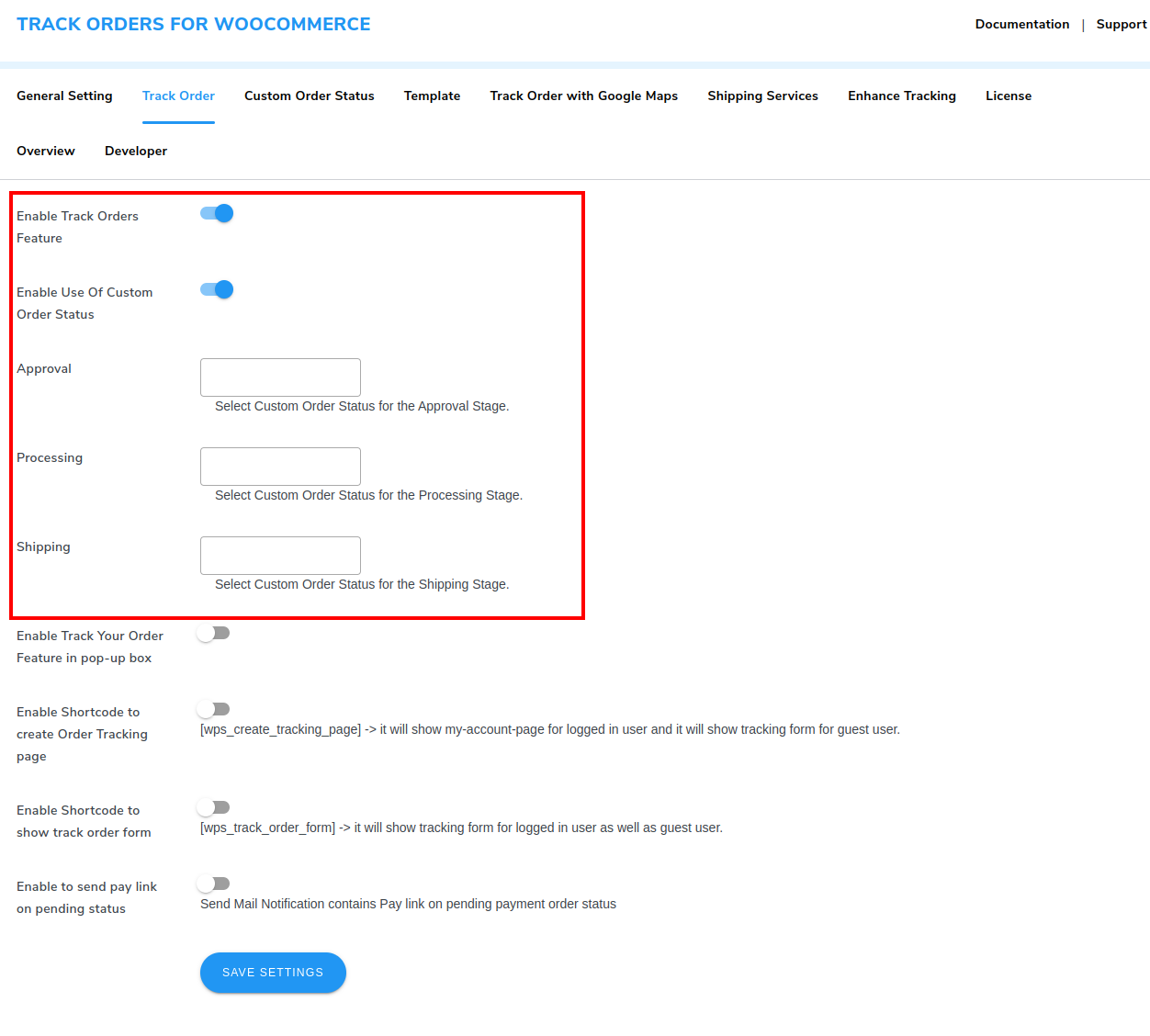 Setting up custom order status can be beneficial in many ways. You can design custom order workflows that match your specific business process. It also improves the order tracking process making it easier for you and your customers to track orders.
Furthermore, it can also be beneficial in inventory management. You can integrate your eCommerce store with an inventory management system to better manage stock levels and supply chain logistics.
3. Realtime Tracking With Google Maps
You can enable the Google Maps tracking feature to allow your customers to track live order locations using Google Maps.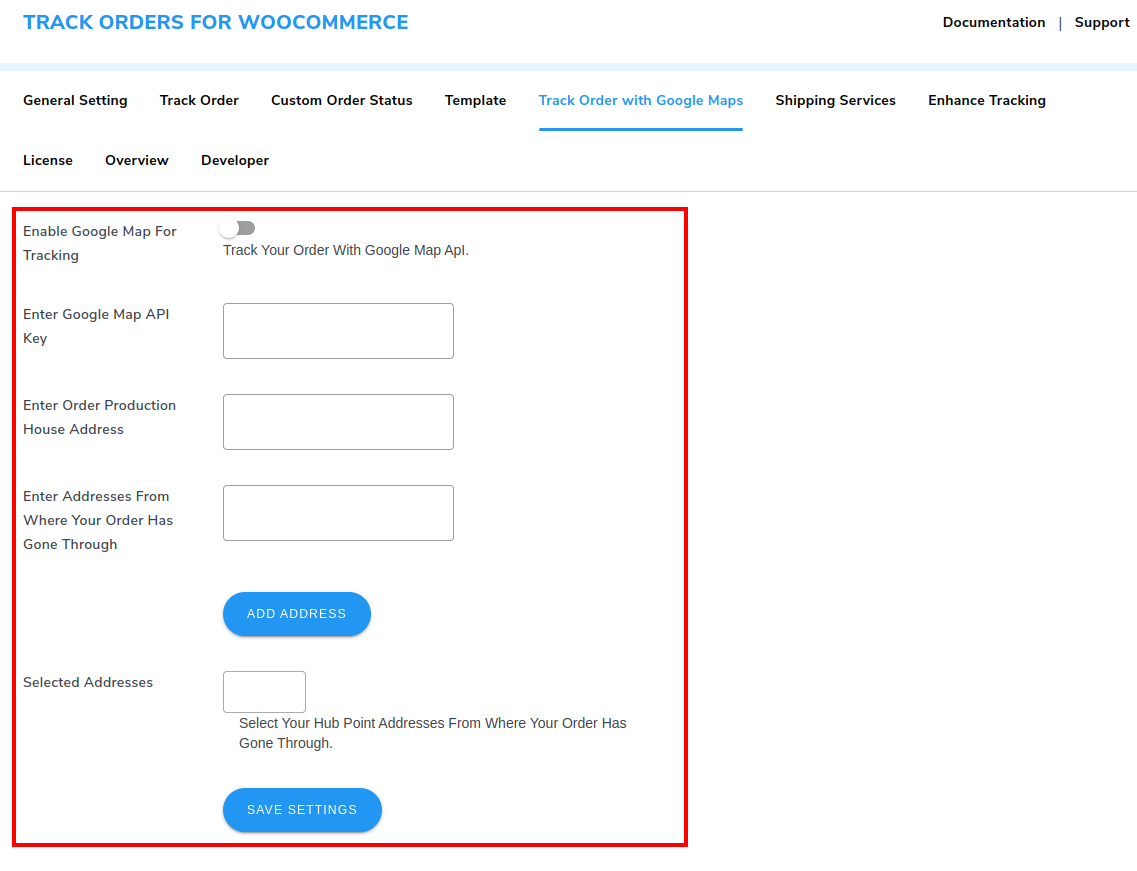 Enable the Google Map tracking from the Track Order With Google Maps Tab, Enter your Google Maps API key, Your Order Production Location, and Addresses from where your order has gone through and that's it you are good to go.
Now your customers will be able to track their orders via Google Maps.
4. Third-party Shipment Tracking FedEx, USPS, and Canada Post
You have the flexibility to enable third-party shipping providers like FedEx, Canada Post, and
"USPS (United States Postal Service) which is the most frequently used shipping method in U.S. eCommerce. 54%"
You can use these shipping providers for trusted tracking options and customers can use their tracking code to follow their shipment in real-time.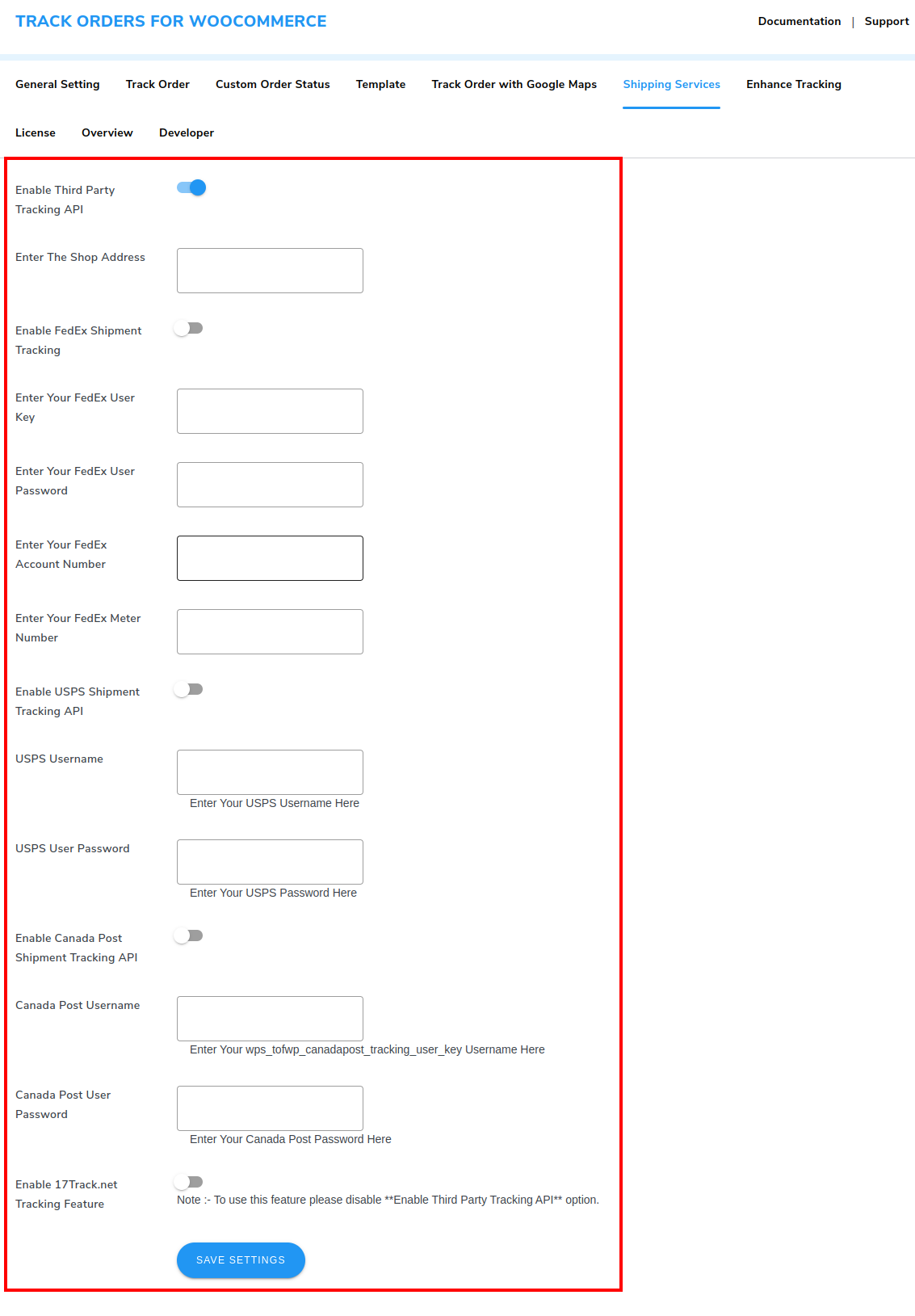 Navigate to the Shipping Services tab and Enable third-party tracking API after that you can enter your shop address and integrate shipping providers like USPS, FedEx, CanadaPost, and 17Track.net using their API key.
5. Shortcode to Create Order Tracking Page & Form
You don't need to create custom order tracking pages, just enable the shortcodes setting and place it anywhere on your website to create order tracking pages and forms.
Tracking pages and forms that are created by shortcodes are available for both logged-in and guest users so any user can track their order with a tracking ID even if they are not logged in.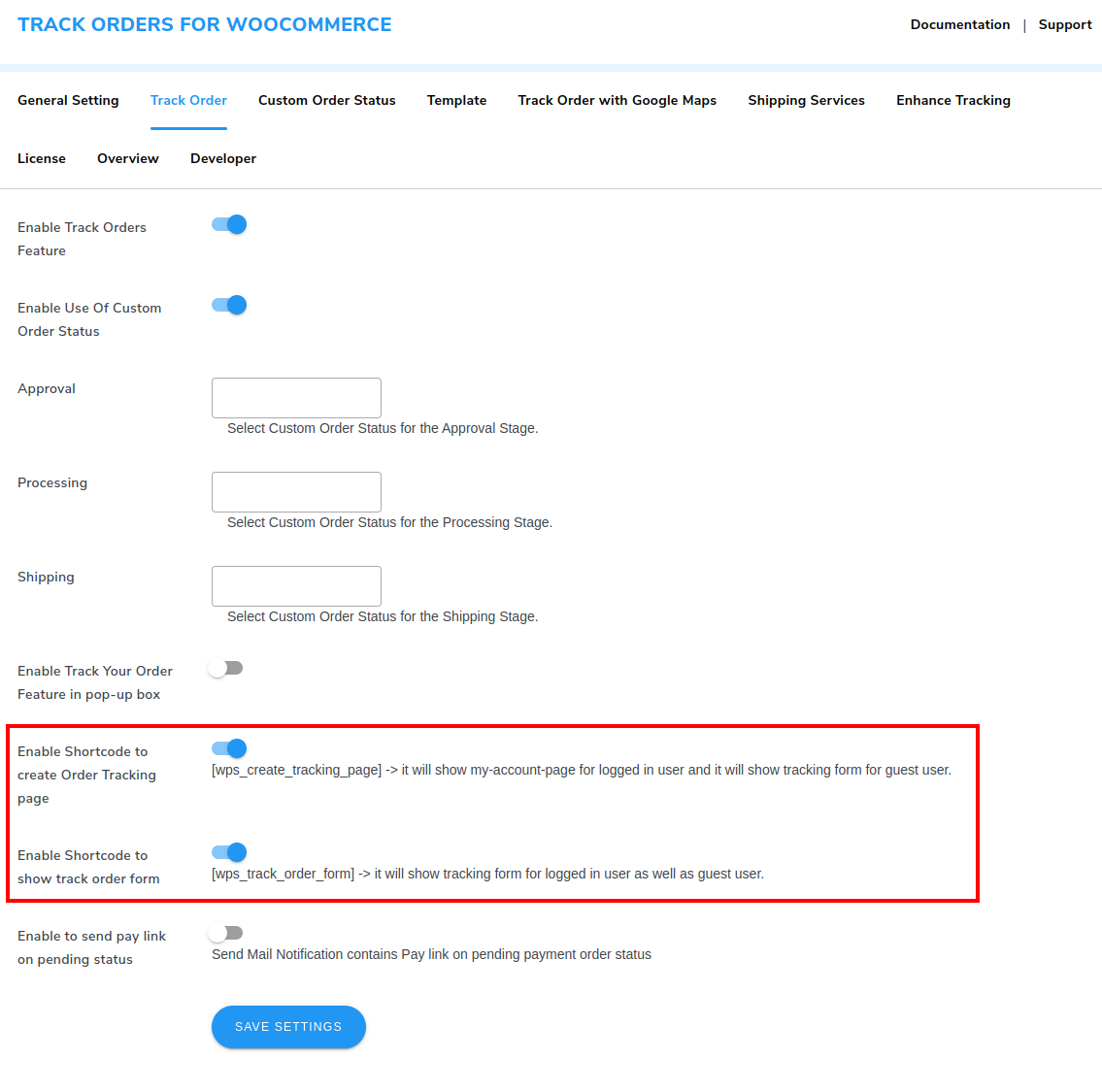 Enable the shortcode setting from the Track Order Tab and Use the [wps_create_tracking_page] shortcode to easily create an order-tracking page that'll be available for both logged-in and guest users.
Use [wps_track_order_form] to show the tracking form for both types of users.
These Shortcodes can help you improve your customer satisfaction rate with minimal effort.
6. Export Order Details
You can allow the logged-in users and unregistered visitors to export order details in CSV files. It provides details like Order ID, Status, Total, Items, Payment Method, Billing Name, and Email.
Navigate to the General Setting Tab and Enable the Export Setting for Guest users and Logged-in users as per your requirement.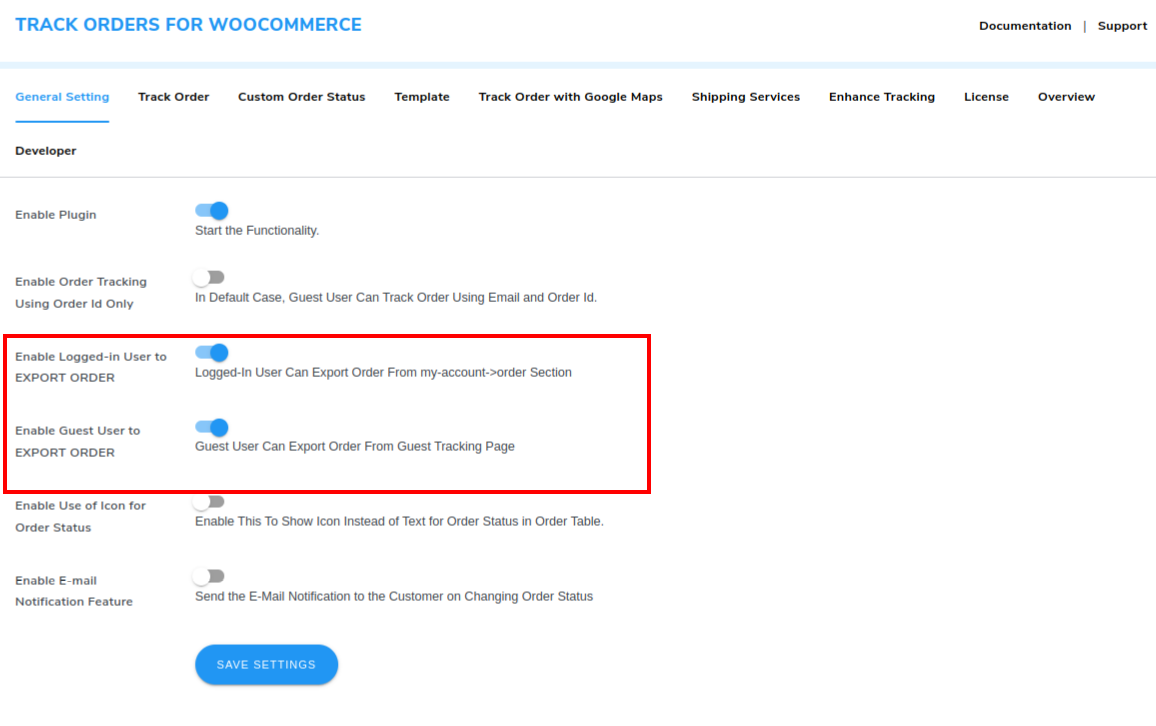 After Enabling this your customers will see an Export Orders button in their orders section.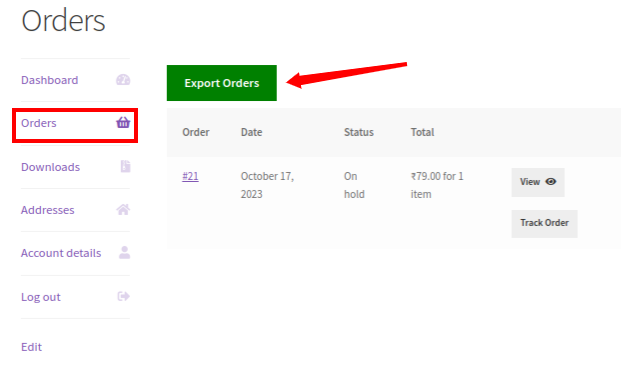 This can be beneficial for your customers in many ways like data accessibility which can help them in personal record keeping, budget management, and reconciliation.
Furthermore, it will also help them in data portability allowing customers to easily transfer their order information to other applications or services, such as accounting software or personal spreadsheets.
7. Track Only Using Order ID
You have the option to allow users to track their orders using only their order ID.
Navigate to the General Setting Tab and Enable Order Tracking Using Order ID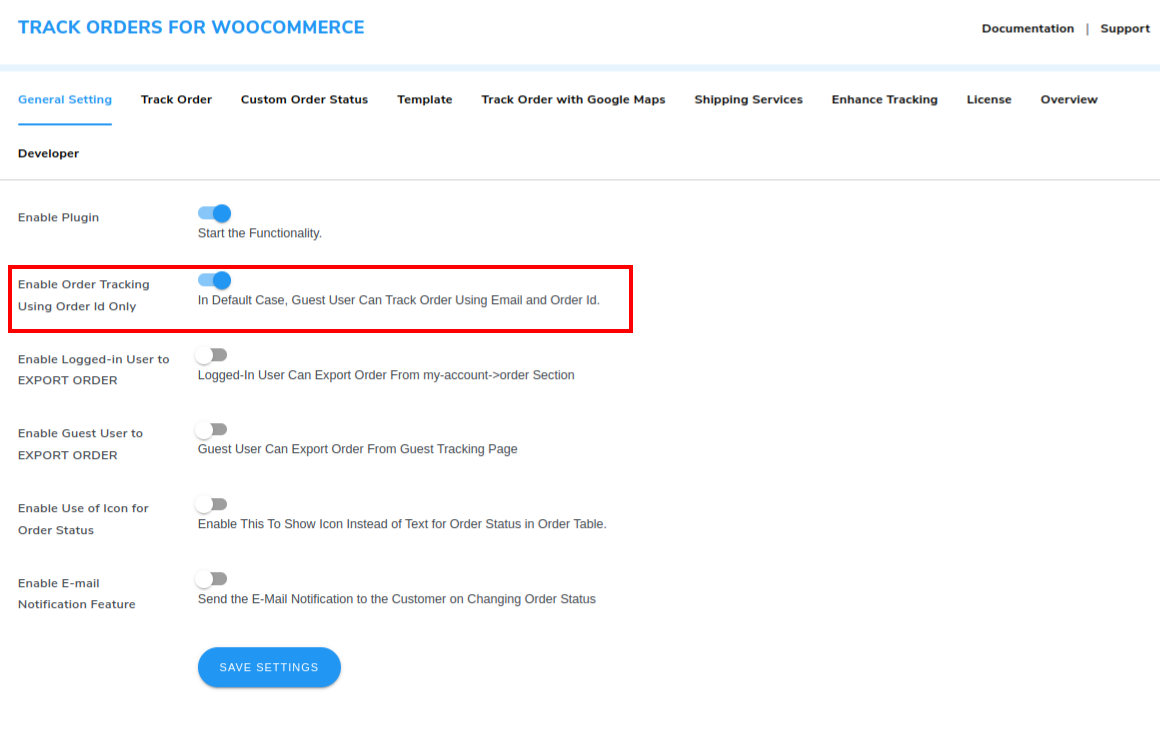 Your customers can track orders more easily by using simply the order ID. No logins or emails are required.
Tracking Orders using order ID simplifies the WooCommerce tracking process for your customers, they don't have to provide additional info like email ID and phone number, making it straightforward and user-friendly.
Additionally, This method is very efficient as they quickly check the order status just by entering the order ID.
8. WooCommerce Order Tracking Emails
You can utilize the WooCommerce Order Tracking Plugin to automatically send emails to notify your customers about order status updates. It keeps your users involved and provides live updates on order status changes.
Navigate to the General Setting Tab and Enable Email Notifications.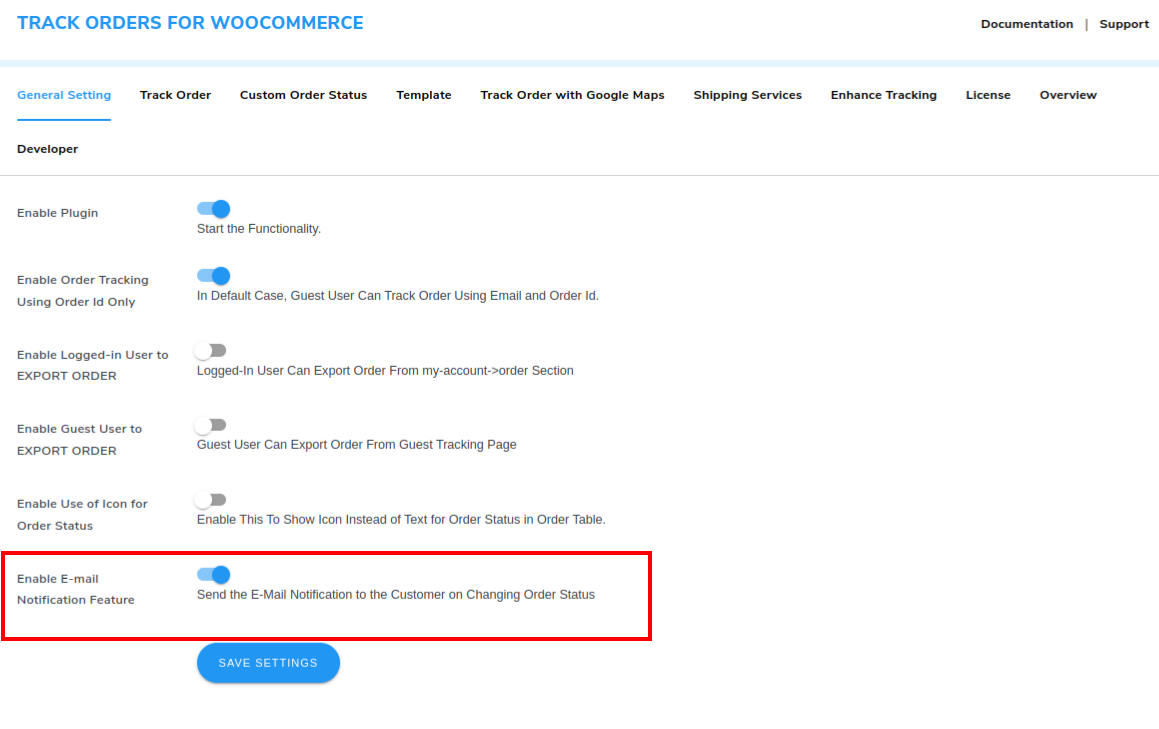 Email notification improve communication between you and your customers, it provide a direct and efficient way to keep your customers informed about their orders. Buyers appreciate being kept in the loop and informed about the progress of their orders.
Additionally, timely informed emails about their order status can significantly improve customer satisfaction rates.
9. Payment Reminders
You can generate automated payment reminders to send emails with payment links for pending transactions this will help customers stay informed and pay their bills on time.
Navigate to the Track Order Tab and Enable Send Pay Link on Pending Status. This will automatically send an email to your customer with a payment link when their order status is "Pending Payment"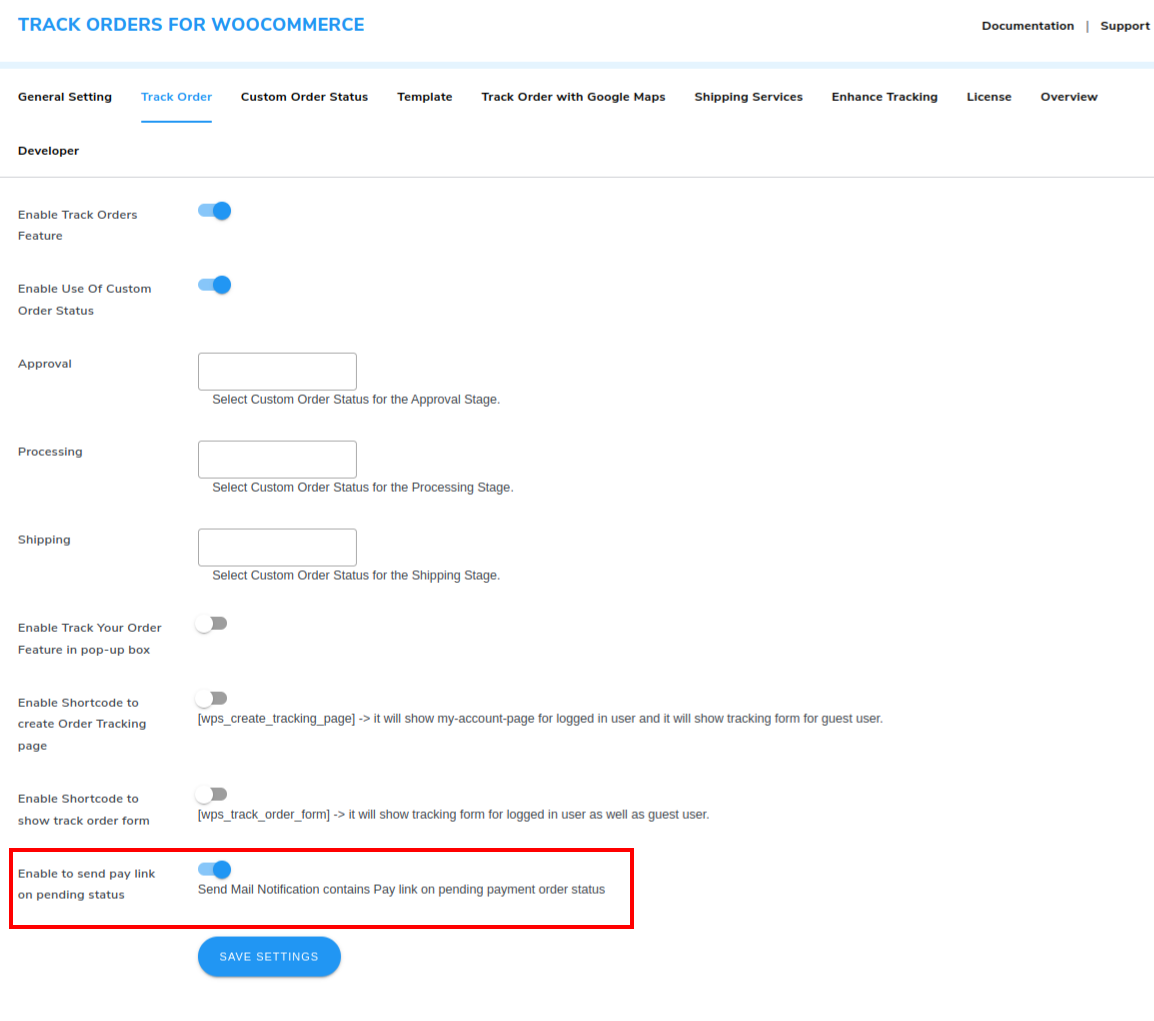 Furthermore, Sending emails with payment encourages users to pay their bills on time and it can also boost your conversion rates.
A Smooth WooCommerce Order Tracking Process For Your Customers
The Track Orders for WooCommerce plugin adds a Track Order button under the Orders tab in the WooCommerce account section. Your customer can see their current order location and status by clicking on the track order button. Users who are not logged in can directly check their order status via order ID from the track orders page.
After Clicking on the Track Order button users will be redirected to the Track Orders Page
Track Order Page Contains Three Tab:
Order Details
Order Tracking
Get Shop Location
1. Order Details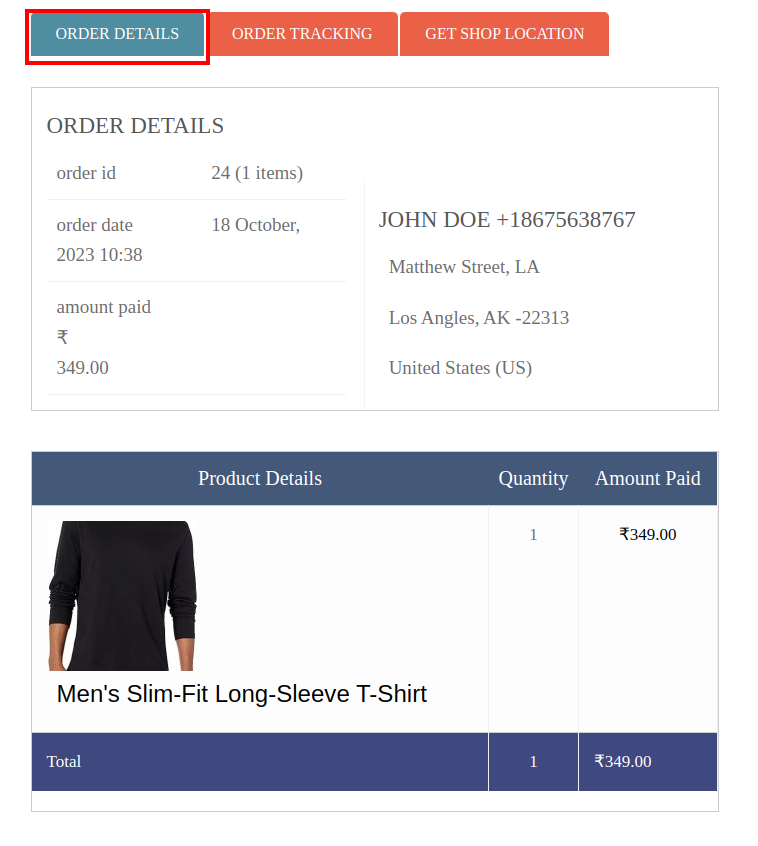 Customers Can Check and Cross-Verify Their Basic Order Details like order ID, product quantity, amount to be paid, order date e.t.c
2. Order Tracking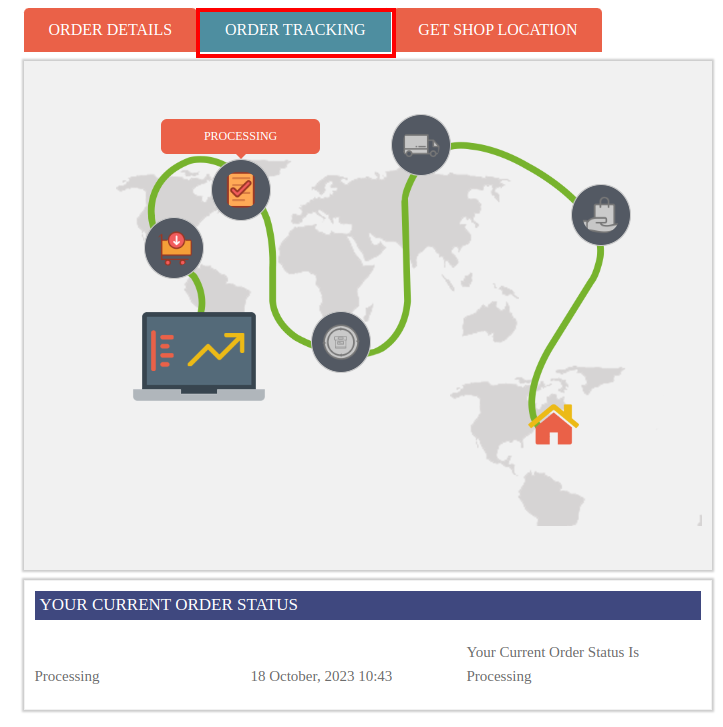 In this tab Customers can see their order status with dates during various stages in an interactive window.
3. Get Shop Location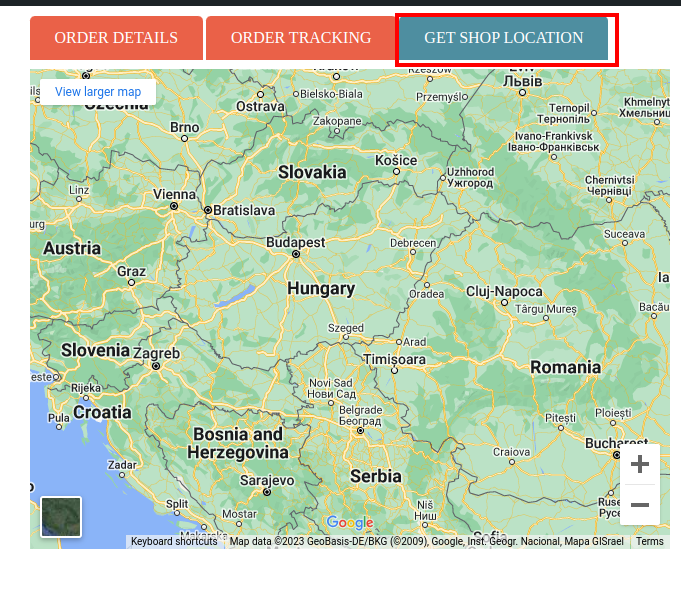 In this tab Customers can track their order live via Google Maps. The order will be moved through various stages and locations and it'll be visible on Google Maps.
Benefits Of Order Tracking For WooCommerce
Track Orders for WooCommerce is the perfect plugin for established businesses & growing eCommerce startups.
Let's see some of its benefits
1. Increase Purchase Frequency
WooCommerce Order Tracking has the potential to increase purchase frequency as customers get regular updates of their order status during various stages, and sellers can give a better shopping experience.
When a business succeeds in serving its customer base, the customers automatically increase their purchasing frequency. Along with this, their loyalty to the business also increases.
The Ultimate Guide to Order Tracking Process
Learn How You Can Optimize Your Order Tracking Process To Boost Purchase Frequency
2. Customer Satisfaction
Order Tracking options boost customer satisfaction by giving them the ability to monitor and track their orders. This creates a feeling of control and transparency, resulting in a positive shopping experience.
3. Build Trust
Online fraud is still a major concern for many eCommerce customers. Your company always has to consider your customer's feelings because they're giving away confidential information at checkout and they're spending money on a product they're hoping to receive in pristine condition.
This is where order tracking comes in. By providing tracking information, your customers will know exactly where the order is located and will be notified of any delays that may occur. This is a great way to demonstrate professionalism and create a positive customer experience.
4. Reduced Customer Enquiries
Offering Order Tracking can help you reduce customer inquiries about order status, as everything will be transparent. customers don't need to reach customer service for their order-related queries. This can free customer support resources and allow staff to focus on more complex customer issues.
5. Increment in Customer Loyalty
When customers can depend on timely and transparent delivery updates, they develop a sense of trust and satisfaction with a business, which, in turn, encourages them to return for future purchases.
This trust in the order fulfillment process can be a linchpin in establishing long-lasting relationships, as loyal customers often become brand advocates, referring friends and family to the store.
Boost Customer Loyalty with Points Management system
Create a Point-Based Loyalty Program and Build Brand Loyalty
Final Note
Order tracking within a WooCommerce store is a game-changer, offering a multitude of benefits to both eCommerce businesses and their customers.
It provides an easy and transparent way for customers to keep tabs on their orders, enhancing their shopping experience. In turn, this can lead to increased customer satisfaction and loyalty.
In this article, I have discussed how to set up Track Orders for WooCommerce in your online store and provide the best user experience to your customers. Furthermore, I have also discussed the benefits of setting up an order-tracking system.
Track Order For WooCommerce is one of the best plugins to implement an order tracking system in your online store. You can easily set it up with just a few clicks and allow your customers a convenient way to monitor their orders and enjoy a more satisfying shopping experience.
Don't forget to explore our other articles to learn more about WooCommerce's best practices and eCommerce success strategies.