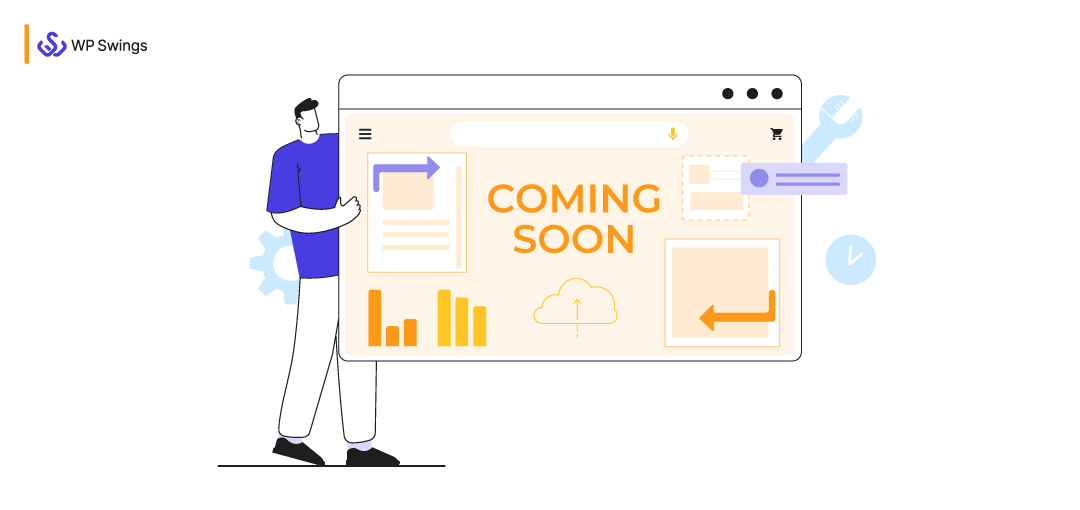 When you're introducing a new website or a product, there are often several aspects that need to fall into place before you could even end up making it publicly available.
Leaving your website empty, whether you have vague plans for the future, is not really a SMART option for your customers. Rather, put a bit more effort towards developing a creatively enticing Coming Soon page that covers your pre-launch marketing as well as notifies your customers of your forthcoming presence.
A coming soon page can be a valuable asset to have during these glacial periods, not just as a stopgap for your forthcoming store or product.  Moreover, these pre-launch marketing pages, if used properly, can help you achieve exposure, gather feedback, and begin marketing as you strategize before your public launch.
What Would You Read Here….
Exciting, no?
Now, there might be a question, What is a Coming Soon Page? That I'm talking about again and again. Don't stress, let me detail that first-
What Is A "Coming Soon" Page?
A coming soon page, also regarded as an under-construction page, is a suitable replacement on your website that initially appeared before your release.
It's actually a provisional website that notifies website customers that your site/product seems to be under development, along with offering a mechanism to gather leads even before your official opening.
Check out the screenshot below, that depicts the rough idea for the coming soon landing page-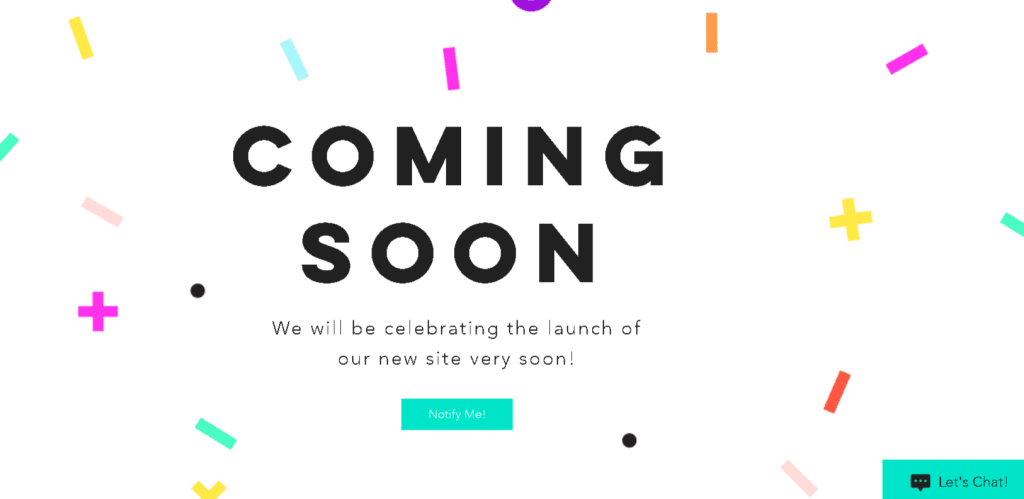 I suppose the intent of a coming soon page is now entirely clear. Some of you might be curious about-
Why are Coming Soon pages used for pre-launch marketing?
Let's discuss that.
Aim Of Pre-Launch Marketing With Coming Soon Pages
Pre-launch marketing occurs before the product or service is formally announced, with the intent of enhancing brand recognition and engagement. It's also an outstanding chance to experiment with the number of components, marketing channels, and approaches to see what makes the most sense.
Pre-launches will last anywhere from a few weeks to a month, but you really should have something else to demonstrate for it at the end as everyone has an endurance cap.
Below we have discussed few objectives of pre-launch marketing based on coming soon landing pages that sum up to be beneficial futuristically, discover then-
Creating Hype Beforehand
One of the biggest reasons for creating a top-notch Coming Soon page is that it can help to build buzz before your actual offering goes live.
It can plant an important seed in the mind of your target audience. You can even instill a sense of urgency with the simple addition of a countdown timer. With the right design and information, prospective customers will be keen to find out more, hopefully returning to your store once it's fully operational.
What's more, pre-launch sites can be used to test whether there is a significant enough customer base for your product or service. By tracking visitor numbers on the page, you can be in a better position to gauge actual interest.
Boost SEO
SEO is another big reason to get a Coming Soon landing page up well ahead of time within your pre-launch marketing strategy.
All companies with online footprints want to be on the top of Google SERPS. But, that can be tough given how strict Google is when it comes to indexing and ranking. With that in mind, if you want to rank high, then a Coming Soon page will come in handy. Even if not fully functional, your limited website will get indexed by Google.
The relevant keywords used on that page will help your brand start to rank, at least for the name. This can give you a headstart on climbing the Google ranks. Search engines give older, more established, domains more authority. Your new domain has to start from scratch to gain trust in the search engines. This takes time.
So, to cut down on some of your waits, get your preliminary site i.e. a Coming Soon page, and get live as soon as you can.
Site crawling robots don't mind that there is a 'we are launching soon' message on the page. They only care about what the site is providing the users. Their user experience on the page, as well as the content and keywords, will drive search engines to rank the site for relevant queries.
Augment Lead Generation
Any marketing strategy requires a landing page. This is where you submit your leads to discover more about them because they place the order, and even some track leads for conversion tracking.
Even if you don't really want customers to be allowed to purchase your product, a landing page has many crucial tasks during the pre-launch stage of development, such as-
Acquire the email addresses and phone numbers who really want and be the first to know when you're going to release.
Gather information about the audience and the channels that brought them to your site.
Arouse interest by demonstrating the distinctive properties of the soon-to-be-released product beforehand.
Improve SEO because the leads you have as part of other pre-launch promotional activities would've been relevant from the beginning.
Besides that, we are all conscious that the design and copy may take some time. The advantage is that you can start gathering information and emails right away with just a Coming Soon page. Simple, no.
All these efforts constitutively augment your lead generation process beforehand of the actual launch. Isn't it amazing?
Want To Learn How To Augment Organic Lead Generation?
Instead, use it as an opportunity to nail your design, color palette, and logos to showcase your soon-to-be-revealed branding scheme.
Set-up Expectations
Pre-launch marketing strategies can efficiently help you with setting up expectations. If you offer outstanding customer engagement before the release, if you let your prospects engage with your social community, if you timely notify about your updates, if you offer add-on benefits, etc. then surely you're stepping towards building expectations that drive conversion.
Develop Brand Identity And Reputation
An eye-catching Coming Soon landing page can also add value in terms of your brand identity. You'll want to understand your identity before you create this page. Don't let it look half-baked with missing elements, poor design, and typos. It needs to be consistent with the future feel of your brand.
Are You Interested In Learning Tips For Building Your Brand?
Demonstrate that you're Committed to the Launch
Let's face it: there are a lot of bad websites out there, and you can tell when someone spent 20 minutes creating one. When a website is poorly built, it might give the impression that the brand is low-quality and poorly put-together, whether purposefully or subconsciously.
As a result, demonstrating to your consumers and visitors that you're serious about your brand and objective is the first step in getting them to be serious about it as well. One approach to achieve this is to create a WordPress page that says "Under Construction."
This demonstrates to the visitor that your staff is working hard to create the best website for your company or blog. When someone puts that much thought and work into their own website, the client notices.
You'll miss out on significant opportunities to grow your brand, get feedback, and develop an engagement if you hesitate until your brand is prepared to move.
So, what are you waiting for?
Create your own Killer Coming Soon Landing Page!!
How Would You Go About Developing A WordPress "Coming Soon" Pre-Launch Page For Yourself?
Your website's coming soon pages are little more than a placeholder. Even before the website went operational, it can be an effective lead generation tool for your business.
If you're wondering how to build your own coming soon page in WordPress, you just need to get the best WordPress Hosting and Install WordPress. For further proceedings, kindly continue with our step-wise approach detailed below.
Let's start then.
Step 1: Select an Appropriate Plugin
In order to create a coming soon page in WordPress, you first need to install the right plugin. We recommend using SeedProd or Coming Soon & Maintenance Mode.
Coming Soon & Maintenance Mode is extremely easy to use, and it is a plugin specifically created for this purpose. It doesn't have a million features you don't need; instead, it offers features necessary for coming soon page creation. Of course, it comes with a drag-and-drop builder, pre-made themes, and many more features you would expect from a great simple solution. If you need something more complicated, there are other plugins.
SeedProd is the best landing page builder for WordPress, and it comes with built-in coming soon page functionality. Not just the coming soon page, you can easily design your maintenance pages, announcement pages, etc. using the plugin without any coding specialties.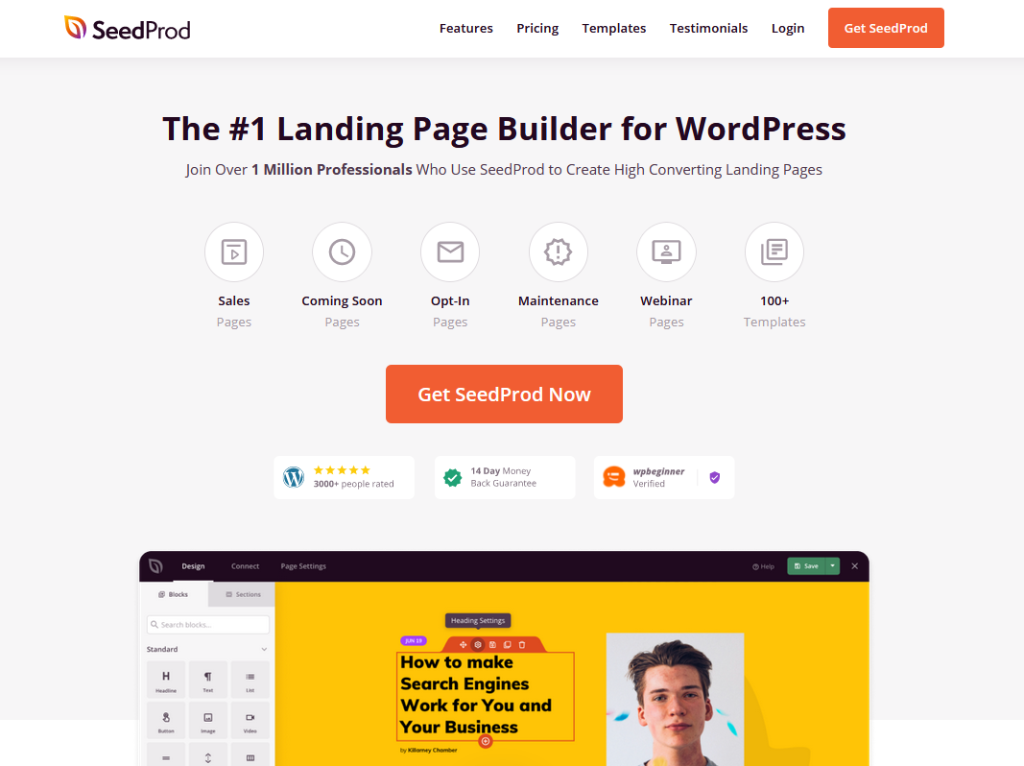 And if you're not ready to invest in the pro version yet, you can also create a free coming soon page in WordPress with SeedProd's free plugin.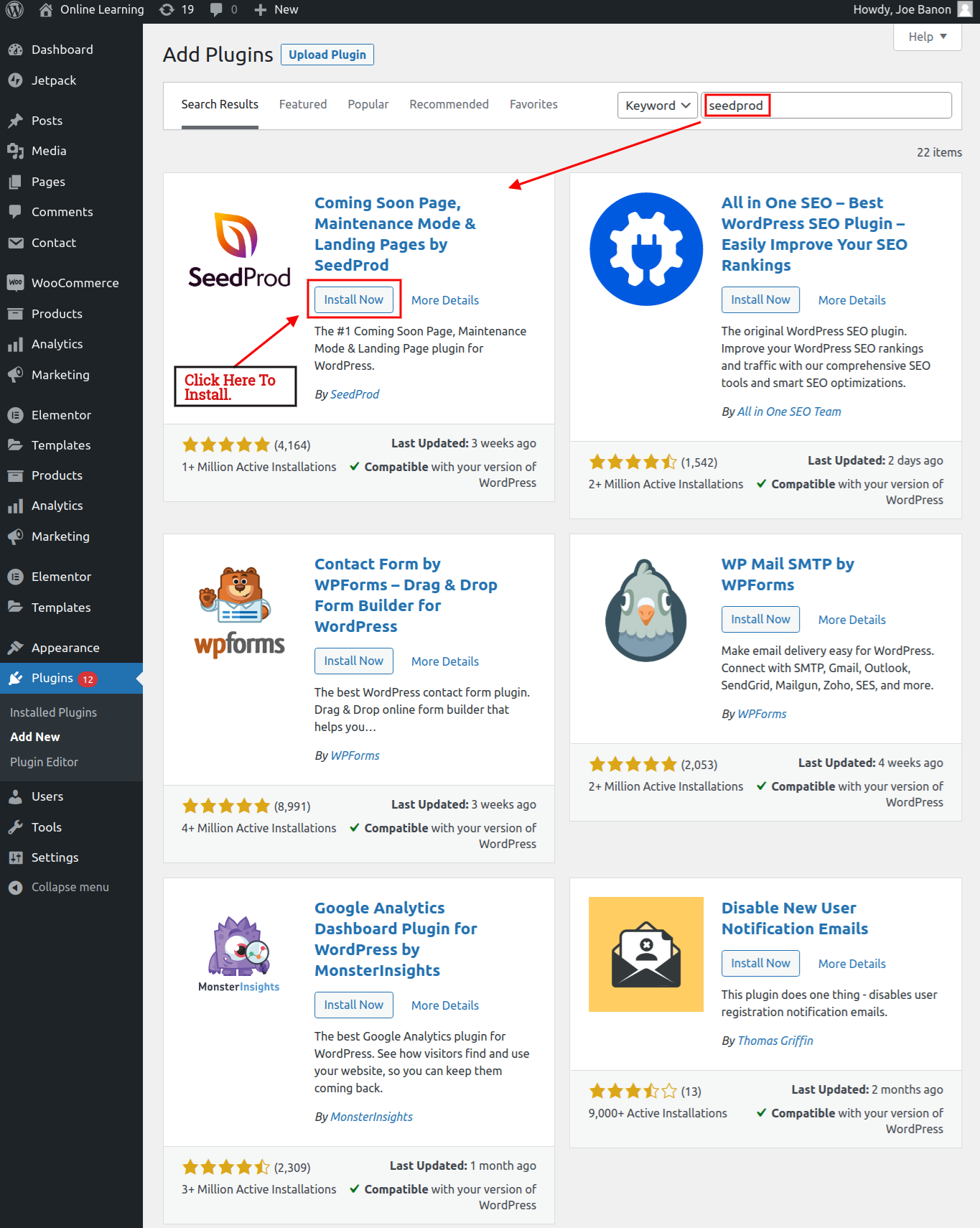 After Installing the WordPress plugin and Activating it, it's time to start building your coming soon landing page.
Step 2: Develop a great Coming Soon page for your Website/Product launch soon
In your WordPress dashboard, navigate to SeedProd > Pages. Where you can easily find a screen somewhat like this: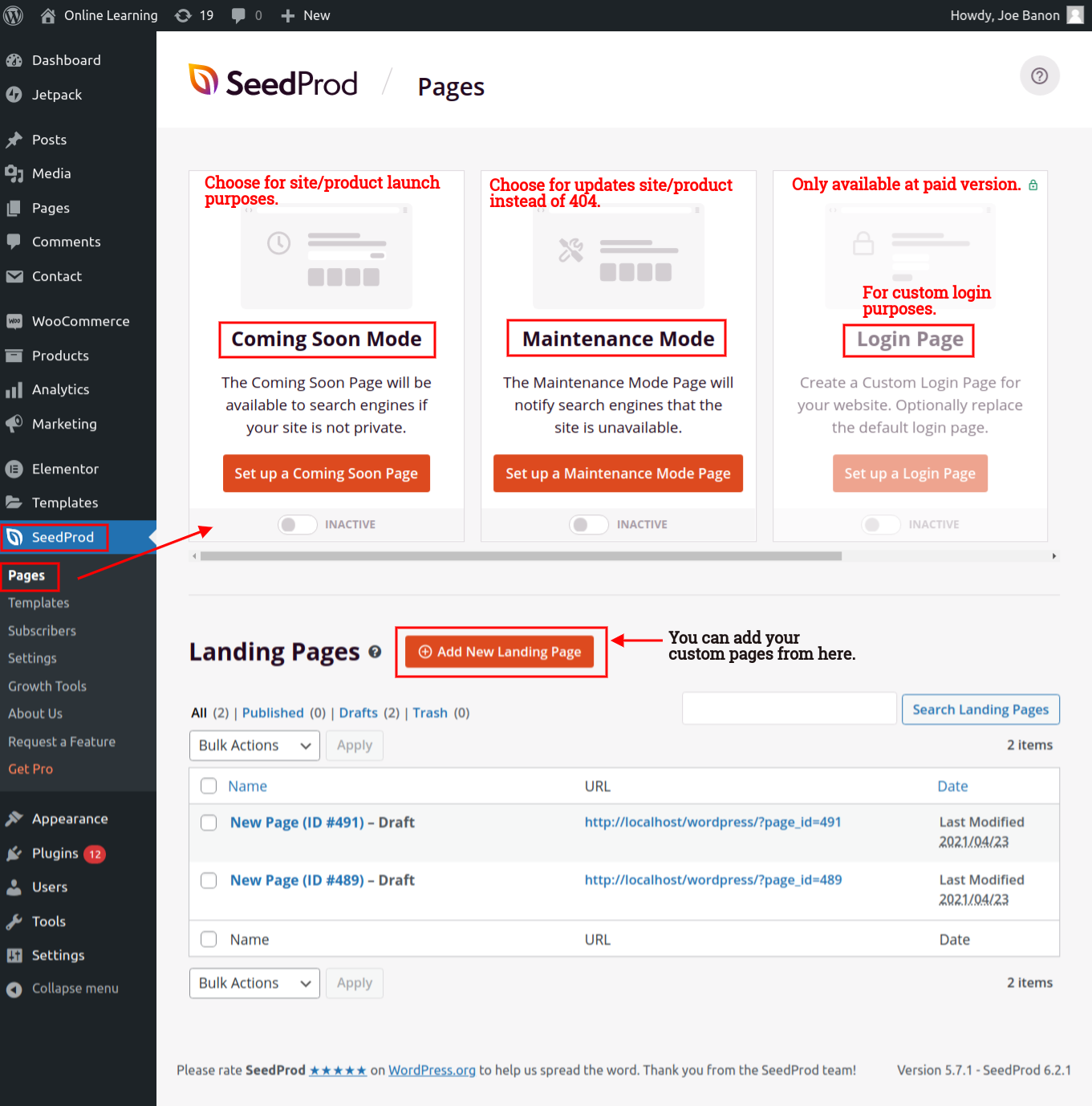 Hover at any pages you like and just click the checkbox icon to incorporate your preferred pre launch marketing plan Template within your design, navigate to SeedProd > Templates.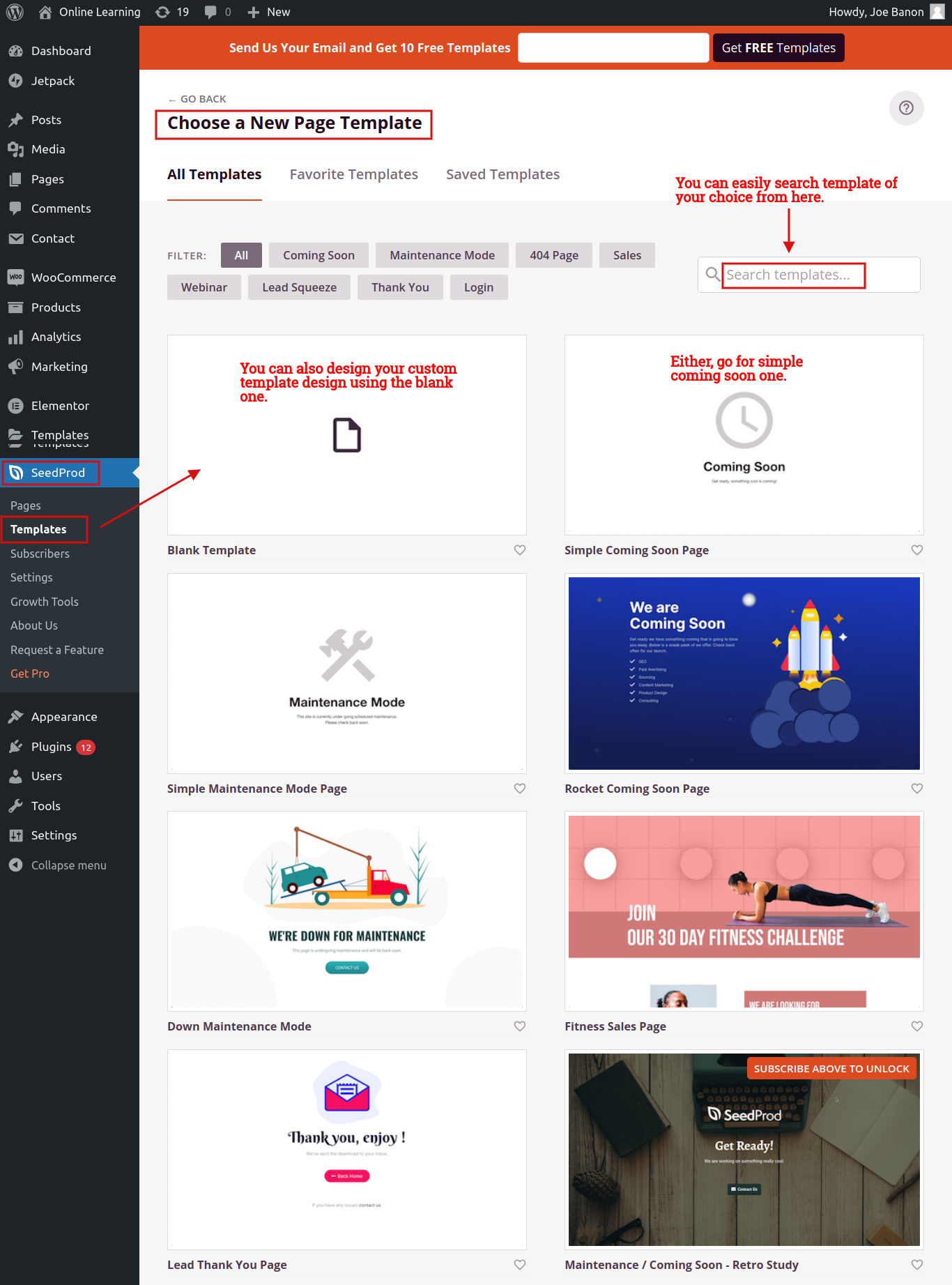 Opt for any template out of all that suits your pre-launch marketing plan well and just click on it to proceed with your further designing process. Alternatively, you can also choose a blank template to start designing from scratch.
Step 3: Design your Coming Soon page using the Builder
Once you've opted for your preferable template, you'll automatically be navigated to SeedProd's drag and drop builder so you can add content to your page.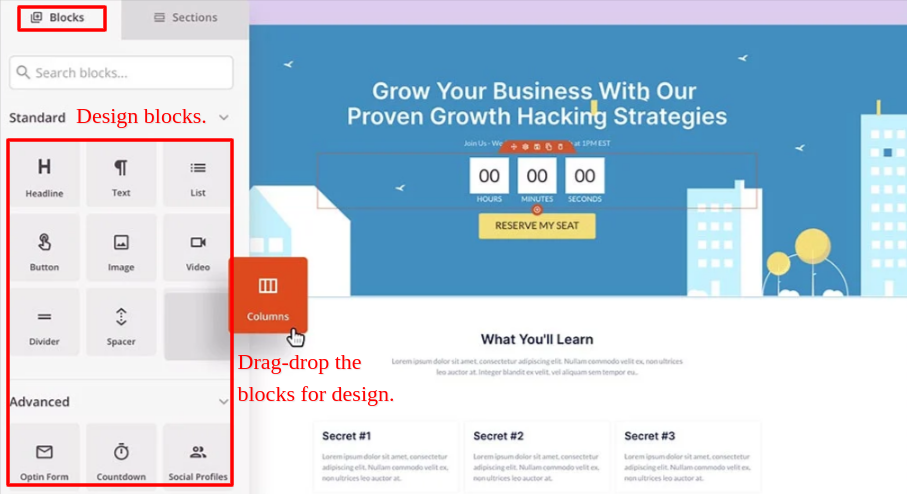 You'll see a list of Blocks that you can add to your coming soon page on the left-hand side.
As mentioned previously, these blocks include buttons, images, email opt-in forms, contact forms, star ratings, social media profiles, and much more.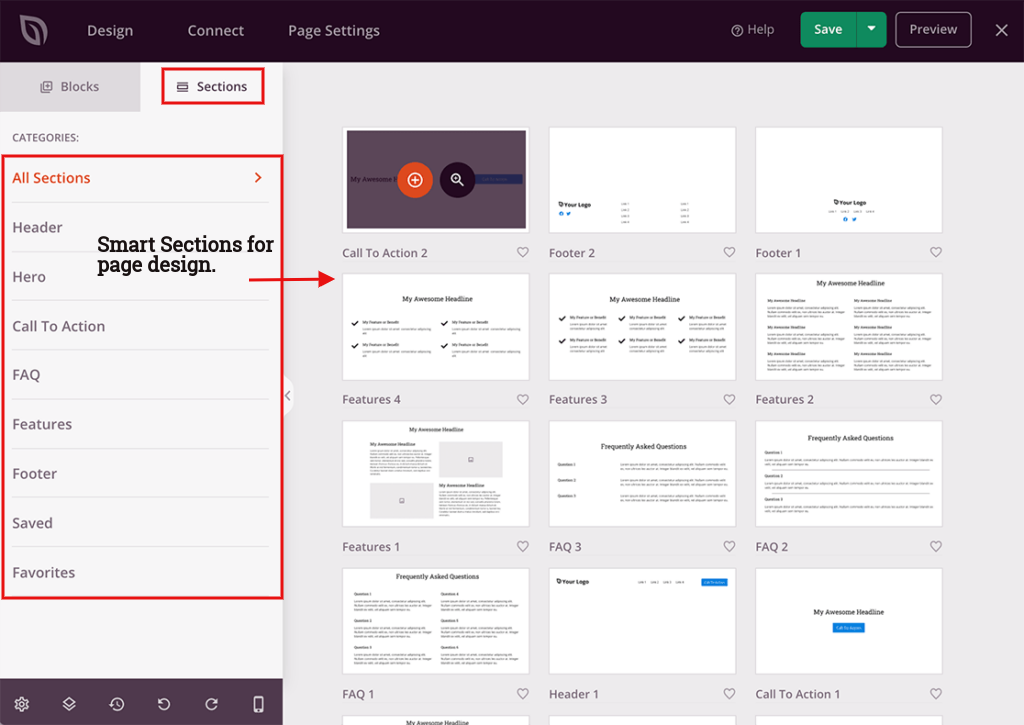 SeedProd also offers pre-built smart sections, like Call to Action, FAQ section, Features, and others, so that you can easily create beautiful layouts. Just opt for your preferable section and make use of it.
Step 4: Customize Content for your Coming Soon page
Once you've added the content you want to your coming soon landing page, you can customize your page even more.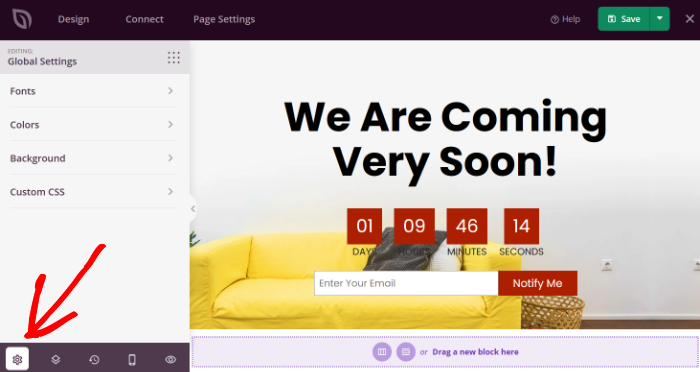 Click the Global Settings icon in the bottom-left corner to choose the preferable fonts, colors, background settings and also provide custom CSS inputs.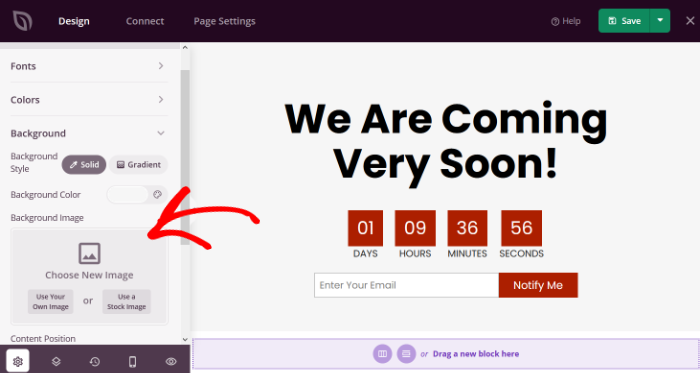 Once you're done customizing your coming soon page, you can move on to the very next step.
Step 5: Step Ahead and Connect with an Email Marketing service
If you've added an email opt-in form to collect leads on your coming soon page, the next step is to connect your email marketing service.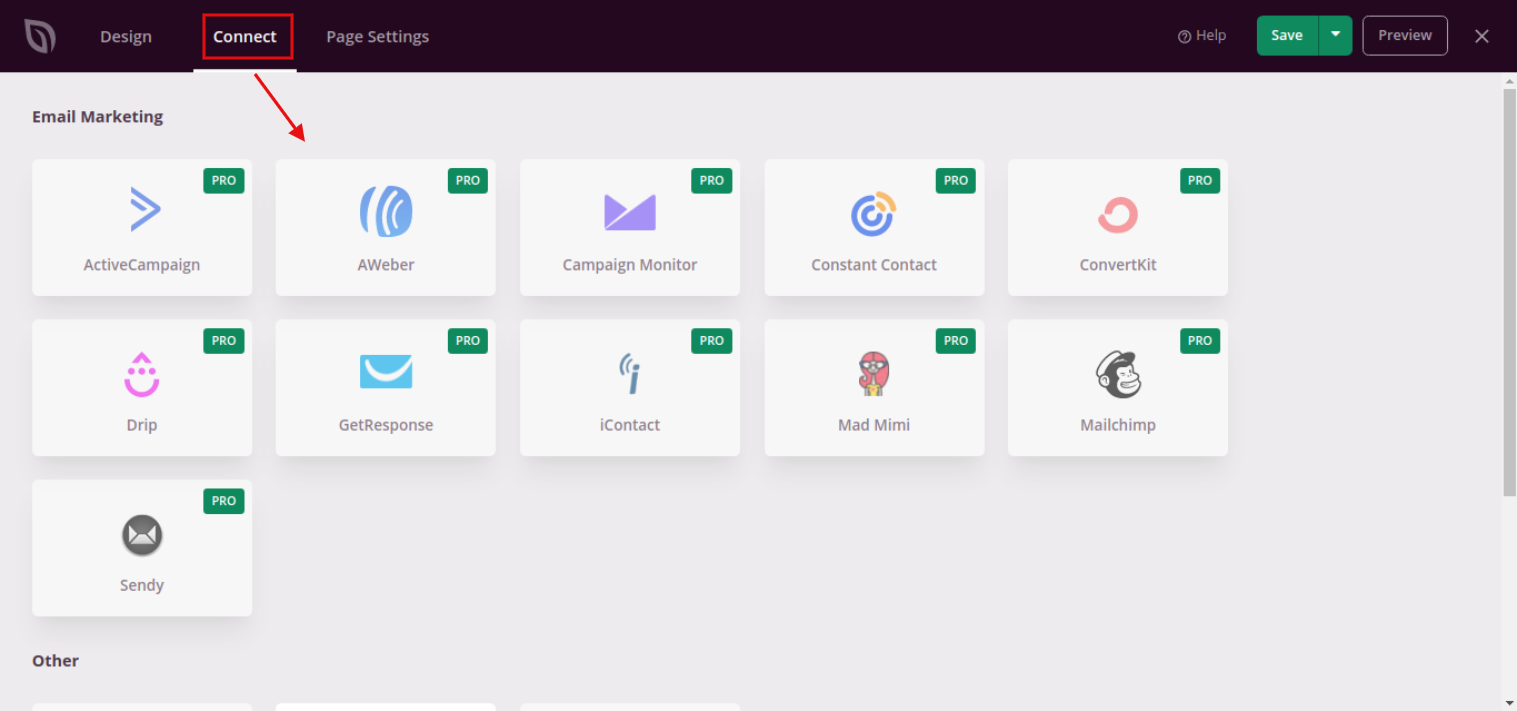 To do this, simply click on the Connect tab at the top of the screen and you'll see a list of available integrations.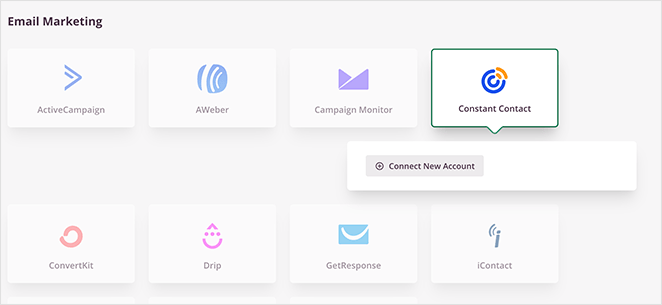 Choose your preferable email integration to continue with your mailing list further.
Step 6: Wisely Perform your Page Settings
Before publishing your coming soon landing page, the last step is to configure your page settings. Click on the Page Settings tab to begin.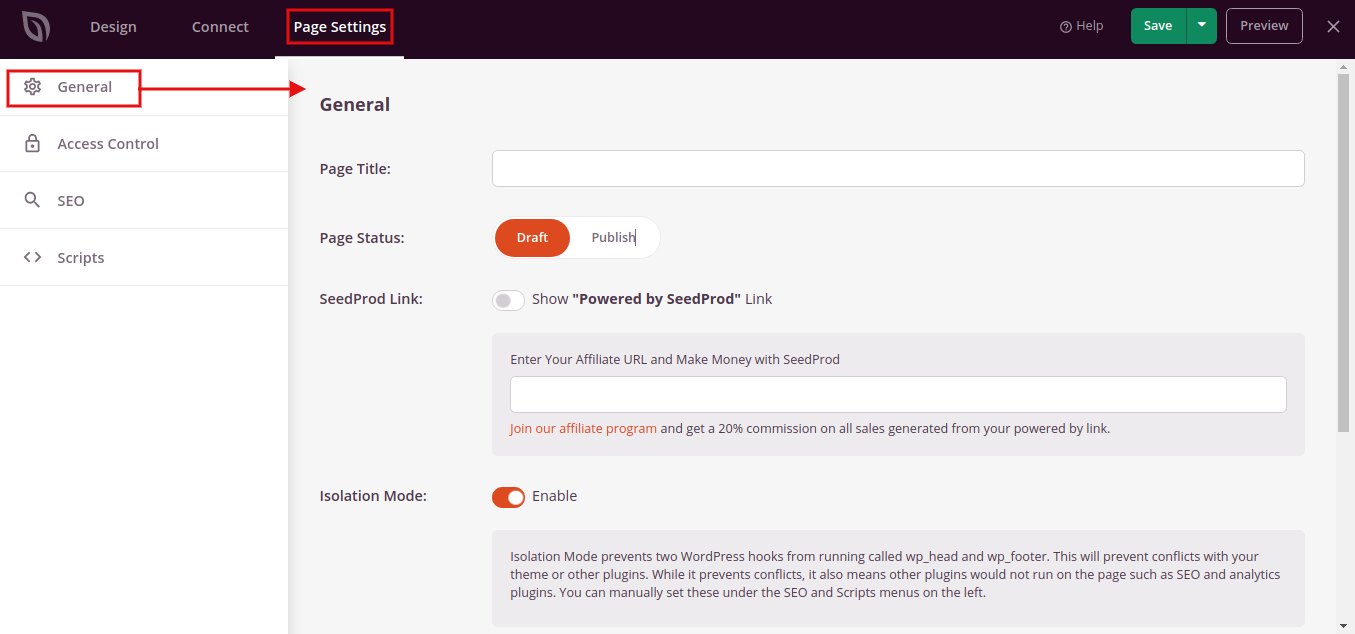 You can choose a page title, page URL, etc. for your current coming soon page that you've designed using the General setting tab.

Other than General, there's an Access Control tab beneath. This tab is there to input the details for bypass URL, cookie bypass, bypass URL expiration time, etc.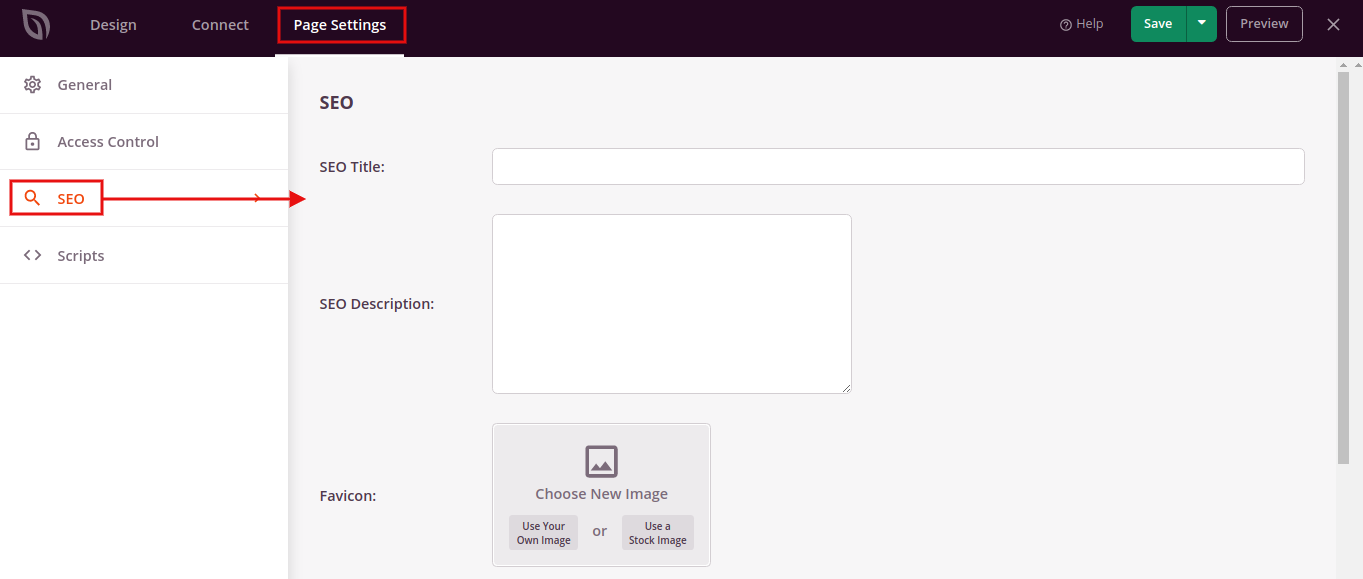 You can also set up your coming soon page SEO using the tab. This tab allows you to offer inputs for SEO title, description, choose your favicon icon, social media thumbnail, etc.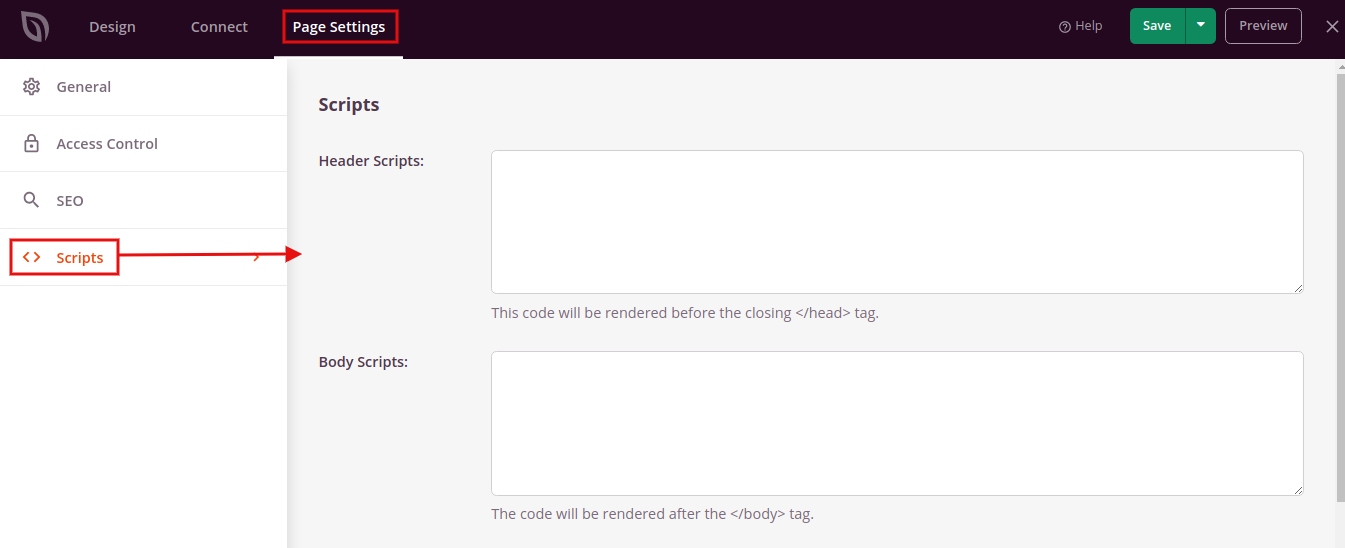 Beneath the SEO tab, there is the Scripts tab that allows you to enter scripts for header, footer, and body sections.
Step 7: Launch your Coming Soon page on WordPress
When you're all done with creating your WordPress coming soon page and configuring the settings, click the green Save button in the top right corner.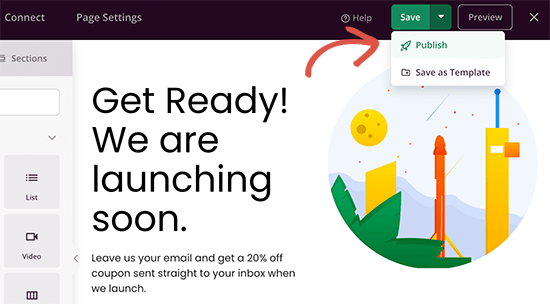 To publish your coming soon landing page, click the dropdown arrow beside the Save button and click Publish. Finally, to activate the coming soon page, head back to the SeedProd dashboard by clicking on SeedProd > Pages from the WordPress Dashboard.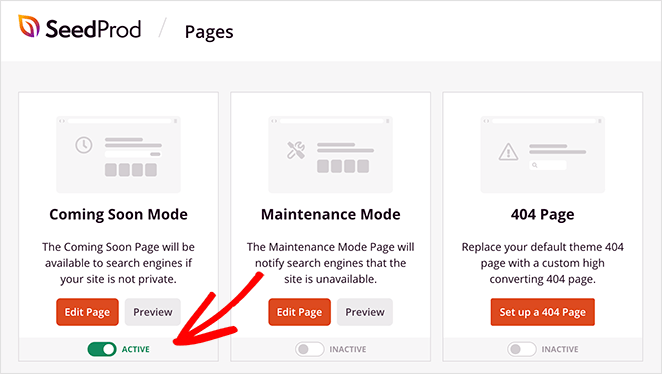 Under the Coming Soon Mode section, turn the toggle from Inactive to Active. Now when people visit your website, they'll see the coming soon page you just created.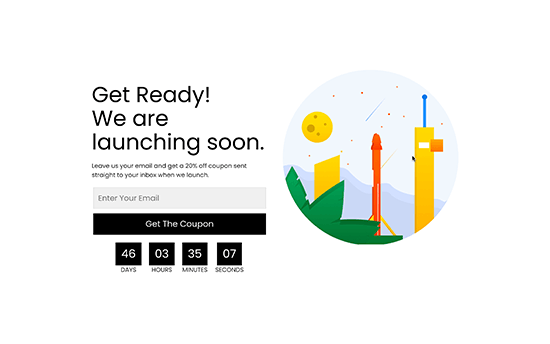 That's it.
You've figured out how to make a WordPress coming soon page; now it's good to implement what you've learned to effective usage.
With a coming soon page in position and a release date on the calendar, you're ready to begin your pre-launch promotions.
If you're totally baffled on how to design your own pre-launch strategy, take a look at the coming soon page illustrations below for some ideas. Everyone opts for a different approach, although there are still key lessons to learn from.
Tips To Create A Distinction Between Great Coming Soon Pages From The Typical Ones, With Real-World Examples
Before jumping for the experimentation, Check out the list of few considerations that we've discovered from the real-life coming soon page examples-
Buzz Out with a Contest
One of the most effective ways to find your foothold is to run a contest and offer a reward as an incentive for users to participate in the competition. You can encourage users to enter a contest by performing a lot of activities that would help you achieve an engagement, promote your Coming Soon page, and eventually boost revenue.
For Instance, you can check out this awesome Twitter contest by Whale Shark Plushie.
We have a special surprise…
A WHALE SHARK PLUSHIE STRAP GIVEAWAY!

⚓️ Follow & RT to enter!
⚓️ Open to US & International

1 Lucky Winner! And if you want a whale shark *bag*, check out our KickStarter: https://t.co/CJgLoJpsNq #whalesharks pic.twitter.com/fIBk0EXQ0x

— Whale Shark Bags! (@WhaleSharksKS) May 28, 2018
Twitter contests that encourage users to enter by Retweeting a post and following them on Twitter generate hundreds of followers and shares on a frequent basis.
Hype the Curiosity Factor in it
Spark interest among your audience by launching an advertisement on social media two to four weeks before the promo and final outcome are launched.
Customers' reactions will facilitate you in aligning the marketing campaign with their expectations. You could perhaps come up with an interesting working title to keep the crowd wondering.
For Example-
Harry's is a grooming brand based in New York that manufactures and sells shaving equipments through mail orders. They have creatively designed their pre-launch campaign.
The campaign was designed by Harry's founders, Jeff Raider and Andy Katz-Mayfield. They had a perception that credible referral can be the most powerful and effective place to restart their grooming brand.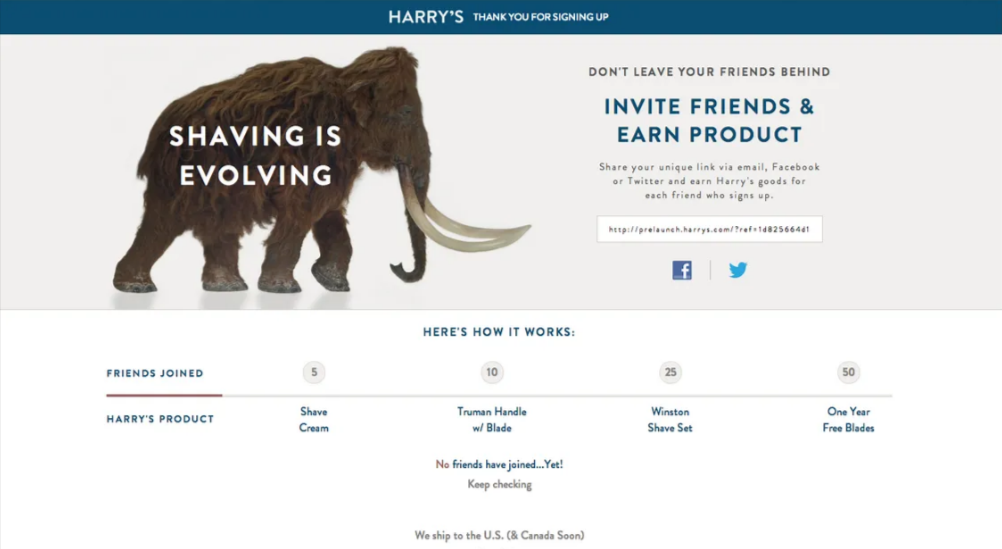 As a response, rather than spending money on social media campaigns, they focused on developing a campaign that supported people in raising awareness to their peers.  Within just a week, they were able to gather 100,000 emails.
Focus on Simplicity and Offering Value
Suppose, I'm a potential email list subscriber, then for sure, I do need to receive some sort of value that I can sink my teeth into if I'm going to be compelled for sign-up.
Try not to be too uncertain about the proposed changes to your site. Customers are there to visit the website, and they'll do that at a certain point. You don't really want to think about making the coming soon page too unique. Focus on maintaining intention and then let your visitors know exactly what to expect next.
Run a Crowdfunding Campaign
Consider providing an incentive in consideration for referrals when developing Coming Soon pages.
Crowdfunding has grown exponentially as an opportunity to obtain early interest for a product or service and fundraise from consumers who want it. Many brands are incorporating it as an effective pre-launch marketing strategy for their coming soon launch.
For Instance, Bezar is a colorfully designed marketplace launched by one of the founders of Fab.com. As an incentive in exchange for referrals, Bezar offered $10 to both the referrer and his or her friend. Apart from that, in addition, to collect emails from shoppers it offers a call to action(CTA) for vendors and brands.

Not every coming soon page example has a robust construction or extensive graphics. Because of the page's use of the refer and earn policy, Bezar's coming soon page will undoubtedly hit a large number of users. If you want your page to go viral, it's a brilliant idea to be inspired by.
Drive Signups from your Email Signature
If you're referring visitors to a site when there is nothing to purchase straight away, please ensure you have a strategy in place to keep them from fleeing.
That's where your coming soon page would also facilitate you in attracting the prospective attention of the customers. In the majority of cases, this entails establishing an email list. By providing an incentive, you will increase the probability of users reaching your email list.
How You Can Effectively Plan Your Outreach Through Emails?
For a better instance, do check out the example of Everlane.
Everlane is an online store that focuses on creating ethically produced modern basics for everyday use. Everlane has a different approach to coming soon sites, creating one for each new product that is released in its online store.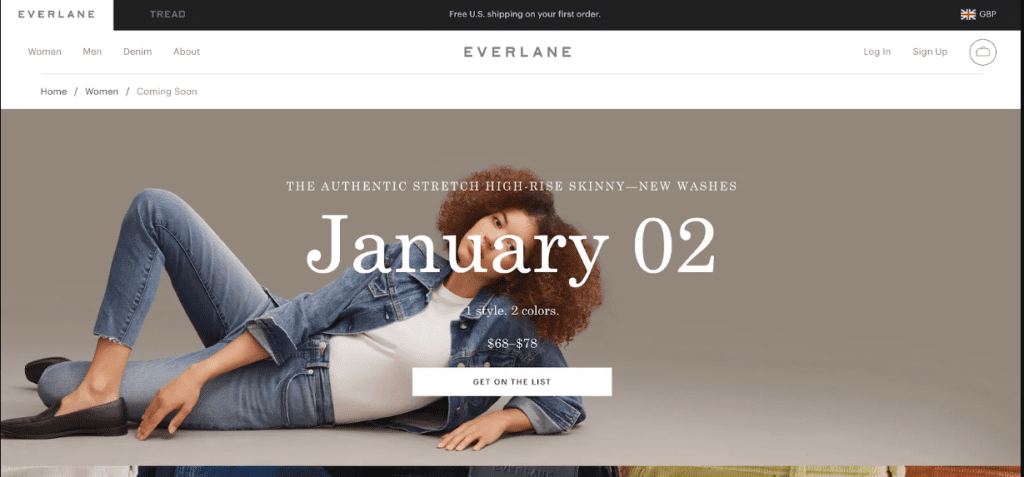 The product name, launch date, price, and a CTA to enter the list to be notified when it launches are all mentioned on the coming soon page for each product.
Offer Services/Products FREE to use Initially
If there are a lot of active players in your customer base, you might need to consider introducing a free version plan to enhance momentum. Deployment becomes much more open as a consequence of this.
You'll be able to capture more customers in a shorter period of time.
With plenty of consumers, your business has much more potential to improve.
It makes things simpler to employ beta users.
FREE offerings are a great way to get a piece of a large market while also building anticipation for your actual key product.
For Instance, you can refer to the PutsMail pre-launch campaign-
PutsMail, a small web application that enables you to send yourself a free HTML email newsletter to experiment it out for free. Litmus controls PutsMail, which allows users to build their email over a multitude of platforms.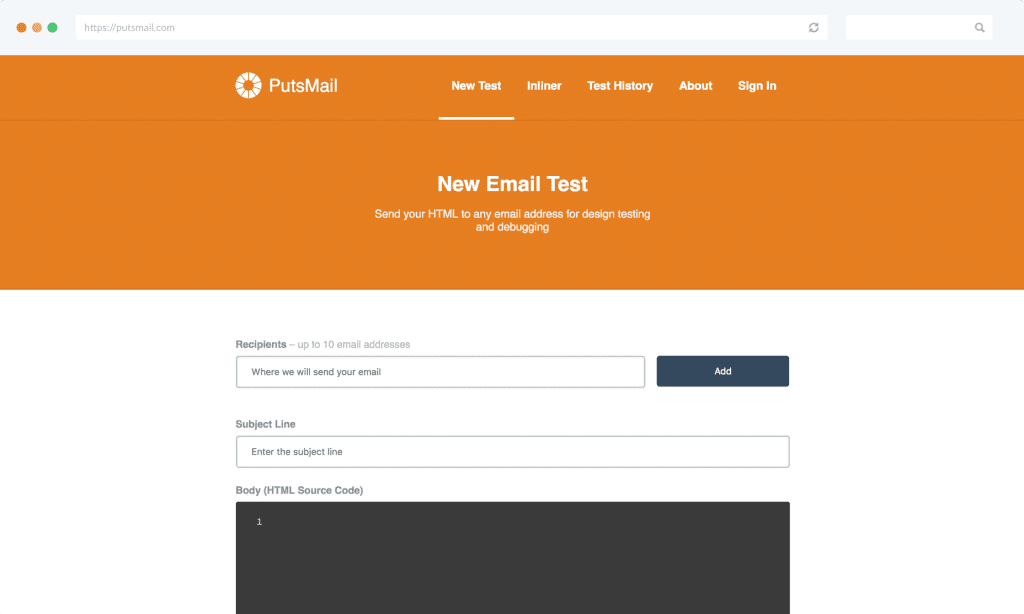 Such a free offering strategy helps them attract more and more prospects easily or with less effort drawn. You can also facilitate your pre launch marketing through this strategy.
Re-Launch with a Twist
If you're planning to relaunch your product or website do check out the example below for an outstanding strategy. The example below states that-
How social engagement with a twist drives Eka Softwares to gain prospects?
Employee engagement on LinkedIn has empowered Eka Software to drove a 233% increase in single-day visitors to its new site for its brand re-launch. With an integrated organic and paid media campaign on LinkedIn, Eka Software relaunched its brand as 'Eka1: The Power of One in 2020.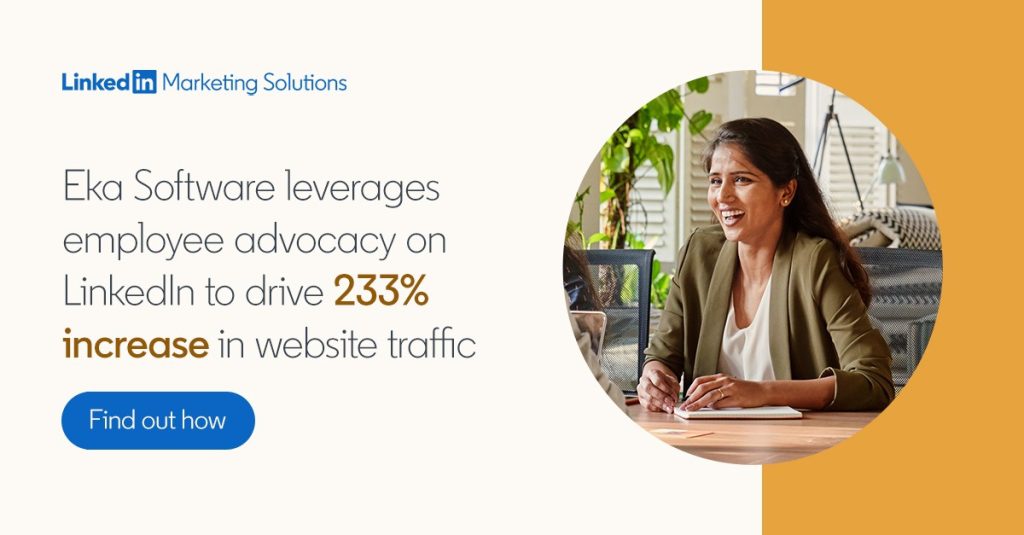 They were actually using their own employees to promote a new brand and drive traffic to the business's new website, reinforcing the strategy with targeted campaigns that revealed significant improvements.
You can clearly witness how a social platform can boost your promotional marketing campaign.
Make it Sound more Clear and Interactive
Simplicity is the secret to success in any scenario, and there's no exception to that. Even though the Coming Soon page will serve as your landing page for a while, it should be as seamless as possible.
Make your brand story clear and concise in a form of a message that directly catches the attention.
You can check out this coming soon page example below for a better understanding regarding the approach-
Are you a wine admirer? You might fall in love with MyOwnCorks. The site's objective is to provide a sophisticated wine search engine that enables you (the wine fanatic) to discover new flavors and experiences.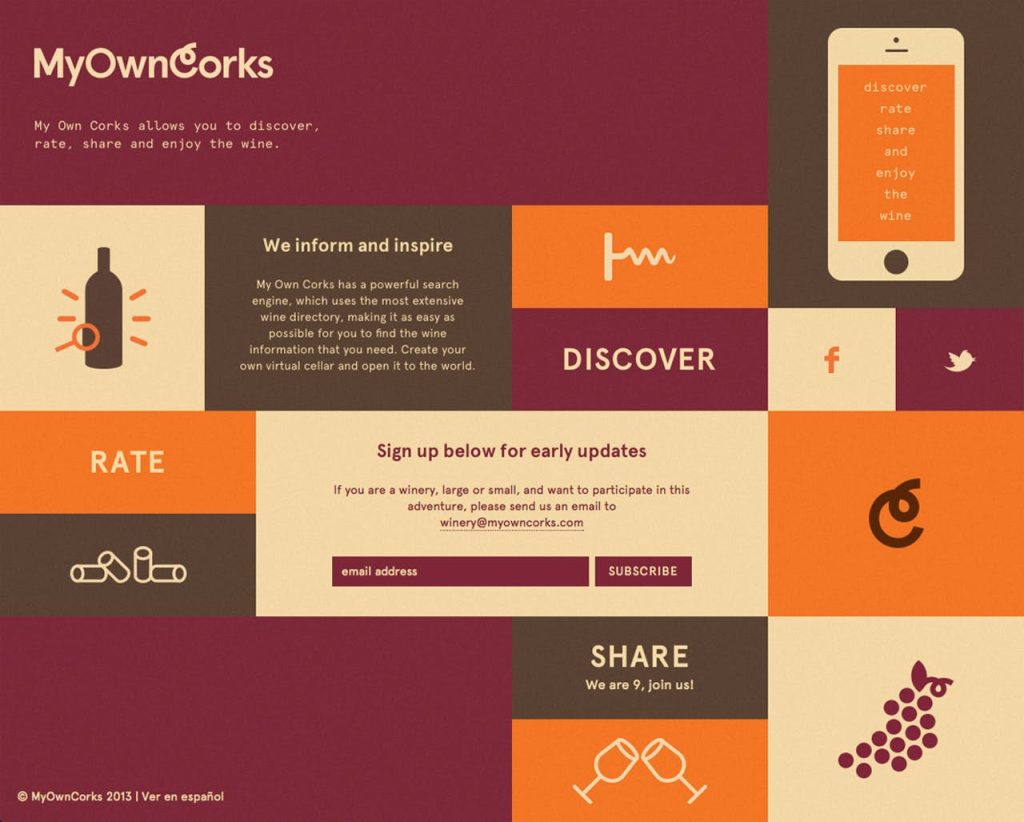 MyOwnCorks used one of the most significant consumer behavioral concepts for this Coming Soon page i.e. Persistence. They designed their pre-launch coming soon page in such a simplistic yet informative way that catches attention more likely and is informative at the same time.
Take Pre-Orders for Customer Retention
You could also use pre-ordering of your soon-to-be-released products as an effective pre-launch marketing strategy in order to attract prospects who've been likely to convert.
For Instance,
Supply, an international grooming brand that sells customized grooming range products of the finest quality. They launched in 2015, with a concept of pre-ordering.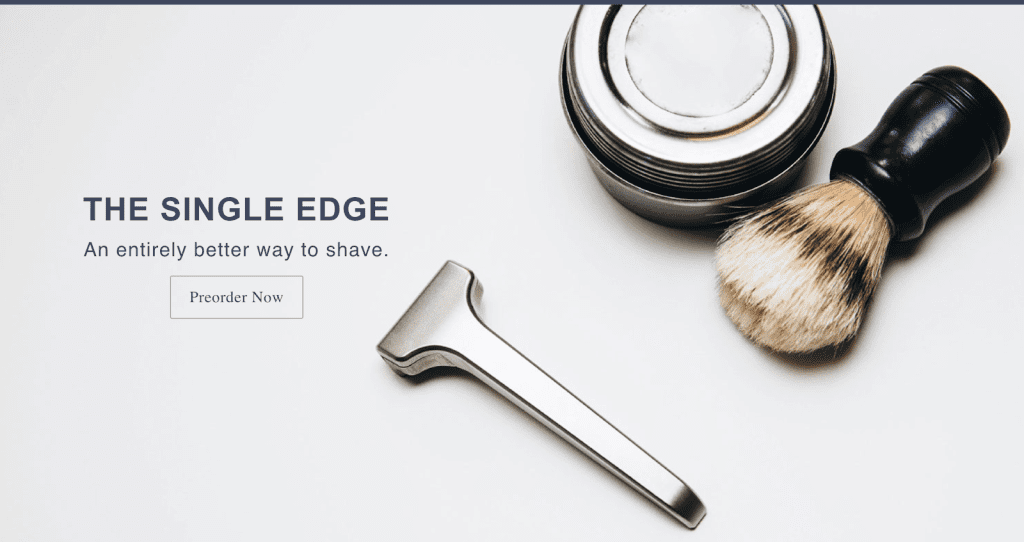 They offered a simple design with a powerful conversion generating CTA (Call-to-Action) button i.e. a pre-ordering feature. That helped them drive sales through their coming soon page directly. Amazing idea, no?
Network with Influencers
No website launch marketing plan is complete without taking advantage of influencers in your field of interest. Influencers are people with authority and the power to influence the decisions of their followers.
The power of word-of-mouth marketing shouldn't be underestimated.
People are 90% more likely to buy from a brand recommended by a friend or an influencer.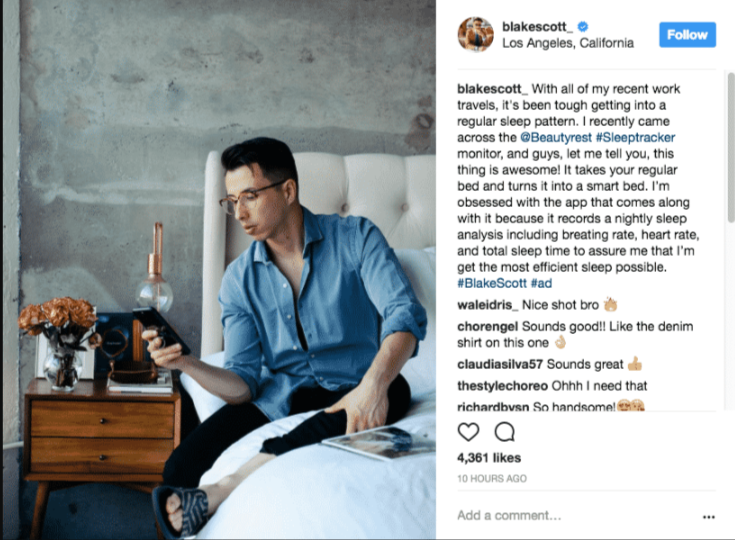 When looking for influencers, please remember that finding the influencer with the largest audience isn't the aim. It's all about discovering influencers and audiences who would be interested in your product or service.
If you meet a significant proportion of individuals who aren't ideal clients or won't buy your product, it won't help your launch. Don't hurry to work with influencers if you'd like to reach the right crowd. Rather, take time and research well.
Maximize your Social Profile for Referrals/Outreach
Encourage customers to inform everyone about your launch.  People may share your concept with their buddies or communities if they would like it, especially if you make it even easier for them by offering social sharing buttons.
For Instance, do check out this outstanding coming soon page example given below-
Visage is a data visualization tool that enables brands to create a variety of stunning graphics. While launching, their designers created an outstanding pre-launch coming soon page with social share buttons as CTAs for expanding their social reach before actually releasing.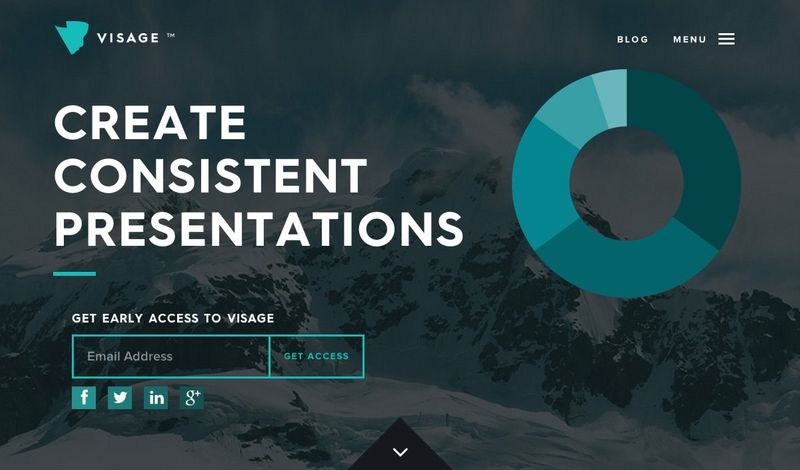 That gradually helps them in expanding their reach more with minimum efforts drawn.
Use Simple Words, ditch Technical Industry Terms
Never indulge in over-exaggerating your brand specifics by employing industry key terms or phrases. As it is not consistently a case that your pre-launch marketing-based coming soon page receives visitors respective of your niche only.
If explaining your products and service purpose do involve Key-Terms, then do provide proper explanations of them beforehand.
Make an Awesome pre-launch Video
Pre-launch marketing would be no special until you spice it up with a video announcement. Many brands do follow the approach and launch creative yet concise pre-launch marketing videos ahead of their actual launch.
For Instance, you can check out the approach of Dollar Shave Club
Dollar Shave Club did everything possible to produce a video that perfectly describes their brand while also incorporating some humor.
They've received almost 17 million views as of now, which is a massive rate of return when you compare the benefits of the development process.
Acquire Quotations from your Customers at Pre-Launch
Obtaining a service/product-based quotation from your customers ahead of time can be a far more lucrative strategy for enhancing your brand's influence and credibility. You only need to use the WordPress plugin that is available to support you with this, for instance-

Request A Quote is indeed a WooCommerce plugin that adds a quotation form to your website. Visitors who are interested in your product/services might make a Request for Quote by filling out this form.
The customer receives an email acknowledging the successful submission of the form after filling it out and processing it. The quotation can then have been sent to the consumer through the network preferred by the shop owner.
This strategy can be way better, your prospects would easily and effortlessly grab attention out of your product/service and request quotations prior. Below we've tried to showcase a coming soon page somewhat similar to the concept we're discussing here-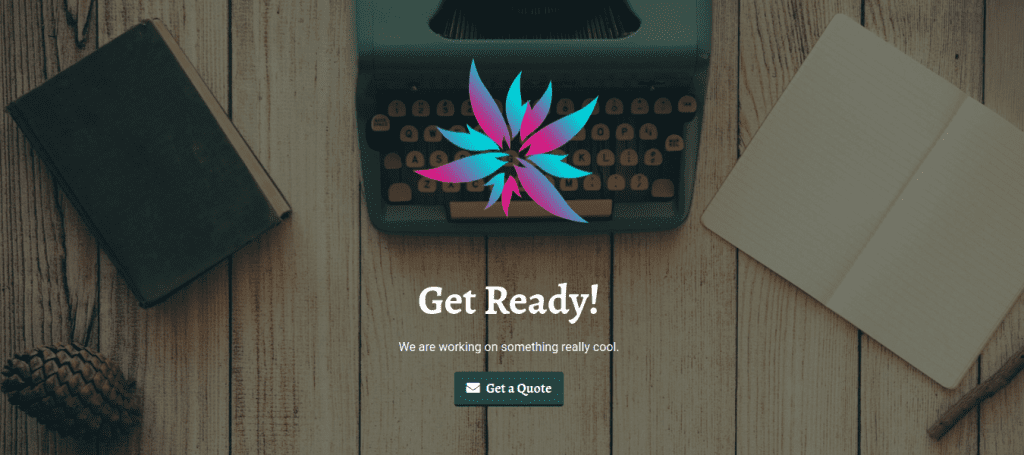 Incorporate the plugin within your Coming Soon page followed by pre-launch marketing and acquire business quotation ahead of the actual launch. It's an actual win-win for you.
Offer excellent Customer Support and don't skip Communicating with your Customers first
Feedback is a Reward, so you wouldn't have to hesitate unless you've already Launched to Obtain it.
You can address customer questions soon, convince participants to enter your pre-launch community in face-to-face interactions, and get constructive feedback about your concept by providing a communication channel via email, social media, or, smarter option i.e. live chat.
Customer communication can help grow exponentially fulfilling their expectations as well offer great support as a market analyzing tool for sustainable growth after the release.
Anticipate Growth
It is possible to obtain success. You should always anticipate more business than you predicted. Presume that if the campaign progresses, the business will be able to grow and accommodate the demands. Do not ever stress out, if you're losing anywhere.
Just focus on your objective and carry forward your mission to website launch soon with full confidence.
Other Non-Scalable Activities that you Need to Focus on
Do refer to the non-scalable activities described below, that help you stand out from the crowd before your launch-
Commence cold-emailing or cold-calling to your prospective customers.
Communicate with the media agencies.
Encourage customers to try your products/services for free in the first place for promotion to their mailing list.
Connect with just as many shareholders or potential partners as you can.
Hire a competent team.
Coordinate a launch event or a milestone celebration.
Employ influencers to facilitate customer surveys.
Offer your customers promotional badges/stickers and merchandise to get them excited about how you offer spectacularly impressive marketing.
Find some people who are really curious about or even using competing products and strike up conversations with them.
Give importance to the finer details that drive your product apart from the competitors.
Wanna Check Out About The WordPress Launch Checklist In Detail
When Designing A Coming Soon Page, There Are Few Factors To Take Into Account
Despite the fact that plugins and automation tools make the process simple and obvious, there are a few pitfalls to avoid. Many webmasters are unaware of this, and as a result, they commit beginner-level mistakes-
Developing Ambiguous Content
Although the goal of the Coming Soon Page isn't to reveal future material, that doesn't imply you should leave it empty. On the contrary, you should describe the type of website or business it is, explain its main aim, and encourage people to continue to follow it.
Failure to Launch on Time
I've already described why a countdown timer is so crucial, but there's one more thing I'd like to point out: make sure your website launches on time. How can you expect users to trust you in the future if you make a mistake right away?
Not using Social Media to Promote
Email subscriptions and social media are, for the most part, the only methods of promotion available at first. Use it wisely to stay ahead of more agile opponents.
Emails are Not being Collected
You'll be able to contact visitors more easily once the site is online if you have their email addresses. A simple email can help you build relationships with visitors and transform them into repeat customers or users of your services.
Having a Coming Soon Page for a Short Period of Time
Because there are so many advantages to having a coming soon page, you'll want to keep it up for more than a few days. Use countdown timers and signup forms to keep the coming soon page active for at least a few weeks.
Joining The Dots…
More than just popping up with ideas and developing products is needed to execute a successful business. At the end of the day, you must create a relationship between your brand and your prospective customers.
If you don't strategize about your marketing strategy, before you launch a new business or product, you'll lose.
A successful launch strategy requires initiating the marketing strategies well in advance of the release date. A captivating coming soon page can be the key to a successful pre-launch marketing strategy. Make certain that your coming soon page is:
Indeed a value proposition.
Outstandingly designed with an excellent layout.
Covers all effective calls to action i.e. CTAs.
Other than your Coming Soon page, you also need to collaborate with your audience prior to the launch to collect feedback, communicate with their communities, or actually ensure that they recognize you when the big day arrives.
Good Luck!!!
If you liked this article on the pre-launch marketing with the coming soon page, please let us know in the comments section.