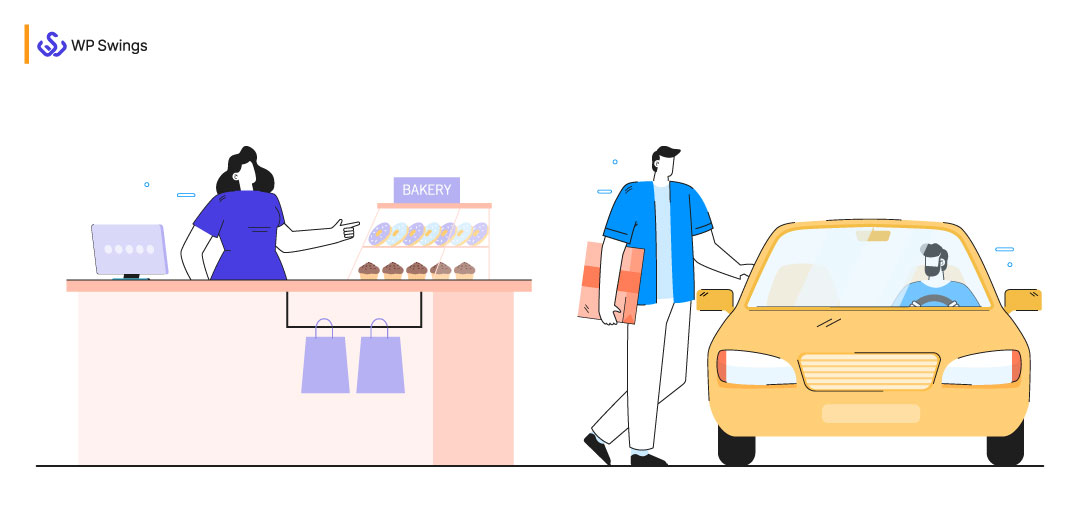 Click and Collect is a service to facilitate your customers, save their time, and enhance their shopping experience. Years ago it seemed impossible to implement curbside pickup for online and local stores on a large scale. But the test of time made it not only possible but a reason for local businesses to flourish.
Blue Yonder reported that 22% of the population preferred curbside pickup services for their orders.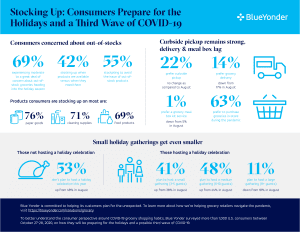 Let us consider a scenario where you are returning home from the office. On your way home is the confectionery from where you wish to buy a cake and maybe some ice cream for your kids. It is a high traffic hour, no parking facilities, and you are too tired to walk to the place. This is where click and collect come into play. You can have your local confectionary get the items ready and paid for. All you have to do is stop for a minute and pick up your package.
I believe that solves many challenges- saves time and has even saved local businesses from dying out during stringent Covid-19 lockdowns one after the other.
Your Click & Collect Shipping Guide
What is Click and Collect?
Click and Collect is when you allow your customers to trade with you by making their purchases online and picking up their items rather than getting those delivered. You can call it by other names as well such as curbside pickup, store pickup, or no-contact collection.
Pick-up services for the furniture and fashion industry at a predetermined location are also in great demand.
Even before Covid and the no-contact collection came to rise, click and collect was expected to grow by a whopping number of 76% by 2017 in the UK. The rest of the countries adopted it in no time once the Covid cases surged and governments had no choice but to lock down the whole of the countries. It gave a rise to no-contact shopping and localism.
You can check the image below depicting the change in click and collect retail sales in the United States from 2019 to 2024. There was a sudden increase in the click and collect services during the time of the Covid pandemic.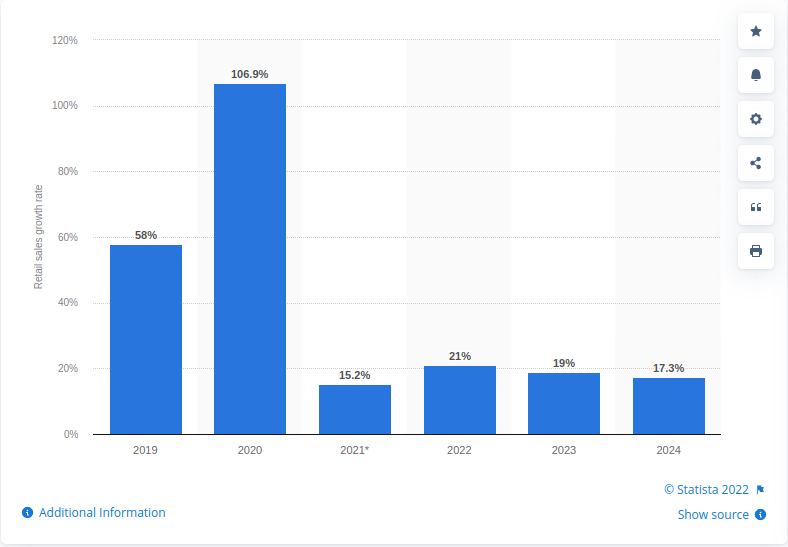 Source: Statista
This was because the uncertain times caused the population to become skeptical about the availability of essential items. Hence, began the exploration of newer and safer alternatives to shopping. These alternatives were delivery at home and store pickup. Be it McDonald's, the furnishings giant- IKEA click and collect, or the local grocery shop; they all employed click and collect services using different challenges.
Having such a model can have many benefits and challenges for your store. We will cover each of those, one by one. Here are some of the pros of having click and collect enabled on your store:
Click and Collect Advantages
The Click and Collect concept has advantages from the customers' perspective as well as from the store owners' perspective! It is a hard time waiting for your order to arrive. Let us accept it, an online package due to arrive is a present to you by yourself and hence, all the wait is agonizing.
Click and collect saves your customers from the pain of having to wait! It is a boon to order, have your items packed and drive to the store right away. Without even having to park your car, you can collect your "presents" and hurrah, you can start reaping the benefits of the products there and then.
From a shoppers' point of view, you can get an edge over your local competitors if you have this service working effectively for you. This concept will also reduce or sometimes even eliminate the risk and cost that comes with 'missed deliveries'. Another advantage of having click and collect services functional at your store is that you will have a reduced number of local deliveries to make, saving your time and money.
Another model that the retailers in the UK have successfully implemented is collaborating with local non-competitor retailers. This helps in increasing the number of pickup points and buyers' convenience. As an online retailer, you will also be saved from investing in brick and mortar stores.
It has also been found that click and collect shopping carts are generally double the size when compared to the offline carts. So, it is definitely a win-win for you. As for your customers, it adds on to customer convenience and in turn, customer retention.
Click and Collect Challenges
Now, as successful a model as it sounds, click and collect can be a total waste of your time and investments if you do not address the challenges timely. Let us quickly discuss the challenges that it comes with:
1. When it comes to the pick-up of perishable items, the packing of the order should be in sync with the pickup time. Your customer is prolly picking up ice cream or fresh meat in order to have it as fresh as possible. Having kept it packed for too long can make the item go stale. So, the timing really matters.
2. Secondly, if it is large packages that you are giving out in your click and collect services, you need to invest in a drive-through space where the loading can be done in a hassle-free manner.
3. If you do not have good local collaborations for pick-up points, you will have to invest in your physical pick-up point. This will require a study of your customers' locations as well, proper space for drive-through, and roughly a complete architecture.
4. If you employ both delivery services as well as curbside pickup, you will have to invest heavily in your staff and training them well. This will prevent you from losing any in-store customers.
What Industries are Best Suitable for This Concept?
There are a certain number of things that you should consider before diving into providing a click and collect facility to your customers. These things are:
1. Do you keep enough supplies at the store? Inventory management plays an important role when it comes to click and collect. You have to increase your profits without losing your in-store customers. So, it is crucial that you take care of stocking up your products.
2. You have ample physical space to let your customers drive to the pickup point, load their items comfortably, and leave without having to rush into anything.
3. When the question is what industries can best be converted into a click and collect model of trading- it is the food industry. Grocery stores, confectionaries, restaurants, and drink shops can convert themselves into a click and collect stores in a short period of time!
4. Fashion industry- apparel and footwear were reported to be amongst the top revenue makers from click and collect services in 2019 (accounting for 59.9% of spend on click and collect services). So, if you have an online store related to clothing or footwear, "just do it"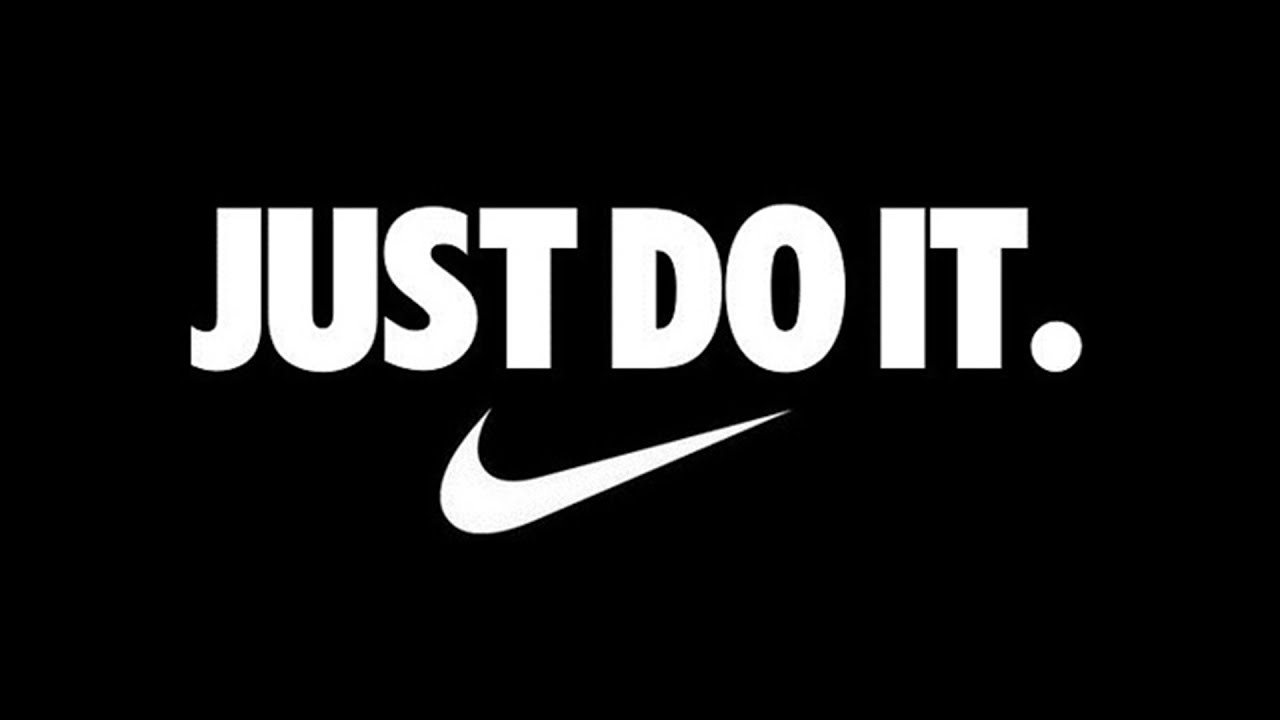 5. Furnishing and furniture giants are also employing click and collect to optimize their profits and enhance their user experience lately.
6. Other than that, if you are a local stationery or grocery shop and do not have a WooCommerce or online store, you can simply let your customers connect with you on other channels. These can be WhatsApp, emails, or even over calls. All you need to do is train your staff well to smoothen the process.
You Can Also Add WhatsApp Directly to Your WooCommerce Store!
Setup Your Click and Collect for Your Online Store
We have already discussed the challenges one might face while setting up and executing the click and collect services. First of all, you need to have the functionality of the facility on your WooCommerce store. To do so, follow these steps on your WordPress backend:
1. Create a shipping zone for local delivery. By doing so, this option will appear only to your local customers. You can set up regions by zones and postal codes.
2. Now, you might also want to exclude some items from the "click and collect" facility. For this, you can build a click and collect shipping class.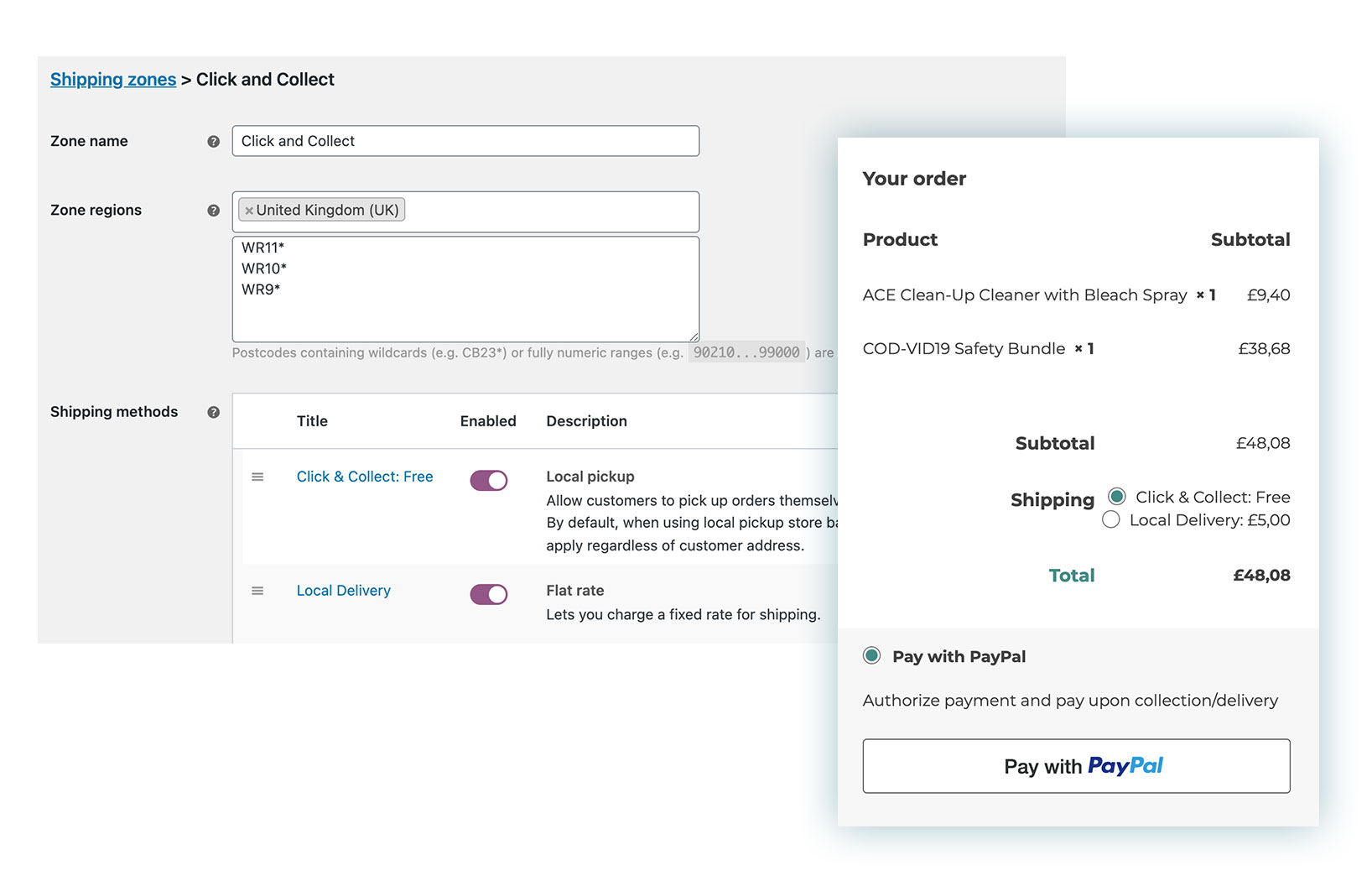 Source: YITH
3. Now, you can use a WooCommerce plugin to set up SMS or email notifications to inform your customers. SMS is the best option because it keeps your customers updated on every movement in real-time.
Hence, you have your click and collect service with your already existing infrastructure in just 3 steps!
How Well Can WooCommerce Support Click and Collect Services?
You might wonder how well your WooCommerce store is going to support your click and collect agenda! Well, the good news is that you already have this service in the backend of your website. It's a shipping option called 'Local Pickup' so if your customers are more familiar with the term 'Click and Collect', all you need to do is rename it 'Local Pickup'.
Here is Your Complete Guide to Setup Your WooCommerce Shipping Efficiently…
Popular Examples
Here are some popular examples of stores that use click and collect services:
1. Ikea Click and Collect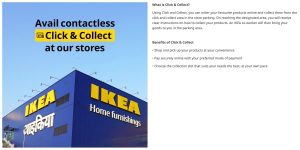 Click and Collect Ikea has a holistic process defined beforehand for the convenience of its customers for each individual store that exists. For instance, check out their India-based stores in the image below and you already know how to pick up the item you love.
2. Inpost

A company in the UK- Inpost is providing lockers around the city to facilitate click and collect for store owners as well as their customers. They deliver the items to the locker based on the location most suitable for the customer and provide a unique opening code to the customers.
3. Argos

Concluding Note
Lastly, you should understand that with the ever-growing market, the service delivery demands are growing as well. If you need to stand out, it is for the best that you take care of your customers in their best interests. Click and collect is one small tweak you can do to your store to increase their convenience and your profits.
If you find this article interesting, please mention it in the comments and share your valuable insights regarding the same. Thank you for reading!