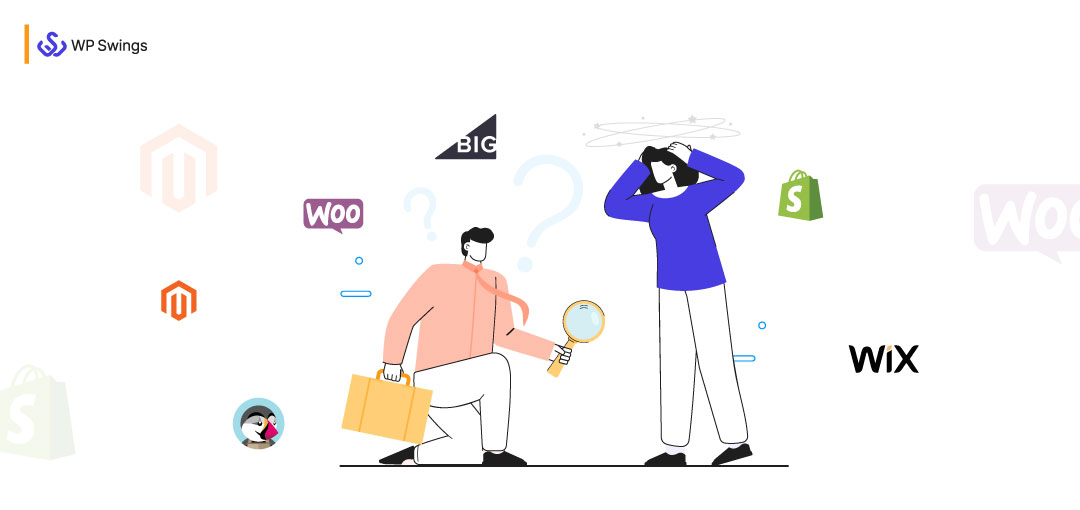 Nowadays, eCommerce is playing a major role in people's lives. In fact, the eCommerce industry is booming at a faster rate than ever before since Covid. The Covid-19 outbreak led to the shutdown of brick and mortar stores. This resulted in an increase in the online shopping of goods. Ultimately, eCommerce sales are boosting higher than ever.
According to Grand View Research, the global eCommerce market size was valued at USD 9.09 trillion in 2019 and is predicted to grow at a CAGR of 14.7% from 2020 to 2027.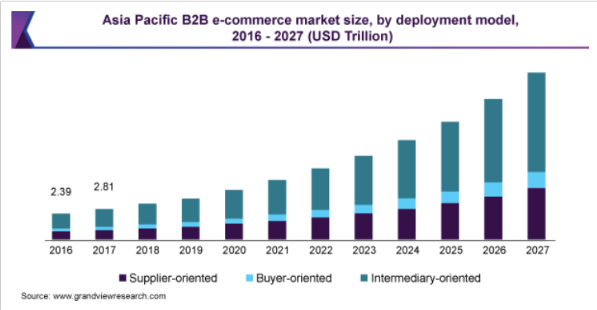 So, in order to survive in the competitive era, it has become necessary to have the best eCommerce platform for your online business. Then, you will be able to deliver the best services, seamless support, and delight the customers. Consequently, your business will reach the targeted goals.
In this blog, I am going to cover all the concepts and factors that you should take into consideration while opting for the best eCommerce platform for your online business.
Get the Best Plugins for Your eCommerce Store!
What Is an eCommerce Platform?
eCommerce stands for electronic commerce or internet commerce. An eCommerce platform basically refers to the software application that enables the businesses to sell their products and services, and customers to buy the products. It must be essentially flexible and easy to use. So that customers can easily look for products, shop around the basket, and checkout.
If you are going to start an online business from scratch. Then, an eCommerce platform can greatly help you to establish your online business. With an eCommerce platform, businesses can efficiently handle all their sales, marketing, website, and operations activities.
Opting for the best eCommerce platform can smoothen the entire commercial process of your business.
Why Must You Use an eCommerce Platform?
Running an online store is quite difficult as it requires several complex processes. Such as website building, payment acceptance, and stock management. An eCommerce platform helps to simplify the running of online store. As it consists of all the components that are needed for the growth and operation of online stores.
Opting for the best eCommerce platform can help you in preventing technical issues, system failure, and help you troubleshoot the issues. eCommerce platforms can help you in providing a seamless shopping experience, boosting sales, and increasing your revenue.
Whether it is a successful big or small business, everyone is using eCommerce platform. So, it has become too difficult to survive in the competitive world, if you haven't possessed an eCommerce platform yet.
eCommerce platforms offer smooth integration of business processes from inventory and order management, merchandising, marketing, POS, accounting, and financials to accounting. They enable a personalized cross–sectional experience and makes easy handling of order transactions and customer interactions. You can easily create personalized as well as compelling mobile and web experiences for your customers.
You can standout your business from others and meet customer needs.
With the help of an eCommerce platform, you can easily deploy your site for multiple business models which includes- countries, currencies, brands, channels, and languages on the same platform.
What Can Be the Best eCommerce Platform for You?
An eCommerce platform can be the best for you which is able to fulfill the business objectives and goals that you have set for your business.
It doesn't matter that a particular eCommerce platform is used by many people. The thing that matters is how a particular eCommerce platform can fulfill your business requirements.
Different eCommerce platforms offer different features and prices. Make sure that the eCommerce platform you are opting for must be able to successfully deliver your aim and must provide seamless support.
Also, you should be technically well-versed with the eCommerce platform you are going to opt for. These are some of the things that you should keep in mind while choosing the eCommerce platform.
Best eCommerce Platforms for 2022
Table of Contents
WooCommerce
WooCommerce is one of the top eCommerce platforms best suited for WordPress sites. It is an open-source eCommerce platform and fully customizable.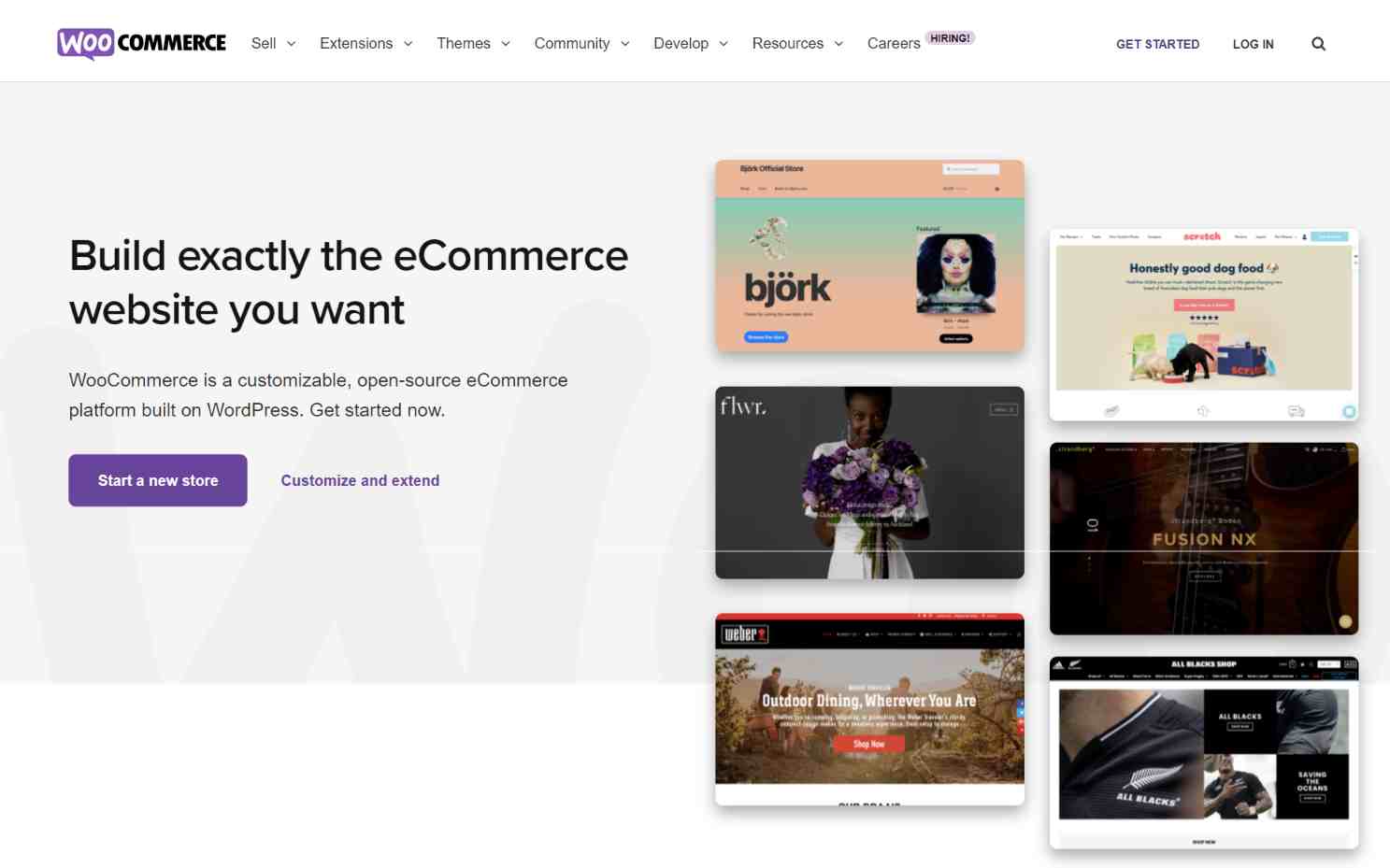 It is the one of leading platforms having 23.43% of the market share worldwide.
If you want to use WooCommerce, then you will have to purchase web hosting and install WordPress software.
It enables users to create a scalable online store of small, medium, or large-size. As WordPress is one of the most powerful SEO-friendly platforms in the market, WooCommerce makes it easy to create a scalable online store.
The WooCommerce store owners can add payment processors such as Amazon Pay, PayPal, and Stripe with free extensions.
You can flexibly handle your stock management with the help of WooCommerce. Also, the great advantage is that WooCommerce plugins permit users to sell their products on social media.
Key Features
Extremely flexible for WordPress users
Secure payments, configurable shipping options
Localization settings
Do non-eCommerce activities such as blogging and content creation on your website
Pros
Developer friendly platform
Support 74+ payment gateways
Over 6,000 plugins and integrations are available
Manage business on the WooCommerce Mobile App
Cons
You need to take care of security and maintenance of your website
Some plugins and themes are paid
Requires technical expertise for online store setup, management, etc.
Get the Best Tips For a Successful WooCommerce Shop
Shopify
Shopify is a SaaS eCommerce platform. It provides 24*7 customer care support and eCommerce solutions to entrepreneurs who don't have much exposure to programming languages.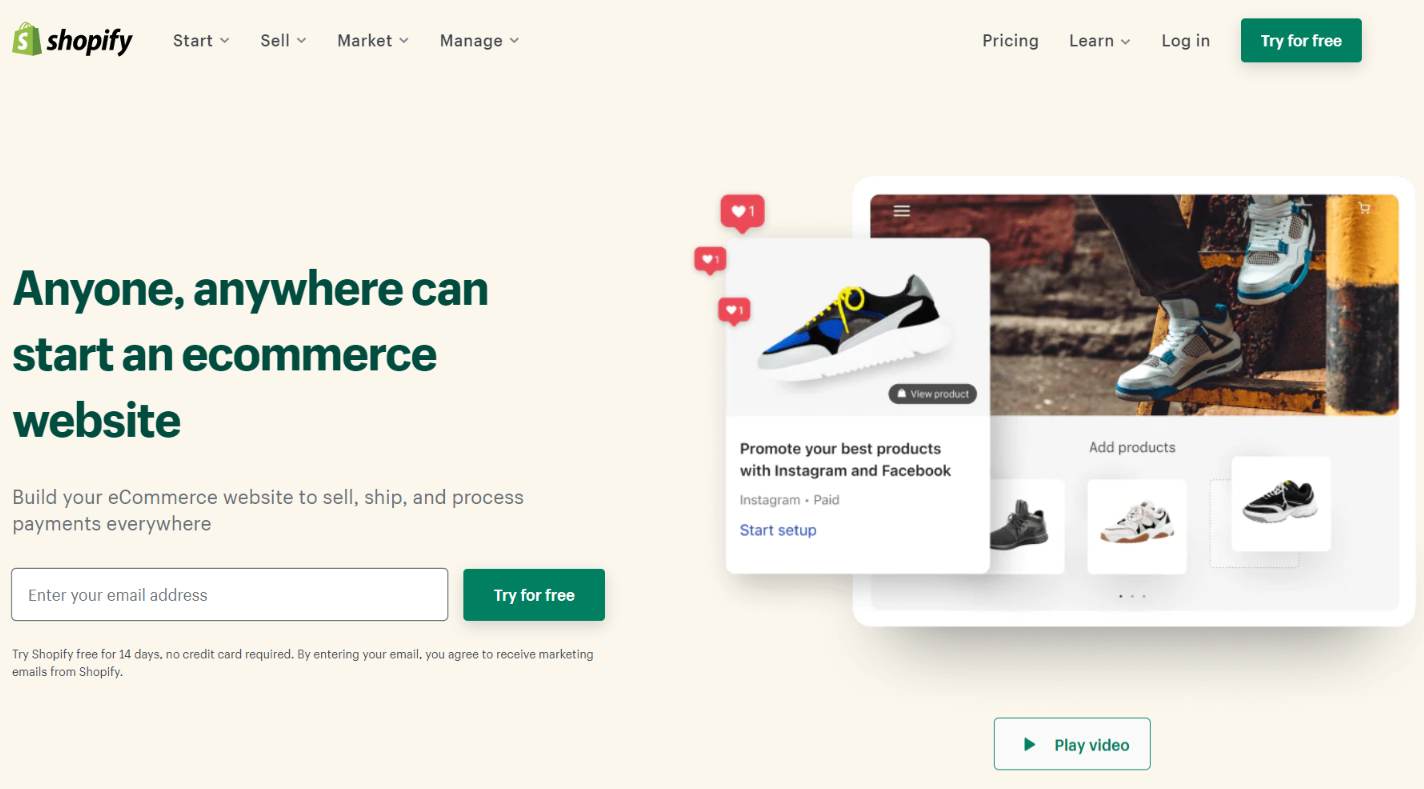 Shopify is another best eCommerce platform where you don't need to take care of the updates, maintenance, and security. It handles payments with low transaction fees and provides Shopify POS administers in-person sales. If you are a beginner at Shopify, then you can opt for 14 days free-trial.
It is an extremely flexible and robust eCommerce platform. It provides integrations and tools for multi-channel selling and drop shipping. So that you can sell through your site, retail store, social-media, and third-party marketplaces.
It provides in-built payment processors which are compatible with credit cards, Google Pay, Apple Pay, etc.
On this eCommerce platform, you will get everything such as- search engine optimization, free email marketing services, abandoned cart recovery, and much more.
Features
Shopify Plus for enterprise-level stores
70+ professional themes
Point of Sale(POS)
Customize your website as much as you can by editing HTML and CSS
Pros
App marketplace to extend the functionality of your eCommerce store and integrate with services
Initiate with an slick onboarding process
Efficient notification system
Cons
Extra transaction fees for third-party payment gateways
WooCommerce vs Shopify- What Is the Difference?
BigCommerce
BigCommerce is one of the best eCommerce platforms which provides customizations, SEO features, web-hosting, and advanced product alternatives for users.
It's SEO feature enables users to customize product titles, page titles, and metadata in order to improve the visibility of products in Google Search Results.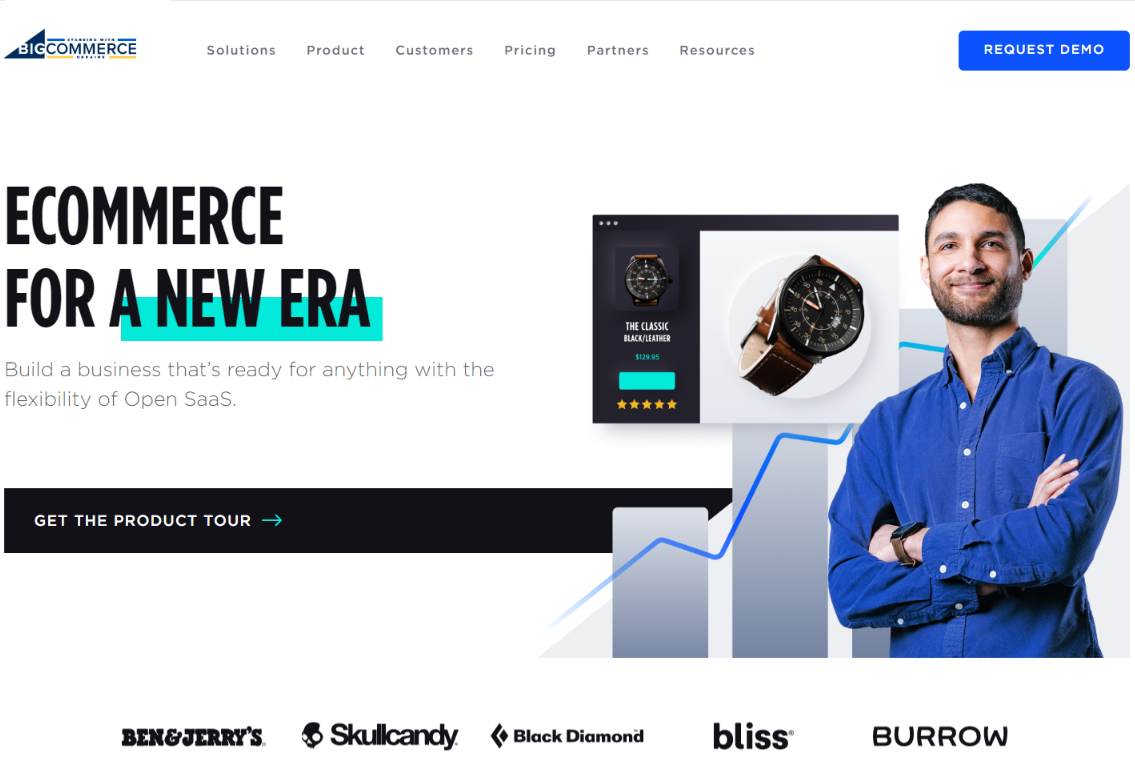 BigCommerce provides a 15 days free-trial, where you will get 12 freemium themes as well as a subscription package after the end of the trial. It doesn't charge any transaction fees.
It provides an ease to handle both the frontend and backend of the store.
With BigCommerce, you will be able to perform multi-channel selling which means you can add sales channels such as Amazon and eBay.
Features
Sound technical support
Free and premium themes
Multi-channel selling
Single page checkout
Pros
No transaction fees for multiple payments
Efficient business management capabilities
Multiple templates for store personalization
Cons
Extra charge for exceeding $400k on yearly sales
Available as subscription-based model
Wix
Wix is one of the top website builders which you can use to build an eCommerce store.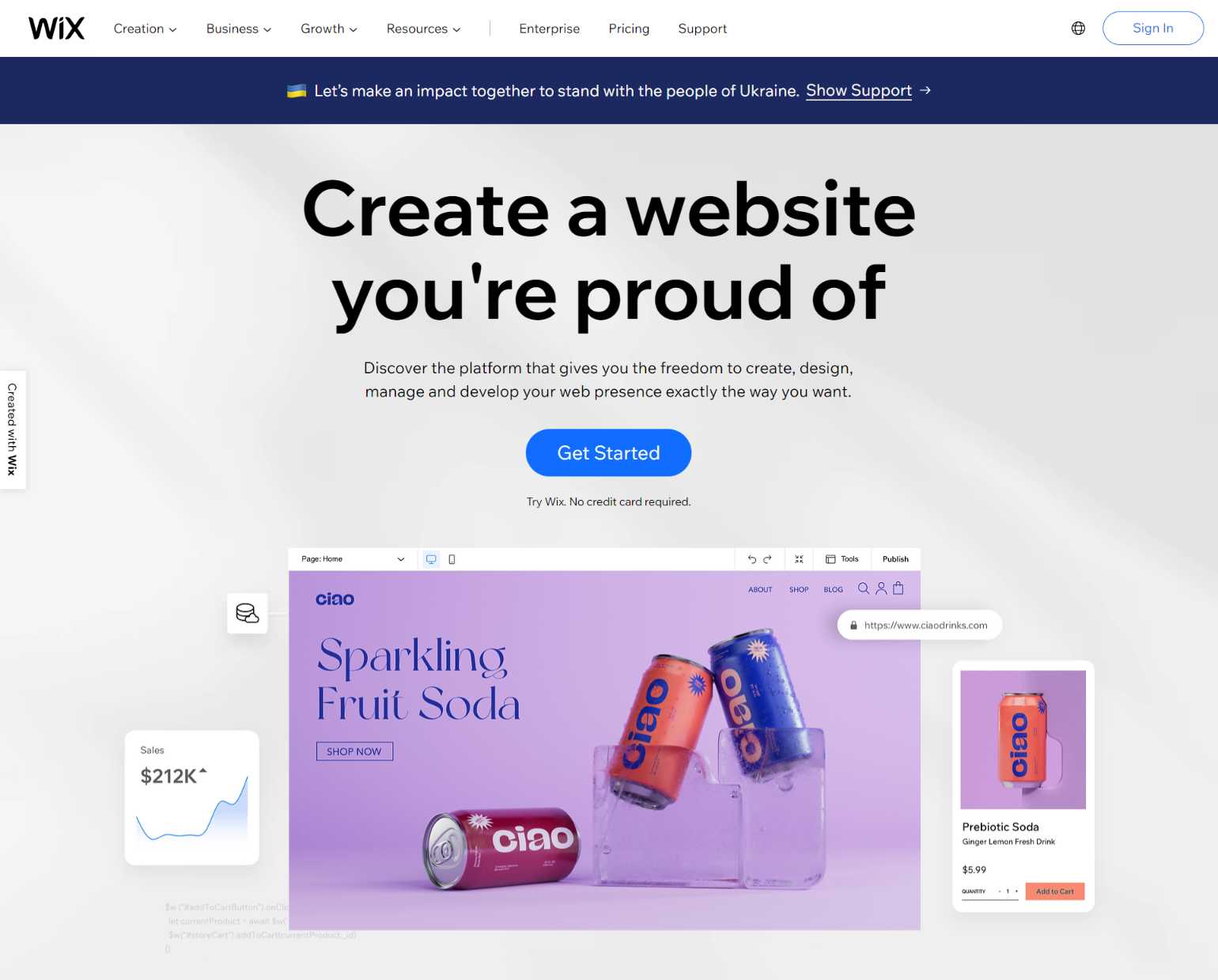 It offers a drag and drop editor and numerous professional templates. In order to get the benefit of Wix's eCommerce features, you will have to upgrade to its paid plan.
There are three payment processors that Wix offers- PayPal, Wix Payments, and Alipay.
This eCommerce platform enables merchants to sell products on multiple channels, track orders, accept online payments, and much more. Infact, it provides many add-ons and integrations including Google Analytics.
Features
Official app marketplace containing 250+ apps
Multiple language support 24*7
Offers advanced SEO tools
Offers free forever plans
Pros
Easy to use eCommerce platform
Media galleries, collection of apps, and templates
Cons
Migration of data is difficult if you want to switch to another eCommerce platform
Limitation of eCommerce features
Requirement of a paid plan for Google Analytics
Magento (Now Adobe Commerce)
Magento is another open-source eCommerce platform which offers drag and drop customization. It helps businesses having multiple sites, stores, brands to create seamless cross sectional platforms.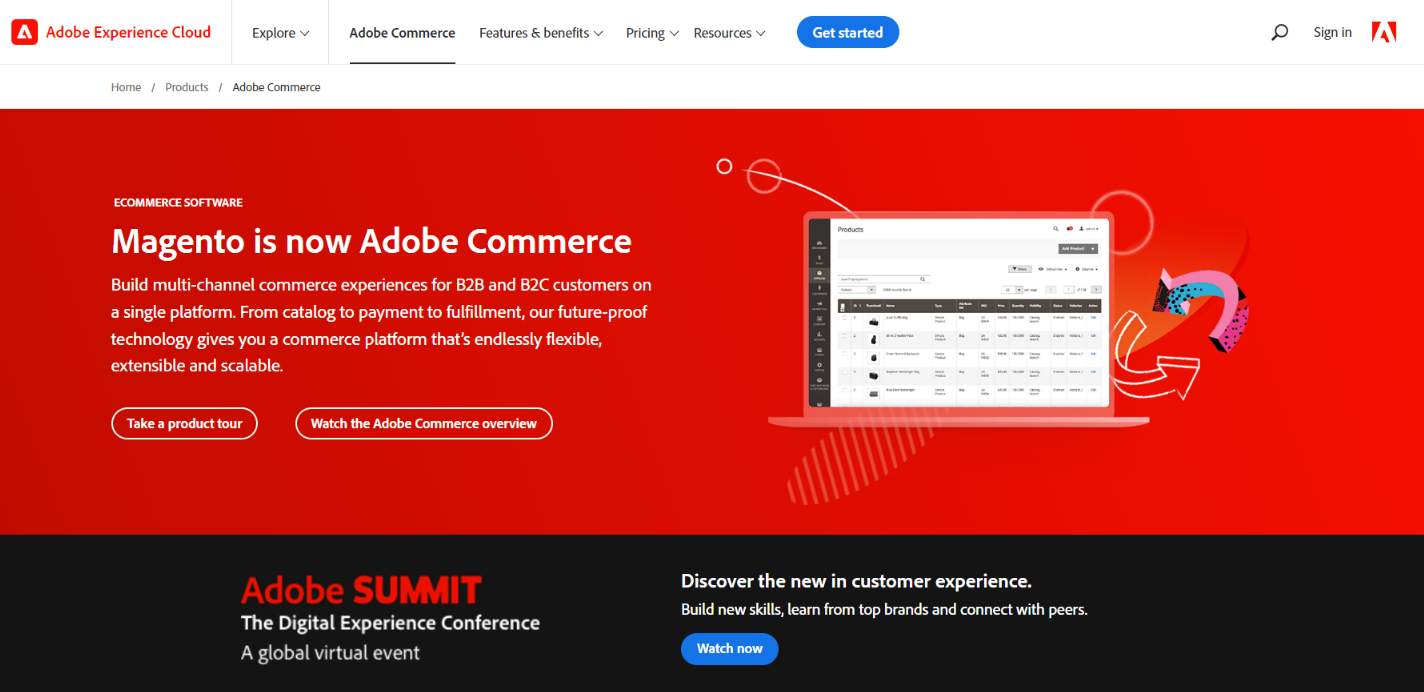 Magento is an extremely robust and flexible platform that provides easy customization to developers. It offers an omnichannel route to sell out the products. Working on Magento is not easy. You will require advanced coding and skills to efficiently manage this platform.
Features
Provides omnichannel route
Efficient order management
Provides product recommendations
3 payment gateways
Pros
Good design options
Free to start
Not hosted
Cons
Paid technical support
Not easy for beginners
Want to Migrate Magento to WooCommerce?
PrestaShop
PrestaShop is one of the best eCommerce platforms that can be used by beginners having basic technical knowledge.

There are 302,990 live websites that are using PrestaShop. It offers an online shopping cart, analytics reporting, and efficient business tools.
In order to use PrestaShop, you can download their software and your site will be hosted by IONOS. Mostly, hurdles come from managing your eCommerce website with PrestaShop when it comes to third-party hosting.
Here at PrestaShop, 250+ agency partners are available to build eCommerce websites.
Features
Efficiently manage your store products, orders, customers, and track your statistics
Good technical support
Explanatory technical documentation
Store customization
Pros
Open source platform
Easy to use
Cons
Scalability limitation
Absence of official support team
Squarespace
Squarespace is another one of the best eCommerce platforms which utilizes the drag and drop functionality.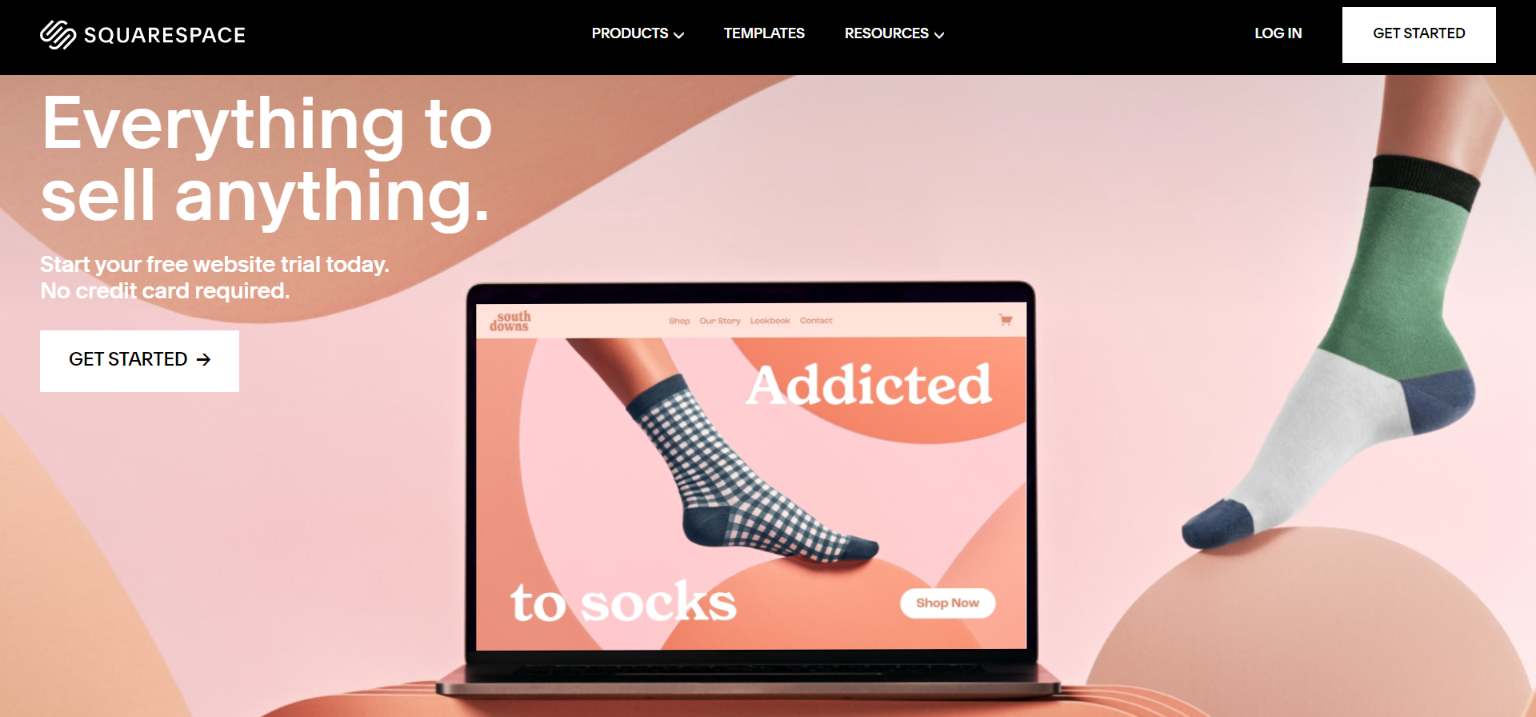 With Squarespace, you can easily create your eCommerce website if you are not technically strong.
As per your subscription, Squarespace provides free eCommerce templates. Squarespace enables us to easily sell products, services, create membership programs, and much more.
It provides payment processors such as Venmo, Apple Pay, and Stripe. Its intuitive interface allows users to instantly check and manage inventory, ship orders, and get insights about trends, data, and website traffic. It consists of easy-to-use data sales tools.
Features
Hosted platform
Dedicated customer support
Pros
Affordable pricing
No transaction fees
Cons
Absence of live chat 24*7 support
Multichannel sales limitation
Conclusion
In this blog, I have discussed all the best eCommerce platforms. Frankly speaking, WooCommerce is one of my favorite eCommerce platforms that I would recommend. It is free, customizable, and SEO-friendly. It smoothly integrates with WordPress sites for providing seamless buying and purchasing experience.
On WooCommerce, you can efficiently manage your orders, create coupons, view and analyze your sales reports from your WordPress dashboard. Integrate with various payment gateways, add WooCommerce subscriptions, and much more. There are plenty of apps and plugins available which you can add to your store in order to enhance the functionality of your store.
Get the Best eCommerce Solutions for Your WooCommerce Store!
It doesn't matter whether the particular eCommerce platform is popular or not. Make sure that particular eCommerce platform must be able to successfully deliver your objectives and must provide seamless support. You can try out the free-trial and free plan also. So that you can make the right decision of choosing the best eCommerce platform.