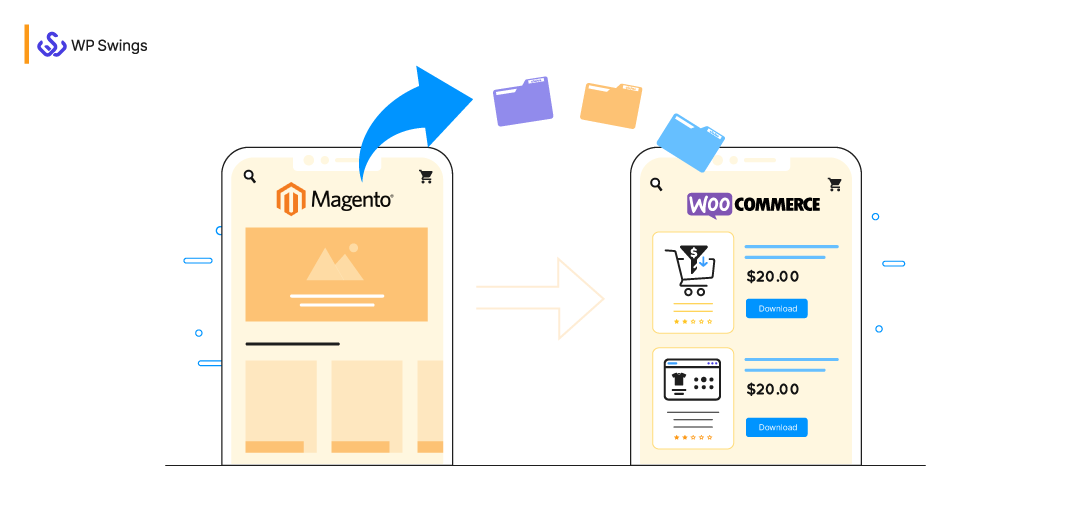 Magento is a complete eCommerce platform. You can run your online store with advanced functionalities to keep your customers gratified. Magento can be a great fit for different types of online retailers. But after the release of Magento 2, the situation has changed for Magento 1 merchants. Maintaining and keeping Magento 1 secure has become a complicated job, and thus, store owners have started looking for a solution through which they can migrate Magento to WooCommerce!
What you'll get from this post?
In this post, you'll get to know about EOF, Magento 2, Magento 2 alternatives, the procedure through which you can migrate Magento to WooCommerce, WooCommerce migration plugins, and some faqs about Magento migration. Keep reading to know about Magento to WooCommerce transformation.
Navigate Directly To The Section You Need!
What Is Magento 1 End-of-Life?
In 2015, Adobe purchased Magento from eBay and introduced another version that is known as Magento 2.x. It is a more robust and optimized solution that is designed to enhance its customers' experience. It consists of many advanced features that you'll get to know further in this post.
Migrating data from Magento 1 to Magento 2 requires more time, and it's like creating an entire online store again. Thus, Magento 1 users were given a time period of 3 years to migrate their store data to Magento 2. Because of the popularity and user base, the team of Magento had to extend the deadline to 30 June 2020.
After this date, all support services and feature updates were due to be stopped for all Magento 1 merchants. It was because Adobe wanted to focus on the performance and growth of Magento 2.
If you have not performed the transition process and still continue to use Magento 1, your site is definitely an easy target for smart engineers. For quality updates and to fix security patches, you need to search the market to find a developer who can provide support for your Magento 1 website. The development process and cost can be excessively expensive and time-consuming. All you can do now is wait and pay the money your hired developer asks for!
It was called Magento 1 End-of-Life. So, is it necessary to migrate from Magento 1? Let's try to figure out this answer.
Why Do Stores Need To Migrate From Magento 1?
There are several reasons that compel store owners to perform full data migration of their Magento store.
1. No More Security Patches.
There is no security update for Magento 1 users since June 2020. It will put you and your customers' data at risk and an easy target for hackers.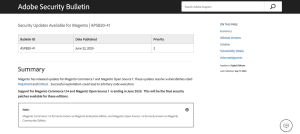 2. PCI DSS Compliance Failures.
PCI DSS is the set of standards that all businesses using credit cards need to comply with. With Magento 1, it will be difficult to stand up to these standards. As a result, no payment provider must be willing to serve you and your customers. It must be difficult to receive payments from your customers that will eventually affect your revenue model and brand reputation.
3. No One Will Bring Feature Updates!
Neither the Magento community nor your third-party developers. Leaving your website performance with outdated features.
4. Customers Want Secure Solutions.
Thus, if you don't perform shopping cart migration, you'll lose your customer base. Even if you attempt to regain your lost customers they won't come back because you wouldn't be able to serve the basic requirement i.e. data security.
You will not only lose your reputation but also your customers' money while questioning why didn't I perform the shopping cart transition at the right time? All of this must be relatable to you if you haven't migrated your Magento 1 shop yet. So, it's better to move your shopping cart from Magento 1 to the latest version or a new server now.
Pros & Cons Of Magento 2
Does Magento 2 consist only of only benefits and no pain points? Is it so robust? Go through this comparison section to understand Magento 2 better and find out your answers.
Pros Of Magento 2 Store
Advance features to solve complex business problems.
Magento 2 can handle small to large stores.
Customer support is available for Magento 2 merchants.
Magento 2 is built on the latest version of PHP and keeps your site safe from data breaching.
Features missing in Magento 1 are added natively.
Cons Of Magento 2 Store
Magento store extension, maintenance, and customization have become expensive.
Store owners need to pay for the data they want to migrate to Magento 2.
Not easy to understand for non-technical users.
Migration from Magento 1 to Magento 2 is complex, time taking, and expensive.
Conclusion
No doubt, Magento 2 is far better and more optimized than Magento 1. You get more in-built native features, functionalities, customization options, customer support, and a lot more! It might be possible that you're happy with your Magento 1 shop and don't want to migrate. But honestly, right now you don't have an option except to migrate.
If you want to maintain the integrity of your brand and protect your and your customers' sensitive information, you have to migrate.
Migrating from Magento 2 is inflexible and fussy. You can't migrate your Magento 1 themes and extensions. And if you wish to use them, you have to repurchase them.
Migrating from Magento 1 is like launching your online store again. You have to install themes, purchase extensions, and hire a developer to give your store a professional look. It is a complete re-platforming condition, so you can decide whether you want to create your online store on Magento 2 or any other eCommerce platform!
The Magento 2 migration process is too complex, time-consuming, and technical. Therefore, you can decide to leverage the WooCommerce platform to sell your quality products and maintain engagement with your target audience.
Check Out How You Can Decide On A Theme For A WooCommerce Store?
This will be of help specially if you choose to migrate your store to WooCommerce…
It isn't that WooCommerce is the only Magento 2 alternative. You can also select BigCommerce, Shopify, Wix, and any other online platform. But all these platforms don't offer the flexibility and functionality that WooCommerce caters to its customer base.
If you're in a dilemma and couldn't make a final decision, then I'm listing down all the reasons that will let you know why you should choose WooCommerce. It will help in making your final decision.
Reasons To Choose WooCommerce
WooCommerce is open-source and free to use.
Store owners can sell anything with full grace.
It is built on the most popular content management system – WordPress.
It provides full authority over store data.
Unlimited free and paid WordPress WooCommerce themes can be installed and customized in real-time.
Additional functionalities can be added through the use of WooCommerce extensions. Depending on the business model, owners can decide how many and which extensions they need to activate for their business.
WooCommerce pricing is damn flexible. You can launch your online store using WooCommerce at $250. WooCommerce store creation and maintenance cost entirely depends on your wishlist.
It Is Very Easy To Setup Digital Wallet System On WooCommerce!
Do you wish to explore more?
8. It has a community of professionals who are always there to support and enhance the functionalities of WooCommerce.
9. Anyone can use WooCommerce for the time being they want. No one can freeze your online store until and unless you break any legal terms.
10. It has a user-friendly dashboard. Technical or non-technical anyone can operate its admin panel with full ease.
11. Owners can install SEO plugins like Yoast to make their website SEO-friendly.
It is the most popular eCommerce solution for selling products online. It consumes more than 35% of the web. You can use WooCommerce if you are running a small or medium-sized business. Magento 2 is created to handle enterprise-level clients. And it is far more expensive than WooCommerce. Furthermore, setting up an online store with WooCommerce consumes less time, money, and you don't need to have deep technical knowledge. You can have your store in your set budget and go live to serve your users.
Explore The Best WooCommerce [Free + Premium] Plugins That Can Boost Your Online Sales!
Let's now take a look at the process to migrate Magento to WooCommerce.
How To Migrate Magento 1 To WooCommerce?
Wait!
There are a few steps you need to take before you migrate Magento to WooCommerce. These steps are:
You need managed WordPress hosting that can provide exceptional uptime, speed, customer support, and security. Depending on your business size, you can select your WordPress hosting.
Domain name. [You can use your Magento domain name if it isn't registered under any other user and available on the hosting platform that you've selected for building your eCommerce store. Else, you need to brainstorm a new domain name!]
Install WordPress & WooCommerce.
Select a free or paid WordPress WooCommerce theme. Customize your selected theme to match your brand and install it on your WooCommerce dashboard.
Select & install WooCommerce extensions that you need for your online store.
Search for an agency that can provide exceptional customer support.
The last step depends on your requirements. If you need help in setting up your WooCommerce store you can connect with our developers.
Now, here are the steps using which you can migrate Magento to WooCommerce.
Full migration to WooCommerce can be performed without harming your existing Magento data through any of the listed methods. Go through the methods to identify the one that best suits your requirements.
1. Use A Migration Tool
There are several extensions that can be used to automate your migration process. If you're not a technical person and are scared that you might damage your sensitive data, then you can choose to automate the migration process. The Magento to WooCommerce migration plugins, you can use are:
Cart2Cart
Litextension
FG Magento To WooCommerce
Using these tools you can migrate products, orders, customers, user-generated content, and all the necessary data effortlessly.
The cost of Magento to WooCommerce migration depends on the amount of data you want to transfer using these extensions. The more data you want to migrate, the more you will have to pay the developers of these tools. The plus point of these extensions is that you don't have to pay for the things you don't want to migrate to WooCommerce. It can be an expensive option, but it consumes less time, so you can concentrate on the strategies through which you can retain your lost Magento users.
2. Manual Migration
Migrate Magento to WooCommerce store using the manual process that Magento and WooCommerce offer to its clients. The manual migration is simple and straightforward. It consumes more time but saves your money. If you don't want to invest money in the migration process, then it is the best option for you. Let's see how you can migrate Magento to WooCommerce step by step.
2.1. Export Data From Magento
Open your Magento admin panel. Click System→ Data Transfer→ Export in the left sidebar.
From the Export Settings section, set entity type using the drop-down menu. The entities are Products, Customers Main File, Customers Addresses.
Now, download the CSV file in its default structure.
In the Export Settings, enable the checkbox across Fields Enclosure.
Entity Attributes are displayed in alphabetical order by default. If desired, you can display using the standard admin grid control to search for a particular attribute and sort the given list.
If you want to filter your exported data based on your entity value follow the listed steps:
a. Enter your attribute label in the Filter column to export only those entities from Magento.
b. If you want to remove an attribute from the export list, then enable the checkbox Exclude Present at the beginning of each row. The entities you remove here won't reflect in your CSV file.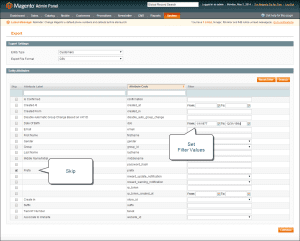 Scroll more & click the Continue button present at the bottom of the screen.
Check your exported file in your download folder. Now you can save and open your CSV file as a spreadsheet. Edit your data if needed, and import it to your WooCommerce store.
2.2. Import Data From Magento To WooCommerce
1. Open your WordPress admin panel. Go to WooCommerce→ Products from the left sidebar.
2. On the top of the page, there is a button named Import, click on it to leverage the functionalities of Product CSV Importer. [Product CSV Importer is a built-in option provided by WooCommerce to make the migration process smooth and seamless for all users.]
3. Click on the Choose File button and browse your CSV file that you want to import at the current moment. Now click on the Continue button.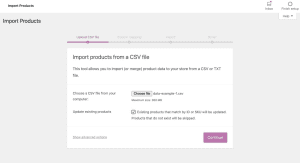 4. On the next page, you can see the Column Mapping Screen. Here WooCommerce automatically tries to map the column name of your Magento CSV file to WooCommerce product fields. [Note- WooCommerce tries to map all the fields automatically, but you still need to map some of these fields yourself using the drop-down menus present at the right of each row.]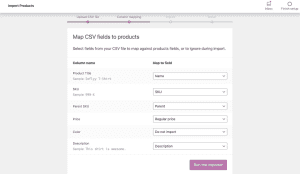 5. Click on the Run the Importer button. You'll need to wait until the migration is completed. [In this way, you can migrate Magento products to WooCommerce.]
6. Now, repeat this process to migrate customers and orders.
Using the above steps, you can migrate Magento to WooCommerce without consulting any developer or agency.
2.3 Contact An Agency
If you don't want to use an extension or perform the migration manually, then you can contact an agency that you can trust for your Magento migration.
If you hire an agency, you can migrate from Magento to WooCommerce safely without losing a single piece of data. You can also consult with them whenever you find yourself in trouble. They can help you solve your Magento problems and keep your website safe and secure from people with malign intentions.
You can also contact our Woo developers and leave your Magento to WooCommerce migration on us! The moment you reach us and hand over your store migration, you don't need to take stress; you can lay back & enjoy your movie with pop-corns! We're well known for our support service – click to know what our customers say about us on Trustpilot!
Note: We provide WordPress/WooCommerce services to all types of retailers! Developer cost will depend on the size of data you want to migrate from Magento to WooCommerce.
We work to bring a smile to your customers' faces! Contact our expert Shashank Kaushal and get your queries resolved in minutes…
FAQs About Magento To WooCommerce Migration
I have listed some commonly asked questions with respect to migrating Magento 1 to WooCommerce: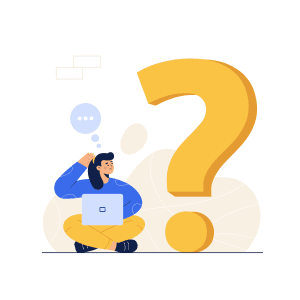 1. What Are The Difficulties In Magento 2 Migration?
Magento 2 is a more optimized solution for website owners. But still, several difficulties constrain store representatives to maintain a safe distance from it. The reasons are listed below:
a. Magento 2.x is designed for enterprise users.
b. Building an online store on Magento 2.x is complex and complicated. You need a developer who can help you in setting up your online store and give it the shape it demands.
c. To launch a Magento 2 store, you need to invest $30,000+/year. This cost depends on your store size. So, it does not seem to be a cost-effective solution for small and medium-size store owners.
d. You can't migrate your Magento 1 extensions and themes to Magento 2. Furthermore, you need to pay extra for the data you want to migrate to the new version of Magento.
2. What Are The Pros And Cons Of Magento Migration To Magento 2?
The benefits of migrating Magento 1 to Magento 2 are:
Magento 2 is in-built with more advanced features and functionalities like AJAX-Add-To-Cart.
The user interface is more optimized and friendly. If desired, the admin can customize the dashboard to make it according to their wishlist.
Magento 2 websites can load within 1.5 seconds increasing the conversion opportunity.
Magento 1 runs on an older version of PHP that is not secure and consumes more time to bring updates and enhance the existing functionalities. But Magento 2 is built using the latest PHP version that is more secure and reliable in comparison to Magento 1.
It offers great support to Magento 2 merchants.
The cons of migrating Magento 1 to Magento 2 are:
Migrating from Magento 2 is completely re-platforming. You would be launching your online store from scratch and it's going to take more time. Along with this, you can't make any sales until you have launched your site on Magento 2.
You can't migrate your themes and extensions to Magento 2. You have to repurchase them.
Even though Magento 2 is more optimized and easy in comparison to Magento 1, it still requires a learning curve.
You have to pay extra for the things you want to migrate to Magento 2.
Magento 2 open source is free, but it requires a high level of customization that can cost you more than $22000. Magento 2 Commerce is a paid version and runs on an annual revenue tier model. Having a store on Magento 2 Commerce can let you spend more than $30000. In concise, Magento 2 open source and Commerce are both expensive, and can't be leveraged by small-size retailers.
3. Which Is Better: Magento Or WooCommerce?
Magento and WooCommerce both share some similarities. Like:
Both the platforms are open-source. WooCommerce is completely open-source and free, whereas Magento offers two versions i.e. open-source and Commerce.
Through the use of extensions, more functionalities can be added.
Unlimited themes can be installed.
Customization can be performed to satisfy the brand's needs.
Have a large developer community to help store owners and enhance the working of their respective frameworks.
So, which is better: WooCommerce or Magento?
WooCommerce and Magento share several similarities, but still, WooCommerce is a more optimal solution for store owners. Go through the comparison between WooCommerce and Magento to better understand these eCommerce platforms.
Conclusion
The conclusion is that Magento 1 is the platform of the bygone era. It is high time if you have still not migrated your eCommerce store. It is of utmost importance that you stay updated because that will help you improve the experience of your end-users.
I hope this article was helpful to you. Do leave a comment if you liked the insights or have any doubts about migrating your Magento store to WooCommerce.