Points And Rewards For WooCommerce Pro
PRESTIGIOUS POINTS AND REWARDS FOR WOOCOMMERCE PLUGIN GUARANTEES LOYALTY POINTS AND REWARDS FOR WOOCOMMERCE TO YOUR CUSTOMERS AND ENABLES THEM TO CONVERT THESE POINTS INTO REAL MONEY. GET ACCESS TO FEATURES LIKE DAILY LOGIN POINTS, REWARDS ON BIRTHDAYS, POINTS LOG REPORTS, MEMBERSHIP BENEFITS, AND SO MUCH MORE!
Points and Rewards for WooCommerce Pro plugin to help merchants create a Point-based loyalty program to reward their customers. This WooCommerce rewards point plugin involves earning and redeeming store credits as points and discount coupons on activities performed by customers. WooCommerce reward is a customer-oriented solution that aims to engage customers by offering them points and rewards for activities they perform like signup, purchase, referrals, etc. These WooCommerce rewards and points make the customers eligible for on-purchase discounts and participation in Membership programs.
Points and Rewards for WooCommerce help you create customer-oriented solutions for your website. This WooCommerce reward point plugin increases your online store's brand loyalty, customer retention, and conversion rates.
Allows your customers to earn WooCommerce loyalty points on activities
Helps loyalize customers to purchase from the same store
Reward your customers in exchange for loyalty
Redeem discounts, coupons, etc. motivates your customers' loyalty
Top Features of Points and Rewards for WooCommerce
1. Reset the Points Table
New
With the WooCommerce Rewards and Points, the admins can now very conveniently "reset the user points" with just a single click.


After clicking on the "reset button", the admins will receive a "warning notification" to ensure that he wants to reset the user points.


2. Order WooCommerce Reward and Points
With the point reward system, the admin can select the maximum number of orders for the customers to earn a certain number of rewards. For example, if the admin has set the maximum number of orders to 10 and the number of points to 5. Then, the customer will earn 5 points, after successfully ordering 10 times from the website.
3. Referral Points
With this WooCommerce loyalty points and rewards, merchants can offer point rewards to the referrer for every unique referral. For example, if user A shares his referral link with user B, and user B signs up using A's referral link, user A will receive the reward points. Admin just needs to enable the referral points option from the General settings and enter the number of points and minimum referrals required.
4. Per Currency Points
With WooCommerce ultimate points and rewards, your customers can earn points against each dollar they spend on your store. You need to enable this feature from the Per Currency Points setting of the plugin and set the conversion like how many points you want to offer on the set order value. For example, you can either offer 1 point on every dollar or 1 point on every $20 spent on your store.
5. Export Points Table
This loyalty program for WooCommerce allows the customer to easily export the points table by clicking on the export button. After doing so, the CSV file will automatically be downloaded to your system.

6. Points Log Report
The customer can view & manage their points and rewards transaction. This WooCommerce Rewards feature shows the details of every points and rewards transaction for a particular customer in the Points tab in the My Account section.
7. Build Membership
This WooCommerce reward point plugin helps you build your own membership program to reward your loyal customers. Here, the admin can create multiple tiers of the membership and add the required number of points to join it. Also, he can add the products and discounts he wants to offer to the members of that level and the expiration for that specific membership can also be set through this feature.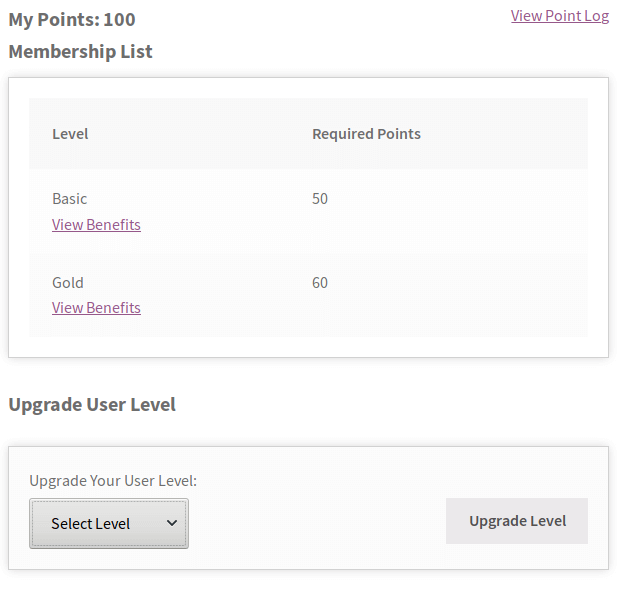 8. Assign Product Points and Rewards
Using this WooCommerce Points and Rewards plugin, merchants can assign reward points to the products as well as different categories. Merchants can assign a similar amount of points rewards to all the available products of their WooCommerce store. Or can also add different numbers of points to each category. He/she can do this from the Assign Products Setting of the plugin.
9. WooCommerce Rewards and Points On Birthday
Reward customers with a specific amount of points as a reward when it is their special day. With just a few settings, encourage and nurture leads and customers to become loyal ones with max loyalty points reward. WooCommerce Points and rewards on special days display value and appreciation for users by granting points to faithful customers. Admin can fix the reward points or double them for customers' celebrations and festivity.
10. Points Adjustments on Refund & Cancellation
This WooCommerce rewards point plugin auto-adjusts and manages the points reward transaction for the order refunded or canceled. For example, if a customer places the order and it is completed. He will receive the points in his account. But if he returns that order successfully, those points will be automatically deducted from his account.
11. API Settings
API settings for integrating the WooCommerce Rewards plugin with other applications have been provided for the admin. Admin can get complete user details through API settings. API is used to get the user's total points and referral links of the user, track loyalty points and manage users, and their log details, membership levels, and details.
12. Email Notification Updation
This points and rewards plugin feature allows the admin to update and modify the required changes in the email section before sending email notifications to the customers. For example, updating the email templates, etc.

13. Point Conversion and Coupon Generation
With this WooCommerce rewards system plugin, you can let your customers convert the earned points and rewards into coupons You need to enable this feature from the Per Currency Settings of the plugin and set the monetary value a customer can redeem through a specific amount of points.
14. Points On First Order Only
Reward points to the customers on the first purchase. For once, customers can earn fixed reward points for their first purchase on your WooCommerce store and later on continue to earn points after every shopping. The freshly registered user received these reward points on the first order after sign-up.
15. Referral Link Sharing
The customer can also share their referral link with other users through different social media platforms like Facebook, Twitter, email, and Whatsapp. The customer will only earn points if someone uses their shared referral link.
Benefits of WooCommerce Points and Rewards
Build Brand Loyalty: The Points and Rewards plugins help the merchants to strong customer base by providing effective reward systems.
Complete Transparency: The admins can easily check the point log report and all the coupons generated by a particular customer.
Flexibility: Merchants can allow points to customers on various activities. They can also enable the customers to earn extra points and rewards on their birthdays or other special occasions.
Customer Conversion Rate: A proper loyalty program for WooCommerce helps you get word-of-mouth marketing free of cost, and that increases your conversion rate.
Coupon Conversion: Reward loyal customers with points and discounts. The customers can then convert the earned points into coupons.
Customer Retention: This loyalty points and rewards plugin helps merchants to motivate existing customers to drive repeat sales. Thus enhancing the average order value for your products.
Track Transactions: The customers can track every point transaction that took place on their account with complete transparency.
WooCommerce Rewards Plugin Compatibilities
The team of experts at WP Swings has curated Points and Rewards for WooCommerce plugin making all the possible consequences in mind with ultimate consideration. Making the merchants sustain the competition in the market.
1. Compatibility With Wallet System for WooCommerce
Points and Rewards WooCommerce plugin is compatible with the Wallet System for WooCommerce Free and WooCommerce Wallet System plugin. This compatibility allows you to convert your earned points into wallet credit based on a certain conversion rate. The admin can set points conversion into wallet credit he wants to allow. For example, 20 points equal 2 wallet credits. Customers can later use this wallet credit for purchases in the store.
2. Compatible With WPML
The WooCommerce Points and Rewards plugin is compatible with the WordPress Multilingual (WPML) plugin for localization of the rewards plugin's strings.
3. Compatible with PayPal
The Points and Rewards plugin is also compatible with WooCommerce PayPal Payments to operate online payment systems with ease.
4. Compatibility With Elementor Page Builder
Elementor Page Builder is compatible with the Points and Rewards for WooCommerce plugin. This compatibility lets you use Elementor's capabilities to add "apply points" snippets to the cart page and checkout page efficiently.
5. Compatible with Currency Switcher for WooCommerce
The Currency Switcher for WooCommerce plugin allows your customers to select the currency unit for their purchase. They can choose from currencies for the Points and Rewards system.
This increases the user experience. All transactions will happen in the currency they select.
For example, if 10 points = $1, but the customer chooses INR as a switch, it will show as 10 points = ₹82.36.
5. Compatibility with Subscriptions for WooCommerce
The Points and Rewards Plugin is compatible with Subscriptions For WooCommerce Free and Subscriptions For WooCommerce Pro allows the users to get points on subscription products.
Free vs Pro
| Features | Free Version | Pro Version |
| --- | --- | --- |
| Sign Up Points | ✔️ | ✔️ |
| Referral Points | ✔️ | ✔️ |
| Assign Product Points Globally | ✔️ | ✔️ |
| Per Dollar Spent Points | ✔️ | ✔️ |
| Redeem Points on the Cart | ✔️ | ✔️ |
| Manually update customer points for any reason | ✔️ | ✔️ |
| Points Table | ✔️ | ✔️ |
| Points Notification | ✔️ | ✔️ |
| Points on order total | ✔️ | ✔️ |
| Referral Purchase Point | ❌ | ✔️ |
| Review/Comments Points | ❌ | ✔️ |
| Coupon Generation | ❌ | ✔️ |
| Points Expiration | ❌ | ✔️ |
| Multi-level Membership Feature | ❌ | ✔️ |
| Assign Product Points category and per-product | ❌ | ✔️ |
| Point Usage Limitation | ❌ | ✔️ |
| Import Users Points | ❌ | ✔️ |
| Points Sharing | ❌ | ✔️ |
| Points adjustments on Refund & Cancellation | ❌ | ✔️ |
| Points On First Order Only | ❌ | ✔️ |
| Restrict Point discount On sale product | ❌ | ✔️ |
| Rewards on Birthdays | ❌ | ✔️ |
| Exclude Points On Delivery Fee And Tax Amount | ❌ | ✔️ |
| Round Up and Round Down Reward Points | ❌ | ✔️ |
| Create Coupon (Referral Coupon Code Template) | ❌ | ✔️ |
| Email Modification For Referral Coupon Code Template | ❌ | ✔️ |
| API Settings | ❌ | ✔️ |
| Export Feature | ❌ | ✔️ |
FAQs
What is the difference between "Redeem Points Conversion" and "Per $ Points Conversion" and also what is the use of "Assigned Product Points"?
sanjeevmaurya
2022-01-19T11:24:54+00:00
1. Redeem Points Conversion: – In this Merchant can set the amount for converting reward points to generate the coupon. For example, if you have set 1 point will be equivalent to the 1$ (for your site) and if any user has 50 points then he /she will get the coupon amount of 50 after converting it from the 'My Account' section'.
2. Per $ Points Conversion: – For this setting, let's take an example if a Merchant has set the $1 = 1point (for their site) and any customer will purchase any product with 50$ then he/she will be rewarded with 50 points.
3. Enter Product Points: – In this Merchant can select some product and can set the Points for a particular product and if any user will purchase that selected product he /she will be rewarded with those Points.
Still in doubt? Refer to our Knowledge Base and learn more about the Points and Rewards for WooCommerce plugin.