One Click Upsell Funnel For WooCommerce Pro
ALL IN ONE SOLUTION TO BOOST YOUR REVENUE BY CREATING POST PURCHASE UPSELL AND CROSS SELL OFFERS VIA UNLIMITED FUNNELS!
One Click Upsell Funnel for WooCommerce Pro helps merchants to create post-purchase upsell offers that are displayed after checkout. Customers can accept and purchase these post-checkout offers without having to re-enter their payment information. As a result, users will be spending more money at your store, henceforth, increasing your Average Order Value (AOV). Not just one or two, you can include as many offers as you want in your upsell funnel— if the consumer declines the first, you can provide them with a more appealing deal.
With the help of this upselling plugin, you can create product-specific offer pages, use widely accepted secured payment gateways, and pre-defined offer templates to be used readily.

One Click Upsell Funnel For WooCommerce allows you to create a funnel that triggers just before a customer is about to complete their checkout process. Merchants can easily create funnels that:
Trigger

upselling funnels on target products

or product categories.

Accept payments from core

WooCommerce payment gateways

and other integrations such as Card Com, PayStack, Stipe, and much more.

Can be easily created by

page builders

that require zero coding knowledge.

Show

upsell offers after checkout

that your customers can grab in a single click.
Benefits Of One Click Upsell Funnel For WooCommerce Pro
One Click Upsell Funnel for WooCommerce Pro is an upselling plugin that facilitates store owners to make an upsell after checkout, enabling them to increase sales and Average Order Value. Here's how the plugin is beneficial for owners:
For Admin
They can offer products on upselling with various discounts such as fixed, percentage, and discounted prices as well.
Create all types of offers for your store – WooCommerce one-click upsell, cross-sell, down-sell, one-time offers, sales funnel, etc.
Powerful targeting rules – based on user role, cart value, product categories, user purchase history, offer products, etc.
Create offers without coding
Compatible with WooCommerce Upsell Order Bump Offer, payment gateways, bundled products and subscriptions
Create unlimited funnels with an unlimited number of upselling and cross-selling offers.
Get a comprehensive tracking report for every funnel
Display intelligent upsell offers if a customer skips the first funnel for a specific product in the purchase, increasing sales and order value
The plugin can be set up in just a few minutes and requires minimal maintenance
Offer more personalized service that can improve customer relationships
Customize Offer Layouts specifically according to your products.
This is advantageous for the WooCommerce store owners, but it also benefits customers by providing a variety of useful add-ons. Here are a few of them:
For Customers
They can buy a specific order quantity of upsell products, however, merchants can limit the order quantity as well.
Customers can add these upsell products in just one click to their cart with no hassle of re-entering the payment details.
The customer just needs to accept the offer, and the product will be added to their order without leaving the checkout page.
This can also be used to save time for the buyers. After spending enough time choosing the initial purchase, the customer may not want to go through the process of browsing products again.
Plugin Compatibilities
With the WooCommerce upsell plugin, you can also use additional plugins for enhanced features. Below are some plugin compatibilities and integrations that can be used for further upgrades:
1. Upsell Order Bump Offer For WooCommerce
The WooCommerce Upsell Plugin is compatible with Upsell Order Bump Offer For WooCommerce Free and Upsell Order Bump Offer For WooCommerce Pro that lets you show upselling and cross-selling offers on the checkout page, thereby increasing average order value (AOV) and boost sales.
2. Subscriptions For WooCommerce
The WooCommerce One Click Upsell Plugin is compatible with Subscriptions For WooCommerce Free and Subscriptions For WooCommerce Pro allows creating post-purchase upselling offers on subscription products. This will increase the range of product offerings that you can provide to your customers.
3. Product Bundles
The WooCommerce Upsell Plugin is compatible with WooCommerce Product Bundles Plugin too which is designed to help store owners create outstanding deals by bundling existing simple, variable, and subscription products. It's a great way to make cross-selling easier in your WooCommerce store.
4. Payment Gateways Compatibilities
One Click Upsell Funnel for WooCommerce Pro is compatible with the following payment gateways:
and core payment options such as Cash On Delivery, Direct Bank Transfer, and Cheque Payments.
Note: Also, we can do customization for our users to add more payment gateways.
5. Compatibility With Page Builders
The WooCommerce Upsell Plugin offers compatibility with some of the major WordPress page builders such as Elementor, DiviBuilders, ThriveArchitect, Themify, WPBakery, BeaverBuilder, and SiteOrigin. This allows you to create custom offer pages using a drag-and-drop interface.
Top Features
1. Control Customer Behavior
Decide where your customers will go after they accept or reject the post-checkout offer to upgrade the purchasing experience of your customers. In a nutshell, you can control the actions of your customers by redirecting them to another upsell offer after they accept or reject the previous one.
2. Easy To Use
The WooCommerce upsell plugin is so easy to use that even merchants with zero coding experience can create highly responsive offers pages. With One Click Upsell Funnel For WooCommerce, you get 3 pre-built templates to get you started immediately. The templates are completely customizable.
Apart from this, you can also take the help of WordPress page builder plugins or even shortcodes for creating custom offer pages.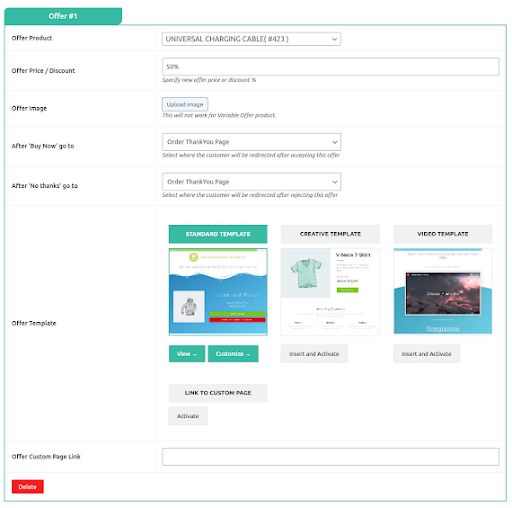 3. Create Post-Purchase Funnels
Create post-purchase upselling funnels that trigger just when the customers are about to pay for their orders. Add more value to their cart and in exchange increase your AOV.
4. Effort Tracking Of Funnels
The plugin shows reports that depict the accurate performance of all the upselling funnels created by a merchant for their WooCommerce store. Get a comprehensive tracking report for every funnel
5. Pre-build Templates
Choose the offer page template for your upsell offers. One Click Upsell Funnel comes with 3 pre-built templates that can be customized with the help of Elementor and can help you start instantly.
6. Smart Upgrades
By enabling this feature, you can offer an upgrade product to the customers after the purchase is done. If they accept the upgrade offer, the initial product will be replaced by the offer product.
7. Integration With Google Analytics & Facebook Pixel
We have made our WooCommerce upselling extension compatible with Google Analytics and Facebook Pixel. As a result, all the sales from the upselling funnels can be tracked efficiently.
8. Create Global Funnels
Merchants can create "global funnels" that are independent of a target product or product category. So, enable this feature if you want to trigger this funnel always.
9. Shortcodes
If you're a coding geek, you can take the help of shortcodes for designing a page to portray your post-purchase upsell offers. You can add additional products and custom fields using shortcodes.
10. Funnel Sandbox mode
Our WooCommerce Upsell plugin comes with the ability to view and customize sales funnel offer pages in sandbox mode. In the Sandbox mode, you can tweak your funnel and every element of the offer page before making it Live.
Free vs Pro
| Features | Free Version | Pro Version |
| --- | --- | --- |
| Product Based Offers | ✔️ | ✔️ |
| One-Click Purchase | ✔️ | ✔️ |
| Upsell And Downsell Funnel | ✔️ | ✔️ |
| Simple Products | ✔️ | ✔️ |
| Combined Order | ✔️ | ✔️ |
| Upsell Funnel Reporting | ✔️ | ✔️ |
| Upsell Order Tracking | ✔️ | ✔️ |
| Global Funnel | ✔️ | ✔️ |
| Smart Offer Upgrade | ✔️ | ✔️ |
| Exclusive Upsell Offer | ✔️ | ✔️ |
| Smart Skip If Already Purchased | ✔️ | ✔️ |
| Control Customer Behavior | ✔️ | ✔️ |
| Unlimited Funnels | ✔️ | ✔️ |
| Shortcodes For Offers | ✔️ | ✔️ |
| Funnel Sandbox Mode | ✔️ | ✔️ |
| Bundled Product | ❌ | ✔️ |
| Multiple Payment Gateways | ❌ | ✔️ |
| Variable Products | ❌ | ✔️ |
| Subscription Products | ❌ | ✔️ |
| Premium Support | ❌ | ✔️ |
| Category Based Offers | ❌ | ✔️ |
| Additional Offers | ❌ | ✔️ |
FAQs
I installed the plugin, created funnels, and added the offers too still, it does not trigger why?
sanjeevmaurya
2022-01-18T15:07:07+00:00
If the upsell offers are not showing, make sure:
You've enabled the Woocommerce One Click Upsell Funnel Pro plugin. Navigate to the Global Settings and enable the plugin if it is disabled.
Your funnel is not in Sandbox Mode. If it is, edit the funnel and make it Live and Save Changes.
You are testing for the correct target product or category you've set in the funnel.
The offer page is published.
You're making the payment through one of our supported payment gateways. If you make payments through a payment gateway that is not supported by our plugin, the offer will not be displayed.
Still in doubt? Refer to our Knowledge Base and learn more about the WooCommerce upsell plugin.
30 day money back guarantee
This is our personalized way of ensuring, customers' complete satisfaction with our products and services. Get a full refund, if things do not workout well for you.

Try it before you buy

Need Assistance?

Wanna Learn More