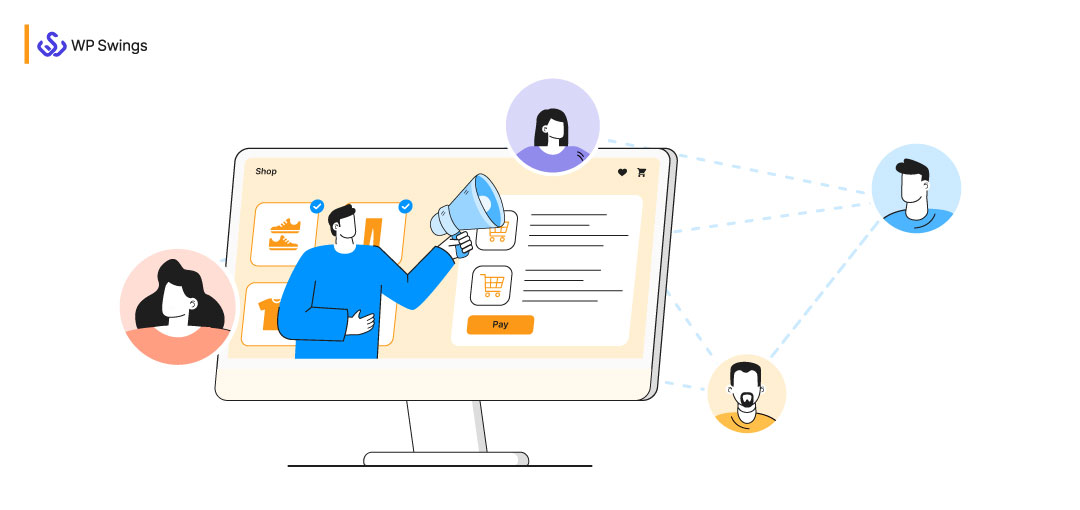 Since the beginning of Covid, everyone prefers online shopping. In order to stand out in a competitive marketplace, you'll need to develop a savvy product launch strategy. It is not hard to formulate a product launch strategy, although it is perilous. You must plan it with a clear conscience and certain objectives in mind.
In this article, I am going to share the different stages for preparing and planning the product launch. So that you will not find any obstacles while launching your product.
Let us first understand the reason for which the product launch is risky.
Why Is Product Launch Risky?
Product Launch is a multi-layered process that involves many aspects of serious consideration. Product launch strategy helps the product manager to iterate the process of developing the product from the scratch ideation and finally presenting it to the customers to earn the profit.
The product launch strategy covers each phase of your product from development to sell. Hence, it can be categorized into three major stages:
Preparation/Planning The Product Launch
The Launch
Post Product Launch Plan
All these three stages are equally considerable while formulating the product launch strategy to avoid any weak point in the process.
Stage 1. Preparation And Planning The Product Launch
1. Remind Yourself "Why"???
Always remember the reason for which you have developed the product. There are millions of products out there in the market. Still, your diligence to provide solutions to the people in need or looking out for some alternatives should reflect in your product.
2. Connect And Interact With The Target Users
It may happen that your product can offer a solution that people may be looking for. But they may be unaware of your product and it may result in the flop launch of your product. Probably your most valued customers in the future are unaware of your existence now. However, spreading the product knowledge helps in building an audience who may be excited to try your product. Try to connect and interact with the usual crowd on the internet. It will help you in filtering out your target audience.
Also, early connections will help you in building trust among your potential audiences. It is enough to ask them to give a try to your new product launch. Your product launch strategy will only be successful if you succeed in convincing the newly interacted audience for your product.
Looking For Tips To Identify Ideal Audience Base For Your Business?
3. Tools To Build A Product Launch Strategy
A product launch strategy involves many phases and each phase is divided further. Using tools to automate and streamline the launch strategy is a great idea to optimize the marketing workloads and product management.
Here are some most preferred tools categorized to manage each phase of your product launch strategy. Let's have a look on them:
CRM Tool-
HubSpot CRM
HubSpot released its free CRM in 2014. It provides several tools such as CMS Hub, Marketing Hub, Sales Hub, Services Hub, and Operations Hub. It helps in capturing, organizing, and tracking eCommerce contacts.
Product Management And Task Organization Tools-
Trello
A web-based list-making tool Trello designed in Kanban-style. It has interactive interface and project management features that can help you and your team in the successful management of tasks. Trello's boards, lists, and cards allow you to create, organize, and prioritize your projects in a flexible way.
Jira
An easy-to-use Kanban-style issue and progress tracking tool. Jira is helpful to plan and represent the individual team workflows. Each team involved in product management and launch has its own unique tasks and working ways.
Zapier
A rich platform that helps you integrate all your web applications at one place for easier flow of information. Zapier keeps track of all the information shared from various applications. It helps you automate the information sharing process of individual teams and the company as well.
Feedback And Customer Support Tools-
Intercom
The tagline of intercom states "Great customer relationships start here". It covers all the possible platforms of communication and helps you connect with your potential customers over several platforms. Such as chatting on an app or website, email, social platforms, etc.
Drift
A conversational marketing platform. Drift helps you connect with the businesses or customers via a conversational AI-based pipeline concept. It helps you design the flow of your conversation according to the response from your customers. The AI-enabled features help you in designing the personalized conversation pipeline for your customers.
UserVoice
This product management and feedback tool was developed in 2008. UserVoice helps you collect and organize feedback that you receive from multiple sources and platforms. It has a customizable feedback portal, in-app widget, and other integrations that support internal team members to share feedback at any time and take the necessary actions.
Freshdesk
An online cloud-based customer service software. Freshdesk helps you offer help desk support to your customers with smart automation. In order to get things done faster in intuitive ways.
Marketing And Sales Tools-
MailChimp
An all-in-one integrated marketing automation platform and email marketing service provider. MailChimp is easy to use and simplifies the process of email marketing to a great extent.
HubSpot Marketing Software
HubSpot's Marketing Software is an all-in-one marketing software that helps you grow traffic, convert visitors, and run complete inbound marketing campaigns at a huge scale.
Hunter
One of the most powerful email finder tools in the market. Hunter lists the email addresses along with the names of people working in the company. Hunter provides an easy opportunity to connect with the people who can be crucial for your business.
Learn To Do Swot Analysis For Marketing Growth
Product Research, Design And Roadmap Tools-
Unbounce
A drop-down builder tool that helps you design landing pages having attraction and interaction value. Unbounce offers a landing-page builder and marketing tool. In order to get more control in closing the visitors with your desired results target.
Canva
Canva is a graphic design web-based tool that can help you in designing graphics for all types of visual content. It is a very easy-to-use graphic designing platform.
Figma
A vector graphics editor and prototyping tool. Figma is primarily a web-based tool consisting of additional offline features enabled by desktop applications.
ProductPlan
An easy-to-use tool for building and sharing beautiful product roadmaps. This tool is highly recommended for designing the product launch strategy and product development blueprints.
Note: Although the listed tools are significant and have remarkable features. There are many other tools available in the market.
4. Prepare Product Launch Roadmap
The product launch roadmap is the core of the product launch strategy framework. It is a step-by-step process to proceed with the development of a product along with the marketing team. In order to keep the marketing team aware of how they should plan their strategies along with the development of the project. So that there will be no time gaps in the later stages of promotion.
Develop Strategic Blueprint
Product launch is a complex initiative taken along with multiple teams by combining and merging their tasks to get fruitful results. Therefore, developing a strategic blueprint of the product with high-level goals and phases is a recommended practice.
Keep The Content Brief
While the former team is finalizing the blueprint of the product, you are aware of the tasks that are to be aligned with the teams. Try to sum up the tasks into to-do lists for each team. But make sure to avoid creating a detailed to-do list for the tasks which are still in the planning and drafting stage.
Avoid Team/Department-Specific Jargons
Make sure that your product launch roadmap is easy to understand for all the individuals involved in the product launch strategy process. Using department-specific jargon and/or abbreviations that are unknown in the corporate domain can complicate your situation. While you are formulating your product launch strategy, you can't afford to laytime for the unnecessary complexities.
Create A Product Launch Timeline
Creating a timeline will help you to stay on toes with the development and marketing processes. The product launch timeline may include the following checkpoints:
Plan your product release date. It is an ideal practice in most industries to announce the tentative release date first while working on the product in a backward fashion from the chosen release date.
Mark and analyze the beta release date for your product. (If needed to test the product within the reliable sources giving true feedback for their experience with the product).
Define success stages and milestones or the proximate success graph expected for post product launch.
Conduct industry analysis, competitor analysis, etc. to plan your Ad campaigns, PR campaigns, and go-to-market plans.
Plan on how and when to initiate the CRM processes for lead accumulation and reporting.
Streamline the product launch steps. Product launch is conducted after seeking approval from various departments, stakeholders, partners, etc. Therefore each step helps you in creating the flow of approaches to each of the involved departments for product approval. Also, you must keep an adequate duration for each approval inline to avoid delays in the later stages. The figure below will help you in formulating the needful plan.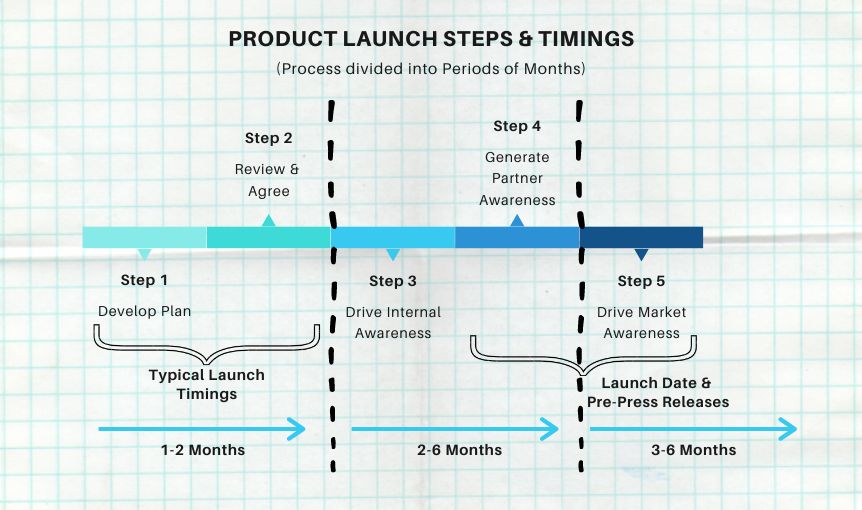 Transfer responsibilities to each department. Since multiple teams collaborate to formulate the product launch strategy, it is advisable to first draft the product launch kickoff agreement. This agreement or document contains the list of representatives from each of the following departments –

Research and Development
Product/Service Management
Branding and Marketing
Channel Management
Sales and Support

The representatives from each department are the face of the department who deal with the management committee on behalf of their team. All these representatives have their own set of roles to perform.
5. Create An Integrated Review Process
Reviewing, validating, verifying, and giving feedback are the integrated steps at each phase of the product launch strategy building process. Therefore, this step must be performed after each phase of the product launch strategy to carefully analyze the feedback received from each department. Furthermore, to decide the what, why, when, and how for the feedback received. The brainstorming sessions to get the most optimal solutions and suggestions are also included in the same step.
6. The Final Steps Before The Launch Day
This is your last step before the actual day of the product launch. This step is significant when it comes to the product launch strategy. Because here you will formulate the documents to approach the customers and clients. They are:
Prepare how you will explain the product's pricing structure.
Minimize onboarding setup time with pre-set defaults.
Offer training options to new users.
Develop your product-pitch for clients/companies/groups.
Want To Know How Social Media Can Enhance Loyalty Programs?
Stage 2. The Product Launch Day
Yeah! Finally "THE DAY" is here.
Product Launch Day and a few days around is the execution phase for the product launch strategy you have been building for months now. The roles and responsibilities already assigned to teams are taking the move ahead. The time comes finally when your product is LIVE!
A very happy and exciting moment for you.
But,
An anxious feeling will revolve around your mind like what will happen if the things do not go in the right direction.
The Product Launch Day is the result day for the product launch strategy you have been building for quite some days. This day also involves certain steps taken by the representative from each team to promote the newly launched product. These may include the following:
This day starts with the marketing team taking the lead in spreading the awareness of product launch hour and launch offers for the first few buyers over different platforms.
The information spread can be done in various ways like– reaching out to the influencers of your niche or connecting with your mentors, ex-employees, potential contacts to amplify your reach.
The PR team takes follow-ups from journalists, bloggers, etc. about the pre-launch material you shared with them or their action strategy for the moment to embrace the product launch impact on the industry.
The sales and support team shares the words with the existing customers and followers on social media platforms.
Well, enough is done and a lot can be done to outreach the product launch event. But amidst all the activities, take a moment to appreciate your team who worked to make this day.
Appreciation will be a boosting factor for your employees to develop confidence in them.
Stage 3. Post Launch Product Strategy
You must take a breath of relief and happiness after the successful launch of your product. But, just don't leave it then. Your launch day is just the beginning. You must analyze the performance of your product launch event via the product metrics your product management team and marketing team collaborated to define the success or failure of your big day.
It is not your product launch strategy that takes the complete credit of success or failure. Your post-launch product strategy also takes that responsibility. Predict your launch day results to plan a hypothetical situation of success and failure both. Because you are not certain that you will only succeed. Maybe your definition of success is not an optimum success for your other teammate. Therefore, plan out the needful actions for your go-to-market strategy post product launch. Stay prepared for your post-launch analysis results to implement the required actions.
Ready To Launch Your Product?
Ahh! That was a long content to grab on. But, I truly assure you that it is what you need to plan your product launch strategy. I can also say that if you have read this article with diligence and taken notes then you are all set to plan out your product launch strategy.
Wish you good luck and success for your next product launch!