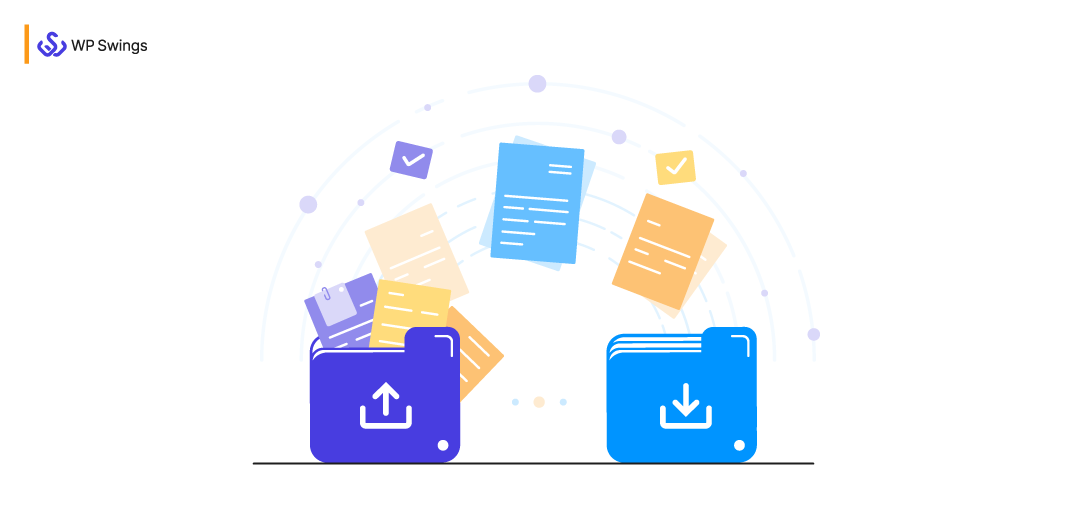 So you've changed your mind and see WooCommerce as a potential eCommerce platform for your business. But the problem is you don't know how to migrate to WooCommerce from your current platform.
WooCommerce is the fastest-growing content management system that powers 33% of all websites and 22% of the top 1 million eCommerce websites use this plugin. Well, that is some social proof that justifies your choice for migrating to WooCommerce.
The process of migrating to WooCommerce has to be done with utter care so that you don't lose any data and the transfer happens smoothly and accurately.
What? Already feeling overwhelmed?
Don't worry, this time I brought you an extensive guide on how to migrate to WooCommerce? In this guide, I'll be sharing with you each and every step that you need to follow to transfer your products, orders, and customer base to your new WooCommerce website.
With This Guide You'll Learn:
3 Ways In Which You Can Migrate To WooCommerce Now
As I said, migrating to WooCommerce is a typical process and if anything goes wrong you might lose your precious business data. Therefore, you need to follow each step carefully so that all your data is transferred smoothly and efficiently.
There are 3 ways in which you can migrate your eCommerce business to WooCommerce:
Migrate to WooCommerce manually.
Migration using a tool.
Take the help of expert WooCommerce migration services. [recommended]
1. Migrate To WooCommerce Manually
The first approach is to manually migrate your eCommerce data to WooCommerce. The products in a WooCommerce store are similar to what we know as posts on a WordPress website. Therefore, you can actually export your products and migrate them between websites.
WooCommerce comes with a default CSV product importer which makes it very easy to import products but make sure that the data is mapped correctly.
If you look on paper, the process is pretty straightforward and is profoundly explained in WooCommerce's Migrating products between sites documentation.
In brief, you can manually migrate to WooCommerce using the following steps:
Export the products from the platform you want to migrate and create a CSV file.
Now after setting up your WordPress website and installing WooCommerce, you have to import the products.

Need A Complete Guide To Setup WooCommerce?

For importing, the data visit the Tools → Import from your WordPress admin panel. This is the actual WooCommerce importer tool that lets you import data in the form of a CSV file.
Now click on the button under the WooCommerce products (CSV) option for importing products.

Now choose the CSV file of your products and run the importer to complete the process.
Voila, all your products are now migrated from the previous platform to your new WooCommerce website.
The same steps can be repeated for importing categories, orders, tax rates, and other eCommerce data. You can also import all the posts, pages, comments, custom fields, categories, and tags with the help of the WordPress importer.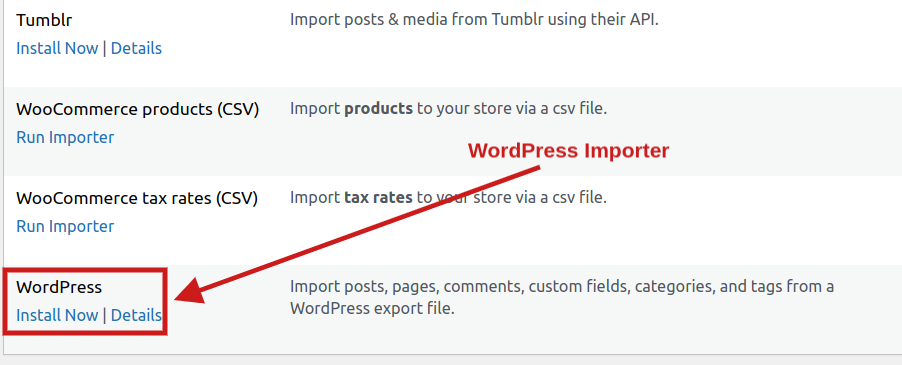 The manual process might seem very easy and less complicated, but as I said earlier also it has to be carried out with great care. If you're new to WooCommerce or have zero technical experience I would not recommend migrating manually.
2. Using Migration Tools
Due to the rising popularity of WooCommerce, there are several tools available in the market that come with a default migration protocol. With the help of these tools, you can efficiently migrate to WooCommerce as a result, you can transfer all your data to your new website.
The major advantages you get with WooCommerce migration tools are:
There is no site downtime during the migration process.
You can receive new orders even when you are importing the old ones.
This means you can keep your previous store running even while migrating to WooCommerce.
Some of the popular WooCommerce migration tools are:

The LitExtension plugin is an optimal solution that helps migrate your current eCommerce store to WooCommerce. This extension allows you to transfer all your important data in just three simple steps, which are:
Firstly, download the LitExtension and fill in the details of your store.
Secondly, select the data you want to migrate to WooCommerce.
Lastly, run a free demo migration and transfer all your data immediately.
The LitExtension extension allows you to migrate to WooCommerce from all the popular eCommerce platforms Shopify, Magento, WixStore, and much more. Also, you can transfer data from custom platforms to WooCommerce automatically and flawlessly.

Cart2Cart is another innovative WooCommerce plugin that allows you to transfer your eCommerce data like products, customers, orders, etc. to WooCommerce. It automates the process of migration with zero downtime.
Here's how the Cart2Cart extension does it:
The user has to choose the source of migration and the target platform (which is WooCommerce in this case).
Select the data you want to transfer to your new WooCommerce website. Select the important entities you want to migrate with the necessary 301 redirects.
Lastly, you can either run a free demo migration or directly launch full migration.
While the Cart2Cart extension migrates data from an eCommerce platform to WooCommerce, you cannot do migration from custom platforms or 3rd-party apps.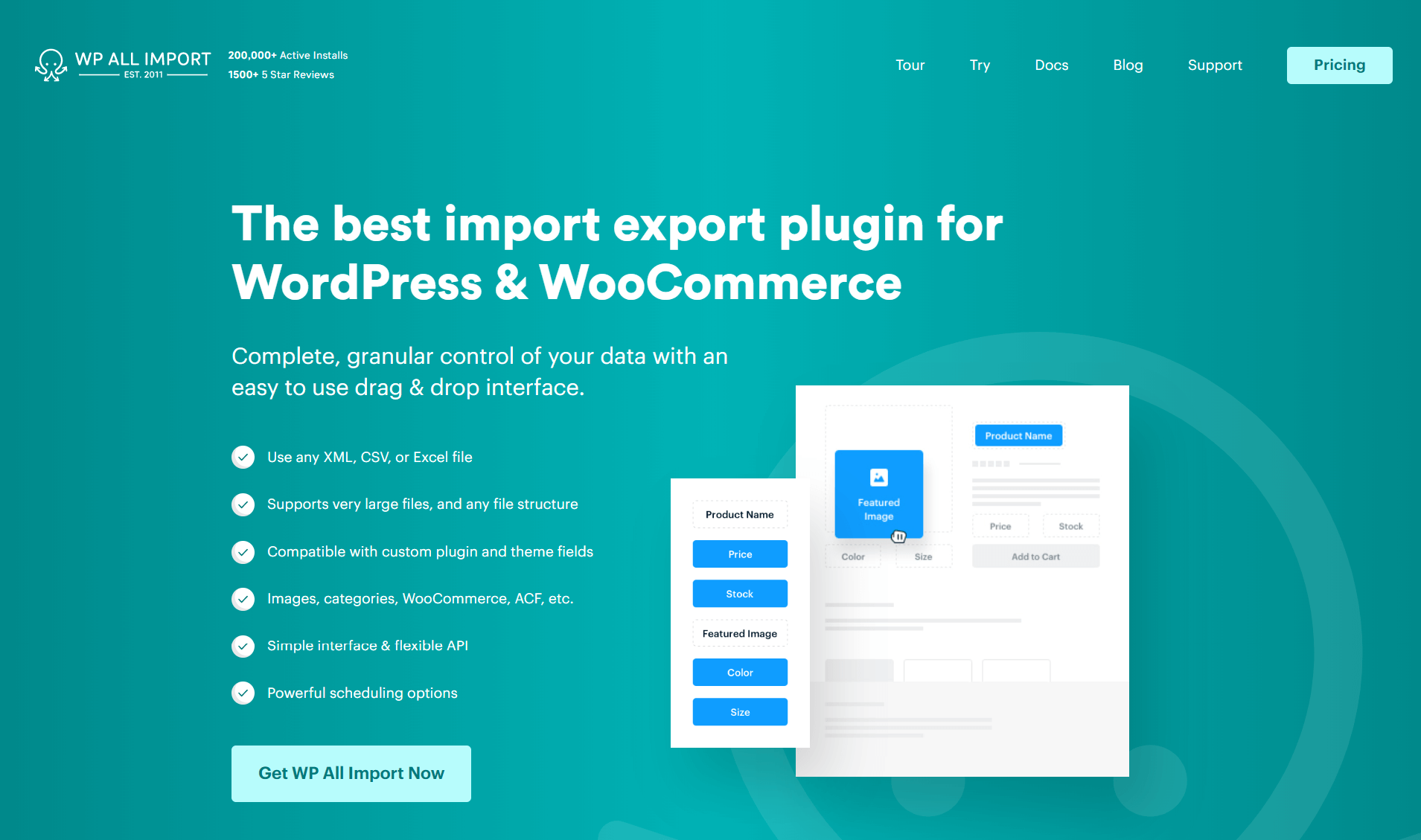 The unique thing about the WP All Import plugin is that it has an easy-to-use drag and drop interface.
WP All Import is an ultimate solution for eCommerce store owners and has the following functionalities:
Auto-detect custom fields, taxonomies, image galleries, and everything else on your WordPress website. As a result, you can import any theme or field.
WP All Import plugin allows you to import to WordPress from any XML, CSV, or spreadsheet. To map your data you have to simply drag and drop the files, therefore, no need to reorganize the information.
You get complete control over your updated data so as to say, you can decide what is to be updated and what should be left untouched.
You can import WooCommerce, ACF, users, listings, and more.
WP All Import is an amazing migration solution that is trusted by 12,000 customers. It is an extension that is developer-friendly with tons of technical docs, PHP functions, and a powerful API.
So these were some of the best WooCommerce migration tools that let you migrate to WooCommerce seamlessly with zero downtime. However, there's still a small problem which is that these solutions are basically one-fits-all tools, therefore, they have no room for unique requirements.
The WooCommerce migration plugins have a standard protocol for transferring eCommerce data. While it can be a feasible solution for small business owners, it can be expensive for larger businesses because these solutions are billed by the number of orders or products.
This brings me to our last method….
3. Expert WooCommerce Migration Services (Recommended)
Whether you do the migration manually or with the help of tools, there is a potential risk of losing your precious business data if you don't have substantial technical knowledge.
Therefore, I recommend taking the help of expert WooCommerce migration services. The reason for going for a WooCommerce migration is:
Firstly, your hand will be in safe hands.
Secondly, you get to work with experts that know their job and you can rely on their efficacy.
The service agencies know the in and outs of how WooCommerce and other eCommerce platforms work.
Lastly, and most importantly, you can migrate to WooCommerce in the least amount of time with zero trouble.
The only downside of working with an agency is that it can cost you a few extra bucks, but the knowledge, experience, and reliability make it all worth it.
Looking For WooCommerce Migration Experts?
These were 3 prominent ways by which you can perform WooCommerce migration. No matter which path you choose, your basics for migrating to WooCommerce should be strong.
What you don't know about the basics of WooCommerce migration?
Don't worry, in the next section of this guide I'll be taking you through the basics of store migration.
Basics Of Store Migration
Okay, let's see what are basic steps that you need to know before you start with the migration process. I'll be sharing with you all the steps for migrating to WooCommerce from an external platform or from another WooCommerce website.
Basics Of Migrating From Another Platform To WooCommerce
Most business owners request to migrate their business from an external eCommerce platform such as Shopify, Magento, etc to WooCommerce. The process for migrating from each platform is unique and it totally depends on your current eCommerce content management system.
We'll see the basics of migration from some of the popular eCommerce platforms.
1. Migrate From Shopify To WooCommerce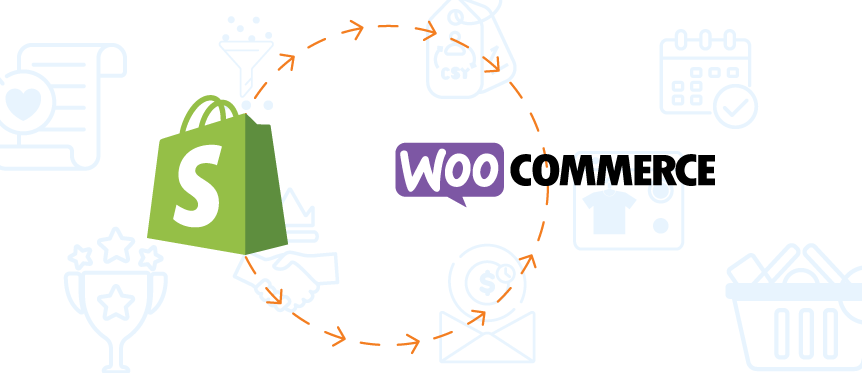 Migration to WooCommerce is pretty easy as the two eCommerce platforms have many parallel functionalities. This makes the mapping of fields quite efficient with fast export and import of eCommerce data.
Check Out Our Complete Guide On Shopify To WooCommerce Migration
You can migrate from Shopify to WooCommerce manually or with help of a migration tool, but make sure to keep the following considerations in mind:
Migration Cost
The cost of migration depends on the method you choose. If you're doing the manual migration, it is absolutely free, and if you choose to go with a migration tool the cost will depend on the plugin. For example, the LitExtension is a free solution, on the other hand, Cart2Cart is billed annually.
If you plan to hire a migration expert the cost depends on the amount of information such as pages, products, orders, and categories that have to be migrated to WooCommerce.
Connect with our experts to know the best prices for WooCommerce migration solutions.
Migrate Shopify Apps
At present, WooCommerce and Shopify don't allow users to migrate information from third-party applications or plugins.
So here's what you can do to tackle this limitation:
You need to review the necessary applications on your Shopify store and find concurrent WooCommerce plugins that offer the same functionality. Once you do that our team of WooCommerce experts will transfer data from those apps to WooCommerce plugins.
Themes and design
Themes play in deciding how appealing your eCommerce website is to the audience and help in uniquely identifying your brand. Therefore, it is important to find a plan for migrating your Shopify theme to WooCommerce.
Unfortunately, just like applications, WooCommerce does not support Shopify themes. This means that you have to design and set up your new store's look from scratch.
However, WooCommerce is an open-source plugin, therefore, it offers its users unlimited customizations. As a result, you can code the appearance of your eCommerce website to tailor the look and functionality of your brand.
Here Are Some Handpicked WooCommerce Themes For Your Business
2. Migrate From Magento To WooCommerce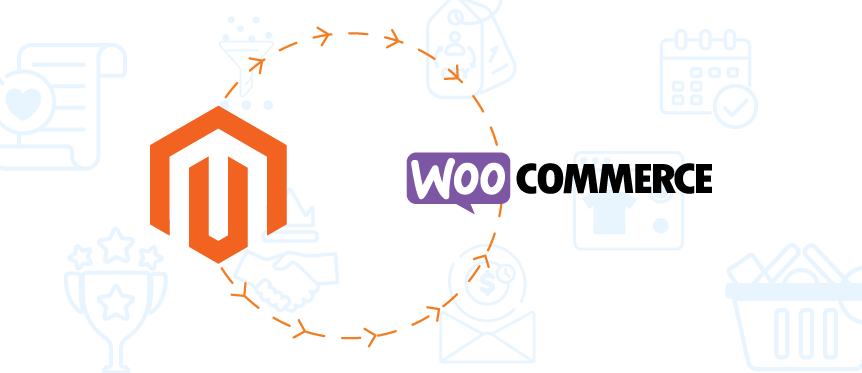 Magento is an amazing eCommerce platform with thousands of online business owners. In fact, it had a 2.32% market share in the list of the top leading eCommerce platforms as of 2021.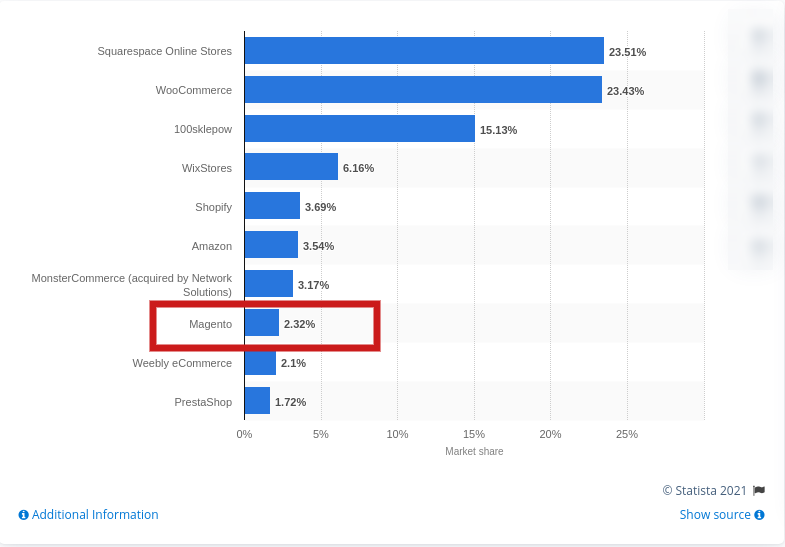 However, for managing your business on Magento you have to be technically sound else, it can be overwhelming. To customize your Magento store you need to be a web developer yourself. Therefore, if you aren't a techie it's a wise choice to migrate to WooCommerce.
Migrating Magento to WooCommerce can be easily done with the help of a tool. For now, here is the step-by-step process for WooCommerce migration using LiteExtension:
Step 1: Setting up Magento as Source Cart
The first step is to download the connector and the folder "le_connector" to your store's root folder. Once the connector is installed, select Magento as "Source Cart" from the dropdown list and enter your Magento store's URL.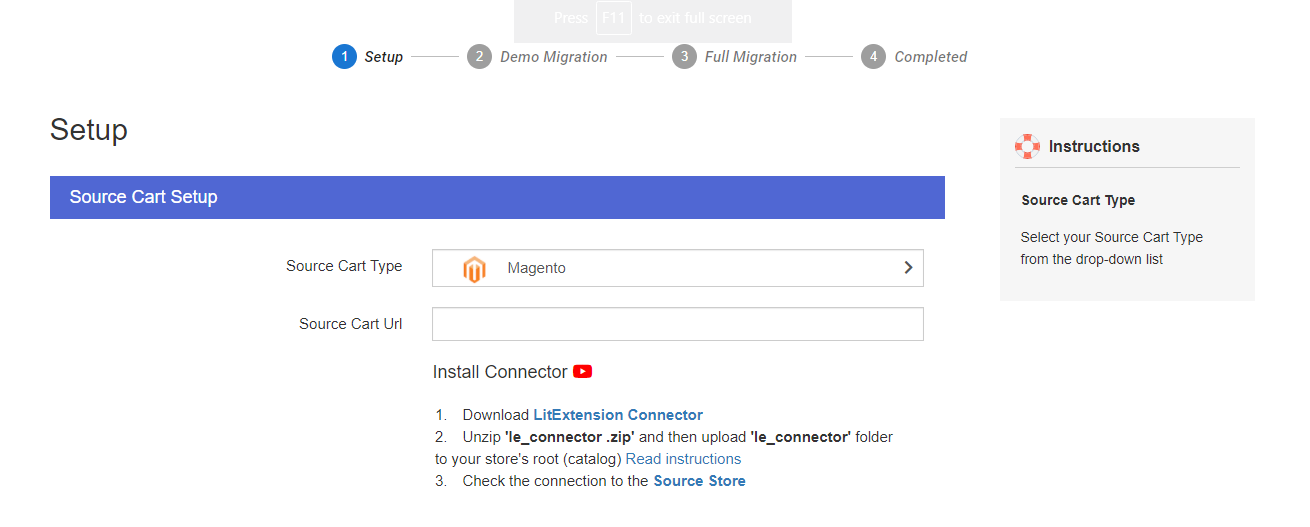 Step 2: Choose WooCommerce as a Target Cart
The next step is to select WooCommerce as the "Target Cart" by simply entering the WooCommerce store URL.

Step 3: Choose data you want to migrate
Choose the entities you want to migrate to WooCommerce for example, Products, Customers, and Orders.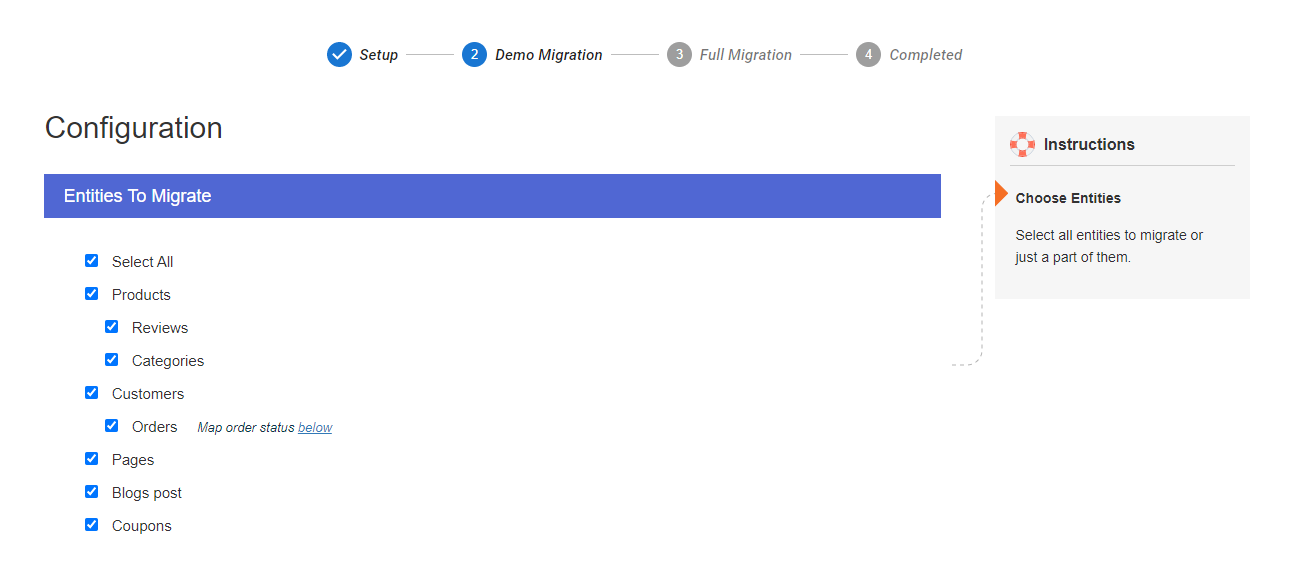 Step 4: Perform full migration
Finally, you are all set to migrate from Magento to WooCommerce. With LiteExtension, you can try a demo first or you can skip to full migration immediately.
Once the migration process is complete you'll receive a notification from the LitExtension system.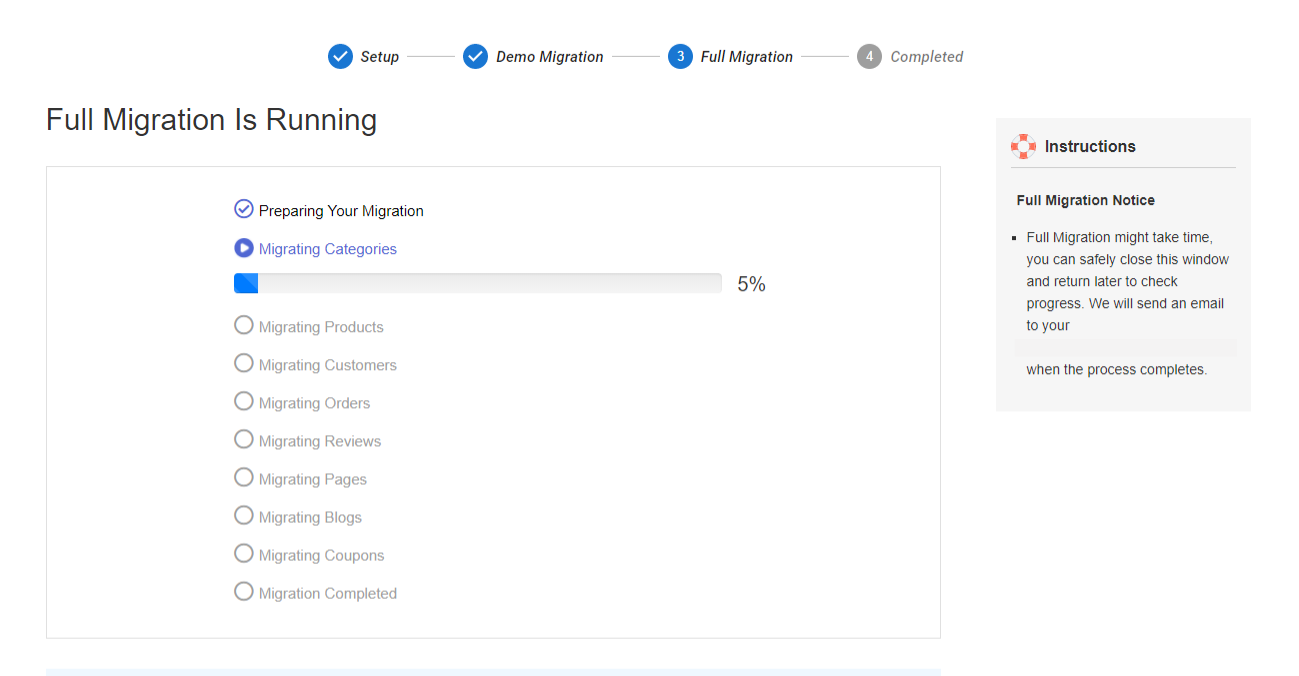 So this is how you can easily and efficiently migrate to WooCommerce from Magento. In fact, we have an in-depth guide on "How to migrate from Magento to WooCommerce?"
3. Migrate From BigCommerce To WooCommerce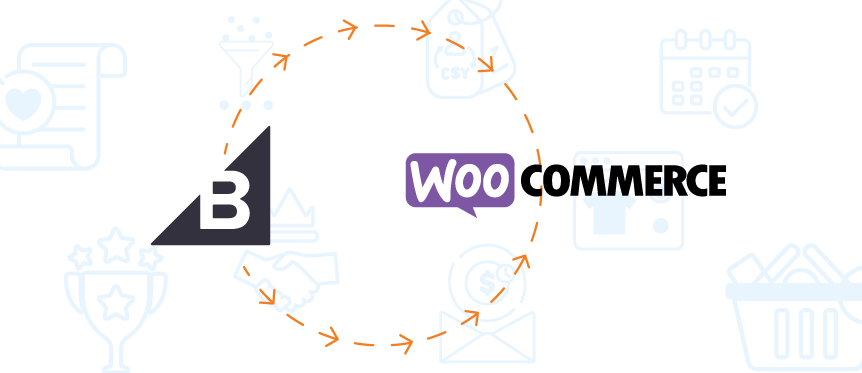 Another leading name in the world of eCommerce is BigCommerce with 53,029 current users. It is a hosted platform that gives its users benefits of:
Ease of use
Strong built-in features
Strong customer support, and
Security
But when compared to WooCommerce it is slightly on the pricier side and lacks the flexibility of an open-source platform. These reasons are enough for users to migrate their business from BigCommerce to WooCommerce.
Here are some basic steps for migrating your online business from BigCommerce to WooCommerce:
Step 1: Take a backup of your data
The first step is to preserve your precious eCommerce data. If the backup is not taken properly you might lose some information or your data can be mismanaged in your new WooCommerce store.
If you're doing it with the help of a tool it's a different story but if you're doing it manually, follow the steps to export your product, customers, order, and images:
Product and product images
From your BigCommerce admin panel navigate to Products → Export.
Select your Bulk Edit export settings then hit the button.
A pop window will appear seeking confirmation to export products. Click .

Once the export is complete, select the .

Connect to your store using WebDAV. Now download the product image folder by dragging and dropping it to your desktop.This is how you create a backup of your WooCommerce products.
Customers
From your BigCommerce you can export every bit of your customers' details except for passwords. Exporting passwords is a violation of BigCommerce's PCI Compliance.
To export customers trace the following steps:
Go to Customers and choose Export. Select the Bulk Edit template and then click continue.
Click .

Click file to save the file to your computer.

Orders
BigCommerce allows its users to export orders for backups and reports but cannot be imported back.
For exporting orders:
Go to Orders and click Export. Select the Default template and hit Continue.
Click
.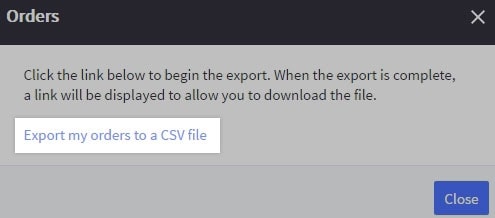 .
Click to save the file to your computer.

With that, you've backed up the information that can be migrated to your new WooCommerce store. Now the next step is to import all this information to your new WooCommerce data.
Step 2: Create a new WooCommerce store
The next step is to create a WooCommerce store and prepare for migration. For creating a WooCommerce store you need:
Firstly, create a WordPress-hosted website that requires a domain name and a hosting service.I would like to suggest WPEngine's WordPress hosting for fast & secure business websites.

The next step is to create a new database.
Now you have to download and upload the WordPress package.
Then edit the config-sample.php
Run the installation script.
Now install the WooCommerce plugin and configure the important settings.
Step 3: Data Migration
Finally, we're all set to import all that exported data to your new WooCommerce store.
For doing the migration you can either go with the manual approach in which you use the WooCommerce importer, or you can use the LitExtension and perform the exact steps we did for migrating from Magento to WooCommerce.
4. Migrate From SquareSpace To WooCommerce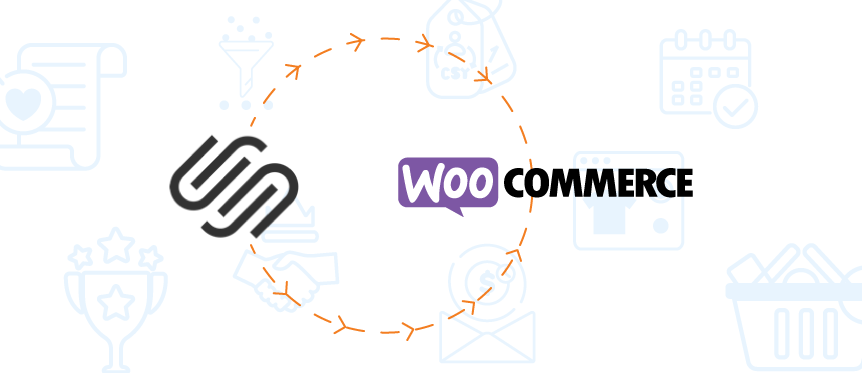 Squarespace is a young entrant in the eCommerce space that is easy to use and offers stunning themes. The content management system started as a basic website builder, later it expanded its wings on the eCommerce horizon.
While Squarespace has in-built tools for designing an online store, WooCommerce offers the flexibility of open-source development. This can be a prominent reason for a user to migrate his/her eCommerce business to WooCommerce.
Here are some basic steps for migrating from Squarespace to WooCommerce:
Step1: Export content from Squarespace
For exporting content from Squarespace:
Navigate to Settings → Advances and select the Import/Export option
Now press the Export button.

A popup will occur with a WordPress logo on it. Select the logo for further process.

Squarespace exports content in a format that is WordPress-friendly.Once the export begins you'll see the progress displayed on the screen and later you can download the exported file to your computer.

Okay, here's a point that you should keep in mind is that every aspect of your Squarespace website can't be exported that includes:

Product pages
Album pages
Audio or video blocks
Product blocks
Style changes
Templates
Custom CSS
Folder and index pages

You can download these separately in CSV format.
Step 2: Import content in WordPress
The next step is to import the downloaded content to your WordPress website.
Now login to your WordPress admin panel and go to the Tools → Import page. Where you'll see a list of platforms to choose from. Since Squarespace exports content in a WordPress compatible XML file format.
Now you all have to press the button below WordPress to continue.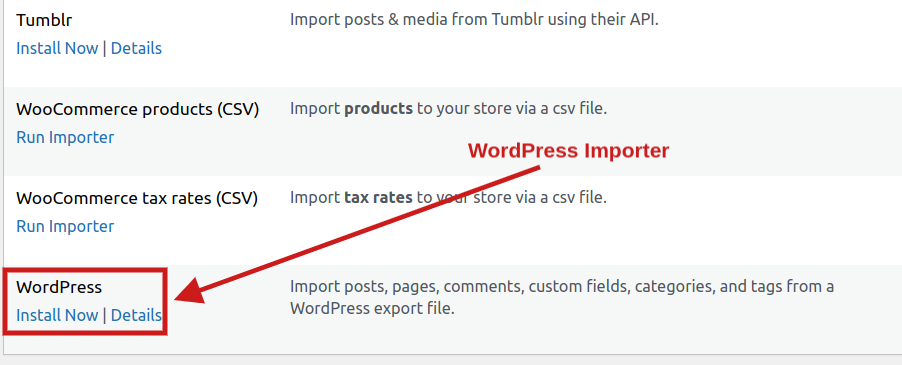 This will allow WordPress to fetch and install the importer for you and after that, you can run the importer.

WordPress will now upload your Squarespace exported file and later show you the import settings page.
Step 3: Migrating products and other eCommerce data
Before you start migrating your eCommerce data make sure you've installed the WooCommerce plugin. Now as I had mentioned before you can export your eCommerce data from squares in CSV format and then import it to WordPress with the help of the following steps:
Log in to your Squarespace panel, click on Commerce, and then, click on Inventory.
Now click on Export all.
Now visit your WordPress dashboard and then visit the Products page. Click on the "Import" button on the top.

Now upload the CSV file that you have exported from Squarespace.
The Column Mapping will automatically attempt to match the Column Name from your CSV file with WooCommerce Fields.
So this is how you can migrate from Squarespace to WooCommerce. You can check out this full guide on Squarespace to WordPress migration by Clicking Here.
5. Migrate From PrestaShop To WooCommerce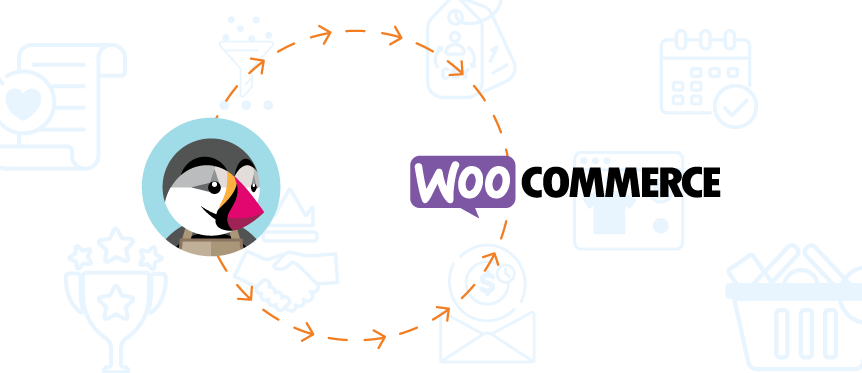 PrestaShop just like WordPress is an open-source CMS platform that allows business owners to sell online with out-of-the-box features.
While PrestaShop is a great platform to grow your business and for accommodating large traffic, WooCommerce offers incredible scalability and features to enhance your business within a fixed budget. Therefore, migrating to WooCommerce can be an intelligent decision.
You can manually do the migration process but I would recommend using the FG PrestaShop to WooCommerce plugin.

This is a free solution for migrating PrestaShop:
Products
Categories
Product Images
Tags
CMS
With the following steps, you can efficiently migrate from PrestaShop to WooCommerce:
Back up your Prestashop database.
Create a WordPress hosted website
Install and configure WooCommerce.
Install and active FG PrestaShop To WooCommerce plugin. Once the plugin is installed you'll see an 'import' link in the plugin's box.
Choose the data types you want to transfer from Prestashop to WooCommerce.
PrestaShop and WordPress both are self-hosted platforms that have some exceptional sales features. But the choice to migrate from Prestashop is subjective and, if you've decided to do so then, why not do it with a solution that is complexity-free.
Basics Of Migrating WooCommerce To WooCommerce
There can be situations where you are using WooCommerce and still have to migrate to a different WooCommerce store. Here are two prominent scenarios for performing WooCommerce to WooCommerce migration:
You're migrating your eCommerce website to a different domain.
You're migrating some of your products from one site to another.
Whether you're partially moving your products or migrating to a new domain the migration process is pretty straightforward as compared to migrating from an external platform.
So here we go:
Step 1: Navigate to Tools → Export and then select the entities you want to migrate from your website.
Step 2: Now choose the data you want to export for migration. It can include products, posts, variations, orders, or even refunds.
So these were some basic steps for migrating your eCommerce website from an external platform or a different WooCommerce platform to a new WordPress domain.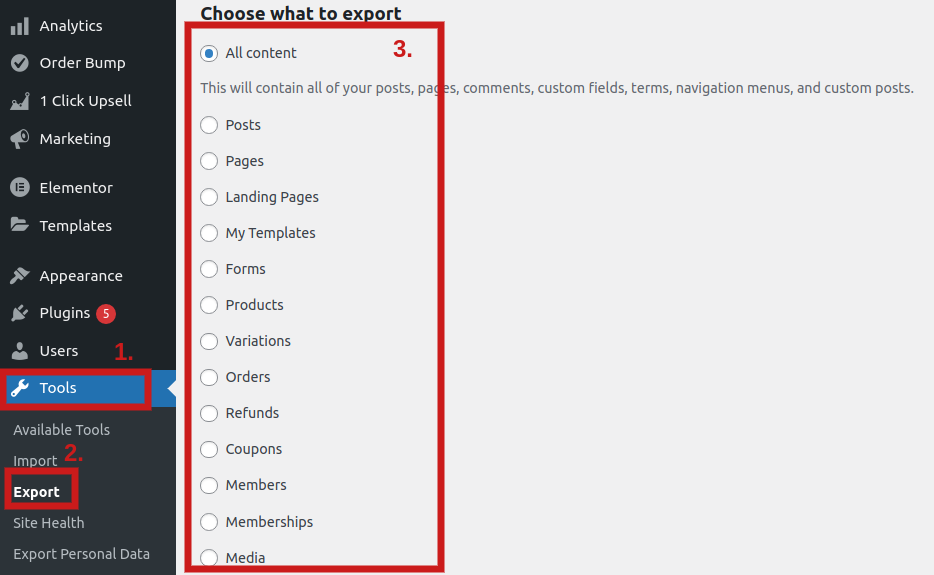 Step 3: After selecting the entities press the button. As a result, an XML file is generated and stored on your computer. Later, you can use this file for importing data.
Step 4: If you cannot manage all the migration processes you can take the help of the WP Migrate DB plugin that makes migrating your database easy, fast, and straightforward.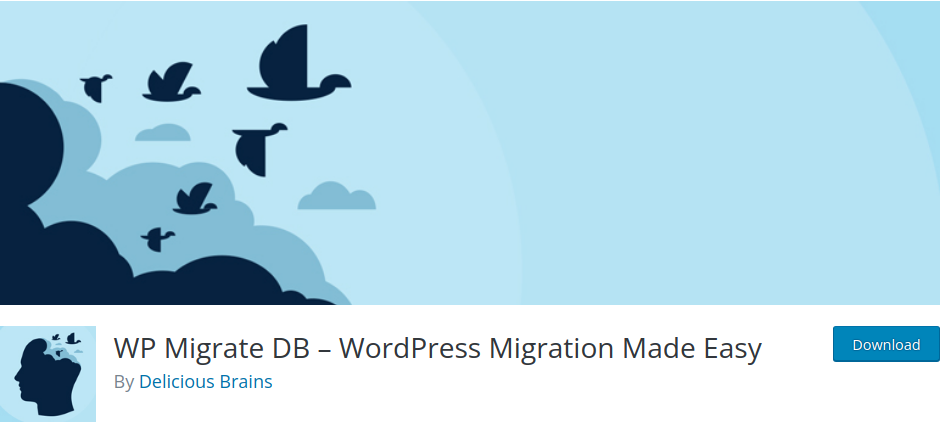 WP Migrate DB does the migration in just 3 simple steps:
Find and replace the data you want directly within WP Migrate DB.
Export SQL.
Import the new database using a tool such as phpMyAdmin.
This solution makes the process of migration less technical and more transparent.
Now that you've decided to undertake the data transferring process and are ready to start your venture with WooCommerce, let's see a complete checklist. With the help of this checklist, you can strategize your pre-migration plan and be efficient during the migration.
WooCommerce Migration Checklist [Free Infographic]
So before you start with the actual WooCommerce migration I would like to share a handy checklist to make sure that everything is in place. This checklist will help you make sure that the eCommerce data transfer is smooth and keep your website running.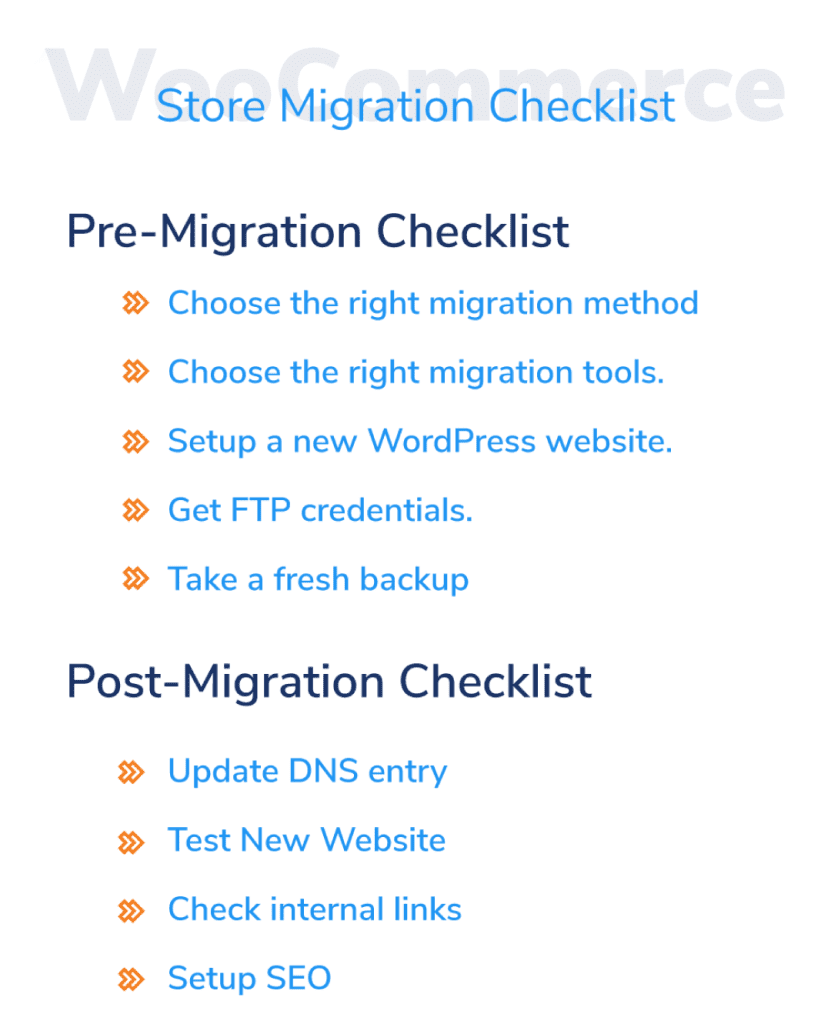 Pre-Migration Checklist
Here are some important things you should keep in check before you start the WooCommerce migration.
1. Choose the right approach
As I mentioned before there are multiple ways in which you can migrate to WooCommerce. You can migrate to WooCommerce either manually or with the help of a tool.
If you are aware of the technical whereabouts of WooCommerce you can definitely go with the manual approach. The biggest benefit of manual migration is that it is absolutely free, on the other hand, to work with a tool or an expert you might have to shed some money.
Therefore, before you begin the migration journey carefully choose the mode of migration.
2. Choose the right migration tools
If you have decided to go with a migration tool, it's important that you wisely choose from a wide variety of extensions.
Here is what you should consider when choosing a migration:
The plugin should offer zero downtime, so as to say, your website should be accessible to the customers even when you are migrating to WooCommerce.
Most importantly, the tool should be easy to use and shouldn't disturb the code of your website.
3. Setup a new WordPress website
So you have decided to migrate your business to WooCommerce also, you've chosen the approach with which you want to migrate your website. But before you actually transfer your data it's important to own a WooCommerce store. Therefore, you need a WordPress-hosted website.
4. Get FTP credentials
The FTP credentials are very important for migrating websites and keep them handy before you start the process.
The credentials include the following:
server address
port number
Username
Password
To acquire your FTP credentials contact your hosting provider who will give you FTP, SFTP, or FTPS credentials.
5. Take a backup of your eCommerce data
To be honest, migration is a complex process. Even if you're very careful, you should be prepared for any mishap and try to ensure that your website isn't inaccessible or broken at any time.
Post-Migration Checklist
Once you have prepared for all the prerequisites and got your pre-migration checklist in place, it's time to begin the actual process. So here's a checklist that you can follow during the migration process for the smooth transferring of your eCommerce data:
1. Update DNS Entry
Once your website is migrated the first step is to update the DNS entry. This is very crucial because if you miss this step your customers will be redirected to your old website.
You can update the DNS entry from the website host pane and the process is different for different hosting providers.
2. Test New Website
Once your DNS entry is updated it's time to check if your website is functioning properly. You don't want to harm the user experience of your loyal customers. Make sure to rigorously check all the important pages of your website.
3. Check Internal Links
Once your website is completely migrated you have to point the old URLs to the new ones. However, there is a possibility that redirecting the old internal links to new ones may create a server load.
To avoid this I'll recommend you update all the internal links in your database using the search and replace operation.
4. Set Up SEO
The last step is setting up a new property for your website in the Google Search Console.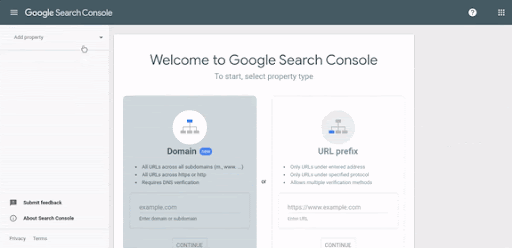 Also, don't forget to submit the sitemap for making your website crawlable for search engine bots. Lastly, make sure you have installed and configured Google Analytics for your new website.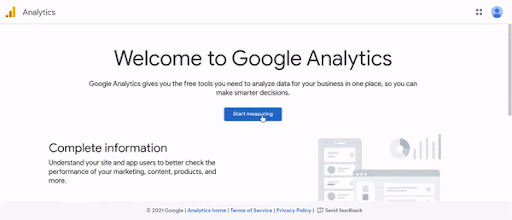 So this was the complete WooCommerce migration checklist to ensure a smooth transition of data from one platform to another.
While WooCommerce is amazing for growing your business and gives all the benefits of open-source development, migration has its own ill effects that can't be ignored. If you plan to migrate to WooCommerce make sure to take these common pitfalls into account.
Pitfalls Of WooCommerce Migration
Whether it is for life or websites, migration isn't easy. As Murphy's first law states:
Anything that can go wrong will go wrong.
The same thing applies to WooCommerce migration. Transferring data between eCommerce platforms can be a complicated process and there are some pitfalls that can't be ignored.
I'll be sharing with you the top 5 pitfalls of WooCommerce migration with the best possible solutions to tackle them:
1. Losing Customer Data
The biggest risk of migrating to WooCommerce is losing your precious customer data. There can be situations where you can miss on pending orders or lose a customer's history permanently, which affects your business negatively.
The Solution:
Take a backup of your website.
Map your fields properly.
Always validate the data and test your new website.
2. Increases Your Site's Downtime
Whether you migrate manually, choose a tool, or go with an expert site, downtime is inevitable. But we can definitely control the extent to which it will impact your business. Temporary downtime is expected and it will happen when your website is being migrated.
What we have to look for is there are no invalid site URLs or database connection lost messages.
The Solution:
Always check if your server is working fine first.
Make sure all the URLs on your website are correctly redirected.
Run a speed test and check with your hosting provider how your site is performing.
3. Pages Might Break
Migrating to WooCommerce from an external platform isn't easy and is a work cut. You might even have to recreate your website from scratch to make sure the new theme and plugin are working in the same way.
The Solution: Put your website on maintenance and create a staging website for a WordPress installation.
4. Ranking Could Take A Hit
Broken websites and pages are a big no for Google and are not considered search-engine friendly.
It takes time to make your website rank on top of the SERPs and migration can severely impact your SEO efforts. Migrating domains can bring a temporary domain dip in your rankings but if your search engine is friendly you'll be back on track on time.
The Solution:
Make sure all your SEO parameters are right.
You have properly redirected all the internal links.
5. Support App Issues
Every eCommerce website owner uses various applications to make their website manageable and boost sales. If you're migrating platforms you can face supporting issues from third-party applications. For example, Shopify applications won't work with WooCommerce.
The Solution:
Figure out how to get the apps integrated with WooCommerce.
Choose from the wide range of WooCommerce plugins that offer the same functionality.
Connect with a developer or an expert to help you out.
Ready To Migrate?
Migrating from any platform to WooCommerce is a complicated process but isn't impossible. With proper guidance and the right approach, you can smoothly and efficiently transfer your eCommerce website across platforms.
Before you begin with the actual migration process, I only have two recommendations for you. Firstly, it is wise to not change platforms unless it's very necessary because it can cause some major complications. Secondly, if you've decided to go with WooCommerce you need to consult with an expert. It will not only make the migration faster and easier but you can peacefully focus on getting everything done in place.
I hope you find this extensive guide helpful and informative. If you are facing any issues regarding selling business on eCommerce feel free to discuss them with our WooCommerce experts.