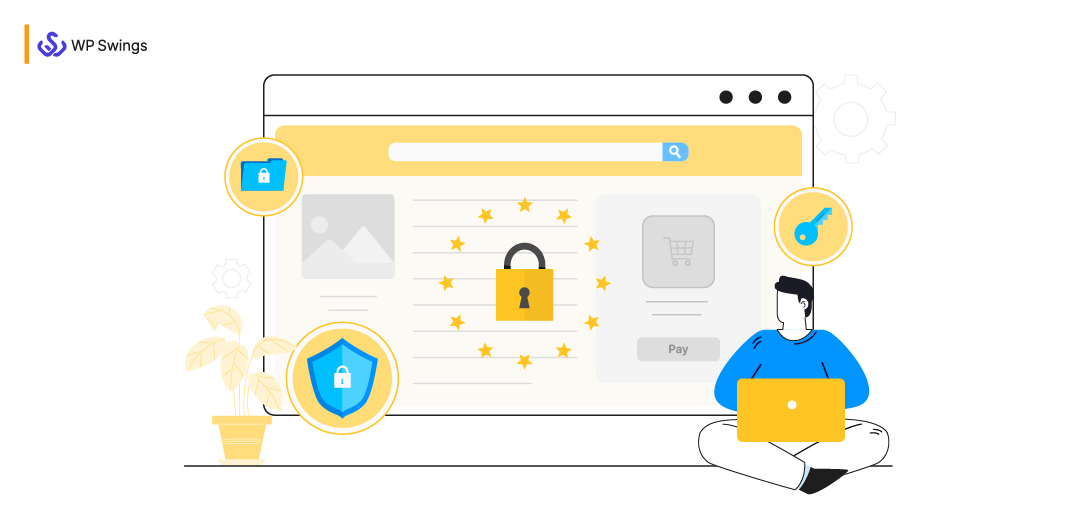 Does your business operate in the EU or your target customers are Europeans? Then, MAKE SURE that your website should follow the General Data Protection Regulation (GDPR). Huh😕? In other words, you should make your website GDPR compliant to avoid any kind of fines or legal action from clients who used your services.
Still not getting what we are talking about? NO WORRIES!
In this article, we'll let you through—what GDPR is all about? What do you need for a GDPR complaint? The rules you should follow to make your website GDPR Compliant and more…
Quick Disclaimer: Please seek competent legal guidance if you have questions about how GDPR applies to your particular situation as we are not legal specialists for all websites using WooCommerce.
eCommerce initiatives ought to give GDPR implementation a careful consideration as— they directly interact with customers, gather their personal information, and need to reassure users that their sensitive data is secure. Here's how to update your WooCommerce website to comply with the updated GDPR requirements.
The European Union General Data Protection Regulation (often known as GDPR) went into effect on May 25, 2018, and it eventually had an impact on the e-commerce industry.
Let's first hop up on what exactly is GDPR?
All about GDPR!
There are hundreds of pages worth of new obligations for enterprises worldwide in Europe's new data privacy and security regulation. This GDPR overview will assist you in comprehending the law and identifying the provisions that pertain to you.
General Data Protection Regulation, or GDPR is the strictest privacy and security law in the world. Although it was created and approved by the European Union (EU), it imposes requirements on any organizations that gather information of users residing in the EU. It gives customers more control over how websites, internet service providers, and other web-based businesses collect, store, and use their data.
The primary goal of GDPR is to safeguard users' personal information and stop businesses from improperly abusing the information. This means that organizations will need users' consent before collecting personal data.
So, if you use your WooCommerce store to sell goods to customers in the EU, you must adhere to GDPR regulations.

The rule became effective on May 25, 2018. Those who violate the GDPR's privacy and security requirements — risk paying harsh fines of up to tens of millions of euros.
In a time when more people are entrusting their personal data with cloud services and breaches are occurring on a daily basis, Europe is signaling with the GDPR it's tough stance on data privacy and security.
Secure and Protect Your WordPress Website with the Most Compatible 15 Pointers!
Know why security is important to WordPress security checklist to recommended security plugins
Why Do You Need to Make Your Website GDPR Complaint?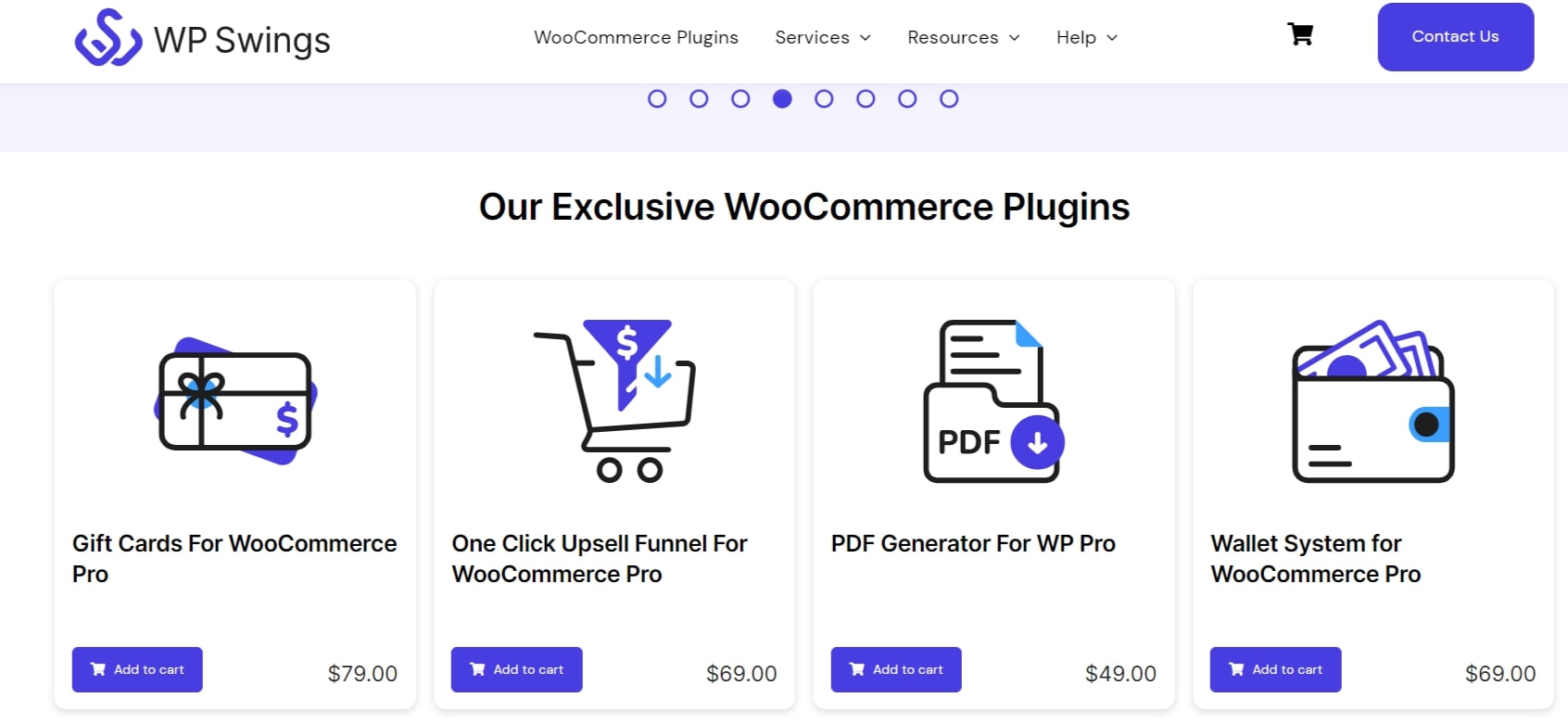 Your WooCommerce store may collect data in a variety of ways like users name, email address, phone number, and other personal information during registration. On the checkout, you need their card details or any other type of payment information in order to execute their order.
The users' personal information may also be collected for analytics or other purposes, such as targeted advertising.
Customers may experience serious privacy concerns as a result of all of these acts, therefore you must set up your website to adhere to the GDPR in order to calm their rising concerns.
They will start trusting you, and get devoted to you.
Don't Comply with GDPR Guidelines? See the Results Yourself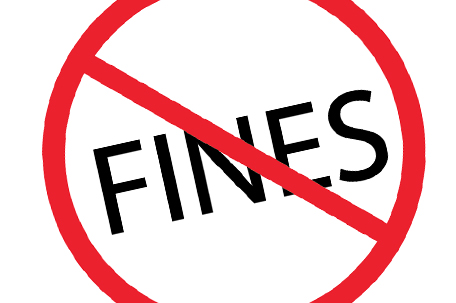 The General Data Protection Regulation (GDPR) is a new e-privacy law imposed in Europe. In case you do not make your website GDPR compliant, the penalties can be quite HIGH. According to the GDPR, some violations are expressly considered to be more serious than others.
The maximum fine for less serious offenses is €10 million, or 2% of the company's annual global revenue from the prior fiscal year, whichever is larger. So, why not be cautious before!
The more egregious infractions go against the core privacy and right to be forgotten GDPR principles. The maximum penalty for these offenses is €20 million, or 4% of the business's annual global revenue from the prior fiscal year…considering the larger one. Well, that can be a huge one😲!
To avoid this CONTINUE reading below and follow the necessary steps.
What All Is To Be Done for WooCommerce Website to Comply with GDPR
You must ensure that your WordPress website complies with all GDPR regulations in order for it to be considered GDPR compliant.

A WooCommerce website that complies with GDPR should "DO" the following:
Inform the user of your identity, the types of data you gather, why you collect them, how long you keep them, and which third parties you share them with (if any)
Before collecting any data, obtain a specific consent.
Allowing people to view their data
The ability to download user data
Allow people to remove their data.
Send notifications to users in case of data breach.
Although knowing this is helpful, the most crucial query is: What adjustments must be done to make your website GDPR complaint?
How Can I Make My Website GDPR Compliant?
1. Update Your Site

Check to see if you are using the most latest versions of WooCommerce and WordPress. If not, you must update them right away because the most recent releases of WordPress and WooCommerce include fresh additions and modifications that will aid you to make your website GDPR compliant.
The most recent version of WooCommerce contains GDPR features like:
Personal data export,
Personal data erasure,
Data retention options,
Policy notices displayed on the checkout page,
The ability to make some checkout form fields "hidden" or "optional," and
Bulk purchase data anonymization
More information about these will be provided later in this article.
A reliable backup of your website should always be kept on hand before testing modifications. Prior to updating your live site, think about testing the adjustments on a development site.
2. Secure Your Site- SSL Certificate
Securing your online business involves a number of steps, such as making your website HTTPS compliant, choosing a trustworthy hosting company, installing firewalls to block illegal access, making your website PCI DSS compliant to protect the consumers' credit/debit card information, and so on.

The most important of these is using HTTPS to secure your WooCommerce store. To use HTTPS, you must install SSL certification on your website.
3. Create Important Pages- Terms & Conditions, Privacy Policy, Customize Your Checkout Page
You must create pages for your terms and conditions, privacy policy, and cookie policy. The creation of these pages should still be discussed with your legal department, if possible. If you already have these pages, be sure to include the GDPR-specific language.
Terms And Conditions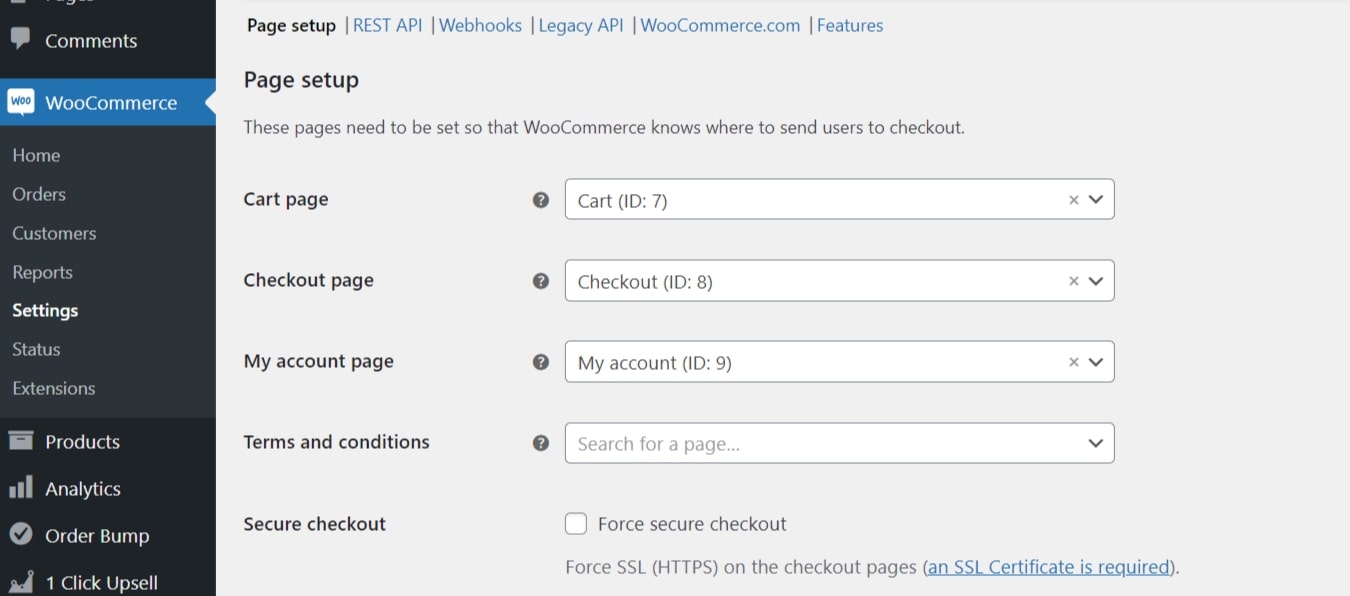 In a nutshell, terms and conditions are the laws that bind both your company and your clients. Evidently, the GDPR mandates that every website have a T&C page. Fortunately, WordPress now makes it simple to create a Terms & Conditions page. The following procedures must be followed in order to develop a useful T&C page for your WooCommerce website:
Click on Settings > Checkout > Terms and Conditions and choose a Page
On your Terms and Conditions page, include a link to your privacy policy.
Add a checkbox to your checkout page on WooCommerce Checkout Settings.
Privacy Policy
Add a privacy policy page to your website or inform your audience of the privacy policies that are already in place. Go to your WordPress dashboard and click Settings > Privacy to view the privacy policy page. You'll be prompted to edit or create a new privacy policy page.
Make sure the privacy information and disclaimers pertaining to your WordPress core are included if you have to start from scratch when creating the privacy policy page. Include additional suggested information highlighting the GDPR compliance of your website. Contact forms, contact information, analytics, breach disclosure, and other data are all included in this.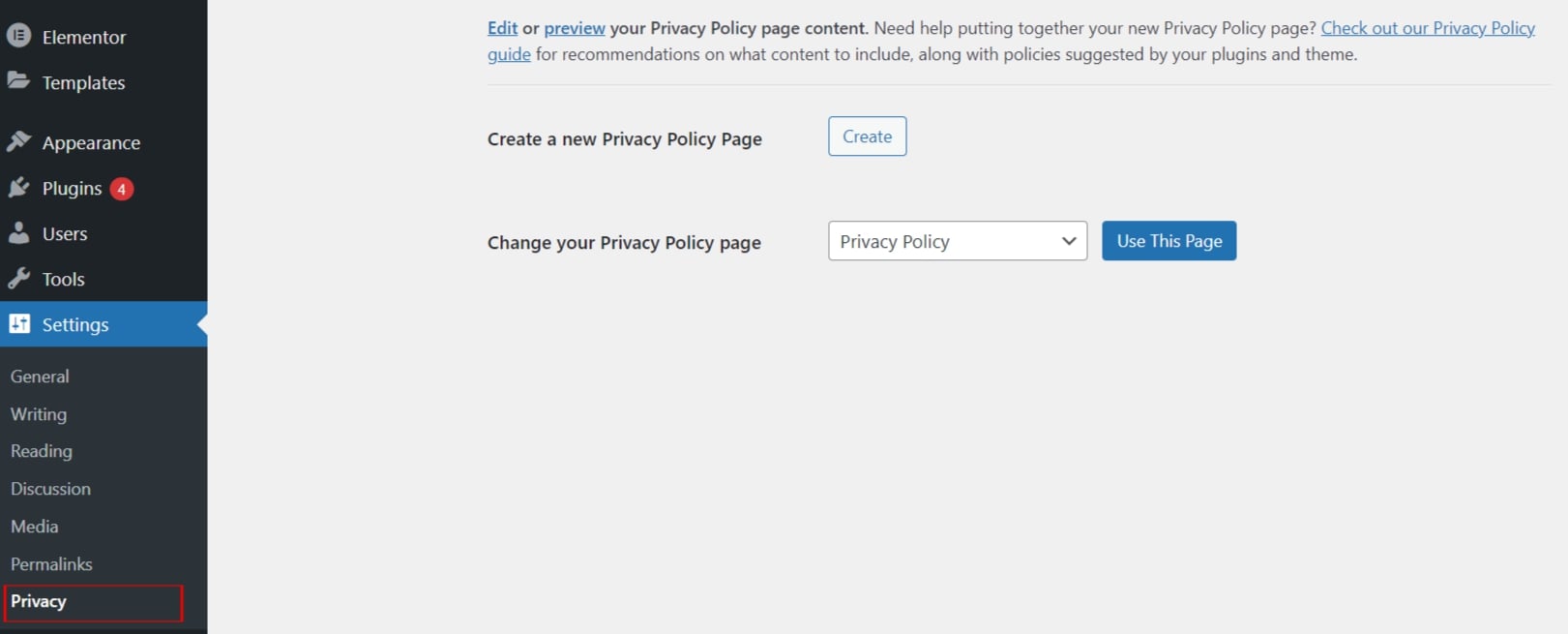 User Registration- My Account Page
You must: in order to create a user registration section that complies with GDPR:
Create an Account page via Settings > Accounts > Enable customer registration on the "My account" page
Add Privacy Policy checkbox to your registration page using a WooCommerce snippet,
Note: Display the Privacy Policy in this specific section and gather only the user data that you need for your business.

Customize Your Checkout Page
To help your checkout page meet GDPR requirements, WooCommerce has improved its checkout functionalities.
You can find features to: in the WooCommerce Customizer.
Make the Company name, Address line 2, and Phone fields in the checkout form "hidden" or "optional" to avoid collecting unneeded data from consumers during the checkout stage;
If you haven't already, put a link to your privacy policy on your checkout page by going to the WooCommerce "Accounts & Privacy" settings.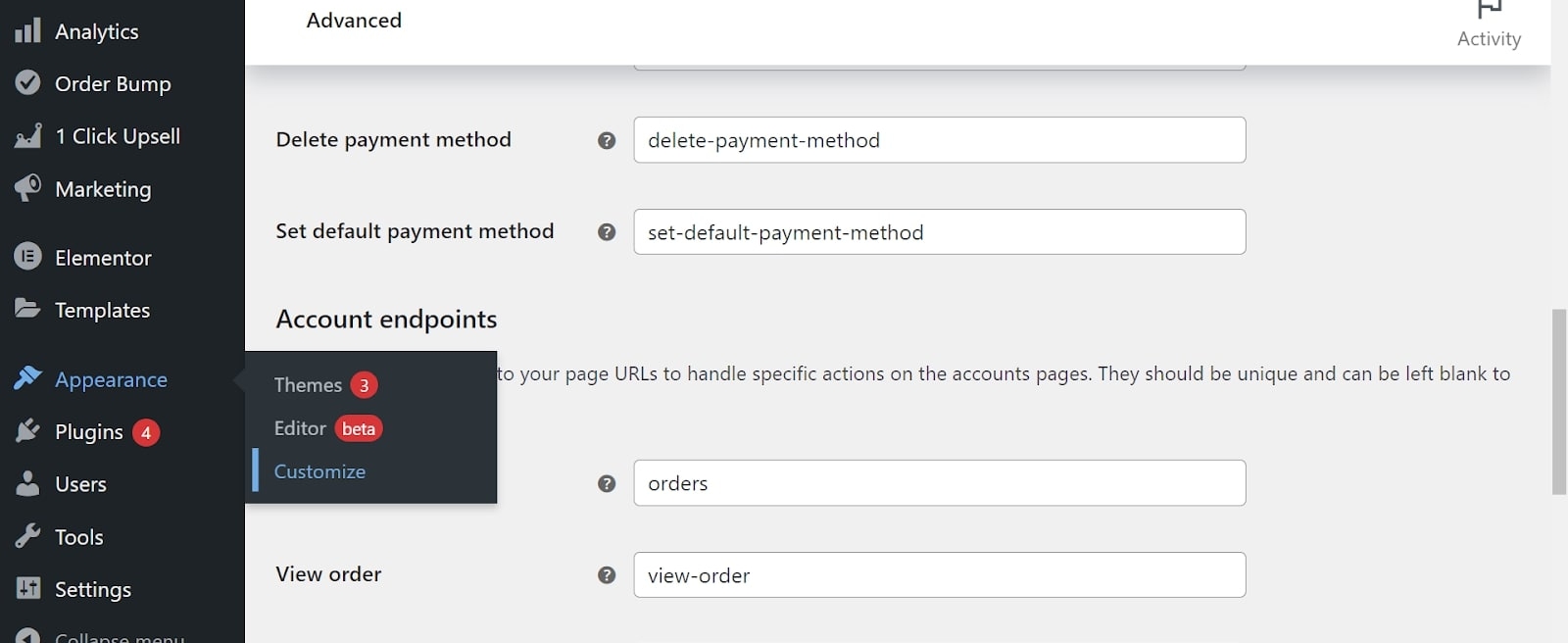 Make Your Data Handling Easy-peasy with the QuickBooks Plugin Integration!
QuickBooks Integration for WooCommerce will sync data for Orders, Customers and Products.
4. Create a Data Breach Response Plan- Send Notifications
Disclose any data breach on your website immediately in order to affected users to make your website GDPR compliant. It is a  MUST to send a notification within 72 hours.
What is a data breach?
Data breach happens when personal information is sent to:
Unauthorized data processors or subcontractors,
Non-GDPR compliant organizations,
Outside parties acting without the data subject's knowledge,
Hackers
Additionally, you must have a strategy for responding to any such security data breaches.
What you need to do is:
Secure your WordPress and WooCommerce website!
Subscribe to all of your third-party software and API providers to get alert as soon as a data breach impacts your consumers
Cut back on the data you store
Always have a backup plan for data breaches
5. Obtain User Consent for the Use of Tracking Cookies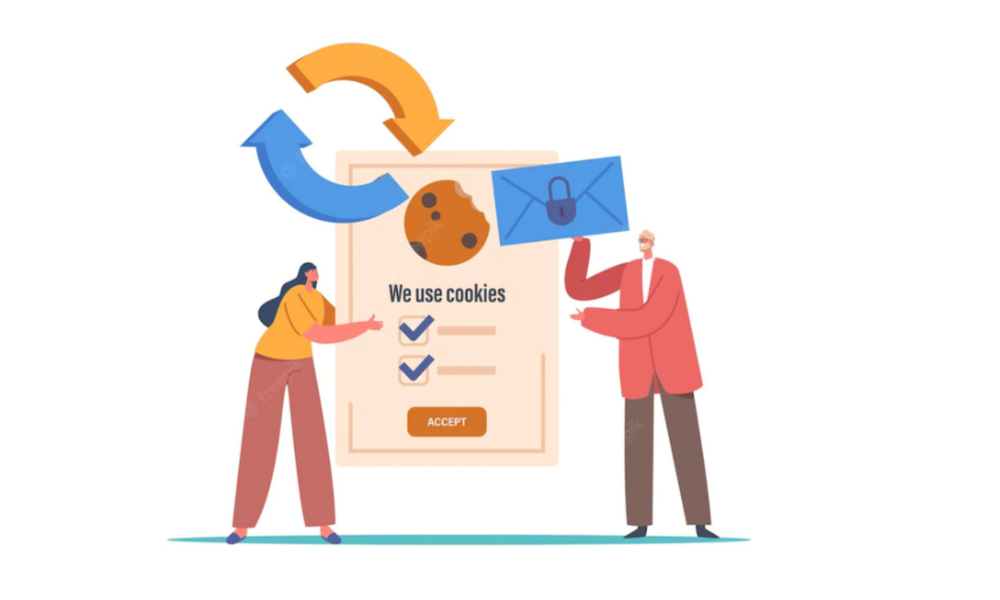 Display Cookie Notification and Opt-in
Cookie consent is no longer implicit, according to GDPR. Your website should include a prominent opt-in that visitors can click to approve your cookie policy and indicate their acceptance.
There are a number of WordPress.org plugins that can assist you in accomplishing this by displaying a full-width text or HTML banner at the top or bottom of your website pages.
The Terms & Conditions page of your website may be linked in this message. Also include a GDPR paragraph and links to the Privacy Policy page to this page.
Write a Descriptive Cookie Policy
Another requirement of the aforementioned notification — the link to your Cookie Policy page, where you outline the cookies you collect, why you gather them, how long you retain them, and which third parties they are shared with.
These third parties may include platforms for display advertising such as Google Analytics, Facebook Pixel, LinkedIn cookies, and others.
Don't bundle your cookies if your website uses many…which is pretty common. It is literally impossible to display many checkboxes at once. You must segment your marketing requirements and give the customer the option to check off each box individually.
The GDPR Cookie Consent Premium Plugin provides many such features including automatic cookie scanning, script blocking, location-based cookie notifications, etc.
6. Ensure That Your WordPress & WooCommerce Opt-in Forms Are GDPR-compliant
Users often provide their name and email address on an opt-in form to join your email marketing list (or database of contacts).
You must first delete all automated opt-ins from your website. A "checked" checkbox by default cannot suggest acceptance; all checkboxes must not be ticked by default.
Are you also giving those email addresses to subsidiaries or other business partners? I hope not…
An opt-in form typically links to a particular piece of software, like Mailchimp. In this situation, a future plugin release from Mailchimp should contain the "new," GDPR-compliant opt-in form.
Make sure the recipient is trustworthy before sending them the email address (Mailchimp, ConvertKit, Aweber, etc.)
To-do list:
Verify each of your opt-in forms; a must to make website GDPR compliant.
Check to see if your newsletter, email marketing, or opt-in form supplier offers a GDPR solution.
Prior to people opting in, make sure the Privacy Policy checkbox is visible.
Tips and Tricks for Email Marketing!
Know what email marketing is, how it is done and why we need to do this following certain steps.
7. Ensure That the Plugins You Use Are GDPR Compliant
This one is quite a crucial section so DON'T miss OUT on this ONE!
For each plugin…Ask yourself
Does plugin either get, read, store, use, edit, handle, access user personal data?
If YES:
Ensure it's a reliable plugin
GDPR ready
Don't forget to add the plugin to the list of "third parties" that get access to user data in your Privacy Policy
If NO:
Are you 100% sure? Like really, really sure? GREAT, do NOTHING
The GDPR's greatest benefit is the exponential improvement in data handling, security, and transparency that it will bring to the WordPress ecosystem.
Who knew that GDPR was actually beneficial?
You can always get the best WooCommerce plugins that can make your sale easier.
8. Get Product Reviews Only from Registered Users, WordPress Comments (Blog Pages), Consent from Existing WooCommerce Customers / Subscribers
Ah! Product reviews…My favorite one😃. They are quite important in e-commerce, don't you think?
Reviews undoubtedly include personal information. You're right, you need user permission.
By restricting who can write reviews, it is possible to prevent this "consent":
How to do it👉under WordPress Dashboard > WooCommerce→ Settings → Products → General → Reviews can only be left by "confirmed owners"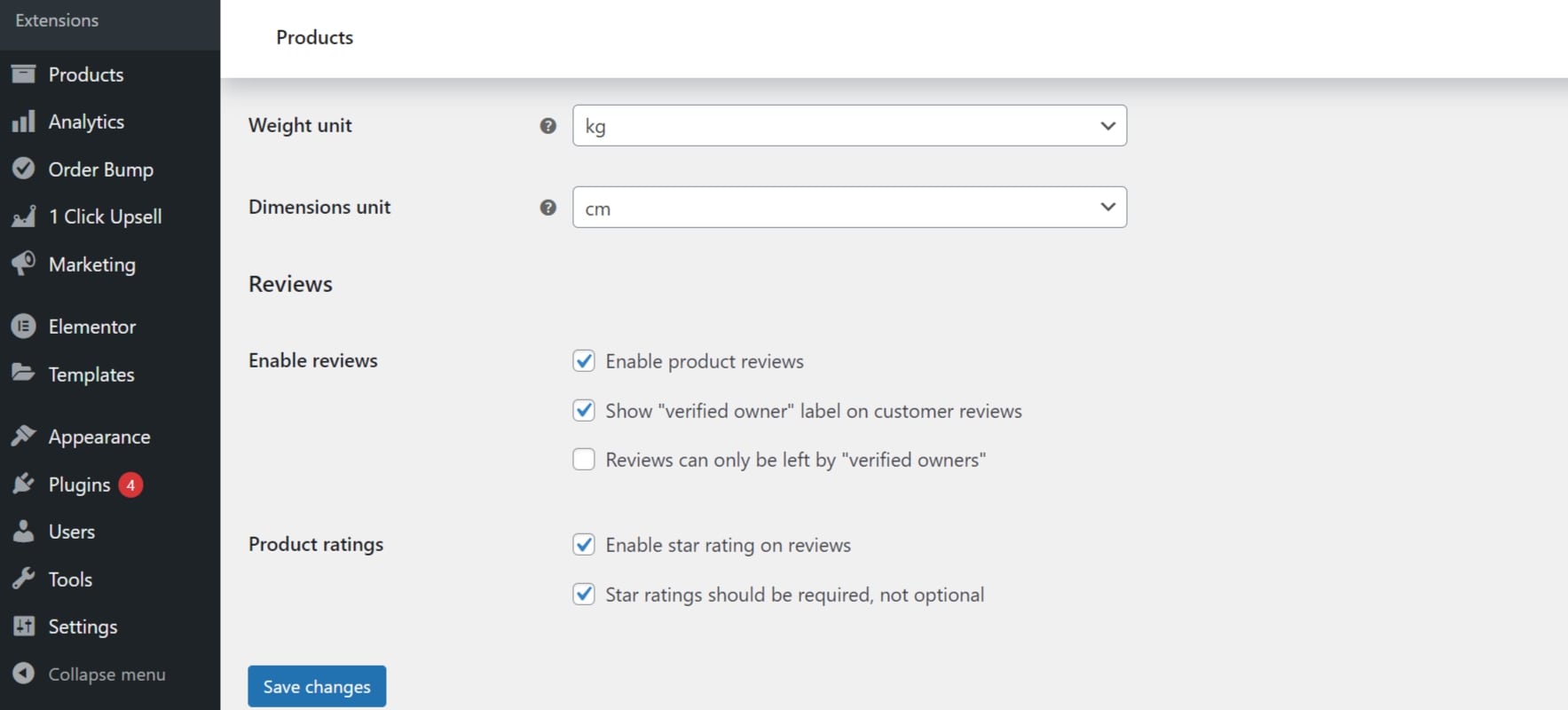 For COMMENTS on WordPress
Choose a GDPR-compliant WordPress Comments plugin or use the default WordPress Comments.
A privacy policy checkbox for people to make a comment.
Regarding subscribers, you must re-contact all of your current subscribers, clients, and users and request their active "consent" in addition to providing them with information on how to download, delete, or access their personal data.
9. Configure Data Retention Settings
To assist you in making your data retention policies compliant with GDPR regulations, WooCommerce has provided a tool for personal data retention settings.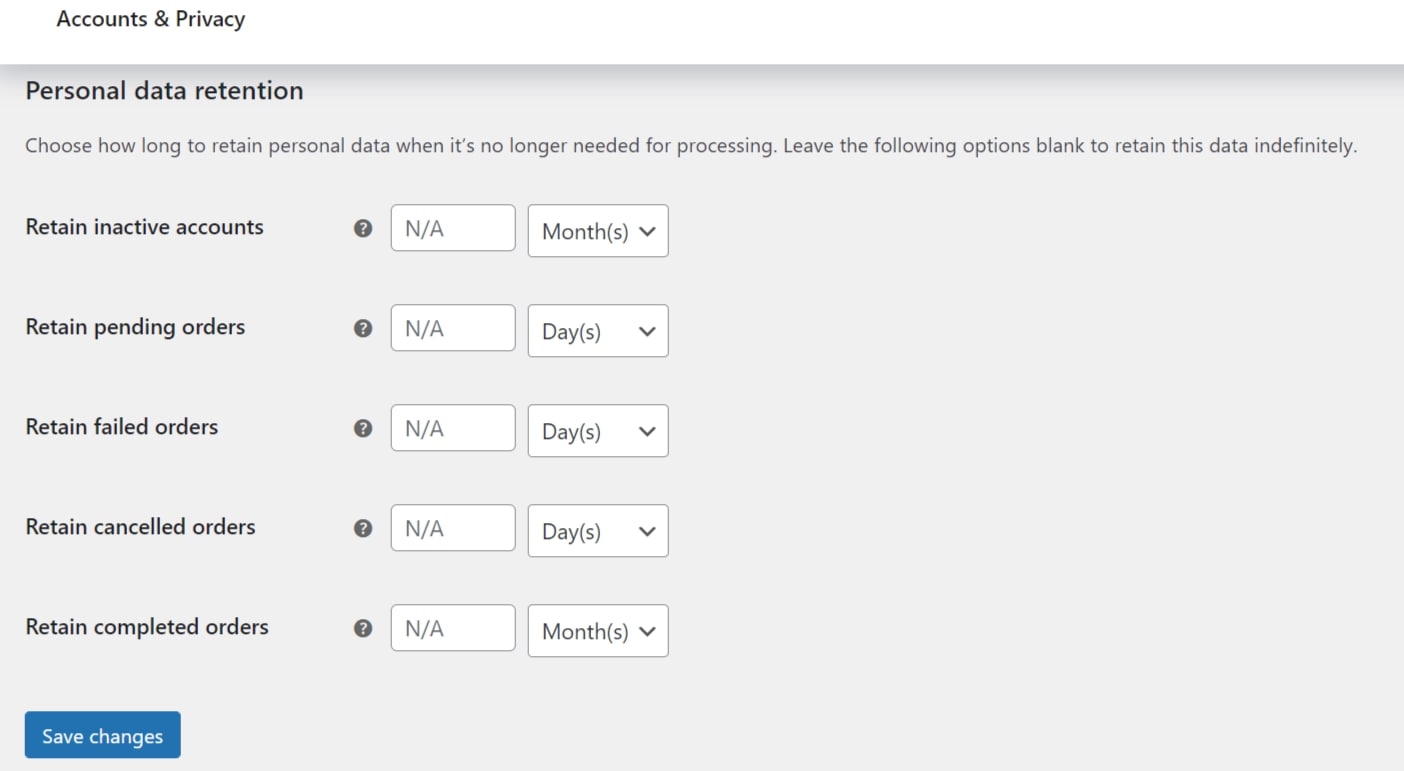 To set up WooCommerce's personal data retention options:
Go to WordPress dashboard > WooCommerce → Settings → Accounts & Privacy tab > Scroll down to Personal data retention.
Set the data retention period according to your preferences > click Save changes.
Erase/ Export the Personal Data
There are now two new choices in the Tools tab of your WordPress dashboard: Export and Erase Personal Data. If your website gathers user data, you can remove or export that information anytime a user requests it from the WordPress database…Amazing right?
10. WooCommerce Analytics- Google Analytics
Whether you use Metorik, Google Analytics, or both, you are collecting user information and using cookies without permission. The same is true for Facebook pixels, Google AdWords, and similar tools.
Since THEY are collecting the data and not YOU, it is advisable to review each provider's GDPR policy.
Ensure the following to make your website GDPR compliant:
You employ tracking software that complies with GDPR (Google Analytics, Metorik)
Your software vendors abide by all GDPR regulations.
Your Privacy Policy for those who handle your tracking data.
If using Google Analytics, go to Account Settings to see the amendments.

Final Thoughts
The GDPR is not clear-cut and has several murky areas.
If you have any experience with digital sales, VAT, cookie rules, etc. within the EU, you already know this is CRAZY🤪. Each accountant has a unique perspective on this.
And with GDPR, you may anticipate the same. Each attorney, business, and user will view this differently. The interpretations will be totally dissimilar.
So, rather than waiting… Please do something!
Follow the above instructions to make your website GDPR compliant and seek legal counsel. Or at the very least, make sure you only utilize plugins and APIs that are GDPR compliant, and  write that privacy policy you've been putting off for the past 20 years.
Do you have any other advice for converting a WooCommerce store to GDPR compliance? Please feel free to tell us in the comments your views regarding the blog.