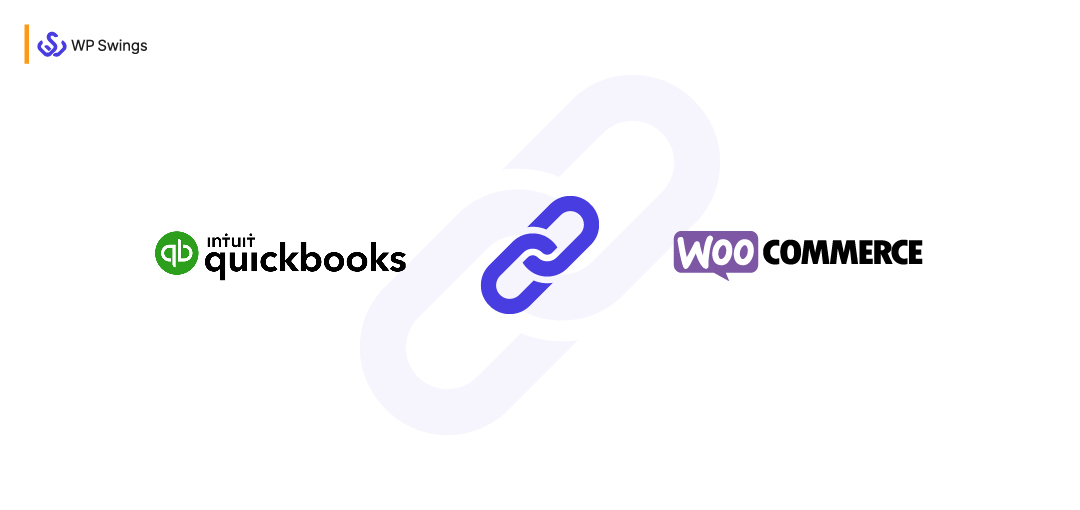 "Integrate QuickBooks With WooCommerce"
If you search this, chances are you own a WooCommerce store and want to manage the accounts for it.
And obviously, there's nothing better than QuickBooks to make it happen.
So, to get started with QuickBooks and do the bookkeeping, you need to connect WooCommerce with QuickBooks.
So in this post, I'm going to tell you how to connect WooCommerce to QuickBooks with some other details as well.
Let's begin now…
Why Do You Need QuickBooks for Your WooCommerce Store?
QuickBooks is one of the finest accounting plugin for WooCommerce. If you're running a WooCommerce store that means you deal in money. So you'd definitely require something to handle all your account related activities or bookkeeping. This is to keep track of your expenses, manage and operate your accounts, and see what's going on in the financial aspects of your business.
That is where you need QuickBooks for your WooCommerce store. Using it would streamline the process of managing all your financial activities on the go.
Best WordPress / WooCommerce deals and coupons you should definitely be aware of!
WooCommerce coupons for themes, plugins, hosting, and more.
Another reason to use QuickBooks is that it is trustworthy and used by millions of businesses. It has over 80% of market share in the industry.
Types of QuickBooks Integration
The simplest accounting system is QuickBooks, which works for practically all business types and sizes. But there isn't a common method of connecting it with WooCommerce.
Therefore, before beginning the connection process, it is crucial to discuss the type of QuickBooks integration with your company.
The ideal solution would be easy to set up and would synchronize data between QuickBooks and WooCommerce automatically. Customer accounts, invoicing, and inventories are just a few examples of the data.
Generally speaking, there are two types of QuickBooks integration with WooCommerce:
1. One-Way Data Synchronization
When specific data needs to be moved from WooCommerce to QuickBooks, the one-way data integration is a great option for startups.
Though straightforward and inexpensive, this kind of integration is not scalable. You might need to look at the second type of integration because unanticipated use cases are inevitable in order to connect QuickBooks to WooCommerce.
2. Two-Way Data Synchronization
The two-way sync approach involves a few extra steps over the one-way method. While performing activities like taxation, inventory or order management, updating customer information, etc., it updates both systems simultaneously.
Comparatively speaking, this method is more expensive than one-way transactions. It is primarily applied to larger businesses to manage high sales volumes.
Connect Your WooCommerce Store With QuickBooks!
Benefits of Using QuickBooks at Your WooCommerce Store
Nothing persuades you to use something more than its benefits. So here are some of the benefits of using WordPress QuickBooks.
Makes Accounting Easy for You
Obviously, you connect QuickBooks to WooCommerce in order to handle your store's accounting. And QuickBooks is one of the tools that makes accounting super easy for you.
It offers so many accounting-related features like reporting and dashboards, automatic backups, custom invoice, and quotes, etc. All these features smoothen the process of managing your account-related activities for your WooCommerce business.
Connects a Range of Financial Application
Running a business requires using multiple tools. Same with handling the finance, you need to bank on multiple finance-related apps. This is where QuickBooks comes in handy the most. With QuickBooks, you can integrate over 650 financial apps like PayPal, Fathom, Gusto and more. This makes your WooCommerce QuickBooks payments easier and smoother.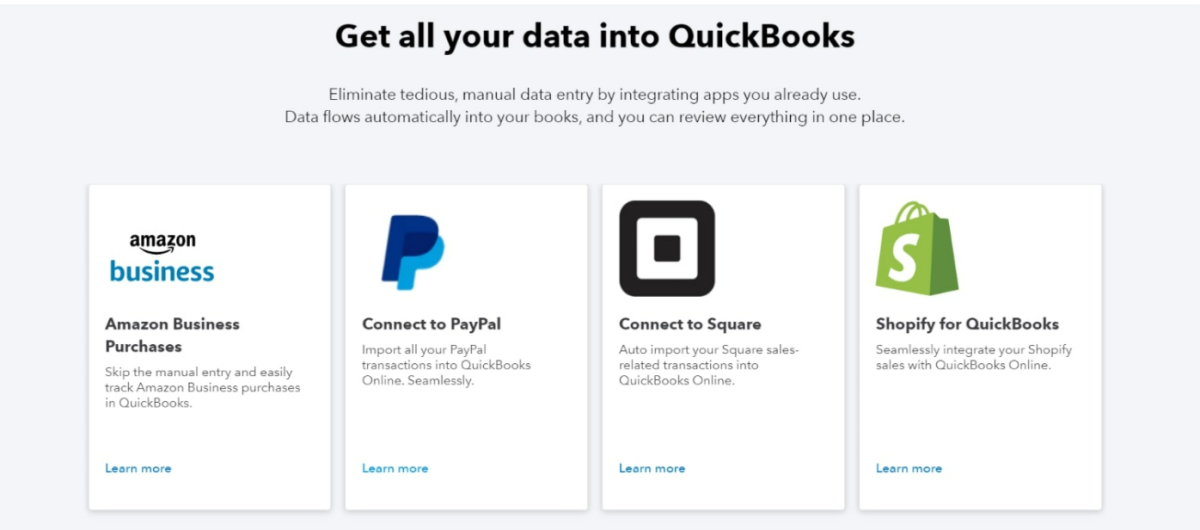 This helps you handle all the financial activities meticulously without making them hectic.
Most User-friendly Accounting Software
Handling accounts can be bothersome sometimes. Especially if you do not have some user-friendly tools. But this isn't the case with QuickBooks.
So you can do all your accounting and bookkeeping even if you don't have an experienced team of accountants.
Keeps Your Records Safe in the Cloud
A report from Accountancy age showed that 78% of small businesses will rely on cloud accounting by 2020.
Manual ways of managing financial responsibilities require a lot of time and effort and are costly.
By automating your activities and focusing your energy solely on the most important ones, you may nevertheless save money using QuickBooks.
Managing Multiple Locations
To succeed in the market today, companies must broaden their global market reach.
QuickBooks enables you to centrally manage all of your inventory and automate processes like creating purchase orders as necessary. Together, these factors make using QuickBooks to manage many locations simpler.
Features of QuickBooks Integration for WooCommerce Plugin
Here are some of the amazing features you get with our QuickBooks WooCommerce integration plugin.
1. Customizable Feeds to Sync Data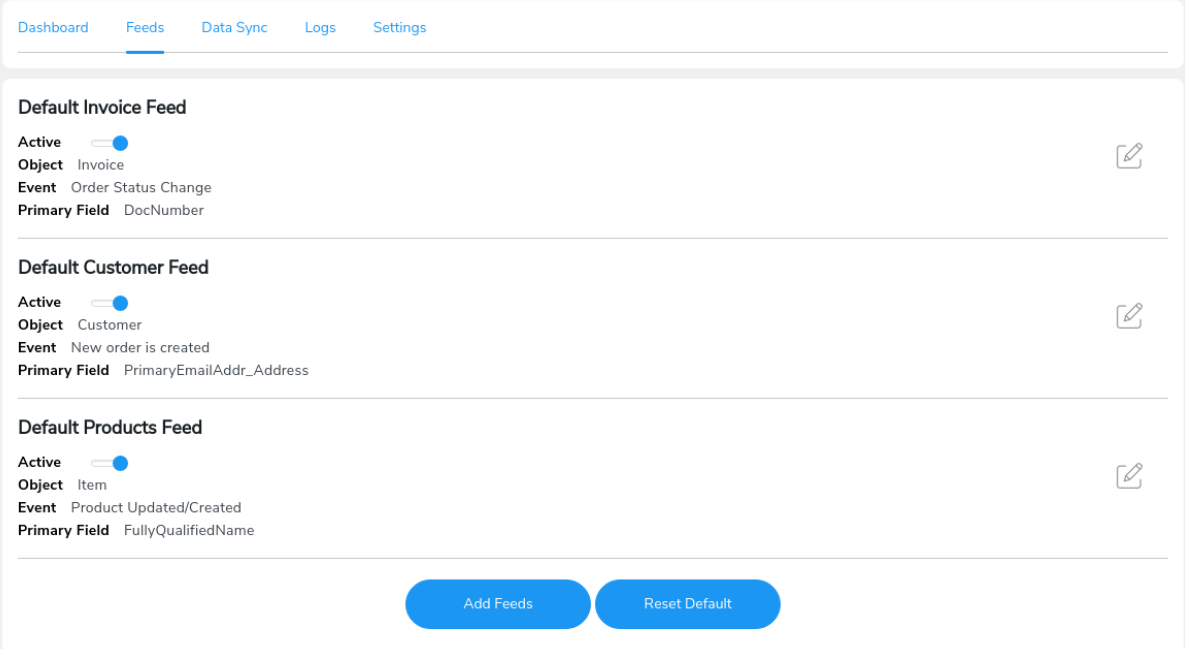 Feeds are the heart of this QuickBooks plugin. After you integrate WooCommerce with QuickBooks using our plugin, you create feeds. These feeds help you sync the data of different WooCommerce objects over QuickBooks.
The best part about these feeds is that you can customize them as per your needs. You can add fields to sync different data, map those fields, select the event that'll trigger that feed, map QuickBooks account, and more.
2. Historical Data Syncing
With our QuickBooks WooCommerce integration, you can sync all your historical data(existing data) over QuickBooks. This way, you can send all your data whether it is new or old over QuickBooks.
3. Comprehensive Sync Logs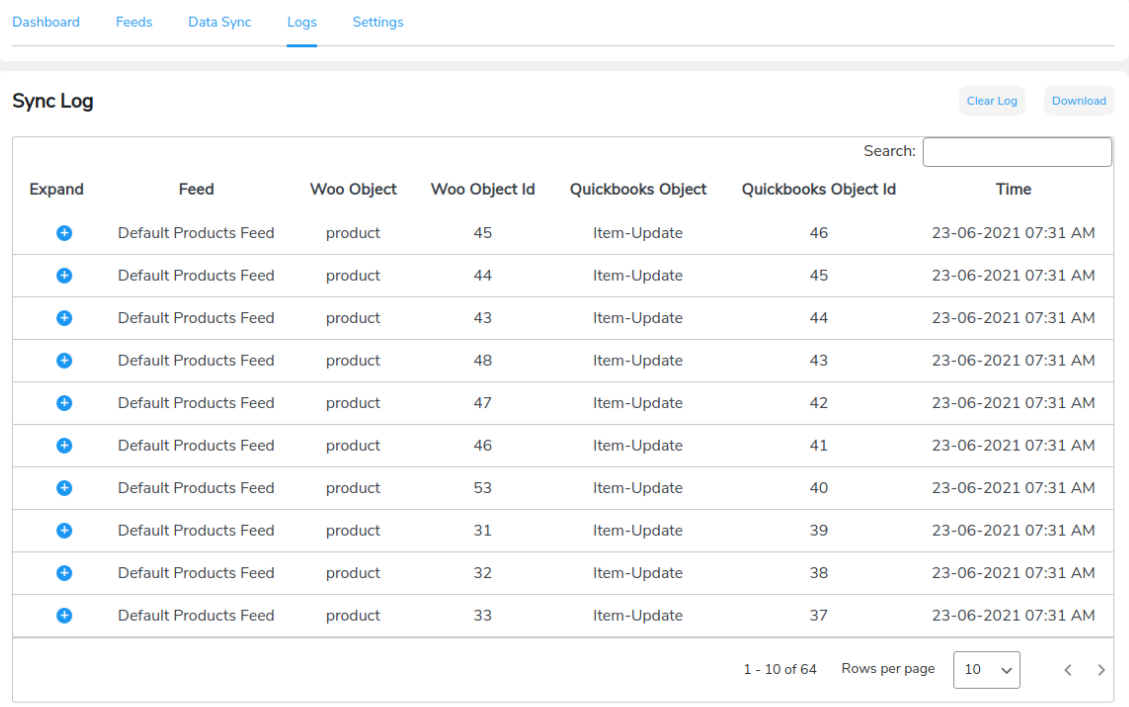 One of the best features of our QuickBooks plugin is that it provides you with detailed sync logs. These logs display all the details of your data you've synced over QuickBooks.
Checking these logs makes it easy to find errors that occur while syncing the data. Moreover, it makes it easy to resolve those errors as well.
4. Different Syncing Options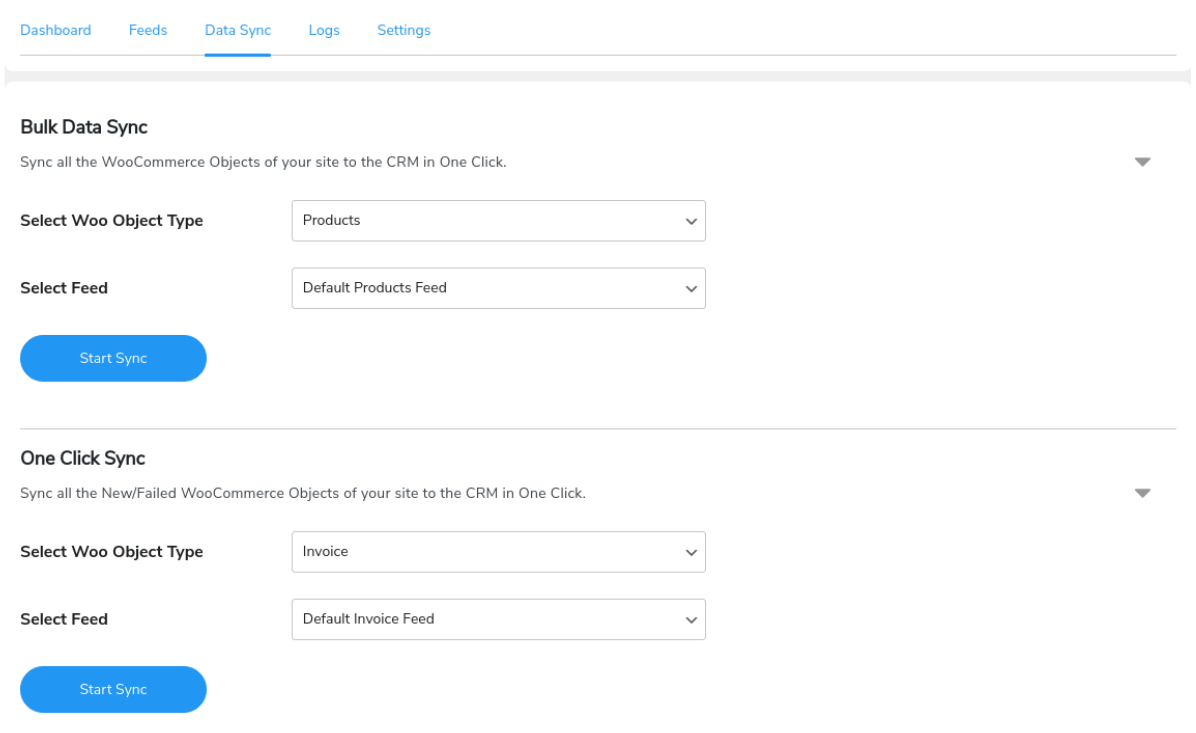 This QuickBooks WooCommerce integration gives you different options to sync your data. You get options like One-click sync and Bulk data sync that lets you sync existing and upcoming data respectively.
Moreover, you also get a background sync option to sync your data in the background so you don't need to wait for the syncing to get completed.
5. Condition Filter in Feed
Sync your data in accordance with your preferences with the help of several filters. You have access to a wide range of filters; you can sort the feeds by dates, precise matches, numbers, texts, and much more.
6. Invoice Status
Automatically create customers and invoices with updated status every time a purchase is made on your WooCommerce store. With this functionality, the status of the invoice in QuickBooks will be instantly updated to PAID after an order or payment is completed on your WooCommerce store.
7. Filter For Errors
Get a full sync log report with the QuickBooks Integration for WooCommerce plugin that enables you to identify errors within seconds. In other words, you can filter out all the errors from the logs area during data syncing.
8. Shipping Charges Syncing
Infinite real-time sync of orders, customers, inventory, and shipping charges i.e. no more manually entering invoices, customers, or goods. No synchronization restrictions now!
9. Log Storing
Store all your log data and also set the number of days you want to store the logs. The logs will automatically delete after a set number of days you select.
10. Sync the Tax value and Tax rate with WooCommerce Quickbooks Integration
With this feature, tax value, and tax rate will also be synced to QuickBooks invoice along with the orders.
For error-free syncing with the orders at both ends, the same tax rate must be created at the QuickBooks invoice end as well.
QuickBooks WooCommerce Integration Pricing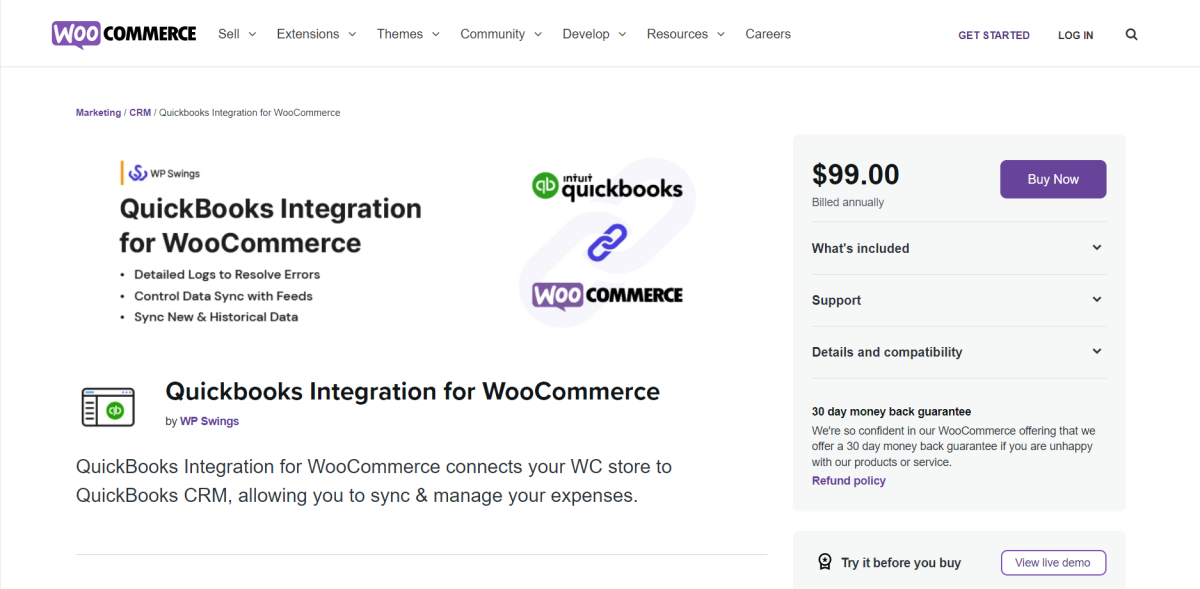 The QuickBooks Integration for WooCommerce plugin is priced at $99/year.
That works out to $8.25 a month. That's cheaper than a large pizza(sometimes medium as well).
So by paying $99 only, you'd be getting amazing features to make the bookkeeping smooth for a year.
Build an Effective eCommerce Customer Support for Your Store.
It's all about Customer Service!
Steps to Integrate WooCommerce with QuickBooks
In order to Connect QuickBooks with WooCommerce requires a tool. There are several tools out there that let you do that.
But I think the best QuickBooks plugin that would be one that is easiest to use. And we've created this QuickBooks WooCommerce integration that makes it easier to connect your WooCommerce store with QuickBooks.
It is called QuickBooks Integration for WooCommerce. You can find it on the WooCommerce marketplace. As usual, it lets you integrate WooCommerce with QuickBooks and sync your data on the accounting platform.
Simplify Your WooCommerce Store's Bookkeeping!
Integrate WooCommerce with QuickBooks using our integration and manage your financial activities with ease.
Note: This Integration connects with QuickBooks online only.
So let's now talk about how you can integrate WooCommerce with QuickBooks using our QuickBooks Integration plugin.
Here are the steps you need to follow to successfully integrate QuickBooks with WooCommerce.
Download our QuickBooks WooCommerce Integration plugin from the WooCommerce marketplace.
Install it on your website from your WordPress dashboard.
After installing the plugin, you'll see a WP Swings tab on your WordPress dashboard. Navigate to WP Swings > QuickBooks Woo and you'll see a Connect Your Account button there.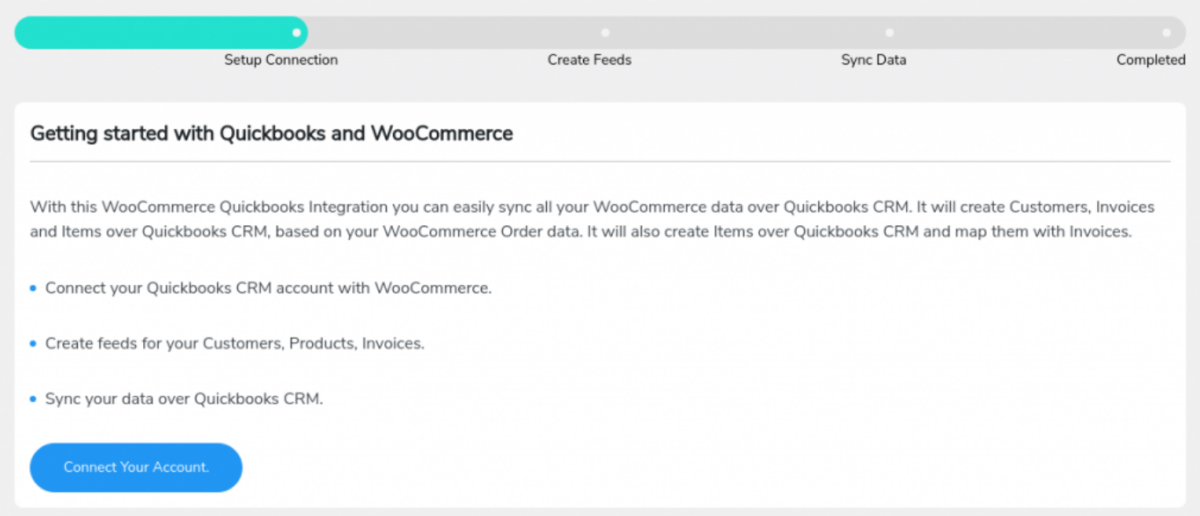 Click on the button and you'll see some fields asking you to enter some credentials like:
Client ID
Secret ID
Connection Type
Redirect URI
Here are the steps you need to follow to get these details:
Click on the Get API keys link
You'll be redirected to QuickBooks where you need to create your QuickBooks account if you don't have one
Once you create your account and login, you'll see QuickBooks console window where you need to create a new application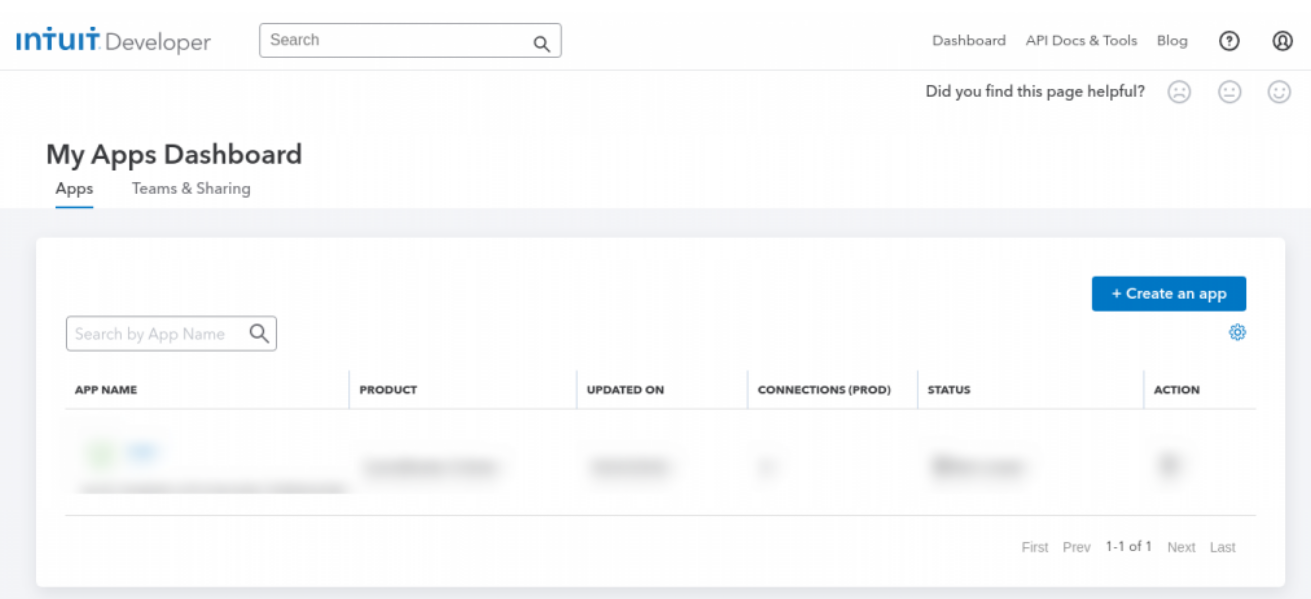 Select the "QuickBooks Online and Payments" platform.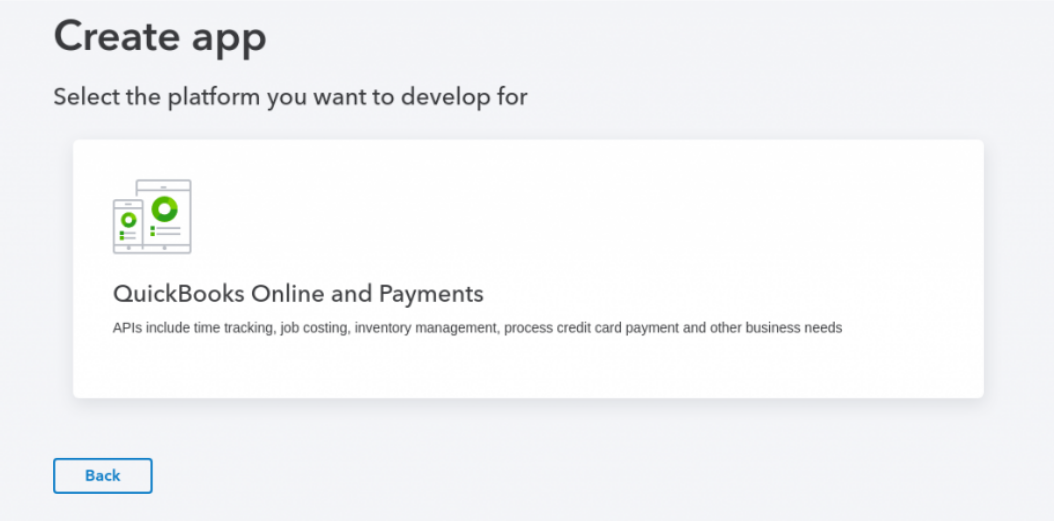 Add the required details and you'll see a dashboard like this: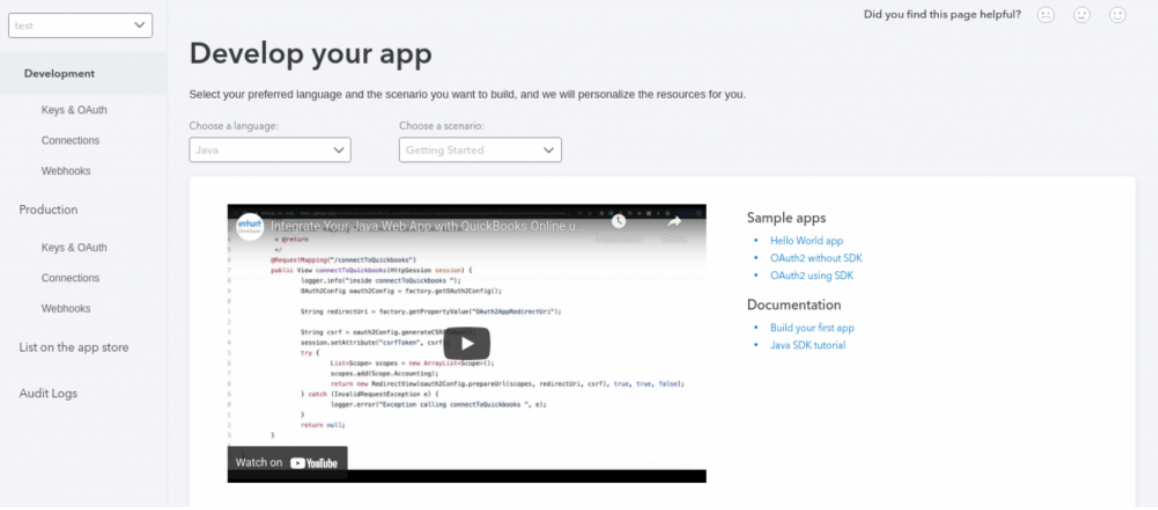 Under the Development tab, click on Keys & OAuth and there you'll see Client ID and Client Secret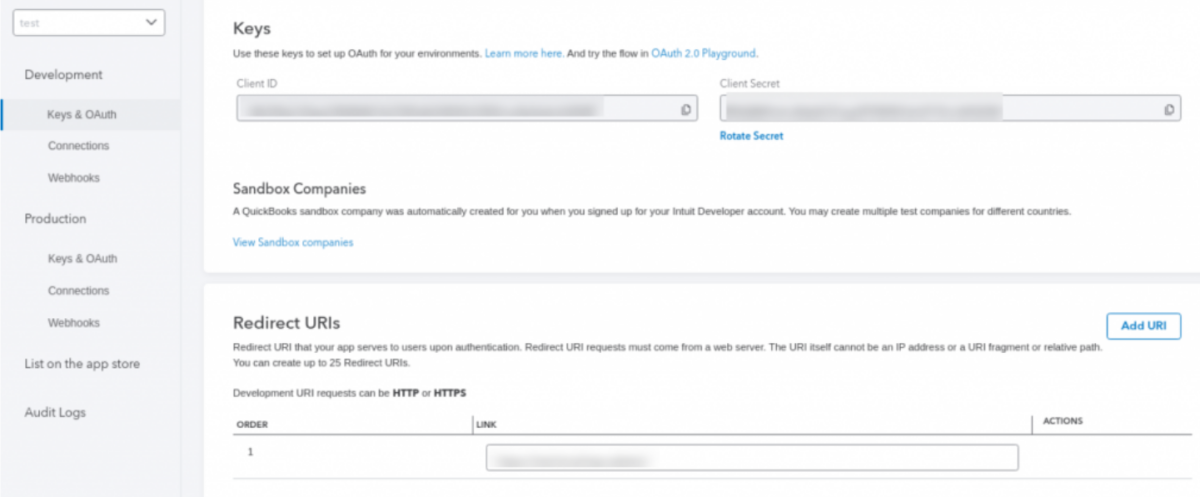 You'll see another option named Redirect URI's. Add your website's URL there and save the changes.
Now go back to the plugin, enter the credentials and click on Authorize and your connection will be successfully authorized.
Now you can move to the next step where you need to create feeds. Click on the Create Feeds button and the feeds will be created.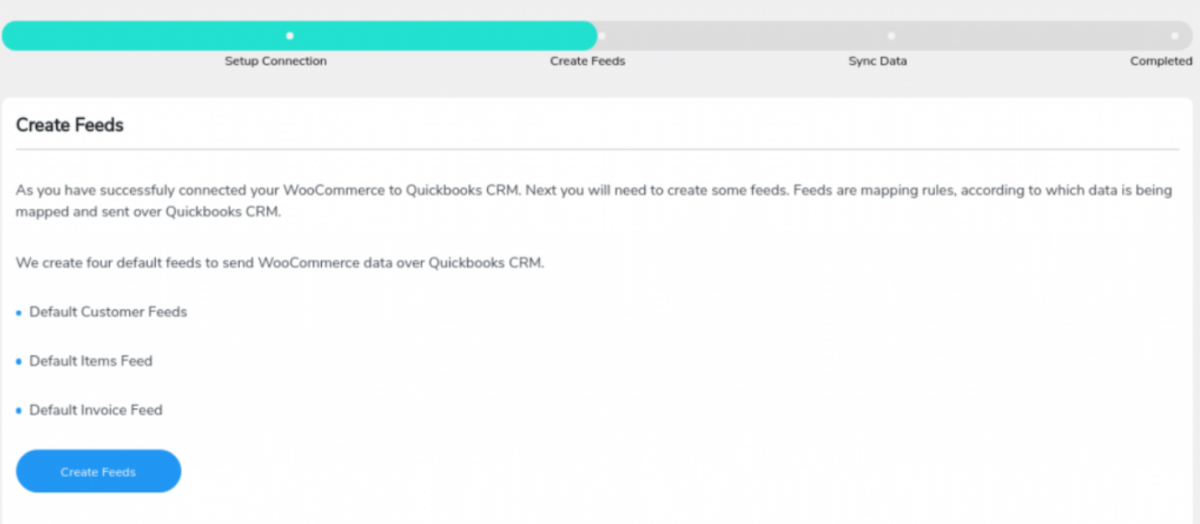 After that, you'll see the button Complete Onboarding. Click on it and you'll be all set to go.
Now you know how to integrate WooCommerce with QuickBooks, what plugin you need for it, how to set that plugin up, its price and all.
You can also go through the link below to visually get a better understanding of how it's done.
Top Plugins for WooCommerce & QuickBooks Integration
The top plugins for WooCommerce and QuickBooks integration are shown below.
1. QuickBooks Integration for WooCommerce
QuickBooks is one of the most used accounting plugin for WooCommerce that works in a one-way data sync method that connects your WooCommerce store to QuickBooks. It allows you to sync data from your online store to the platform. It syncs the data for objects like Orders, Customers and Products as per the modules of QuickBooks. QuickBooks Integration for WooCommerce allows you to create Customers, Items, and Invoices on the platform.
2. Zapier
Zapier uses tiny connections known as "Zaps" to link many systems together, like QuickBooks and WooCommerce. There is an Action and a Trigger for every Zap. For instance, a new order placed on WooCommerce could be a Trigger, and an Action
3. OneSaaS
The OneSaaS app will be your best option if you require two-way support with real-time QuickBooks sync for WooCommerce websites.
When OneSaaS is connected to your WooCommerce store, you may manage practically all business operations from this location.
Final Thoughts
Accounting involves money. And I'm sure you don't want any sort of trouble with your money-related activities. So when you're using tools to handle accounting, you must make sure it's reliable, secure, user-friendly.
And QuickBooks has all the qualities of such a tool. So if you plan to use QuickBooks at your WooCommerce store, try our plugin. Integrate WooCommerce with QuickBooks using our QuickBooks Plugin-QuickBooks Integration for WooCommerce. Follow the steps I shared above or you can also get the app right here. Make your bookkeeping a cakewalk!