Hospicall generated PDF files that contributed directly to an increase of 20% in traffic and a rise in engagement to their website. Thus, Hospicall found the PDF Generator exactly the way they wanted it.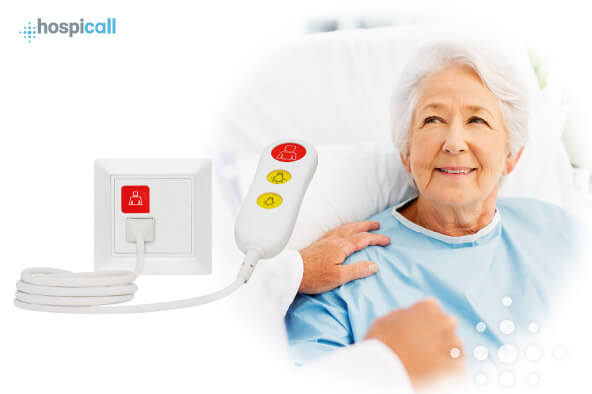 Industry: Electrical, and Electronics Manufacturing
Shopping Cart: WooCommerce
Key Features: Generate PDF format from live WordPress posts, Bulk Export for Generated PDFs, full customization support, add QR Code, RTL support, and much more.
What the Company is All About?
Hospicall is a website that works on delivering electrical and electronic products. It offers an entire solution for appliances, installers, and operators. They also offer easy and quick integration into the electrical installation. The design and solutions of the products are innovative and customer-oriented. 
The company also provides assurance of high standards in quality and control to guarantee optimal product quality and services to the customers.
What Were Their Challenges?
Hospicall has always delivered products and services that qualified them to excel within the electrical and electronics manufacturing industry. All they wanted was to convert the products into a shareable PDF format. This made them able to efficiently spread their brand and increase their audience reach.
What Is The Solution And Where Did They Get That?
Hospicall started using the PDF Generator for WordPress developed by the team at WP Swings. This decision resulted in immediate benefits for Hospicall in terms of traffic, the number of sessions, and engagement rates.
How Did PDF Generator for WordPress Plugin Help Them Achieve Goals? (Most-Relevant Rated Features As Per Use)
Bulk Export for Generated PDFs –
This plugin helps you to download PDF files in bulk. You can download numerous pages and posts as PDFs at once. Even you can export the generated PDF files in bulk form into the template of your choice.
Add QR Code to Generated PDF Files –
This WordPress PDF Generator plugin allows you to place a QR Code in your generated PDF file. You can add a scannable QR code in your PDF file in the header, footer, and body section wherever you want to add it.
Create Custom Cover Page –
The admin can now create a custom cover page according to their preference. With the predefined WordPress PDF templates, you can upload the images of your own choice. This plugin allows you to create templates by using the Gutenberg editor. Now you can spread your brand effectively with the help of all these customizable PDF designs.
RTL Support –
The PDF Generator plugin provides RTL support for Arabic and Hebrew fonts. With this unique feature, you can easily convert the generated PDF files into other fonts.
Send PDF As An Email Attachment –
With the help of this WordPress PDF Generator plugin, you can send PDFs through email. The admin can now choose to send PDFs straight to the guest user's email address.
How These Features Of PDF Generator For WP Pro Plugin Helped In Their Store's Growth?
Hospicall said that their customers could download and generate more PDFs from their content quickly. Also, they are now able to add different information to the PDF files. They observed a 20% increase in traffic after proposing to convert their product pages into PDF files. They also saw an equal percentage of hop in the number of sessions.
A Short Quote From Hospicall
"Yes! I really love the solution and would recommend it to other of my customers. Great tool!"

~Hospicall
Is The PDF Generator for WordPress Plugin Worth Recommendation?
Yes, I recommend the PDF Generator for WP Pro Plugin because it is a great tool.