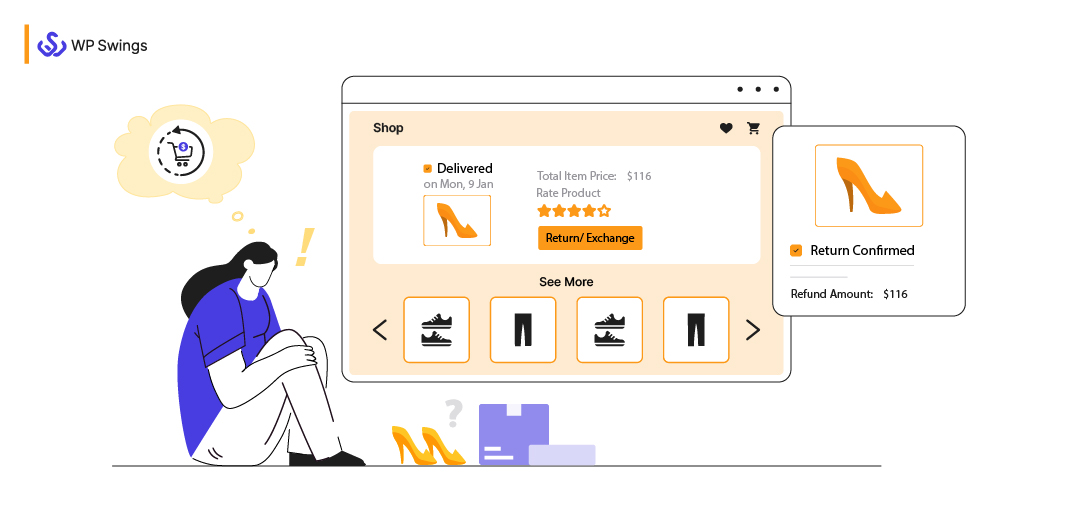 The rise of Multivendor Marketplaces is transforming the way we Shop and do Business. They offer the perfect combination of Convenience, Choice, and Accessibility, making them the Future of eCommerce.

– John Donahoe, CEO of eBay
Multivendor stores have a lot of potential for growth in 2023 due to the increasing popularity of online marketplaces and the growth of eCommerce. The eCommerce market is projected to reach $4.9 trillion by 2021, and a significant portion of this growth is expected to come from the multivendor marketplace model.
This model allows multiple sellers to sell their products on a single platform, providing a convenient and diverse shopping experience for consumers.
According to a survey by Grand View Research— "the global multivendor eCommerce market is expected to grow at a compound annual growth rate of 19.7% from 2020 to 2027."
This growth is driven by factors such as the increasing penetration of the internet and mobile devices, as well as the growing demand for convenient and diverse online shopping experiences.
Do Multivendor Store Motivates You to Gain More, Don't Worry We Have One More Chap for You With Us….
Every business and every marketplace is and will be different. Even for those competing in the same space. You can never have too much planning when it comes to launching and maintaining a successful multi-vendor marketplace.
WooCommerce provides a lot of tools to make running your multi-vendor marketplace easy..….
With these factors in mind, it's clear that multivendor stores have a lot of potential for growth and success in 2023 and beyond.
What Do the Statistics Speak About???
Here are some key statistics related to the setup return system for WCFM i.e. a multivendor store and their significance for a returns and refunds solution—
1. High Return Rates
According to a Survey, 30-40% of all products purchased online are returned. This high return rate highlights the importance of having a robust and efficient RMA (Return Merchandise Authorization) system in place.
Returns can be costly for businesses, both in terms of the cost of the returned item and the cost of processing the return. A returns and refunds solution can help minimize these costs by streamlining the returns process.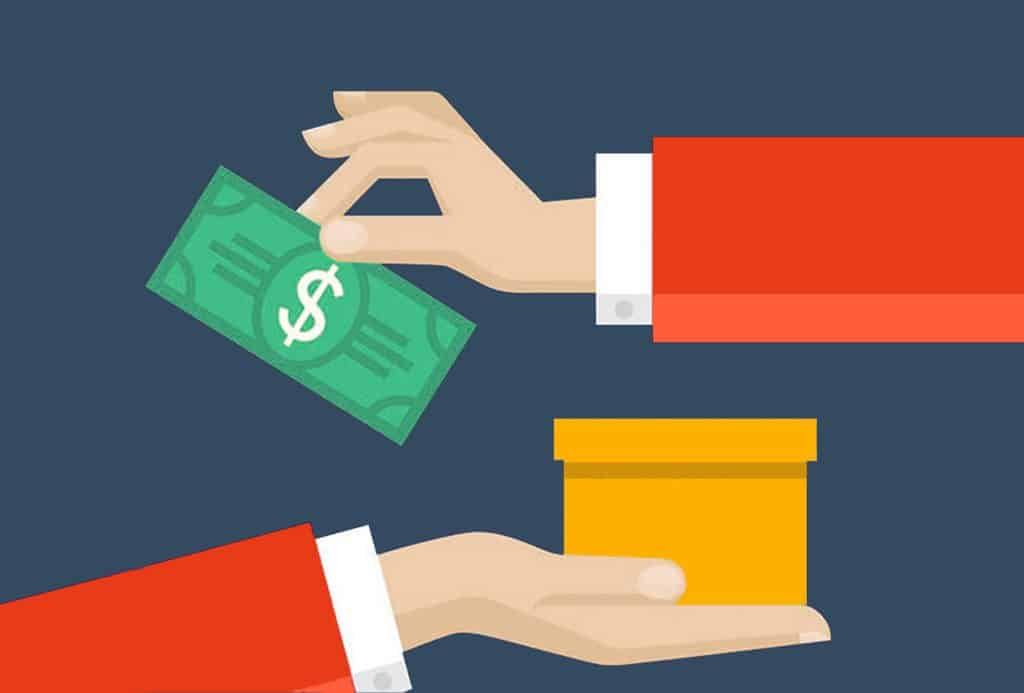 2. Customer Satisfaction
A survey by Accenture found that a positive return experience can increase customer loyalty by up to 50%.
A smooth and hassle-free RMA process can increase customer satisfaction and build customer trust, leading to increased customer loyalty and repeat business.
3. Dispute Resolution
A study by MetaPack found that having a clear and efficient returns process can reduce disputes by up to 75%.
By having a clear and consistent RMA process in place, disputes can be resolved quickly and effectively, helping to prevent negative customer experiences and negative reviews.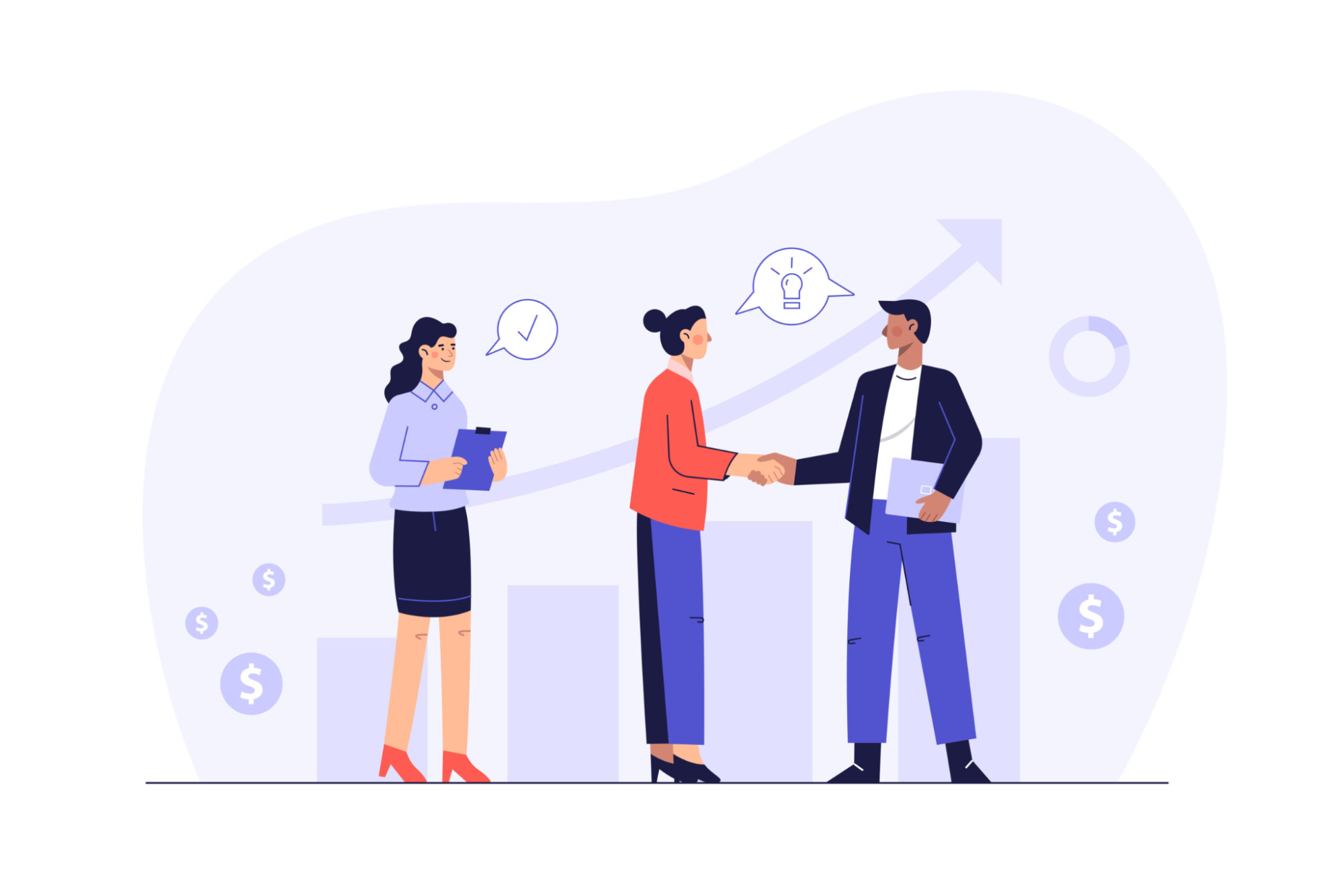 4. Compliance
In some cases, businesses are required to comply with legal or industry-specific regulations related to returns and refunds. An RMA system can help ensure that a business is in compliance with these regulations.
Finally, managing returns and refunds is an essential part of managing a multivendor store. Don't waste time second-guessing; just start setup the return system for WCFM.
A strong and effective RMA system may reduce expenses, raise customer happiness, settle disputes, and maintain compliance, all of which contribute to greater corporate performance in general.
What's So Special About the RMA System for a Multivendor i.e. WCFM?
A return/refund manager is an important component of a WCFM (WordPress Multi-Vendor Marketplace) store as it provides a systematic process for managing product returns and refunds.
The RMA system is especially important for a multivendor marketplace like WCFM because it helps to ensure customer satisfaction and build trust in the marketplace. A well-functioning RMA system can handle returns and exchanges smoothly and efficiently, providing customers with a positive experience. This, in turn, can lead to increased customer loyalty and repeat purchases.
Multivendor stores are the future of eCommerce, providing consumers with a diverse and convenient shopping experience and offering businesses a new and powerful way to reach customers.

– Julie Supan, CMO of BigCommerce
In a multivendor marketplace, the RMA system can also help to fairly distribute returns and exchanges between vendors and ensure that each vendor is held accountable for the products they sell. This helps to maintain the integrity of the marketplace and ensures that customers continue to view the marketplace as a trustworthy source for their purchases.
GOOD NEWS !!!
We have a special solution for this issue with WooCommerce WCFM Multivendor Marketplace.

The RMA WCFM For WooCommerce plugin enables sellers to manage requests for returns and exchanges of the products they have offered.
By employing a return/refund manager, the business can increase client happiness, lessen consumer complaints, and make sure that its return and refund policies are understood and followed.
This can then result in enhanced client relationships, elevated client retention rates, and enhanced business performance. Overall, an effective RMA system is essential for the success and growth of a multivendor marketplace built using WCFM.
How Can RMA WCFM For WooCommerce Be an Asset to Your Multi-Vendor Store?
The goal of WCFM For WooCommerce is to make it simpler for retailers on marketplaces like Amazon to process exchange and refund requests. Customers and store managers gain the following advantages from it.
An RMA (Return Merchandise Authorization) system for a WCFM (WordPress Multi-Vendor Marketplace) store can be an asset to the store in several ways—
1. Helps you in Improving Your Customer Experience
With a clear and organized RMA process in place, customers can easily initiate a return or refund request and receive prompt resolution, leading to improved customer satisfaction.
2. Provides Refund/Exchange/Cancel Requests Interface
WooCommerce WCFM allows its users to provide a smooth and complete interface for refund/exchange/cancel requests. Vendors have the ability to manage refunds and exchange requests.
3. Handy E-Wallet Functionality
The vendors can deposit the refunded money in the eWallet of customers'. The vendor must enable the following settings to manage the number of refunds made to the customer's wallet.
4. Manage Stock on Your Behalf
Store vendors can manage stock availability of the product being requested for any request. The vendor can control the stock of refunded goods.
5. Offer Addon Customizable Email Templates
WCFM Multi Vendor Marketplace For WooCommerce consists of default email templates but it can be customized accordingly to meet your brand theme and content flow.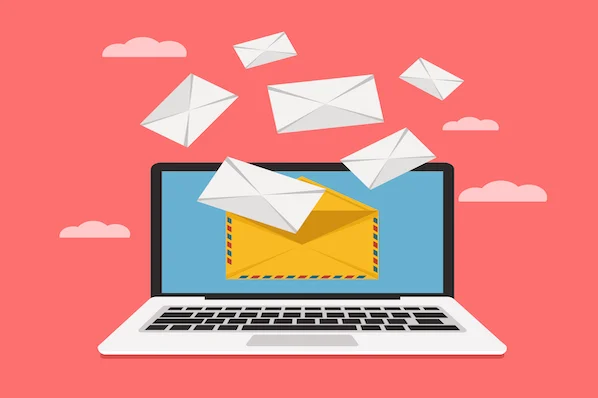 6. Lets You Create A Predefined List of Reasons
Admin can create a predefined list for refund/exchange reasons to bring ease in the refund/exchange process.
7. Tax Amount Deduction on Refunds
If desired, store owners can include or exclude tax amounts on the refund product. Vendors must enable the following options in order to control the number of refunds made to consumer wallets.
8. Facilitates Customer Loyalty
Providing a seamless RMA process can help build customer trust and loyalty, which can lead to repeat business and positive reviews.
A study by Forrester Research found that a positive return experience can increase the likelihood of customers making a future purchase by up to 20%.
9. Improvise Dispute Resolution
By having a structured RMA process in place, store owners can minimize disputes and ensure that return and refund policies are consistently applied.
10. Enhance Your Store Reputation
A study by MetaPack found that customers are more likely to recommend a store with a positive returns experience to others.
By offering a smooth RMA process, a WCFM store can establish itself as a professional and trustworthy vendor, attracting more customers and vendors to the platform.
11. Streamlined Management
The RMA system automates many aspects of the return and refund process, freeing up store owners to focus on other aspects of running the store.
By having an RMA system in place, a WCFM store can improve customer satisfaction, reduce disputes, and streamline operations, ultimately leading to better overall business performance.
Let's Break Down the Setup Return System for WCFM in Simple Steps
In order to begin setup return system for WCFM, administrators and vendors can handle client requests for refunds and exchanges of products. The configuration is really straightforward and simple to understand—
I. Prerequisite Step
Make sure WooCommerce and the WCFM marketplace are installed on your store before installing this extension. You must also download and install our RMA WCFM For WooCommerce extension in your store in order to continue with this.
You can either save your time reading and refer this setup video too-
II. Basic Setup Step
The basic setup refund system for WCFM plugin involves further setting options—
Refund Request Setting
You can give your customers access to the refund set by using the refund product setting. You must first enable these three settings in order to enable this one—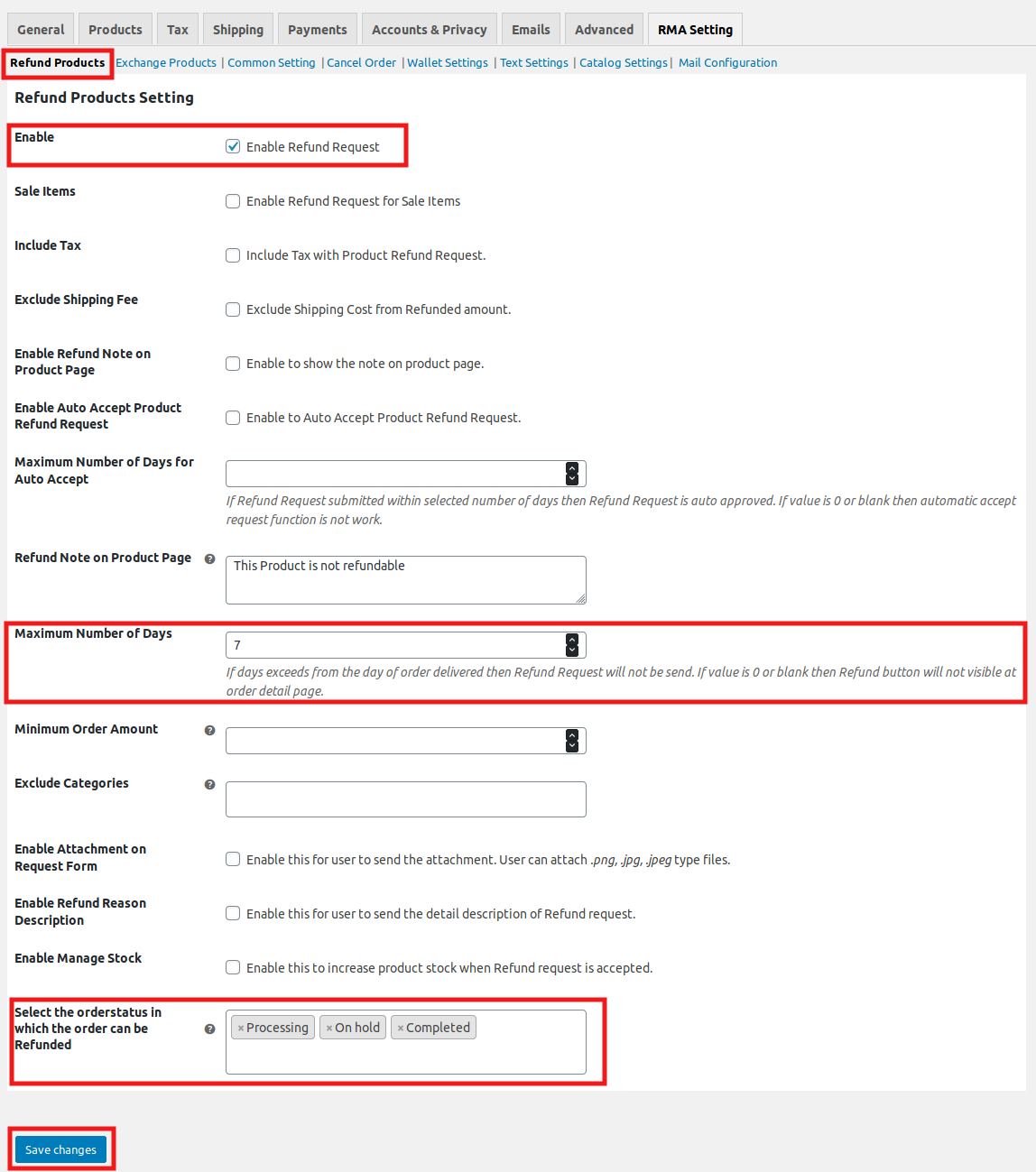 Switch on Refund Request.
Decide on a maximum number of days.
Choose the order status that allows for refunds.
Exchange Request Setting
The administrator has control over the exchange product setting, which enables the exchange product option for your customer. You must turn on these three options in order to enable this setting—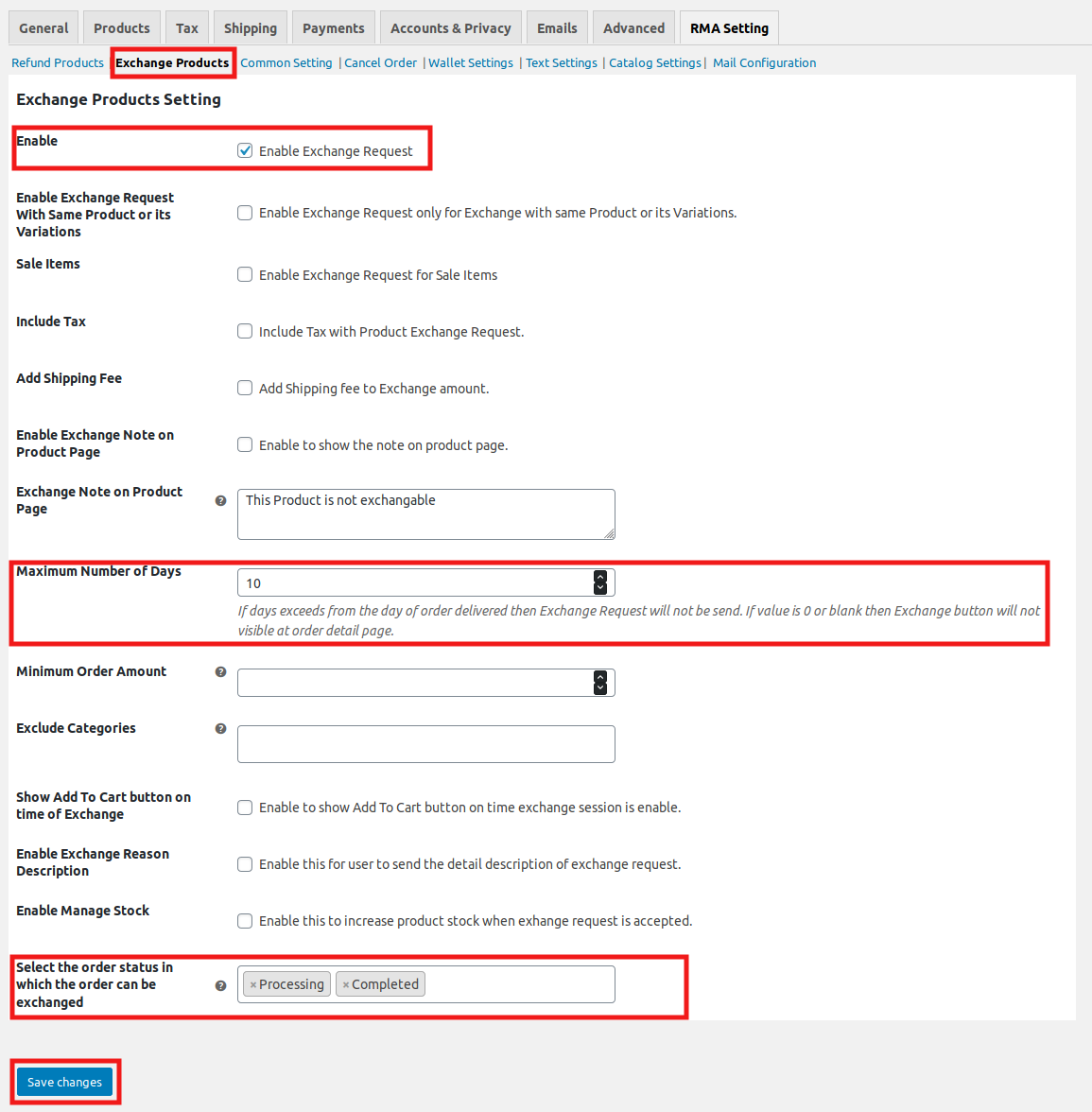 Make Exchange Request available.
Decide on a maximum number of days.
Select the order status that allows you to exchange the order.
Common Setting
You can enable one refund or exchange request per order using this setting. If a refund or exchange request has previously been received for a specific order, it will be disabled.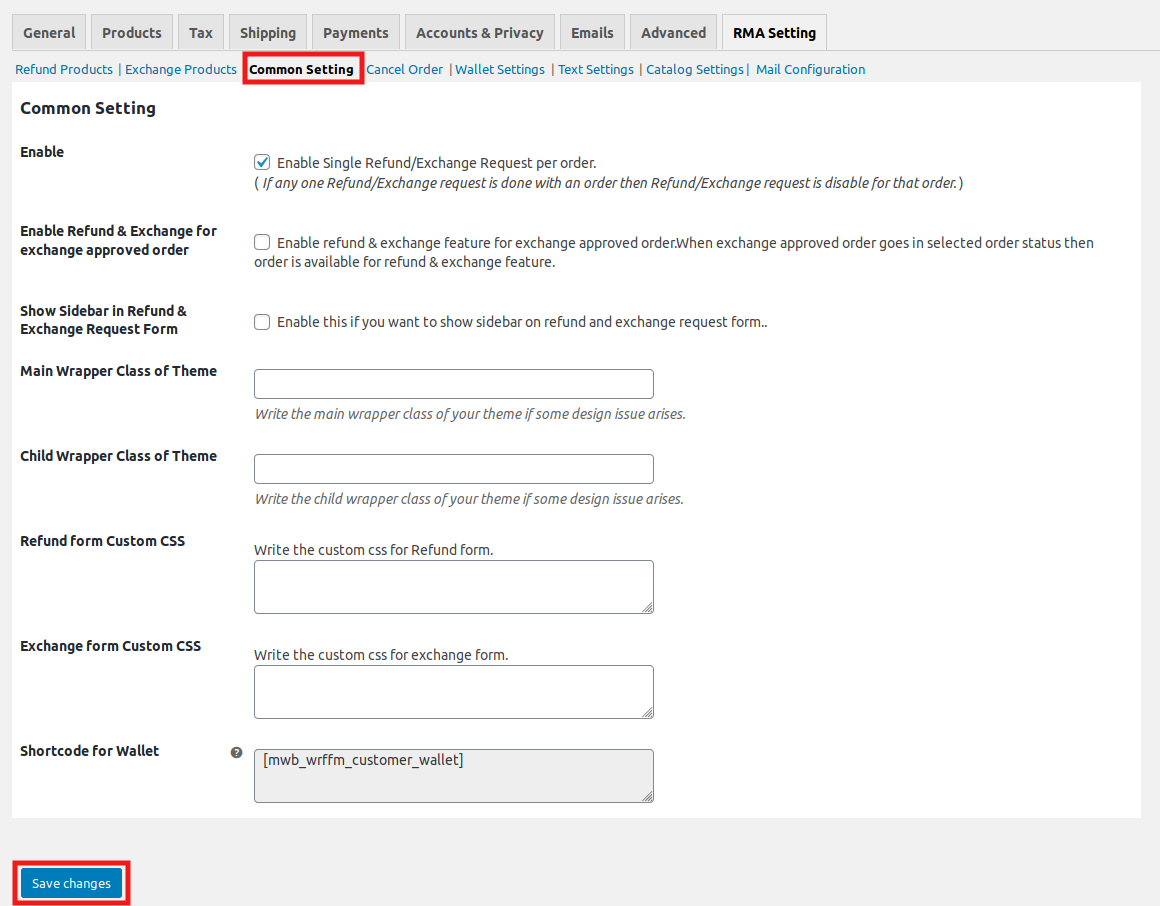 Cancel Order Setting
Enable the Cancel Order setting if you want your customers to cancel their orders after making a purchase.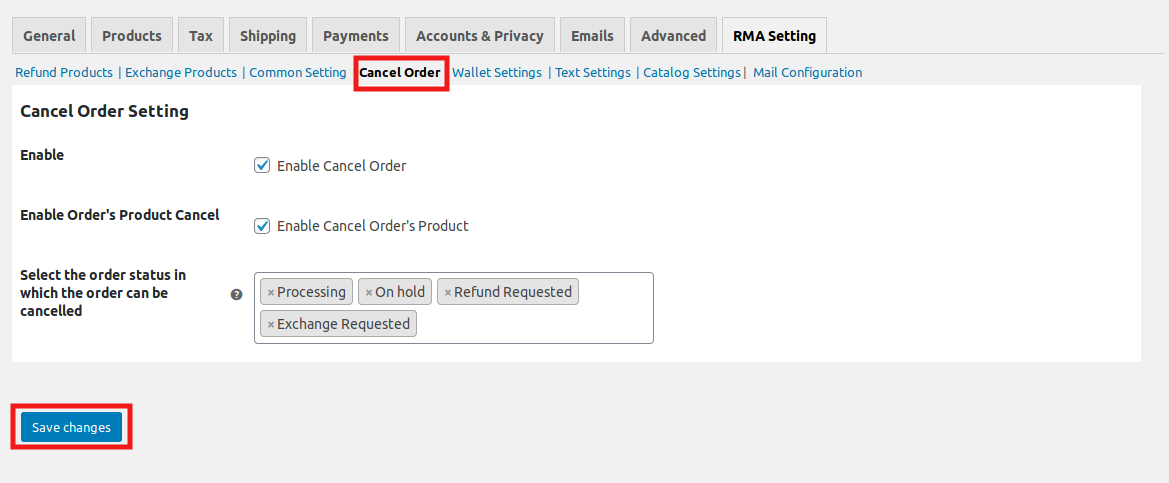 When this option is activated, the customer sends a request to cancel an order by clicking the "Cancel Order" button on the My Account page.
Wallet Setting
Enable "Wallet Settings" if the administrator wants to add the returned money to the customer's wallet.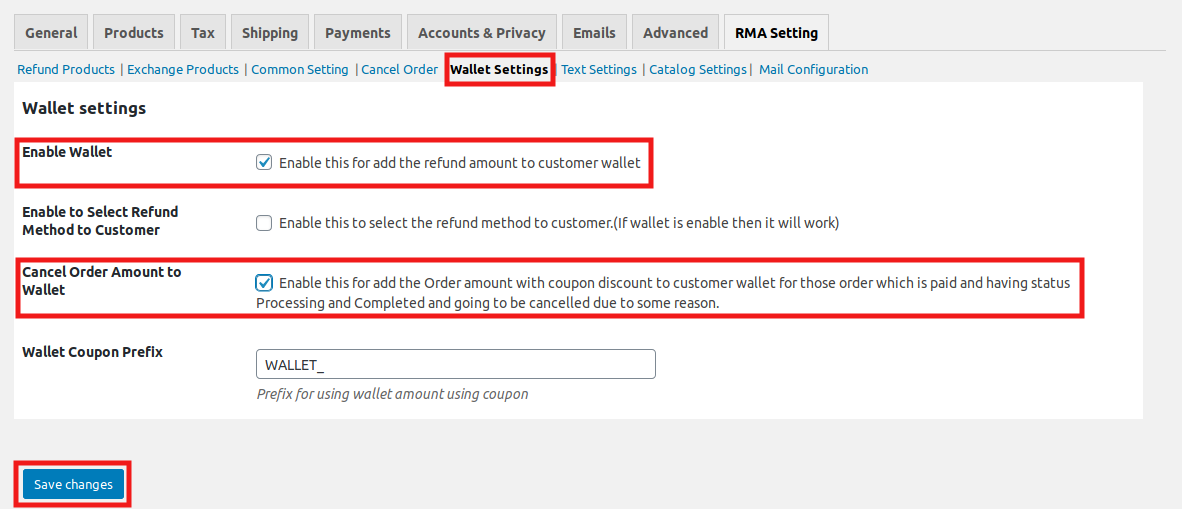 Text Setting
The administrator has the ability to edit the text that will appear on the front-end. He has the ability to alter the text on the guest refund/exchange form, exchange buttons, refund buttons, and many other buttons.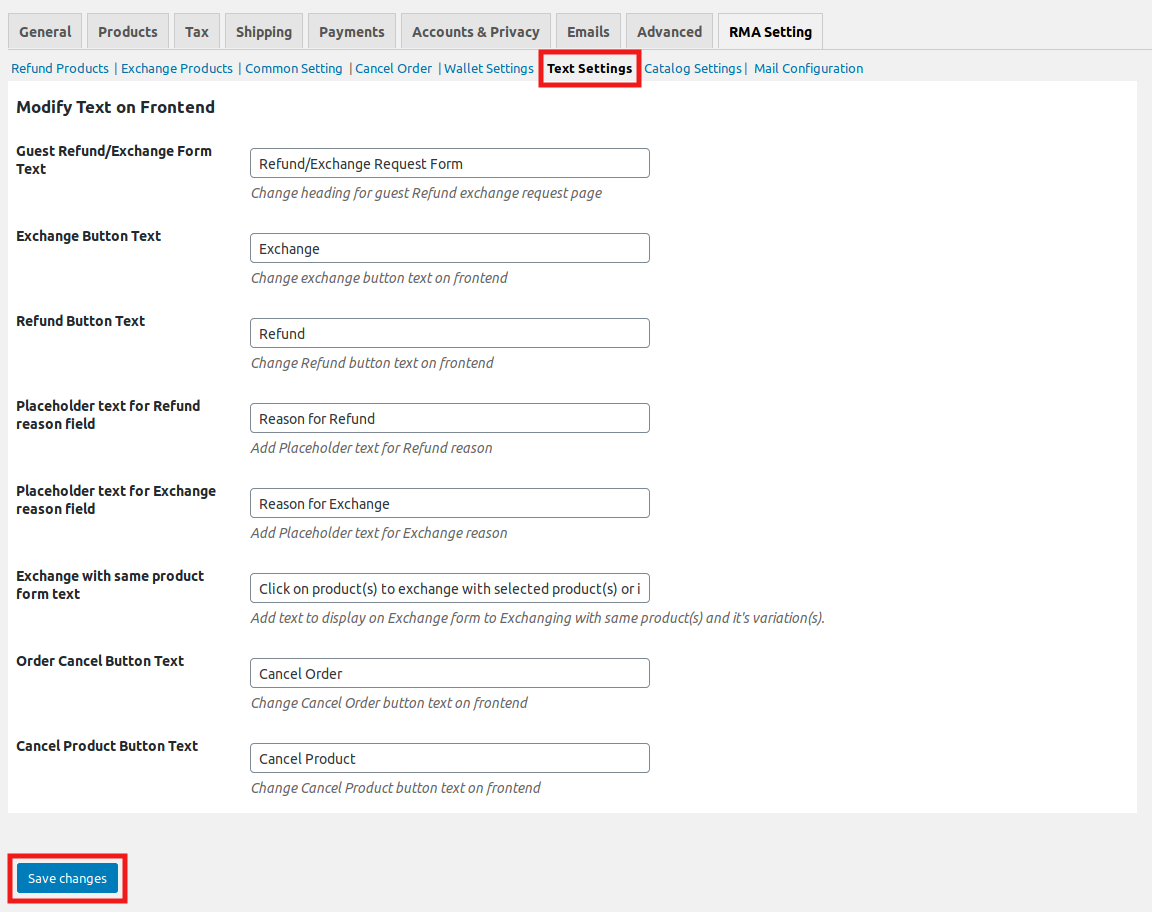 Catalog Setting
By using this feature, you may build a catalog and choose the product categories for which you don't want to accept requests for exchanges or refunds during the chosen time frame.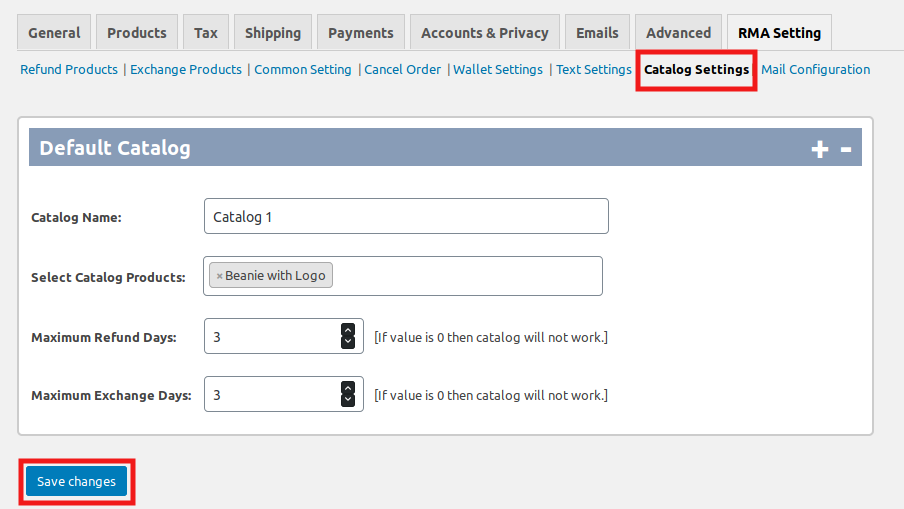 E-Mail Notification Setting
This setting option involves email notification-based setup for your RMA WCFM For WooCommerce.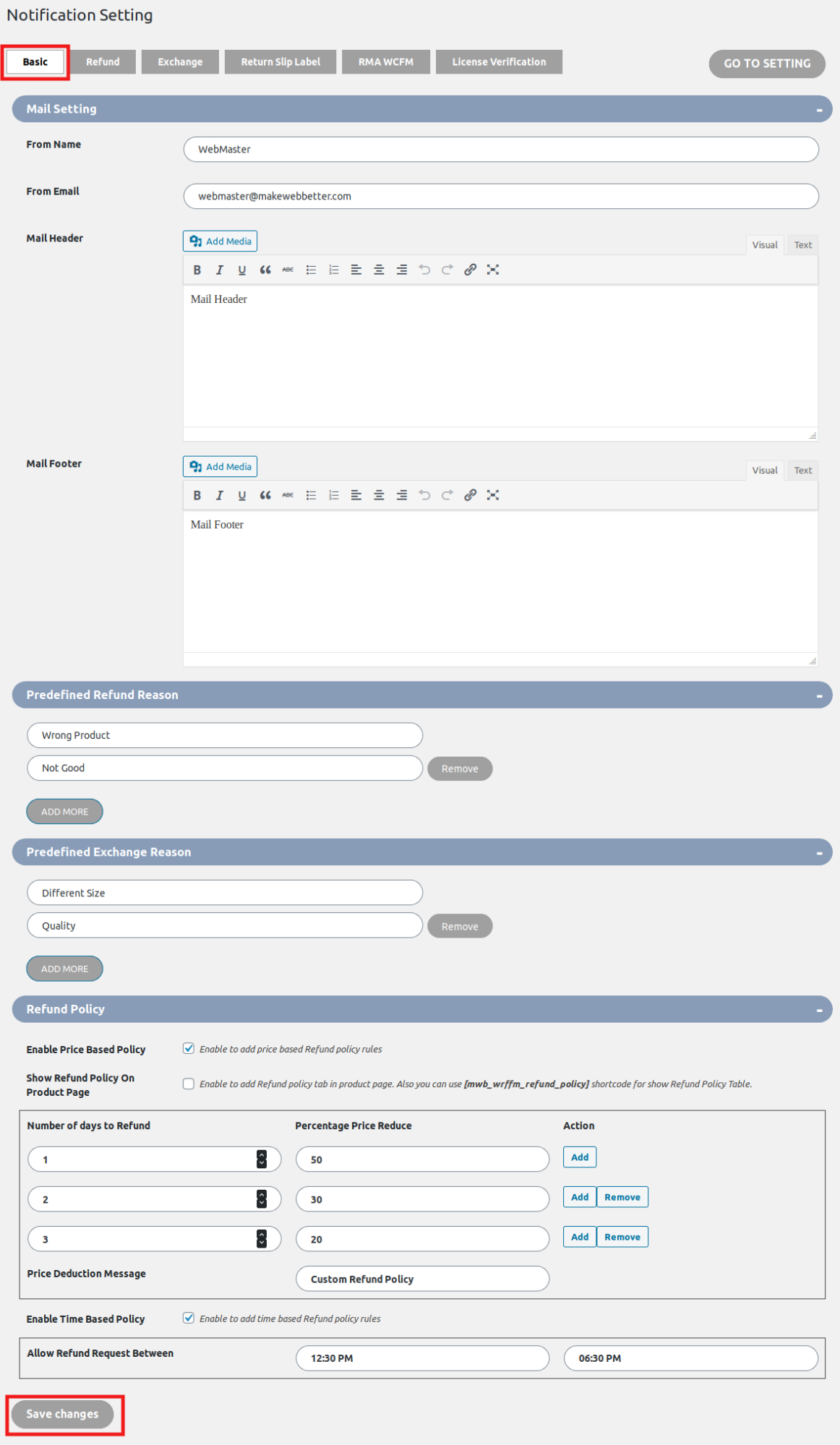 RMA WCFM Settings
The Admin permits the vendor to manage refund/exchange requests, to return money in client wallets, and to allow the refunded product stock under this setting option of setup return system for WCFM.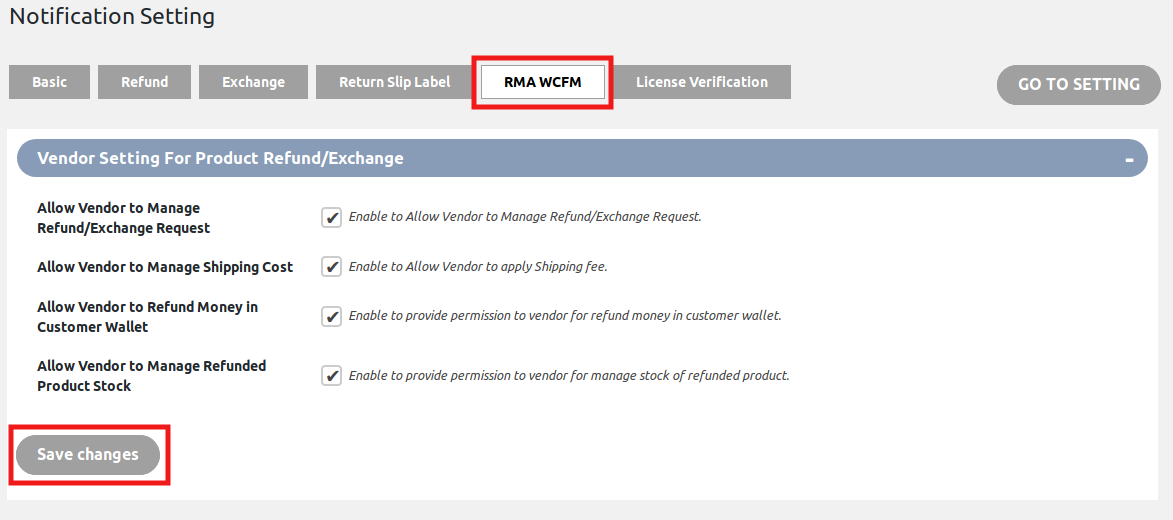 These are the basic setup tabs as well as the descriptions for them in the plugin, you can refer them here carefully and proceed with your setup return system for WCFM.
Are you People Still in Confusions???
Then don't worry just refer to our official plugin documentation for setup refund system for WCFM.
This technique aids in ensuring both consumer satisfaction with purchases and effective return management. A well-implemented RMA system can greatly improve the customer experience and contribute to the success of your marketplace in the long run.
Wrapping Up…
Setting up an RMA system is an important aspect of running a successful multivendor marketplace. The process for setting up an RMA system for a WCFM marketplace involves-
Defining your RMA policy
Creating an RMA form for customers to initiate returns
Assigning RMA codes to each return
Establishing a clear process for handling returns.
As the popular quote goes—
Customer Satisfaction is the Foundation of a Successful Business.
By taking the time to set up refund system for WCFM. You are basically investing in the future of your marketplace and ensuring its success. The multivendor marketplace model continues to grow, and the importance of having a well-functioning RMA system will only increase.
The famous entrepreneur, Richard Branson, once said—

Clients do not come first. Employees come first. If you take care of your employees, they will take care of your clients.
You may apply this to your consumers as well. If you handle their returns, they'll be more likely to shop at your store again.
All the Best…