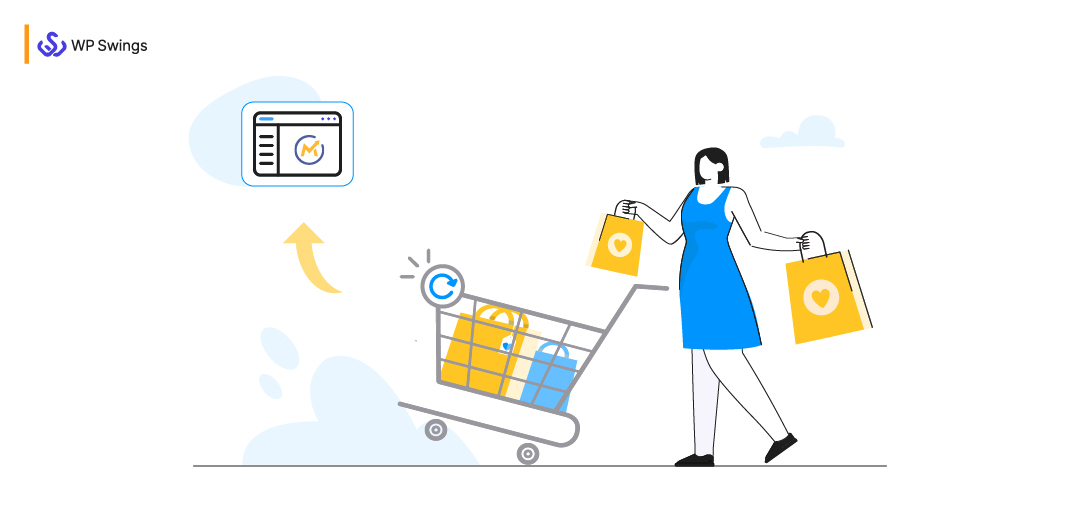 It becomes daunting for eCommerce store owners to handle multiple abandoned carts. It can happen that you have a huge traffic on your website but leads are not turning into customers. As a result, you may be experiencing a loss in sales.
Even statistics show that best-optimized checkout processes possess an abandoned cart rate of 20%.
It seems disappointing. But, if you can bring your cart abandoners back for completing their purchase. Then, you will be able to recover your abandoned carts and boost the sales of your eCommerce store.
You can automate your abandoned cart recovery process and turn your cart abandoners into your regular customers with the help of Mautic Integration for WooCommerce.
Mautic is one of the best open-source Marketing Automation Software and this integration can be really helpful for you in cart abandoned recovery.
So, let us dive in to understand how you can do so.
Step by Step Process to Recover Your Abandoned Carts With Mautic Integration for WooCommerce
Shopping cart abandonment happens at the eCommerce stores. And most of the eCommerce websites are built on platforms such as- Shopify, WooCommerce, Prestashop, BigCommerce, etc.
Among all these platforms, WooCommerce is the one that has the largest user base. Mautic Integration for WooCommerce is a boon to those eCommerce store owners who want to recover abandoned carts automatically with Mautic.
Here is the systematic procedure explained that will enable you to do so.
Checkout the Explanatory Guide About Mautic
Get in-depth knowledge about Mautic, its uses, setup process, costing, and much more!
1. Connect WooCommerce with Mautic
Before proceeding to this journey, you will need to connect your WooCommerce store with Mautic. With the help of Mautic Integration for WooCommerce, you can do so very easily.
This integration will help you create targeted marketing campaigns with the pre-defined customer segments, boost sales, and recover your abandoned carts.
You will be able to perform real-time data synchronization between the Mautic CRM and WooCommerce, segment your customers via RFM analysis, perform dynamic segmentation, create abandoned cart coupons code, and much more!
Create 70+ best practice Mautic custom fields and integrate it with CF7. This integration possesses many amazing features.
So, for recovering your abandoned carts, first you just need to install and connect the plugin then move to the Segments section of this plugin.
Easily Connect Your WooCommerce Store With Open-source Marketing Automation Software Mautic
Mautic Integration for WooCommerce is a boon to store owners who want to speed up their store.
2. Create Mautic Custom Fields
Create custom fields in the Mautic in order to segment your customers. 70+ custom fields are present in this integration that will enable you to capture your customer's data and orders details.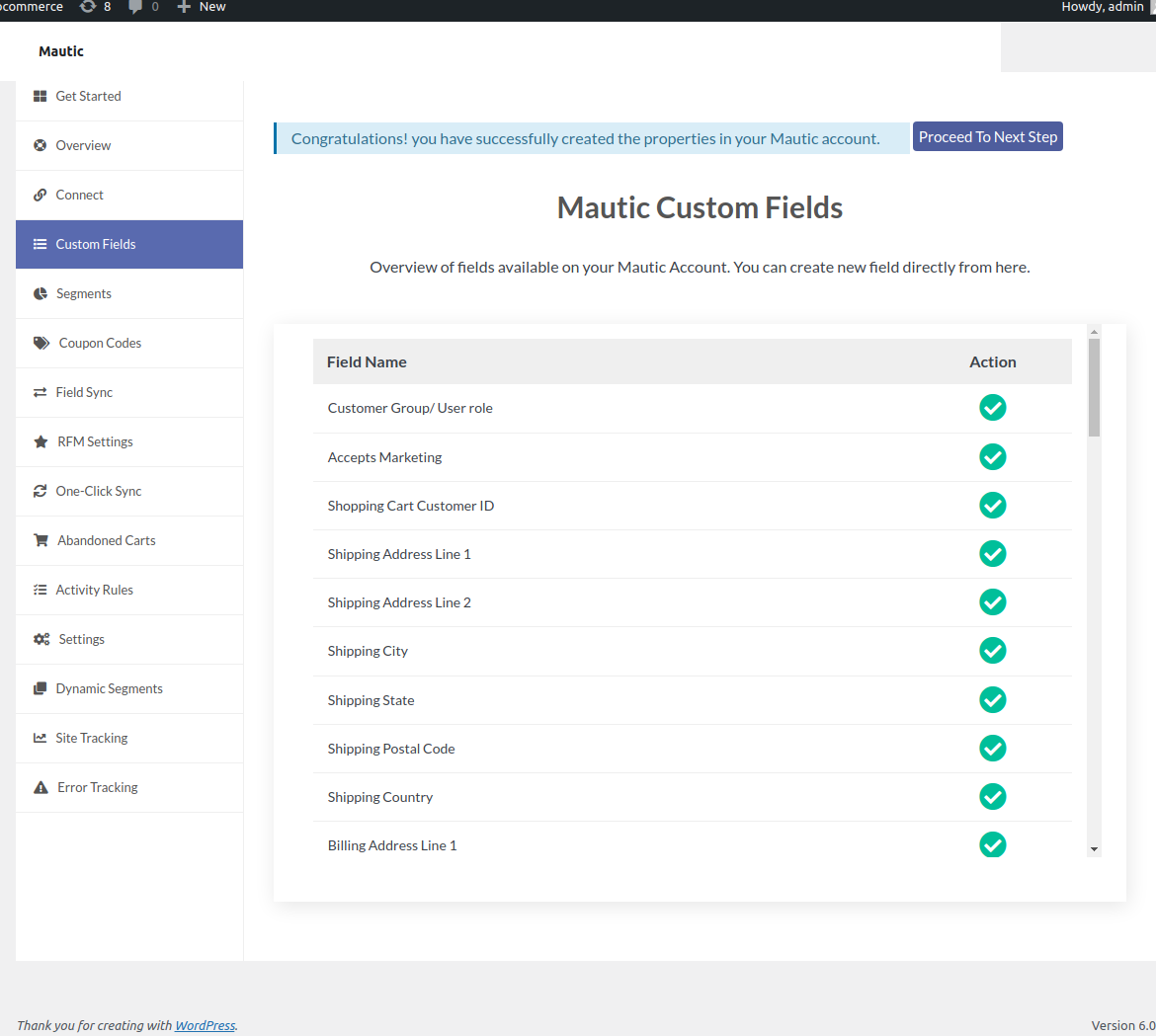 3. Create Your Mautic Abandoned Cart Segment
Once, you have connected your WooCommerce store with Mautic via this integration. Then, you can start creating Mautic abandoned cart segments for your customers. Easily arrange your customers by creating these Mautic abandoned cart segments based on the custom field data.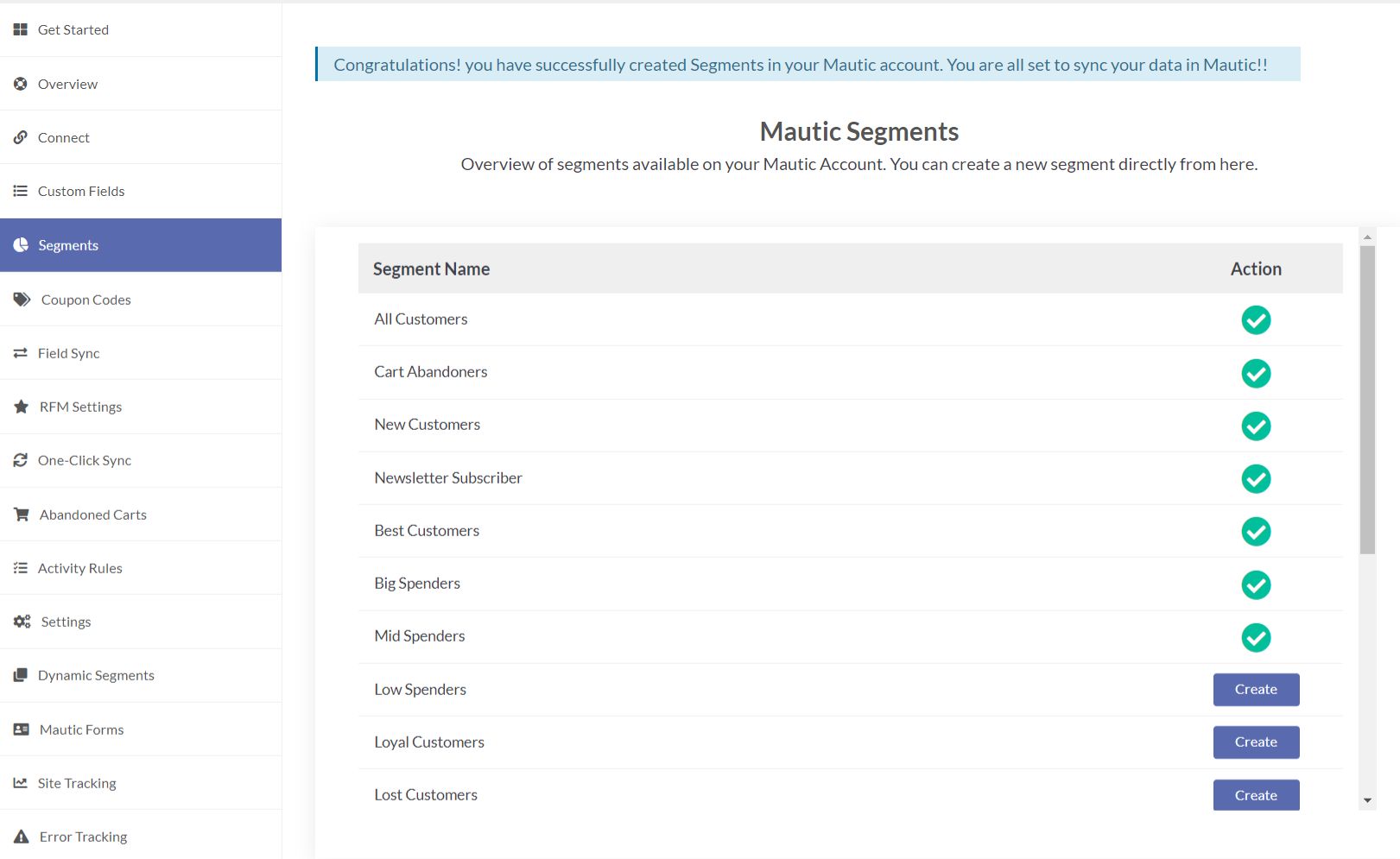 Various segments are present in this plugin. Cart Abandoners is one of the segments of this plugin which contains the data of those customers who add products to their carts and leave the store without going for a final purchase.
Once your Mautic abandoned cart segments are created, you can move to the next step.
4. Generate Dynamic Coupon Codes for Your Segment
Once you have created your Mautic abandoned cart segments, then you can start creating dynamic coupon codes for them.
One of the best ways to recover your abandoned carts is offering cart abandoners incentives or discounts which can prompt customers to buy the products.
For it, you need to go to the Coupon Codes section of the Mautic Integration for WooCommerce plugin. There are mainly three tabs available- Coupon Generation Rules, Coupons Generated, and Coupon For Segment.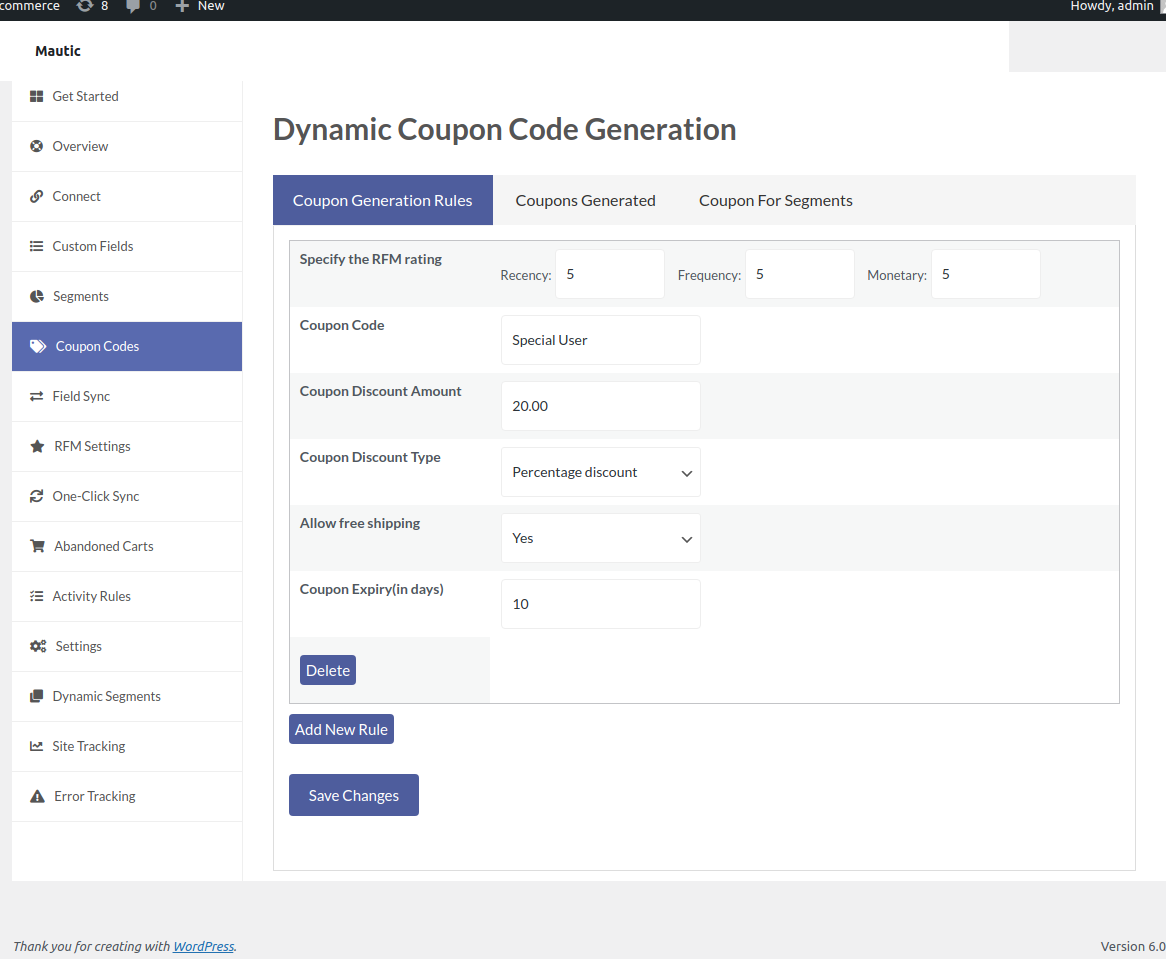 In order to generate coupon codes based on RFM ratings of customers, you will need to click on the Coupon Generation Rule. You will find all the coupon details that you have generated in the Coupons Generated Tabs.
However, if you want to send coupons to your specific customer segment, just click on the Coupon Code Segments. The customers who belong to the selected segment will be able to use the coupon you selected.
After that you can perform field-to-field  synchronization, set RFM settings, and one-click sync.
Mautic Is One of the Best Open-Source Marketing Automation Software
Automate your repetitive tasks by performing lead generation and nurturing, contact scoring, user activity tracking, campaign creation, and much more!
5. Create Targeted Multi-Step Campaigns
After generating the coupon codes and assigning it to particular segments, you need to create campaigns. Campaigns are used for retargeting customers and in this case-cart abandoners.
Mautic Integration for WooCommerce enables admins to create personalized multi-step campaigns.
Carefully look below the image in order to learn the steps you need to create a campaign for cart abandonment that helps you recover your lost sales.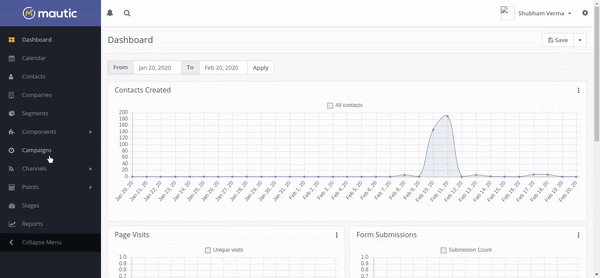 Once you have reached the Decision, Action, and Condition stage, you can modify your campaign as per your needs.
Modify Campaigns
Select Action and choose Send Email option from the dropdown and name that action as Send Email Cart Reminder. This action will send an email to the users who have added products in their cart but didn't buy them.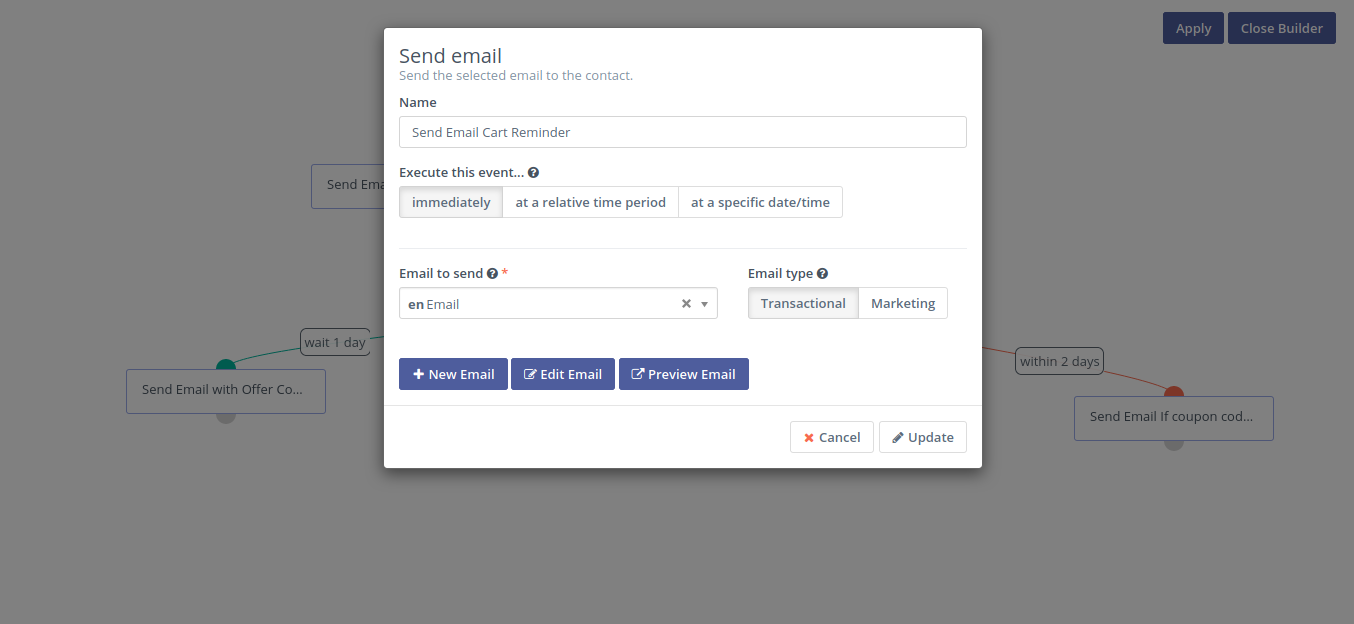 Choose the time for which you want to send the email. After adding that action, add a Condition to your campaign.
Choose the Contact Field Value option from the dropdown and name it a Check Coupon Code. You can add the time of the execution, select Coupon Code Offered from the Contact Field dropdown, Equals in the operator, and add coupon code in the Value section. Then click on Add to save the changes.
This condition will check whether the cart abandoner has the coupon code which you have entered in the Value textbox.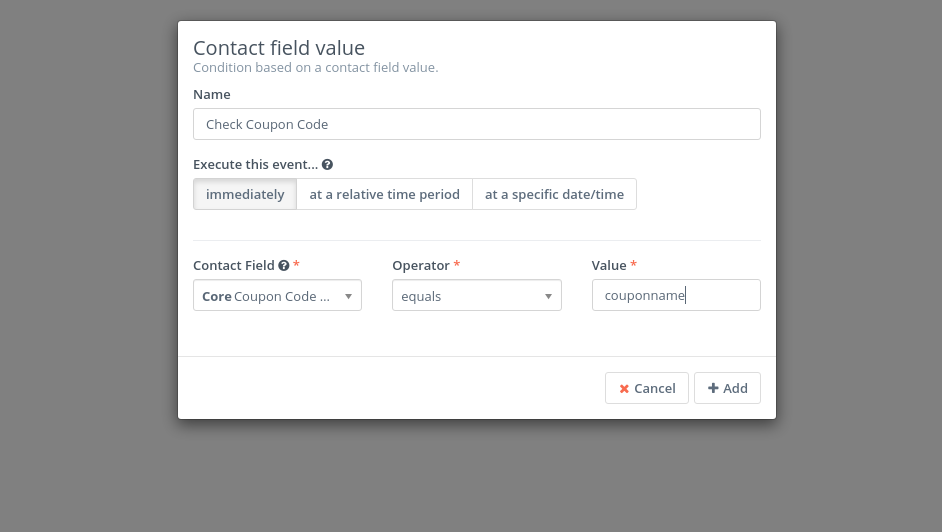 Once you've added the Check Coupon Code condition. You can add another decision that'll send an email with the offered coupon.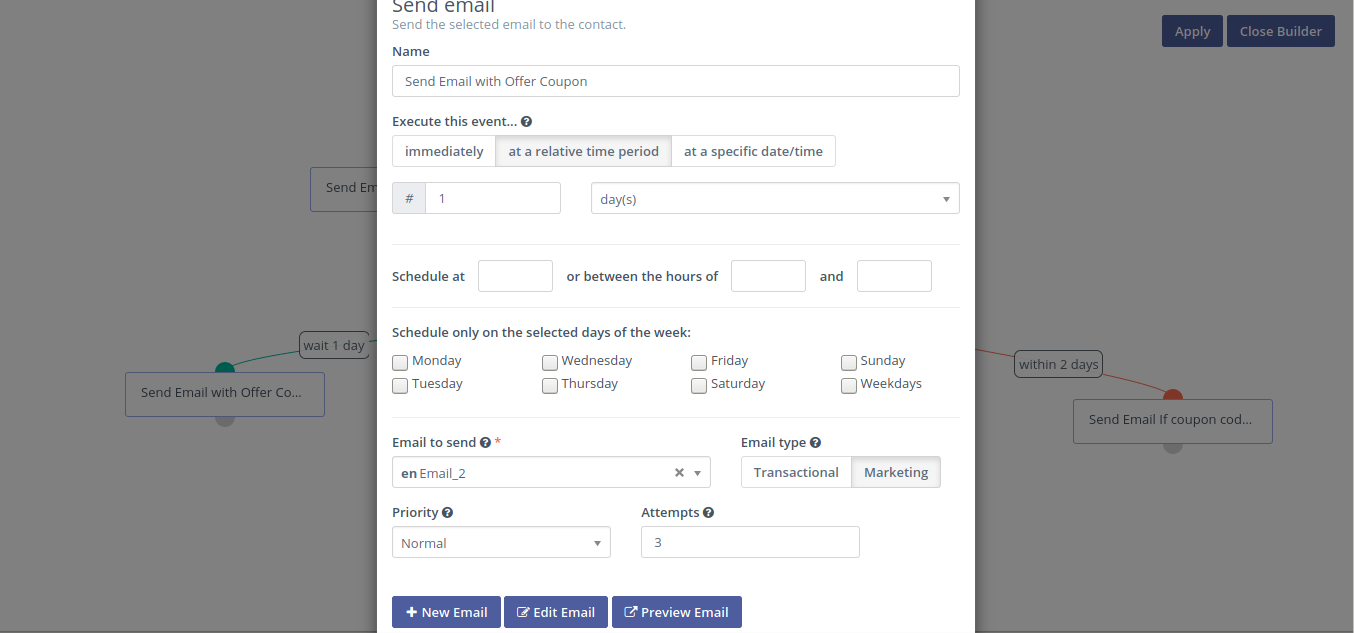 For this, you will need to repeat the same steps which you have performed in the Send Email Cart Reminder action. Just change the name to Send Email With Offer Coupon. Schedule the event to be executed after one day. Then, select the email type as Marketing and add.
This action will send an email to the cart abandoners after a day with the coupon code they are eligible for. In case, customers don't complete their purchase, you can add another step in your campaign to make them do so.
You can add a new action in your campaign. Perform the earlier steps. Next, just change the name of the action to Send Email if Coupon Code is not used.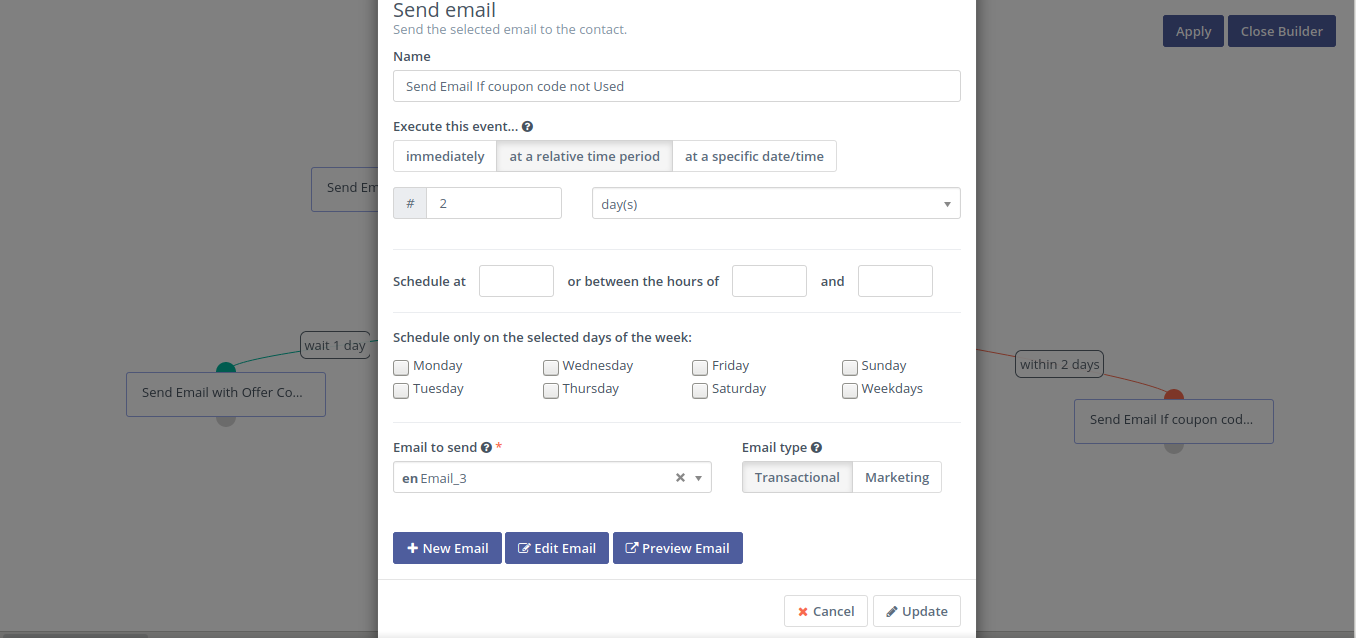 Select the two days for the execution of the action. You can change all other settings as per your requirements, then you can update the action.
Once you've added all the above things, your Mautic abandoned cart recovery campaign will look similar to this in the image.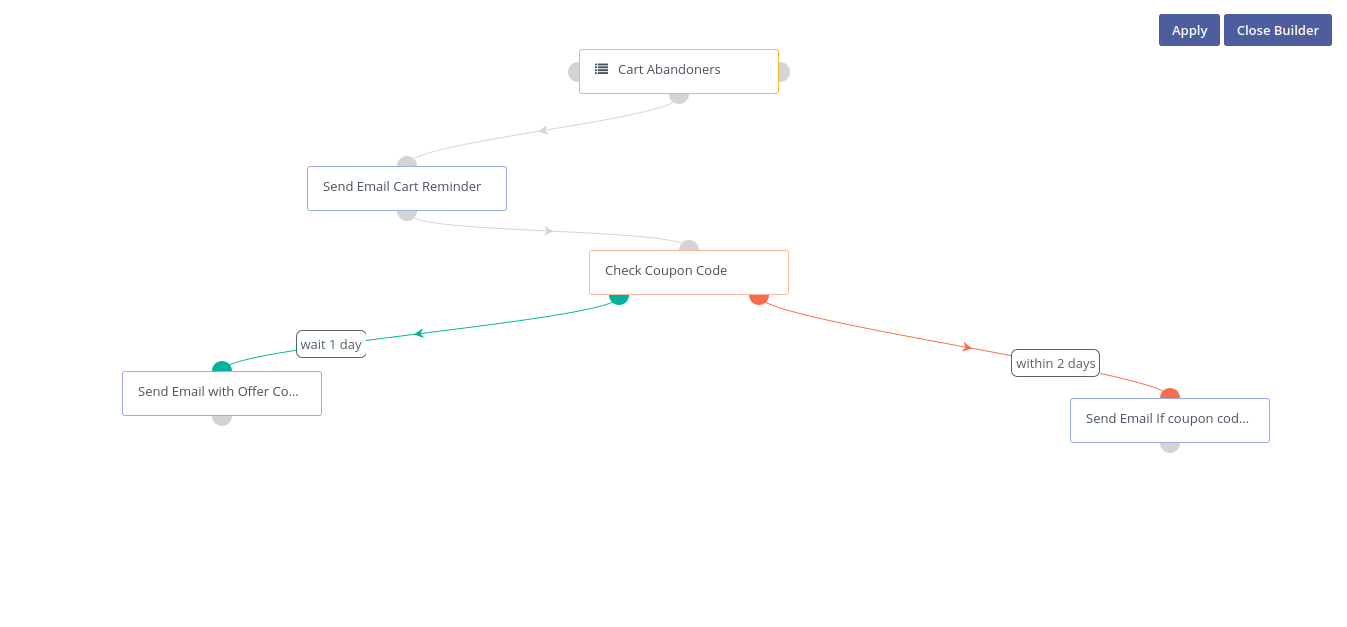 This can be extremely useful for you. You can use this campaign to target cart abandoners and recover your lost sales.
6. Abandoned Cart Management
Efficiently manage all of your abandoned cart activities under the Abandoned Cart Tab of Mautic Integration for WooCommerce plugin. Here, you will be able to view all of your Abandoned Cart Data such as Coupon Generated for Abandoned Carts, Cart Email, Cart Total, etc. in the Current Abandoned Carts section.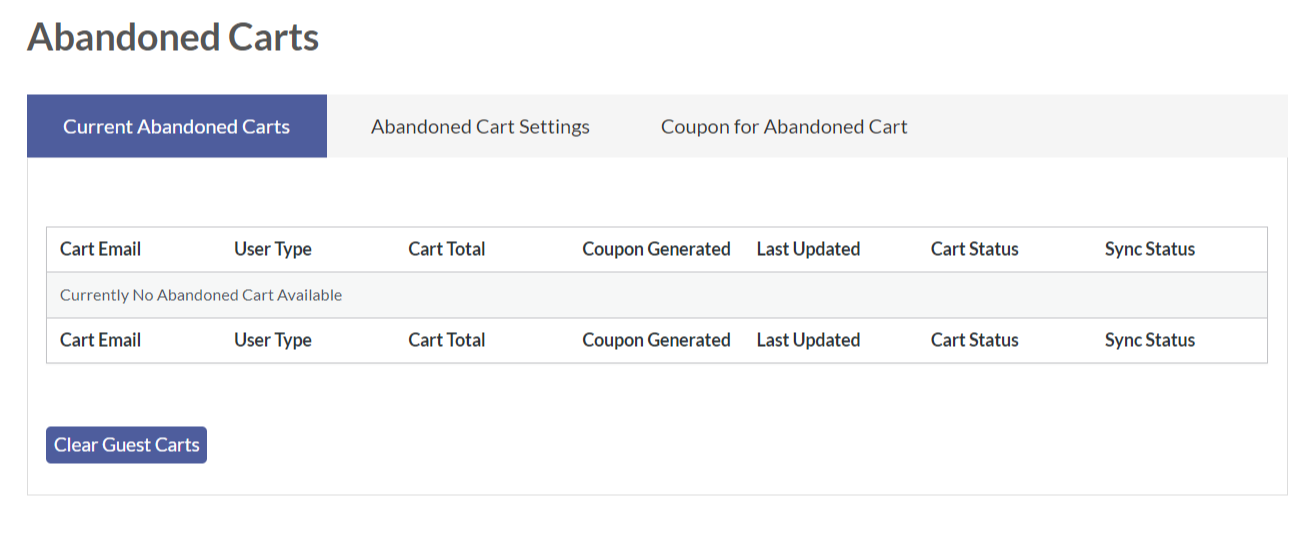 Now, suppose if you want to sync your Abandoned Cart WooCommerce data. Also, you want to set the duration for automatically deleting your data or coupons generated for abandoned carts. In such cases, you can move to Abandoned Cart Settings. Additionally, you can set the cart timer duration.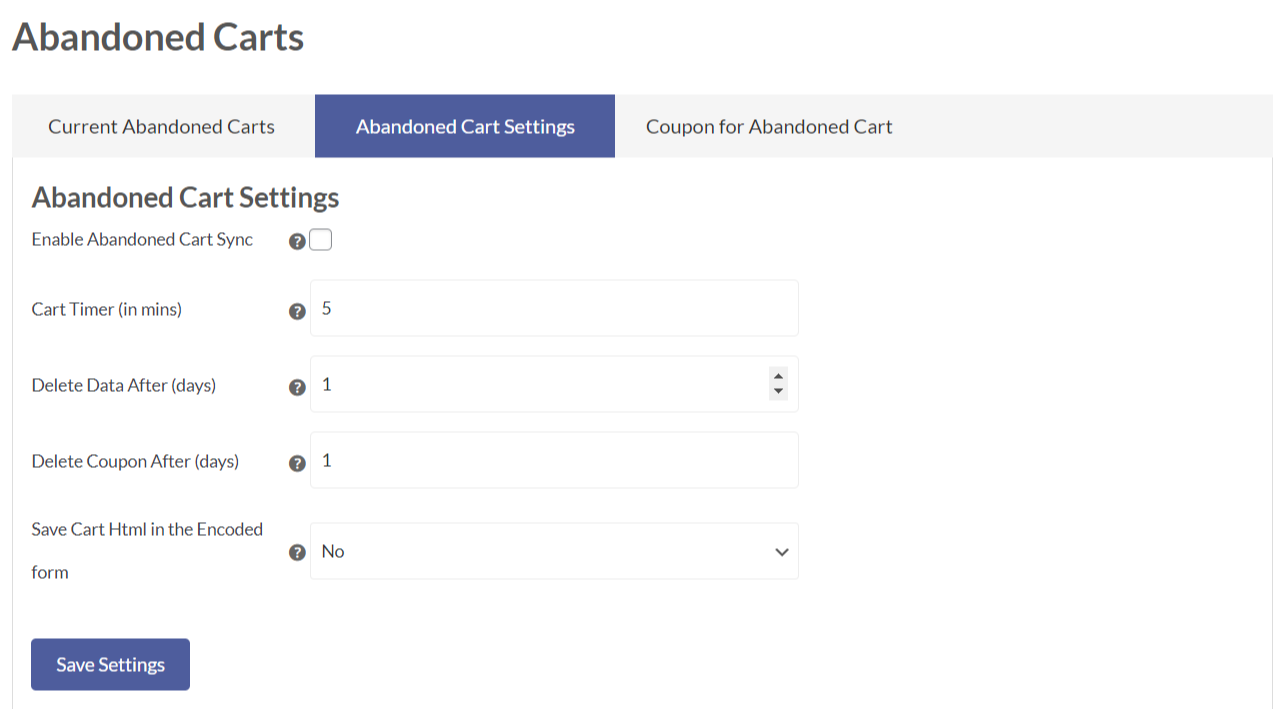 With the help of Abandoned Cart Coupon Codes settings, you will be able to enter coupon discount amount, set coupon expiry in days, enter the name of coupon code, and enable the abandoned cart coupon generation. You can allow free shipping with coupon codes on abandoned carts.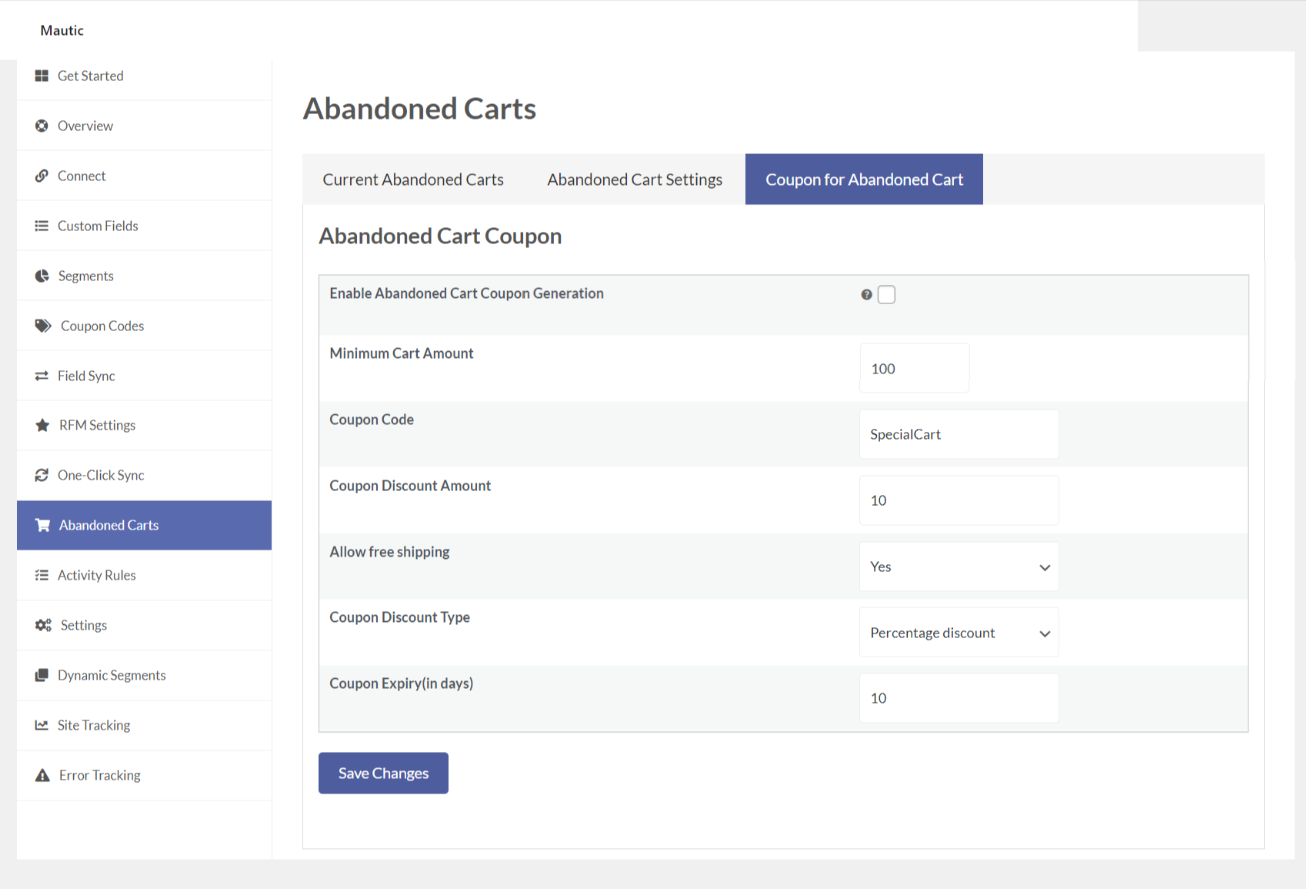 How Mautic Prevents "I Am JUST Browsing" for Your WooCommerce?
WooCommerce limits you to managing an eCommerce site when it comes to customer engagement or follow-up functions, serving you some basic features only.
Because, alone your WordPress lists won't be sufficient to maintain customer interactions, planning in-depth email campaigns to make Cart Abandoners complete their purchase.
Difficult task!
That's why marketers are turning towards such marketing tools and strategies that can streamline manual tasks and help them target their shoppers more effectively.
Mautic is the world's first open-source marketing automation platform that can save you from the strokes of incomplete checkouts and tough sales ratios. You can monetize your incomplete purchases with a sequence of high-converting emails.
Being a WooCommerce store owner, you can utilize this marketing tool to personalize user experience, plan highly segmented email campaigns, track and measure your outputs to retarget your lost carts, and convert them to win using the Mautic Abandoned cart recovery feature.
In The End,
If you have gone through the steps mentioned above, you can understand how easy it is to boost sales with Mautic abandoned cart recovery features. Believe me, you can go for this integration. It will help genuinely help you out.
Abandoned cart recovery is not about flooding customer's inboxes with emails. It is actually delivering a positive experience that can motivate customers to come back and make final purchases. What matters is- your efforts and the right approach!
You need to sit and stay back. What are you waiting for? Just go ahead. If you have any confusions or doubts, comment in the section below.