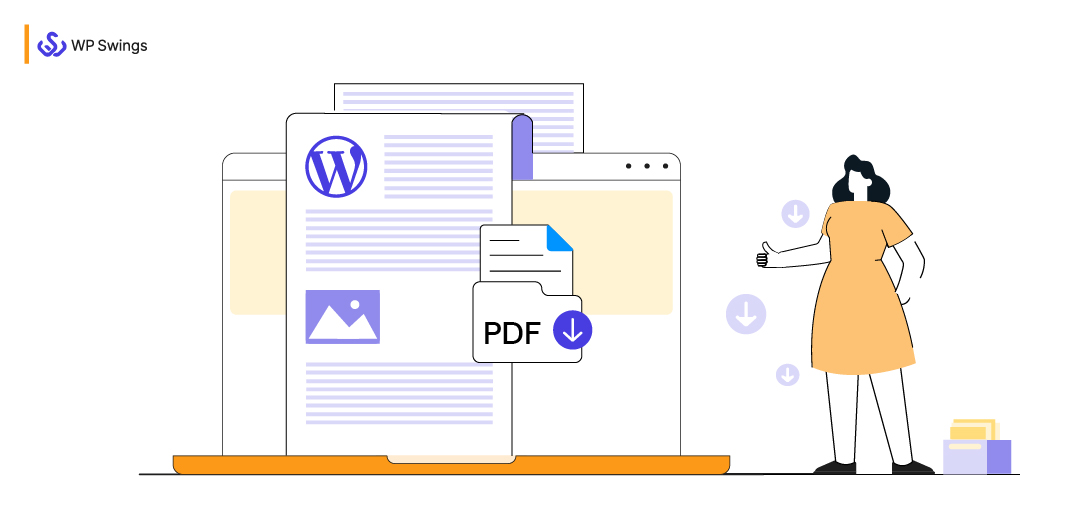 Creating a user-friendly website is essential for engaging visitors and providing valuable content. One effective way to enhance user experience is by offering a downloadable PDF for WordPress to your users.
By adding the WordPress pdf download feature, you enable your audience to access and save key information conveniently. This not only adds value to your website but also allows users to have offline access to important content.
PDF stands for Portable Document Format and can contain images, texts, interactive buttons, embedded fonts, videos, hyperlinks, and so on.
Wikipedia, very aptly, defines PDF as
Portable Document Format (PDF), standardized as ISO 32000, is a file format developed by Adobe in 1992 to present documents, including text formatting and images, in a manner independent of application software, hardware, and operating systems.
In this blog, you will learn the history of PDF, its benefits, and How to add a downloadable PDF for WordPress. So sit tight and let's get started.
Table of Contents
Journey Of PDF So Far…
PDF format came as a revolution in the 1990s. It was a challenge to access documents in the same form across various devices and operating systems. It would always change the formatting of the document when changing the device or operating system, casting a wrong impression on the reader.
PDF was a solution to this very problem. Hence, in no time, the territory of PDF format expanded across global boundaries. Therefore, a downloadable PDF for WordPress blog has more benefits than you can think of!
"PDF" has taken up a lot of space in the Google search. If you look at the graph, it is continually staying above the mark. The curve has been rising steadily since 2008.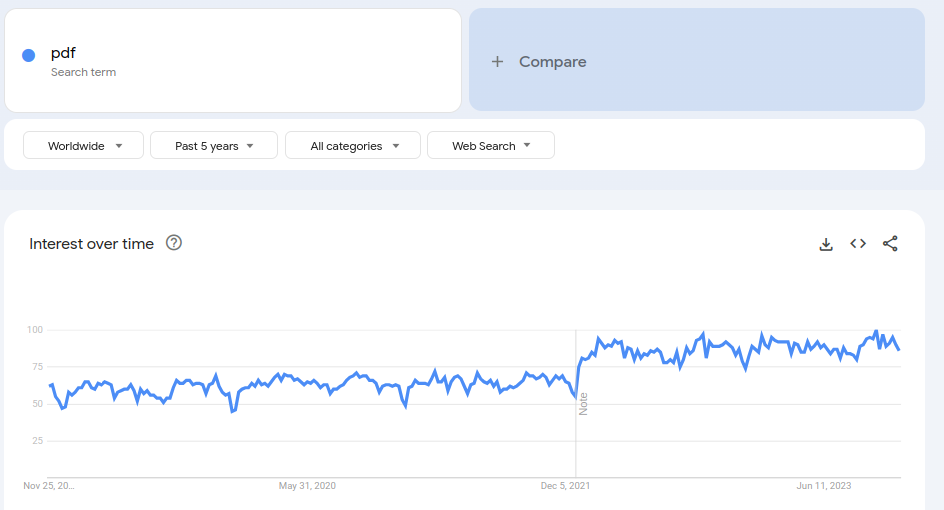 Now, the thing is you can easily convert your live WordPress pages, posts, or WooCommerce products into this most widely accepted format.
Talking about WooCommerce shops, the flexibility that WordPress PDF download provides in terms of the elements we can include becomes a necessity for running your business.
With the readily available content in downloadable PDF for WordPress, the process of collaborations, inventory management, and invoice generation.
The PDF format has a very rich history and Adobe Acrobat hence launched its Version 1.0 on 15th June 1993. The founders did not expect it to become universally accepted at once, and it did not come as a shock when it did not become a hit and reliable technology.
Being able to create a downloadable PDF was expensive, to count the shortcomings of the first version.
The Acrobat Reader was also expensive at $50. They fixed it by launching a free version. The only color space supported in the first version was RGB. It was another shortcoming that had to be taken seriously.
The Next Launch…
The next launches by this team created history and PDF is here to join the long haul. The upcoming years saw the next versions of the new PDF file format 1.1. It could support multimedia, external linking, device-independent colors, notes, security features, and whatnot. I mean each feature that it could include now would have made people exclaim with joy back in the 90s.
By the time Acrobat 4.05 was released, it could hardly be disputed that PDF had become an accepted file format for information exchange. More than 100 million copies of Acrobat Reader have been downloaded from the web.
~Prepressure
PDF 1.7 became an ISO standard (ISO 32000-1) in 2007. There was reportedly a 90% rise in PDF files online in 2021. The PDF format continually improved its existence over the years to become more and more user-friendly.
During its years of evolution, the PDF was made available across the web and offline globally. WordPress downloadable PDF format has become indispensable for sharing information, running marketing campaigns, or even protecting official data.
How To Add A Downloadable PDF To WordPress?
The best answer to this question is to add a plugin for WordPress pdf download.
I suggest you Pdf generator for WordPress is one of the best plugins for downloadable pdf for WordPress.
Let's see how to set it up.
After Installing the plugin you need to activate the plugin functionalities by turning on the toggle switch in General Settings.
In the admin panel, click on WP Swings → PDF Generator for WP → General Settings.
Activate the PDF generator plugin by turning on the toggle switch.
Tick the checkbox "Include Categories" to display categories in the PDF file for a post on your WordPress site.
Tick the checkbox "Include Tag" to display tags in the PDF file for a post on your WordPress site.
Tick the checkboxes to "Display Post Date" and "Display Author Name" respectively if necessary.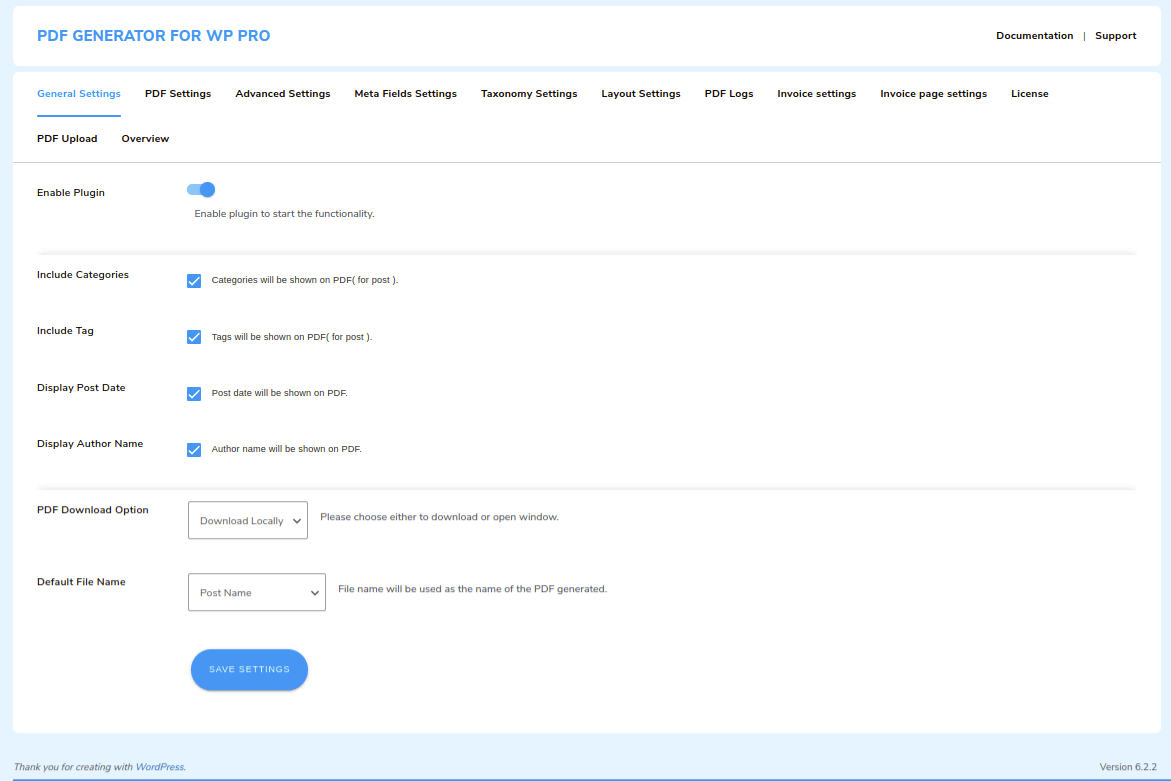 Here You can explore the features and enable them as you like.
Explore More Features of Our Exclusive Downloadable PDF For WordPress Plugin
New Features This Season!
We are consistently releasing new updates in our interactive PDF WordPress plugin from time to time. This is to satisfy the needs of our client base as well as bring stability to our WordPress PDF download plugin.
Listed below are the most recent updates in the WordPress PDF Generator Pro plugin:
1. Add Post URL in Custom Templates
The WordPress PDF generator has the ability to include a Post URL in the header, footer, or body of a generated PDF file by using PDF snippets that are added for creating custom templates. It automatically adds Woo attributes to the generated PDF files for live product pages.
2. Add Woo Attributes in Custom Templates
The WP PDF generator allows you to add Woo attributes to your products by using PDF snippets to create custom templates. This will automatically add the attributes to your generated PDF files for live product pages
3. Bulk Export for Generated PDFs
The WordPress PDF generator plugin allows users to download multiple pages and posts into PDFs in bulk. This feature enables users to export PDFs in bulk in their desired template.
4. Generate Invoices to Products
The PDF plugin enables users to download invoices after purchase on order statuses such as 'Processing' and 'Completed.' Additionally, the admin can program the downloadable WordPress PDF plugin to automatically add invoices to emails. Users also have the option to download invoices and pay slips.
5. Add QR Code to Generated PDF Files
You can use the given shortcode in the Layout Settings tab for the Internal Page to add a QR Code to your generated PDF file. You can add this shortcode to the header, body, or footer of your custom templates without any trouble adding a scannable code.
6. Custom Page Size
You can adjust the page size of your PDF file with the WordPress PDF Generator to suit your preferences. The PDF file's page height and width can now be customized. This will enable you to position the page per your needs.
7. Change Page Number Format
The most recent feature of this plugin enables you to set the page number of your created downloadable PDF file along with the total number of pages. In the footer of the PDF file, you may also choose where the page numbers should appear.
There Are Endless Opportunities That a Downloadable PDF For WordPress Can Present You With!
Learn more about it in our most loved blog!
8. Add Short Description
With this WordPress Downloadable PDF plugin feature update, you can now include a brief description in the body of your generated PDF. Using PDF snippets while making your templates will allow you to include this. It will add a brief description to the PDF files you make
9. Current Date
You may now include the current date in your PDF files by using the WordPress PDF Generator plugin. This can be included in the body of your custom templates.
Which plugin to choose is up to you. When it comes to blogging and store management, these are the things that are a must in a downloadable PDF for WordPress plugin:
1. Blog Customization To PDF
This is a crucial step when it comes to blogging. If you want your readers to look at your blog in the way you want them to.
It is important that you can control the look and feel of your blog being converted into a shareable PDF format.
2. Custom Fonts
When you are trying to reach the local audience, it is important to produce content in the language they are accustomed to. Therefore, custom font support is as important as any other feature in a PDF converter plugin for WordPress.
3. Comprehensive Header and Footer Settings
When you can control the header and footer settings, you can easily mention your brand across the pages of your downloadable PDF for WordPress blogs.
You can use the header settings for a plethora of other things as well. To give you an example, check out the image below to explore all the header setting options the PDF Generator for WordPress plugin by the WP Swings team provides.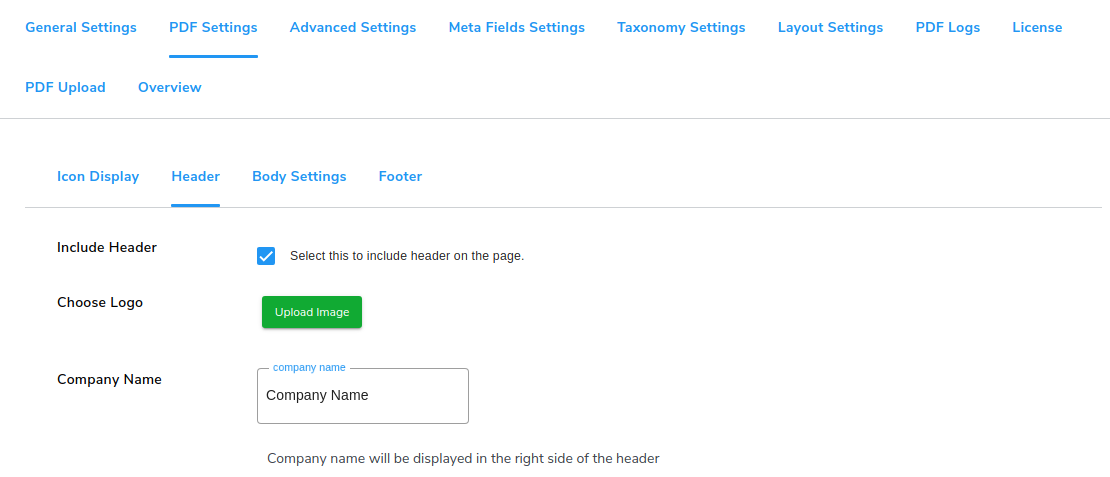 4. Ability to Add Watermarks In WordPress Downloadable PDFs
A plugin that allows you to disperse your brand subtly is of great help when it comes to WooCommerce marketing.
You can do so by adding your brand name or brand logo to already created downloadable PDF files for your WordPress site.
How We Helped Hospicall To Excel In The Electrical And Electronics Manufacturing Industry.
Learn more about it in our most loved blog!
5. PDF for Marketing Your WordPress Blog
Downloading WordPress blogs in PDF format becomes a great utility tool for marketing if you use it to fetch leads.
Look for a WordPress PDF generator plugin that will make your users enter their email IDs to access your content in PDF format.
You can also use this idea to sell your WordPress or WooCommerce memberships.
Increase Customer Loyalty and Boost Customer Retention Rates
Run Membership Programs for Your WordPress/ WooCommerce Site!
6. WPML Compatibility For Linguistic Inclusiveness
This one is an important feature, again, if you are addressing the local audience in their native language. Therefore, make sure you invest in the right plugin with all the necessary features available.
These are some of the most important features I believe that you should look for in a WordPress plugin to generate PDFs from your WordPress blogs.
Now, the answer to which plugin to use to download PDFs for WordPress in the best manner possible is- PDF Generator for WordPress by WP Swings
7. Control the Visibility of PDF Icon According to User Roles
You can now select which users you want to allow to download your live pages, products, or articles into PDF format depending on user roles thanks to our most recent upgrade to the WordPress PDF download plugin.
You get to specify which user roles will have access to your PDF icon on the front end and be able to use it.
8. Bulk Export for Generated PDF Files
Users of the WP PDF generator plugins have access to a unique feature called bulk export, which enables them to download numerous pages and posts as PDFs at once.
You can now export PDF files in mass using your preferred template thanks to the pro-PDF plugin's most recent version.
9. Add Company Details For Better Brand Awareness
For brand distribution, the PDF generator plugin offers simple modifications. The firm information can be included in the layout settings section of the cover page template settings.
10. Native Language Support to Connect With Your Audience
With the help of this WP PDF creator, administrators can upload TTF font files to produce PDFs that are easy for their clients to read and understand. You may effectively reach out to your local audience using PDF Generator for WordPress' help.
11. Full Access To Logs
The administrator receives a PDF log that contains information such as the post name, user email (if enabled by the administrator), user name, post type, etc.
The administrator can utilize this log to keep track of which posts are downloaded on what dates, along with user information, and they can even delete those logs if they so want.
Benefits Of Downloadable PDF For WordPress
1. Brand Dispersal
This utility tool allows you to disperse your brand name through watermarks and company names on the cover page. You can disperse your brand by providing authentic content to your readers adding value to their lives.
2. Channelize Omnichannel Marketing
You need not make any major investments to right away start your omnichannel marketing personalized for your audience on various channels and platforms. Since PDF is a universal format, it is convenient to distribute it online as well as offline.
3. Facilitating & Enhancing User Experience
By allowing your customers and audience to view your posts via different platforms, devices, and channels, you enhance their user experience. Thus, it is a great tool to invest in when it comes to converting your WordPress blogs into PDF format.
4. SEO Friendly
The good news is that the Google search engine lists PDF files in its search results. So, you have plenty of scope to execute the white-hat SEO techniques in your WordPress blogs to rank organically on search engines.
5. Non-Text Elements Can be Included Effortlessly
The PDF file format allows you to easily embed non-text elements such as images, vector graphics, hyperlinks, tables, graphs, and so on.
6. Security
Security and privacy are of great importance in these times. The customers need to feel secure with the data you share with them or vice versa.
Concluding Note
PDF is now a global religion and I am not even kidding. Look for yourself!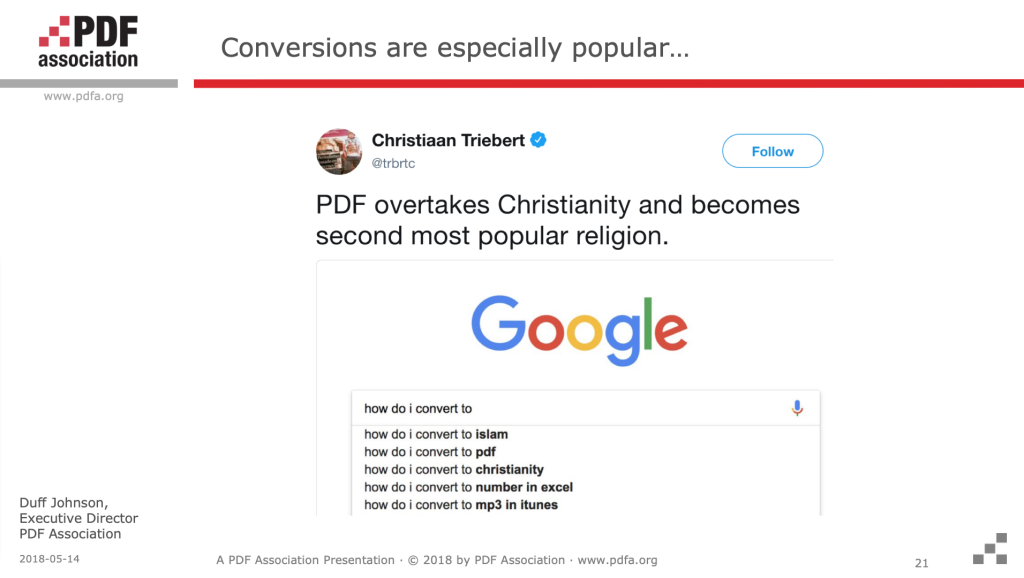 Rest assured while trying our free PDF plugin to check if it increases the traction of your online business. Downloadable PDF for WordPress sites are majorly a utility tool. But, you can certainly use it to your advantage!
Feel free to reach out to us to share your thoughts on this through the comments section!