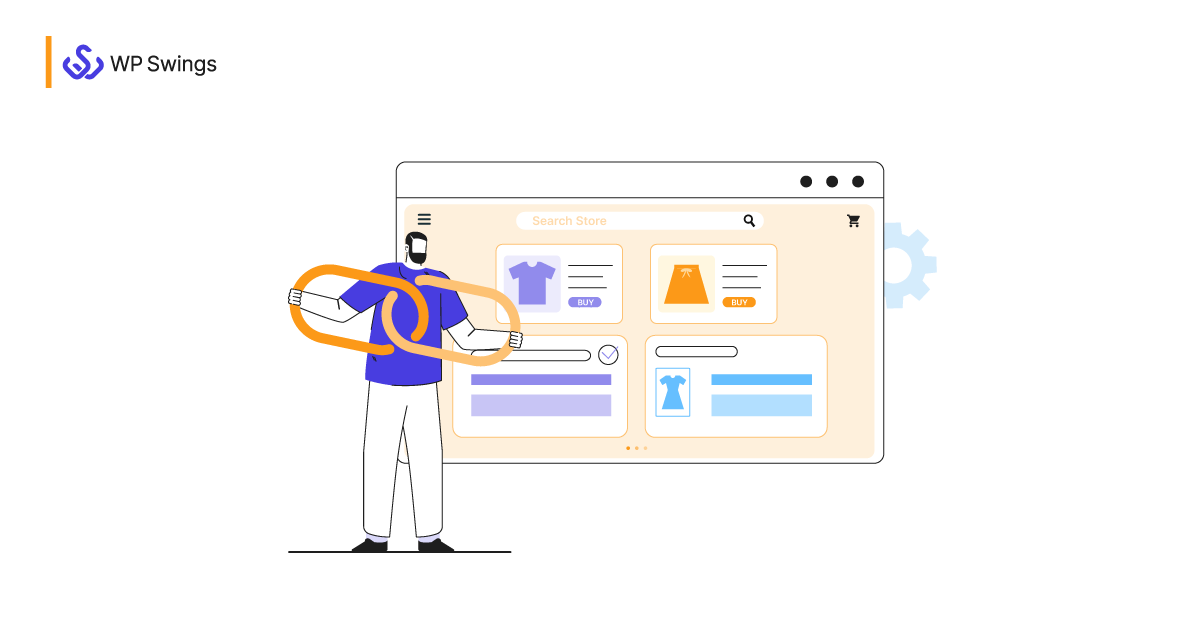 eCommerce is the fastest-growing industry in the world. In fact, with an approximated global population of 7.7 billion people, about 25 percent of the world's population shop online.
And this number is rising rapidly day by day and the global eCommerce market is expected to hit $5.55 trillion in 2022. So to gain a competitive advantage during this era of cutthroat competition creating backlinks of the finest quality is extremely important.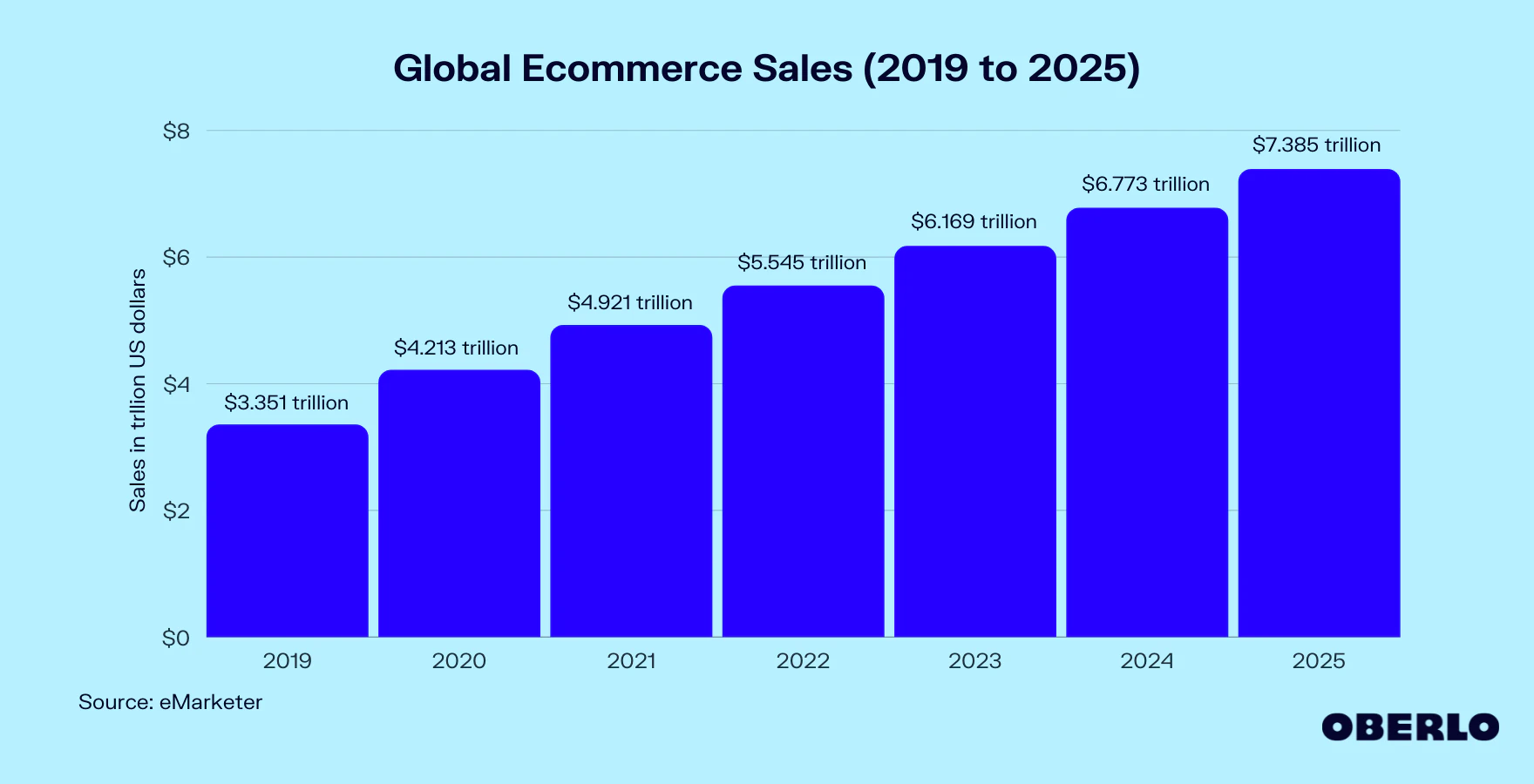 And also, you will be very amazed to understand that eCommerce is expanding in every direction and becoming an integral part of global commerce by overtaking all other retail markets.
Nowadays when everyone wants to be digitized in this ever-changing era of marketing. It is only right to have marketers leveraging digital marketing while shifting away from traditional marketing. But only setting up an online store and following digital marketing practices will not give you complete success. You have to stand out apart from all your competitors to be successful.
We all understand that be it any online business niche, gaining maximum online visibility helps in rising above our competitors. And if I ask you readers about one practice that enhances the visibility of online websites, I am sure Search Engine Optimization(SEO) would be the unanimous answer.
SEO plays a very significant role when it comes to gaining organic traffic for your online store. And link building for better search engine rankings is an absolute necessity. This implies if you have an online store, and wish to stand out from all your competitors, you need to have more quality backlinks.
And if you are an eCommerce marketer, you must be familiar with the importance of backlinks for site rankings.
A backlink is directly proportional to organic search traffic.
This means the more backlinks you have, the more traffic you will get. You can check the correlation between the number of backlinks from websites (referring domains) and the organic search traffic from the statistic below.
But the question arises,
How to create quality backlinks for your eCommerce store?
Creating quality backlinks for your eCommerce store takes a substantial amount of time and effort. And the most painful part is to figure out how to build them.
Still, there's a catch here.
Even if you figure out sound strategies to create backlinks, you must also ensure that links are editorially placed, relevant, with natural anchor texts, and non-spammy.
What Other Things You Will Learn?
What Are Backlinks?
Backlinks, also known as outbound links, are hyperlinks that allow users to navigate between different web pages. Or we can simply say, links coming from other websites to your webpage.
If anyone links to your website or store, this means you have a backlink from them. And if you link to another website or store from your webpage, they have backlinks from you.
In other words,
When other websites link to your site, search algorithms learn that you have "authority" in your enterprise because different brands are stirring on you. The higher your authority, the higher your search rankings will be.
Additionally, linking to other posts within your site may also help you to spice up your authority as it's an indication to Google algorithms that you have completely covered a subject you're discussing.

In the above example, WP Swings uses a link that redirects to the URL, https://unbounce.com. This link serves as a "backlink" for Unbounce.com and the text, "increases by 80%" to which the link is attached, is referred to as anchor text.
According to Hubspot,
Creating backlinks is one of the top two criteria considered in Google's page ranking algorithm
SEO experts say that the third foremost important factor for search engine ranking is external backlinks
13% of search experts say link building is the most relevant SEO tactic.
41% of SEO experts consider link building to be the most challenging part of search optimization
36% of businesses hire outside specialists or freelancers for link-building attempts.
48% of marketers report on "nofollow" links as part of their process.
46% of marketers spend $10,000 or more annually on link building, while 22% spend between $1,000 and $2,500
It often costs brands $1,000 or more to gain a quality link.
So, these stats prove how beneficial creating backlinks are and how much time and cost is spent to create high-quality backlinks.
What Are High Quality Backlinks?
"Quality backlinks are usually those links that come from sites that have higher domain authority and are well-trusted by search engines."
Not all links are created equally.
In other words, if you want to rank higher on SERPs, focus on high-quality backlinks.
A link from a website with high domain authority is more valuable and passes more "link juice" than a low authority site.
A single high-quality backlink is a hundred times more powerful than 100 low-authority links.
Always consider this while looking for an online website to link back to your store.
Types Of Backlinks
Here are some backlinks that you should be aware of:
Editorial Backlinks: These backlinks are generated when you are the main source of information. When someone quotes your thoughts, infographics, or published data as an authentic source, it is then that you get an editorial backlink.
Backlinks from Guest Posts: When you write for other websites, getting a backlink to yours can be very beneficial at times. We have shared more about our views on guest posting in the latter part of this article.
Acknowledgment Backlinks: When you get a link for being a speaker or special guest, or having donated a generous amount, or say, you have sponsored an event. It is then that we term the backlinks as Acknowledgement backlinks
Guest-post Bio Links: We offer 2 links when accepting guest posts for WP Swings to any post that we publish onsite. One link goes from the main content body that you share with us. The other link we give away is from the author's bio. This activity assists both- the publisher (by establishing the credibility of the author) and the writer (by getting a follow link from the website of their choice.
Badge Backlinks: Whenever you get a badge from a certification website, they link back to you. It will not just provide authenticity to your website but you will also get a backlink from a high authority website.
Comment Backlinks: Commenting on a blog and adding a relevant link back to your blog can be an effective means to get backlinks. Comment backlinks can also be an easy target for spammers. Remember to not be one of them.
Free Tool Backlinks: When you have something free to offer which can turn out to be a great tool, you will get backlinks frequently from your users!
Webinar Backlinks: If you keep organizing webinars on your website, it can turn out to be a digital asset for you. You can also give your potential guest post destinations a shout-out in these webinars.
What Are the Different Kinds of Link Attributes You Should Know?
Read along to learn about dofollow, nofollow, UGC, and sponsored links. These are basically HTML tags that you add to your blogs while linking to assist the search engine for better identification.
Do-follow links are HTML tags that pass authority or vote of confidence to search engines for increasing the ranking of the linked webpage.
Do-follow links pass link juice to search engines to raise the authority of the webpage.
Here is an example of a do-follow link:

While no-follow links are those links that have a rel="no-follow" HTML attribute. The search engines won't see the no-follow link as a signal of trust and primarily won't acknowledge the link as a page ranking factor for the linked website.
A "no-follow" link to an eCommerce store doesn't raise the rankings of the page, doesn't relinquish link juice, and even can not enhance PageRank.
Here is an example of a no-follow link:


You can see the only difference between a no-follow and a do-follow link is one extra tag:
<a href="https://www.website.com/" rel=no-follow">text</a>
<a href="https://www.website.com/" >text</a>
What would you prefer?
In my personal perceivable understanding, you should focus on gaining more do-follow links.
Google and Bing recently announced two new types of link attributes: UGC and Sponsored links. When you get a UGC backlink, the publisher subtly takes away your authority by informing the search engine that they do not trust the authenticity of the link or author!
Whereas sponsored links clearly state that the link is a paid link
Factors Affecting The Authority Of Your Site
If you are not familiar with the word link juice, it is the term given by the search engine that refers to the equity that is transferred or passed from one webpage to another page. This equity is dependent on several factors such as:
Domain authority
Content relevancy
Anchor text
Placement of links
Links that pass value act as a vote or signal of assurance for Google and other search engines to increase the page ranking of that linked site.
PageRank was Google's first algorithm that was used to determine how a webpage should rank in SERPs.
But gone are the days when PageRank used to be the main aspect of an online website ranking; now Google includes hundreds of other ranking factors in the list.
You must have heard about the SEO ranking tactic known as "page sculpting", in which online site owners plan to choose, which links are to be followed and no-followed to control the flow of ranking of webpages.
Let us learn more about the factors that impact authority listed above:
High Domain Authority
Domain Authority is a measure of how great an online website is expected to rank in search engines. It is computed on a scale of 1 to 100.
Domain Authority is calculated by assessing many factors that include, including linking domains and the number of total links, into a single domain authority score.
This score is employed when comparing sites or tracking the "ranking strength" of a website over time. Domain Authority isn't a metric used by Google in determining search rankings and does not affect SERPs.
How can you check the domain authority?
To check the domain authority of any site, you can either visit Moz or download the MozBar extension from the Google Chrome Store.
Domain Rating from Ahrefs and Authority Score from SEMrush is also popular metrics to measure the strength of any given domain.
You can see the site analysis of any website, using the Moz tool below:

Content Relevancy
Search engines are required to give the most appropriate content to their audience. And relevance is a fundamental factor for both search engine ranking and link equity.
Creating Backlinks from websites that are analogous to your store will be more convincing and acceptable than inappropriate links that are not relatable to your store or content.
For example, if you're a chef, creating backlinks from cooking blogs, cooking directories, and cooking magazines will have high relevance.
No matter how much authority the website has, if your backlinks are not relevant according to your business niche and if found guilty of unassociated link exchanges, Google may penalize you.
Anchor Text
Every factor in SEO has its own importance. Therefore, you should be very careful while choosing anchor text for your links.
The linkable, visible, clickable blue color text in a hyperlink is known as Anchor text.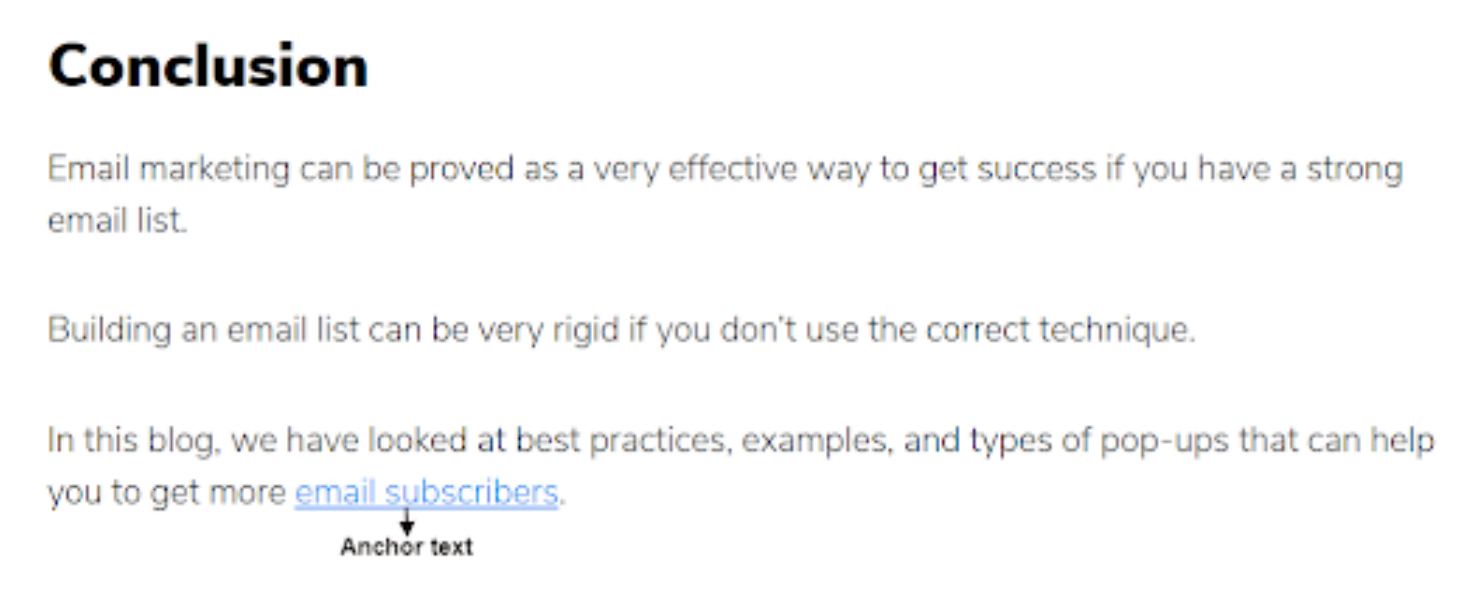 Search engines avail the anchor text to understand what is in the link context and where that link takes the user to.
A link with good and keyword-rich anchor text and a relevant landing page can be very profitable, but always keep in mind not to overdo it.
Using too many keywords in anchor text is not the best practice.
Search engines are very strict and consider it junk if you are employing exact match keyword anchor text. Therefore, do not target specific keywords in your anchor text every time to create backlinks.
Placement Of Links
Where your link appears within the webpage of the linking site is predominant. A link that appears in the main body of the webpage has much more weight than a link that appears in the footer, header, or sidebar.
For instance, you can see the link below to know how to use the link in the main body.
Example of footer link:

Firstly, the correct placements of links will ensure better navigation to your online asset, which is your website. Optimal placement of links will always be a wise choice because it improves visibility as well as performance.
A page without any internal linking on your website won't serve the purpose of assisting your audience to reach the value addition you have to offer to them. Thus, giving it due consideration will add on to quickly establishing a good authority score for your online store.
Why Are Backlinks Important For Your eCommerce Business?
Backlinks basically serve as a vote for other websites and give credibility. Each of these votes tells the search engine that the webpage is valuable, credible, and useful.
These votes will increase your page authority in Google; which means the higher votes you will get, the higher your page authority will rise.
When one website links to a different online site, they pass you "link juice". And the link juice acquired from backlinks will help in building up your own authority, by giving assurance to search engines that you need to be of top quality too; because websites with high domain authority are linking out to your site.
Even though Google has made a lot of changes in the search algorithm, still backlinks are the key ranking factor.
You can see that pages with more backlinks tend to rank higher as compared to sites with fewer backlinks.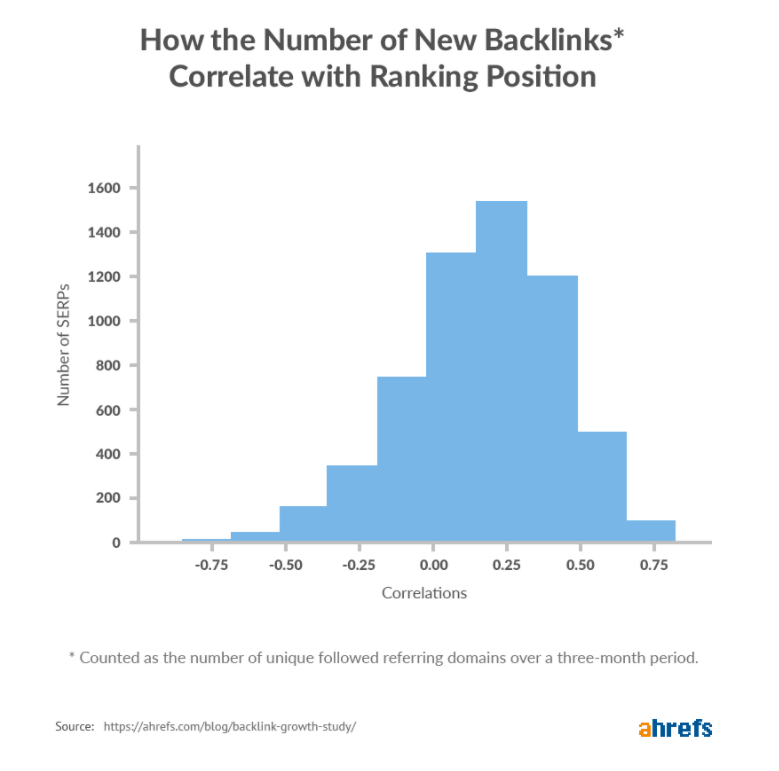 Therefore we can say, higher-quality backlinks linking to your site may enhance your organic search ranking.
You will be indexed faster and will also get referral traffic from other web pages that are pertinent to yours and also you will experience a lower bounce rate.
Best Practices Of Link Building
The site to which you are linked should be of high authority.
Make sure your link is not spammy. Otherwise, it may cause a great loss to you because Google may penalize you if you are found guilty.
The anchor text which you are using should be keyword rich. But don't overdo it.
Always keep track of your natural backlinks. You can use SEMrush tools to check this. It will tell you all the information you need to create backlinks. For Instance, if someone uses your site and does not provide you a link or your status has been changed from do-follow to no-follow. It will notify you about all the changes.
Ask for feedback always. Allow other people to give credit to your work and if they provide you with good feedback they will automatically link back to you.
Create internal links.
Does Google Count Nofollow Links As Backlinks?
Yes, that's a question to worry about, actually…
Google takes notice of links tagged with a rel="nofollow" link attribute but does not transfer PageRank across these links. But since it is still a link on the web and users might be using those to reach websites the search console displays all these links along with other links signaling to your website. But if you were to use the disavow links tool, those links will no longer be passing any signal but will still appear in the search console.
🚨BREAKING NEWS! @JohnMu: report shows links

In this episode of #AskGoogleWebmasters, John talks nofollow links and whether Google counts them as backlinks in Links Report.

Watch here → https://t.co/logoTgeJjm pic.twitter.com/E6o5VMHpUy

— Google Search Central (@googlesearchc) August 15, 2019
Top 10 Ways To Create Backlinks For Your Online Store
Hurry Up! We Have Got Tons of Exciting Offers
Get the Best Discounts on WooCommerce Plugins and Integrations
Focus On Broken Links
I personally recommend the broken link-building method as the best to create backlinks.
The process involves informing or contacting the webmaster about broken links. Broken links refer to those links that show an "error of 404".
You must have noticed some blogs or websites become inaccessible, and non-functional over a period of time and they do not redirect you to the promised landing page. Such links are called broken links.
The process of approaching other website owners in order to inform them about broken links and at the same time, you also recommend they replace their content with similar content to your own site is called broken link building.
With broken link building, the chances of getting a quality backlink will increase as you are doing the webmaster a favor by reporting to him about broken links.
Imagine you have a jewelry store and you want to create backlinks for your store.
The first thing about successful link building is knowing who your customers and competitors are.
In your case, women are your main customers and jewelry brands like Tanishq, Caratlane, etc. are the top competitors. Once you know your competitors, you should be on the lookout for their broken links.
Now you must be wondering, how to find broken links.
You have many options available for finding the broken links but I recommend SEMrush as the all-in-one tool to analyze your competitor's website or webpage.
Let's discuss the steps:
Log in to your SEMrush account,
Go to Project→Site Audit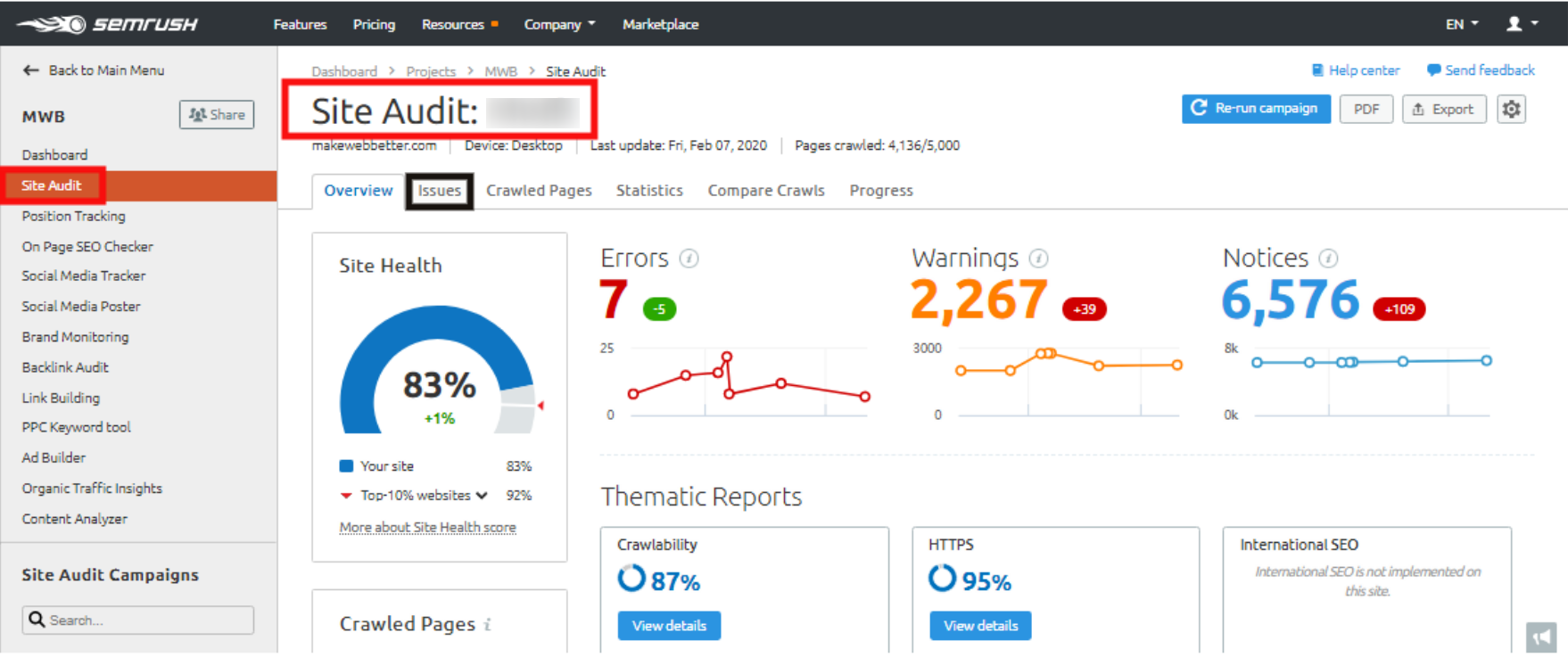 A site audit is where you can find out all your SEO problems. You can check the option "Issues", and here you will see all the ongoing problems of any website.
Besides this, you will also see the two options for these links:
Broken Internal Images
Broken Internal Links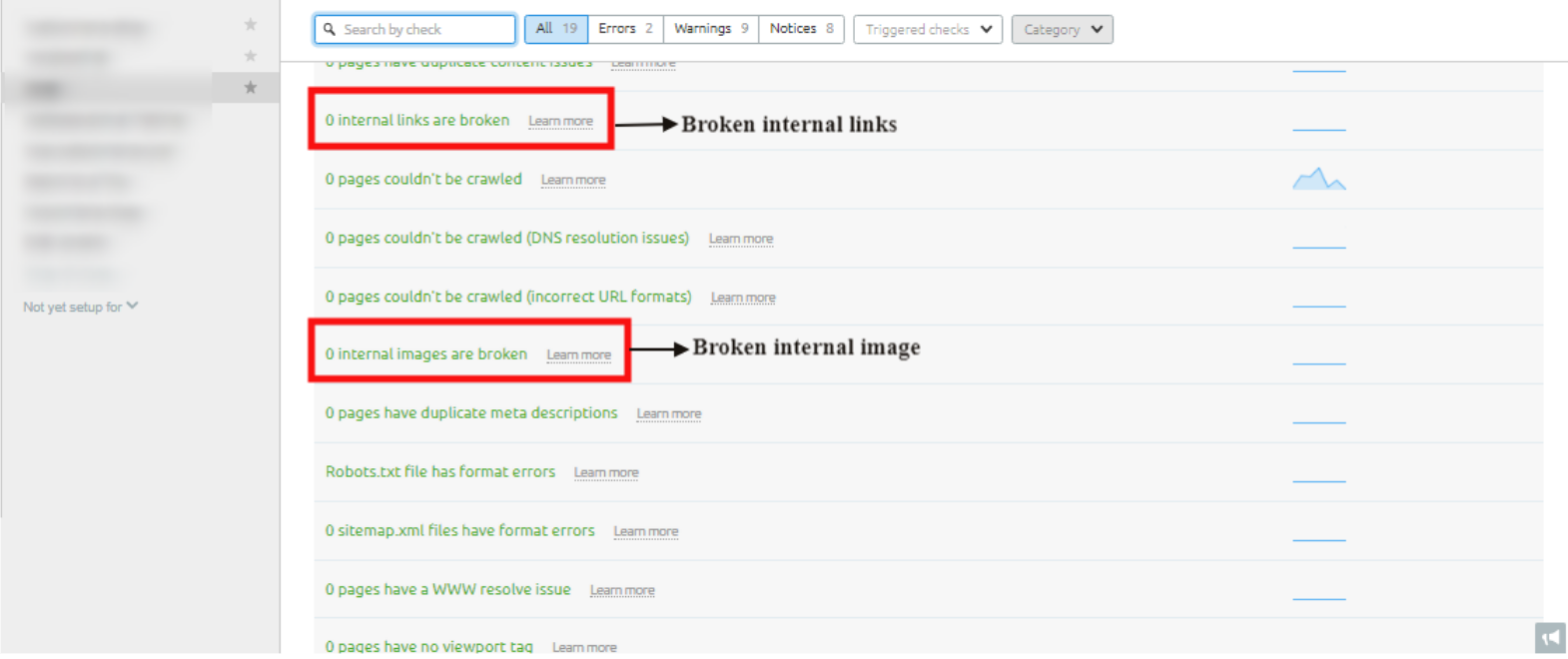 In the above example, you can see there are no broken links, but in case you find broken links.
Then what?
Create Relevant Content For Broken Links
After finding the broken links, the second thing you need to do is find related content for that link.
If you already have some related content, that's well and good. But if you don't have relevant content, you need to create the master content piece before informing the site owner about the issue.
Suppose you have done everything. You have found the broken links, and have content but then the problem is,
How to connect with the website and its owners?
To find out the website that is linked with broken links:
Log in to the SEMrush account
Domain Analytics > Backlinks, and then enter your broken link to check the resources.
SEMrush is an amazing tool that will help you to get all the information about any website or page like:
Type of backlinks
Anchor text
Referring domain
IPs
Source, Page Title, URLs, etc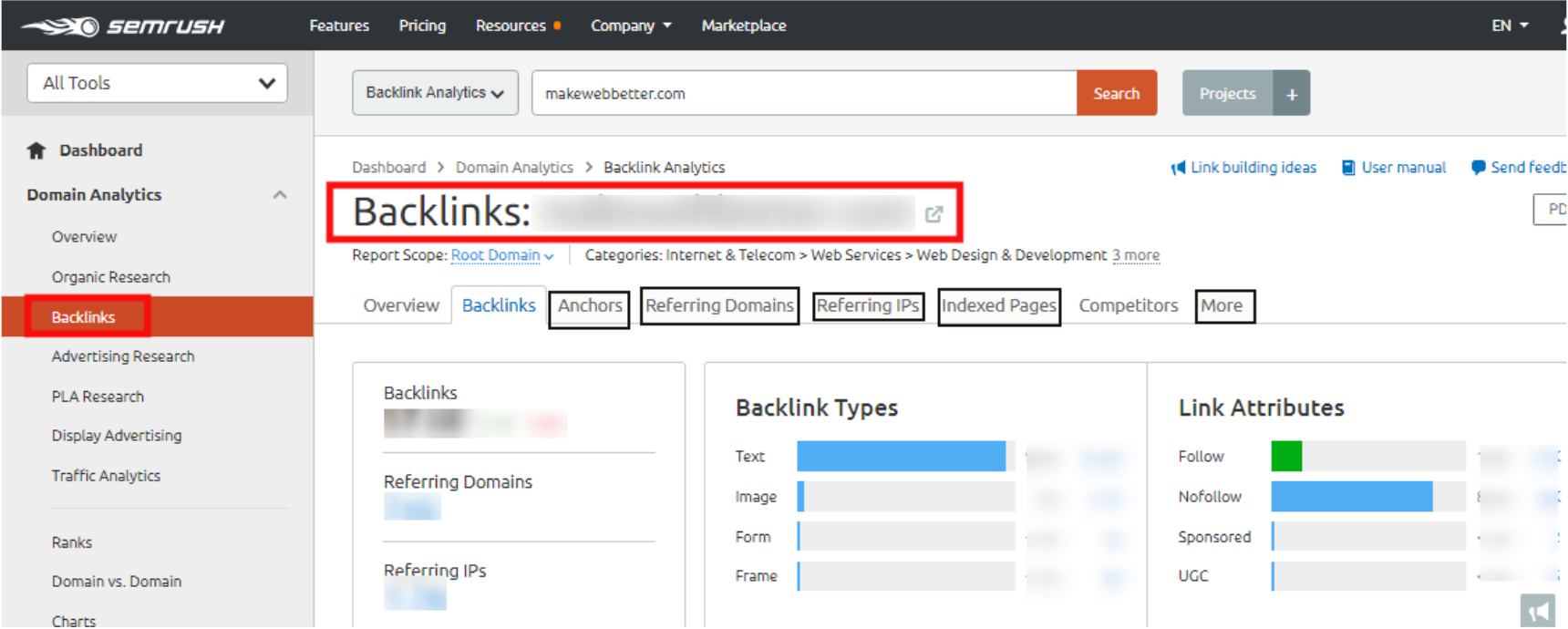 After finding out the sources, the next step is to reach the owner. You can simply email the website owner.
The first thing you should do is, introduce yourself professionally, and tell the individual that the website they are linking is no longer available. Provide them with the exact location of broken links, so that the links can be easily found.
Pro tip– Make sure, do not directly provide them with your content to replace that link. This may create a bad impression of your brand in the owner's mind. They might assume that you are performing marketing tactics and are just greedy to create backlinks. Therefore, they may end up ignoring you.
What do you need to do?
Provide some alternative content pieces to replace those links, including your website content piece. Try to be helpful, not selfish. This method often works, but sometimes owners refuse to link back to you.
Guest Posting
Guest blogging is the most efficacious way to get new audiences and higher-quality backlinks for your online store and also for your product page.
By publishing blogs for other popular websites, you will get your content in front of new readers and win more audiences. Sometimes it's not just about the backlinks but guest posting will also increase your brand image and your social followers.
Guest blogging helps you to grip your relationships and expand your outreach amongst online marketers.
For example- A men's clothing brand can write blogs about top styles for summers, and winters, including images of the clothes in the content that links the brand or store, and then reach authority fashion blogging sites to submit it as a guest post.
You can also include various discounts and coupons in your guest post article, which will attract readers and increase traffic to your store.
There are numerous ways to do this:
Use Google search queries to filter out which websites are accepting guest blogs.
Here is an example:
Your keyword + guest post


You may also use "write as a guest", "blogger wanted", "submit article", etc. to reach new people for better blog opportunities.
2) Use Social Method
You can use Twitter to search for who is accepting guest posts. To manage the process, use Keyhole.co, Tweetreach.com for the notification of the keywords you want to write about.
When publishing a guest blog, make sure you are linking to your social profiles. If anyone enjoys your post, they can easily follow up with you for similar future articles.
You can also follow good blogging sites by commenting on their posts and product pages.
3) Use Tools To Create Valuable Content
You can use SEMrush tools to explore content research. And can use "Topic Research" to know about running topics of online stores and sites.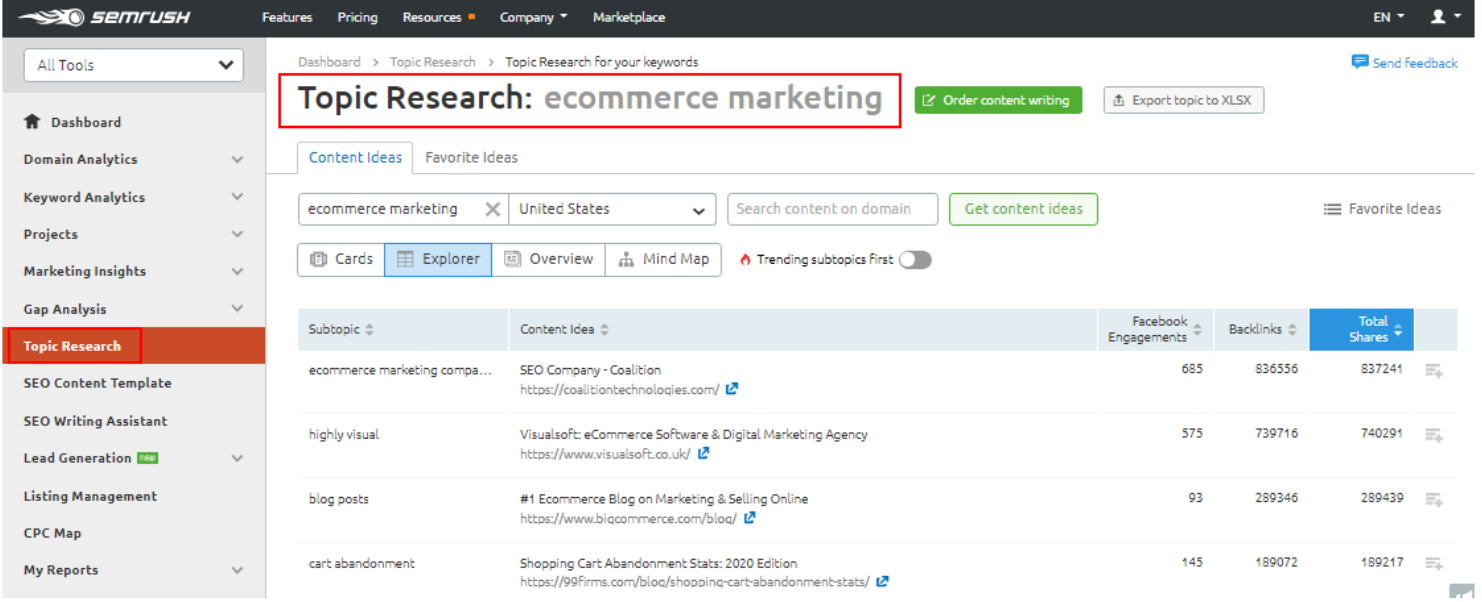 you should draft the content only after searching the topic and related content pieces thoroughly.. Make sure the content you are providing is valuable and educational. After completing it, read the content and run it through Grammarly to avoid errors. Then reach your editor through email.
Backlinks Through Infographics
Infographics are another foremost important content type to leverage traffic and create backlinks for your site. They are great to use because they are easy to understand, acknowledge, and share.
Infographics are the visual asset of text and images to quickly convey information about any given topic.
As we know the human brain responds 60,000 times faster to the image than text, this means the visual power of humans is more. In a recent survey, it is even proven that 95% of B2B buyers want shorter and highly visual content.
And you will be very surprised to know that publishers that feature visual content grow traffic 12 times faster than those that don't.
After knowing all this, you must be aware of how important and useful infographics are for your store.
But how will it help for backlinking?
Excellent infographics have more chances of getting viral, especially on Pinterest. For eCommerce marketers, Pinterest plays a significant role in profitable social networks because it attracts millions of audiences with higher purchase chances.
Hence, create amazing and productive infographics for your online websites.
There are also other ways of doing this.
You can implement the guestographic technique, it is similar to guest blogging.
You can publish the infographics on your site, then find someone who publishes content on the same topic and ask them to include your content infographic.
To know more about guest infographics, you can go through an infographic by Neil Patel.
You can also submit your infographic to various directories. For instance, here are 100 plus infographics submission sites.
Explore How You Can Effortlessly Reap the Benefits of Loyalty Programs Using Your Social Media Accounts!
Lastly, do email outreach to people who have already worked on similar content. Ask them for feedback but don't ask them for a link directly. If they like your infographic, then they will surely do it by themselves.
Use Customer Data To Create Content
We are already aware, no one believes us until we have evidence. To prove our point a little more and to gain the trust of our customers, we have to show them proof.
Often every blogger knows this, therefore uses stats to prove their points.
Statista is a very fine example of a business that uses polished data i.e. statistics to show their points. You can see that Statista is getting millions of backlinks in his blog.

We can say, presenting data in a provable way is an excellent way to create backlinks.
But, you must be wondering how it will create backlinks for your business?
By presenting a content piece about your customers and their buyer persona with full proof evidence.
Suppose you are in the business of beauty products for many years. There are chances, you must have a good customer email list.
What next?
Now use a tool like Typeform. "It is basically a tool for online surveys to make your customer experience better".
For instance:
Which product is more useful for your skin? Ayurvedic or natural?
What is the average revenue a woman spends on beauty supplements every month?
Where do you prefer to buy your products? Physical store or online?
You can create a set of FAQs like that and then email this to your entire customer base.
Note: You should also offer discounts and coupons like " free shipping", and "10% discount on the next order", to every customer who will answer these questions.
Once this survey is completed, you will have your own statistical data. Now use this in your blog in a unique way.
80% of customers like to buy ayurvedic products for their skin.
Women spend about $250 on beauty supplements every 2 months.
Online stores are preferred for shopping over normal stores.
Seeing this, other related online websites, when they write about related topics (beauty products) will use your statistics and will naturally give you a backlink for the same.
Use Skyscraper Technique
Everyone loves competition and likes to win but this will be possible only when we will keep an eye on our competitors and try to do better than them.
But how?
You need to pay attention to your competitors, and what they are doing to create backlinks.
Trust me, being updated about your competitors will not harm you anyway, besides it will give you lessons to perform better.
Skyscraping is the process of finding the best content that is already wonderful and making it even better.
After executing the process of skyscraping on a popular post about Google's ranking factors, Dean dramatically noticed the improved page's backlink profile.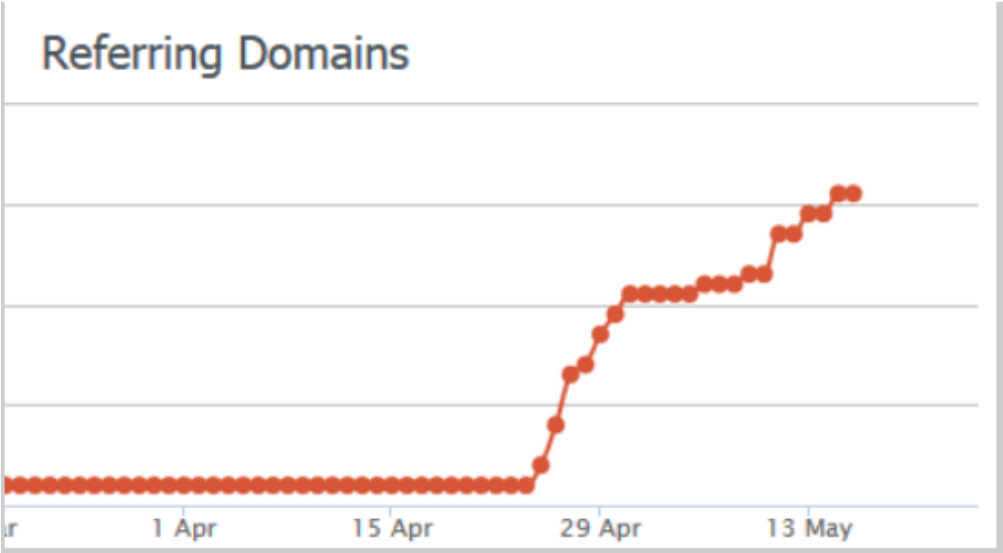 What to do for skyscraping?
For using the skyscraper technique, firstly identify your target niche. If you have a specific thing in your mind, then you can use the SEMrush tool to look for your niche.
Just type your target keyword in the SEMrush search toolbar to see your competitors' web resources.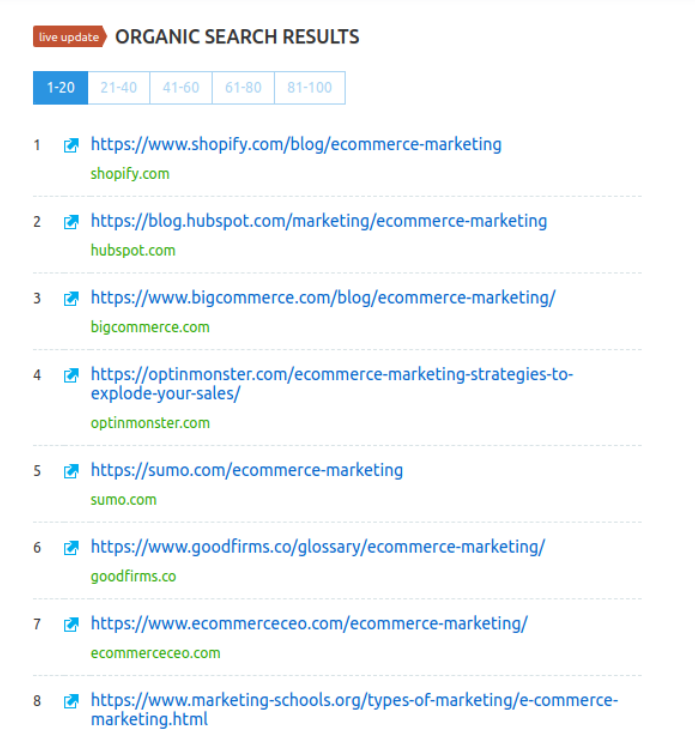 Once you have found your target article, it's time to examine the backlinks, keywords, etc. After examining, you should go through strategies, tricks, and resources which your competitors are implementing for getting linked.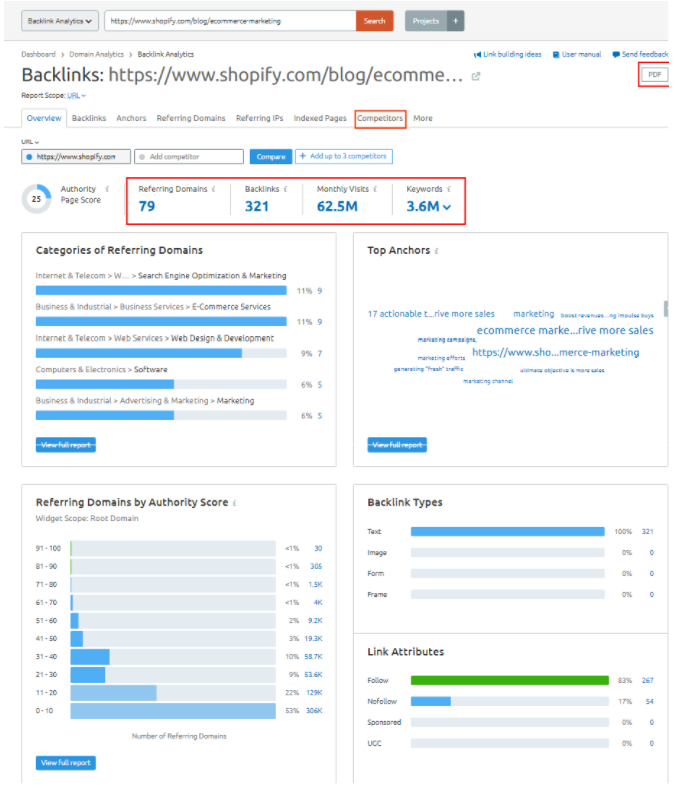 Now you have every piece of information about your competitors and their articles. You just need to put in some extra effort and add extra valuable information to the content.
Product Promotion And Videos
Every eCommerce site has product images.
But do you use videos?
Videos for the product are difficult tasks to do but this can be very beneficial for your store, especially now when video ads and content are on the rise.
Trust me, creating videos for your successful products will make you more link-worthy. Even if it will not help you in creating backlinks, creating videos will help you in SEO terms.
Just create 1-2 minutes of a promotional video for your brand. Don't make it too long as it may become boring and hence increase your bounce rate.
Here are a few examples of promo ideas:
Once you are done with the videos, promote them in the right place (social media) for more traffic.
Link Reclamation
Link reclamation is finding opportunities to earn links from online sites that have mentioned your brand but do not link to you.
As online marketers, we know how hard and valuable it is to earn editorial, authoritative links for our campaign and sites and reach the top of Google.
Therefore, it may be disappointing when you notice a brand mention which doesn't link to you.
What do you do to get those links?
You have multiple tools available:
Mention.net
Fresh Web Explorer
These tools will notify you via email whenever any online sites will mention your brand name on the internet.
Besides this, you can also use a Brand monitoring tool by which you will be able to track across the web to find out who has mentioned the name of your brand but did not give you a link.
How to use the tool?
Type your brand name in the search box of the Brand monitoring tool of SEMrush. Then it will filter out all the websites from the web that have mentioned your brand name.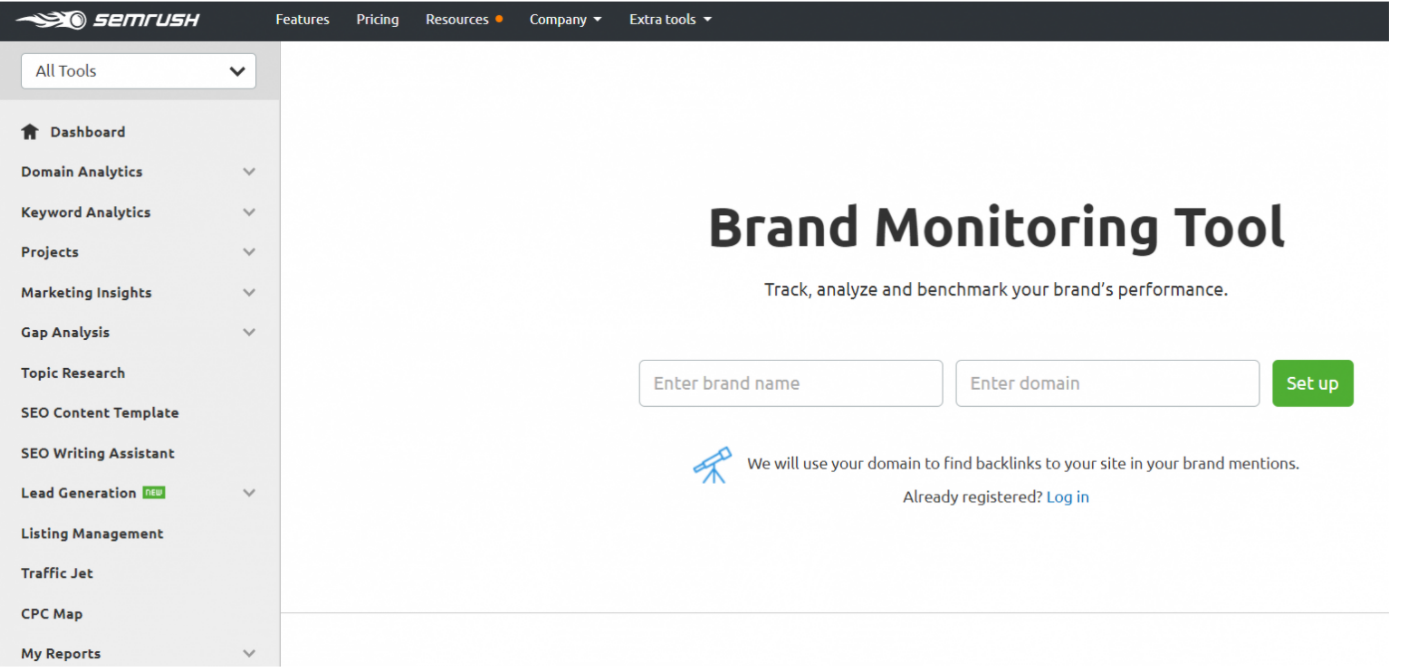 Now you just need to find out who has linked to you and who has not. Once you have all the lists, now you can request them to link with you.
Engage On Forums
Create links with your niche forums.
If you want more customers, the first thing you need to do is find what your customers are looking for.
A forum is a place where you can find out and seek advice, and feedback from other online marketers to scale up your brand. Besides this, you can also share your views, participate in discussions, and share tips for the growth of the business.
And if your online store has things that are valuable, knowledgeable, and useful for the participants, then you can share your links.
By doing this you are not only prioritizing creating backlinks but also you are providing useful content for the forums.
There are many forums and communities that give you the opportunity to link and expand your backlinks.
eCommerce fuel forum
Quora
Reddit
Shopify Entrepreneur, etc.
You can also use SEMrush to filter the top organic pages for these websites.
SEMrush→ Domain Analytics→ Organic Research
And here are the top searches: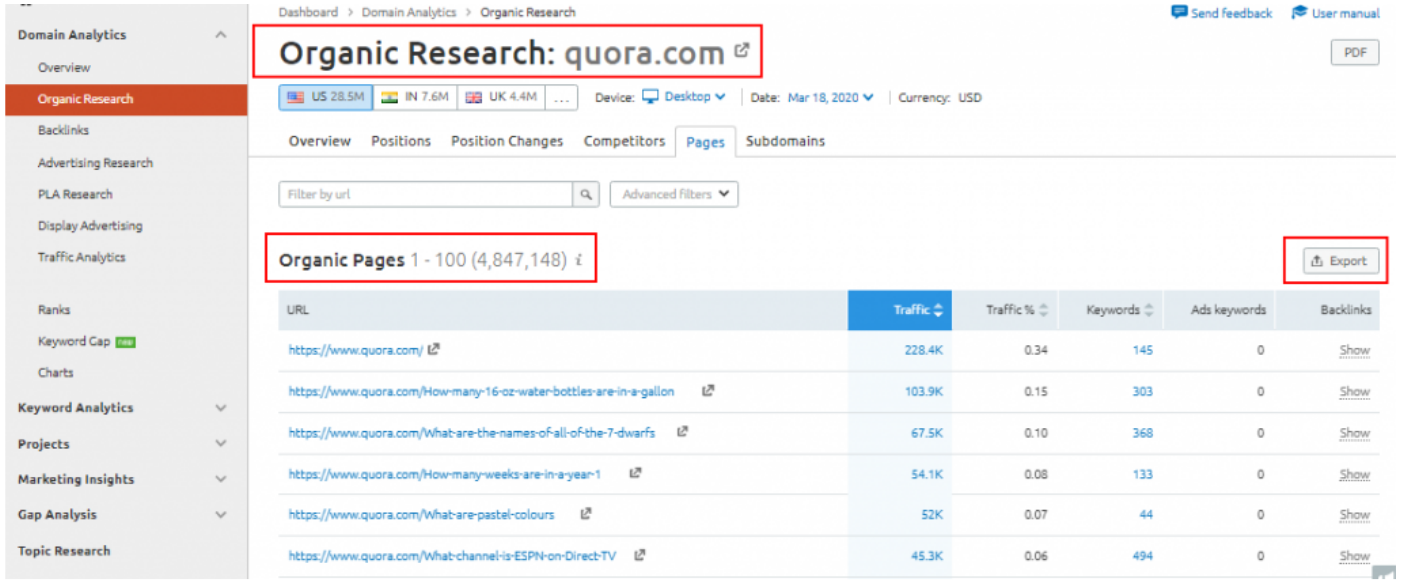 Then, comment on these blogs and get your link.
Work With Influencers
An influencer is a person who has the power to change the mind of a user and force them to buy your products with their skill and knowledge in that field.
These individuals do not act as marketing assets but are social relations assets with which any brand can collaborate to achieve its marketing objectives.
Reach an influencer to test your product or send it along as a gift in exchange for a review or mention for your online store.
Contact social media influencers, they are people who have made their identity by their knowledge and expertise in a specific field. They often make regular posts or videos about that topic on all social media platforms and make large followers, engaging more people to their page or channel.
You can reach out to blog authors, popular Instagram accounts, and relevant YouTube channels. These individuals have a high influence over their audience, and their reviews can make or break a follower's purchase decision.
Influencer link building allows you to reach large audiences in the same field. You can also use Buzzsumo.com tools to find out the influencer.
For example, we collaborated with Wade McMaster and the results have been outstanding. Check out his video below:
Provide Ultimate Guides
By now, you are aware of every aspect of link building and its importance.
Link building is an excellent way to take your site to the top level.
Another easy way to get links for your online store is to create guides.
Yes, guides are excellent practice for gaining long-term backlinks. Everyone likes to link with the guide because it gives complete information about the topic in one place.
Creating guides on several topics will give you high-quality backlinks for the long term. They will act as a magnet for creating backlinks.

Over To You
Link building is very essential for the success of any eCommerce site. This article has covered many different ways to create quality backlinks for your online store.
After going through the whole article, you must be aware that creating backlinks for your online store is not rocket science.
You just need to put in some effort, be patient in your efforts, set your goal, and follow them. Also, make sure to follow some of the techniques mentioned above and you will notice a huge increase in traffic and creating backlinks.
The most important tactics to create backlinks are to always trend with good content pieces, valuable products, and excellent websites, and target your audience well. This often provides you with high-quality backlinks.
Another thing you need to remember is that always prioritize the quality of creating backlinks over quantity.
Let us know in the comments- How much you enjoy reading our guide and mark suggestions for improvement too… We'd be delighted if you take the time to share this…