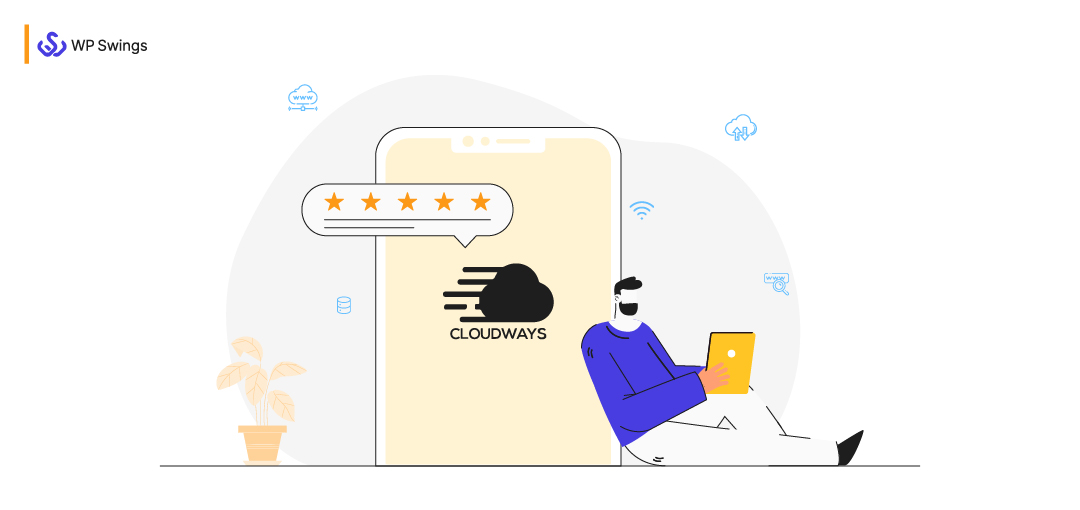 Here's a sincere Cloudways Review for you all. For starters, in case you are here to explore more about Cloudways, I will begin with a brief about the solutions Cloudways have to offer. With Cloudways, you get simplicity for a seamless admin experience and flexibility with respect to choices.
Cloudways provides managed hosting services, unlike other hosting service providers, for instance, Hostinger. Cloudways is a managed hosting service provider—that in itself is its prime benefit. Thus, with cloudways, you can launch managed servers with top IaaS (Infrastructure as a Service) providers such as AWS, Digital Ocean, etc.
You might wonder, what is the major difference between unmanaged and managed hosting services?, and
What could be the best solution you should consider?
A managed WordPress hosting service will not only cater to your needs for a storage server but also:
It will handle your server maintenance.
Manage software updates.
Reduce possibility of malware attacks.
Give you instant and reliable support.
Advanced security setup against unauthorized access.
Give you wide variety of choices, and so on…
There are many solutions to rely on for hosting services, but we are here to discuss our reviews for Cloudways.
Cloudways Features & Reviews (Parameters And Our Scores)
Cloudways is a number 1 cloud hosting provider for SMBs that provides managed hosting services with- AWS, Digital Ocean, Google Cloud, Vultr, Linode, and many other deemed partners.

When you buy infrastructure on Cloudways, you can specify the underlying infrastructure provider. They'll automatically do the configuration, set up your servers, and customize (usually, with a single click) your applications on those servers. Plus, they offer actual humans 24-7-365 that can provide you with support.
~ Cloudways
We will talk more about its dashboard and what all it has to offer to ease our experience. But before that, let us come straight to the parameters you are curious about:
1. Website Uptime:
Website uptime is amongst the most crucial features of any website. Why? Because if your site is down, you lose out on a large number of potential clients and sometimes, even existing ones!
If your WordPress site is down your existing and potential customers will be unable to locate your products or services —and you might lose significant revenue. So the good news is that Cloudways offers commendable uptime.
For testing my website's uptime, I employed a free website-monitoring tool called Better Uptime by Better Stack to keep a check on track of the uptime. This assisted me in documenting an honest Cloudways hosting Review for my WordPress site test.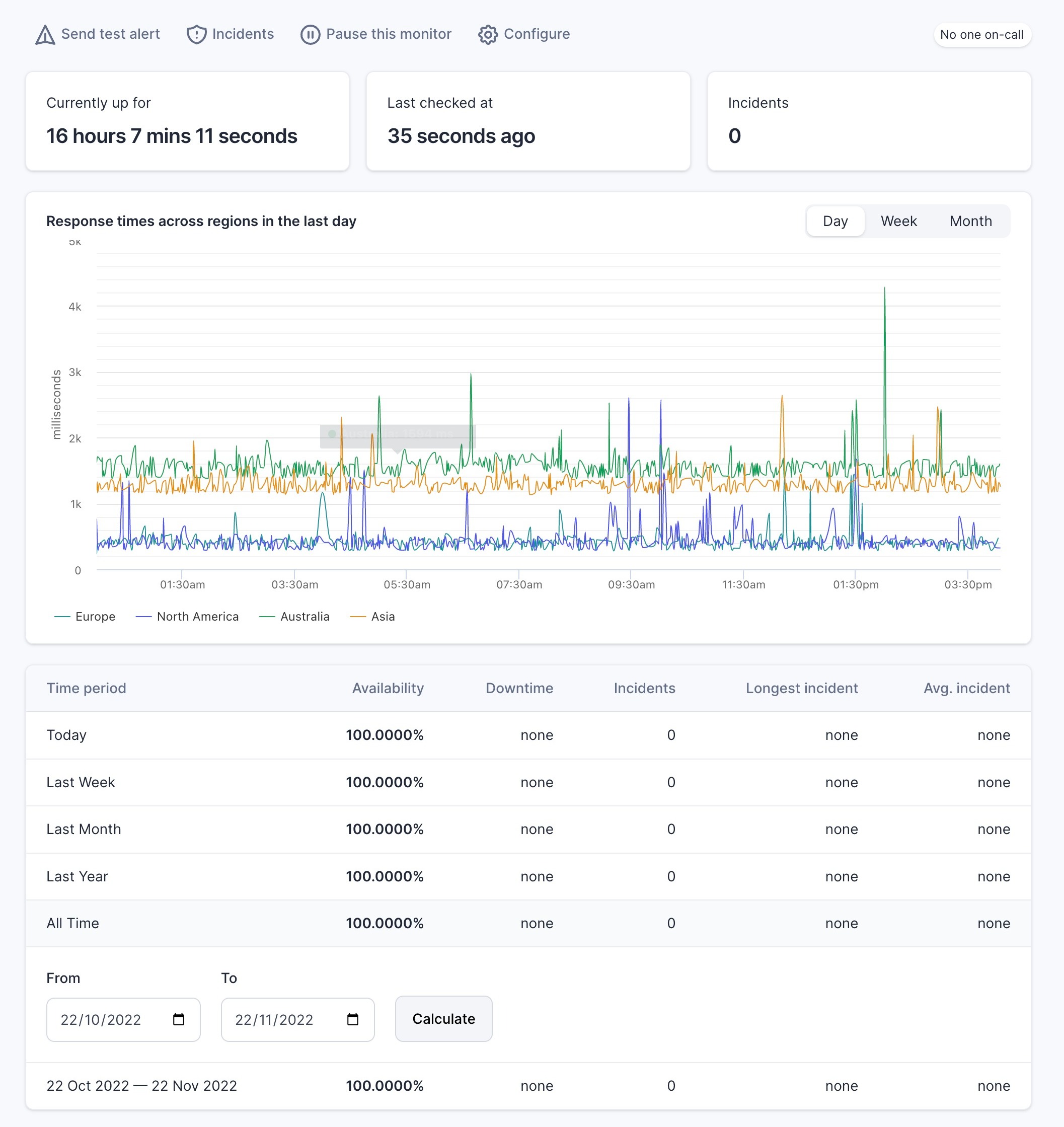 In my most recent tests, Cloudways turned out to keep the test website pretty stable. In fact, the test website did not go down even once and reported 0 incidents, which is an exceptionally good detail for the Cloudways hosting review.
Downtime can impact your eCommerce business directly in terms of revenue and Returns on Investment (RoI) and can do more harm than expected:
Higher the Downtime, the Higher the Losses: It is inevitable to lose the money you could have made during the downtime of your website.
Impact on Brand Reputation: If your website is down for even the minimum of time, it's like slamming the door in your customers' faces. It will not just create a bad reputation but will also harm your image for your intent harming your business in the long run.
Search Engine Influence: If your website is frequently down, then search engines might assume that your website is too unreliable to recommend. Often they penalize those websites that fail to maintain 24/7 uptime.
You can monitor your server's actual uptime to track outages on your WordPress website. You use tools that will notify you immediately by email or SMS if something goes wrong with your site. This will allow you to get it fixed as soon as possible.
With cloudways, the average uptime we found was 100% which is exceptionally good.
Our Verdict: 5 STARS
2. Customer Support:
Cloudways offers 24/7 customer service, so you'll be able to reach someone around the clock. There's a catch, though, if you wish to speak to a human being. You must fill out a form to request a phone or Skype call.
You also have the option to speak with a customer service representative via web chat. That way, you can get answers in an immediate fashion. I never waited more than a few seconds before a Cloudways rep fielded one of my chat questions. The team is quite knowledgeable, too. The members fed me accurate information about the differences between cloud hosting and traditional hosting and the company's payment structure. I also received an infrastructure-as-a-service primer.
Cloudways refund policy isn't the typical 30-, 60-, or 90-day money-back guarantee that you find with most other web hosts. In fact, the structure is so detailed that Cloudways' customer service team simply referred me to this link(Opens in a new window). It's a lot to digest.
3. Pricing:
Please note that for this Cloudways review, I have considered the plan for managed Cloudways Hosting on top of DigitalOcean. Also, before I proceed, please understand that Cloudways offers a variety of pricing plans for all of their partner web hosts, DigitalOcean, AWS, Google Cloud, Vultr, and Linode.

Cloudways offer their DigitalOcean plans starting from $7.20/month where you will get 1 GB RAM, 25 GB storage space, and 1 TB Bandwidth. For increased server storage at 50 GB, 80 GB, and 160 GB, the prices increase to $15.60, $30, and $57.60 monthly, respectively.
One interesting model that they implement is their unique 'Pay as you Go' payment model. This means you will pay only for the amount of days you will use their hosting. This is a very strong trust-building factor for a managed cloud hosting server.
A website stated that their lowest specification server, (1 GB plan of DigitalOcean that costs $7.20/month) costs $0.0139/hour, which is equivalent to ₹1.02 (Indian Rupees). This makes Cloudways the lowest honest-price website hosting!
The best part about Cloudways is that the renewal rates remain the same for all their plans. Another important thing to note here is that Cloudways charges you double the plans laid out by the individual hosting providers.
This means that if DigitalOcean has its Starter plan at $6/month; on Cloudways, you will get the same for $12/month (although they have offers running on their pricing schemes almost perenially. Just make sure you catch the deal at the right time). Sure, you could go with the individual hosting providers for a reduced cost. However, then you will lose the 'Managed' aspect of web hosting.
Our Verdict:
4.5 STARS (when compared with other managed hosting service providers)
3.5 STARS (when compared with unmanaged service providers)
4. Setting Up Your WordPress Site and eCommerce:
Setting up a WordPress site once your Content Management System is finalized is a piece of cake with Cloudways. Since WordPress has always been my top choice of CMS, so was it during the Cloudways review testing. All that you need to do is log in to your Cloudways dashboard and select a theme of your choice. Tweak some changes here and there and there you go! Make your WordPress site live within minutes with Cloudways.
Cloudways will allow you to separately monitor the applications hosted on any server under two categories: Analytics and Logs. Analytics displays traffic information, PHP requests, MySQL requests, and Disk Usage. Logs, on the other hand, show your website's access log and error log.
With the managed hosting Cloudways features, your website gets exclusive treatment. In such a case you need not worry about daily monitoring, backup, or even advanced security features. All you got to do is run your business smoothly.
eCommerce is equally smooth to run here with the help of WooCommerce. You can setup a retail business or a wholesale business within minutes.
Our Verdict: 5 STARS
You May Also Rely on WP Swings to Provide You Services with Lasting Support!
5. Advanced Security Features:
The good part is you don't have to go anywhere for SSL certification of your WooCommerce site. The advanced security features that were provided during my Cloudways review testing were satisfactory to a large extent. They keep on releasing timely firmware and operating system upgrades. This seems like a very relieving featured service provided by Cloudways engineers when running a humongous WooCommerce business.
Our Verdict: 4 STARS
We Have Collated More Information About WordPress Security in Our Resources Section!
Hosting Plans by Cloudways
Here are the hosting plans by Cloudways for different servers on top of AWS. You will get comparative plans for all the other unmanaged hosting providers that Cloudways has partnered with. Similarly in the case of their advanced security features!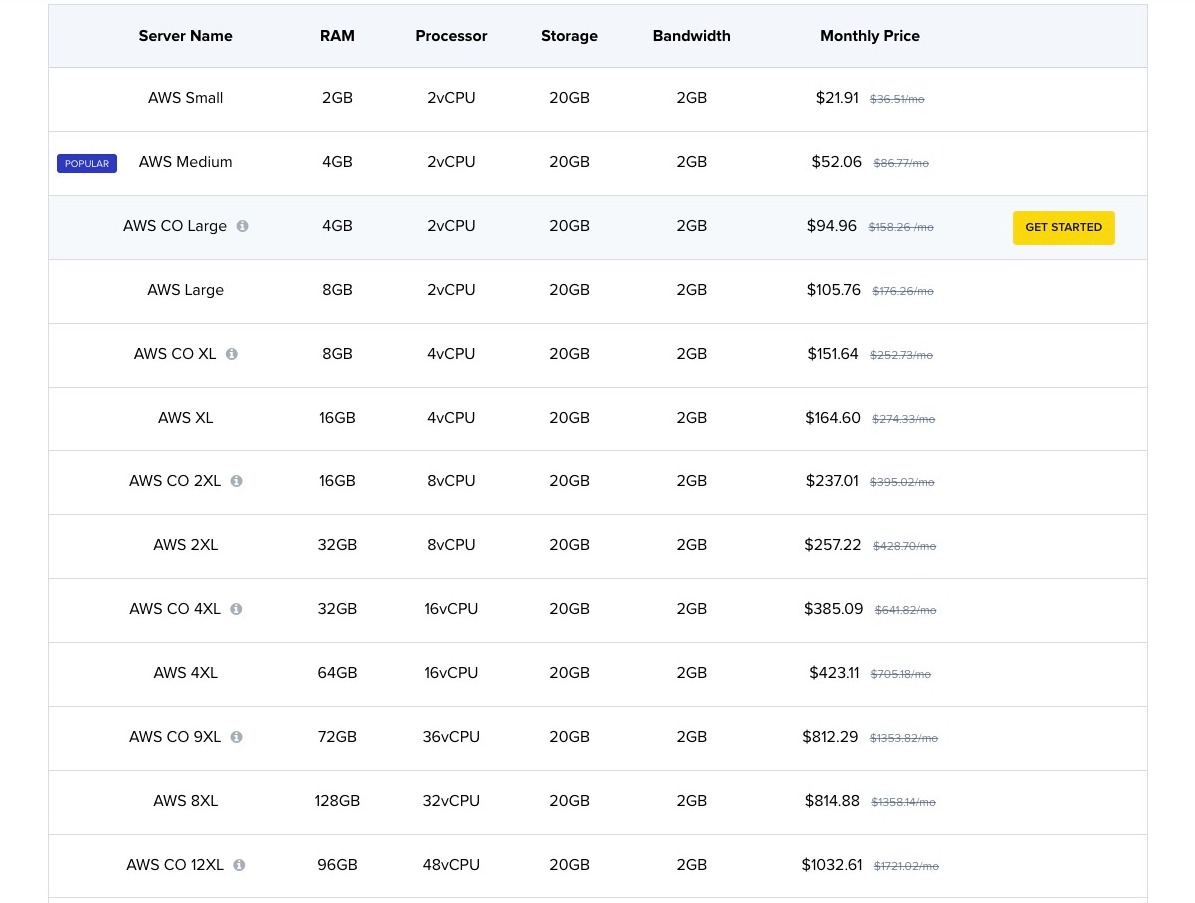 With all these plans by Cloudways, you will get 24×7 Support, a free SSL certificate, a dedicated firewall, real-time monitoring, Cloudfare addon, automated backups, free migration, auto-healing, HTTP/2 Enabled Servers, SSH and SFTP Access, and Team Management. Basically, you name it and they will give it.
What is Everyone Else Saying About Cloudways?!
Read on some of the distinguished Cloudways reviews on Capterra
1. One of the BEST hosts
Overall: I have used them for over 3-4 years or so now. They have an excellent hosting service that delivers a ton of value. I have been pleased with their service, so I am recommending them to anyone who is not afraid to do a little setup on their own. Which, I might add, is easy-peasy if you like a bit of tech.
Pros: I like the fact that I can pay little… And get MUCHO! They charge very little for the specifications they give. Better than WP-Engine, and at a lower price. I spend a few months browsing hosting companies before I landed on them. They have been good to me most of the time. Nobody is perfect, but the tech is. And support is mostly great as well.
Cons: In the beginning, support was swift, like a push of a button… Nowadays, they have a little more to do. This results in waiting for the users. When you are new to the platform, you may need more support. I don't use it much now, but I did chat a bit back and forth with them on several occasions. Now, you can expect to wait a bit before an agent is ready to talk, and while you do, you can expect to wait a bit after you have typed what you needed to in the chat. Not really fond of waiting in general.
Reasons for Switching to Cloudways: I needed a private server as my service was on a shared hosting solution. I noticed I needed it, and started looking for a better alternative. Siteground was the next option for shared hosting, but I really needed a private server so I could scale my web traffic without any hiccups.
2. Outstanding Service
Overall: I would definitely recommend CloudWays to anyone that's looking for a place where to host their websites. It's way better and easier to use than any other server/cloud/hosting company.
Pros: I've been using CloudWays for a long time now, basically since they started, and never had any issues so far. They always have good deals for new users, and prices have always been really good for the service they provide. You can pay as you go, which means that you only pay for what you use. They definitely make the life of a developer way easier, making it easy for anyone (even if you don't have experience) to install any CMS and/or PHP-based system. Ohhh and let's not forget.. their customer service is a 10/10.
Cons: So far I have not found anything bad about CloudWays, especially now that they just updated their website making it faster and even easier to use. If you're used to doing everything through cPanel, get ready to learn how to manage your servers/websites differently (It will only take a few minutes if you consider yourself a fast learner).
Our Verdict
There is a lot to Cloudways. What I have mentioned in this Cloudways review is just a needle in the haystack. The services offered by Cloudways are top-notch. The flexibility that these cloud hosting plans provide caters to needs such as fast setup times, reliable web-based customer support, and excellent uptime. It's a company you can count on to keep your site up and running to services that offer those items. Additionally, some people won't like the odd way of getting a customer service rep on the phone. If those caveats aren't dealbreakers, however, give Cloudways a chance. You may find it offers just what you need to get and keep your website online.