Plugin Usage Tracking
By default, our plugin team receives no sensitive data from you or your website end users. The reason behind this is we respect people's privacy. We believe that people should have the right to control their own data.
It signifies that WP Swings has no information regarding the size of the stores, the number of stores, how developers and store owners are tackling our plugins, and what are the hindrances faced by them. This makes it difficult for us to understand and find out our plugin users, their requirements, and up-gradation.
We only keep track of the plugin version and the settings which are enabled by you in the plugin. For all our extensions, we also track extension-based settings.
Now, we have added an option so that anyone can enable usage tracking from their WordPress admin area. This will let us know the store size, plugin installation, and how they are being used.
Usage tracking helps us to clearly understand our customers and continuously improve our plugins.
The enablement of usage tracking assists us:
Know how our plugins are setup
Provide remarkable experience and inform you about our upcoming advanced plugins that can be useful for you
Know if any issue occurs in the plugin
Contact clients if we detect any security threat
Send marketing campaigns and provide promotional content to you. You can opt-out of these marketing emails anytime. Also, people who have opt-in marketing interactions will be contacted
Recognize the stores impacted if any plugin becomes non-functional and if any problem occurs with its update or feature. So that we can more likely resolve issues
The sharing of your data will help us to make our WooCommerce Plugins more enhanced and superior. This will help us add more extraordinary features to our plugins, create simplified plugin content, and make WP Swings a better platform.
The Data We Will Track
We intend to keep non-sensitive information regarding plugin installation, and how it is working. We don't store and track sensitive data nor do we go to business data.
We mainly emphasize the plugin version and its settings enabled. Our main motive is to provide you more and more benefits and the best experience, and flexibility to your way.
Instances of what we track:
Your Website URL
Your MySQL version
Your PHP version
WordPress version
WordPress memory limit
PHP Settings which includes maximum post size, maximum input vars, if cURL, SOAP and fSOCK are permitted
Activated plugins in listicle
Active payment gateways
Active shipping methods
Admin's email address
Your total number of customers, orders and products
Your total number of orders per Payment Gateway
Themes
Template overrides
Your date of first and last order
Web server software & version
WordPress locale
WordPress debug mode
WordPress settings
WooCommerce settings
Blocks used on cart checkout pages
Shortcodes used on cart checkout pages
Gross revenue
The tracked data is automatically sent by us to our servers once you opt-in to share the data with us.
WooCommerce Extensions
The plugins listed below are created and maintained by WP Swings with their tracked data types-
Subscriptions for WooCommerce
Plugin Version
URL of the Live Site
Number of Subscriptions
Number of Subscriptions for each status
Number of Subscription product
Membership for WooCommerce
Plugin Version
URL of the Live Site
Number of Membership Plans
Number of Members for each status
Wallet System for WooCommerce
Plugin Version
URL of the Live Site
Number of Users Using wallet
How you can stop sharing your data
If you further don't want to share your data with us, then go to the Developer tab of our plugin settings. And you can toggle the "Enable Tracking" button off from here and disable the checkbox of enabling tracking.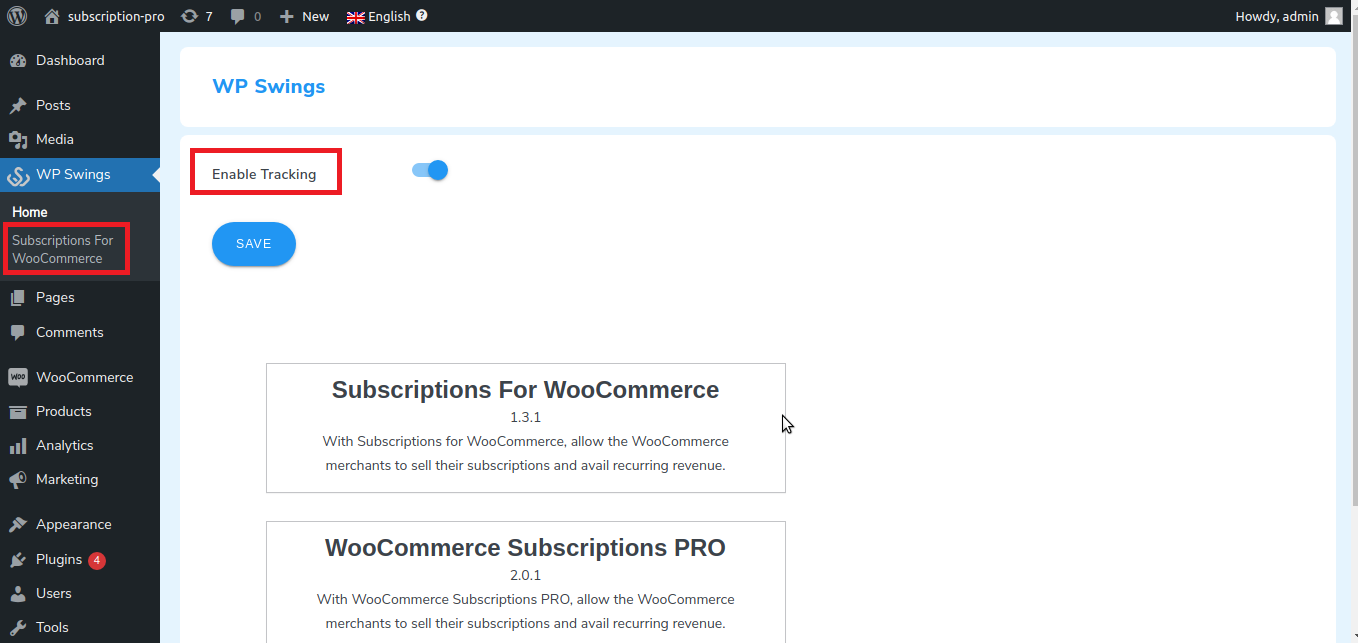 Thanks for Reading Patiently
We always prioritize customer privacy and try to provide them with a better experience. If you are investing your precious time in reading this post, it indicates your keen interest in WooCommerce plugins. If it doesn't mean to you, we wish you good luck ahead.