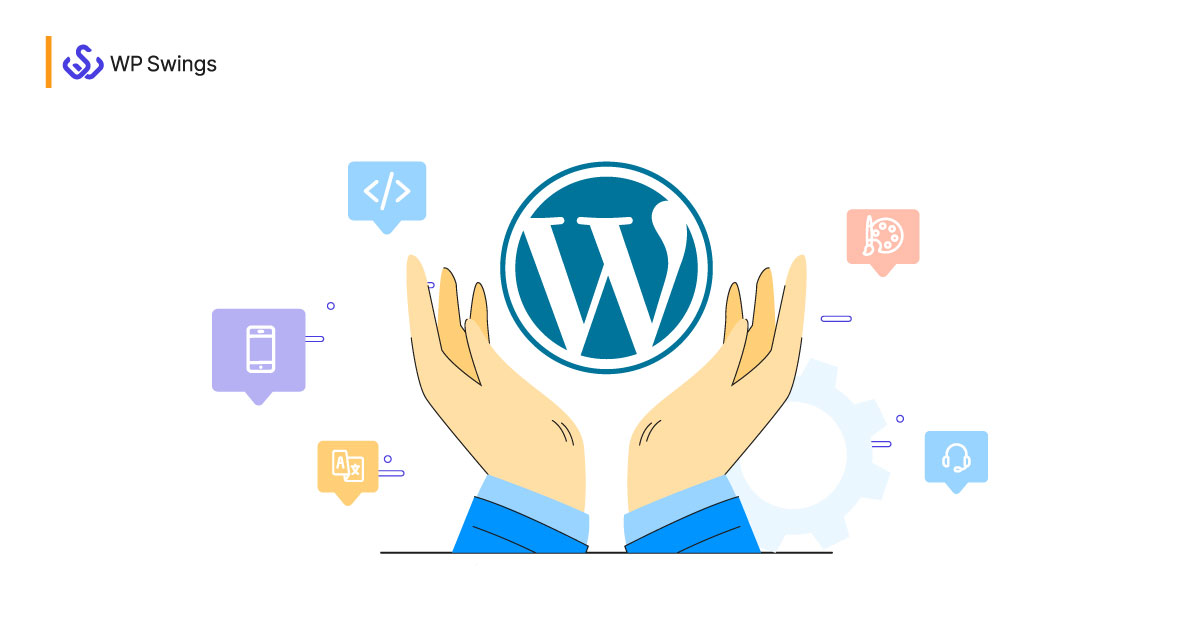 WordPress.org is a complete open-source platform which means there is not one individual, entity, or company that maintains it. It is run by a community of dedicated individuals around the globe who try to make it better every day. It is completely free and anyone can work on it and modify it as per their requirements.
43% of the web is powered by WordPress in 2022, including news sites, hobby blogs, and media elements. This is an increase from 39.5% in 2021, which means two websites from every five make use of WordPress. It includes those with or without a content management system. To be precise, it powers over one third of the web. If you look at the data in terms of websites with a known CMS, WordPress has an even bigger market share. Following is a comparison of WordPress with other website builder tools:
If you'd like to contribute, the WordPress community invites you with open arms. If you want to be a contributing member, this is the right place for you to decide. There are plenty of ways you can contribute. Irrespective of your particular skill set. Whether you are a designer, developer, writer, or just an ordinary user. At WordPress you can continue with the field of your liking. You can choose from a handful of fields in WordPress. Also, we will cover all your doubts here and guide you to your niche.
Reasons To Choose WordPress!
Table Of Contents
Who Is a WordPress Contributor?
Anyone from any part of the world can contribute to WordPress. Regardless of their experience, background, demographics, etc. Different people contribute at different varying levels. Some of them are paid by the company. While others are mere volunteers who join to help run a single event once a year. Moreover, it all depends on the type of contribution you choose, and the avenue for contribution.
WordPress is dependent on the community of individuals to keep it updated, add better functionality, provide testing and support, and much more. Becoming a WordPress contributor presents you the opportunity to give back to the platform that you love. And has become an irreplaceable part of your life. Also, contributing to an area of your expertise helps you learn more about your niche market.
WordPress is used by 65.2% of all websites using Content Management System. It also powers 36.28% of top 1 million websites like, Nike, The New York Times, Bloomberg, etc. These top sites are built on traffic. It is also the fastest growing CMS. The following graph shows WordPress's market share as of 2022.
Getting to know thousands of others like you will enable you to build a network. Also, you will get the opportunity to sharpen your skills, and work on a project of your liking where you will eventually give in your best.
Next, we'll be taking you through steps for beginners.
Steps for First Time WordPress Contributors
1. Find Your Area of Interest
First and foremost, you need to find an area where you can give your best. Your area of expertise. Select an area that intrigues you and you're competent at. A lot of people think about WordPress as a pool of developers and programmers. This is not at all the case. WordPress does have a lot of developers and programmers. It also has a dozen other options when it comes to contributing to the platform. Also, every platform requires an ideal mix of different kinds of inputs for its sustenance and progress.
Moreover, WordPress is a large and complex project. It eventually requires all kinds of people to grow. As a result, you will most certainly find an area which is best suited for you. WordPress community allows you to get involved in a number of avenues like, core, design, accessibility, translation, documentation, support, themes, and more.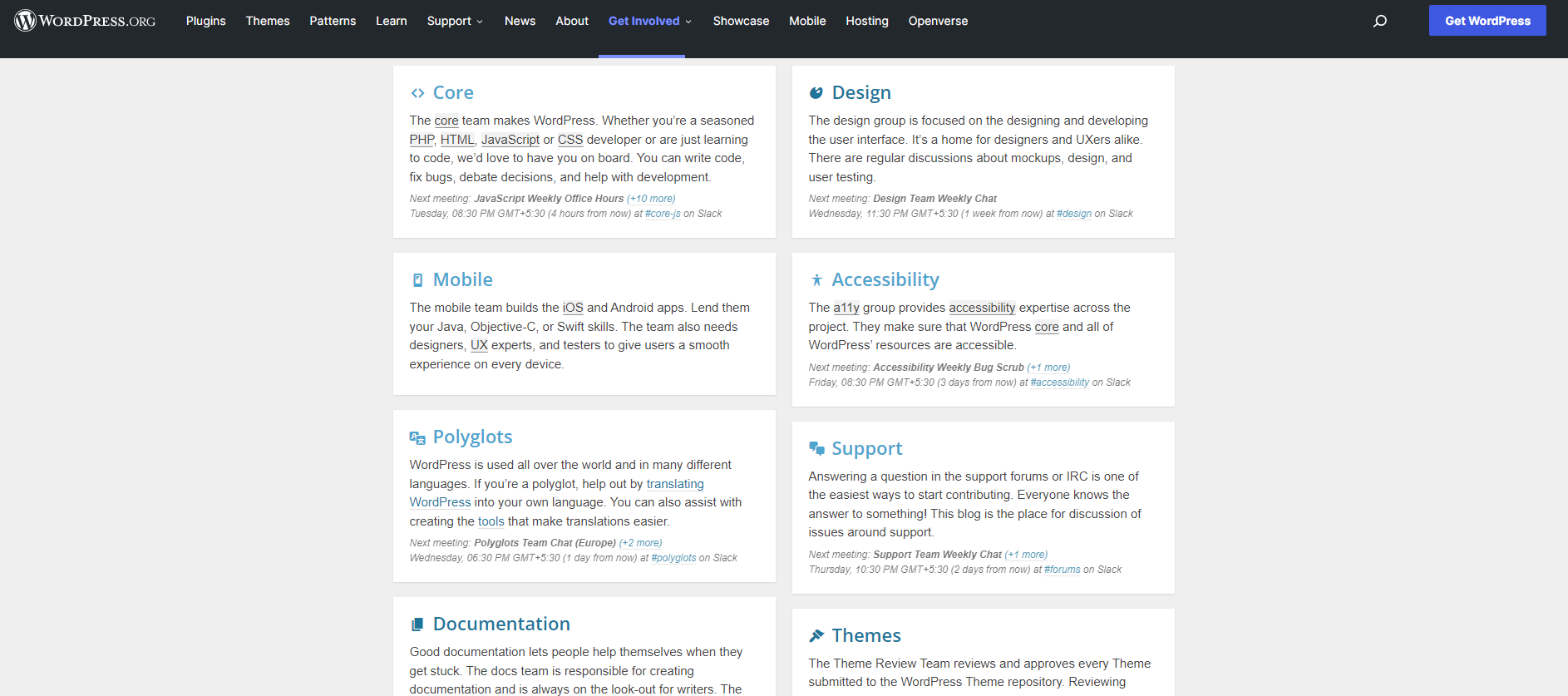 2. Research
Whether you're brand new to WordPress or you've been using it for years, learning more about the platform and its community is very crucial. As a contributor, you'll need a deeper understanding about what WordPress is, what it does, and ways you can contribute to it. Spending hours drenched into getting to know WordPress will help you find your perfect place.
Begin by reading, and reading a lot about WordPress, its development, goals, etc. Moreover, researching about the platform will give you a fair idea of where it began from, what are its missions, objectives, etc.
WordPress has come a long way from a blogging software to a multifaceted Content Management System (CMS). Once you have a clear understanding of how WordPress works and how it has changed over the years, you'll have a clear picture of where you need to focus, and the areas that intrigue you. There are a number of ways you can learn about WordPress. Also, online courses, youtube, blogs, forums, etc are available all over the internet to allow you to know WordPress inside out.
It is important to conduct research to understand the complexities, uphold truth, and create knowledge that is reliable and authentic. Conducting research enhances decision-making abilities and develops a deeper understanding of the subject. It reveals new ideas, facts, discoveries, and builds credibility.
3. Connect to Users
It's extremely crucial to keep on learning about WordPress while you're working as a contributor, and it is also important to stay involved and in touch with the community. You've got to stay connected digitally and try to build a network. By doing this, you will be updated about important news and events. In the longer run, it will also make it easy for you to find the right team and people to collaborate with.
Despite belonging to a specific field of contribution, say designing, you should definitely step outside your bubble once in a while.  And also connect with people involved in other parts of the project. This will provide better exposure and enable you in streamlining the entire procedure. Also, establishing new networks and creating new ideas will again allow you to sharpen your own skills. It will also ensure that the entire team is working towards accomplishing the same objective. Moreover, here are a few pointers to help you connect to users:
Stay updated on latest WordPress news and happenings.
Also keep an eye on the new WordPress Events and News widget.
Try attending dedicated WordPress events, like WordCamps and Meetups.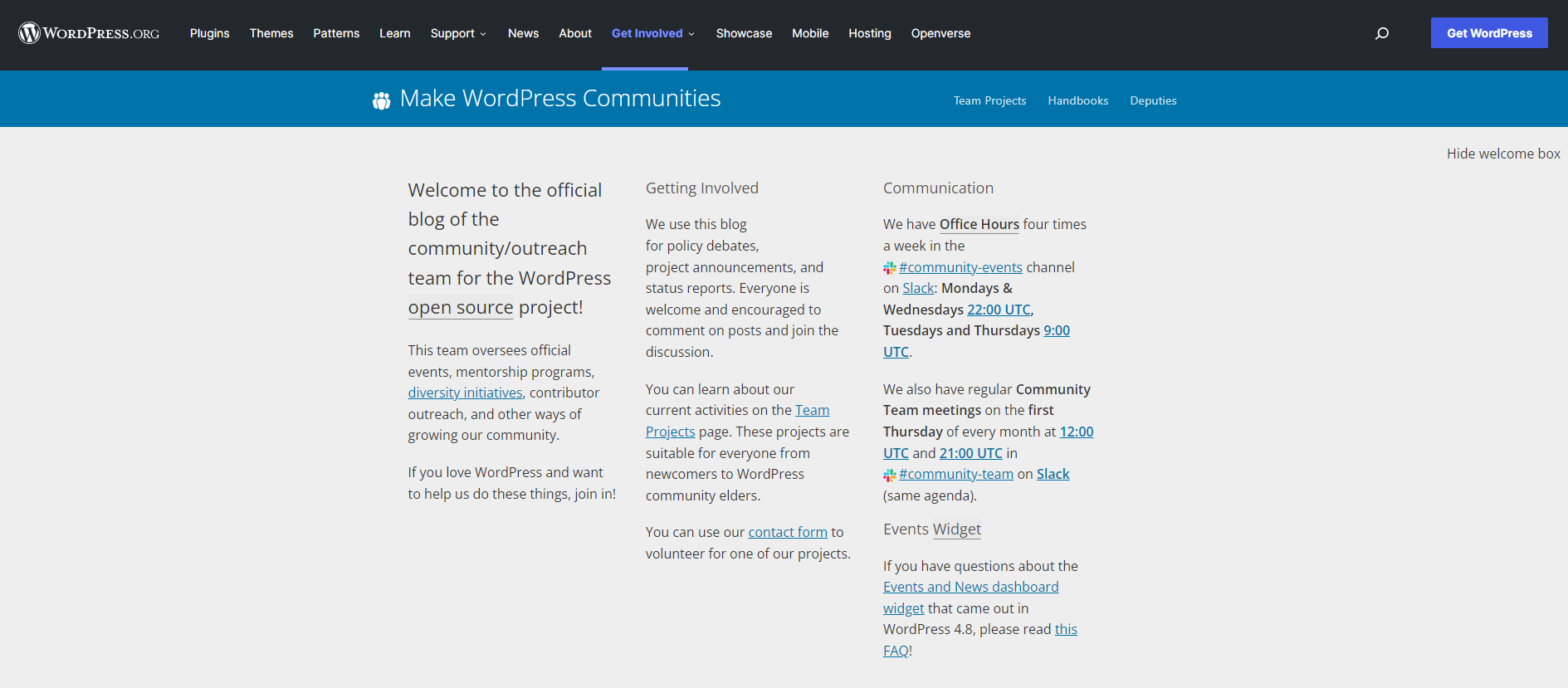 4. Use Slack
Slack is a communication tool widely used by the WordPress Community. Here you can communicate regarding various aspects of the WordPress Project. Not only being able to directly message anyone who has an account, you are free to join a number of different "channels" to communicate about specific topics that may be of interest to you. Using slack is a must for some of the contributing teams and to keep an eye on what's in trend. Anyone from anywhere can have access to any public meeting, chat, or conversation. You will simply learn by just relaxing and watching.
There are more popular ways to connect with the community. They include Twitter, Facebook groups, Slack groups, online and in-person events, etc. Furthermore, all informative conversations about the WordPress community happen in all of these places.
At the end of the day, it's all about how much you are willing to and have experimented. Write, design, code, break, and build with WordPress. There is so much on the table to learn just by experimenting. Moreover, open source is all about sharing ideas and a break from restrictions and limitations.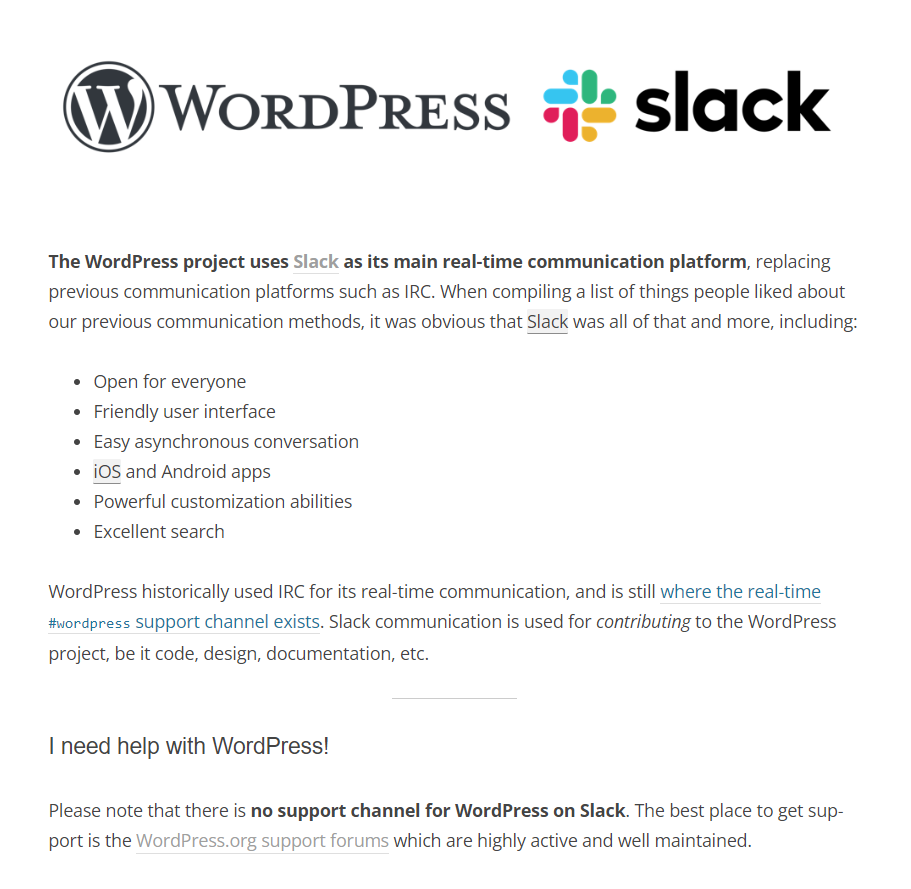 Join the Conversation
Joining the WordPress Project Slack is quite simple. Firstly, you'll need to decide how you want to access Slack. Following are the options:
After you've decided how you're going to join Slack, you'll need to follow these steps:
Visit https://make.wordpress.org/chat/. You will find a heading titled "Join the WordPress team on Slack." Click on the link to log in to WordPress.org under the heading.
Create an account by clicking on the "Create Account" link at the bottom right corner of the login box. After creating your account, go back to https://make.wordpress.org/chat/ and repeat step one.
Once you log in, through the "Joining the WordPress team on Slack" it will show a new message. Click the link to send yourself an invite to the WordPress Project Slack if you agree with the fine print.
You will receive an email with "WordPress.org has invited you to join a Slack workspace" as the subject line. To join, click the "Join Now" button.
Follow the instructions until you have an account.
Avenues for Contribution on WordPress
This is the most popular avenue for contribution. It usually comes to mind first when you think about WordPress contributors. Coders are very much required to work on the project; they're assigned for adding new features, improving functionality, creating updates, beta testing, fixing bugs, etc. Most developers stick to one or two areas of expertise. Also, some of them try their hand at almost everything.
In case you're interested in coding and development, you should definitely get involved. Luckily, you don't even need to be adroit or have a lot of experience. Since, WordPress is a beginner-friendly platform and has simple ways to get you started even if you're a newcomer. You can get hands-on experience and developers are always round the corner to assist you with your doubts.
Moreover, If you have experience with PHP, HTML, JavaScript, or CSS, you'd be a great fit for options like Core, Support, Themes, Plugins, Host, CLI, Tide, Openverse, and more.
Here you might be asked to fix bugs, debate certain decisions, write code, answer questions, review software, to streamline the WordPress experience. All you need to be able to participate in is a local version of WordPress to test.
Our Contribution
At WordPress.org we contribute to the coding avenue through WP Swings. We're a group of WooCommerce experts with the vision to make online business processes easier. With a strong desire to assist, support and solve unconventional problems, we curate the best products just for you.
Also, we provide clean code, regular and timely updates, helpful resources, user-friendly customizations, 24*7 support and more.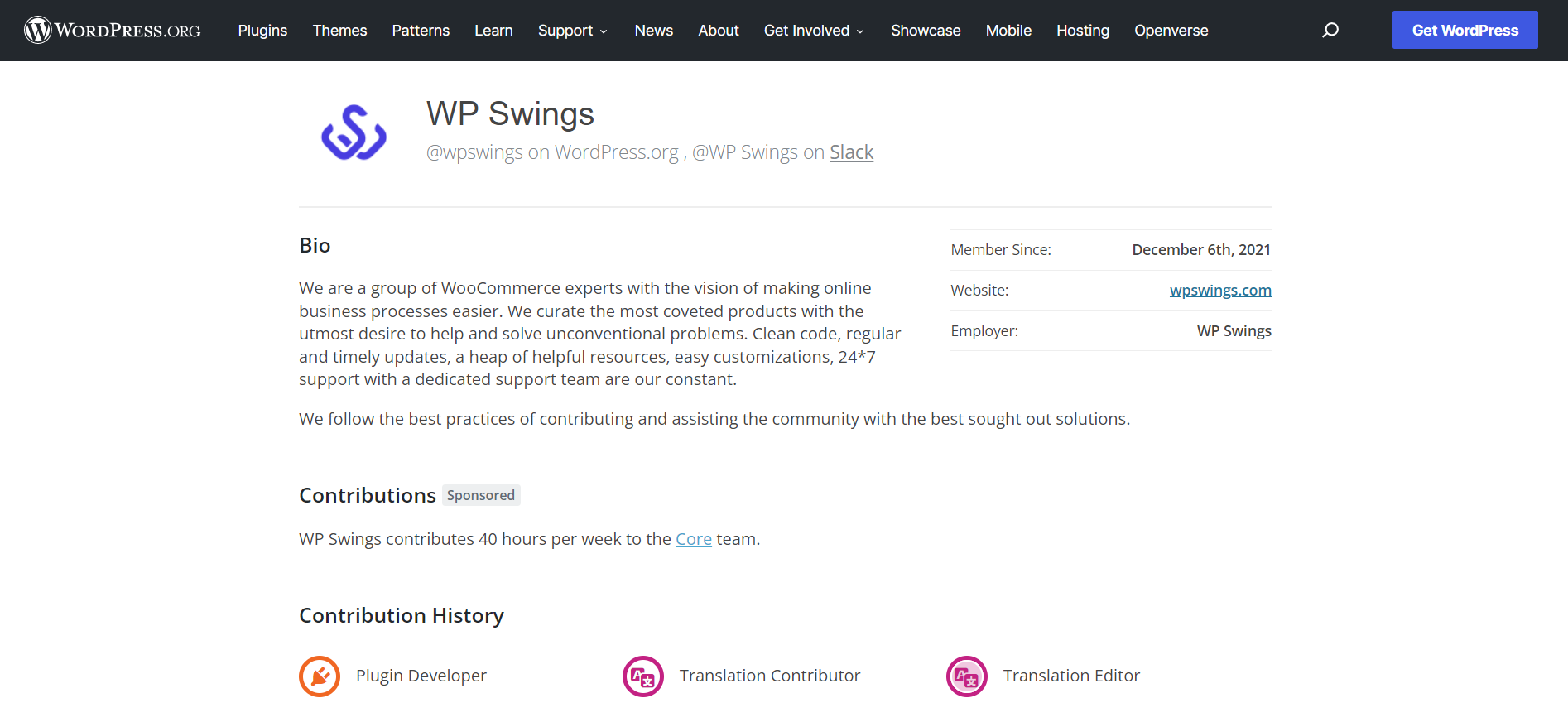 Being a designer , you might be interested in helping to enhance the platform's design and user interface (UI). These are essential elements that have a great impact on the experience of every user on the platform. A strong UI smoothens the workflow for experienced users. And makes things a little easier for them. It also plays a major role in whether or not the beginners hang around.
Moreover, WordPress' design and UI are consistently changing as developers and users come across better ways to organize information and control common tasks. Moreover, the team behind this area is available for anyone who wants to reach out.
There are numerous ways to start contributing to WordPress' UI and design. It'll be great if you have experience with graphic design, UX, user testing, accessible design, video production, or marketing. Also, possessing some sort of design experience will  help you stay on the front foot but being an expert is not mandatory.
Plugin & Theme Development
If working with themes and plugins intrigues you, and you don't want to get indulged into development, you can consider reviewing them. Every theme and plugin goes through an evaluation process before it is allowed into the official WordPress repository. The evaluation is done to ensure that the plugins and themes meet basic safety standards to be used by people on their sites.

The review process consists of two different teams. Each for themes and plugins. You'll be given a particular procedure to follow, upon joining any one of these teams, . It will be of great help to you on having some well grounded knowledge about how themes and plugins function.
Fix Your Broken WordPress Website
WordPress is a complex CMS and a ton of resources are required to teach people what to do and how to do it. Which means there's a need for writers and editors to build and add new content and ensure existing resources are updated.
WordPress contributors working on documentation are responsible for a number of projects. They are supposed to add articles to the Codex and make necessary changes to it. They also work on the contributor handbooks, the WordPress developer website, and online documentation for WordPress itself. All of these resources are vital for new WordPress users and they need to be apt and accurate.
There are numerous ways in which you can help the Docs team and work as a WordPress contributor. Every small contribution is significant. You can report an issue or typo you found in the docs. Or even help WordPress write new documentation. Below are some links to find out more about what WordPress does and how you can contribute to it:
Docs Team Handbook: An overview of what WordPress does for documentation and how you can collaborate too!
WordPress Documentation Style Guide: Here's the Style guide for WordPress documentation.
Block Editor Handbook: Here's an overview of documentation contributions of Block Editor / Gutenberg.
DevHub (developer.wordpress.org): Home of the developers' documentation.
HelpHub (wordpress.org/support): Home for all end-user documentation.
Documentation Issue Tracker on GitHub: Here you can submit any DevHub/HelpHub/"Doc Team Handbook" Docs-related issue on GitHub.
Translating WordPress demonstrates the process of translating the WordPress software, so that people can easily use WordPress for blogs in languages other than just English.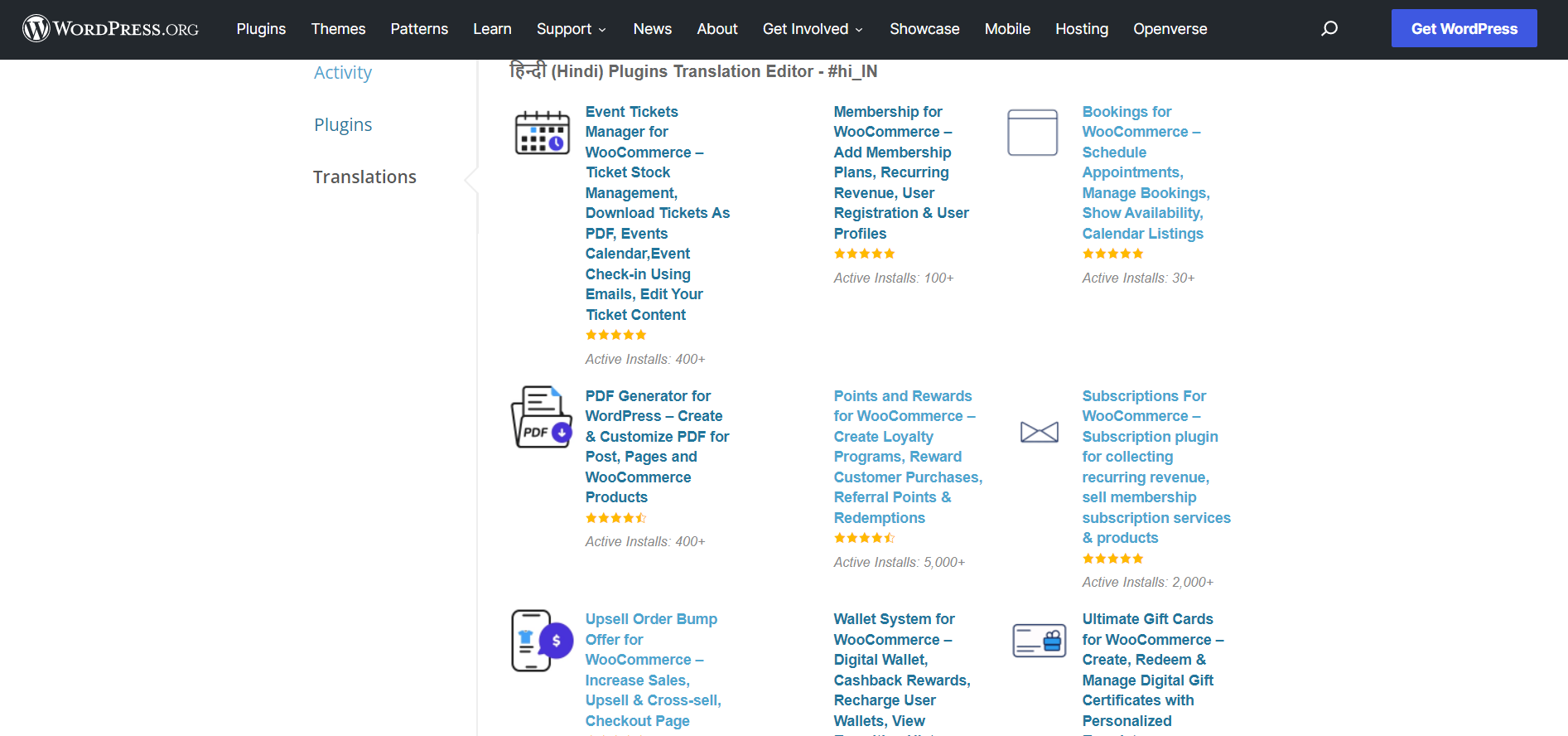 An online community comes with the ease of transcending barriers. Barriers could be related to location, nationality, demographics and ability. Anyone from anywhere can contribute to WordPress. WordPress does not discriminate. Due to this, people from all over the world use WordPress to create their websites.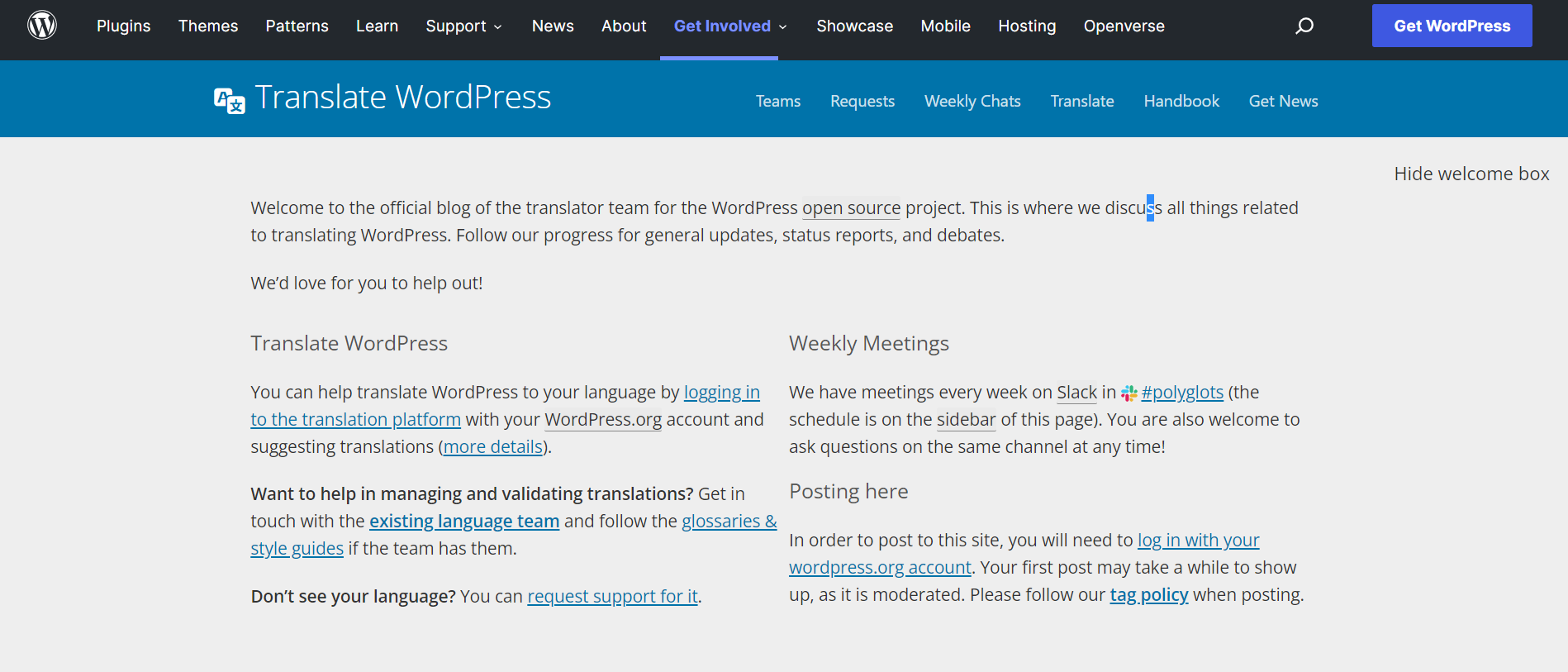 This also gives rise to the need for the platform to be flexible and accessible, to meet the needs of various types of users. To help with this two groups in particular are  responsible: the translation and accessibility team. The translation team, also known as the 'polyglots', is for questions, suggestions and discussions related to translating WordPress. It works towards adding more languages to WordPress. Moreover, the accessibility team concentrates on making the platform as useful as possible for everyone irrespective of hardware, software, or any sensory or physical impairment.

Translate WordPress- Handbook
These two areas have somewhat similar goals but they function through different skill sets. To join the polyglot team, you'll have to have knowledge of at least one or more languages. With robust writing and editing skills. The accessibility team, which is usually made up of developers and coders will require you to have a strong grip at accessibility-related testing and support tickets.
WordPress training provides free synchronous and nonsynchronous online and downloadable lesson plans on learn.wordpress.org. Through these lesson plans instructors in live environments can teach people how to utilize and extend WordPress.
Whether you're a new blogger or a qualified developer, there's always scope to learn. From robust and knowledgeable community members all over the globe, the vast resources on WordPress will help you discover more about WordPress and share it with others.
Workshops – In order to improve your WordPress skills, WordPress organizes workshops where you can improve your skills or learn new ones.
Lesson Plans – Guide and inspire your efforts to provide better content to audiences with these lesson plans.
Other Ways Of Contribution
Five for the Future
Five for the future is an initiative which promotes the WordPress community's contribution. Matt Mullenweg founded this initiative in the year 2014 with a vision to encourage organizations to contribute five percent of their resources to WordPress development.
Anyone from any part of the world is eligible to contribute to five for the future. While many contributors focus on the technical side of WordPress, such as core development. There are also teams that work in marketing, language, training, and support. You can get involved as an individual or organization.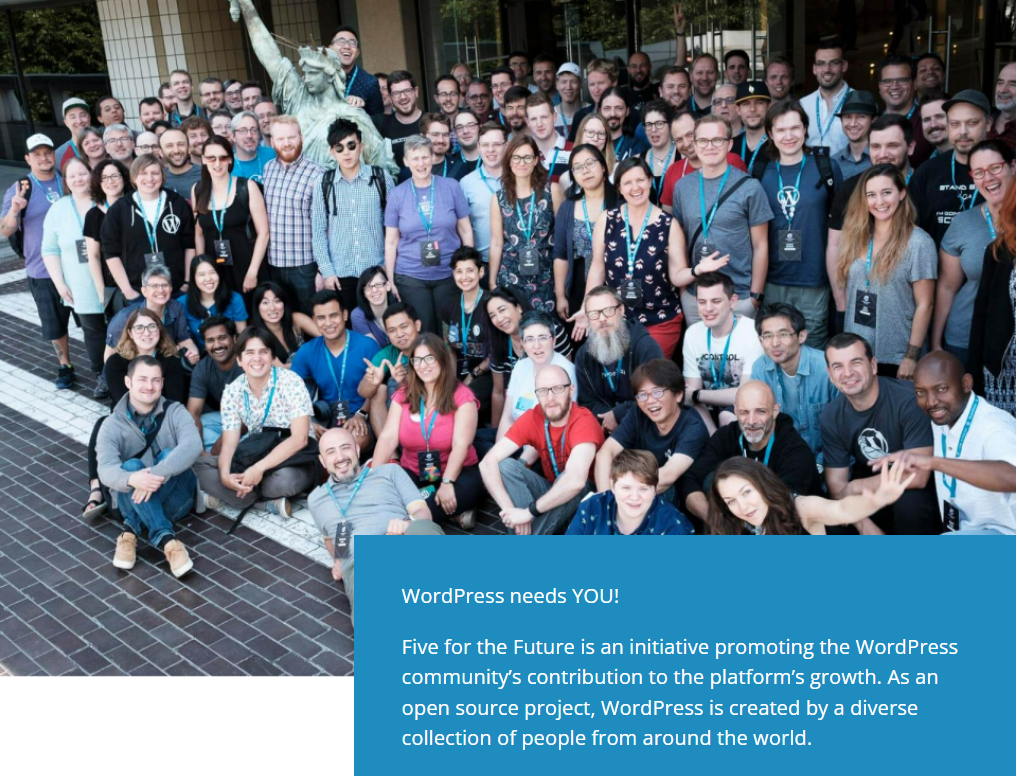 As a contributor, you can learn alongside passionate innovators who are more than inclined to share their knowledge.
Conclusion
Today WordPress is a huge success and a big chunk of the credit goes to its contributors. A wide community of individuals helps WordPress keep up with its own as well as its users expectations.
Now to understand why you should contribute to such a platform is as important as it is to understand how you can contribute to it in the first place. Since this article has given you a clear idea of how you can find your niche and what all options you have to choose from, you're good to go! Your contribution will only make WordPress a better platform and an even better experience for the users.
Moreover to get going as a WordPress contributor, you'll want to keep a few things in mind:
Do some good research on the platform and community, learn and explore as much as you can and try and identify what areas attract you.
Hold onto one or more areas of contribution that complement your skills, interests, and objectives.
Also, stay connected with the WordPress community through forums, articles, news, and events.
Moreover, if you still have any confusion regarding anything related to WordPress contributors or WordPress in general, you're more than welcome to contact us.