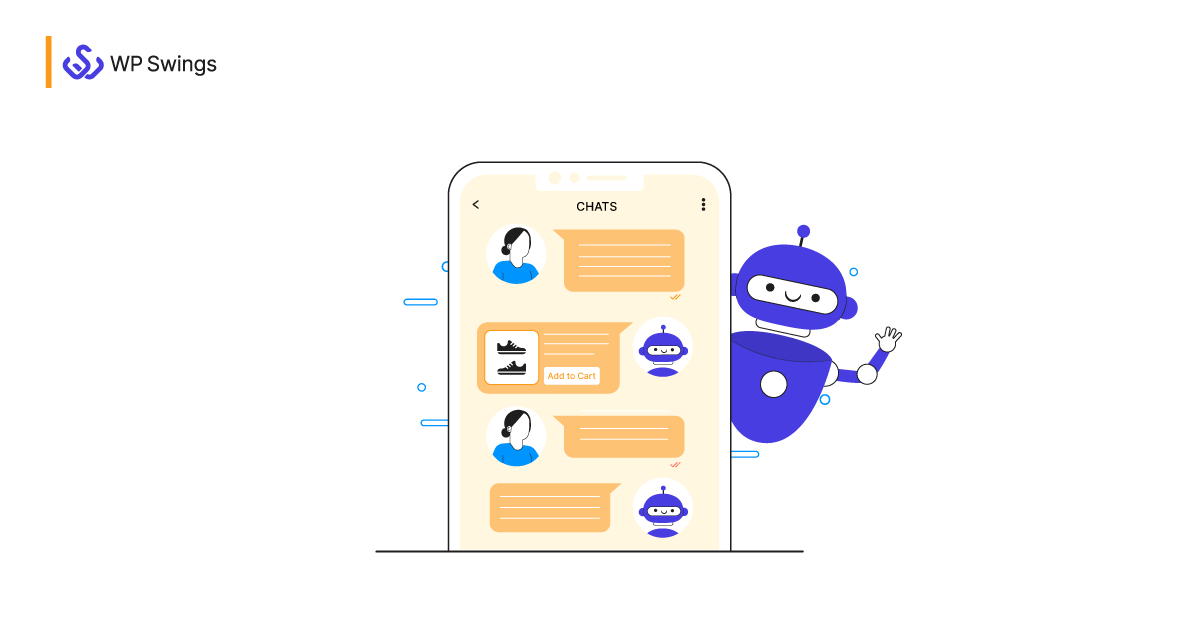 Are you willing to take your WooCommerce store a step ahead? Well, in that case, I have only two words for you – Messenger Marketing!
The eCommerce industry today is observing a great change in the ways of marketing and flourishing businesses online. Online marketing efforts are now no longer restricted to email marketing only.
Rather, social media marketing and referrals have emerged as the most liked marketing approaches by the major section of online shoppers.
Want To Know How You Can Build A Coupon Referral Program For Your Business?
Since social media is being used to promote online businesses, Facebook has also evolved many of its features to serve the purpose. Facebook Messenger is an example of one such attempt.
Considering the stats, over 1.3 billion people use Facebook Messenger every month to communicate with their family and friends. Recent studies observe the following –
Facebook Messenger is growing at a rate of 600K users per day.
The Facebook Messenger ads cost around $.02 per subscriber – cheaper than other advertisements.
Facebook Messenger can drastically reduce your customer support costs.
So if you're considering using Facebook Messenger marketing to grow your WooCommerce store. You're at the right place to start with!
This article will further help you to understand more about Facebook Messenger marketing. Also, the ways to leverage the maximum benefits from it.
What Is Facebook Messenger Marketing?
Facebook Messenger Marketing is an application of conversational marketing. Messenger is interactive, conversational, and instantaneous. And so is the concept of messenger marketing. It deals with the use of Facebook Messenger to send messages to your potential users and interact with them.
Often, marketers confuse the concept of Messenger marketing with email marketing. Conceptually, Messenger marketing is similar to email marketing. But, they ain't the same. And unlike email marketing, Messenger marketing is a two-way channel with the advantages of messenger bots. The use of chatbots in messenger marketing has outperformed the traditional email marketing results.
In fact, in a study organized by Facebook IQ with 12,500 people across the world, it was found out that:-
63% of people eventually increased their habit of messaging with businesses.
56% of them preferred messaging over calls for assistance.
61% of people enjoyed customized messaging from businesses.
50% of people more likely shopped with businesses they could message.
There is no doubt in the fact that customers feel more confident in making decisions when they're attended in person. A representative escorting and guiding the customer about the product likely increases the trust value of the customer on the products.
The digitalization of businesses and rising online markets are however suffering the loss of opportunities. They are failing to provide prevailing offers and product guidance to their customers. Often, navigating through different web pages isn't as convenient too for the customers new to technology.
The customer experience is very important for online sellers. And, this experience can be modified by stationing the conversational WooCommerce chatbot on your online store. WooCommerce chatbots are full of extended functionalities to steer your customers in the right direction.
A recent study claims an increase of 15% – 35% in revenue if customers move to the checkout process directly from the chatbot conversation.
So, what are we waiting for? Let's jump straight into 5 ways to grow your WooCommerce store with WooCommerce chatbots and Messenger marketing!
5 Ways To Grow Your Online Store With WooCommerce Chatbots
With the Facebook Messenger chatbot, you can send automated messages Similar to email, to your customers. This is possible as long as the messages you send fall within the 24 windows. You can then send targeted messages to close the sale.
In what ways can you do that?
Read on…
1. Showcase Your Products With WooCommerce Chatbots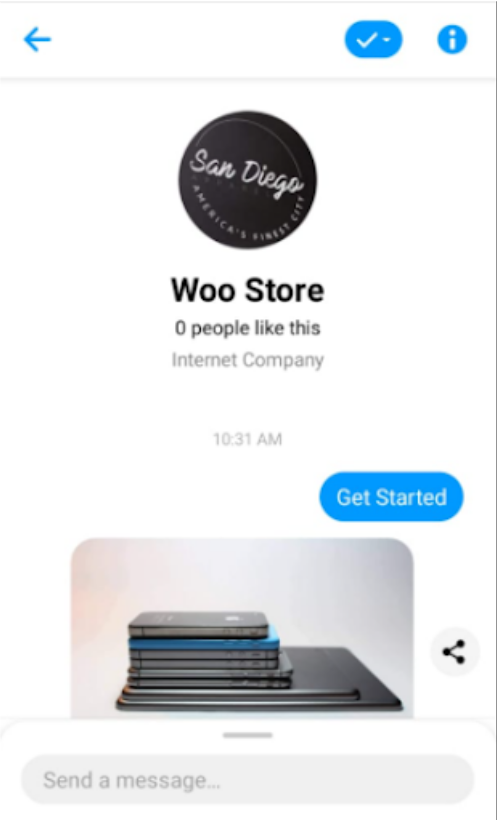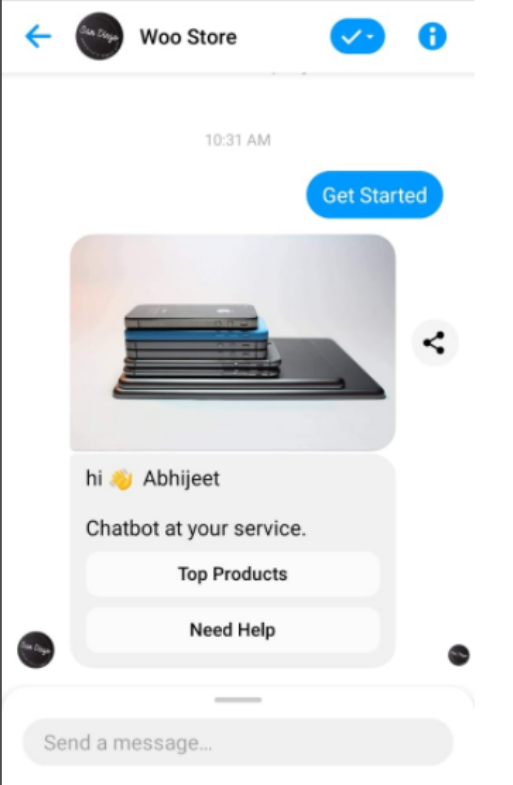 Using the chatbot builder tool, you can build your customizable chatbots for your store type. And you can train your bots about all your available products. Messenger chatbots are intelligent enough to showcase your products as per the preferences of your e-store visitors.
The messenger gallery card provides a very attractive look to showcase items. You can add details with the product like name, category, purchase link, etc.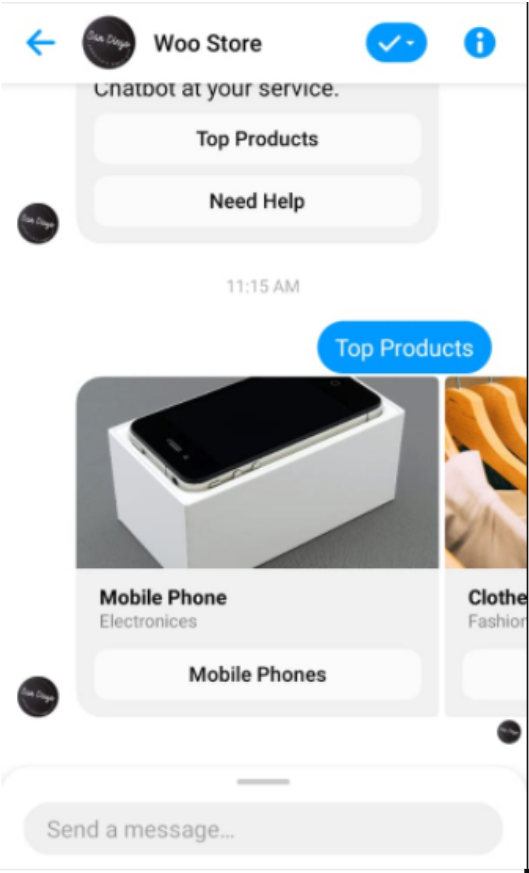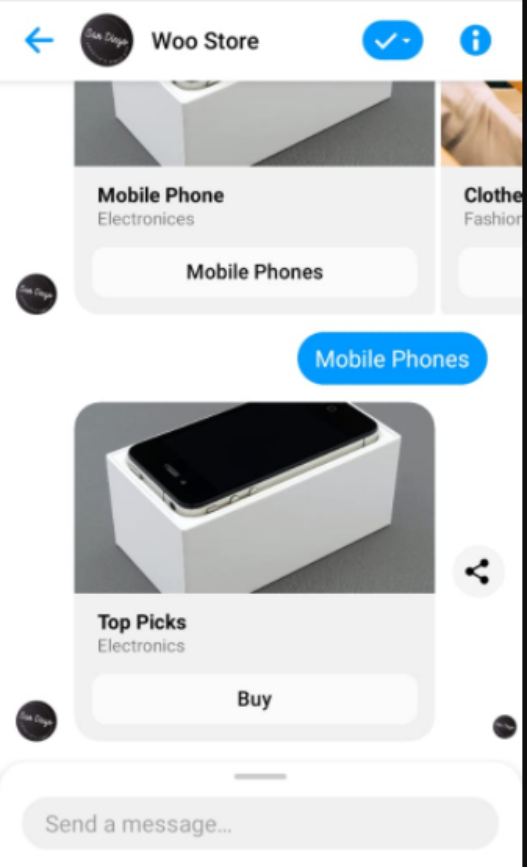 A better product view without navigating through multiple pages is pure bliss for your customers.
2. Add FAQs to Reduce Support Queries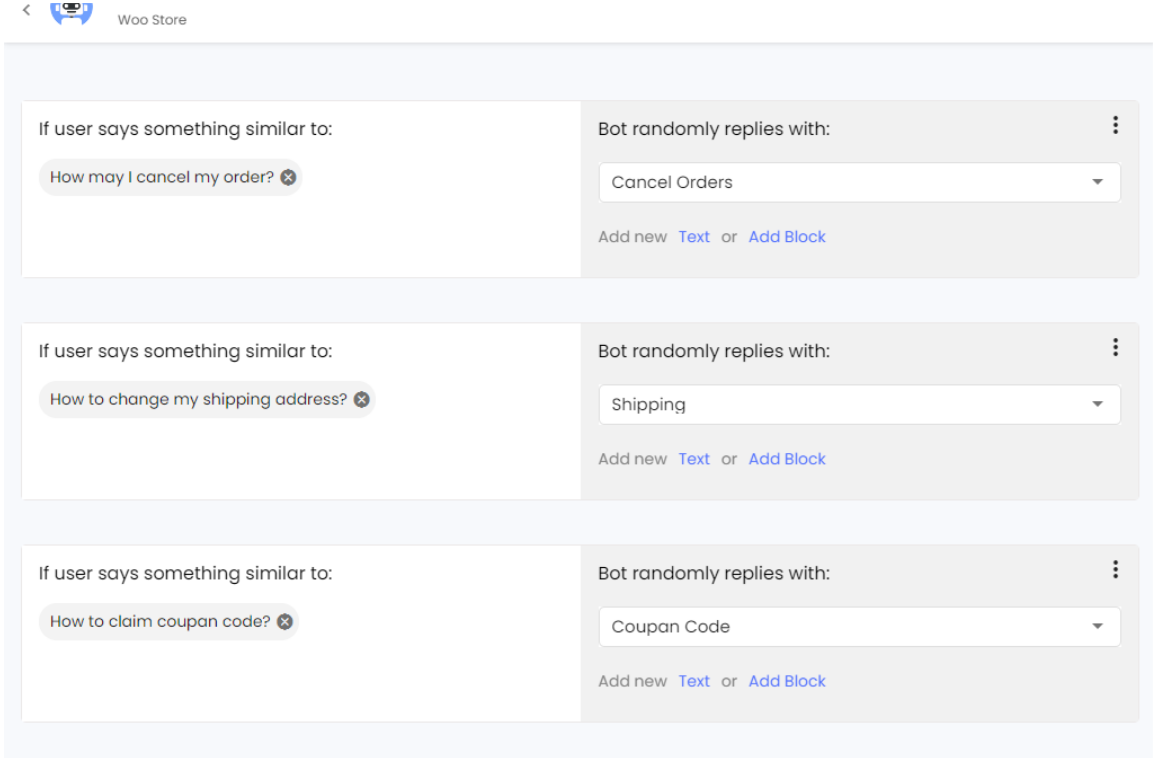 Searching down the actual query from the pool of queries makes your customer anxious and unwilling to continue taking your services. Although manual customer support is available for most online platforms. They also have many limitations that aren't applicable in the case of WooCommerce chatbots.
With messenger marketing and WooCommerce chatbot, it is easy to resolve all customer queries in just a few clicks.
Therefore, you can add all FAQs to the messenger chatbot and ensure 24/7 availability for the client. Messenger chatbots can store data as well as fetch and respond to data like order status, abandoned cart recovery, shipping information, etc. in real-time.
3. Manage Order Status And Abandoned Cart Recovery
If your customer starts a conversation with your chatbot and proceeds to complete the checkout, the Messenger bot can send them an order-status message. For example, order confirmation, dispatch and shipping details, payment alerts, etc. Such messages are very intriguing and can play a vital role in luring customers to come back and shop again.
But, if your customer leaves mid-way without completing the checkout process. Then, your chatbot for WooCommerce will send them an automated message after a specified hour's duration to recover and close the sale.
In this message, a customer is shown the exact contents of their cart along with a "Checkout Now" button which takes them directly to checkout.
4. Take Follow-ups/Feedback On LIVE Chat WooCommerce Chatbot
Ultimately, providing the best customer experience is the major concern for online marketers. Also, taking regular feedback and follow-ups can help you improve your processes.
WooCommerce chatbots know it very well. Hence, adding LIVE chat functionalities to your messenger bot can help you automate the LIVE chat process and serve the customers better at any time.
Using the LIVE chat window also facilitates the customers to start a conversation, check order status, or raise their queries. It is more convenient for the customers to check on the order status and look for the answers to their queries through the LIVE chat window than raising a ticket with the customer care team.
5. Share Offers With Your Customers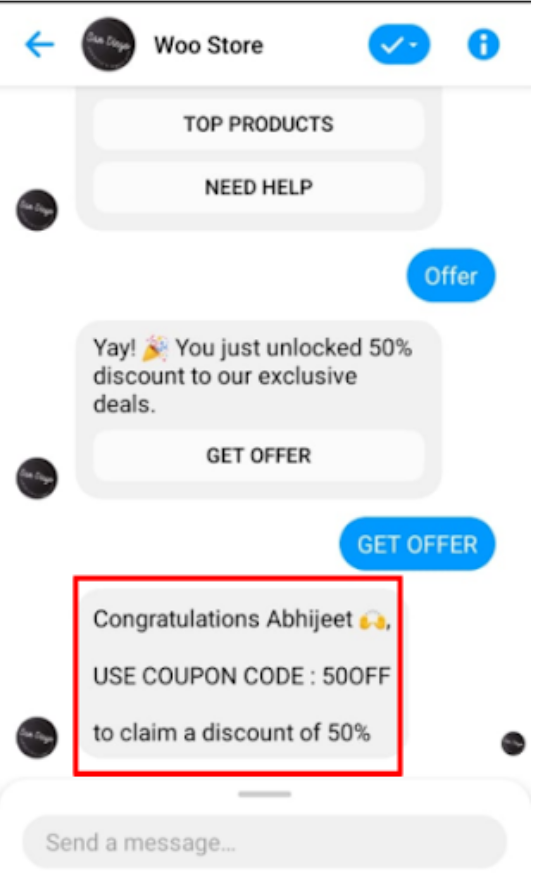 A WooCommerce chatbot has a read rate of 80% and CTR above 50%. And it's 3X higher compared to emails. Hence, the messenger is the best solution to share information with clients. Also, with Messenger chatbots, it is more convenient to segment the audience. In accordance with the validity of the offers and loyalty of the customers.
Bonus Tip
Customer relationship management (CRM) refers to a technology developed for managing all the company's relationships and interactions with its customers and prospective customers.
For example, I'd like to quote our plugin Salesforce Integration for WooCommerce. Through this plugin, you can sync your website's data which will include contacts, products, orders, and moreover Salesforce CRM. It also assists you in better managing the customer's information, automating the usual tasks, leveling up the security, and much more.
Enhance Your Business's CRM Potential!
Wrapping Up!
If you haven't implemented a Facebook Messenger chatbot for your eCommerce store yet, then you should start now.
The truth of the hour is that each of your customers prefers to connect and interact with you and your brand. However, some prefer to read emails while others prefer Messenger. But you can't reach and connect with them everywhere, every time.
With Facebook Messenger marketing, you can plan an excellent strategy to bring your customers back to your store for better sales opportunities.