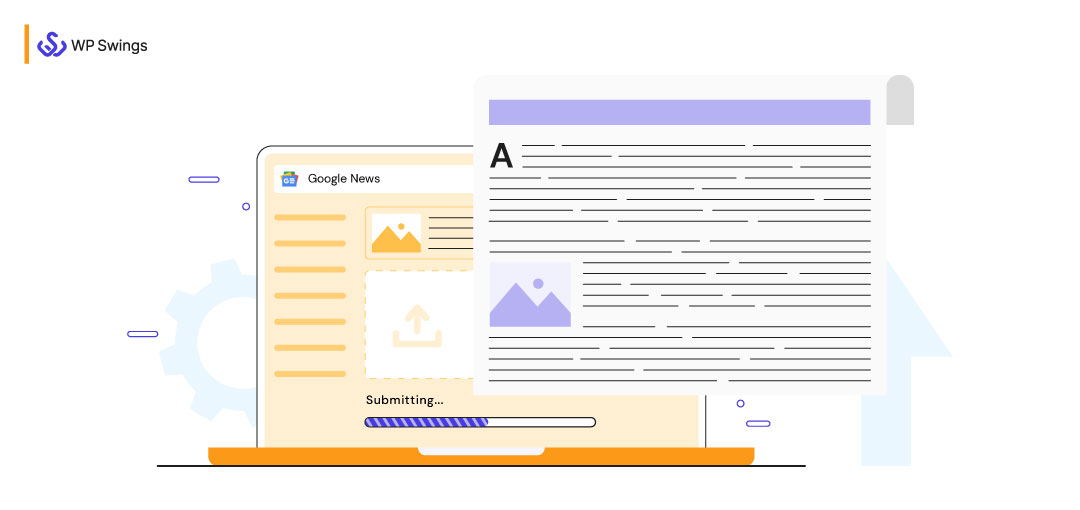 Do you want to submit your blog to Google News? Great! But, any specific reason behind it? Is submitting your WordPress blog on Google News everything you need to do? Let's discuss the perfect way to do that with all the additives!
The news is all about covering the latest events from across the world. It is not restricted to political or sporting events; there are many other industries where frequent news updates are available, like entertainment, health, mobile, and finance. To drive visitors to their websites, prominent news publishers throughout the world post the most recent news and updates on a variety of topics. So, if you have or plan to have a news website, take a look at this blog giving you the route to reach Google News.
On its news search engine, Google uses the most recent algorithm to rank the best and most authentic news. As a result, only the finest websites in the world receive significant traffic. The advantages of having Google news approved websites are discussed in this article.
Having your site's content appear on Google News can be a great strategy to increase organic traffic and improve your overall search visibility. And, also, if your website appears in Google News, visitors are more likely to trust it.
The goal of Google News is to sift through the world's news and provide users with updated information that is easy to read, understand, and apply.
Meaning: a lot of traffic, authority, and credibility!
If that sounds like something you'd like for your WordPress blog (and who wouldn't? ), then keep reading to learn everything you need to know about submitting your site to Google News.
What Is Google News?
Google News is a news aggregator app that displays a stream of breaking news and stories from across the world. Your home country's news is highlighted in the Google News feed at the top, with other stories from across the world appearing below them in chronological sequence.
Where to find it?
Whenever you search for something on Google, click on the "News" tab to get to Google News.
The Google News app is available for Android and iOS as well. This app has a lot more features than the website version.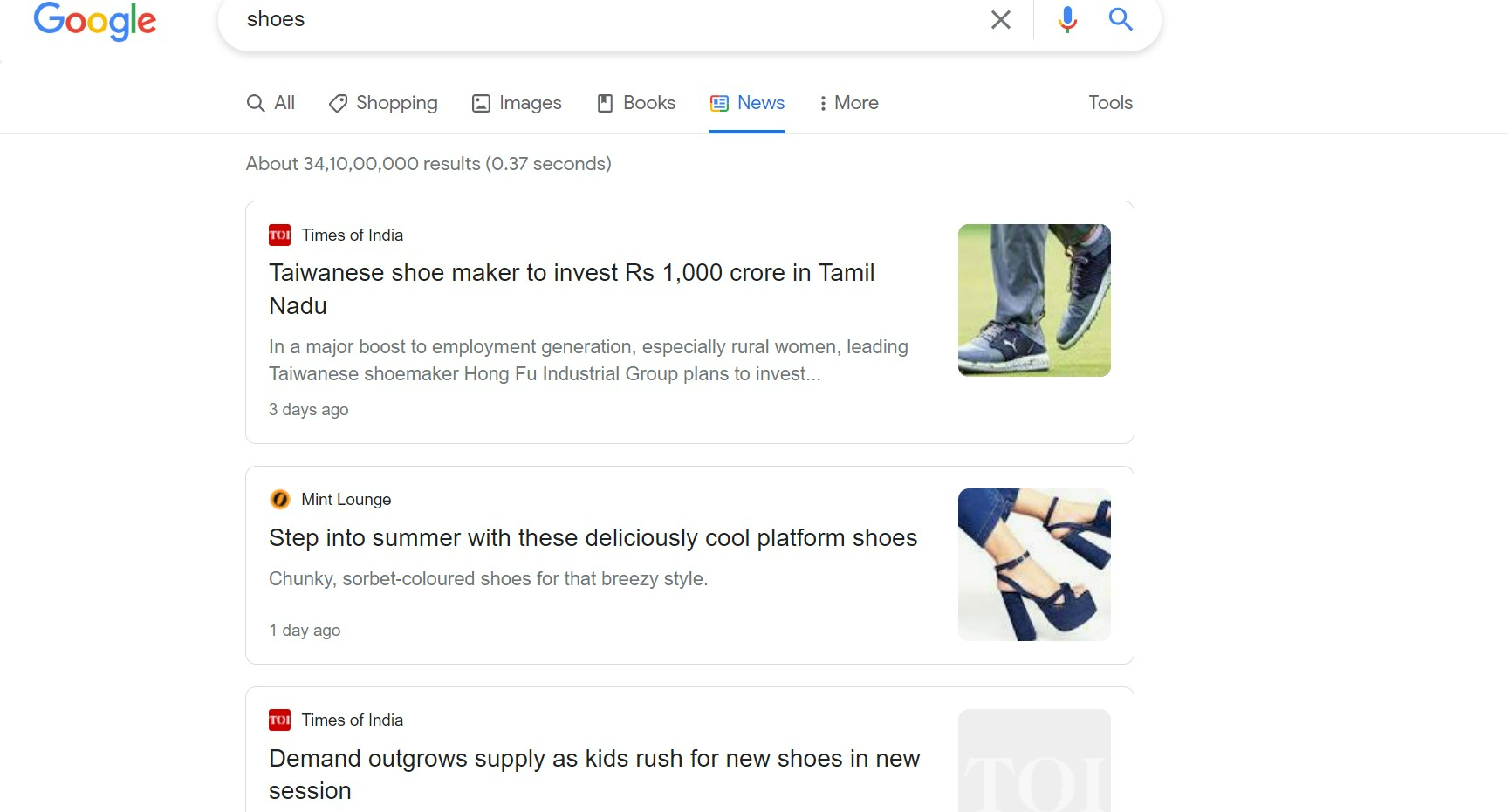 Today, Google News stories appear in other Google products too, including:
"Top stories" part which can be seen in the SERP page
News feed for all the trending news in the SERP page
Google Discover that is capable of providing personalized results based on a single user's search history
Depending on your region and language preferences, content is sorted in all kinds of categories. As a reader, you may also tailor the feed to include only the stories that interest you.
Here's a glance at how Google News appears, an example page of business stories on Google news.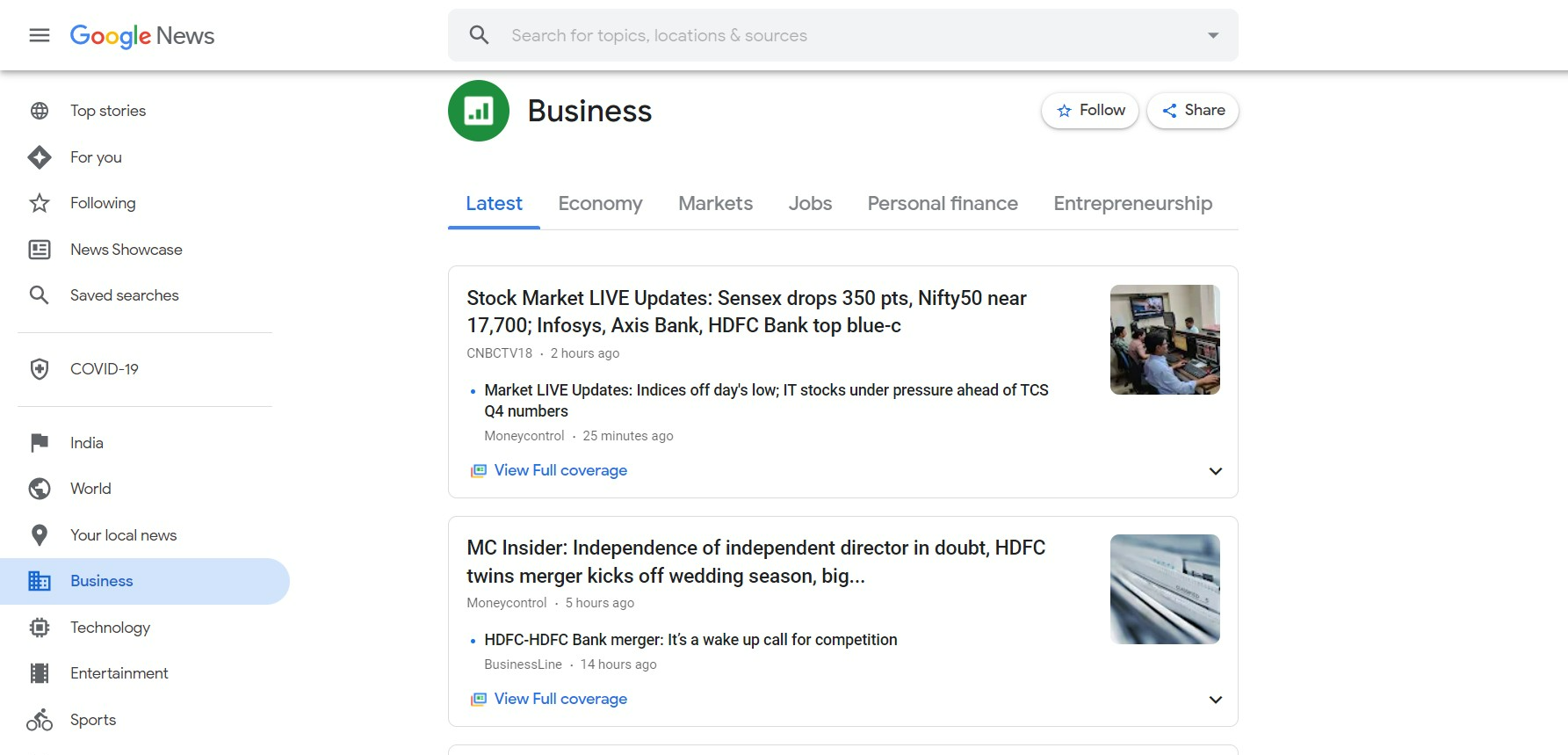 Benefits of Submitting Your Website to Google News
Google News and Google search engine may have come from the same source but the way they work is not at all the same.
In Google search engine, crawlers are sent out to scan the web for updates, which are then indexed. Google News also has crawlers, but they prefer crawling and indexing websites and content that are regarded to be of high quality, adhere to Google News content criteria, or have previously been authorized.
Google News can assist you in reaching out to new audiences and attracting loyal news readers to your website. Users can do the following using Google News:
Stay updated with upcoming or outgoing events, global news, and different types of information from various publishers
Subscribing to specific news sources and themes of your choice
Bookmarking or sharing articles
Content personalization in the "For you" section
We do everything related to Google News via the Publication Center.
While you do not need to register with Publisher Center in order to get evaluated for Google News rankings, there are some advantages to doing so:
Content and branding: Design, brand, and customize your publication with your choice in Google News.
Publishers can deploy paywalls in Google News through Subscribe with Google to monetize their content.
Publishers who have created and uploaded Google News Publications in the Publisher Center are eligible to appear in the Newsstand part of the app in the countries and territories where they are available.
We cannot promise that you will be placed. Algorithms tailor the publications that appear in Newsstand to the preferences of the users.
Eligibility Rules for Appearing in Google News
Google has a set of tight criteria that all publishers must follow if they wish to be included in Google News. It is specifically forbidden for your content to be:
Dangerous
Deceptive
Hateful
Sexually explicit
Furthermore, Google expects you to be open and honest. This implies that author bylines, contact information, dates, and information about your publication or company should all be clearly stated.
Make sure to read these Google News policies thoroughly. Follow the steps below to submit your article to Google News once you're sure it meets Google News' content standards.
How to Get Your Website Listed on Google News, Discover, and Other News-Related Websites
Here's a quick overview of the step-by-step procedure for submitting your WordPress site to Google News:
Google Publisher Center: Add Your Website
Change Publication Settings
Configure Google News Settings
Test and Publish
Note – The email address with which you sign into your Google account is super important. We will review the same further below. It is advised to use your primary email for all steps.
Let's get started!
1. Google Publisher Center: Add Your Website
First step you need to do is- step onto Google Publisher Center and tap on the Add Publication button you'll find on the left-hand menu bar.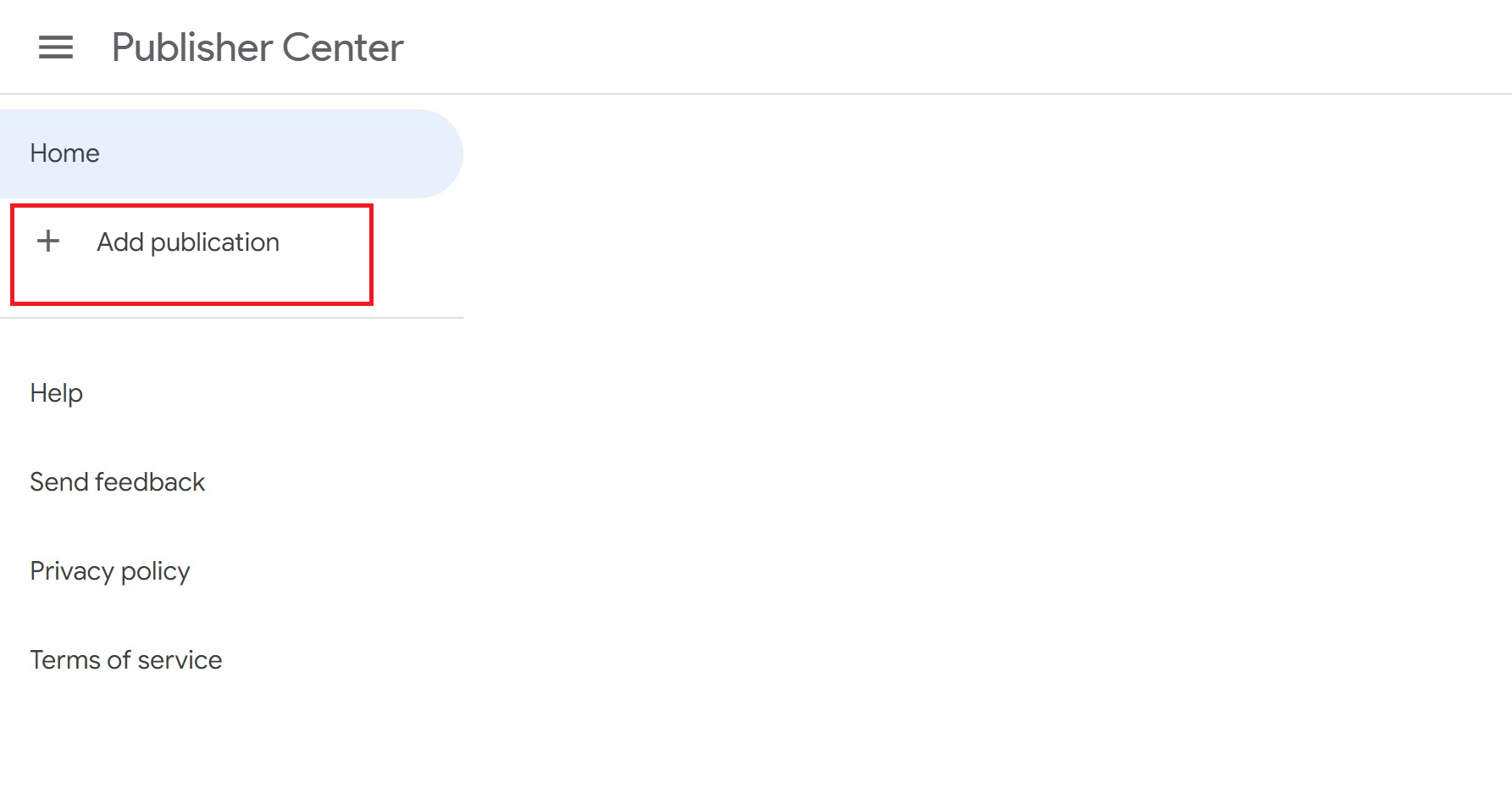 In the next popup window, type your publication name, website URL, and location of your website.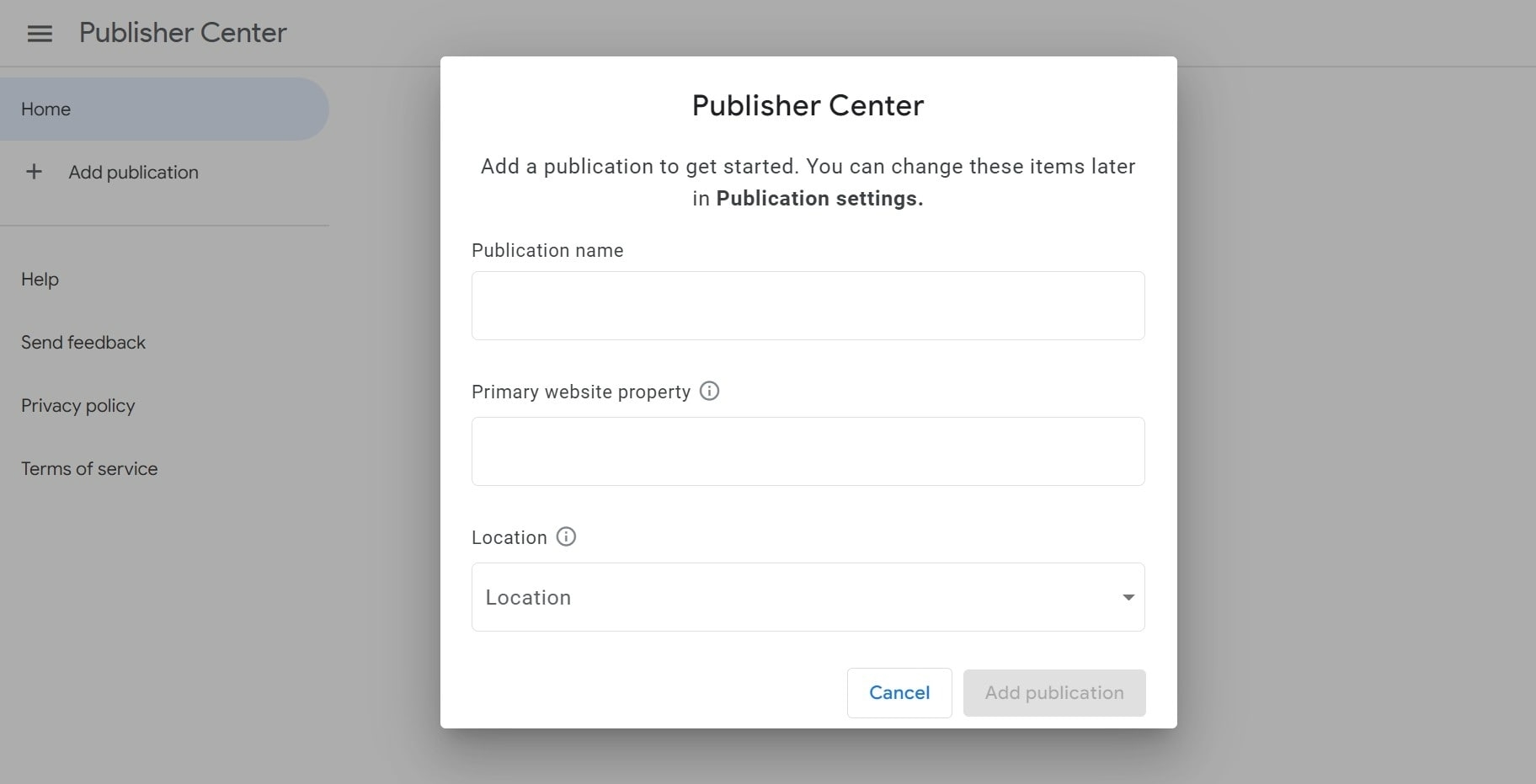 This will reflect your publication on your dashboard i.e. it's added successfully.
2. Change Publication Settings
We built your new publication in the previous stage. Now, to fully set up your new publication, you will have to enter more details to the settings.
Select Publication settings to continue.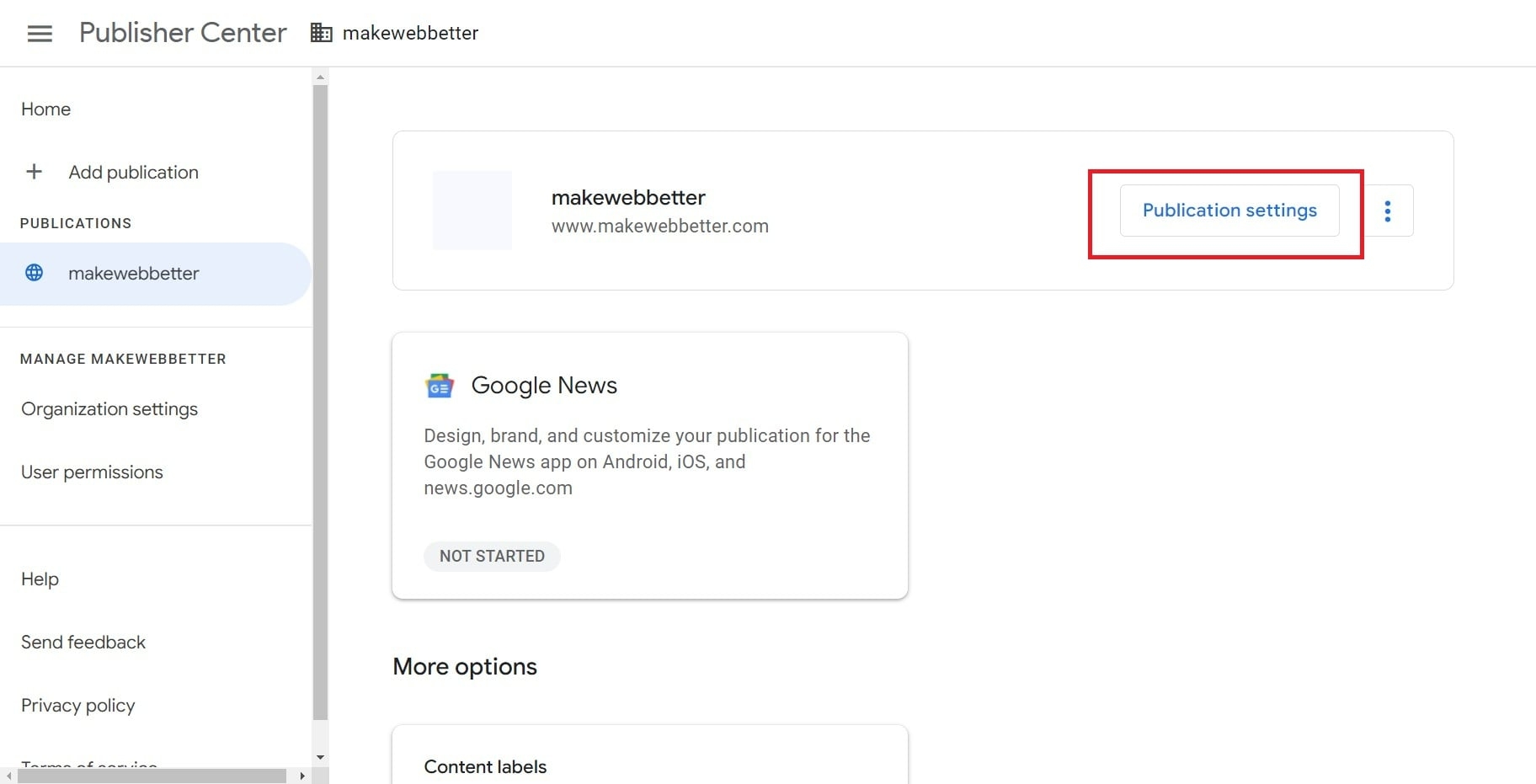 The next screen appears where you can fill in the general information; you can change your publication name, primary language, and more.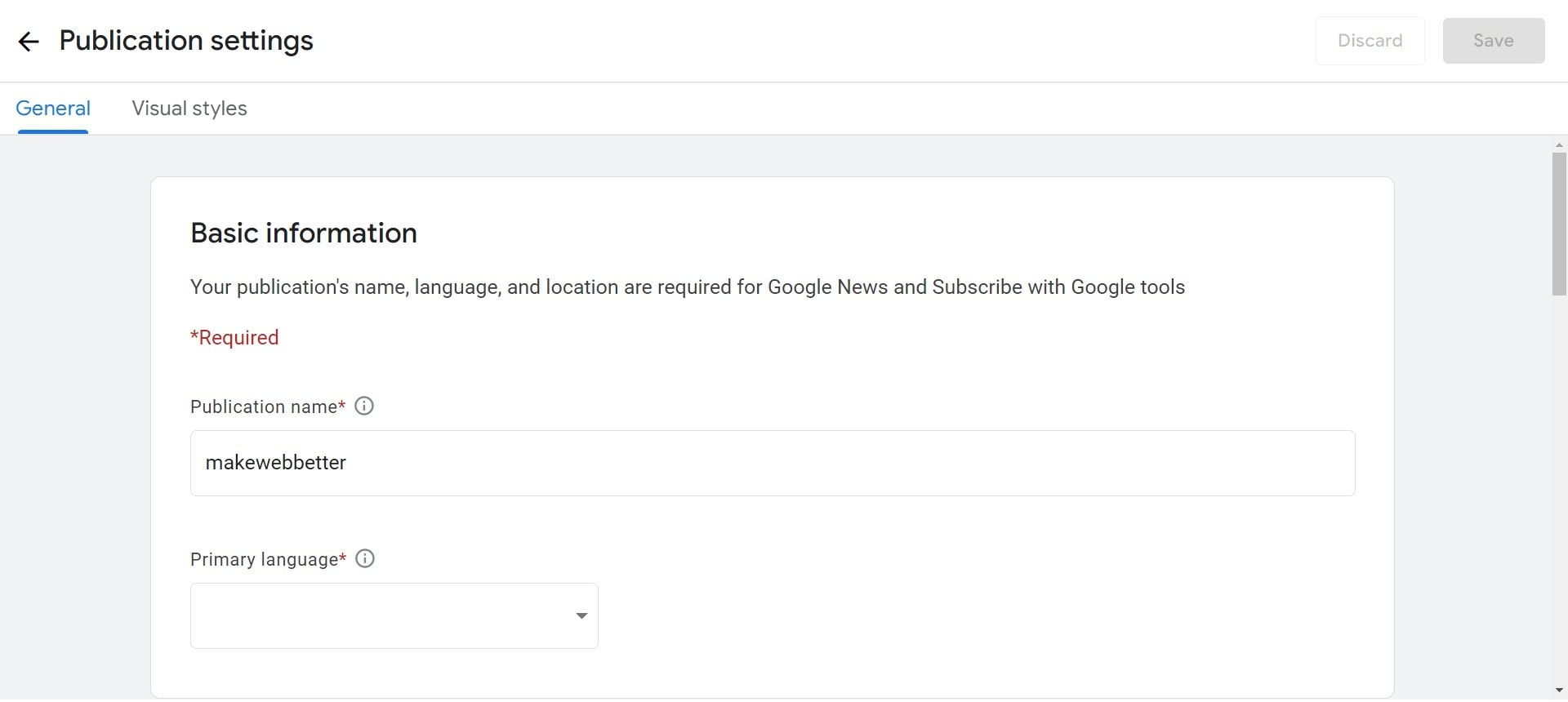 Scroll down and select the location of your publication and your website URL.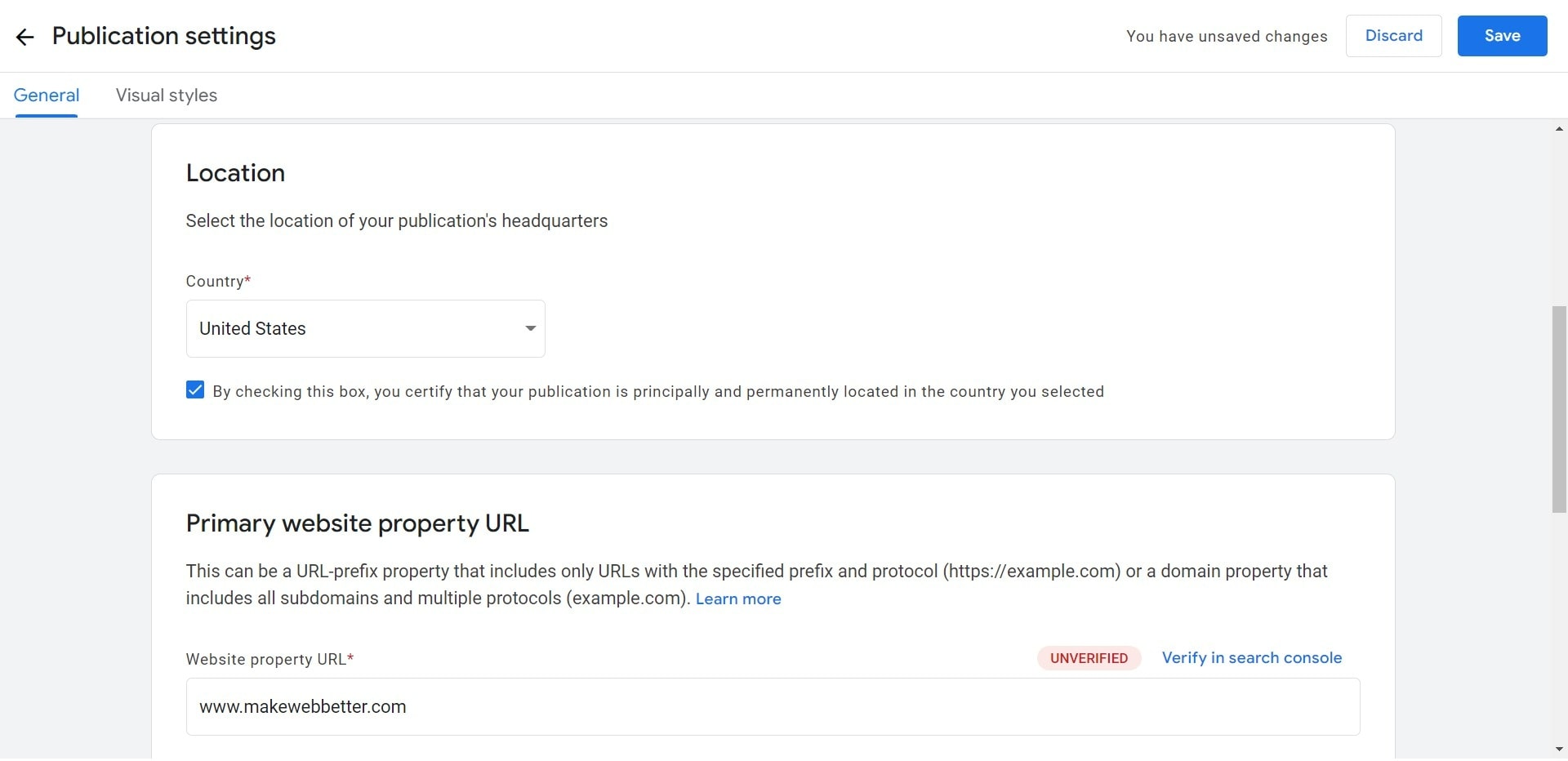 Verifying your website in Google Search Console is a must! So, make sure you have done that beforehand.
Please note that the email address you provide for Google Publisher Center and the email address you use to create your primary website property in Google Search Console must match. If you fail to do so, your internet property URL will not be verified, and you will be trapped.
You can provide additional URLs related to your publication further down. Also, you can add an email address(this one can be different) to get notifications about technical difficulties and product changes.
After you've filled out all of the required fields, click Next.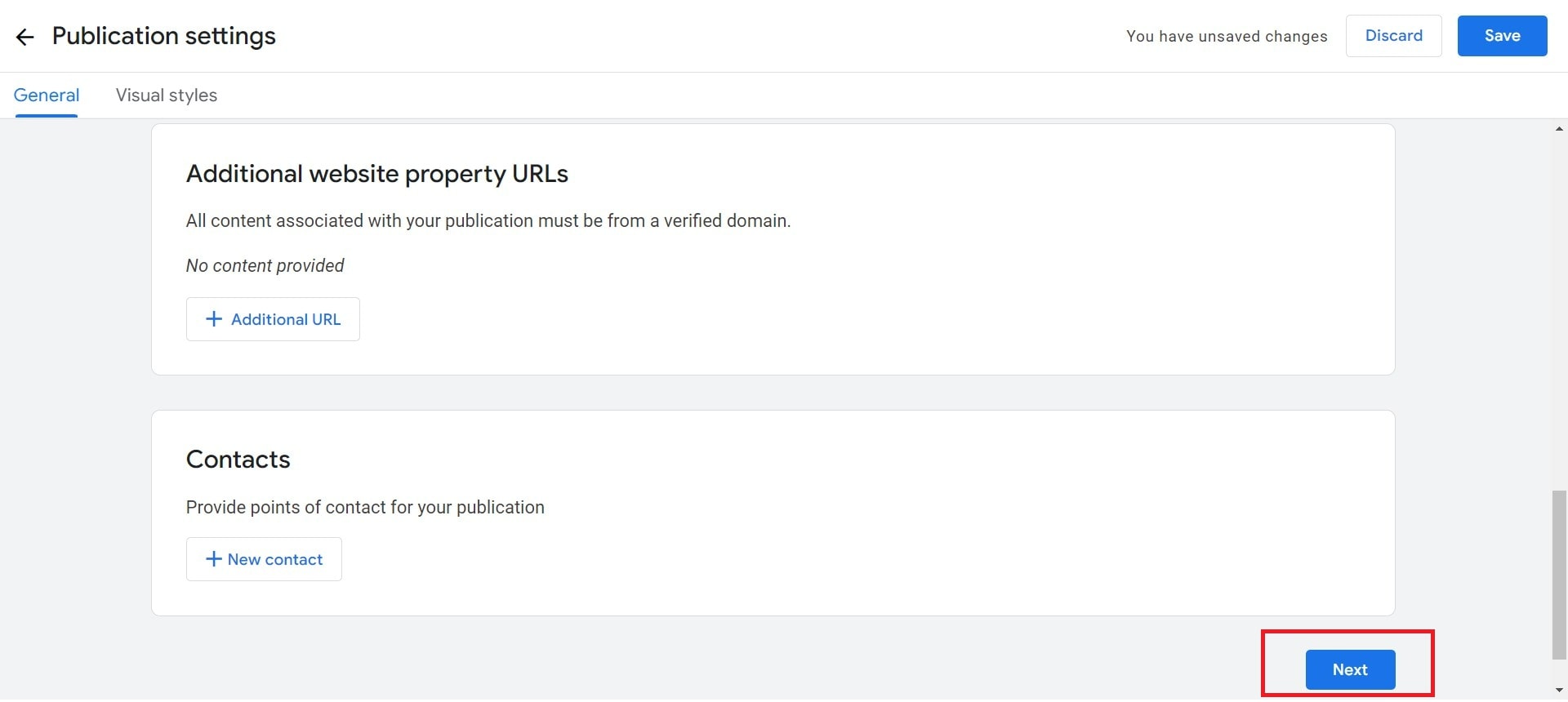 Further, for your publication, you can put up visual components such as logos and fonts. Before uploading images, make sure you read the recommended file types and dimensions.
When done, click on the Save button you can see on the top right.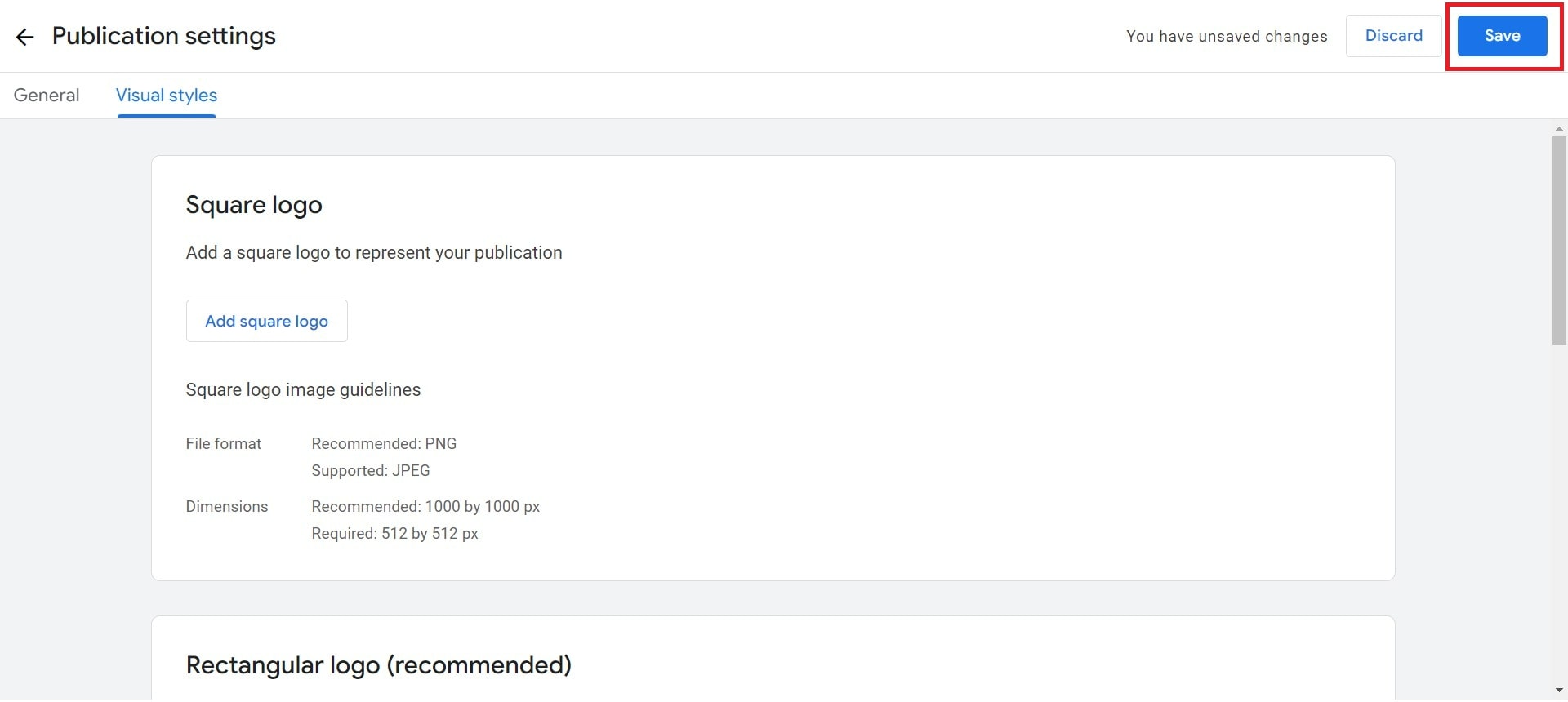 Congratulations! Your publication settings are now configured as required.
3. Configure Google News Settings
It's time to configure your Google News settings!
Go back to your publication dashboard and click on Google News.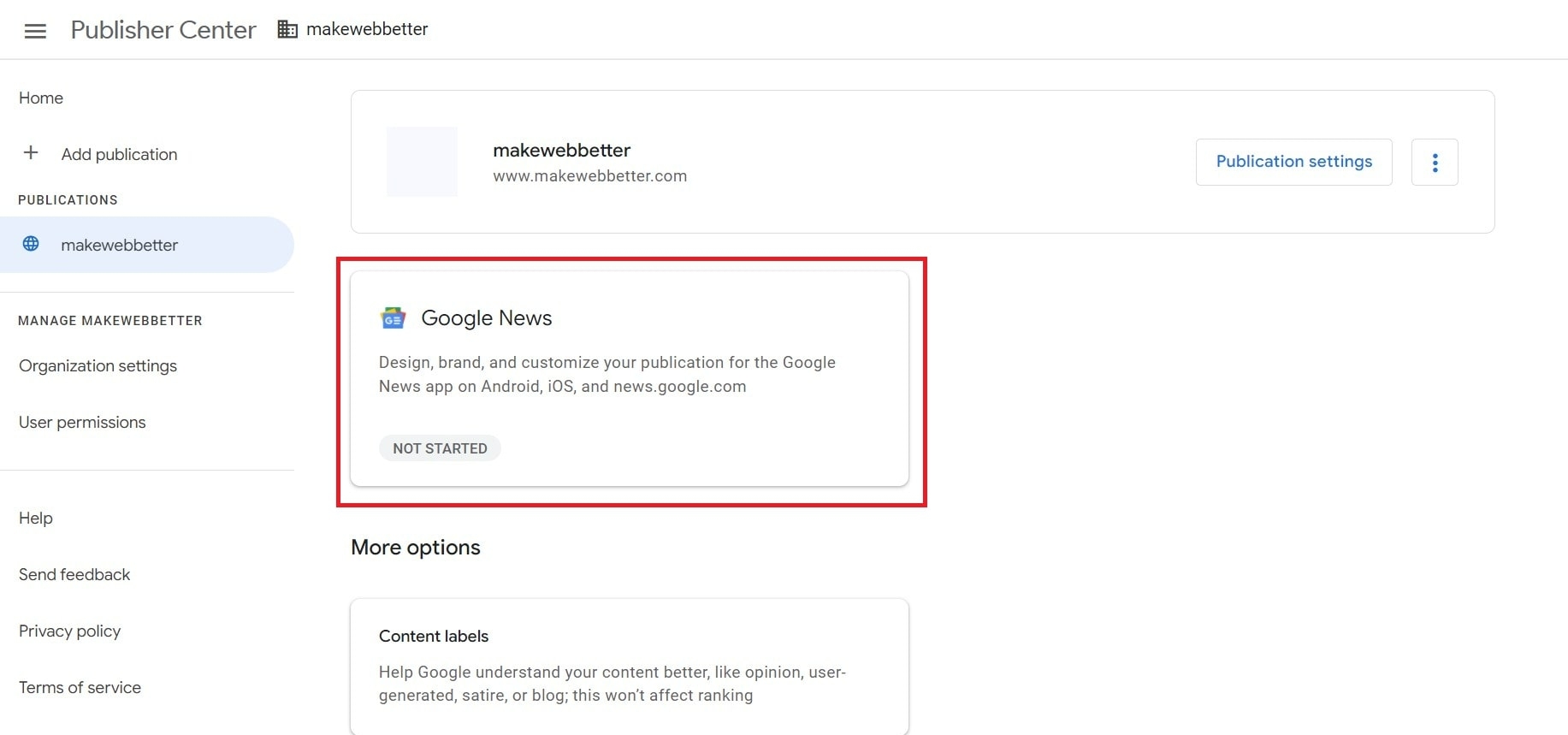 Then, click on the Edit button.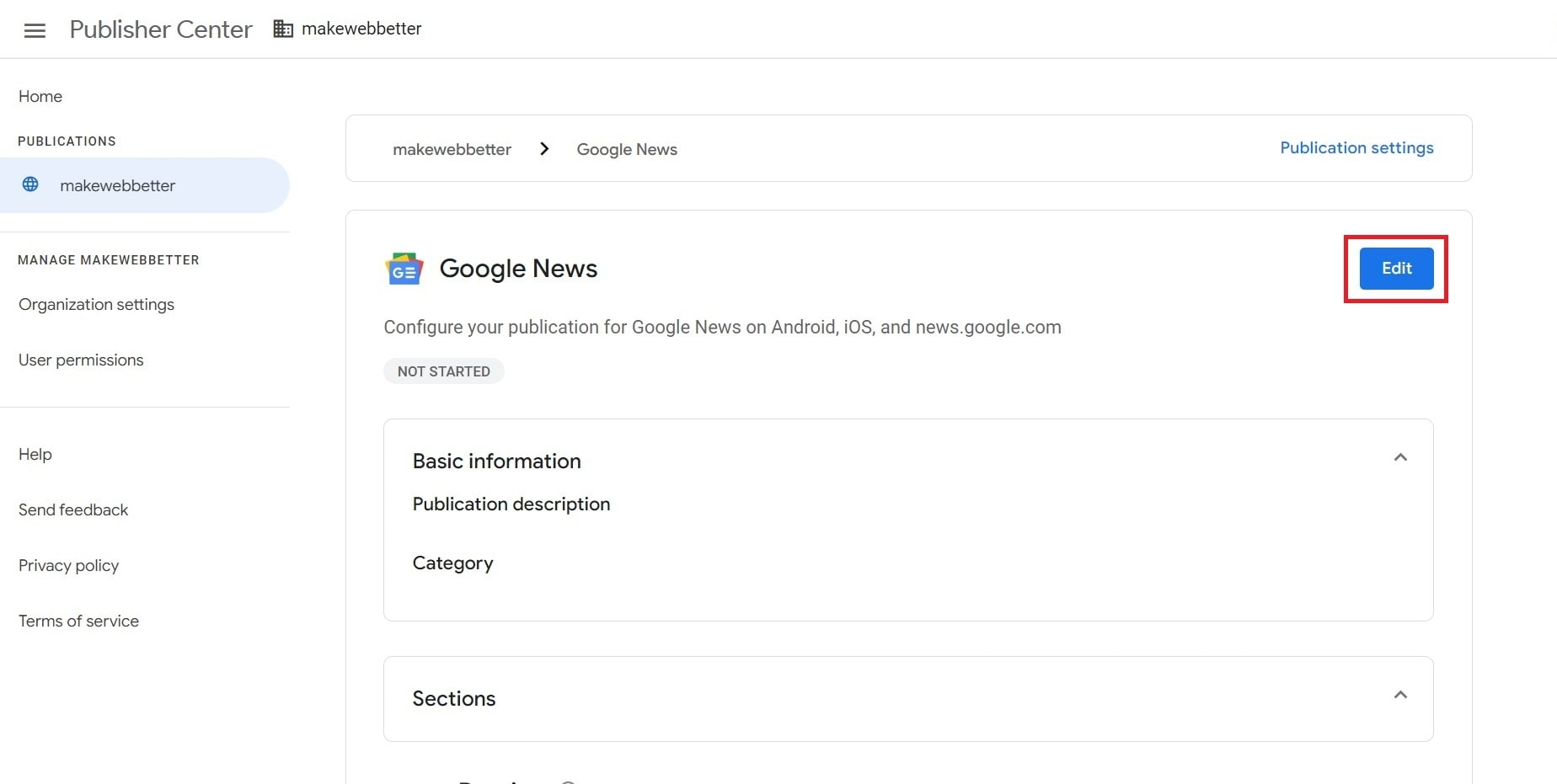 Add a Publication description and category for your site which can help visitors find your publication on Google News.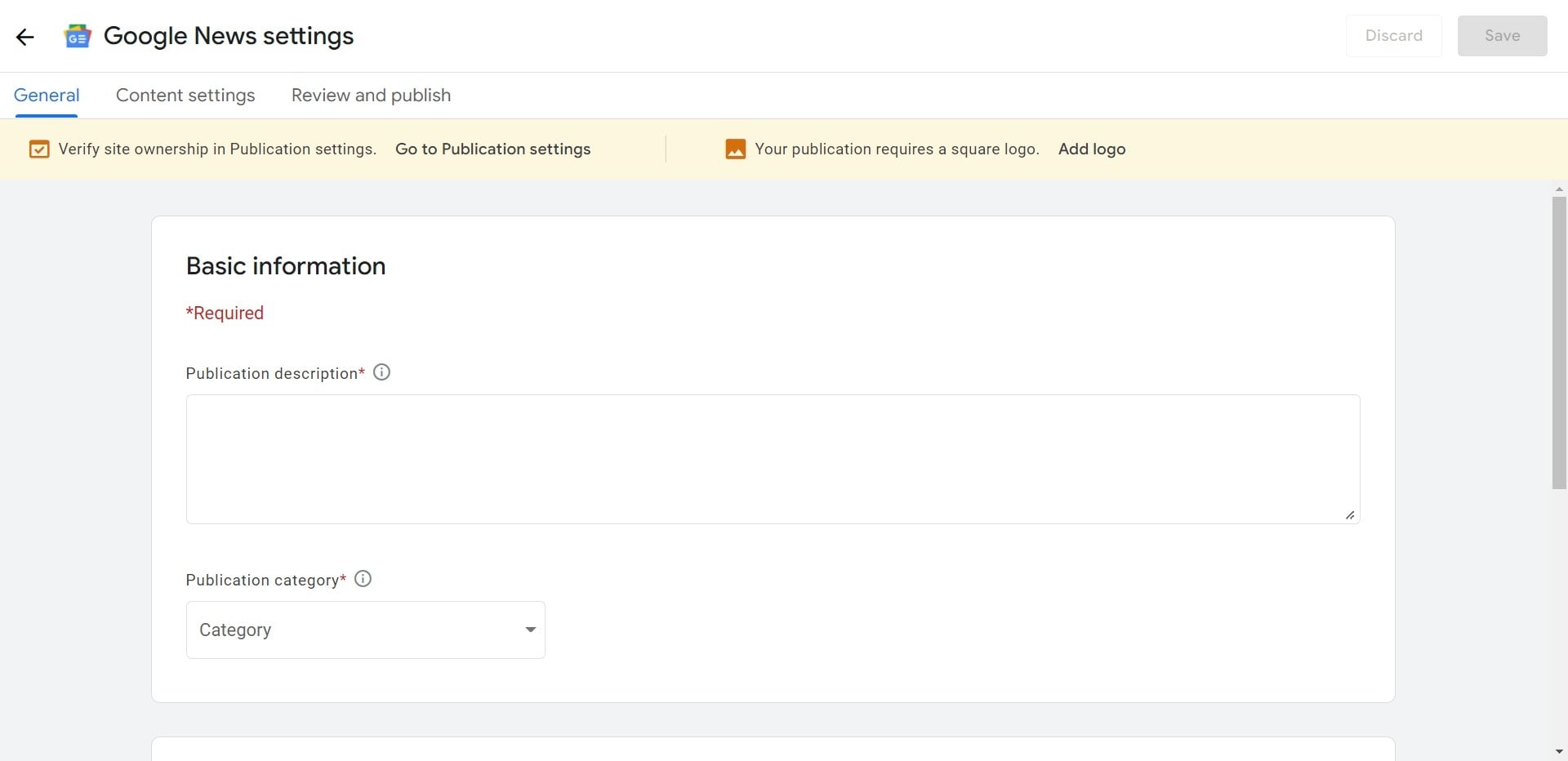 Scroll to the bottom of the page to find the distribution options. You can choose whether you want your publication to be available globally or only in certain countries. Select nations and ban others if you don't want global availability.
You can pick which Google products your content can be shown on using the Google properties setting (e.g. Chromecast, Google Assistant, etc.).
Click Next after you're through making adjustments.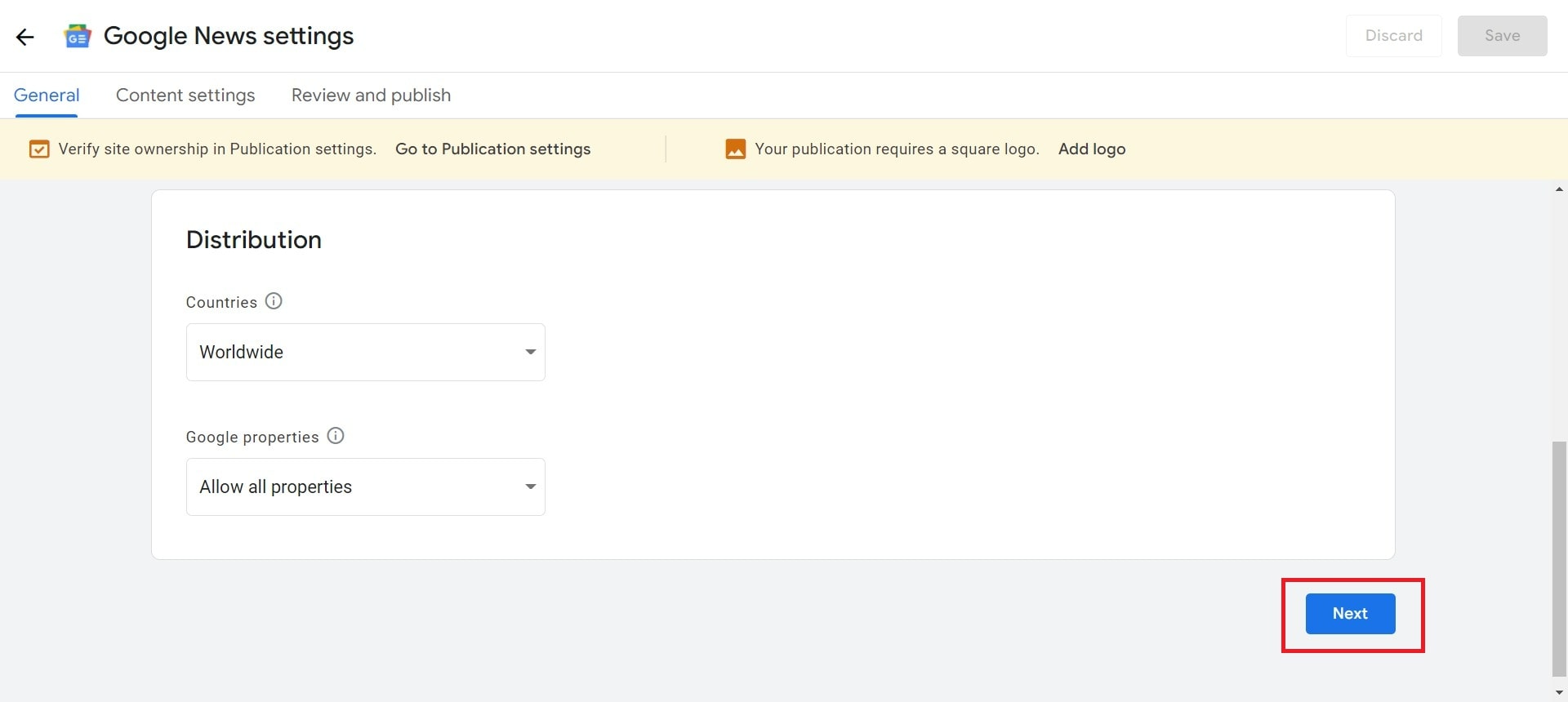 This will take you to the next tab i.e. Content settings. Here, you can add new sections that appear as different tabs within your publication page in Google News app.
To access the dropdown menu, click the New section button. You can add a new section from an RSS feed, a web address (such as a blog), a video, or even a personalized feed based on the interests of your visitors.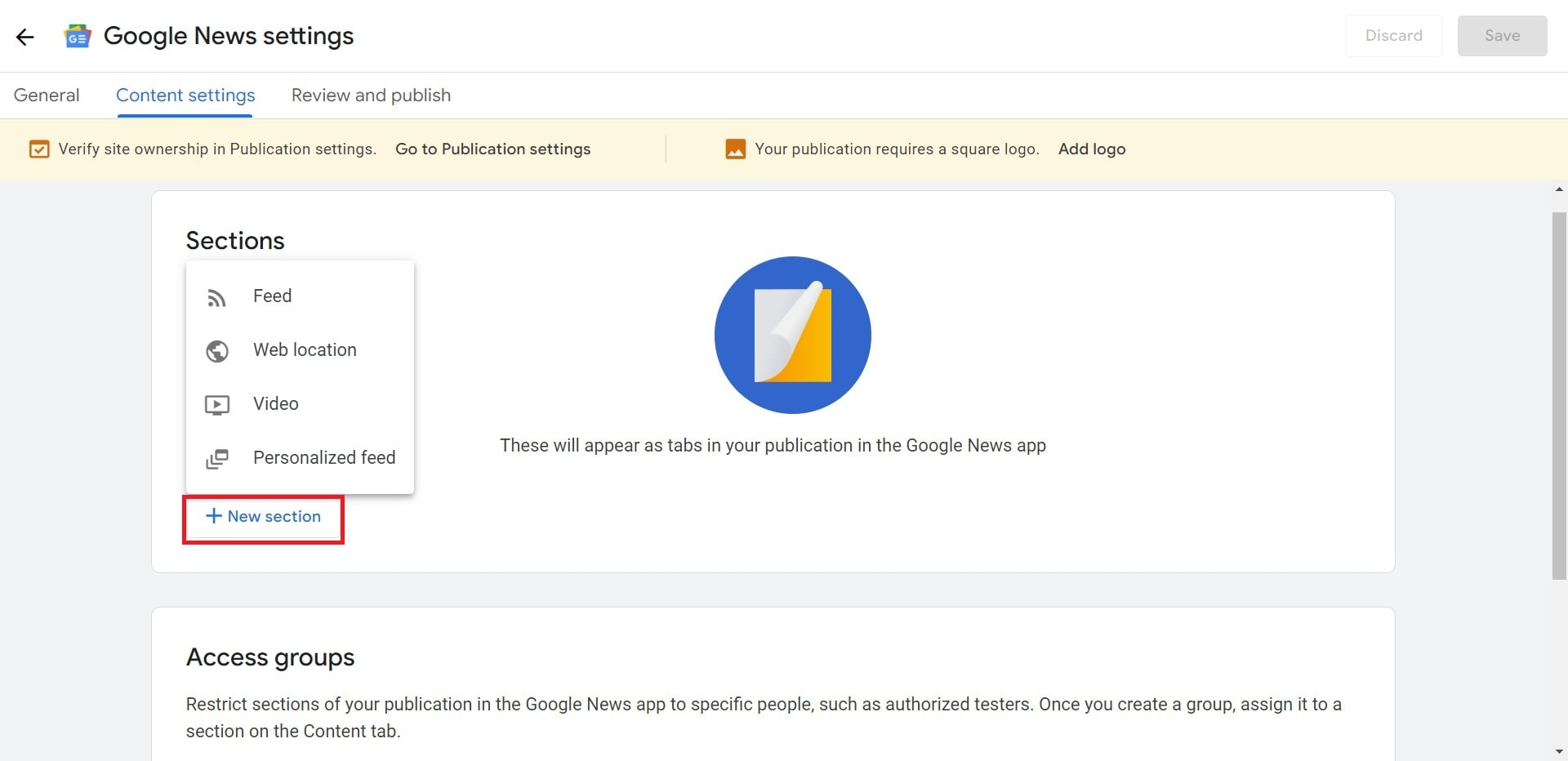 Scroll down to check the Access groups option after you've added your preferred parts. This option allows you to limit access to certain areas of your publication to specific audiences.
It's a good idea, for example, to test your publication before making it public. If you'd want to test it out first, you can designate a piece of your material to an access group.
After you've finished with these options, click Next.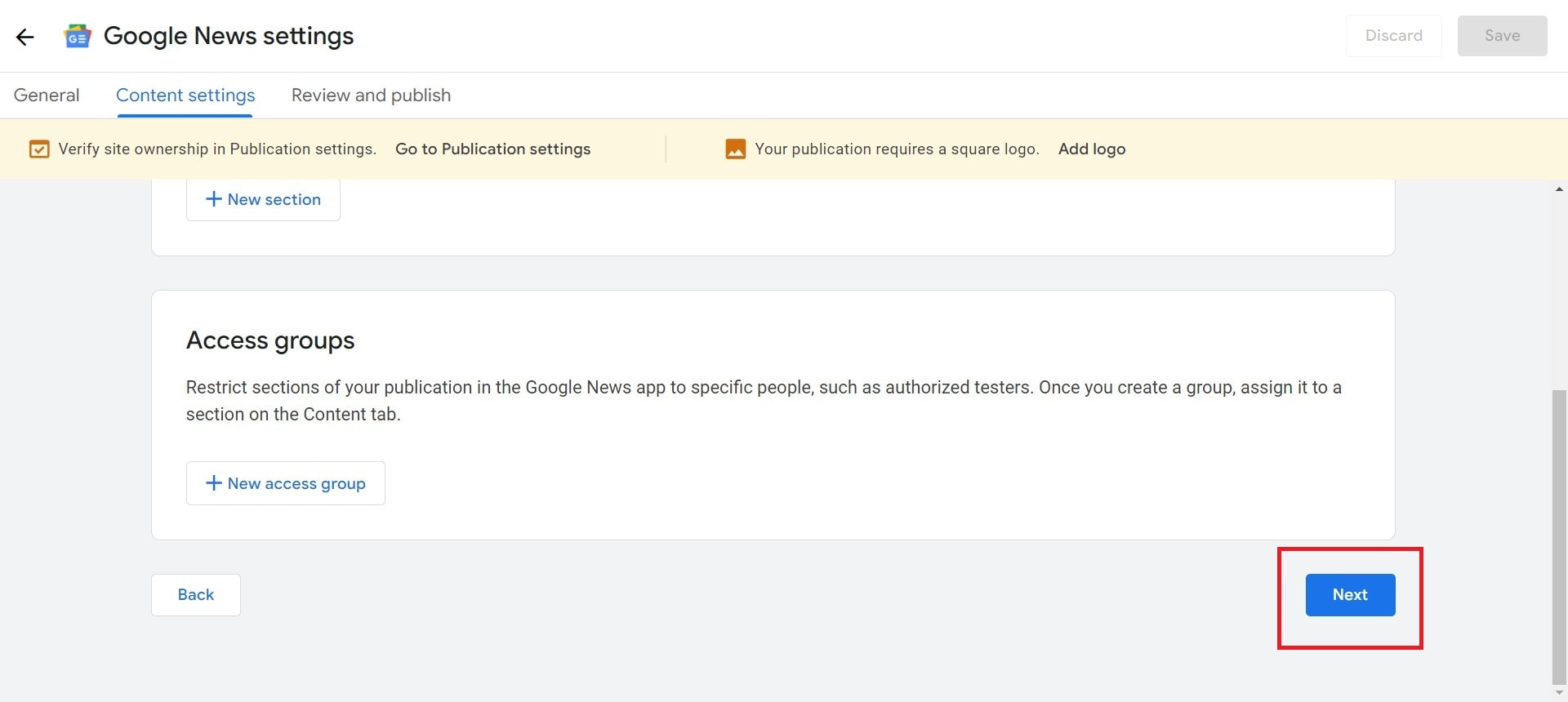 4. Test and Publish
The status of your publication is displayed on the next screen. Click the Review buttons next to each area and fill in the details if there are any crucial missing fields or other concerns.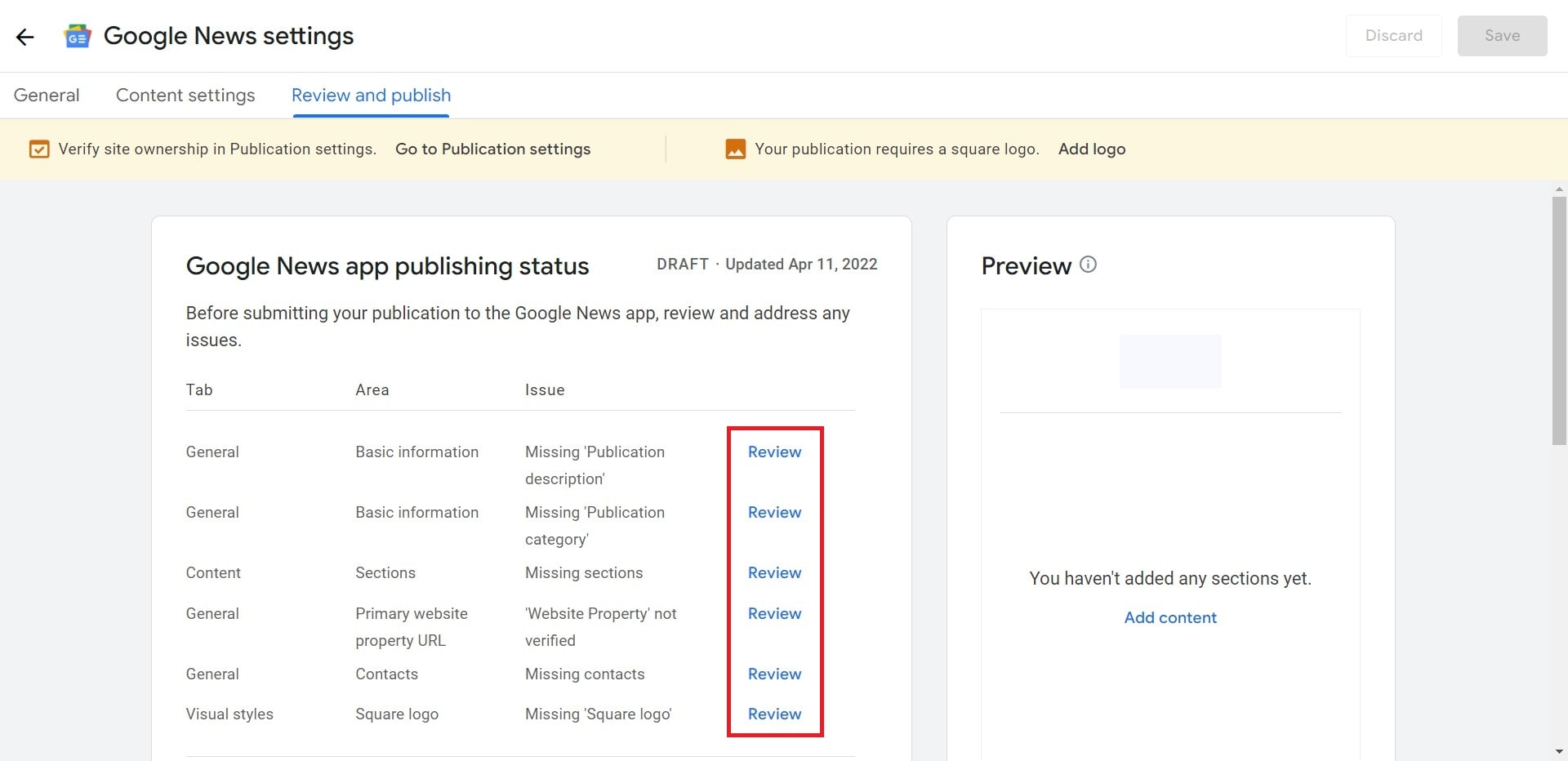 Scroll down and hit Publish once you've gone over everything and added any missing details. This will send your publication to Google for review.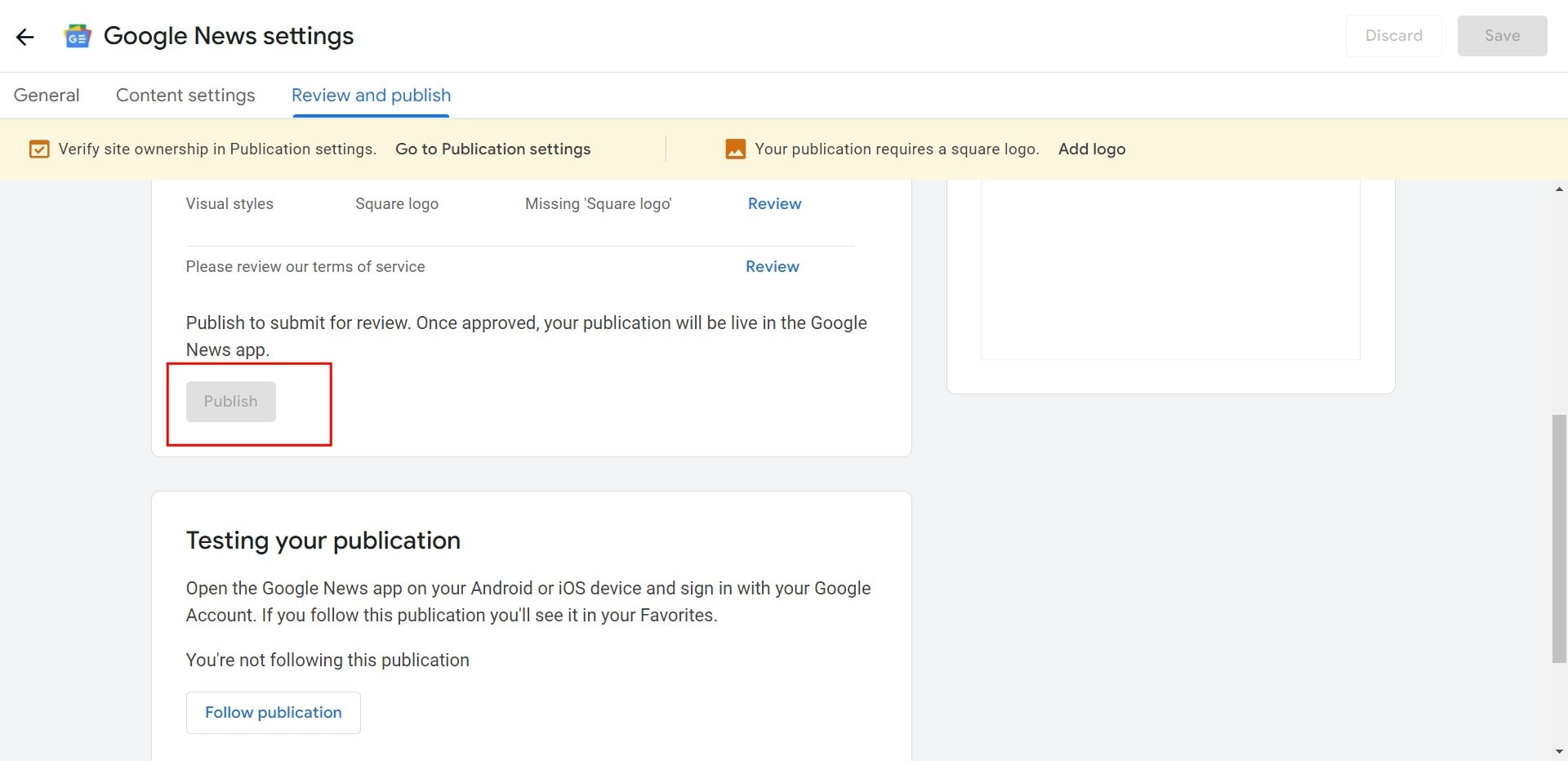 Here's how you will get the notification after submitting your site to Google News.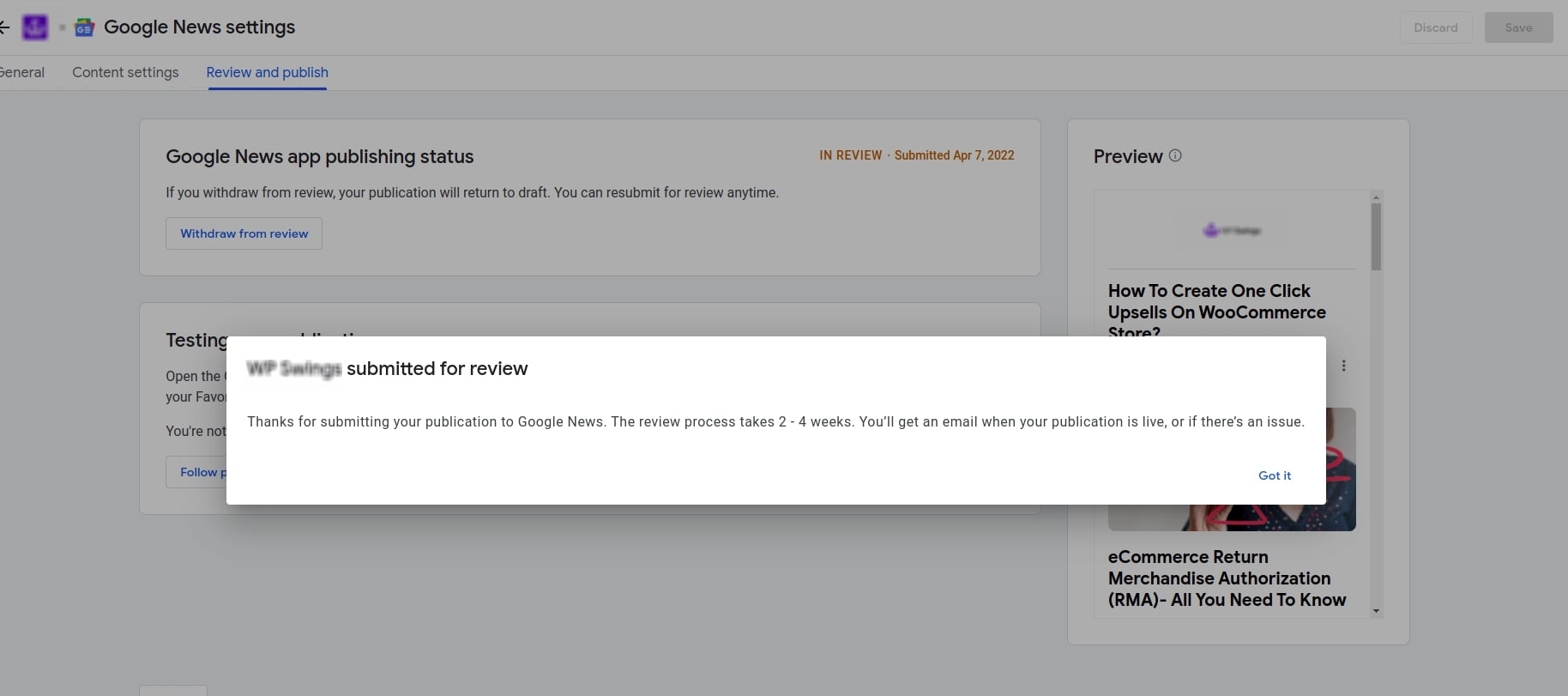 Scroll down and click on Follow publication to see how your publication will appear on Google News once it is approved. Then, using your Google account, sign in to the Google News app on your smartphone and look for your publication in the Favorites section.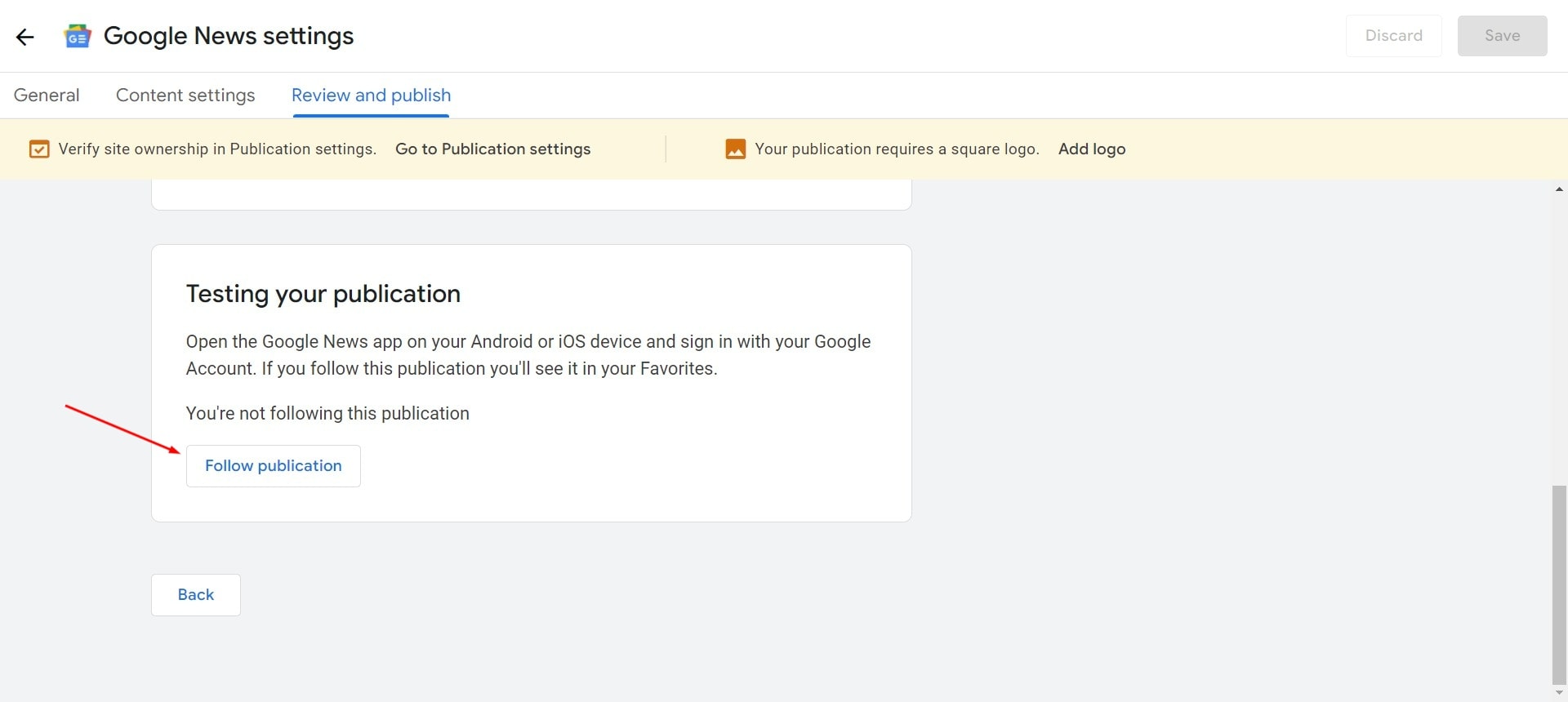 Criteria That You Should Meet after Listing on Google News
Although anyone can join Google News, certain requirements must be met, such as:
On a daily basis, you must develop intriguing material. It must include news that is of interest to your target audience.
The Google News content policies must be followed, which include writing standards, accountability, authority, readability, technological guidelines, and news quality guidelines.
You should never ignore the general Webmasters recommendations, which encompass content quality, style, and technological features of your website (using WordPress and a decent theme will suffice – just make sure it loads quickly).
Key Takeaways
If you've made it this far, then I suppose you're quite serious about increasing your chances of getting some bag full of Google News traffic.
No problem..we have prepared some evident tips for you which can help you make the most of your recent Google News submission. These pointers strike the proper balance of Google News-specific advice and more general advice that Google will fall for:
1. Format Your Content
All of the text on your pages can be viewed by Google News. However, if your site has a lot of multimedia (such as photographs and video), it could use some assistance.
As a result, you should make certain that your most important content is appropriately formatted. This article, for example, was recommended to me by Google News: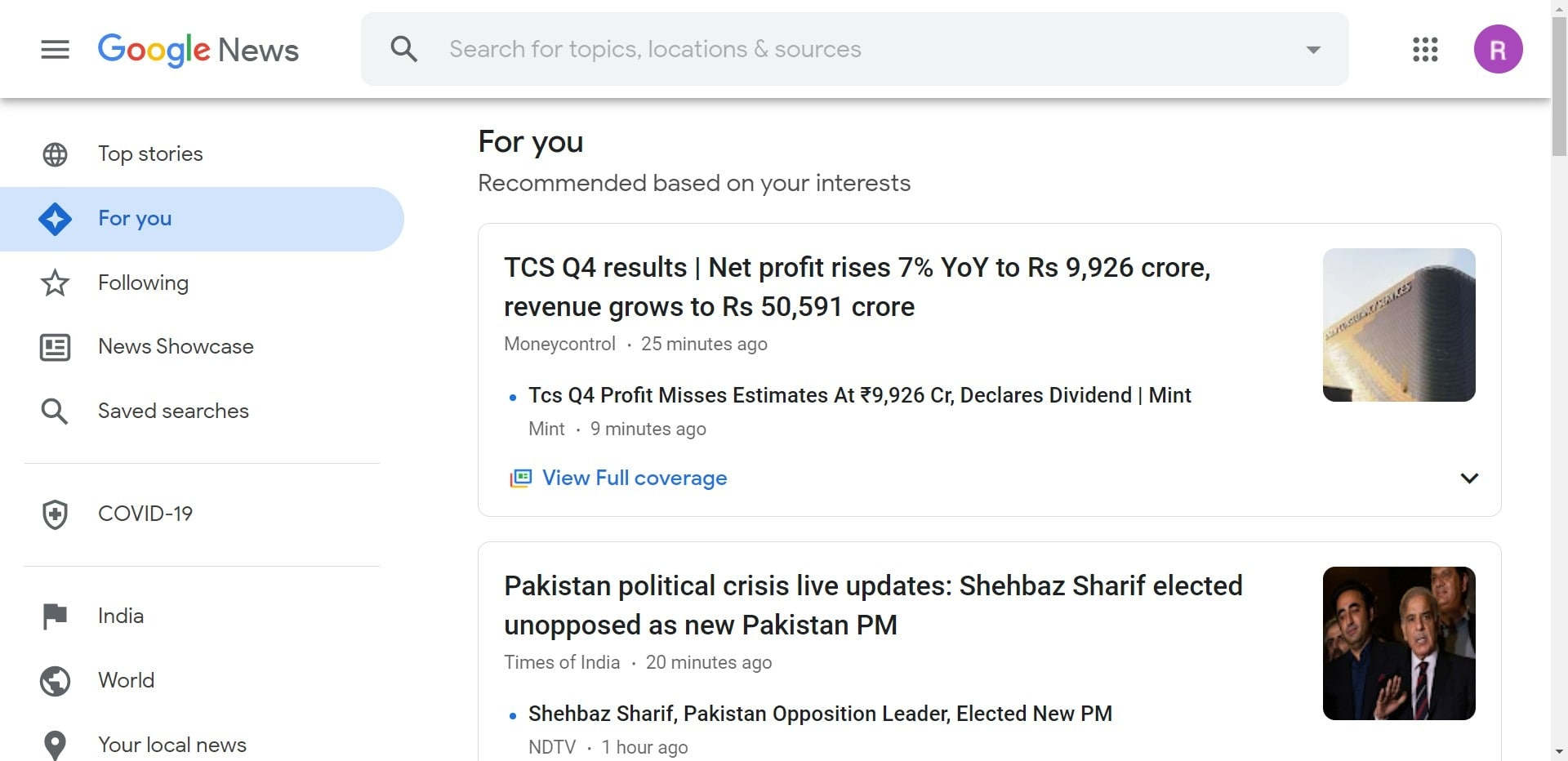 Going deeper, you'll notice that the website is well-organized, with subheadings and fewer images:

Use title and header tags to convey a sense of what the material is about if you want to add multimedia elements. Also, ideally, provide a summary of your post so that Google can understand it (and offer it up to searchers).
2. Follow Google News Guidelines
Your website is up against a slew of other websites vying for Google exposure. On WordPress alone, millions of posts are written every day.
Not believing it? Take a look at this live feed of WordPress activity: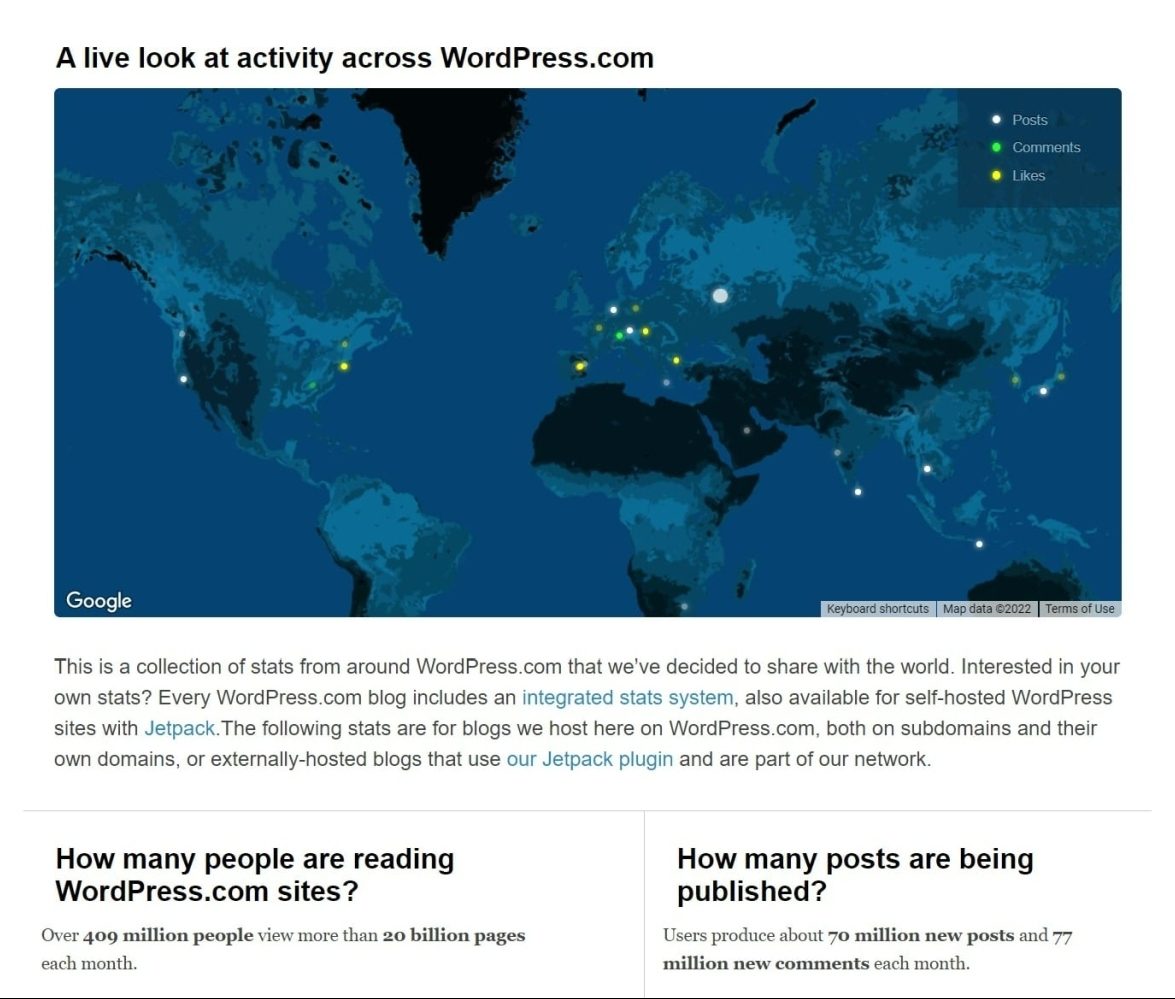 Google doesn't have time to deal with pages that don't match all of their rules as there is so much information out there being produced.
Avoid having your site banned from Google News because you didn't follow the standards. Each page of your site should follow Google News's guidelines.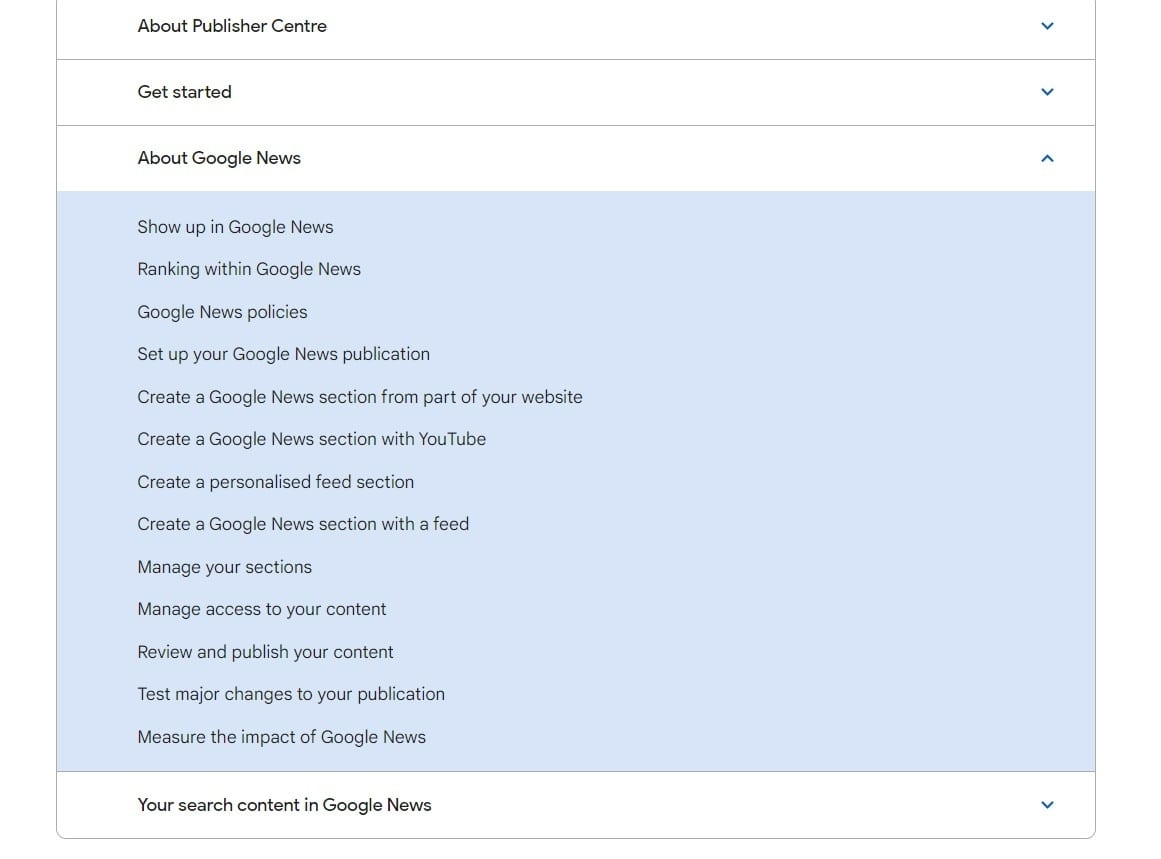 3. Submit YouTube Video Content to Google News
Videos are everywhere, and Google News couldn't ignore them. In fact, if your company relies on videos, you should use them as an advantage.
Log in to the Publisher Center and select the Content tab from the top menu bar to submit your video content to Google News.
You'll then need to create a New Section: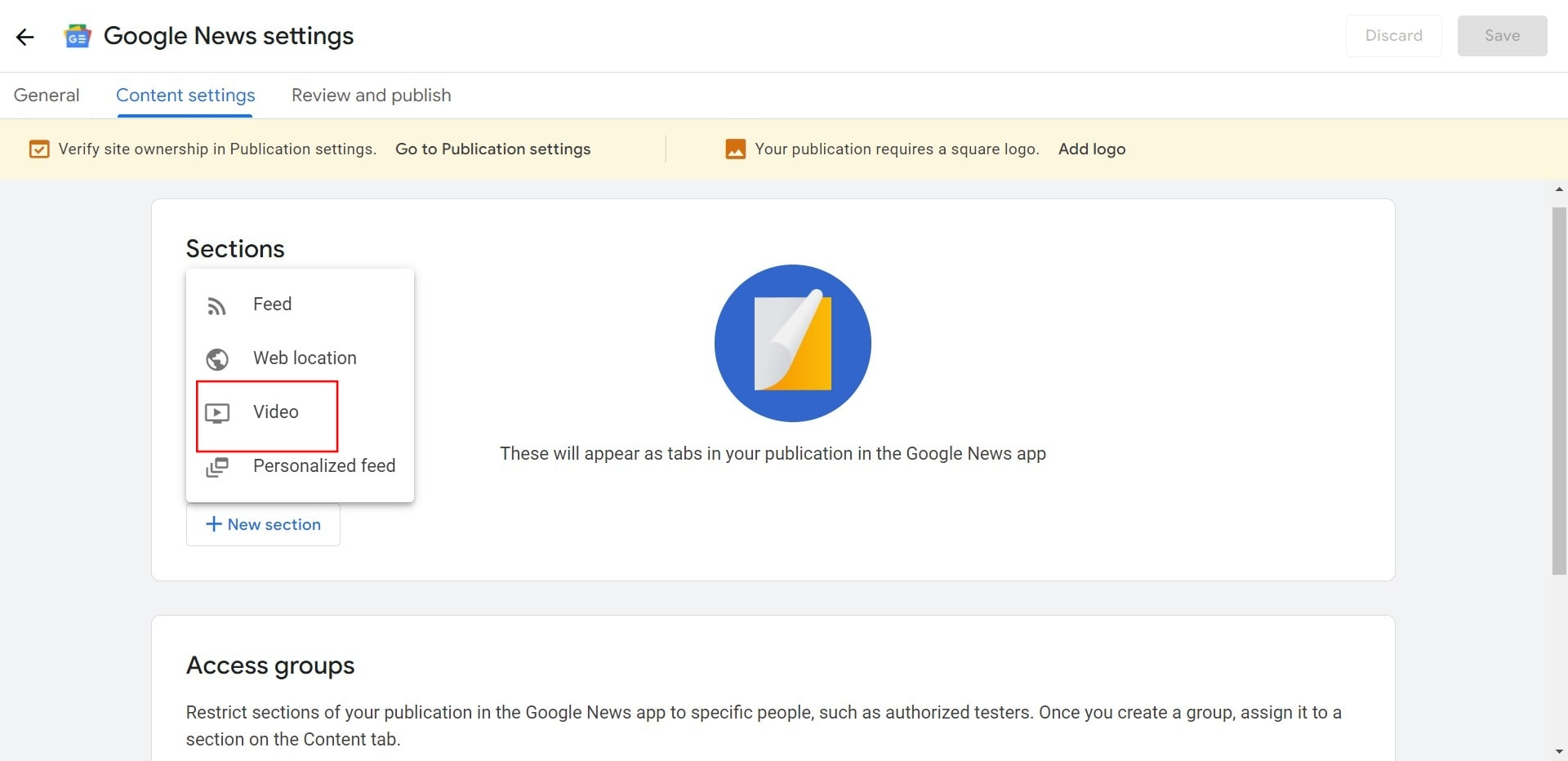 A new window pops up where you'll be able to add links from your YouTube playlist or channel as shown in the example below: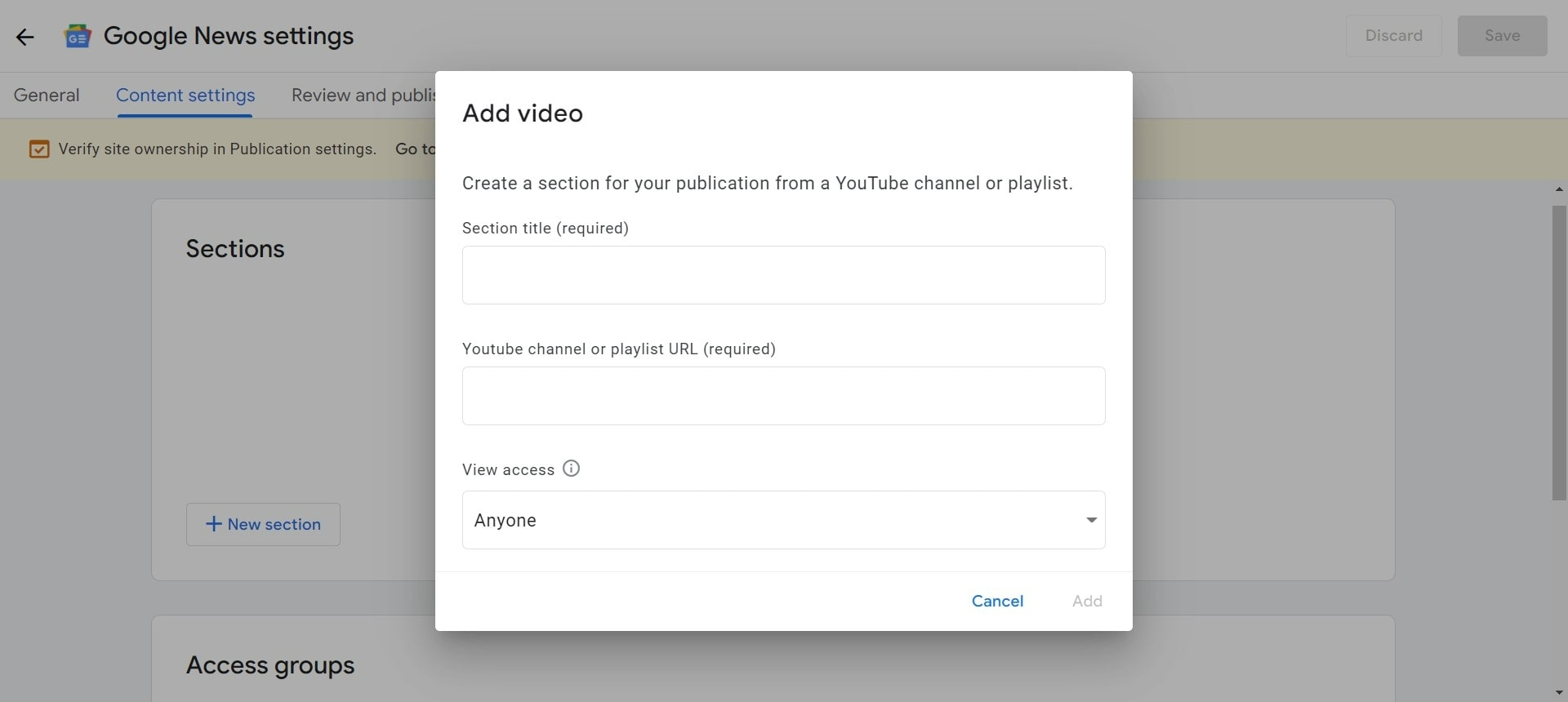 Or, you can also embed YouTube videos in your articles, in your feed via an <iframe> or a media <RSS> tag.
4. Create a Google News Sitemap
There is no a-must to have a sitemap for Google News (or Google in general), but if you do, your chances of getting your site crawled faster will be increased.
Why? A sitemap facilitates the crawling and indexing of your material by search engines.
Just a reminder: Google News sitemaps are not the same as "regular" Google Search sitemaps, so if you want to submit Google News, you'll need to generate a new one.
How to Make a Sitemap for Google News
To be absolutely certain and have complete control over the content you send to Google News, you should use a Google News sitemap.
For this, you can use the free WordPress plugin XML Sitemap & Google News or a paid solution like Yoast's News SEO ($69).
The XML Sitemap & Google News WordPress plugin creates an XML sitemap and sends your updates to Google News. It's a terrific solution that's also quite easy to implement.
5. Optimize All Your Pages
Google News displays the most recent headlines, but it also allows users to personalize their feed so that only news from specific categories is seen.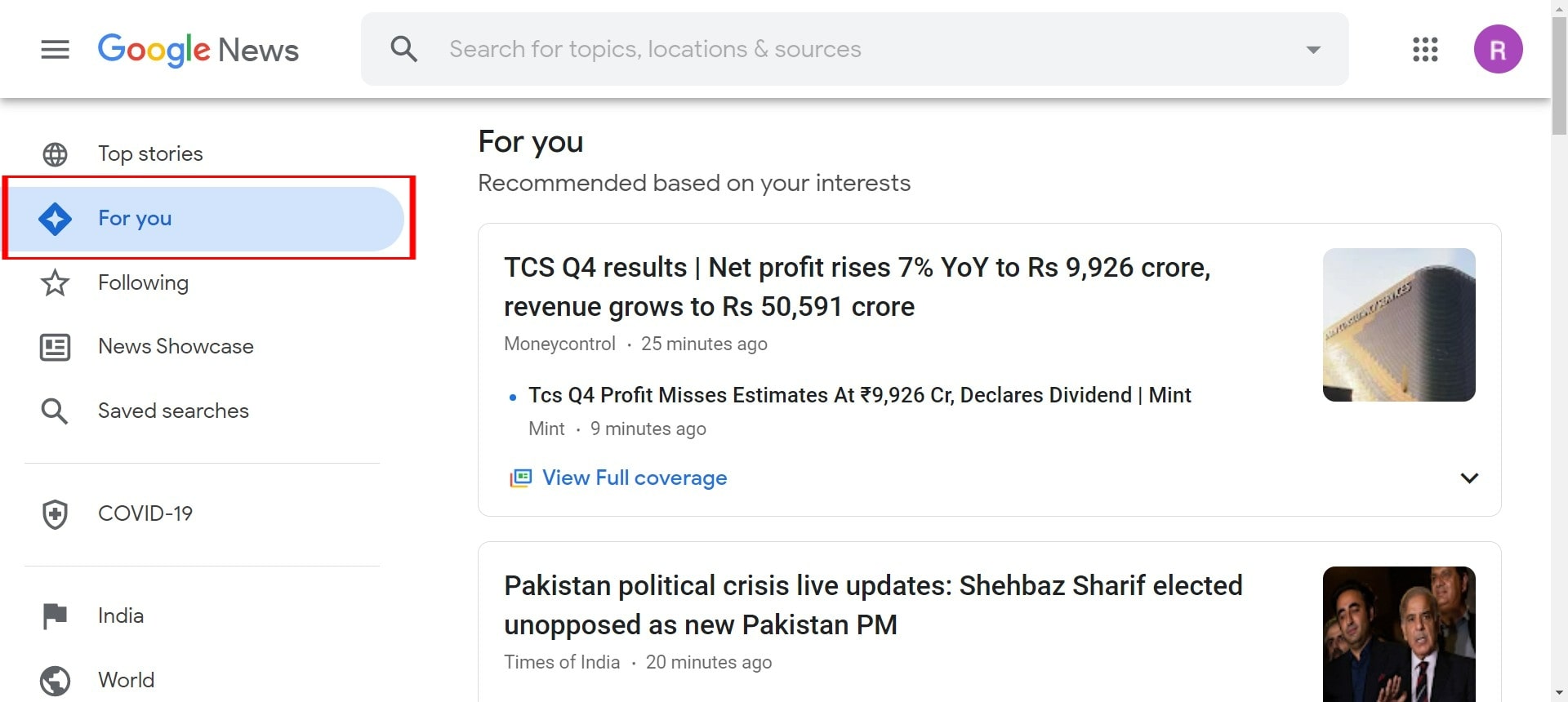 As a result, your information can be found on Google News just as easily as it can be on search engines, so make sure it's optimized.
Make headlines a priority in your writing. They must include keywords that are relevant to your target audience, incorporate stats if possible, and be compelling.
6. Create Friendly and Readable URLs
Pay attention to the structure of your URLs. When judging quality and relevancy, Google looks at the entire website, including the URL.
And, in fact, one of the first things it looks for is URLs. Google and your visitors will be unable to decipher your site's URLs if they are made up of random characters.
Which of these URLs, for example, will lead to the post on order bump offers in eCommerce store?

You can probably predict where I'm heading with this.
Make sure your URLs are distinctive and SEO-friendly. It's critical to give each page its own URL so that Google — and other search engines — can understand what's on it. It's the fundamentals of search engine optimization.
When choosing URLs, take your time. Changing a URL after it has been created can cause issues.
And talking about Redirects
The Google News crawlers will pick up previously published stories, but if you're diverting to a new site or page, you'll need to make sure you're utilizing 301 redirects.
It's a good idea to evaluate your crawl mistakes on a regular basis and solve any problems as soon as feasible. Also, ensure there are no 404 problems on the new site.
7. Clear Contact Information about Authors and Company
Google News stories have a few distinct features that are frequently ignored by website owners. In particular, according to Google News' content policies:
Include contact information with each news piece to help confirm the veracity of your content.

A short author bio with a professional title, an email address, and even links to social accounts should be included at the end of bylined pieces.
Conclusion
For content creators, getting their material in front of more people is a daily task. And there's a lot of rivalry when it comes to news sites. Which is why you should consider using Google News to increase traffic to your website.
Submit to Google news and let us know what your take was on the situation? Do you have any further tips for submitting a website to Google News?
Would like to know about your experience..so, don't forget to let us know in the comment section below.