Art By Daan is an online eCommerce company that sells handmade precious pieces of jewelry. They saw a hike in their client base with happy and more committed customers and clients by using Points and Rewards for WooComerce, which is amongst the Best Sellers of WP SWINGS!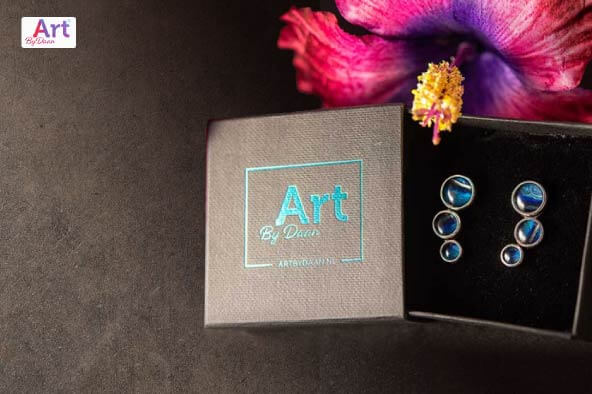 Key Features:
Referral Reward Points 

Point Conversion 

Sign Up / Login In
What the company is all about?
Daniëlle Looije is the founder of Art by Daan. Most people would describe her as creative, but in her head, she is always thinking about innovation. With her marketing background, her initial idea was to start with some kind of "merchandise". But one day she stumbled upon jewelry with photos and thought if photos can be in there, so can art. That's how Art by Daan was born. 
But it took a different turn than she had in mind. She kept feeling that something was missing. That's when she bought pendants and put her self-made stones in them and made the creations even more personal. 
So, If you are looking for something special and personal, you can go wild in the Art by Daan webshop. All artistic jewelry and art are made from special castings of colorful acrylic paint, combined with the finest materials, and are 100% unique.
What Were Their Challenges?
Art by Daan is a company that makes handmade and unique jewelry. But it was very difficult for them to retain customers. This is a common problem that is faced by a lot of in-house artists, who are pretty new to the industry. It becomes impossible to build a certain level of credibility and loyalty amongst their customers.
What Is The Solution And Where Did They Get That?
Art By Daan started using Points and Rewards for WooCommerce Pro developed by WP Swings. WooCommerce Points and Rewards is amongst the best seller plugins which just can not disappoint the user. The company saw an instant increase in conversion and retention rates. Not only this but the customers are more committed than before.
How Does Points And Rewards For WooCommerce Plugin Help Them Achieve Goals? (Most-Relevant Rated Features As Per Use)
Conversion Points –
With this WooCommerce rewards system plugin, you can let your customers convert the earned reward point into coupons You need to enable this feature from the Per Currency Settings of the plugin and set the monetary value a customer can redeem through a specific amount of points.
Referral Points –
With this loyalty Points and Rewards plugin, merchants can offer point rewards to the referrer for every unique referral. For example, if user A shares his referral link with user B, and user B signs up using A's referral link, user A will receive the reward points. Admin just needs to enable the referral points option from the General settings and enter the number of points and minimum referrals required.
How These Features Of Points And Rewards For WooCommerce Helped In Their Store's Growth?
Art by Daan started using Points and Rewards for WooCommerce and saw an instant change in the customers' attitude. They were much happier and more committed than before. They also noticed an increase in the retention rate. They were surprised to see that we retained nearly 500 new users.
Is Points And Rewards For WooCommerce Plugin Worth The Recommendation?
"You have a friendly support team that is willing to develop!"  The plugin was given a 4-star rating.