Wallet System for WooCommerce Pro
GET A MULTI-PURPOSE AND BLAZING-FAST WOOCOMMERCE WALLET SYSTEM TO ADD OR REMOVE BALANCES IN BULK, VIEW, AND DOWNLOAD USER TRANSACTION HISTORY IN A PDF, GENERATE WALLET COUPONS, SEND CASHBACK & REFUNDS, SET TOP-UP SUBSCRIPTIONS, AND RESTRICT USERS.
The Wallet System for WooCommerce Pro plugin adds a digital Wallet to your eCommerce store. Customers can purchase your products & services using their WooCommerce Wallet balance. With this Wallet for WooCommerce plugin, you can add or remove funds from customers' Wallets in bulk, view & download the transaction history, and send email notifications to customers. It also allows you to send refunds directly to customers' Wallets. Moreover, the Wallet cashback feature enables you to send all cashback rewards to your customers. So, this Wallet for WooCommerce effectively supports your customer loyalty program.
You can enable WooCommerce Wallet System as a payment method from WooCommerce > Settings > Payment by adding some money to it.
Use the WooCommerce Wallet as a Complete or Partial Payment Method
Users Can Generate Wallet QR Codes
Enable customers to earn Wallet Credits
Let Users Receive Wallet Cashback On Purchase
Top Features of WooCommerce Wallet
Here are some top features loved by our clients:
1. Show Checkout Fields During Wallet Top Up
New
Customers can top their wallets following a similar process as any other checkout. However, the checkout fields during wallet recharge orders are hidden by default. But you can allow customers to access the form fields.
2. Download the Wallet Transaction History
With the WooCommerce Cashback plugin, you can view the Wallet transactions of your customers in a neatly organized table and download the transaction history in an Excel spreadsheet, PDF, or CSV file according to your requirements. It will help you record and back up your crucial transaction data. You can also show the date & time of transactions in any time zone you prefer.
3. Hide or Show Cashback Message
When you offer cashback rewards using our WooCommerce payment plugin, your customers are greeted with a message upon getting the reward. You can choose to display or hide this cashback message from the cart and checkout page. It applies to both cart-wise and category-wise cashback.
4. Customize Wallet Restriction Message
By default, a restriction message is shown to users that are barred from using WooCommerce wallet features. You can choose to show or hide the restriction notification from the user and also customize the notification content.
5. Limit WooCommerce Payment Gateways for Cashback Rewards
You can make use of any payment gateway ineligible (non-acceptable) for customers for earning wallet cashback rewards. Also, you can show the cashback gateway restriction message on the checkout page. By default, they are free to use any payment gateways.
6. Show or Hide Cashback Reward Messages
The cashback rewards message is shown to WooCommerce wallet users to encourage them to avail of cashback on purchases. You can choose to show or hide cashback messages on the checkout page.
7. Key Notifications for Users
You keep the WooCommerce Wallet customers in the loop by sending them important email notifications on wallet top-ups (recharge), Wallet credit, and balance deductions. You can change the default WooCommerce email and set any email address for sending the wallet system notifications.
8. Auto Order Complete
You can allow automatic order completion for products & services purchased through the WooCommerce wallet system and further speed up the post-checkout order processing.
9. Charge Fees for Wallet Transfer And Withdrawal Requests
Our wallet for WooCommerce allows you to set and charge fees for wallet transfers (recharge by customers) and withdrawal requests. If left unchecked, your customers can use these features for free.
10. Partial Refund To Wallet
You can process the full or partial refund to customers' WooCommerce wallets for the items they have purchased. The remaining refund amount can be transferred via existing payment gateways. This applies to all refunds irrespective of the payment method used while buying the products.
11. Selective Bulk Recharge
From the wallet users list, you can select specific customers to recharge (credit and debit) their wallets. It's extremely useful if you want to reward or incentivize certain loyal customers according to their relevant celebratory occasions.
12. WooCommerce Wallet Shortcode
The shortcode [wps-wallet] will come in handy when you need to display the frontend wallet user panel anywhere on your store. It will also showcase the QR code generator, letting users create codes to get recharged by other WooCommerce Wallet users swiftly and securely.
13. Wallet Top-up Subscription
Set up a wallet top-up subscription plan for users with interval periods of 'days, weeks, months, or years' to automate their recharge process and improve the payment experience. Customers can only decide their top-up subscription amount. The WooCommerce Wallet Plugin users can recharge their Wallets with a subscription or regular top-up. Also, a new subscription will be created on every recharge that's done in the middle of the ongoing subscription interval.
14. Add or Remove Wallet Balance
Being the admin, you have the ability to recharge or remove the balance from WooCommerce wallets in bulk or individually and clarify to users the purpose of the balance edit by mentioning the reasons for the transaction. Also, define a maximum & minimum limit on wallet recharge for customers and efficiently control the payment process with this digital wallet plugin.
15. Restrict Wallet Users
The WooCommerce payment plugin has a user restrictions feature for banning users from using the following features: Wallet Transactions, Add Balance, Wallet Transfer, Wallet Coupon Redeem, and Wallet Withdrawal Request functionalities. You can restrict certain features for certain users or implement the same set of restrictions for all users at once. A restricted user can only use the existing Wallet balance to buy products. Essentially, our digital wallet plugin will ensure your store's security by letting you penalize suspicious users.
16. Offer Wallet Credit on Favorable Actions
You can implement a WooCommerce credit system using our digital wallet plugin and reward users to encourage actions favorable to promoting your store & expanding your user base. Plus, the incentives will make the wallet a popular payment method within your online store. It will allow you to offer Wallet credit to users on daily visits, signup, and product review comments.
17. Digital Wallet Cashback
You can also incentivize the use of the Wallet system by transferring cashback rewards directly into the users' Wallets. This cashback reward system allows users can earn cashback through the use of any payment method but to use the rewarded value they have to use the WooCommerce wallet.
There are two Wallet cashback rules: Cart-wise and Category-wise. You can implement the category-wise cashback rule globally and individually for each category at the same time. From the categories section, you can configure the cashback type and amount for all categories, even the ones already selected in the global cashback rule.
18. Wallet Coupons
The Wallet System for WooCommerce comes with a Wallet coupon organizer that lets you create coupons and set the usage limit per coupon and the usage limit per user. The users can redeem these coupons to add balance to their digital WooCommerce wallet.
19. Wallet Amount Widget
Show customers their balance in a widget upon login with WooCommerce Wallet. It helps wallet users keep track of their Wallet balance and remind them to recharge their wallets in case the reflected balance is low.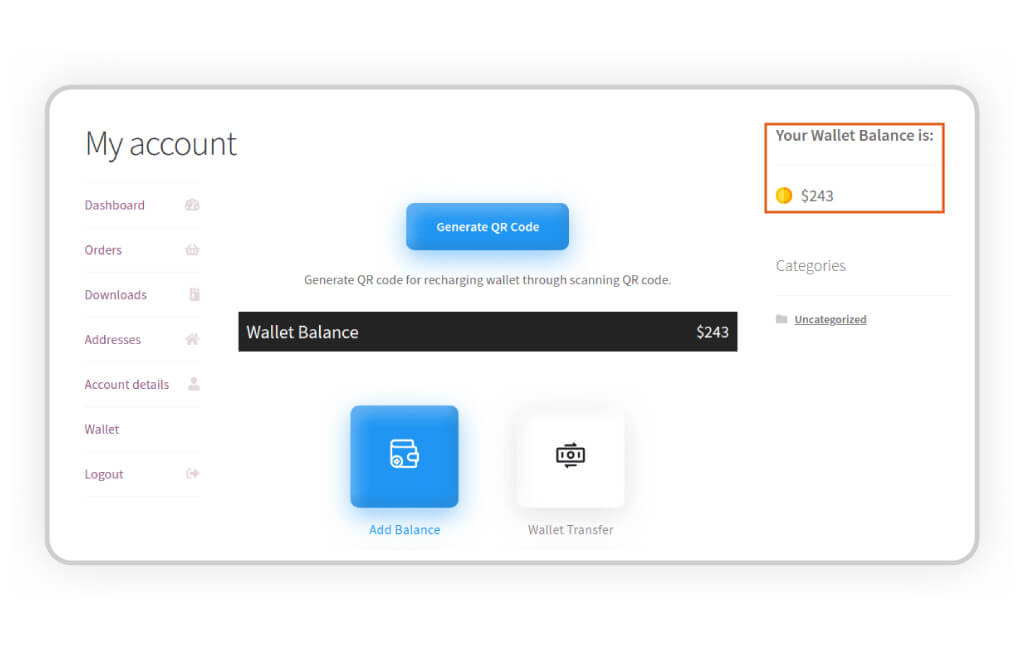 20. Wallet User Invite
You can let Wallet users invite their friends & family members to join the WooCommerce Wallet system. If the email address entered in the 'Transfer to' field doesn't exist, the option to send an invitation to that email address will appear for customers, and they can send an invite email.
In conclusion, our digital wallet plugin will smoothen the payment process and increase the woo Wallet user base.
21. Wallet Amount Withdrawal
Customers can withdraw their Wallet amount into their bank account or any payment app they actively use. They've to file a withdrawal request and provide you with their payment details. You can decide the email address on which you will receive the Wallet withdrawal request email. Moreover, the withdrawal requests table shows the username with the profile link in the digital wallet plugin.
22. Generate Wallet QR Codes
The users can generate and share QR codes for their wallets. An individual user can scan the wallet QR code of other users and recharge or transfer money into their wallets.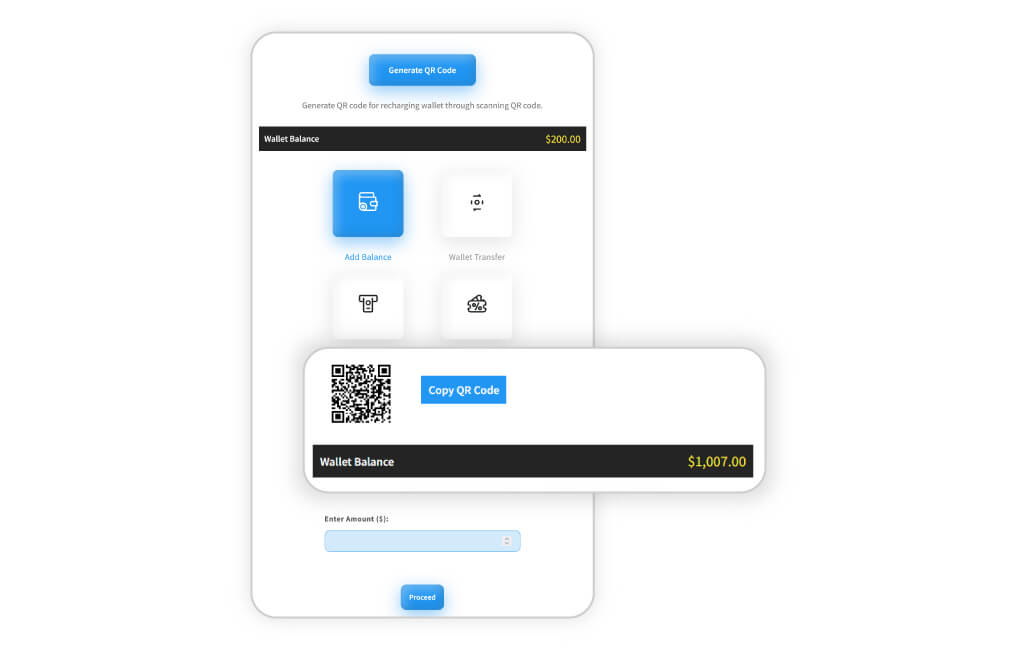 23. Displays Email Addresses of Debtor and Creditor
Customers can see their transactions made using the WooCommerce Wallet. The transaction list contains details like Wallet recharge, debit, credit, transfer, withdrawal, and the emails of both the creditor and debtor.
24. Import Wallet Balance from CSV File
With the user Wallet credit system, you can download the Wallet user list as a CSV file and edit the Wallet balance in that file. Then upload the edited CSV file to implement the updated Wallet amount. For example, when you want to edit the wallet balance of several users with different values, this feature will save you time.
25. Select Partial Payment
Using the digital wallet plugin, you can enable the partial payment feature. If the order value exceeds the available Wallet balance, then your customers can use the Wallet balance to pay the partial amount. Manual Wallet Payment allows customers to choose the Wallet amount, and the Total Wallet Payment allows the total Wallet balance available for payment.
For example, if the available amount is 20$ and the product costs 50$, then the customer can use the partial payment feature.
Benefits Of WooCommerce Wallet Pro
Speed Up Payments: Wallet System transactions happen in a matter of seconds because payments are processed internally without intermediaries.
Maximally Secure: Wallet transactions don't involve third parties, making WooCommerce payments secure and less susceptible to security breaches.
Works Like a Wallet: Our WooCommerce Wallet allows your customers to share their Wallet balance and also get top-up from other users. It's as easy as sharing cash between friends.
Boosts Customer Loyalty: You can reward your customers when they perform actions favorable to your store, such as positive product reviews, signup, & daily visits to loyalize them.
Track Your Sales: You can keep tabs on all users' Wallet transactions and easily download their history in PDF, CSV, or Excel sheets. So, you will be able to monitor your Wallet system validly.
Complete Wallet Management: You, as the administrator, have complete control of the WooCommerce Wallet system. In other words, you are calling the shots.
User-Oriented Wallet: The user interface of WooCommerce Wallet is organized and minimalistic. It blends in with your store's theme, and customers can learn to use it easily.
Direct Fund Transfer: You can transfer refunds and cashback into customers' Wallets and reduce the time taken to benefit them. It will strengthen the seller-buyer relationship.
Optimize User Experience: The Wallet for WooCommerce optimizes your payment processing and provides a fast & hassle-free method for your users for purchasing products & services.
WooCommerce Payment Plugin Compatibilities
The WooCommerce payment plugin has the following compatibilities:
1. Compatible with Currency Switcher for WooCommerce
The Currency Switcher for WooCommerce plugin allows you to select the currency unit for your website. Using the free version, you can choose any one of the two currencies for the Wallet system. Implement the currency your users are most comfortable with and improve user experience. All WooCommerce Wallet transactions will happen in the currency you select.
For example, you can convert the operational currency of the digital wallet plugin to Euro, if most of your users are from European countries like Germany, France, Belgium, etc.
2. Compatible with MultiVendorX
Our WooCommerce wallet is compatible with the newest version of the Multi Vendor Marketplace Solution for WooCommerce plugin.
Basically, the compatibility enables you to set the WooCommerce Wallet as a method for vendors to get sale commissions. It will be credited to the vendors' wallets after the order is marked complete manually or automatically, no matter what payment mode customers used for purchasing the vendors' products & services.
3. Compatible With Gift Card for WooCommerce Pro
Our WooCommerce Wallet Plugin is compatible with Gift Card for WooCommerce Pro and Ultimate Gift Card for WooCommerce.
Customers can recharge their WooCommerce wallets by redeeming their gift card coupons. Upon redemption, the complete card balance will be transferred to the wallet.
4. Compatibility With Subscriptions for WooCommerce
Our WooCommerce Wallet System is compatible with Subscriptions For WooCommerce and Subscriptions for WooCommerce Pro.
The WooCommerce Subscription plugin enables you to create and sell subscription products & services to maintain a steady flow of recurring revenue. Customers can use the Wallet partial payment feature to pay for subscriptions. They can also set up subscription order renewal payments as fixed and percentage. Set up Wallet top-up subscription intervals (days, weeks, months, years) and allow users to automate the recharge process of the WordPress Wallet plugin.
5. Compatibility With RMA Return Refund & Exchange for WooCommerce Pro
The Wallet System for WooCommerce Pro Plugin is compatible with RMA Return Refund & Exchange for WooCommerce Pro. It allows you to enable the wallet system functionality by which the refund amount will be sent straight into the user/customer wallet.
Also, the user/customer can see the refund amount in the transaction table. If the admin uses the existing RMA wallet then, the whole amount will be migrated into the wallet system for WooCommerce for every user.
6. Compatibility With Elementor Page Builder
Elementor Page Builder is compatible with our WordPress wallet plugin. This compatibility lets you use Elementor's drag-and-drop capabilities to add Wallet snippets to pages or posts. Your users can use the Wallet snippets to implement the following features:
Wallet Recharge [WPS_WALLET_RECHARGE]
Wallet Transfer [WPS_WALLET_TRANSFER]
Wallet Withdrawal Request [WPS_WITHDRAWAL_REQUEST]
Wallet Transaction [WPS_WALLET_TRANSACTIONS]
7. Compatibility With WPML
The Wallet System for WooCommerce plugin is compatible with WordPress Multilingual (WPML) plugin. With this compatibility, you can translate the strings of the Wallet system without any coding and turn your store multilingual.
8. Compatibility With WordPress Multisite
WordPress Multisite allows you to add multiple WordPress sites and manage them with a common WordPress Dashboard. With this compatibility, the Wallet System for WooCommerce will work seamlessly across all websites.
Free vs Pro
| Features | Free Version | Pro Version |
| --- | --- | --- |
| Wallet Top-Up By Customers | ✔️ | ✔️ |
| Customers Can Recharge the Wallets of Other Users | ✔️ | ✔️ |
| Wallet Recharge Order List | ✔️ | ✔️ |
| Wallet Recharge By Admin | ✔️ | ✔️ |
| Wallet Transaction History | ✔️ | ✔️ |
| Wallet as a WooCommerce Payment Option | ✔️ | ✔️ |
| Wallet as Discount Option | ✔️ | ✔️ |
| Notifications for Customers | ✔️ | ✔️ |
| Import Wallet Balance from CSV File | ✔️ | ✔️ |
| Wallet Credit On Favourable Actions | ✔️ | ✔️ |
| Wallet Transaction History for Customers | ✔️ | ✔️ |
| Compatible Subscription for WooCommerce Free and Pro | ✔️ | ✔️ |
| WordPress Multisite Network | ✔️ | ✔️ |
| Shortcodes for WooCommerce Wallet | ✔️ | ✔️ |
| Partial Payment Through Wallet | ✔️ | ✔️ |
| Email Address of Debtor and Creditor | ✔️ | ✔️ |
| Restrict Wallet User | ✔️ | ✔️ |
| Selectively Edit Wallet Balance In Bulk | ✔️ | ✔️ |
| Wallet Cashback | ✔️ | ✔️ |
| Bulk Transaction Detail (Credit Or Debit) | ✔️ | ✔️ |
| Wallet Top-up Subscription | ✔️ | ✔️ |
| Full And Partial Refund to Wallet | ✔️ | ✔️ |
| Auto Complete Orders Purchased With Wallet Money | ✔️ | ✔️ |
| Change Email Address for Sending Wallet Notifications | ✔️ | ✔️ |
| Shortcode for Wallet Amount | ✔️ | ✔️ |
| Skip Particular Payment Gateway for Wallet Cashback | ✔️ | ✔️ |
| Gift Card for WooCommerce Pro Compatibility | ✔️ | ✔️ |
| Multi-Currency Switcher for WooCommerce Compatibility | ✔️ | ✔️ |
| MultiVendorX Compatibility | ✔️ | ✔️ |
| RMA for WooCommerce Compatibilty | ✔️ | ✔️ |
| Elementor Pro Compatibility With WooCommerce Wallet | ✔️ | ✔️ |
| Show Checkout Fields During Wallet Recharge | ❌ | ✔️ |
| Customize the Wallet Restriction Message | ❌ | ✔️ |
| Hide Wallet Cashback Reward Message At Cart And Checkout Page | ❌ | ✔️ |
| Show or Hide Gateway Restriction Message At Checkout | ❌ | ✔️ |
| Show or Hide Wallet Restriction Message | ❌ | ✔️ |
| Fee on Wallet Transfer and Withdrawal Request | ❌ | ✔️ |
| Wallet Withdrawal Request Email | ❌ | ✔️ |
| Allow Users To Select Between Subscriptions Or Regular Topup | ❌ | ✔️ |
| Display Wallet QR Code With Shortcode [wps-wallet] | ❌ | ✔️ |
| Wallet Cashback Per-Category-Wise | ❌ | ✔️ |
| Wallet QR codes | ❌ | ✔️ |
| Wallet Amount Widget | ❌ | ✔️ |
| Bulk User Restriction | ❌ | ✔️ |
| Wallet User Invite | ❌ | ✔️ |
| Export Transaction History | ❌ | ✔️ |
| Maximum/Minimum Recharge Limit | ❌ | ✔️ |
| Wallet Coupon Organizer | ❌ | ✔️ |
FAQs
Can the admin set a limit on the wallet recharge amount for customers?
sanjeevmaurya
2022-06-09T12:08:29+00:00
Yes, the admin can set a minimum/maximum limit on wallet recharge amount from the General settings.
Still in doubt? Refer to our Knowledge Base and learn more about the Wallet plugin.