Subscriptions For WooCommerce Pro
GET RECURRING REVENUE AND EASILY MANAGE YOUR WOOCOMMERCE STORE BY OFFERING SUBSCRIPTION OPTION FOR YOUR PRODUCTS AND SERVICES. ACCEPT MANUAL PAYMENTS, ENABLE ONE-TIME SUBSCRIPTIONS, RE-ATTEMPT FAILED RECURRING PAYMENTS, OFFER EXCLUSIVE COUPON TYPES, AND MUCH MORE!.
Subscriptions for WooCommerce Pro is your tool to add a subscription business model to your online store. So that you can provide subscription-based products & services with simple and variable options. Also, you can sell physical and downloadable subscription products and everything in between.
Avail WooCommerce recurring payments revenue along with complete subscription plan management. Subscriptions for WooCommerce Pro Plugin allows you to collect repeated payments through WooCommerce subscription orders on your eCommerce store with features convenient for both admin and users.
Option for

Enable/Disable subscriptions

&

Start and Pause Subscription Plans

anytime

Offers

Upgrade or Downgrade Variable Subscriptions

Products

Has the ability to accept

manual payments

for subscription orders

Enables admins to manage

WooCommerce subscriptions emails

and create

subscriptions coupons
Top Features of Subscriptions for WooCommerce Pro
1. Email Notification for Renewal Failed Order
The Admin can notify the customers automatically when the subscription renewal order fails. The email is sent from WooCommerce Failed order functionality. It helps ensure that customers can manually pay for their WooCommerce recurring orders in case it fails.
2. One-time Subscription
With the Subscriptions for WooCommerce plugin, the admin can enable subscription prices for a one-time purchase of products. They can enter a fee according to their choice for a one-time purchase.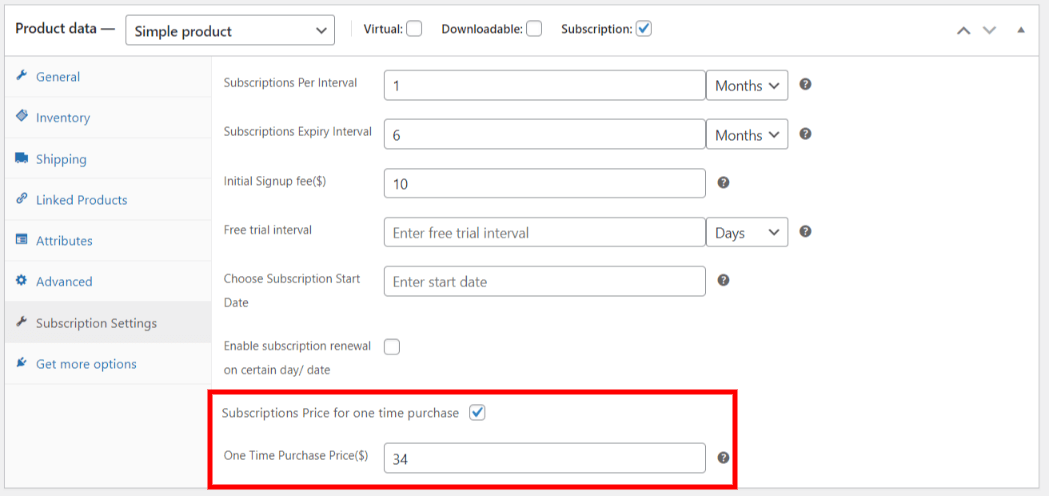 3. Ability To Accept Manual Payment for Subscription
This WooCommerce Subscription plugin allows the admin to enable manual payment options from the advanced settings tab and offer manual payment methods, i.e., cash on delivery, direct bank transfer, and check payments.
4. Automatic Retrying for Failed Products
This WooCommerce Subscription Pro plugin lets merchants re-attempt a failed recurring payment of a particular WooCommerce subscription plan. Also, the admin can set the number of failed attempts after which WooCommerce recurring payments can be rerun.
5. Exclusive Coupon Types With Subscriptions for WooCommerce
With the Subscriptions for WooCommerce Pro plugin, merchants can create special subscription coupons that are valid exclusively on recurring services & products. Users can redeem these coupons for Initial Fees and Recurring Total.

6. Subscription Plans Details
Admin can get to know detailed information about their WooCommerce subscription plans on the subscription table tab of the plugin. All related details of a WooCommerce subscription plan such as the next payment date, subscription expiry date, etc are mentioned clearly.
7. Active WooCommerce Subscription Export Function
Create a custom CSV of all WooCommerce subscription plans with an easy active subscription export function available for admin. Exporting active WooCommerce subscriptions will keep you updated with all the user and subscription plan details.
Customers can apply Gift Card coupons on existing subscriptions for upcoming renewal orders based on the value of those coupons. If subscriptions are purchased through any Gift Card coupon, then it will apply at that time and on subscription renewals.
8. Allow Multiple Quantities on Subscription Products
This WordPress Subscription plugin allows customers to add multiple quantities of a specific product subscription. For example, if a customer wants five pet food boxes, he can directly increase the number from the shop page.
9. Notifications and email Reminders for Subscription-Related Actions
This Subscriptions plugin smoothly integrates with WooCommerce for sending email notifications and reminders related to subscription plan activities. For every WooCommerce subscription-related action, like subscription recurring payments, subscription expiry, completion, pause, resume, and reactivation, the admin can send an email notification.
10. API of Course for Details on Mobile App
Our WooCommerce Subscription Pro plugin provides API to access features externally and display all subscriptions on a mobile phone. You can use APIs to fetch subscription details on mobile apps and overview all subscription plan-related details such as active and inactive plans, pending payments, etc.

11. Handle WooCommerce Subscriptions Proration
This Subscription plugin can handle the proration billing that allows users to apply changes anytime on their subscription plans. In this manner, WooCommerce subscription users will not have to wait till the month ends.
12. Subscription Renewal Order Refund
You can also use the subscriptions plugin to process refunds if the user prefers to cancel their WooCommerce payment subscriptions. You can refund users' orders through the payment method that they have used to buy the product. Here, the payment method may be WooCommerce Eway Gateway, Authorize.Net Payment Gateway For WooCommerce, WooCommerce Stripe Payment Gateway, WooCommerce PayPal Checkout Payment Gateway and Mollie Payments for WooCommerce.
Benefits of Subscriptions for WooCommerce
Subscription Date: Admins will be able to set the subscription start date from a certain date of any month and extend the subscription payment date. Also, customers are free to choose and change the WooCommerce subscription plan start date.
Flexible for Customers: Customers can stop the downgrading subscription anytime. Also, they can switch to different subscription products at the same interval. They can pause the subscription services whenever they want.
Prorate Amount: Admins can enable proration on sign-up fees for upgrading or downgrading variable subscription plans. Admins can prorate the amount as wallet credit. Also, customers can adjust their prorate amounts.
Manual Payments: Admins can enable manual WooCommerce payment subscriptions and collect recurring revenue with WooCommerce subscriptions.
Membership Subscriptions: Store owners will be able to sell subscription services and products through membership subscriptions and customers will be able to leverage membership discounts in the same interval.
Subscriptions Plugin Compatibilities/ Integrations:
Subscriptions for WooCommerce Pro is compatible with these plugins:
1. Compatibility With Ultimate Gift Cards For WooCommerce
Offers discounts through gift cards with the compatible plugin Ultimate Gift Cards For WooCommerce. Enable your users to use Gift Card Coupons for first signup fee discount, recurring discounts, signup percentage discounts, etc.
If the subscription is purchased through a gift card, then that same gift card will also be applicable for renewals.
2. Compatibility With Wallet System For WooCommerce
Admins can offer to buy subscription products using an amount from a wallet with Wallet System For WooCommerce Free and Wallet System For WooCommerce Pro. Customers will get discounts on subscription renewal. For this, they can pay using their wallet balance. Here the admin decides the amount deduction from the customer's wallet.
3. Compatibility With Membership For WooCommerce
Our WooCommerce Subscription plugin is compatible with the Membership For WooCommerce plugin. Admins can sell subscription services and products through membership subscriptions. They can create and offer discounts in membership plans using this subscription plugin.
4. Compatibility With WooCommerce Payment Gateway
WooCommerce Subscription plugin supports automatic payment methods and is perfectly compatible with:
WooCommerce PayPal Standard
WooCommerce Eway Gateway (Supported by in some countries only)
Authorize.Net Payment Gateway For WooCommerce by Pledged Plugins
WooCommerce Payment Method for subscription pro plugin
4. WPML & Multisite Compatibility
Subscriptions for WooCommerce Pro plugin is compatible with WordPress Multilingual i.e. WPML Plugin and Multisite.
Free vs Pro
| Features | Free Version | Pro Version |
| --- | --- | --- |
| Subscription for Simple Products | ✔️ | ✔️ |
| Subscription Frequency | ✔️ | ✔️ |
| Subscription Plan Expiry | ✔️ | ✔️ |
| Charge Initial Fee | ✔️ | ✔️ |
| Offer Free Trial | ✔️ | ✔️ |
| Stop WooCommerce Subscription Option (User and Admin) | ✔️ | ✔️ |
| Subscription Reports for Admin | ✔️ | ✔️ |
| Edit Add-to-cart Text | ✔️ | ✔️ |
| Change Place Order Text | ✔️ | ✔️ |
| Cancel WooCommerce Subscription Plans (Allow User) | ✔️ | ✔️ |
| WooCommerce Stripe Payment Gateway Compatible | ✔️ | ✔️ |
| WooCommerce PayPal Standard Payment Gateway Compatible | ✔️ | ✔️ |
| PayPal Express Checkout Payment Gateway Compatible | ✔️ | ✔️ |
| WooCommerce Integration with Authorize.net Compatible | ✔️ | ✔️ |
| WPML Compatible | ✔️ | ✔️ |
| Subscription Renewal Order Refund | ✔️ | ✔️ |
| Enable WooCommerce Logs | ✔️ | ✔️ |
| Cancelled Subscriptions Email Notification | ✔️ | ✔️ |
| Expired Subscriptions Email Notifications | ✔️ | ✔️ |
| Compatible with WooCommerce Eway Gateway | ❌ | ✔️ |
| Manual Subscription Payment Option | ❌ | ✔️ |
| Multi Step Configuration | ❌ | ✔️ |
| Manage proration amount as wallet credit | ❌ | ✔️ |
| Extent next payment date for prorated amount | ❌ | ✔️ |
| Stop downgrade proration of subscription plans | ❌ | ✔️ |
| Compatible with Mollie Payments for WooCommerce | ❌ | ✔️ |
| Compatible with Multi Safe payment gateway | ❌ | ✔️ |
| Allow multiple quantities on subscription products | ❌ | ✔️ |
| Subscriptions on Variable Products | ❌ | ✔️ |
| Handle Proration | ❌ | ✔️ |
| Set Start Date (User and Admin) | ❌ | ✔️ |
| Allow users to switch subscription plans within same interval | ❌ | ✔️ |
| Automatic Payment Retrial | ❌ | ✔️ |
| Manual Subscription Payment | ❌ | ✔️ |
| Pause WooCommerce Subscription Plans | ❌ | ✔️ |
| Automated WooCommerce Subscription Cancellation | ❌ | ✔️ |
| Resume WooCommerce Subscription Plans | ❌ | ✔️ |
| View All Subscriptions Renewal Orders | ❌ | ✔️ |
| API for Mobile App | ❌ | ✔️ |
| Email for Payment Received | ❌ | ✔️ |
| Email for Plan Expiration | ❌ | ✔️ |
| Emails for Subscriptions On Hold/ Pause | ❌ | ✔️ |
| Emails for Subscription Plan Resumed | ❌ | ✔️ |
| Email Invoice With Payment Link (In Manual Payment) | ❌ | ✔️ |
| Upgrade Downgrade Variable Subscription Plan | ❌ | ✔️ |
| Alter Upgrade Downgrade Button Text | ❌ | ✔️ |
| One-Time Subscription | ❌ | ✔️ |
FAQs
Can admin set the recurring payment for a certain date of the month for any subscription plan ?
sanjeevmaurya
2022-01-20T11:41:01+00:00
Yes, the admin can set a particular date for a month for the recurring subscription payment for a user.
Still in doubt? Refer to our Knowledge Base to learn more about the Subscriptions for WooCommerce Plugin.