Gift Cards For WooCommerce Pro
CREATE, SELL, AND REDEEM GIFT CARDS ON YOUR ONLINE STORE WITH THE MOST FULLY-FEATURED WOOCOMMERCE GIFT CARDS PLUGIN. YOU CAN OFFER CUSTOMIZABLE TEMPLATES, SEND GIFT CARDS VIA EMAIL, WHATSAPP, SMS, OR DOWNLOADABLE PDF, AND REDEEM THEM SAFELY USING QR & BAR CODES.
Gift Cards for WooCommerce Pro helps merchants to create, sell & manage gift cards on their WooCommerce store. With the gift cards plugin, the admin can customize gift card templates, send gift card coupon codes as QRCode/BARCode, create reusable gift certificates & send balance notifications to customers. You can also sell customizable gift cards that your customers can edit their WooCommerce gift coupons as they desire. Gift Cards for WooCommerce Pro also provides features to share gift vouchers through Emails, WhatsApp, SMS, and downloadable PDFs for offline printing.
The recipient can use these cards to make purchases at your store. This gift card plugin offers a gifting portal, which enables you to recharge/redeem these WooCoommerce gift coupons at an online or retail store.
20+ pre-designed Gift Card Templates

for all occasions

Sell Customized

WooCommerce Gift Coupons
Online and Offline gift cards

with PDF support

Offer QR/BarCode secured gift cards
Top Features of WooCommerce Gift Cards
Here are some top features loved by our clients:
1. Show Delivery Method on the Cart, Template, and Order Edit Page
New
You can use the shortcode [DELIVERYMETHOD] to display users' selected delivery methods on the cart, template, & order edit page. It will allow the users to see their chosen gift card delivery method.
2. Add Recommended Products on Gift Cards
While creating WooCommerce gift cards, you can add products to the recommended product section. The added product(s) will be displayed with price, name, and purchase link on the Woocommece gift coupon preview, email, and PDF. Use the [RECOMMEND PRODUCT] shortcode to add this promotional feature to gift card templates. Essentially, your gift cards will act as a marketing tool & encourage customers to buy new products.
3. Customizable Gift Cards
You can create a Customizable Gift Card product for your customers using this WooCommerce gift voucher plugin. Your customer can modify it according to their choice.
Users can select a predefined image or upload one of their choices, add custom messages to the gift certificates, and delivery method & date. However, you can limit them to using only the predefined images for gift cards.
As users become WooCommerce gift card creators, they can add the needed personal touch to their cards, which is a crucial element of gifting.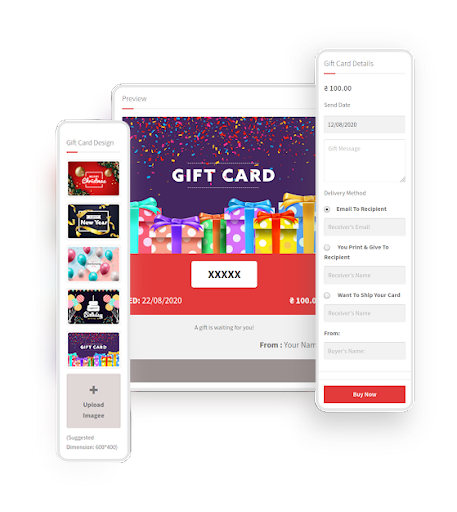 4. 20+ Predefined Gift Card Templates
The WooCommerce Gift Card plugin offers over 20+ gift card templates designed for various festivals and celebrations with customizable elements. Also, you can import custom templates to sell gift card products on occasions suitable to your customers based on birthplace, ethnicity, interests, etc. It makes nurturing users quite easy.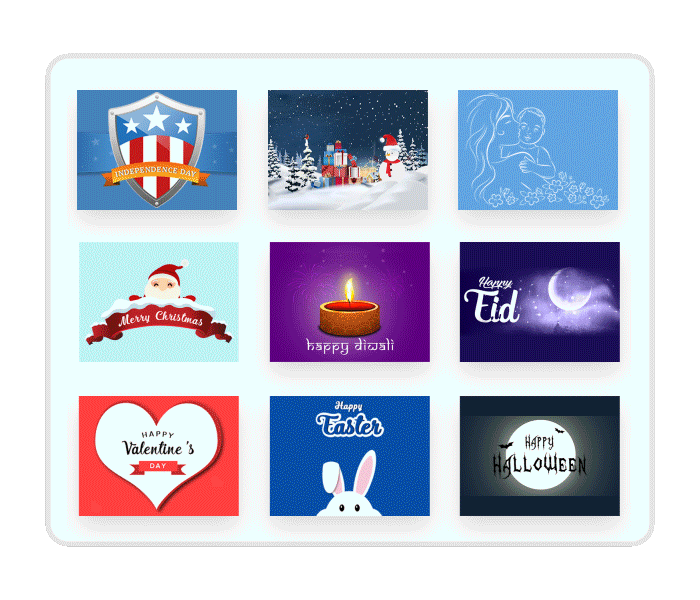 5. Remove Fields From the Gift Card Page
The Ultimate Gift cards for WooCommerce allow you to remove form fields from the gift card product page. Moreover, you have to remove validation from the To Name, To Email, From, and Gift Message fields. Otherwise, the users won't be able to add gift cards to their carts.
6. Create Gift Cards With Duration-Based Costing
The variable pricing type allows you to create gift cards for services using duration-based costing. You can add duration descriptions and set the price for each duration. Now, you can sell gift cards coupons for any time-based services like tools, personal care, decorations, etc.
7. Purchase Products as Gift Card
You can allow customers to purchase WooCommerce gift cards similar to any other product, meaning that the customers can choose their gift card from any of their selected product lists and follow the same purchase process due to the WooCommerce gift card plugin.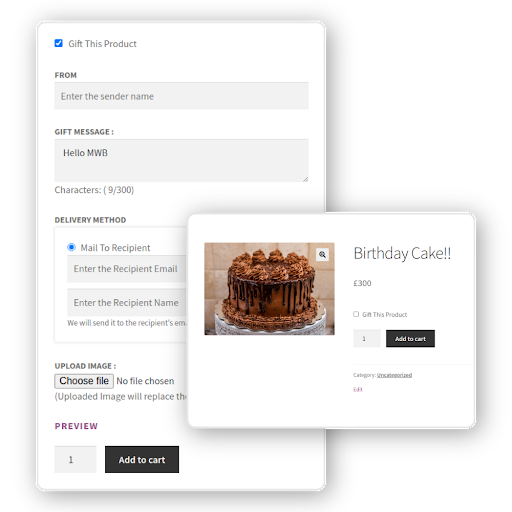 8. Redeem/Recharge Gift Cards
You can easily recharge/redeem customers' gift cards, scan the bar/QR code and fetch card details at your online or offline store with the gifting portal. It provides great convenience for customers & merchants and also promotes the sales of WooCommerce physical and digital gift cards.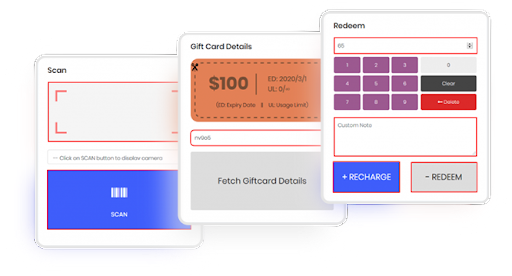 9. Import and Export your Gift Card Coupons
Our gift card WooCommerce plugin provides an easy way for importing and exporting gift cards. You can export the gift card coupon details in a CSV file. Moreover, you can export the details of the coupons you send to your customers using the Offline Gift Card feature. Also, you can import your custom codes file to avoid using auto-generated coupon codes.
10. Share Gift Cards On WhatsApp
You can let your customers share WooCommerce gift coupons on WhatsApp with their dear ones. So, enable the WhatsApp Gift Card Sharing feature from the Notifications settings. Being the most popular messaging app, WhatsApp allows faster sharing of your digital gift cards & drastically expands your reach.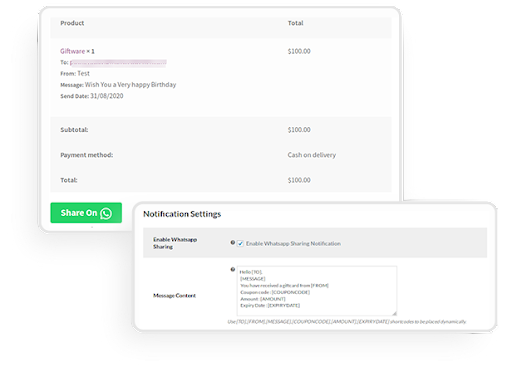 11. Secure with QR Code / BARCode
To enable secure redemption, you can create gift cards with QRcode/BARcode using the WooCommerce ultimate gift card plugin. Customers need to get these codes scanned to redeem or recharge gift cards. They can also optimize the gift card templates based on code size, code type, etc.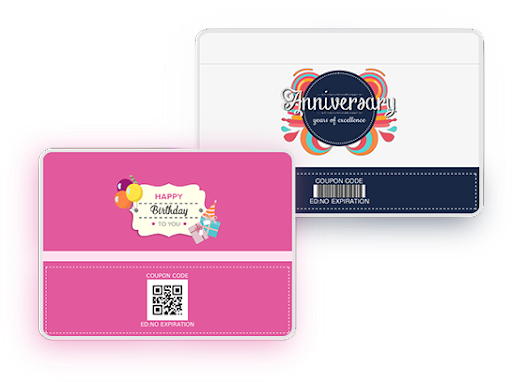 12. Offline Gift Card With PDF Support
The Offline Gift Card feature in the WordPress gift cards plugin enables admins to send gift cards to several customers. You can either import the file with all the details or add the details by clicking on the Add New button in the Offline Gift Card section of the plugin.
13. Flexible Gift Card Pricing
You can create gift cards with five different pricing types using the WooCommerce Gift Card plugin. It includes the following:  
Default Pricing: Fixed Price.

Price Range: Any price range like $50-100.

Selected Price: Multiple options like $20 | $50 | $100.

User Price: Any amount.

Variable Price: Duration-based prices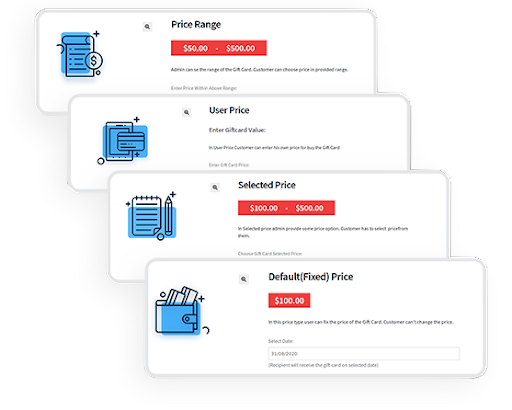 14. Include/Exclude Selected Categories or Products
The WooCommerce gift certificate tool enables special categorization to decide the application of gift card coupons. While creating gift card products, you can selectively exclude products or categories to which the gift card won't apply. And also select the product or categories suitable for gift card redemption.
15. Analyze Gift Card Performance with WooCommerce Reports
You can take a follow-up of each gift card sold with the help of the Gift Card Reporting feature in the WooCommerce gift vouchers plugin. Through the gift card reports, you can track the Purchased Date, Gift Card Amount, Remaining Amount, Sender and Receiver's name, Expiry Date, etc. Monitoring helps in strategizing gift card coupon sales.
16. SMS Notification via Twilio
The Twilio integration with Gift Cards for WooCommerce Pro allows users to share gift cards via SMS. You have to enter Twilio API credentials to enable the SMS Notification feature. After successful integration, your customers can enter the recipient's phone number while purchasing the gift card.
Benefits Of Gift Card for WooCommerce Pro
Improve User Experience: Gift cards take away the stress of gifting by saving the time and effort needed to select a gift. Users can order gift cards to be delivered to a physical address. As a result, your users are happier and feel motivated to repeat their purchases.
Year-Round Sales Booster: There are always celebratory events like birthdays, festivals, anniversaries, etc. So, selling gift cards will generate steady revenue for your business. During the holiday season, your gift card sales will skyrocket as they are in popular demand.
Get More Customers: As gift cards are store-specific, the card recipient comes to your online shop for coupon redemption. So, the more you sell, the more your customer base expands.
Better Brand Value and Visibility: Your gift cards act as advertising tools for your brand. The users availing of your gift card services will speak highly about you to their peers and you will get positive word of mouth. Also, you can show popular products on a gift card for promotion.
Easily Shareable: Your users can share the gift cards Via email, message, and Whatsapp. They can also download the card PDFs and share them however they want. Therefore, gift cards' global reach will help expand your business.
Fully Customizable: You can customize all elements of your gift cards according to any celebratory event and even add custom coupon codes. It's easy to manage both branding and beautification. Even, your users can personalize their gift cards before purchase.
WooCommerce Gift card Plugin Compatibilities
1. Compatibility with Wallet System for WooCommerce
The Ultimate Gift Cards for WooCommerce Free & Pro plugins are compatible with Wallet System for WooCommerce and Wallet System for WooCommerce Pro.
In the compatibility, customers can redeem their gift card coupons on the wallet frontend panel to recharge their wallets. It enables them to use their remaining or complete gift card value through their wallet to purchase goods & services.
2. Compatibility with RMA Return Refund & Exchange For WooCommerce
The Gift Cards Pro plugin is compatible with the Return Refund & Exchange for WooCommerce and RMA Return Refund & Exchange for WooCommerce Pro.
With this compatibility, the customers are able to file refunds and exchange requests for the gift card products they purchase. 
But customers must fulfill these two conditions: 
The gift card mustn't be expired. 

The gift card mustn't be redeemed.
3. Compatibility with the Price Based on Country for WooCommerce Plugin
Gift Card for WooCommerce Plugin provides compatibility with Price Based on Country for WooCommerce plugin. With this compatibility, you can set currencies for all countries. When users from a given location visit your store, the location is tracked and they are shown gift card prices in the relevant currency. You can set the price manually or automatically apply the exchange rate.
4. Compatibility With WPML
The Gift Cards for WooCommerce Pro plugin is compatible with WordPress Multilingual (WPML) plugin. With this compatibility, you can translate the strings of the gift cards plugin without any coding and turn your store multilingual.
5. Compatibility With WordPress Multisite
WordPress Multisite allows you to add multiple WordPress sites and manage them with a common WordPress Dashboard. With this compatibility, the Gift Card for WooCommerce will work seamlessly across all websites.
Free vs Pro
| Features | Free Version | Pro Version |
| --- | --- | --- |
| Gift Card Message Customization | ✔️ | ✔️ |
| Send Gift Cards via Email | ✔️ | ✔️ |
| Gift Card Email Notifications | ✔️ | ✔️ |
| Multiple Usage | ✔️ | ✔️ |
| Redeem Gift Coupons At Retail Store | ✔️ | ✔️ |
| 4 Pricing Options | ✔️ | ✔️ |
| Product And Category Exclusion | ✔️ | ✔️ |
| Dynamic Coupon Length | ✔️ | ✔️ |
| Min/Max Amount Range | ✔️ | ✔️ |
| WPML Multilingual Support | ✔️ | ✔️ |
| Gift Card Usage Limit | ✔️ | ✔️ |
| Disable Coupon For Gift Card Products | ✔️ | ✔️ |
| Minimum Limit of User Gift Card Price | ✔️ | ✔️ |
| Display Recommended Products On Gift cards | ❌ | ✔️ |
| Physical Gift Cards | ❌ | ✔️ |
| Remove Fields from Gift Cards Product Page | ❌ | ✔️ |
| Customizable Gift Card | ❌ | ✔️ |
| SMS notifications via Twilio | ❌ | ✔️ |
| WhatsApp Sharing | ❌ | ✔️ |
| Import/Export Online/Offline Coupons | ❌ | ✔️ |
| Gift Card Reporting | ❌ | ✔️ |
| QR Code/BARCode Security | ❌ | ✔️ |
| Gift Card Scheduling | ❌ | ✔️ |
| Gift Card Product Discounts | ❌ | ✔️ |
| PDF Template Feature | ❌ | ✔️ |
| Balance Checker | ❌ | ✔️ |
| Thank You Order Coupons | ❌ | ✔️ |
| Advanced Delivery Method Settings | ❌ | ✔️ |
| Purchase Products as Gift Cards | ❌ | ✔️ |
FAQ
Are there any options that users can choose from if they want to send the Gift Card to the recipient by email or by postal?
sanjeevmaurya
2022-01-19T16:04:59+00:00
Yes, in the Delivery method tab, the Merchant can select the "Allow customer to choose" After enabling this setting, customers can choose delivery methods by which they want to deliver the gift card.
Still in doubt? Refer to our Knowledge Base and learn more about the WooCommerce Gift Cards plugin.